Is Rio de Janeiro expensive? No, it's not! Rio de Janeiro is cheaper than most major cities in the world (even more than Mexico City)! In this post, I will share with you my personal expenses including golden money-saving tips to Rio.
📧 Hi Trisha! Thanks for giving readers a chance to write to you. I am seriously considering Rio de Janeiro for travel from seeing your posts on Instagram! I love the way you travel and I want to experience Rio out of fear. However, I would like to ask: Is Rio de Janeiro expensive? I am seeing conflicting information on the Internet and I want to hear it from you. Thank you so much for all the help you put into this blog!

Vicky Alexander, United States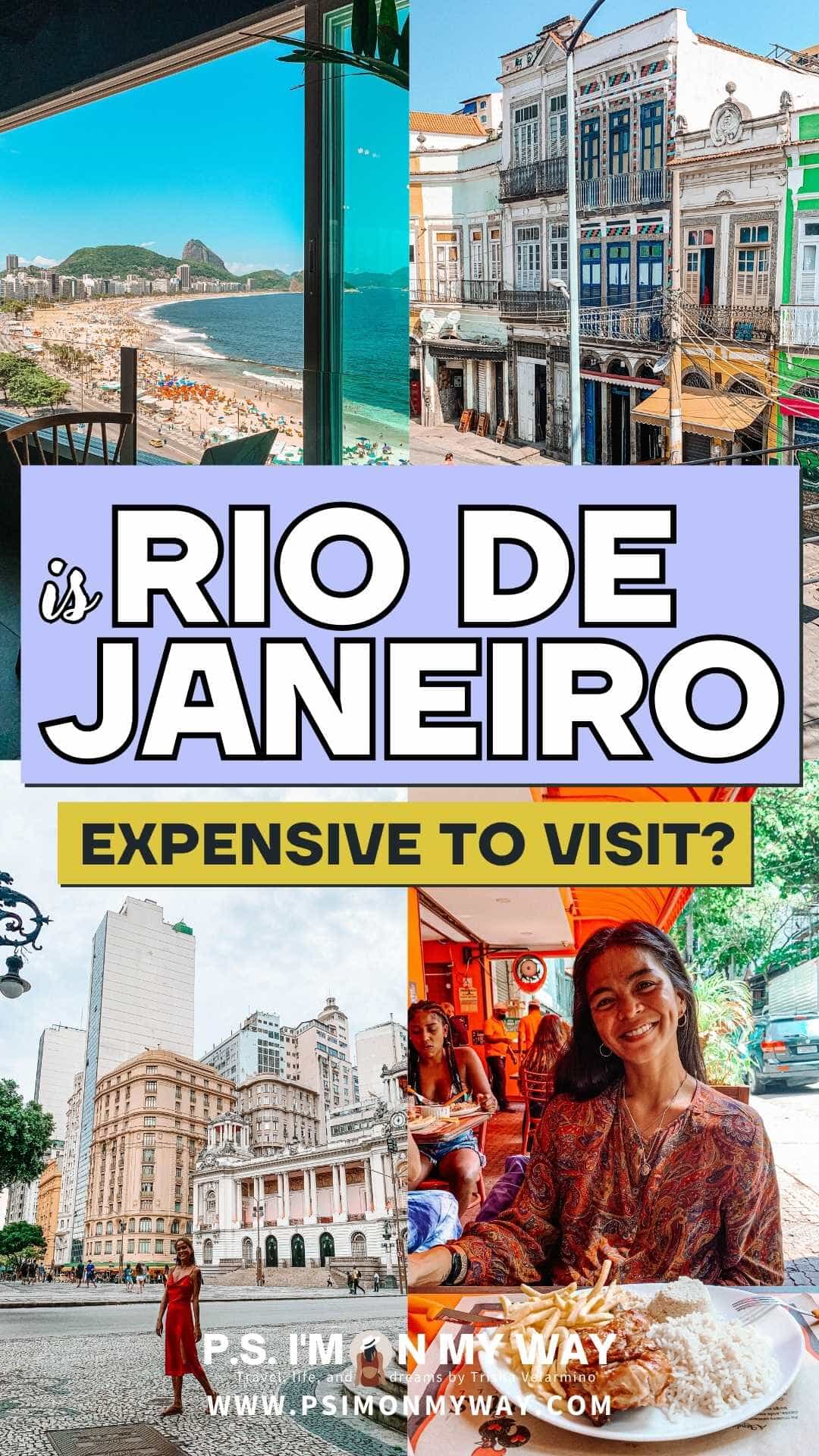 Hi Vicky!
Thanks for following the blog and I am glad you are considering travelling to Rio de Janeiro! I lived here and I can say that it is one of the cheapest cities in the world but of course, travel is always different.
First, let's start with currency. The currency in Brazil is called the Brazilian Real, often written as R$. $1 USD is about R$5 but you can check real-time conversions here.
From here on out, all currencies in this post will be in United States Dollar (USD). Now let's proceed to answering your question: "Is Rio de Janeiro expensive?"
Xx, Trisha
Scared to travel alone? Why not join my trips?
Change the way you travel and spend your money to trips that matter – trips that you will never forget. My group trips are highly focused on responsible travel, supports local communities, and avoids the obligatory touristic circuit.
💲 Is Rio de Janeiro expensive to visit?
To give you a more clear view of your question, "is Rio de Janeiro expensive," let's compare the prices in other major cities in the world that you are more familiar with:
Rio de Janeiro is 64% cheaper than New York City (United States)
Rio de Janeiro is 53% cheaper than Seattle, WA (United States)
Rio de Janeiro is 62% cheaper than Singapore
Rio de Janeiro is 37% cheaper than Milan (Italy)
Rio de Janeiro is 14% cheaper than Mexico City (Mexico)
Rio de Janeiro is 27% cheaper than Madrid (Spain)
Rio de Janeiro is 59% cheaper than London (United Kingdom)
Rio de Janeiro is about the same as Bangkok (Thailand)
Now if you look at the list above that is based on the world cost of living index, we can safely say that Rio de Janeiro is way cheaper than any American and European cities (even Mexico City!).
But of course, travel budgets are always different from living so I'll share with you what I always spend for when I travel to Rio de Janeiro:
| Expenses | Price |
| --- | --- |
| Hostel (shared) | $25 USD |
| Hotel (private) | $85 USD |
| Restaurant meal | $12 USD |
| Unlimited meat | $30 USD |
| Street beers | $1.50 USD |
| Drinks in a club | $8 USD |
| Rooftop brunch | $18 USD |
| Glass of wine | $5 USD |
We are all different travelers so I don't expect you to spend the same as I am willing to spend in Rio but in this Rio de Janeiro budget travel guide, we'll dig further on prices so that you will be able to prepare for your trip.
See also:
✈️ Cost of flights to Rio de Janeiro
There are three international airports in Rio de Janeiro named Rio de Janeiro–Galeão International, Santos Dumont, and Jacarepaguá Airport.
If you are traveling from the USA, Canada, Australia, or the United Kingdom, the best airport to look at is Galeão International.
From the United States, there aren't a lot of direct flights to Rio de Janeiro. Most of these flights stop in Panama. For those coming from Canada, flights from Vancouver stop in Houston, TX.
Australia is closer to Brazil which makes it a popular travel destinations for Australians. However, from Sydney or Melbourne, you still have to stop in Colombia or Chile to get to Rio de Janeiro.
Most European airports like Heathrow Airport (London) and Adolfo Suarez (Madrid) fortunately flies direct to Rio de Janeiro (11 hours, non-stop).
Below are the estimate flight prices to Rio de Janeiro (2-way) from wherever you are coming from:
| Airport | Price | Duration |
| --- | --- | --- |
| New York (JFK) | $706 | 10h (non-stop) |
| Los Angeles (LAX) | $649 | 15h 32m (1 stop) |
| Seattle (SEA) | $1,084 | 17h 51m (1 stop) |
| Houston (IAH) | $1,383 | 10h (non-stop) |
| Vancouver (YVR) | $777 | 16h 10m (1 stop) |
| Toronto (YYZ) | $717 | 13h 45m (1 stop) |
| London (LHR) | $1,420 | 11h 55m (non-stop) |
| Madrid (MAD) | $845 | 10h 50m (non-stop) |
| Melbourne (MEL) | $1,362 | 19h 45m (1 stop) |
| Sydney (SYD) | $1,469 | 20h 20m (1 stop) |
| Perth (PER) | $2,148 | 28h (1 stop) |
These are estimates just for you to have an idea. If you want to search for the exact prices from your destination, see below:
FYI, I live in Mexico so my flight costs are around $492 USD with 1 stop in Panama.
🏨 Rio de Janeiro hotel prices
Is Rio de Janeiro expensive when it comes to accommodations? Let's take a closer look.
The bulk of your expense for your trip to Rio de Janeiro is the hotel and this should be booked first. Now, in this department, we are all different so let's start with my personal hotel expense:
When traveling alone, I prefer to stay in a hostel. A shared dorm in Rio is about $25 USD while a private room in a hostel is around $75 USD.
In most of my trips in Rio, I am hosted by my Brazilian friends so I spend $0 USD on accommodations (no kidding).
When I am traveling with friends, family, or a partner, I always opt for a vacation rental home because my minimum stay in Rio is always about 2 weeks. This costs me around $75 USD per night (same as the hostel, really).
Now, Rio de Janeiro is big and you can't really generalize where to stay (or what the price is) if you don't know the areas. Below are some of the safe areas for tourists to stay in:
Not only that these areas are great for tourists but they are also close proximity to landmarks and tourist attractions that you have to visit. This way, you don't really need to spend for transportation.
🍲 Cost of food in Rio de Janeiro
Food is cheap in Rio de Janeiro and they have a great food culture. Though street food in Brazil are not as filling as other countries like Mexico or Colombia, they have a lot of street snacks that costs $2 USD.
If it's your first time in Rio de Janeiro, don't miss their unlimited meat restaurant called rodizio, where you pay $25 USD per person for an all-you-can-eat experience.
Aside from that, Brazil also has a buffet culture where the food is weighed by the plate. This goes without saying that the cost of your food depends on the weight of what you take (think $6 USD per plate).
Expect to pay around $12-$18 USD for a mid-range restaurant (with a glass of wine). As for fine dining, the options are limitless and can go up to $50 USD per meal.
I love to do 9-course meals and for me, Brazil has one of the cheapest meal pairings because they're under $100 USD!
For me, food is always a priority so your Rio de Janeiro budget travel for food depends on what you are willing to spend for.
🎢 Activities and tour prices in Rio de Janeiro
Rio de Janeiro is all about beaches. And the beach is FREE. That's one to take off your travel costs but of course, you also want to do other things, especially the major tourist attractions.
When I am traveling to Rio, I mainly focus on food and gastronomy tours as I already know Rio well and don't need a guided tour to explore the landmarks in the city.
Below are some of the must-do activities in Rio de Janeiro, together with prices. Please note that you must also book this in advance (at least 1 month before your trip).
🚆 Transportation costs in Rio de Janeiro
Is Rio de Janeiro expensive when it comes to transportation? Not at all!!
I barely use other transportation methods in Rio because Uber is cheap! Not only that it is cheap but it is more convenient and safe.
However, if you are going to long distances, you may want to take a transportation pass. Rio de Janeiro has a very efficient transportation system. The card is called Rio Card Mais.
You can purchase this pass at any train station in Rio de Janeiro and you have top-up option in the station machines as you go. The minimum recharge is R$5 ($1 USD).
Rio has a big subway system and all tourist spots have a train station. This is great for those who don't want to sign up for a tour and explore on their own.
Now, if you are the adventurous type, Rio is a bike city!!! There are many bike lanes all over the city and it's really safe.
You will also see many bike docking stations all over Rio. They are accessible and easy to return. Below are the prices for renting a bicycle in Rio de Janeiro:
Single trip (15 min): R$3 ($0.60)
2-day bike rental (unlimited): R$20 ($4 USD)
Monthly plan: R$39.90 ($8 USD)
In order to use the bikes in Rio, you need to download the Bike Itaú App for top-ups and unlocking/returning bikes. Using the bikes is highly dependent on the app.
💵 Money-handling in Rio de Janeiro
Money exchange in Rio de Janeiro
Avoid exchanging currency at the airport or hotels as they often offer less favorable rates. Instead, head to local banks or reputable currency exchange offices in commercial areas.
Compare rates and fees at several places before making the exchange to get the best deal.
ATMs in Rio de Janeiro
ATMs are widely available in Rio de Janeiro, especially in commercial areas and tourist spots. To avoid high fees, use ATMs affiliated with major banks like Banco do Brasil, Bradesco, or Itaú.
These ATMs typically offer better exchange rates and lower withdrawal fees. However, it's essential to notify your bank about your travel plans to avoid any issues with international card usage.
Be cautious when withdrawing money from ATMs at night or in less crowded areas to ensure your safety. Always cover the keypad while entering your PIN, and check for any suspicious devices attached to the ATM.
Using credit cards in Rio de Janeiro
Credit cards are widely accepted in Rio de Janeiro, especially in restaurants, hotels, and larger retail establishments. Visa and Mastercard are the most commonly accepted cards.
While using your credit card, be vigilant about card skimming and fraud, especially in crowded places. It's a good practice to keep your card in sight during transactions.
Inform your bank about your travel plans to prevent any unexpected card freezes due to international activity.
For smaller purchases and in local markets, carry some cash as not all vendors accept cards. Also, consider bringing a card with no foreign transaction fees to save on additional charges.
Tipping in Rio de Janeiro
Tipping in Rio de Janeiro is generally appreciated but not mandatory. In restaurants, it's customary to leave a tip of around 10% of the bill if service charge is not included.
Check the bill to see if a service charge (usually around 10%) has already been added. Taxi drivers usually do not expect tips, but rounding up the fare is a common practice.
At hotels, tipping hotel staff like bellhops, housekeepers, and concierge is a nice gesture. Tour guides and drivers also appreciate tips for their services, especially if you were satisfied with their help.
Remember that while tipping is appreciated, it's important to consider your budget and the level of service received when determining the amount.
✨ Tips for Rio de Janeiro budget travel
Join my all-inclusive Rio de Janeiro group trips!
I organize group travels to Rio de Janeiro every year. Some of the trips are led by me and some are by my local friends. We usually do it during the cheapest month to visit Rio.
Feel free to join a week of fun on an all-inclusive trip to Rio with a small group. My itineraries are unique and local!
Cheapest month to visit Rio de Janeiro
The cheapest month to visit Rio de Janeiro is typically during the city's winter season, which falls between June and September.
During these months, you can often find lower prices on accommodation and flights compared to the peak tourist season.
Daytime temperatures generally range from 20°C to 25°C (68°F to 77°F), making it comfortable for outdoor activities and sightseeing.
Explore on foot. Go walk!
Many of Rio's attractions are within walking distance of each other. Take advantage of this by exploring neighborhoods like Copacabana and Ipanema on foot to save on transportation costs.
Learn basic Portuguese phrases
Learning some basic Portuguese phrases can help you communicate more effectively and potentially negotiate better prices with locals, especially in markets and taxis.
Eat at "kilos" restaurants (weighed by price)
You can find affordable buffets in local eateries, known as "kilos" restaurants, where you pay for the weight of your food on your plate. This way, you can control what you pay for.
Avoid tourist traps
Be cautious of tourist traps that often charge inflated prices. Research online reviews and ask locals for recommendations to find genuine and affordable experiences.
Tap water is drinkable!
Rio's tap water is safe to drink, so bring a reusable water bottle to fill up throughout the day instead of buying bottled water, which can be expensive.
BYOB to the beach
Many beaches in Rio allow you to bring your own food and drinks. Pack a picnic and refreshments from a local supermarket instead of buying from beachside vendors, which can be pricey.
FREE Public Wifi
Use free public Wi-Fi available in many public spaces, such as parks and squares, to avoid expensive data roaming charges.
Student discounts
If you're a student, always ask for student discounts at museums, attractions, and transportation services. Carry your student ID card with you.
Local street (samba) parties
Keep an eye out for local street parties and festivals happening during your visit. These events often offer free entertainment, music, and cultural experiences.
Rent a bicycle (Bike Itau)
Even if you are just staying for a week, renting a bicycle for a month in Rio de Janeiro only costs $8 USD. Rio is a bike city and there are safe bike lanes. You'll save a lot of money on transportation if you rent a bicycle!
Get a Rio Metro Card (Rio Card Mais)
The Rio Metro Card top-up costs $1 USD and it serves all major tourist attractions in the city. Each ride is less than $1 USD if you use the card and you can easily top it up in all train stations.
Homestays and Couchsurfing
Consider staying with locals through platforms like Couchsurfing or booking homestays to not only save money on accommodation but also gain valuable cultural insights.
Volunteer in Rio de Janeiro
If you are staying for longer than 2 weeks, you can save on accommodation costs by volunteering. The best website to find volunteering opportunities is via Worldpackers.
You can use the code PSIMONMYWAY10 to get a $10 USD discount for your yearly membership or simply click the link – it will automatically apply the discount.
Get travel insurance
We always feel invincible without realizing that we will end up paying a lot of money if we travel without insurance. I use Safetywing as it is the cheapest ($40 USD per month).
⁉️ FAQ: Rio de Janeiro Travel Budget
Trisha is one of those people who left their comfortable life to travel the world and learn about life. Her style is to stay in one place she likes for 3 months (or more) to know what it feels like to eat, cook, speak, and sleep in another culture that isn't hers. She'd like to believe she's not traditionally traveling but she just chooses to be somewhere else all the time. In no particular order, her favorite cities in the world are Barcelona, Buenos Aires, Hong Kong, Mexico City, and Tel Aviv.