I've had three different trips and experiences on being a Rio de Janeiro digital nomad. My first DN journey in Brazil started in 2014 and with time, everything improved! I will try my best to share with you everything you need to know about remote work in the most marvelous city in the world!
📬 Trisha, I love that you are back in Rio! My name is Fin and a friend whom I met at a hostel in Buenos Aires recommended your blog for South America travels. I love all your stories so thank you! I've been amazed how you managed to be a digital nomad even before it was a thing so as a local expert, I want to ask you if there's a community for Rio de Janeiro digital nomad? I want to leave the UK in the cold months. I heard that December to March is summer in Brazil. Is this true? If yes, I hope you'll help me and give me some tips!

-Fin Parsons, UK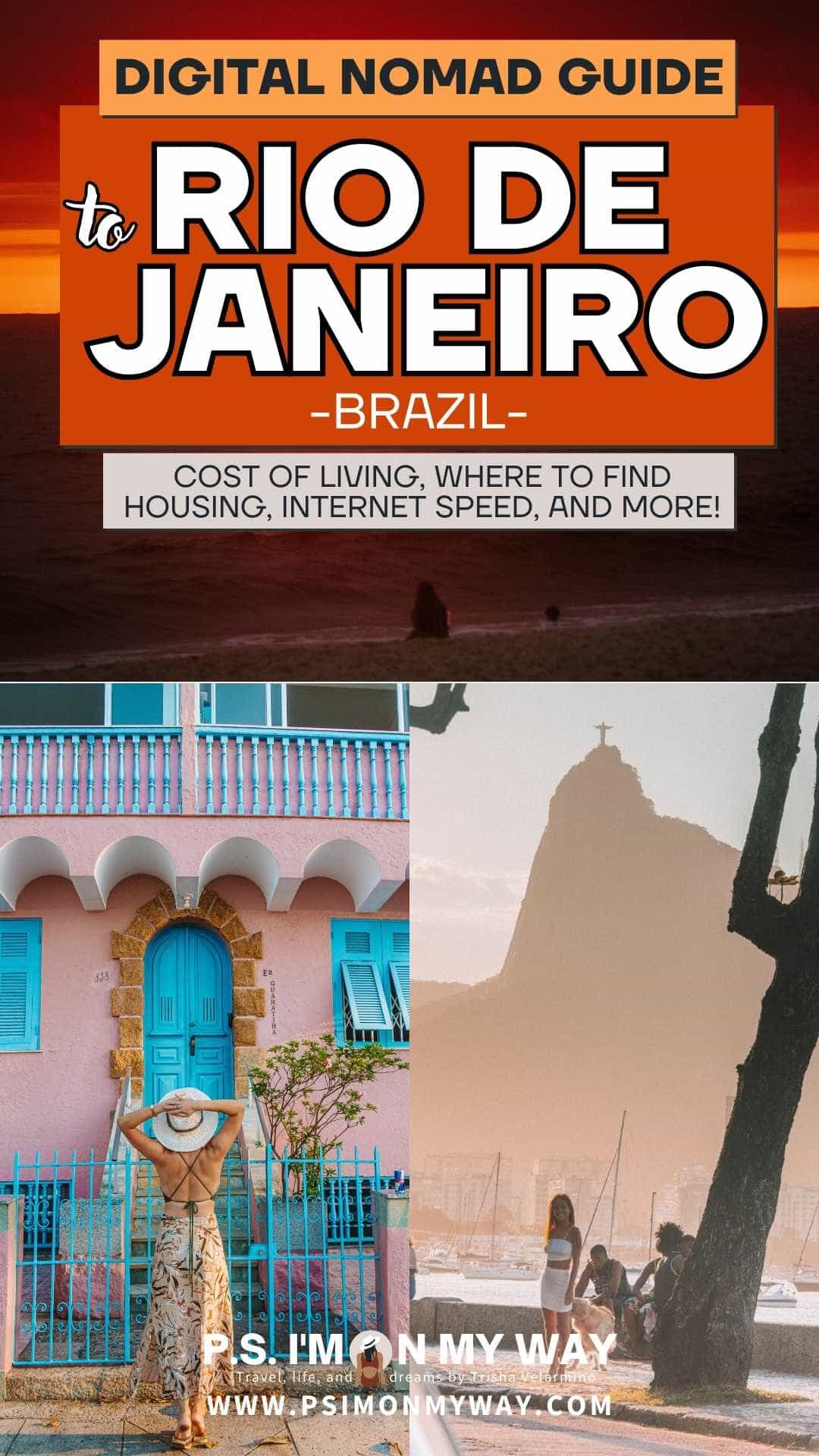 Fin, thanks for following this blog!
Who is that person you met at the hostel in Buenos Aires?! I'm always grateful to people passing my blog to fellow travelers. I am so glad you made it here!!!
I will try my best to give you my experiences in Rio de Janeiro as a digital nomad but if you have any questions, feel free to contact me on Instagram.
I can also introduce you to friends here if you like! I hope you enjoy making Rio de Janeiro as your digital nomad base. I come every year so I hope we cross paths!
Xx,
Trisha
Scared to travel alone? Why not join my trips?
Change the way you travel and spend your money to trips that matter – trips that you will never forget. My group trips are highly focused on responsible travel, supports local communities, and avoids the obligatory touristic circuit.
ℹ️ Rio de Janeiro Digital Nomad: quick info
🌍 Region: South America
🚩 Country: Brazil
📡 Internet speed: 21 MBPS (good)
🔌 Outlet: Types C and N (European)
🚑 Travel medical insurance: Safetywing Digital Nomad coverage
📱 Best wireless carrier: Vivo
🏧 Suggested ATM take out: R$ 1,000 ($200 USD)
💳 Cashless society: Yes
💻 Best coworking space: Revigorante 4Work
🚰 Safe tap water: Yes
👨‍👩‍👧‍👦 Population: 6.3 million
🏞 Foreign land ownership allowed: Yes
✈️ Where to find cheap flights: Kiwi.com
💃🏽 Living in Rio de Janeiro as a digital nomad
Rio de Janeiro will always be home to me. I love going here because this is a culture incomparable to what I am used to in Latin America.
I traveled all over Latin America from Mexico to Argentina and Brazil, despite being in the same region, has a very distinct culture that you won't see anywhere else.
Every time I visit Rio de Janeiro, I always make sure my minimum visit is 30 days. This is a city I fell in love with even if it has bad press in terms of safety but honestly if you know your way around, you can avoid this issue.
The thing about frequently coming back to Rio de Janeiro as a digital nomad is that I have cultivated meaningful friendships. My long-term friends are from Rio de Janeiro so I got lucky landing on their laps for help in Portuguese and moving around the city safely.
In most of my travels, you will see that I always know someone in every city I visit. This has been my shield and my weapon in keeping myself safe on the road.
Our experiences are really different if we know locals in the place we are visiting. My favorite part is staying with local families. It really changed my perceptions about a place and I hope you will get to have this experience, too!
I may have spent a lot of time with my local friends but none of them have the digital nomad lifestyle. What I mean by this is that only some of them work from home. They're not going to co-working spaces or cafes to work.
So I had to investigate myself and here are the Rio de Janeiro digital nomad tips that I can share with you from my investigation.
See also:
💵 Cost of living in Rio de Janeiro as a digital nomad
Rio de Janeiro is not cheap for Brazilians but it would be affordable for dollar earners. Eating out here is around $4-$5 USD per meal and that's in a good (touristy) place.
I actually find the groceries more expensive so I barely cook in the house. As usual, things are more expensive when you are traveling alone as you pay for everything by yourself.
But if you are with a partner or a friend, you can save a lot of money from cooking at home. Brazilian food is also not something you'd want to eat every day so it's easy to avoid eating out here. (more on that later)
Since I live in Copacabana, I have to Uber to go to co-working spaces downtown. It usually cost me $5 USD per ride but the busses and trains are efficient and affordable. Prices in this route start at $0.72 USD.
A studio apartment in Rio de Janeiro costs $610 USD per month and it already includes the wifi. Later on, I will give you tips on where to find these apartments. Airbnb here is expensive because of the taxes so just go for Vrbo.
🏡 How to find apartments in Rio de Janeiro
Cariocas use Quinto Andar to find the best deals on apartments but since it's in Portuguese, it's better for you to look on Facebook groups (which are also in Portuguese but Facebook translates it).
The groups to join to look for cheap apartments are Aluguel de Quartos e apartamentos na Zona Sul do Rio de Janeiro for shared houses with roommates and ALUGUEL APARTAMENTO – RIO DE JANEIRO if you want to find entire apartments in many areas of Rio.
Additionally, you can check my other blogs about Rio de Janeiro to get to know the right neighborhood for you. Or send a message on Instagram and let's chat!
📶 Internet speed in Rio de Janeiro
I have never been to any place in Rio de Janeiro that has slow Internet except for those places that don't really prioritize attracting digital nomad customers.
I live in an apartment in Nossa Senhora de Copacabana (the main avenue of Rio de Janeiro) and I have fiber optic wifi here.
Sometimes, I never have to go out but I just go out to socialize and meet other digital nomads. It also helps my work to change my environment so knowing co-working spaces and cafes is very important for me.
The speed is super good and you don't have to worry about taking Zoom calls or uploading heavy files. I've lived in very small beach towns in Latin America where the Internet is a problem so I know how it feels when you have an important call to take. You don't have to worry about that in Rio!
You can also avail of a Brazilian sim card for as low as $4 USD a month. The best sim card provider in Brazil is CLARO and probably the only option for you.
📲 Brazil sim card
The top three SIM card providers in Brazil are:
Vivo: Owned by Telefónica, this is the largest mobile network operator in Brazil in terms of both coverage and subscribers. Vivo is known for its extensive network coverage, including in rural areas, and for offering high-speed internet services. They offer various plans for both prepaid and postpaid SIM cards.
Claro: This provider is a subsidiary of América Móvil, one of the largest telecommunications companies in Latin America. Claro is known for competitive pricing and good internet speeds. They also offer a wide range of mobile plans.
TIM: Originally an acronym for Telecom Italia Mobile, TIM Brazil is a subsidiary of Telecom Italia. It is known for its aggressive pricing strategies and has a broad range of options for prepaid and postpaid SIM cards. The company has invested significantly in 4G LTE technology, providing good coverage and speed in urban areas.
Other providers include Oi, which is generally considered to have less comprehensive coverage but offers competitive pricing.
When you buy a sim card in Brazil that is not CLARO, you will have to provide a CFE which is a Brazilian's identification number. If you don't have Brazilian friends this is hard.
The first time I got here, I used TIM which is also widely used in Brazil but I had to ask for a friend's CFE to be able to use the sim card. They don't even say this to you when you buy the sim card so only buy CLARO.
Claro is the biggest mobile provider in Brazil so the coverage is reliable. If you need to use the hotspot, get a higher mobile plan.
🧑🏿‍🤝‍🧑🏻 The digital nomad scene in Rio de Janeiro
My friends live in Copacabana and Ipanema so I stayed here a lot and know these two neighborhoods very well. I tried to go to many cafes and restaurants but they don't really install fast wifi in the establishments.
The Brazilians eat out or go to coffee for fun and gathering – not actually for sitting down on the computer. It is very different from my experience being a digital nomad in Mexico City because everyone's working anywhere.
You know, just sit down and there's working wifi. No special place to go whatsoever. It's almost like this in all digital nomad destinations in Mexico so I was used to just walking in a cafe/restaurant with my computer to work.
The thing is Copacabana and Ipanema are our first images when Rio de Janeiro comes to mind. It was for me, too. The Rio de Janeiro digital nomad scene is downtown and it's so vibrant!
The center of Rio de Janeiro is obviously the business center so this is the reason why the co-working spaces and the Rio de Janeiro digital nomad communities are there.
It made more sense when I started going downtown even though I had to Uber every day from Copacabana (about $5 USD per ride).
It was like stepping into a different world. The Rio I am used to is the beaches but downtown is very European. The co-working spaces and cafes are full of digital nomads (locals and expats alike).
I actually met a lot of travelers here and opportunities for the collaboration came my way. Meeting like-minded people and knowing you can create together is one of the things that always make my journey interesting.
I would recommend a few Rio de Janeiro digital nomad groups but mind you, they are mostly in Portuguese. Not everyone can speak English in Brazil and they are very proud of speaking their language.
If I were you, learn basic (Brazilian) Portuguese! They won't understand the Portugal version, honestly. I will suggest for you just pop in a co-working space.
For me, it was the easiest way to connect and meet people especially if you are traveling solo to Rio de Janeiro.
✅ Pros of living in Rio de Janeiro as a nomad
Good quality of life
Living in Rio de Janeiro as a digital nomad can give you a full quality of life. There are many things to do, the costs are affordable, and this is such a fun, young, city!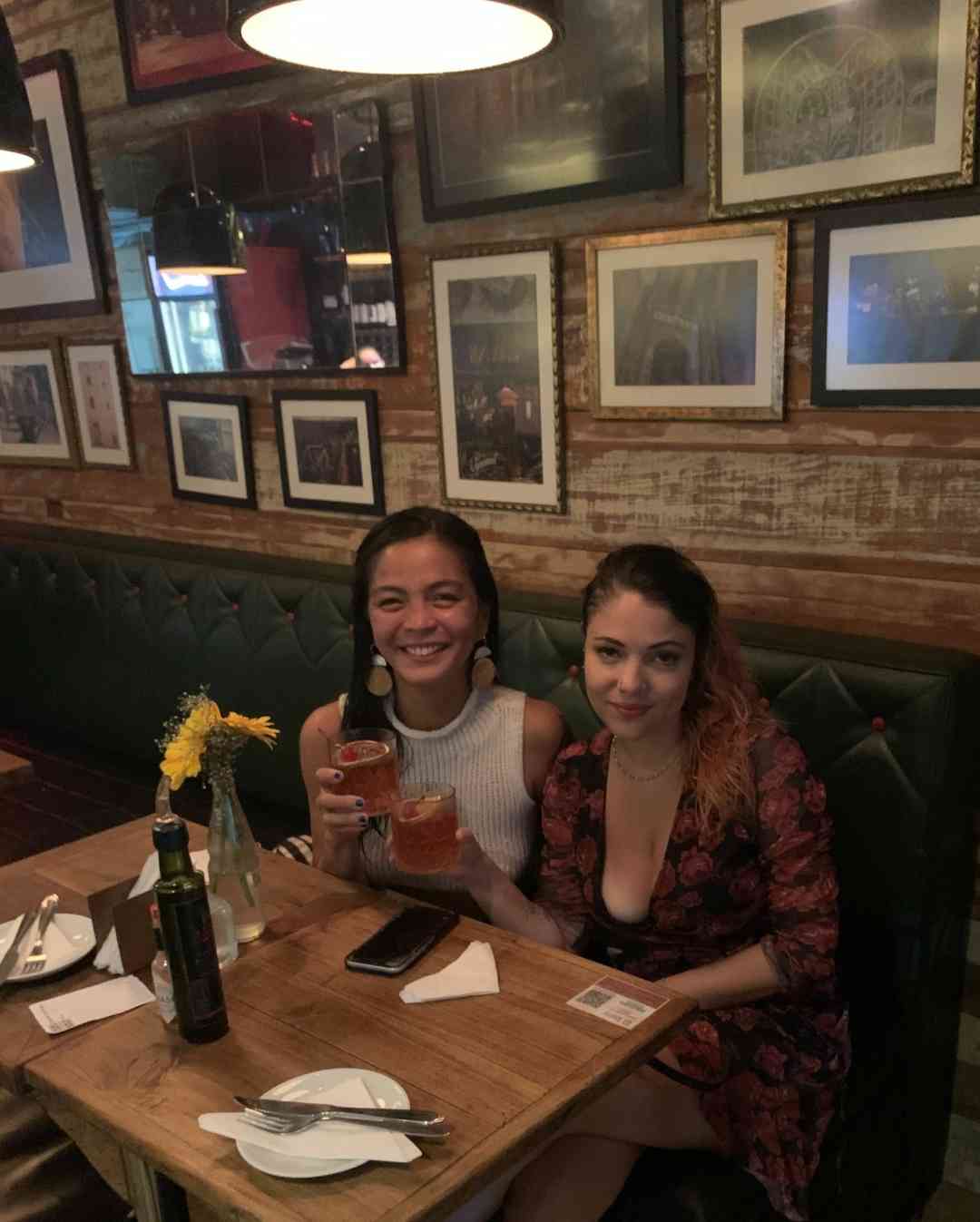 I never had a dull moment in Rio and it has always offered me the happiness I am looking for when it comes to living in different places. It exceeded my expectation that is why I always come here! I never get tired of it!
Just don't involve yourself in politics. Brazilians hate living in Brazil but as foreigners, if we involve ourselves in this, we will have a different perspective – you will start hating Brazil, I swear.
Easy to make friends
The Brazilians are super friendly. Mega friendly. They love foreigners! Like many other Latin American countries, Brazilians are amazed by foreigners visiting their country.
Which in turn, my local friends hate because Brazil has this type of idolization especially to Americans, Australians, and English people. They are super helpful and will give you the best time in Rio de Janeiro!
❌ Cons of living in Rio de Janeiro as a nomad
Brazilian food is repetitive
Beans, rice, salad, and lots and lots of meat. Brazilian food is good if you are only staying for a few days and/or if you have local friends to actually show you around.
But if you are living here for a month, you won't eat out and crave Brazilian food. It doesn't have varieties and exploring food is super important for me when traveling!
You always have to Uber
The bus and train rides are cheap but if you are carrying a computer, camera, and valuable things like I always do, I don't dare take public transport.
I just don't want to risk it but this doesn't mean that I am stopping you from taking busses and trains. I have lots of friends who do it but they are very adept at living in this city so it's really up to you!
I will, however, take the bus and train if I don't have to bring my gadgets. It's super-efficient and safe if you are not bringing valuables. I also leave my phone at home a lot when I am going out!
Rio de Janeiro can be loud
Rio is not a quiet city so you have to go to a special (quiet) place. Most co-working spaces in Rio de Janeiro have soundproof phone booths.
I took a call one time in a 12th-floor cafe and my client dropped the call because he said he couldn't take the noise. 12 floors up and he can hear the street noise!
I don't know about you but not all my clients are like this. If your clients mind the noise, you better sign up for a co-working space ($175 USD per month).
Racism and gender discrimination is still evident in Brazil
Those 1920s' Brazilian movies that you've seen, that's still kind of a thing here. I've never been to a city where restaurants and elevators have "no to racism" signs and they take it seriously here.
Half of the Brazilian population are from Africa and they still have this backward thinking from years and years of their history – it's really very surprising!
Rio de Janeiro also has a reputation of being the gayest city in the world but I realized that some very Christian people are still against this.
This is very surprising because many websites say Rio is gay-friendly but it is not actually 100% gay friendly as I experienced from living in Tel Aviv and Puerto Vallarta.
☕ Rio de Janeiro cafes with wifi
Livraria da Travessa
📍 Branches: Botafogo | Downtown | Ipanema
My favorite place to work is Rio de Janeiro because it's a real library and bookstore! I love everything about this place and they have branches in most neighborhoods in Rio de Janeiro.
It's great to have Livrario da Travessa close to me in Ipanema so I don't have to go all the way to Botafogo. This is walking distance to where I live in Copacabana, I swear you'll come here a lot!
Dark Coffee
I love the decor at Dark Coffee!!! If you are a fan of specialty coffee, this is the place. They are certified by the Brazilian Specialty Coffee Association so you'd love to try all their Brazilian coffee here!
They also have great food and they specialize in air frying to eliminate smoke in their kitchen and in the area. There are many areas with plugs and their chairs are super comfortable.
A cappuccino starts at $1.62 USD (small) and a large one is at $2 USD. You can eat savory sandwiches here starting at $4 USD while their desserts start at $2.33 USD.
Flora de Copa
📍 R. Alm. Gonçalves, 5 Copacabana
I worked here for 7 days because I was staying at Selina Copacabana. They're in the same building and you will see the best views of the city here!
They have really great coffee and food although they have a short break from 11:00 AM – 12:00 NN. If you don't want to be interrupted, you can come here from noon.
As it is a bar, people come here for sunset cocktails and you will see a lot of guests of the hostel here who are also digital nomads.
They do have a co-working space on the second floor but I prefer working in Flora since the office spaces are super dark and sometimes crowded. You also have to pay for wifi to avail the space but in Flora, you just have to order!
💻 Co-working spaces in Rio de Janeiro
There are over 70 coworking spaces in Rio de Janeiro but of course, I did not try them all. I will only recommend those I have personal experience in.
Some of the spaces are also in the office format (you know, like cubicles) so I only visited the ones with nice and upbeat interior design.
Revigorante 4Work
📍 Rua República do Peru, 444, Copacabana
Probably the only co-working space I found in Copacabana (but I am sure there are others!). This co-working space is in a quiet neighborhood so I came here a lot to take calls.
For a full day, you pay $13 USD and $7 USD for a half-day for shared space. There are also many other amenities such as private meeting rooms and conference/workshop venues.
They also have the best and most modern space in all co-working spaces in Rio de Janeiro. This is a little far from where I live but I loved coming here because of the ambiance!
✨ Rio de Janeiro digital nomad tips
Rio de Janeiro digital nomad insurance
My digital nomad insurance is SafetyWing but not for theft (i.e. gadgets). I only pay $40 USD per month and I had got good experience with them when I filed a claim.
The customer service is the best and they were always on top of things!
Always use VPN
The Internet controls our lives and I hate it when random ads pop out (from my conversation with friends). Our phones and devices are always listening. My entire business is also on the Internet (banking, crypto, blog, etc) so I can't afford identity theft on the Internet. I use NordVPN and I always make sure it's on all of my devices!
Have an international bank account that works everywhere
Both my US and European banks are very reliable when it comes to traveling abroad but I've been using Wise a lot since they have better conversion rates that are usually higher than my banks. See my article The Best Bank for Travelers for a complete review.
The monthly bicycle rental in Rio de Janeiro is only $8 USD!
Rio is a bicycle city – there are bike lanes everywhere! You can almost go to every point of the city with TemBici. There are pick-up and drop-off points all over the city.
This can actually save you money on transportation especially if you are a digital nomad who goes out a lot. Cycling is also the best way to discover Rio de Janeiro.
Trisha is one of those people who left their comfortable life to travel the world and learn about life. Her style is to stay in one place she likes for 3 months (or more) to know what it feels like to eat, cook, speak, and sleep in another culture that isn't hers. She'd like to believe she's not traditionally traveling but she just chooses to be somewhere else all the time. In no particular order, her favorite cities in the world are Barcelona, Buenos Aires, Hong Kong, Mexico City, and Tel Aviv.