I lived in this city for 6 months, I will give you a rundown on how to easily navigate your Mexico City solo travel. Mexico City travel is one of the best things I've seen and done in my life!
📮 Hello Trisha! I am a female digital nomad from the USA. I am thinking to travel Mexico solo and seeing your stories there all the time encourages me. I do not know you but you are the closest thing I know about Mexico City solo travel. My family and friends always warned me about the city but I feel like it's an enjoyable city! What are your tips for a female who wants to do a solo trip to Mexico City? Is it for everyone? Will I make it? Thank you for all the efforts you put into this blog and for sharing your life!

Jane Rodgers, United States
Hi Jane,
Thank you for reaching out and for following the blog! Mexico City is one of my favorite cities in the world but good question – is it for everyone?
Between you and me, I will tell you that the Mexican capital takes some getting used to but you will be fine! I know a lot of people who traveled Mexico city solo so don't doubt that you can also do it.
In this post, I will share with you some Mexico City solo travel tips including what areas to avoid, how to meet people, and best things to do for solo travelers.
Good luck and if you make it, I'd love to connect you with my good friends there!
Xx,
Trisha
P.S. You will read the term 'CDMX' in this post a lot. That's the shortcut for Mexico City and it means 'Ciudad de Mexico."
We also use the term 'DF' for Mexico City which means Distrito Federal.
Scared to travel alone? Why not join my trips?
Change the way you travel and spend your money to trips that matter – trips that you will never forget. My group trips are highly focused on responsible travel, supports local communities, and avoids the obligatory touristic circuit.
💃 Mexico City solo travel: personal experience
The very first time I arrived in Mexico City, I stayed in Casa Alameda MX, a great hostel in Guerrero. I honestly just stayed here because there was an offer for a private room and after a long trip from Japan, I wanted to have a place for myself without paying so much money.
The week I arrived, my friends from Mexico City wanted to meet right away. Since they live in CDMX, they all have cars and offered to pick me up at my hostel.
When I sent them the pin of my hostel, they all said the same thing: "why are you staying in Guererro? It's so unsafe there!!"
I honestly did not feel this way when I arrived. I just became extra vigilant when I was already told that the area I was staying in was unsafe.
I couldn't cancel the booking anymore because I already paid for a week. After meeting my friends for dinner, I was hyper-vigilant the next few days, even during the daytime!
I felt extreme paranoia in Guerrero and after a while, I asked myself: "how do you feel?"
When I assessed my feelings, I realized I did not feel unsafe in the hostel or the neighborhood I was staying in. I was just extra paranoid because of the thing that my friends said but I did not feel threatened.
It's so easy for us to listen to what other people say about a certain place that we forget that we have our own opinions and feelings, especially when we are experiencing it ourselves.
For a time, I did rely on that fear and then I decided that I will make my own story about Mexico City. I also forgot how I was already traveling solo for most of my life – why is Mexico City any different?
Look, you might think I am being stupid for not listening to my local friends who told me that Mexico City is dangerous. It's not that.
Through my world travels, I just know that tourists and locals have different views on their cities and that foreigners and nationals have different experiences. The locals don't travel their cities like us though their insider insights help a lot.
After that first trip, I went to Mexico City often. Like a lot. Most of my layovers stop there and I'm not going to spend them inside the airports. CDMX is too good of a city for that.
During these small visits, I have stayed for a month, 2 weeks, 3 days, even 24 hours. I visited Mexico City so often that it grew on me.
I knew how to move around and know how to blend in. There are many layers in my relationship with Mexico City but when I got to know the place, it became one of my favorite cities in the world.
That hostel in Guerrero that my friends said was unsafe? I stayed there 6 times after that first trip.
❤️ Why I love to travel to Mexico City
Food in Mexico City is the best!
From bustling street vendors selling quintessential snacks like "tacos al pastor" and "tamales" to high-end restaurants offering sophisticated Mexican cuisine, Mexico City provides a gastronomic experience like no other.
One of the city's crowning jewels is its wide array of street food, which is not just affordable but incredibly authentic.
Whether it's fresh "elotes" (grilled corn) or "churros" filled with caramel, every corner seems to offer something delicious.
Vibrant nightlife in Mexico City
The nightlife in Mexico City is as diverse and electrifying as the city itself, offering something for every kind of night owl.
From swanky rooftop bars in Polanco with panoramic city views to underground indie clubs in Roma and Condesa, the range is immense.
One of the iconic experiences is to visit a "cantina," a traditional Mexican bar, where you can enjoy local liquors like mezcal and tequila along with typical bar snacks ("botanas").
Great culture for all ages
Mexico City's culture is a dynamic tapestry woven from its rich history, blending indigenous roots with Spanish colonial influences and modern global currents.
The city is a thriving hub for art, music, and literature. Murals by Diego Rivera adorn public buildings, underscoring the city's long-standing commitment to making art accessible.
The Historic Center, a UNESCO World Heritage Site, is not just a nod to the past but a living, breathing space where history and contemporary life coalesce.
Everyone is in Mexico City!
I have met many people in different sizes, shapes, and colors in Mexico City, especially when I lived there.
It was such a great joy to see that many travelers are visiting Mexico City and that its reputation for being unsafe is slowly diminishing (to a smaller community who knows it).
From Europeans to Americans, many foreigners just don't travel here but they also opt to live in Mexico City for the low cost of living. It was not hard for me to make friends here while I was traveling alone!
Access to many other Mexico destinations
Mexico City serves as an excellent hub for exploring a variety of local destinations due to its well-connected transportation options.
Only a couple of hours away by car or bus, you can visit the stunning pyramids of Teotihuacan, a UNESCO World Heritage Site that offers a deep dive into ancient Mesoamerican culture.
Another popular day trip is to the "Pueblos Mágicos" (Magical Towns) like Taxco, famous for its silver crafts, and Tepoztlán, known for its mythical mountain and vibrant local market.
Mexico City's bus terminals and nearby airports make these trips quite convenient, offering regular services to many destinations.
🇲🇽 Need help in planning your trip to Mexico City? Get on a 1-1 call with me and I'll help you plan your itinerary, recommend affordable accommodations, and book cool things to do! [Book a call with Trisha]
✈️ Mexico City Travel Guide
Best time to visit Mexico City
The best time to visit Mexico City is from November to April which is the dry season. During these months, temperatures are at 11-24°C (52-75°F).
These months are part of Mexico City's dry season, and they are characterized by clear skies and mild temperatures. It can get chilly in the mornings and evenings, so layers are advisable.
Rainy season in Mexico City is from May to October, with temperatures around 12-26°C (54-79°F). The rainy season usually brings afternoon showers, but mornings are often clear.
The city is less crowded, and the landscape is lush and green, but you'll need to carry an umbrella and be prepared for sudden downpours.
Flights to Mexico City
The airport that serves Mexico City is Mexico City International Airport (MEX) also known as Benito Juarez International Airport.
USA, Canada, and even some cities in Europe have direct flights to Mexico City. FYI, even if you are traveling other destinations in Mexico, you are going to stop in Mexico City no matter what.
Renting a car in Mexico City
Like I said, I have my own car and I live in Mexico for 5 years now so I am pretty confident in driving in Mexico City. If you are just staying for a few days, you don't need a car.
However, if you are visiting nearby destinations like Grutas Tolantongo, Queretaro, and San Miguel de Allende, I highly encourage you to drive – it's really a nice way to see Central Mexico!
A rental car in Mexico City starts at $35 USD per day (Sedan). You can easily find a rental car at the airport and they also offer discounted prices.
Mexico City Airport transportation
Ubers are not allowed inside Mexico City International Airport. The best way to get to your hotel is to book an airport pick-up in advance – get in touch with me for trusted drivers or simply use this link to pre-book.
Mexico City Travel insurance
DO NOT travel to Mexico City solo without travel insurance. If you can't afford insurance, it absolutely means you can't afford to travel as well.
My favorite travel insurance is SafetyWing (for digital nomad and long-term travel) and Ekta Travel for comprehensive medical insurance starting at $0.99 USD!
🚌 Transportation options for Mexico City travel
Take the Uber. Period.
Uber is widely used in Mexico City and it is very affordable. I know that some of you are really adventurous solo travelers and you may want to take transportation options like the bus and the metro.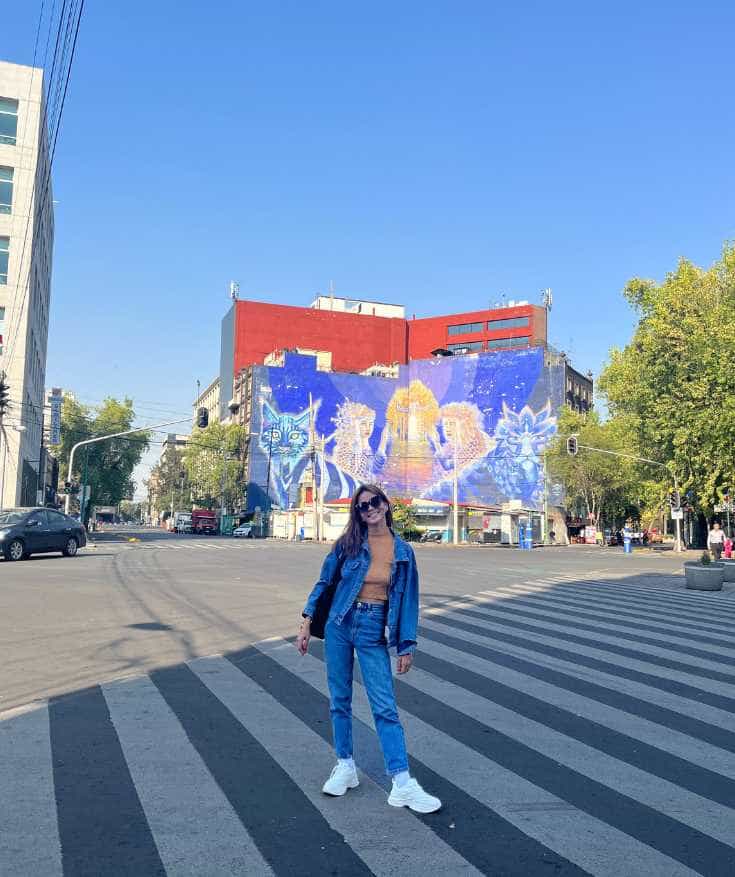 However, I don't advise you to do this unless you are quite confident in speaking Spanish or know the route very well.
I live in Mexico and I have my own car so I am confident in driving around Mexico City. Again, transportation safety in Mexico City is on a case-to-case basis. Do what works for you.
👍 Where to stay in Mexico City: safe areas
If you are staying in neighborhoods like Roma, Polanco, and Condesa, you don't really need to take public transportation and Uber will work well.
If you are worried about transportation safety in Mexico City, stick to these safest neighborhoods. Also opt for a stay in a hostel so that you will feel more confident by having other foreign solo travelers around.
Coyoacan and Juarez, though not very popular neighborhoods are safe to stay in, too. The downtown historic center is also a safe area and this is where all the landmarks and sights are.
🛏️ Mexico City Hotels
I know some of you are not very comfortable with sharing bed dorms (I graduated from that, too!) but hostels also have private rooms for $75 USD per night.
Below are some helpful links to accommodations in Mexico City in the safest areas:
🧭 Best things to do in Mexico City
As for your Mexico City travel activities, you want. tobe surrounded by other travelers or locals as much as possible. Why?
This will change your perception about safety in Mexico City and you will learn a lot from other people.
Sure, you can walk around neighborhoods near your hotel by yourself but make it a goal to be always learning from others.
Below are some of the extremely amazing things to do in Mexico City that will enable you to meet other people and make long-time friends!
FYI, the activities below are guided by locals and I also put their names. I met them and have vetted them for recommendations in my blog!
🎟️ Use the code PSIMONMYWAY10 upon checkout when you decide to book these local tours above!
🫱🏽‍🫲🏼 How to easily meet people in Mexico City
Stay in hostels
Hostels in Mexico City are super upbeat – everyone goes out together all the time, cooks dinner at the hostel, drinks together, works together, etc.
Some hostels are not sociable as others but still, if you are staying in a hostel, you still have the chance to talk to other people and not spend time alone on your whole trip.
If you don't want to share dorms because of COVID, hostels have private rooms, too! That's what I do whenever I am in CDMX – the private rooms are super cheap!
Best way to immerse: greet everyone like a Latin person
Notice how the Latin people always greet each other even if they don't know each other? Whether you are passing by a street full of people, you will hear everyone say "hola" (hello) or "con permiso" (a phrase you say when you're passing in between so many people).
Say "buen provecho" (bon appetit) while passing by street food carts. Always use the greetings buenos dias, buenas tardes, and buenas noches.
When you do this, you don't look like the odd one out and you'll definitely blend in. When my cousin visited me in Mexico, she was so ashamed that I am saying hola to people I don't know but that's just the Latin greeting!
Join my group trip to Mexico City!
Group tours not only enable you to meet people but also encourage and test your social skills. I realized that you can join a group tour all the time but if you are not social enough, then it does not work.
When you join group tours, you will also get a lot of tips and ideas from travelers about the destination you are visiting. Aside from the Internet, getting first-hand information from other travelers is one of the best ways to discover a place.
I have group tours in Mexico City for solo travelers every year – just get in touch and I will send you information! Each of my group tour is limited to 12 participants only so you'll have an intimate trip with me!
Anxious about Mexico City solo travel? Join my trip!
I organize yearly trips to Mexico City so if my answers to your questions about "Is Mexico City safe?!" are still not enough, come join my trips and I'll show you CDMX!
Mexico City expat and traveler groups
The best expat and travelers group to join in Mexico City are Mexico City digital nomads, Foreigners in Mexico City, and Foreigners and Expats in Mexico City (CDMX).
When you have questions or want to meet up, you can simply post in the group and there will be over 50 people who will give you tips and advice.
When I first moved to Mexico City, this is also where I met my first friends! It's so easy to meet up with people in this group. Everyone's super friendly and accommodating!
Couchsurfing hangouts app
I always use Couchsurfing hangouts and Mexico City has more activities in this app more than any city in Mexico! I understand that not all of you use Couchsurfing but it's not only for finding couches to crash – it's also a great tool to meet people anywhere in the world!
Tinder or Bumble in Mexico City
Coming from Puerto Vallarta and Sayulita where Bumble and Tinder is so white (mostly Americans and Canadians), I really had fun using Tinder and Bumble in Mexico City because it's so diverse!
Greeks, Argentines, even Turkish people live permanently in Mexico City. Although we all have the general impression that meeting up using Tinder and Bumble is for romantic reasons, you can always go for a friendly date.
Just make sure you tell someone the who, what, when, where. Don't go with strangers you just met and always meet in public places.
Well, if it takes off between you two and you decide to rendezvous somewhere, make sure someone knows the correct address.
Get in touch with me and I'll introduce you to cool people!
I have so many friends in Mexico City and they're super cool! Whenever you feel alone and you want an arranged meet-up, get in touch with me and I will connect you to some good people!
⁉️ FAQ: Mexico City Travel Solo
Trisha is one of those people who left their comfortable life to travel the world and learn about life. Her style is to stay in one place she likes for 3 months (or more) to know what it feels like to eat, cook, speak, and sleep in another culture that isn't hers. She'd like to believe she's not traditionally traveling but she just chooses to be somewhere else all the time. In no particular order, her favorite cities in the world are Barcelona, Buenos Aires, Hong Kong, Mexico City, and Tel Aviv.