Is Mexico solo travel safe? It does get really bad press but as one of my favorite cities in the world, I will give you a peek at what it's like to travel CDMX solo.
📮 Hello Trisha! I am a female digital nomad from the USA. I am thinking to travel Mexico solo and seeing your stories there all the time encourages me. I do not know you but you are the closest thing I know about Mexico City solo travel. My family and friends always warned me about the city but I feel like it's an enjoyable city! What are your tips for a female who wants to do a solo trip to Mexico City? Is it for everyone? Will I make it? Thank you for all the efforts you put into this blog and for sharing your life!

Jane Rodgers, United States
Hi Jane,
Thank you for reaching out and for following the blog! Mexico City is one of my favorite cities in the world but good question – is it for everyone?
Between you and me, I will tell you that the Mexican capital takes some getting used to but you will be fine! I know a lot of people who traveled Mexico city solo so don't doubt that you can also do it.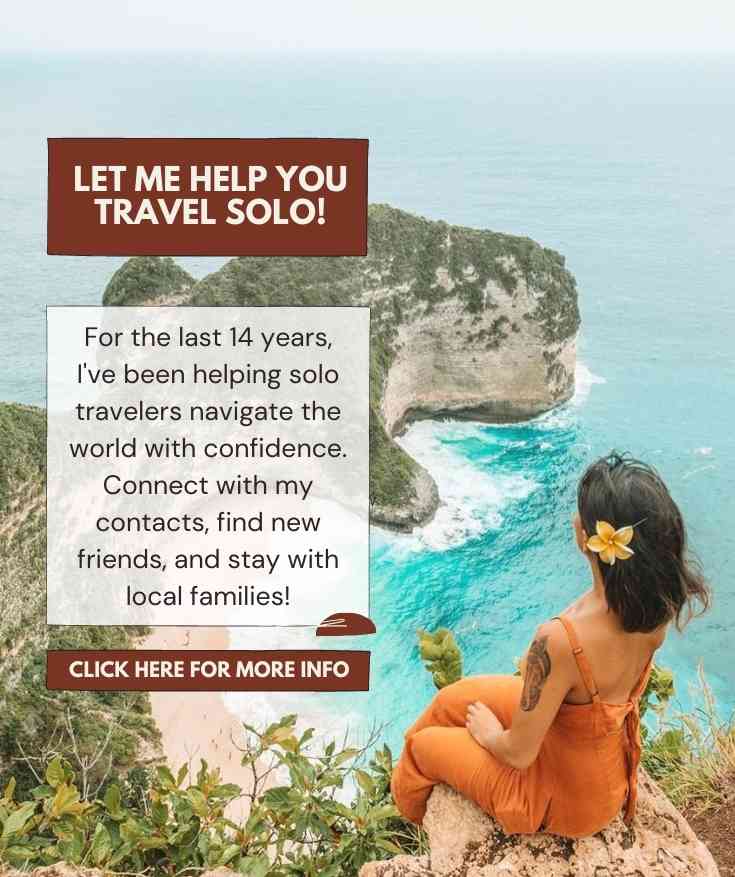 In this post, I will share with you some Mexico City solo travel tips including what areas to avoid, how to meet people, and best things to do for solo travelers.
Good luck and if you make it, I'd love to connect you with my good friends there!
Xx,
Trisha
P.S. You will read the term 'CDMX' in this post a lot. That's the shortcut for Mexico City and it means 'Ciudad de Mexico."
We also use the term 'DF' for Mexico City which means Distrito Federal.
⛔ Is Mexico City safe?
Not all areas of Mexico City are safe for solo female travelers. There are definitely areas you have to avoid but only during the night.
Mexico City has a high level of crime with problems like petty theft, armed robbery, assault, or drug-related issues.
Personally, I never encountered these petty crimes (not even theft!) so I don't have anything to share about this. Please bear in mind that in this blog, I only share things that happened to me so I really can't speak for this first-hand.
I do know a lot of people who have experienced this so this makes me believe that the crime rates in Mexico City are really high. I just did not experience it myself so there goes the difference.
But how do you avoid these things and NOT have bad experiences in terms of Mexico City solo travel like myself? Read on and find out!
🤔 Is Mexico City good for solo travel?
ABSOLUTELY. Mexico City is such a vibrant city. I feel like there's always room for different cultures here. Honestly, all my friends in Mexico City are Europeans who are actually living there – not just passing by.
There are many digital nomads in Mexico City that have been staying there full time. This city takes a lot of getting used to but I swear, this is the best city in Mexico!
The nightlife is very lively. There are cafes and bars everywhere. When I am in the Condesa and Roma area (where I usually stay), I feel like I am in Europe!
Mexico City is also very cheap so your travel budget will go a long way here.
❌ What are the areas I should avoid in Mexico City?
I wouldn't be very particular areas to avoid because my rule of thumb in Mexico City is to only walk during the day. In the evenings, I always take Uber.
Mexico City is a walking city. The streets are made for pedestrians. You will also see a lot of bikers (you can actually rent a bike) and also a lot of scooters (not the motorbike scooter).
Like many other cities worldwide, one neighborhood is safer than the other. In Mexico City's case, Roma, Condesa, and Polanco are labeled the safest.
You don't really need a travel guide to tell you what to avoid. As a traveler with great instincts, you will know at a first look if it's a good street to walk on.
I feel so bad about other articles that have a list of neighborhoods to avoid but I understand that we are all different people and safety is different for us.
I encourage you to see as many places as possible while you are in Mexico City. This is still one of the most Mexican cities in the country as are already too white and Western.
💃 Mexico City solo travel: personal experience
The very first time I arrived in Mexico City, I stayed in Casa Alameda MX, a great hostel in Guerrero. I honestly just stayed here because there was an offer for a private room and after a long trip from Japan, I wanted to have a place for myself without paying so much money.
The week I arrived, my friends from Mexico City wanted to meet right away. Since they live in CDMX, they all have cars and offered to pick me up at my hostel.
When I sent them the pin of my hostel, they all said the same thing: "why are you staying in Guererro? It's so unsafe there!!"
I honestly did not feel this way when I arrived. I just became extra vigilant when I was already told that the area I was staying in was unsafe.
I couldn't cancel the booking anymore because I already paid for a week. After meeting my friends for dinner, I was hyper-vigilant the next few days, even during the daytime!
I felt extreme paranoia in Guerrero and after a while, I asked myself: "how do you feel?"
When I assessed my feelings, I realized I did not feel unsafe in the hostel or the neighborhood I was staying in. I was just extra paranoid because of the thing that my friends said but I did not feel threatened.
It's so easy for us to listen to what other people say about a certain place that we forget that we have our own opinions and feelings, especially when we are experiencing it ourselves.
For a time, I did rely on that fear and then I decided that I will make my own story about Mexico City. I also forgot how I was already traveling solo for most of my life – why is Mexico City any different?
Look, you might think I am being stupid for not listening to my local friends who told me that Mexico City is dangerous. It's not that.
Through my world travels, I just know that tourists and locals have different views on their cities and that foreigners and nationals have different experiences. The locals don't travel their cities like us though their insider insights help a lot.
What's next after Mexico City? Check out Guanajuato
After that first trip, I went to Mexico City often. Like a lot. Most of my layovers stop there and I'm not going to spend them inside the airports. CDMX is too good of a city for that.
During these small visits, I have stayed for a month, 2 weeks, 3 days, even 24 hours. I visited Mexico City so often that it grew on me.
I knew how to move around and know how to blend in. There are many layers in my relationship with Mexico City but when I got to know the place, it became one of my favorite cities in the world.
That hostel in Guerrero that my friends said was unsafe? I stayed there 6 times after that first trip.
🚶‍♀️ Is Mexico City safe at night?
By yourself? NO. If you are with someone, sure, no problem. Although I've tried to walk by myself at night in Roma and Condesa areas – nothing happened to me.
As I said, my Mexico City solo travel golden rule: do not walk by yourself at night. Always take the Uber. Uber is so cheap in Mexico it won't really affect your travel budget.
That's it. Don't risk it. Although I never had any bad experiences in traveling Mexico City alone, I just made it a rule for myself and you should too.
🧭 Best things to do in Mexico City for solo travelers
#1: Visit Frida Kahlo Museum
This is something you can do by yourself. You don't really need the company to have fun at the Frida Kahlo Museum. If you read that guide, I gave instructions and details on how to visit Frida's Blue House.
👉🏽 Check prices and availability for Frida Kahlo Museum tours
#2: Go to Teotihuacan
Teotihuacan is about an hour away from Mexico City and if you sign up for a tour, you will meet people with whom you can explore the pyramids.
Technically, you are still doing this by yourself but if you get along with your tour group, then that's a plus! You can do this tour solo, no problem but it will be cheaper to join a tour.
👉🏽 Check prices and availability for Teotihuacan tours
#3: Explore the neighborhoods of Roma, Condesa, and Polanco
These three neighborhoods are the youngest areas in Mexico City. Here, you will find street art (that has stories) and murals made by local artists.
You will also find bars, restaurants, and cute cafes in these neighborhoods. It's super safe to walk here by yourself during the day.
Make sure to bring your camera but be vigilant if you have a DSLR cam. Don't show it off and bring a bag if you're heading out with a camera.
#4: Go on a party boat in Xochimilco
Xochimilco was a lake and canal system connected to most of the settlements in Mexico City. Here, you can go on a party boat that goes around the canal for 2 hours.
It's like the floating market in Vietnam and Thailand with vendors selling mostly alcoholic beverages on boats. All boats have blaring music since Mexicans love to go here and party!
👉🏽 Check prices and availability for Xochimilco tours
🛏️ Mexico City solo travel accommodations
Airbnbs are super cheap in Mexico because there is high demand. There are thousands of Airbnb properties just in the Roma neighborhood. You can even find a really nice one for $25 USD per night!
However, you don't want to travel solo to Mexico City and spend time by yourself in these pretty accommodations. I always stay in hostels in Mexico City and here are my favorites:
💲 Dorms from $10 USD; privates from $25 USD
This is my favorite hostel in CDMX because it's in the Roma area and it's so cheap! I think this is the cheapest hostel that is in Roma.
Most of the Mexico City hostels that you see online are not in Roma or Condesa area so make sure to acquire knowledge about the location before booking.
I stayed here for 10 days and have gained a lot of friends while I was here. In fact, I already traveled with two of them (we met again after a year) to different parts of Mexico!
The staff are also super cool and organizes Friday dinners for the guests.
👉🏽 Check prices and availability at Metro Hostal Boutique
Casai: better than Airbnb in Mexico City
💲 serviced studio apartments from $35 USD per night
As you may have read in most of my posts, I stopped supporting Airbnb this year and have not used it since. I felt robbed from working and doing some great campaigns for them, I do not respect this company anymore.
On the personal user side, I do not use this for my personal travels anymore because the extra fees are ridiculous. Sure, they have more listings but there are better platforms than Airbnb.
Casai is a Mexican company so rest assured they know this country more than Airbnb. Their serviced apartments are super cool and I stayed in some of their apartments in the Roma neighborhood.
Their wifi is super fast so I mainly recommend this accommodation for digital nomads in Mexico City. Their studio apartments start at $35 USD per night!
Although I am still encouraging you to NOT stay in Airbnbs or apartments on your solo travel to Mexico City, it's good to have options for when you want privacy.
👉🏽 Check prices and availability at Casai
✨ Mexico City safety tips and advice
Uber is cheap (and safe) in Mexico City
Remember the Mexico City solo travel golden rule: do not walk alone by yourself at night. During the day, it's totally fine, I assure you. But in the evenings or when it's dark, always take an Uber ride.
Uber is really cheap in Mexico City. Most rides will only cost you less than $5 USD. When I went from Condesa to Coyoacan, it only cost me $7 USD considering this is not too close to each other.
For short rides within the Condesa, Roma, and Polanco area, you will only pay $2 USD for an Uber ride.
Mexico City's train is old and not well maintained
I'm sure that if you are traveling solo, you want to get to know the public transportation of a certain city, especially in Mexico City. I don't mean to scare you but personally, I never take the train in CDMX.
In May 2021, the train in Mexico City crashed because it is super old and this public transport is not being maintained by the Mexican government.
I'm sure train crashes don't happen often but still, I will never (again) take this mode of transport when I am in Mexico City.
Earthquakes in Mexico City
In 2017, Mexico was hit by an earthquake and killed thousands of people. It was so strong that the whole region felt it. This is not the first time it happened in Mexico. Earthquakes are very common here.
I am not saying there will be an earthquake when you travel to Mexico City solo but bear in mind that you should know these are natural disasters we do not have control of.
You better know how to respond and not panic. All buildings in Mexico City have safety instructions so make sure to know the exit routes (or what to do) in cases like this.
Don't show off your gadgets
As a travel blogger and content creator, I always bring cameras and equipment with me. Although there are many artists walking around the city with their tripods and cameras, don't show off your gadgets when you are by yourself.
It's best to always bring a backpack to keep all your valuables. Everyone in Mexico has smartphones so I guess if you are going out at night, just take pictures with your phone!
I use the Mosiso gear bag because it's waterproof. It's always raining in Mexico City so better take care of your gadgets!
You don't really get a lot of attention for being white (or black, or any color, really)
Mexico City is very diverse you will not get a lot of attention for being white (or black). I think it's very important to discuss this because, in some places in Mexico, people make a big deal about your skin color.
Not racial discrimination but you know, just being looked at all the time. I get that a lot for being Asian but in Mexico City, nobody takes a second look!
You will get looks for being a foreigner of course but most of that attention is only because you are attractive or exotic. Take it as a compliment!
Booking your accommodation: how to know if it's the best location
If you are doing a solo trip to Mexico, I highly encourage you to stay in Roma and Condesa areas where it is busier and has more chances for meeting people.
But how do you know you're booking the right Mexico City accommodation? Honestly, booking platforms don't really tell you 'Roma' or 'Condesa' unless you read through the description of the hostel.
I assure you that Metro Boutique Hostal is a good hostel in Roma and also a great reference point for other hostels you might be interested in.
Before booking, go to Google maps and put Metro Boutique Hostal as a starting point to the accommodation you are trying to book.
If it's a 15-20 minutes walk, then that's fine – you are within the Roma neighborhood. But if it's more than that, then you should consider looking for more options.
Street names are also good references. Queretaro, Cordoba, and Guanajuato are great streets in the Roma neighborhood.
These streets are very upbeat and have all the greatest coffee shops, bars, and restaurants in the city. You can use them on Google maps to know the distance of the hostel you are trying to book.
Ladies, you don't have to be mindful about proper clothing in Mexico City
If you're an avid reader of this blog, you will know how I express a lot about not wearing bras – I have not worn one since I was 14. It's a pretty normalized subject for me.
I have to discuss clothing for women in many of my solo travel guides because not all destinations receive things like this the same way.
The people of Mexico City are super hipster and fashionable – nobody cares what you're wearing! You will wear a lot of clothing here (layers) because of the cold weather.
It is very hot in the summer but the evenings can get chilly. Either way, you need to travel to Mexico City with an emergency jacket even during the summer.
Wear what you want! What you'll love about Mexico City is how artistically expressive everyone is. So far, in the whole country, I was never harassed or attacked because of what I wear. That's how it should be!
Consider your source
I understand that you will listen to people who are close to you. I mean, why are you even considering my opinions if you don't me personally? Or any other blogs for that matter.
When we break news to our family and friends that we are going to travel to Mexico City solo, images of terror and crime are what they have for this city.
They will tell you what they've seen on the news and all that shebang. This can make you discouraged on embarking on your Mexico City solo travel.
It is very valid to consider their opinions but I want you to only listen to people who have experience in traveling Mexico City alone.
It does not have to be a blogger. It can be friends of yours, Facebook groups, forums, info, etc. Make sure the person you are getting your information from has enough experience in Mexico City.
🫱🏽‍🫲🏼 How to easily meet people in Mexico City
Stay in hostels
Hostels in Mexico City are super upbeat – everyone goes out together all the time, cooks dinner at the hostel, drinks together, works together, etc.
Some hostels are not sociable as others but still, if you are staying in a hostel, you still have the chance to talk to other people and not spend time alone on your whole trip.
If you don't want to share dorms because of COVID, hostels have private rooms, too! That's what I do whenever I am in CDMX – the private rooms are super cheap!
Best way to immerse: greet everyone like a Latin person
Notice how the Latin people always greet each other even if they don't know each other? Whether you are passing by a street full of people, you will hear everyone say "hola" (hello) or "con permiso" (a phrase you say when you're passing in between so many people).
Say "buen provecho" (bon appetit) while passing by street food carts. Always use the greetings buenos dias, buenas tardes, and buenas noches.
When you do this, you don't look like the odd one out and you'll definitely blend in. When my cousin visited me in Mexico, she was so ashamed that I am saying hola to people I don't know but that's just the Latin greeting!
Join my group tours!
Group tours not only enable you to meet people but also encourage and test your social skills. I realized that you can join a group tour all the time but if you are not social enough, then it does not work.
When you join group tours, you will also get a lot of tips and ideas from travelers about the destination you are visiting. Aside from the Internet, getting first-hand information from other travelers is one of the best ways to discover a place.
I have group tours in Mexico City for solo travelers every year – just get in touch and I will send you information! Each of my group tour is limited to 12 participants only so you'll have an intimate trip with me!
Mexico City expat and traveler groups
The best expat and travelers group to join in Mexico City are Mexico City digital nomads, Foreigners in Mexico City, and Foreigners and Expats in Mexico City (CDMX).
When you have questions or want to meet up, you can simply post in the group and there will be over 50 people who will give you tips and advice.
When I first moved to Mexico City, this is also where I met my first friends! It's so easy to meet up with people in this group. Everyone's super friendly and accommodating!
Couchsurfing hangouts app
I always use Couchsurfing hangouts and Mexico City has more activities in this app more than any city in Mexico! I understand that not all of you use Couchsurfing but it's not only for finding couches to crash – it's also a great tool to meet people anywhere in the world!
Tinder or Bumble in Mexico City
Coming from Puerto Vallarta and Sayulita where Bumble and Tinder is so white (mostly Americans and Canadians), I really had fun using Tinder and Bumble in Mexico City because it's so diverse!
Greeks, Argentines, even Turkish people live permanently in Mexico City. Although we all have the general impression that meeting up using Tinder and Bumble is for romantic reasons, you can always go for a friendly date.
Just make sure you tell someone the who, what, when, where. Don't go with strangers you just met and always meet in public places.
Well, if it takes off between you two and you decide to rendezvous somewhere, make sure someone knows the correct address.
Get in touch with me and I'll introduce you to cool people!
I have so many friends in Mexico City and they're super cool! Whenever you feel alone and you want an arranged meet-up, get in touch with me and I will connect you to some good people!
Mexico City solo travel on Pinterest: save it for your trip!
Trisha is one of those people who left their comfortable life to travel the world and learn about life. Her style is to stay in one place she likes for 3 months (or more) to know what it feels like to eat, cook, speak, and sleep in another culture that isn't hers. She'd like to believe she's not traditionally traveling but she just chooses to be somewhere else all the time. In no particular order, her favorite cities in the world are Barcelona, Buenos Aires, Hong Kong, Mexico City, and Tel Aviv.