Are you a volunteer abroad newbie? I've been volunteering around the world for the last 12 years (7 years of those, I did non-stop), and here are my best volunteer travel tips for those who are new to this style of travel.
Reader Mail: Dear Trisha, I hope this message finds you in good health in these crazy times. I'm writing out of curiosity, I'm new to the site, and considering all the global lockdowns, I noticed that there aren't very many active volunteers still on here with active accounts. I was thrilled to find yours.
You seem to be a veteran in this world, do you have any volunteer travel tips for a seedling like me? I would be most grateful for any advice you throw my way. If not, love your content and looking forward to reading more stories.
– Aishwarya, India
Dear Aishwarya,
I am so glad you got in touch with me! I know there aren't a lot of people doing volunteer travel right now because of the pandemic but many volunteering listings are still open. I am happy that you decided to travel like this so, in this post, I will give you some important tips that I cultivated from years of volunteering abroad.
I hope this will help you and if you are in Mexico, don't forget to get in touch! I would love to meet you. If you have more questions, please get in touch with me via Instagram so I can answer them and add them to this post.
Xx,
Trisha
What is volunteer travel?
The volunteer work I am talking about here is not about charities or NGOs. It is often referred to as 'work exchange.' Meaning, you will do certain hours of work in a hostel, farm, bars, restaurants, etc in exchange for something. It's usually free accommodations, which wills stretch your travel budget further.
All these volunteering jobs are unpaid and you can access these listings by paying a yearly membership fee on a volunteering website that you prefer. Later on, I will discuss which one I use and it comes with a $10 USD discount if it's your first time signing up!
My experience with volunteer travel: 7 years non-stop
Once upon a time, I was a young backpacker and poor AF. I landed in Brazil with only $25 USD in my bank account (not kidding!) and started to learn about volunteer travel. 12 years ago, there weren't any volunteering websites or bloggers that will guide you on how to volunteer abroad so I did all this in-person research by myself!
Once I got a hold of it, I traveled for 7 years without paying for accommodations. I also learned Spanish fluently after 3 years in South America. These are only a few of the benefits of volunteering but in this post, I will give you some wisdom on how to do volunteer travel especially if you are just starting.
I have lots of articles about volunteering so please feel free to browse the blog if you are looking for a particular destination guide!

12 volunteer travel tips for first-timers
Tip #1: Use Worldpackers
Worldpackers is my go-to website when it comes to volunteer travel abroad. They have thousands of volunteering opportunities in many countries in the world. I've tried many websites for the last 12 years that I have been volunteering abroad but this one is the one that worked for me well.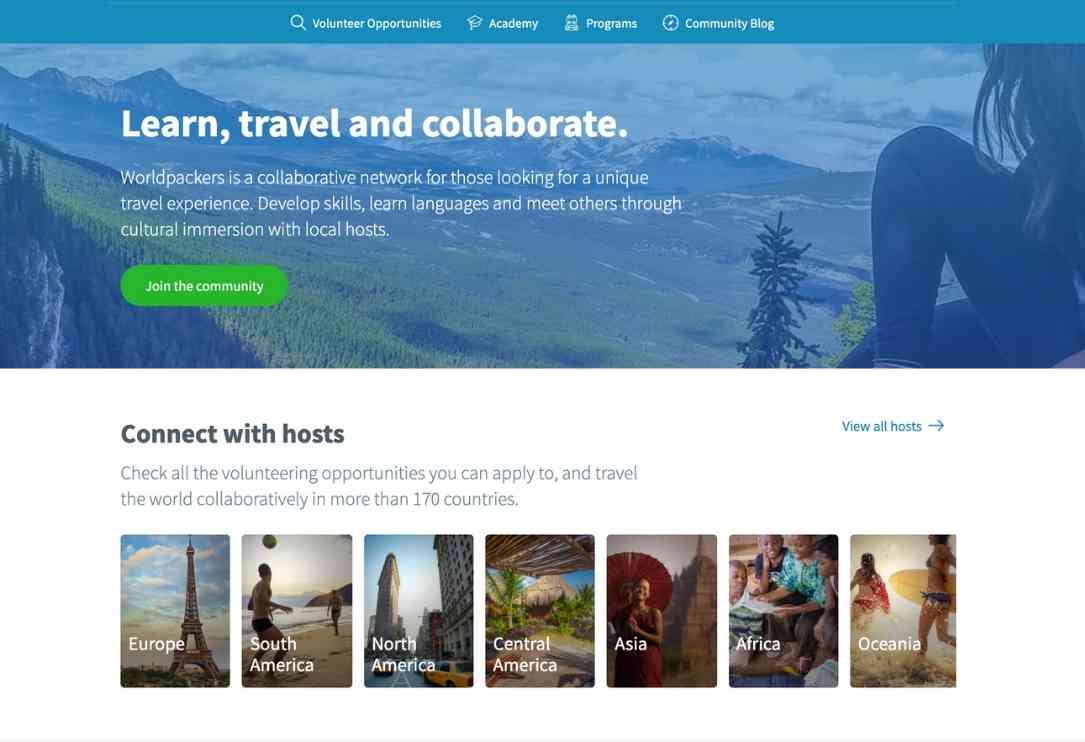 The website is easy to use and you can connect with over 100+ hosts per country. If you sign up using this link, you will get $10 USD off your membership, or simply use the code PSIMONMYWAY10 upon checkout. After signing up, you'll have free access to thousands of volunteering opportunities. They are usually big in Latin American countries.
Tip #2: Make sure your volunteering profile is complete
Lots of volunteers take their profiles for granted but little did they know that the hosts are looking at their profiles thoroughly! Remember you are not the only one applying for volunteer travel. There may be hundreds of you at the same time so the hosts' options are unlimited. In my experience, they usually choose the ones who have honest and transparent profiles.

I made long-time friends from volunteering and we're still in touch up until today!My best tip is to put high-resolution photos of you traveling. If you can include photos with pets, that will be great, too! Most opportunities are not about pet care but if you are good with animals, hosts always look at that as a plus even if your volunteer work does not have anything to do with animals. If you also have photos with kids (your family, nephews, etc), that will also help!
Of course, this is only for beginner volunteers but if you already have prior experience, put photos (with you in it) of your previous volunteering gigs. This way, the hosts will know that you are experienced. Lastly, don't forget to fill out all necessary details in any volunteering platform you choose. Don't leave any field blank.
Tip #3: Be careful in copy/pasting your application message
It would have been easier if you're only filling out a form for your volunteer travel applications but this is not the case. You actually need to write a short essay or narrative on why you are interested to volunteer with them. Hosts read this and they will see how sincere you are in staying with them. Meaning, you're not only after the free accommodations and food.
The common mistake I often see from volunteers is that they copy/paste the same message and mass send it to all hosts. Sure, you can do this but you have to make sure that you are:
Changing the salutation: it's better to address the host with their first name. This is 2-way – you will also see their profiles so it's not a lot of work to address them by their first names. This shows more sincerity and they will think that you read their profile (even if you didn't.)
Make sure to mention something about their program: if the volunteering gig is about animals, say words like, "I grew up with pets and I am good with animal care. I really love dogs!"
Are you the volunteer they are looking for? Each volunteering opportunity has a section where they put the help they need. For example, "must be equipped with social media and websites,". Read this section and in your application, you can say, "I have been a social media manager for 5 years and have in-depth experience with digital marketing. I am only using this example because this is how I always find my volunteer jobs abroad as a digital marketer and travel blogger.
Keep your application to 200-300 words. Don't write an essay! Go through their program, read the important details, and put together a small paragraph to sell yourself. The longer your application is, the lower chances you will get accepted. I am saying this because I am also a volunteer host in my town. Some people write lengthy narratives that do not have anything to do with the volunteering opportunity I posted.
Application essay format that I use: feel free to use it too!
Volunteering opportunity: Help needed in a vineyard in Mendoza, Argentina
From the title of the opportunity, play with the words of your application. The subject is very important when sending out your application because this is the first thing that the host will read. Below are some wordplays I suggest:
Visiting Mendoza soon and interested in volunteering with you!
I love wine and would love to learn with you!
Enthusiastic backpacker from (your country) visiting Mendoza soon
Hardworking volunteer looking for an opportunity in Mendoza
I'm your superstar volunteer! (for something more generic)
Now for the body of your e-mail, remember to put all the necessary (and personal) details about the host and the listing.
Dear Facundo,
My name is Trisha and I am from the Philippines. I have been traveling South America for the last 2 years through volunteering. This time, I am going to Mendoza and I would like to discuss the opportunity of volunteering with you for 2 weeks to 1 month. I love wine and though I do not have that much experience, I am willing to learn – I am really a fast learner.
The task seems easy but if you can give me more information, I'd love to jump on a quick call with you. I am also equipped with social media if you need help in this department. I've been a digital marketer for the last 12 years and would like to offer some of my services in exchange for staying with you.
Thank you so much and I hope to hear from you!
Tip #4: Stay longer
The minimum stay when you volunteer is 2 weeks. For some of you, this might be long that is why volunteer travel is best for those who are traveling indefinitely. When I did long-term travel, I did not have any plans and I planned my route day by day.
Meaning, I did not leave until I felt the need to do so. Some volunteering jobs will stick to you so you may find yourself staying longer. But if you don't like the job you are in, feel free to complete 2 weeks.
The reason why hosts ask you to stay for a minimum of 2 weeks is that training you for the job will already take time so if you are only staying for a week, it's not worth their time to train you (and train a new volunteer after a week). Hosts are also investing in you since volunteering is a cultural exchange.
Additionally, staying in one place for long periods of time will convert you into a local. That's what happened to me – I volunteered in a hostel bar in Paracas, Peru, and promised only 2 weeks. I ended up staying 6 months and I eventually became the bar manager!
They sponsored my work visa because they liked how I worked. I was then converted to a paid employee and this is one of the best years of my life!
Tip #5: Do not apply to volunteering jobs that you're not interested in
This happened to me a lot. As I was a poor backpacker 10 years ago, I did not care what volunteer jobs I apply to. My priority was to have free accommodations and food. I did not read the volunteer listings carefully and I massed copy/paste my application letter just because.
I then ended up being accepted in a very bad volunteering opportunity – something that I did not like. The hosts were arrogant and demanding. That was my fault for not reading host references.
The job was great, sure. But I was not comfortable with the hosts' attitude so I went through it for the whole 2 weeks even if it was very uncomfortable. I will never put myself in that position again – it was terrible!
Luckily, there are many opportunities on Worldpackers whether be it hostel work, animal care, community work, advocacies, etc. You just need to identify your advocacy and stick to it. You can do different volunteering jobs in every area and location but in my experience, if you are sticking to one theme, you will be hired faster.
Tip #6: Identify your advocacy
I volunteered in Africa for 2 years straight and before this trip, I identified the thing that I have strong feelings for – girls' education. It was difficult to find volunteering opportunities in Africa that are more gender-focused but there are some.
Volunteering abroad means that you want to support a cause and this is one of the most important points that we keep forgetting as travelers – our main goal is to always get free accommodations and food without thinking about what kind of organizations we want to support.
Traveling provides you a different view of the world. You may not feel that now but as you go and do volunteer travel, you will come across experiences that will stick with you.
If you are a beginner volunteer, you do not have to know your advocacy right away. Play with it as you go! But always re-check your humanity and think about the causes that you are passionate about. Once you know it, stick with it.
Volunteer platforms also give certificates so if you are only doing the same volunteering opportunity, these websites can certify you (i.e. certified bar volunteer, certified kitchen volunteer, etc).
Tip #7: Read the hosts' references/testimonials
The host is not the only one who can leave a reference about their volunteering experience with you. You can leave them a reference for other volunteers to see it, too! At the beginning of my volunteer travel career, I did not really read host testimonials (I was awful like that) so like what I mentioned above, I ended up with bad hosts.
From traveling the world for years, I have come to realize that we won't get along with everyone, especially if we're meeting them online. It's like online dating – you can see that their pictures are super nice but in the end, what kind of people are they?
What is their humanity? Do they treat volunteers well? Are you going to be part of a family? Are you going to have a deep cultural immersion? Do these people take time to teach? Or they just want volunteers so they will save on employee wages?
Always read the references of your host because they are reading yours, too.
Tip #8: Always ask for testimonials after your volunteering gig
In my experience, almost all the hosts I stayed with do not put any effort in leaving a testimonial for their volunteers. In this case, since I was at the beginning of building my volunteer abroad profile, I always ask them 2 days before my departure to leave a reference or testimonial about their experience with me as a volunteer.
I swear, they won't remember it! One of the hosts even asked me to log in to the hostel computer and make a testimonial myself! I mean, if your host trusts you like that then that's good. But having genuine comments from them is still the better way to go.
After my volunteering gigs, a lot of them did not leave any comments for me so I emailed, called, Whatsapped, and just bugged them overall so I can have a reference. It doesn't matter if it's long or short.
Some hosts just don't have the time to do this or write something for you. In my experience, having lots of references and testimonials on my profile gave me more opportunities all over the world. Some even contacted me on their own – I did not need to get in touch with them!
Be tenacious until they give you a reference. I swear you will need this to back you up!
Tip #9: Know your rights as a volunteer
This is not a paid job, there are limits. I know that when you are staying with them for free, you may find yourself in a situation where you can't say no. You will feel obliged to do what they want you to do even if it wasn't part of the deal. Of course, if you want to do it, I cannot stop you.
There will also be a time that you will feel connected to the host so you will do everything for them open-heartedly. That happened to me a lot, believe me!
But remember that you are only required to work 5 days a week, 5 hours a day, + 2 days off. Do not work more than this! Apart from volunteering and local immersion, your goal should also be getting to know the place you are staying in. If the hosts ask you for more hours or days (or if you feel like they are violating volunteer rights), get in touch with the website you used and feel free to report them.
I hope you will not arrive at this point but I did a lot of times. It's very important for you to know your rights and clear the tasks you need to do upon arrival to avoid confusion and conflict with the host.
Tip #10: Be proactive. Create volunteering jobs that don't exist
As I said, there are many travelers applying for the same volunteering job as you. Don't be too overconfident. Sometimes, especially if you are just starting and have no references, you will receive zero replies even if you sent out 100 applications. The competition is tough although it may be a little less competitive now because of COVID.
If you ever find yourself without a volunteering job and you urgently need it, walk in. This happened to me once when I noticed that a restaurant menu in Cusco was poorly translated to English. I approached the manager and told them they need to tweak their menu and they ended up hiring me for translation jobs!
Volunteering in a hostel bar in Bolivia during World Cup 2014.
Don't be afraid to open opportunities for you especially if it's your field of expertise. If you are a photographer and you see an Instagram account of a hostel that needs help, send a message and offer your services.
If you see a restaurant website that has lots of errors in it (and you are a web programmer), get in touch to make their website better. It's all about persistency and tenacity. You'll never know what kind of jobs you'll land on if you are proactive!
Tip #11: Learn the local language (at least some basic phrases)
When people hear me speak Spanish (on Youtube or on Instagram), they always assume that I went to a Spanish language school but the truth is I did not. I am fluent in Spanish because of volunteering and I am not kidding! In the beginning, I spoke really bad but what I realized when it comes to learning a language is that you need to like it.
The reason why I keep learning languages wherever I go is that I hate looking like an idiot or being left out at a table full of locals – I always feel the need to join the conversation. 12 years later, I am fluent in 7 (communicative) languages but I still need to work on my writing skills.
Before you go, make sure you have some handy phrases. You do not have to be fluent in most volunteering jobs but if you can do basic communication, then that gives you plus points!
Don't pressure yourself because once you are in a job (remember, it's a minimum 2 weeks stay), you will be surprised how you will pick up the local language quickly. Being in the environment of language really helps!
#12: Get travel insurance
I did volunteer travel in my 20s and I never really cared about travel insurance. When I was volunteering in Medellin, I had a mini accident in the hostel (story too long!). I had to go to the ER for immediate care and when the hospital asked me if I have travel insurance, I said I didn't have any.
I ended up paying big bucks for an expense I did not expect and was not part of my backpacking budget. It was a pain! From then on, I've been paying $40 USD a month for travel insurance which is now a big priority on my monthly expenses.
When you are young and able, you will feel invincible and not give importance to things like this. But in the end, you'll see how little money you pay if you have secure travel insurance.
☕ Do you like what you're reading? Does it help? I take a lot of time creating valuable and meaningful content. If you like to support my content creation and my blog, consider donating to my coffee fund. Thank you in advance!
Volunteer travel tips on Pinterest: save it for later!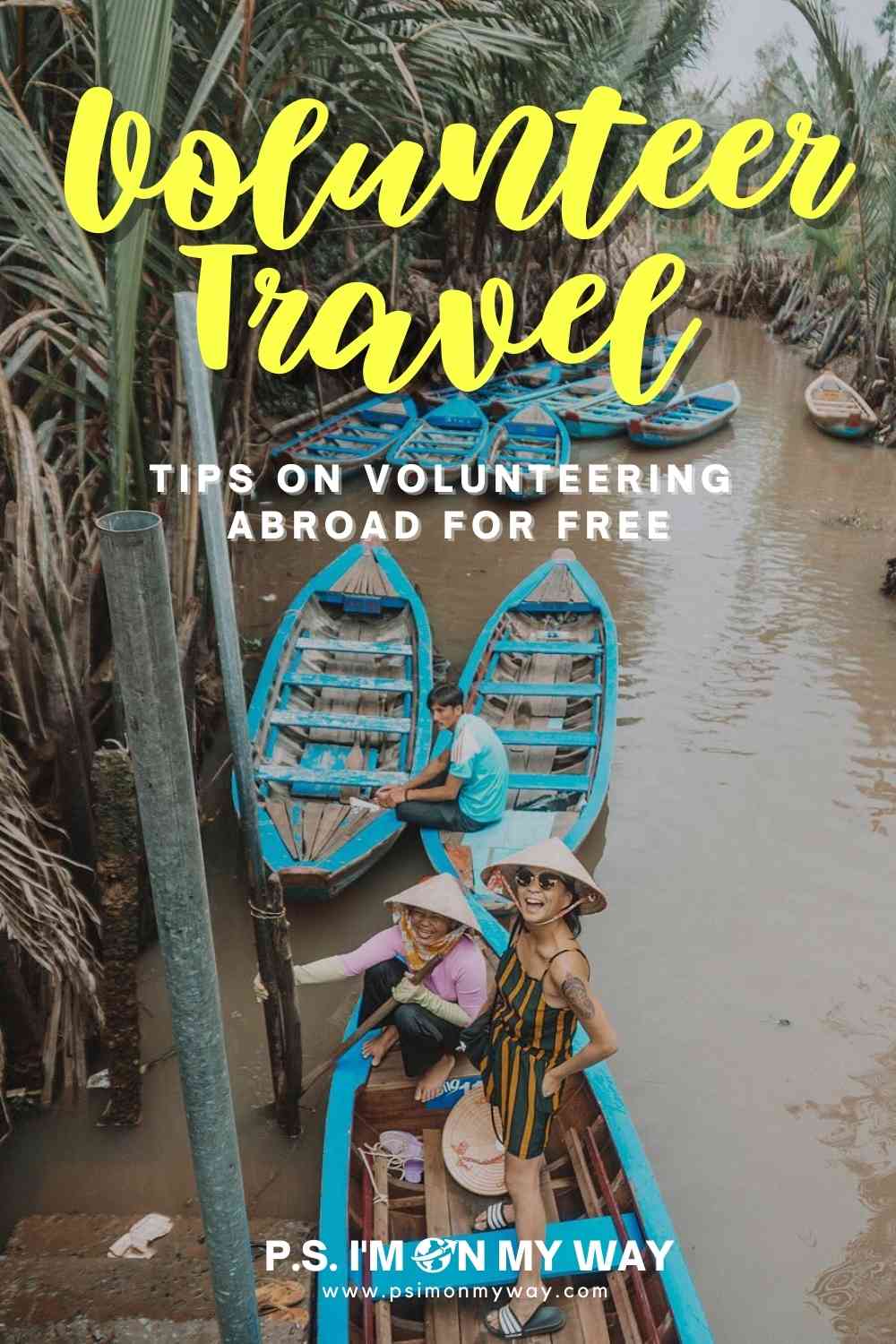 Trisha is one of those people who left their comfortable life to travel the world and learn about life. Her style is to stay in one place she likes for 3 months (or more) to know what it feels like to eat, cook, speak, and sleep in another culture that isn't hers. She'd like to believe she's not traditionally traveling but she just chooses to be somewhere else all the time. In no particular order, her favorite cities in the world are Barcelona, Buenos Aires, Hong Kong, Mexico City, and Tel Aviv.