Glad you are interested in joining my Oaxaca day of the dead tour! I go to Oaxaca every year and this is my favorite event in Mexico. I have lived in Mexico since 2018 and this is my 4th year doing a Oaxaca day of the dead tour! From October 31st through November 2nd, the city comes alive in celebration of this traditional Mexican holiday.
Day of the Dead, or Día de los Muertos, is about honoring loved ones who have passed away with colorful and lively celebrations. In Oaxaca, you'll find parades filled with music and dancing, elaborate altars adorned with marigold flowers, candles, and offerings of food and drink. The atmosphere is electric as locals dress up in calavera (skeleton) costumes and paint their faces with intricate designs representing death as an integral part of life.
👉🏽 See also: Oaxaca day of the dead guide
🎉 $100 USD discount code for full payments before June 30, 2023.

Oaxaca day of the dead tour highlights and quick info
💀 Experience the biggest event in Mexico: we've been doing this for 4 years in a row now so rest assured that you will be in good hands.
🏺 Visit iconic attractions in Oaxaca: we're not just drinking and going out every night. We will also tour Oaxaca!
🌮 Oaxaca is world-famous for its food: Discover Oaxacan cuisine through our secret spots in Oaxaca City. We will also take you to the famous ones featured on Netflix but we have more non-popular spots to take you to!
🫱🏽‍🫲🏻 Our tours support local communities: we traveled far and wide to find these tours that are not on any tour booking platform! Most of the activities in this itinerary are unique to us, and we only offer them to our clients. The local hosts of the tour have gone through a rigorous selection process (sustainable, honest, and transparent).
🧑‍🤝‍🧑 Small group tour: this is a small group tour (maximum of 12 participants) so you'll meet like-minded individuals. We go on a call with all the participants on tour. From there, we group the participants according to their personalities!
⚥ Non-gender specific tours: We used to do group tours for female travelers but through the years, more solo travelers who are men. Everyone of all shapes, sizes, and colors are welcome to join this Oaxaca day of the dead tour!
Meet your Oaxaca day of the dead tour guide
Trisha Velarmino has been doing her yearly Oaxaca day of the dead tour since 2020. She moved to Mexico in 2018 and has helped thousands of solo travelers, digital nomads, and expats to move and travel to Mexico. She has traveled to all 32 states of Mexico and is currently residing in Los Cabos, Baja California Sur.
Flights are NOT included in this Oaxaca day of the dead tour. Our office can help you book a cheaper flight but you can also use the search button below to find the cheapest flights to and from Oaxaca City.
Oaxaca day of the dead tour itinerary
Day 1: October 30, 2023
Day 1 is arrival day. Please note that the flight is not included in the final price of this Oaxaca day of the dead tour. However, our office can help you find the cheapest flights! Everyone usually arrives at different times on October 30th so this will be a chill day/night.
Our only activity for this day is having dinner and drinks at a rooftop restaurant. This is our welcome party, where we will get to know each other and, at the same time, enjoy our first night in Oaxaca! The welcome dinner's food price is optional and not included in the tour price.
If you're arriving before dinner, we can get together for lunch or drinks. Just let me know and I will arrange something!
Day 2: October 31, 2023
10:00 AM – Oaxaca City Walking Tour
We will start the day with a Oaxaca City tour. Please be at the hotel lobby at 9:50 AM so we can start the tour. You need to know the layout of Oaxaca City on the first day so that you won't get lost in the next few days. On this tour, we will visit famous landmarks, go to rooftops with the best views of the city, take colorful photos of the streets, go to photo spots, and more! Our photographers will take your pictures so you don't have to worry about this!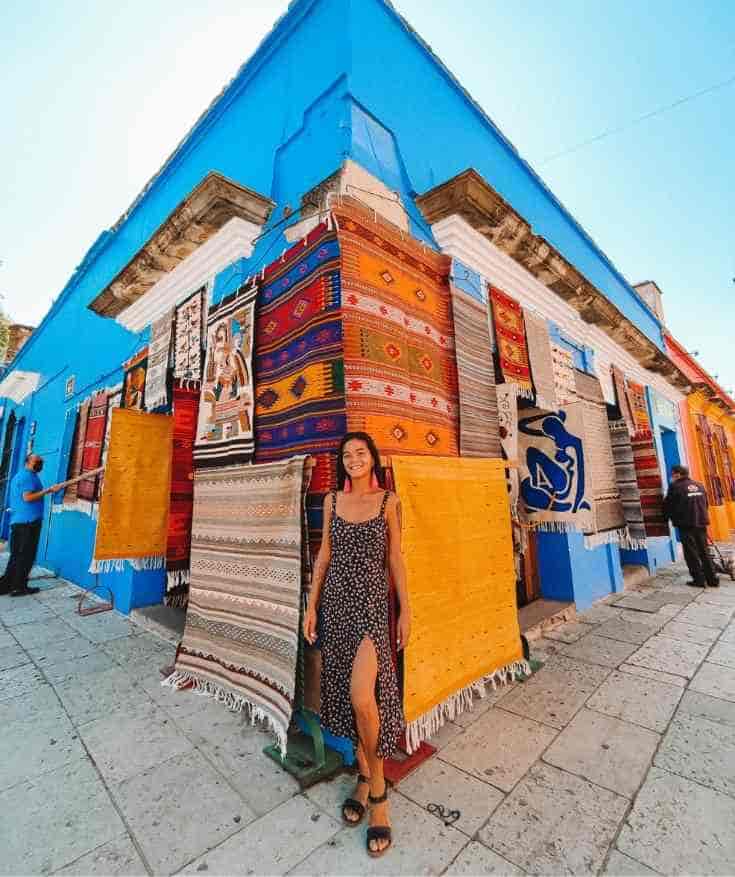 12:00 PM – Cooking classes with lunch and open bar mezcal
For this traditional Oaxacan cooking class, we will go outside of Oaxaca City (about an hour drive). The place where we will do a cooking class is in nature and it's outdoors! This is one our best tours in Oaxaca City that is available all-year round. First, we will do a tour of the organic garden where we will get the ingredients for our cooking class. After which, we will start the mezcal tasting while chopping ingredients. We will be provided unlimited mezcal but please don't get drunk – the day is still long!
Snacks will also be provided, and we will eat what we cooked! Normally, we prepare different traditional Oaxacan dishes because the locals make a special menu for us. What we usually cook is memelas and tetelas, 2 iconic food of the Oaxacan cuisine.
4:00 PM – Rest and free time
We are scheduled to be back in Oaxaca City by 4:00 PM. The van will drop you off at your hotel. You can nap, take a shower, and freshen up for the evening. It is important to take naps during this Oaxaca day of the dead tour so enjoy this free time!
7:00 PM: Catrina make-up
A make-up artist will come to your room for your Catrina make-up. The make-up sessions can last up to an hour but we hired 4 different people who will do this for all of us! Please make sure to bring a photo or browse Pinterest for ideas. Below are some Catrina make-up samples that Trisha designed herself.
8:15 PM: Street food dinner: tlayuda
Please be at the lobby by 8:05 PM and we will all go together to explore the street food of Oaxaca! The first iconic street food that you should try is tlayuda. Tlayudas are like giant crispy tortillas, topped with a variety of savory ingredients that make for the perfect meal or snack any time of day.
They are made with a unique type of corn called maiz oaxaqueño that gives them their signature crunch. The toppings can vary, but some popular choices include refried beans, cheese, meat (like chorizo or tasajo), avocado, and salsa. It's like a Mexican pizza – only better!
After dinner activities are optional, but we encourage you to come! We will go to a few bars and mezcalerias around town. I will introduce you to some friends, we will walk around the city at night, we will drink at rooftop bars, and even have a midnight snack if you like! This is completely optional as I know not all of you want to party. We can drop you off at the hotel if you don't wish to join. For those who are joining, alcoholic drinks after dinner or midnight snacks are not included in the tour price.
Day 3: November 1, 2023
7:30 AM – Hierve El Agua Tour
Please be at the lobby by 7:20 AM. We will drive to Hierve El Agua petrified waterfalls and will spend the whole afternoon there. First, we will stop for a local breakfast (comal tacos) before we start our Hierve El Agua tour. First, we will hike to Hierve El Agua where you will see a full-view of these petrified waterfalls. After that, we will swim in the pools and spend the morning there drinking, taking pictures, and having fun!
👉🏽 What to bring: swimming clothes, hiking clothing, running shoes, towel, change of clothing
4:00 PM – Rest and free time
We are scheduled to be back in Oaxaca City by 4:00 PM. The van will drop you off at your hotel. You can nap, take a shower, and freshen up for the evening. It is important to take naps during this Oaxaca day of the dead tour so enjoy this free time!
8:00 PM: Dinner and cemetery visit
Please be at the lobby by 7:45 PM. We will head outside of Oaxaca Centro to do our cemetery tour. In the cemetery, we will have to go in groups of 2. Group 1 will go first while group 2 can wait at the restaurant and have drinks. Dinner is included in this price, but you have to pay for your alcoholic drinks.
👉🏽 End of day 3 tour: heading out with us after dinner is optional
Day 4: November 2, 2023
7:30 AM – Mezcal tour and lunch
Please be at the lobby by 7:20 AM. This day is exciting because we are going to the agave fields and learn about mezcal! First, we will go onboard a truck to go to the fields. In the field, you will learn about the different types of mezcal plants used in mezcal production. You will also get to plan your own agave and give it a name!
After that, we will have lunch at the open agave fields. The lunch is prepared by the local family, so it is very traditionally Oaxacan! After lunch, we will drive back to the palenque to learn about how mezcal is made. You can buy bottles here – their high-grade mezcal is way cheaper than anywhere else!
👉🏽 What to bring: hats, sunscreen, change of clothing if you get sweaty, cash if you are buying mezcal bottles
4:00 PM – Rest and free time
We are scheduled to be back in Oaxaca City by 4:00 PM. The van will drop you off at your hotel. You can nap, take a shower, and freshen up for the evening. It is important to take naps during this Oaxaca day of the dead tour so enjoy this free time!
8:00 PM: Jalatlaco dinner and comparsa
Please be at the lobby by 7:50 PM so we can all go to Jalatlaco for dinner. Jalatlaco is a neighborhood in Oaxaca City that is known for its comparsas. A comparsa is a vibrant and colorful event that has a stunning display of music, dance, and tradition that is super fun and mandatory to join in Oaxaca!! This is a street-style party so we will do everything on the streets – from drinking to socializing.
We will continue the night in Oaxaca but usually, we go to comparsa after parties (wherever that may be). You have the option to go back to the hotel after the comparsa but the group will always go on til midnight!
Day 5: November 3, 2023
9:30 AM – Oaxacan textile tour
Please be at the lobby by 9:20 AM to prepare for the tour. We will drive to Teotitlan to visit a group of local artisans. Here, you will learn how to do the old school method of weaving in Oaxaca. They are still preserving this tradition and the cooperative here is one of the locals we are supporting in Oaxaca. The family will also prepare a great Oaxacan lunch for us!
👉🏽 What to bring: bring cash if you are shopping. This is the cheapest place to buy Mexican souvenirs as they are the suppliers of the markets and stores in all of Oaxaca!
3:00 PM: Farewell party
Usually, we do our farewell parties with an afternoon brunch and day drinking! Participants flying out to Mexico City at 7:00 PM (last night's flight out) should be ready to leave the hotel at 5:30 PM. If you are staying, then we will still do a lot of things during this day!
What's included
✅ Expert tour guides: Trisha will be joined with local co-hosts in Oaxaca for you to get a glimpse of the local culture
✅ Accommodations for the 5-day tour: If you want to extend, let us know, and we will help yo extend your stay! You can also arrive early if you like – Trisha will be there from October 27th.
✅ All ground transportation: private airport pick-up and drop-off (Airconditioned Van), transportation to all the tourist spots
✅ Water and snacks: Our van will have water, beers, snacks, tequila, and mezcal!
✅ Breakfast: Your hotel will already have breakfast included but we have snacks in the van if you are still hungry during the drives!
✅ Meals: 4 lunches for days 2, 3, 4 and 5; 3 dinners (day 2, 3, and 4)
✅ Entrance fees and tour tickets are all included
✅ 2 Catrina make-up: the make-up artists will go to your hotel for your Catrina make-up!
✅ Travel Concierge: a Concierge will attend to you via Whatsapp to plan your trip. The Concierge will attend to everything you need before and after the trip. We can also help book your flights!
✅ Professional photos and videos: a photographer and videographer will join us and we will take your photos and videos – you don't have to worry about this, we will film and document you all the way! Check Trisha's Instagram, @psimonmyway for sample photos.
What's NOT included
❌ Flights to/from Oaxaca City. Our office can help find discounted flights for you!
❌ Passport/visa fees to Mexico
❌ Alcoholic drinks
❌ Meals and activities not mentioned above
❌ Travel insurance (mandatory). Please get your insurance from Ekta Travel or SafetyWing – these are the cheapest travel insurance for Mexico.
❌ Other gratuities and tips for the local guides
Terms and Conditions
$500 USD deposit is 100% refundable until June 30, 2023.
Your tour should be fully paid for by July 2, 2023.
Full payment tours are non-refundable after August 20, 2023.
Emergency? You got sick or need to cancel your trip? Fully paid tours will get a refund (with 18% IVA charge).
Travel insurance is mandatory before we accept your payments for this Oaxaca day of the dead tour. Your insurance will also cover your emergency trip cancelation.
Where we are staying
We will be staying in different hotels per group. Please note that the accommodations are not dorm-types.
Client Reviews and Testimonials
Reserve your Oaxaca day of the dead tour slot
This Oaxaca day of the dead tour costs $1,522 USD for a shared room and $1,722 for a single room to yourself. As we want everyone to have a great time and travel with like-minded individuals, we need to know about you before you pay for this tour. We will schedule a call to get to know each other and see if we are a match. Remember, this chat is essential for you and me because you don't want to travel with a person or group you don't get along with!
More group trips with Trisha
Mexico City Food and Culture 2023
📅 April 2 – 7, 2023
🧭 Food, Culture, City
📍 Mexico City
🫱🏻‍🫲🏿 SOLD OUT
Israel and Jordan Expedition 2023
📅 September 1 – 10, 2023
🧭 Adventure, Outdoor
📍 Israel and Jordan
🫱🏻‍🫲🏿 SOLD OUT