These things to do in Rio de Janeiro are super local and based on my personal experiences traveling this city three times. I've collected a few that aren't tourist attractions – from samba jams to spots where you won't see tourists. Hope you enjoy my city!
📬 Reader Mail: Hello Trisha! I love all your local content on Rio de Janeiro. I have been following your stories on Instagram. The samba videos look so much fun!
I understand you are staying with Brazilians there and that you have many Brazilian friends so I am eager to know the best local things to do in Rio de Janeiro.
I am not a fan of popular tourist attractions as I want to experience more local life so your input will be greatly appreciated! Thank you for all the work you do and enjoy Brazil! Can't wait to come!
-Gemma McWhae, Australia
Hi Andrea!
Thank you for following on Instagram! You are correct – I love Rio de Janeiro and I keep coming back because of my friends! A lot of people already asked me about the things to do in Rio so it's about time I share them with you.
If you ever make it here and you are traveling by yourself, I would love to introduce you to some people so you'll feel safe and enjoy the local culture more.
Good luck and I hope you make it! I keep telling everyone not to be afraid to visit Rio and finally, they are listening!
Xx,
Trisha
Is Rio safe for tourists?
When it comes to safety in Rio de Janeiro, all you have to remember is to take care of your belongings and be vigilant. You can't leave your bag unattended while sitting down in the cafe (even if you are literally next to it).
Don't walk around the city with flashy gears like a camera. Hold your phone tight – you know all the drills when you are in a city where theft is very common.
View this post on Instagram
Rio does not attack tourists directly but if you are in a situation where you can easily get mugged, they will take this opportunity. It's just actually like some famous European spots (Italy, France, Spain) where pickpockets are very common.
Other than that, there is nothing else to worry about when it comes to safety in Rio de Janeiro for tourists. This is a city you will definitely enjoy!
What is there to do in Rio for a week?
A lot! And it really depends if you are open to exploring. My friend went here a month ago and saw my current Instagram stories. When he saw the activities I am doing in Rio, he was so shocked and told me that he didn't do any of what I was doing.
😷 Reminder: All Rio de Janeiro tourist attractions are asking for a COVID vaccine card. You will not be able to enter without one.
View this post on Instagram
He focused more on the mandatory Rio de Janeiro attractions which are also great but he didn't know there are other things to do in Rio de Janeiro that can make him immerse with the culture.
There are many tourist spots in Rio de Janeiro and you can complete them in a week but if you are into cultural travel, I urge you to read on and see my recommendations on cultural activities. This way, you will get to know this city more.
What can you do in Rio for 4 days?
A lot! In just one day, you can visit Christ the Redeemer, Sugar Loaf Mountain, and the Tijuca Forest within 6 hours. The tours in Rio are short so you can do a lot in 4 days!
Some of the long activities I've been to are hikes like the Pedra do Telegrafo that took us 5 hours but this depends on your hiking pace. The rest of the things to do in Rio de Janeiro on this list, I just did by myself but with the help of my local friends.
View this post on Instagram
If you are open to a more local adventure, I really suggest you check these out – I swear, you will have a way different experience and it's a Rio that not all tourists know!
I have a Rio de Janeiro itinerary that you can refer to. I can also do a custom itinerary for you upon request. Just contact me!
What is Rio best known for?
Rio de Janeiro is best known for the Christ the Redeemer, which is the largest Art Deco-style sculpture in the world. When we think of Rio, we also have images of the beaches of Copacabana and Ipanema. They look exactly the same as they are in photos and in the movies!
The Sugar Loaf Mountain is another popular landmark and is one of the top things to do in Rio de Janeiro. What made it so famous is the installation of the tramway in 1912 which made it Rio's historical landmark.
☕ Support this blog's honest and transparent journalism. Help us add value to our content! Keep P.S. I'm On My Way content free for all by donating to our coffee fund.
Best things to do in Rio de Janeiro, Brazil: local stuff + tourist attractions
#1: Go to Largo de Sao Francisco da Prainha
💡 What is it? As you've all seen on Instagram, I have frequented this place because this wasn't here when I visited in 2014! Largo de Sao Francisco de Prainha is the new local hotspot – everyone left Lapa for the tourists.
💃🏻 Why go here? You will find historical buildings here and at noon, the whole plaza turns into a drinking and eating hub. You would want to go here because you will only see Brazilians day drinking and having fun with music.
Watch: Rio de Janeiro Instagram highlights
✨ Tip: If you get a chance, book a table at Casa Porto, a great restaurant in the area that has the best view! Their food is really nice and this is where you'll get to know the real eating culture of Rio de Janeiro.
📍 How to get here: From Copacabana, the Uber costs $5 USD. You can just put Largo de Sao Francisco da Prainha on Uber. I know it's hard to spell but just copy-paste from this article!
#2: Beco do rato: the house of Samba
💡 What is it? Beco do Rato is one of the oldest samba bars in Rio de Janeiro. Beco do rato means "the rat in the alley" because it's literally located in the alley! Be mindful when walking here at night only when there are no people around you. But this alley is definitely super fun!
💃🏻 Why go here? They hold samba concerts and invite the best samba bands in the country! They also do other artistic activities like film showing. Plus, this is a local spot so rest assured you will only see Brazilians!
✨ Tip: Always check their calendar of events on Facebook because they do super cool ones. I had the pleasure of seeing an all-girls samba band here which is really rare in Brazil!
📍 How to get here: It's an easy walk when you are already in Lapa (about 3 minutes from the arc). Click here to get directions to Beco do rato.
#3: Pedra do Sal
💡 What is it? The most famous place for street samba and parties! Pedra do sal translates "salt stone" in English and is one of the most historical landmarks in Rio that turned into a samba hub.
💃🏻 Why go here? They have different samba bands every night – yep, 7 days a week! Honestly, if there isn't anything to do in the evenings in Rio, you can always come to Pedra do sal and I guarantee you, something is always happening here!
✨ Tip: Come early to have the best seat in the house. Early means 7:30 PM. You can go for dinner and drinks at Comida di Buteco. This is where the samba bands are set up so you'll have a great spot for the samba.
📍 How to get here: Another tip I can give you is to combine this with your visit to Largo Sao Francisco da Prainha because they are close to each other (2 min walk).
#4: Discover downtown Rio de Janeiro
💡 What is it? The business district of Rio de Janeiro has a lot of European influence. Often, tourists only go to Copacabana/Ipanema and are missing this area. This is also the digital nomad hub in Rio de Janeiro so if you are a remote worker, this is your neighborhood!
💃🏻 Why go here? You will be amazed at the infrastructure of downtown and how different it is from the beach area. Walk endlessly and stroll the streets – all the areas of downtown are so pretty!
✨ Tip: If you are looking to shop for souvenirs, do not do it in touristy places like Copacabana. Go to Sahara in downtown which is the cheapest shopping spot in Rio de Janeiro.
#5: Visit the Museum of Tomorrow
💡 What is it? The Museum of Tomorrow is a science museum that explores the sustainability of our ever-changing planet. Apart from that, this structure is one of a kind – I mean look at the picture! It's like a spaceship that permanently landed in Rio.
💃🏻 Why go here? Apart from science, the Museum of Tomorrow is located in a large outdoor area where people do picnics, hang out, skate, etc. The mayor of Rio de Janeiro recently opened this area for the cariocas to enjoy the outdoors during COVID. It's a massive space with bars, restaurants, and different kinds of things to do!
✨ Tip: Buy your tickets online. The Museum of Tomorrow limits the guests because of COVID so it's better to buy ahead of time. The ticket costs $5.50 USD
📍 How to get here: The Museum of Tomorrow is walkable from Pedra do Sal and Largo Sao Francisco da Prainha so you can definitely combine it with these two places!
#6: Go to Urca
💡 What is it? Urca is an underrated neighborhood in Rio de Janeiro and on many occasions that I came here, I did not see any tourists! There is also a beach here but not as big as the other main beaches of Rio.
💃🏻 Why go here? This is a great spot for sunset and being outdoors if you are sick of spending sunsets in Copacabana and Ipanema. It's really a hotspot for sunset and you'll often find Brazilians hanging out here with their families and friends. It's a very local spot!
✨ Tip: Find a great spot to sit at the Mureta de Urca and then buy your food and drinks at the famous Bar Urca. Beware, the line here is long but their service is fast!
📍 How to get here: Urca is also close to Praia Vermelha. The Uber from Copacabana costs $5 USD but you can also rent a bike for less than a dollar. It's the best way to discover Urca!
#7: Visit Christ the Redeemer
💡 What is it? The Christ the Redeemer statue was completed in 1931. The size of the statue is 30 meters (98 feet) and the arms are 28 meters (92 feet). Known as Cristo Redentor in Portuguese, this is the picture that we have not only when we hear Rio de Janeiro but also Brazil.
💃🏻 Why go here? The Christ the Redeemer statue stands on a 704-meter summit which makes it visible all over the city. The moment you arrive in Rio de Janeiro, you will definitely see it right away during the taxi ride to your hotel!
✨ Tip: Extra adventure – take the train to Christ the Redeemer! The train to Christ the Redeemer costs $14.50 USD in the high season and $12 USD during the low season. The train works from 8:00 AM to 9:00 PM daily.
👉🏽 Check prices and availability for the train ride to Christ the Redeemer
#8: Cable car ride to Sugar Loaf Mountain
💡 What is it? The Sugar Loaf Mountain is probably one of the most famous images of Rio, next to Christ the Redeemer.
💃🏻 Why go here? Apart from its mandatory tourist circuit, you will enjoy great views of Rio de Janeiro especially when you take the cable car ride!
✨ Tip: Combine your visit to Sugar Loaf Mountain with Praia Vermelha, one of the most famous beaches in Rio de Janeiro. They are next to each other and are worth visiting at the same time!
👉🏽 Check prices and availability for The Sugar Loaf Mountain tour
#9: Rio de Janeiro beaches
💡 What is it? There are over 10 beaches in Rio de Janeiro and while you won't be able to see them all, they are all different and iconic in their own ways! Yep, those Instagram pictures you see are real!
💃🏻 Why go here? You will see a lot of local life and you will get to experience how the cariocas really love their beaches! Honestly, people in Rio de Janeiro do not go out when it's raining – they don't know how to respond to rain but when the sun is out, everyone's on the beach drinking their caipirinhas and Brahmas!
✨ Tip: Bring your own beers! Supermarket beers are cheaper but you can also buy drinks at the beach including coconut water, caipirinhas, caipivodkas, etc. There are also many acai carts roaming around the shore!
#10: Explore the Lapa nightlife
💡 What is it? Lapa is a young neighborhood in Rio de Janeiro and is very popular with tourists. Bars, restaurants, and different kinds of concerts fill the streets of Lapa. It's an upbeat neighborhood!
Our Lapa gang in World Cup 2014.
💃🏻 Why go here? To be honest with you, Copacabana and Ipanema are dead during the evenings. If you are looking for vibrant Rio de Janeiro nightlife, this is the place. It goes until the wee hours of the morning!
✨ Tip: The best local hangout is Ximeninho. Locals come here as a pre-game because snacks and beers are super cheap!
Things to do in Rio de Janeiro on Pinterest: save it for your trip!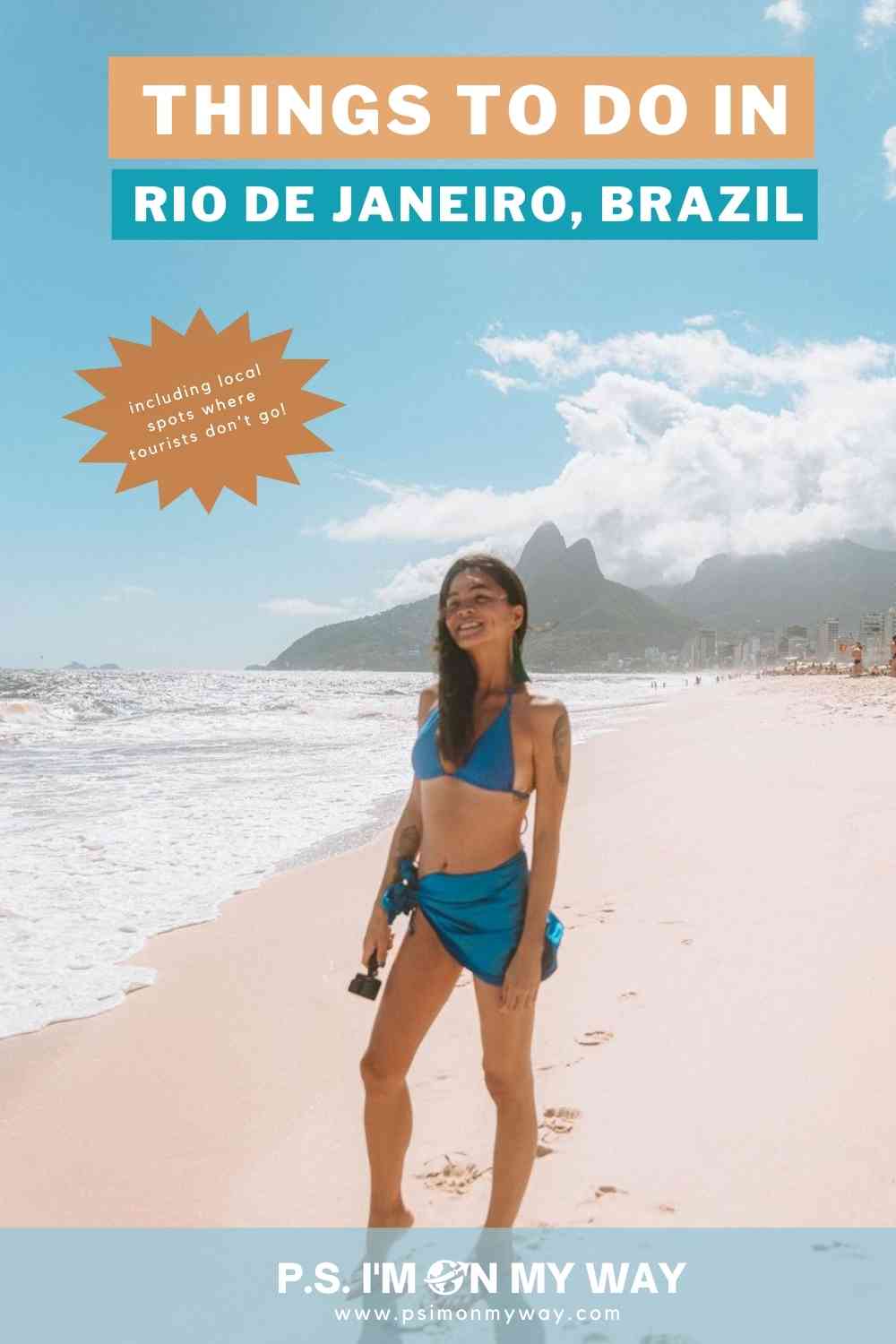 Trisha is one of those people who left their comfortable life to travel the world and learn about life. Her style is to stay in one place she likes for 3 months (or more) to know what it feels like to eat, cook, speak, and sleep in another culture that isn't hers. She'd like to believe she's not traditionally traveling but she just chooses to be somewhere else all the time. In no particular order, her favorite cities in the world are Barcelona, Buenos Aires, Hong Kong, Mexico City, and Tel Aviv.