After finding out I both liked being in the classroom and living in Cartagena, I found a paying job, then another better one, and then another better one, and now in 2020, I am still living in Cartagena.
Reader Mail: Dear Trisha! I followed your Colombia road trip on Instagram last year (before pandemic) and it was really exciting! Your friends look super fun and you guys sound very funny. I wish I can tag along your travels one day! I know you spent a lot of time in Cartagena. I was thinking to move there and I want to pick your brain. How much do I need to comfortably live in Cartagena? I am just doing the math here but I am not really sure when I will leave the USA. I hope it will be soon! Thanks for all your amazing blogs and keep up the good work!
– Wayne Fitzgerald, USA
Wayne, what a good choice!
I truly love Cartagena and visit it quite often. My trips to Cartagena are one month maximum. I can give you some insights about living in Cartagena but I also asked for help from an American expat.
Adam has been living in Cartagena for a while and as a fellow American, he can definitely give you tips. You can even connect with him when you arrive Colombia!
I really hope you make it and let's keep in touch – I want to know everything about your trip! Now I give the floor to Adam.
Xx,
Trisha
I first came to the Colombian coast for a yearlong volunteer teacher job with the organization WorldTeach fresh out of college back in 2011.
I was actually placed about 90 minutes outside of Cartagena in a small town on the island of Barú. However, I and my fellow volunteers spent lots of our weekends in the city, at least when we didn't go to the nearby famous and beautiful Playa Blanca.
I grew up in the US in the state of South Carolina (in the city of Columbia with a U no less!) I had spent a semester abroad in Cuba and fell in love with the Caribbean and Latin America and wanted to spend time living there, so the volunteer year with WorldTeach seemed like a perfect gap year type of experience.
Well, after finding out I both liked being in the classroom and living in Cartagena, I found a paying job, then another better one, and then another better one, and now in 2020, I am still living in Cartagena where I currently work as a teacher and curriculum coordinator at a bilingual international school.
The things I love the most about Cartagena is the colorful Caribbean culture, the year-round beach weather, the great seafood, and the other great destinations easy to reach along Colombia's Caribbean coast. Perfect for all of the Monday holidays and long weekends Colombia has. I also have a blast during Cartagena's Independence Fiestas held annually in November.
Of course, meeting my beautiful wife Susana also didn't hurt in keeping me living in Cartagena either.
Is Cartagena a good place to live in?
ABSOLUTELY! Cartagena is the pride of the Caribbean and the beach weather all year round contributes to a better quality of life. Cartagena is also a mix of a city and the beach so you'll have the best of both worlds. The cost of living is affordable, people are great, the city is lively – it's a great option for expats looking to move to Colombia.
Is it safe to live in Cartagena Colombia?
There are many violent crimes in Cartagena but it doesn't mean that living in Cartagena is dangerous. You just need to take extra precautions with your belongings but as far as I am concerned, they care very less about gringos.
If you are a foreign expat who knows his/her way around and is familiar with the Colombian culture, then you have nothing to worry about. There are a lot of American expats in Cartagena that you can always count on!
How expensive is it to live in Cartagena Colombia?
You can live very comfortably in Cartagena for $1,500 USD. Rent is about $600 USD. Food is extremely cheap and ranges from $2 USD – $12 USD. If you like cooking at home, a $2.50 USD budget per meal is more than enough!
In the latter part of this article, the cost of living in Cartagena will also be discussed so read on!
Is Cartagena a good place to retire?
Many expats who chose to retire in Cartagena reported that their quality of life became better than in the USA. Some even went to Colombia to age but then they realized that they just feel younger and younger while living in Cartagena.
Cartagena is one of the best retirement destinations not just in Colombia but in the world! Your money will stretch further here and years will be added to your life than living in the US.

Living in Cartagena Colombia: costs, safety, and everything you need to know!
Personal experience in living in Cartagena
My experience as an expat living in Cartagena has I think been unique. Coming as a volunteer I learned how to get around like a local on the buses and mototaxis. I'll never forget one time stepping off a bus a moment too early while it was still moving and eating it (only my pride was wounded).
I was also fortunate in the 2nd place I worked, a English language institute, there was a good mix of both other expats living in Cartagena as well as locals and had lots of both fellow expats and Colombians to hang out with.
Now at the school, and being a bit older, I've become a bit more of a homebody and hang out with a few closer friends that I currently work with and with some of my wife's friends.
While Cartagena doesn't have quite as large of an expat scene as Medellín, there is a decent number of expats, including teachers, entrepreneurs in the tourist scene, and retirees. Generally I've tended to meet other expats through work, and I know that at least at both the institute I used to work at and the other major international school, there tends to be a tight knit group of coworker friends.
There are a also a handful of bars like the Clock Pub that tend to be frequented by expats, and there's a good and informative Expats in Cartagena Facebook group as well, and people there are generally quite helpful.
It's also fairly easy to make friends with locals, and people here are generally quite friendly, although there are some that may try to take advantage of you as well, especially out at bars and the like, so do be aware of that.
And there are of course lots of fun things to do in Cartagena. For history lovers like me, there are the iconic city walls and fortifications the city is well known for and the stories of foreign attackers and pirates they were meant to keep out.
The architecture is of course gorgeous as well, and after 9 years, I sometimes have to stop and make sure I haven't forgotten how pretty it all is. There has been a proliferation of neat and trendy restaurants and cafes both in the historic walled city and the adjacent Getsemaní neighborhood over the last several years.
Some of our favorite places include the Caribbean-themed sushi at Kokoa, the brick oven style pizzas and beer garden at Demente, and the street cart style food at the hole in the wall of Esquina de Yina.
For more traditional Colombian and Cartagenera fare, La Mulata, Cande, and Alma are among our favorites. And of course, there is great seafood everywhere, but especially at La Cevicheria and Club de Pesca.
Finally, even though we don't go out quite as much as when we were a bit younger, like any good town in Latin America, there is an avid nightlife in Cartagena. Susana loves the posh nightclub of Mr. Babilla but we also like the local vibe of Bazurto Social Club where there is usually live music and lots of playtime to the local, African-inspired music known as Champeta.
I, for one, also like enjoying some of the best craft beer Colombia has on offer at Bogotá Beer Company or Beer Lovers, or just enjoying a cheap beer at a tienda. And our favorite sunset drink spot is undoubtedly the stunning view from the poolside bar atop Hotel Movich.
Cost of living in Cartagena
The truth is the cost of living can vary quite a bit in Cartagena depending on lifestyle. My wife and I live pretty decently on around 4-5 million pesos (given current exchange rates that's approximately $1,200 USD).
Basic groceries are quite cheap, and eating at home more has allowed us to save a lot more than we used to. There are all ranges of restaurants and bars, from the cheap local tiendas to upscale discos. We tend to stick to more moderately priced, middle ranged places and treat ourselves to one of the nicer places once a month or so.
For living in Cartagena, most expats should probably expect to pay 1.5 million to 3 million for rent. We pay on the lower end but live in an older and unfurnished apartment in a decent neighborhood. Newer buildings, especially those near the waterfront and furnished can run as much as double that or even more.
We did however used to live on the waterfront closer to the walled city a few years back in a small 1-bedroom apartment for about the same. It was also unfurnished and in an older building but with a nice interior to the apartment itself.
You can also find a small one-bedroom decently but not elegantly furnished for the lower end in older buildings like that.
Utility-wise, we spend about 400 thousand pesos ($100 USD) on electricity, water, gas, and the Internet. We are 2 and use the A/C a decent bit when home but not all the time.
Colombia has social strata system known as strata where prices for utilities are higher in higher-income neighborhoods, so this can vary considerably on what neighborhood you live in.
So be sure to ask about this when apartment hunting. We live in strata 4 for reference. Places in strata 5 or 6 are likely to have higher utility bills. Also know that electricity from running the A/C will probably be a big part of your utility bill.
Expats living in Cartagena who want to do a bit more going out and live more centrally may want to shoot for a budget more in the 6 million+ peso ($1,500+ USD) range.
That being said, it is also possible to live much cheaper as well, especially if you share an apartment with roommates as rent is likely to be your highest single expense living in Cartagena.

Residency visa in Colombia, medical care, and other important things
Most expats planning on living in Cartagena will likely want to get a work visa. The most common jobs you can work at living in Cartagena as a foreigner is, like me, as a teacher either at one of the handfuls of international schools or in the tourist industry.
There are also some NGOs and multinationals active in Cartagena that offer internships or in some cases paying jobs. Most of the time, your employer should both assume the cost and complete the paperwork for obtaining the visa.
A place that does not do so is likely to not have much experience employing foreigners, so while not a deal-breaker, it is something to be aware of if you are asked to assume the cost or do the paperwork yourself.
Work visas are in the name of your employer and will last as long as your work contract, which in most cases is for 1 or 2 years. After completing 5 years living in Cartagena on consecutive work visas, I actually applied and was granted full residency, which would allow me to work somewhere that did not sponsor a visa.
Colombia also offers residency visas to retirees or those who are planning to invest in the opening of a business and of course to the spouses of Colombian citizens.
If you are employed, your employer by law must provide you with a standard health insurance plan (you'll have 4% of your salary deducted and they will pay another 8.5%). I am with the company Sura, which I understand is one of the better ones.
My employer also provides me with another better health insurance known as a Medicina Prepagada, which can also be acquired privately. I tend to use it since it is quicker to see the doctor although appointments cost considerably more. Fortunately, I have not suffered any serious health issues.
I have not looked into buying a car or property here. As far as a car goes, I don't think it's worth it. Traffic is crazy and parking worse. Overall, unless you really need to commute in and out of town, I would say it's not necessary.
Taxis are plentiful and relatively cheap and easy to get, although you do have to learn the correct prices and watch out for price gouging. Depending on where you live, the bus system is also decent even though it can get crowded and be slow at peak hours.
As far as housing, we rent. I do however know a few people who have bought property here. Property values are among the highest in Colombia, especially around the tourist areas where most expats living in Cartagena will want to be.
My understanding is obtaining a bank loan here is both tough and mortgage rates are quite high, at least compared to the US. So those planning on living in Cartagena as expats should look to buy only if they have money on hand to invest.
A cost-effective way to buy property is to buy in before or during the construction of a building. Most of the construction is funded by presales of apartments here, so if you can wait a couple of years, you can get apartments at considerably cheaper prices than their value when completed.
The area around the walled city is overall the best place to live. And if you can afford to live in the wall in Centro or in the neighboring hip neighborhood of Getsemaní, then you should absolutely go for it. I used to live in Centro and loved it. I could easily walk to all the best restaurants and bars.
Other good areas for expats include the areas just outside the walled city on the waterfront known as El Cabrero and Marbella, where you can usually get a better deal than the more touristy, but also popular with expats, Bocagrande.
Manga is also a nice neighborhood and less touristy, as is the neighborhood of Crespo, near the airport and where we currently live.
View this post on Instagram
Those looking for a bit quieter may also be interested in the beachfront areas north of the city known as Zona Norte or in the gated suburb communities even farther outside the city known as Barcelona and Laguna Club. I wouldn't want to live out there as there's not much else, but I know some people that like it.
Still, especially for expats new to living in Cartagena, I'd recommend sticking to Centro, Getsemaní, El Cabrero, or Bocagrande to let you get to know the city.
Since I imagine many who are going to be living in Cartagena as an expat will also at least start as renters like us, it is good to know that finding apartments in Cartagena can be a bit tricky.
The aforementioned expats in Cartagena Facebook group can be good for finding people looking for roommates and occasionally full apartments available. The classified page of the local newspaper El Universal has also gotten a lot better at including things like proper photos and the prices.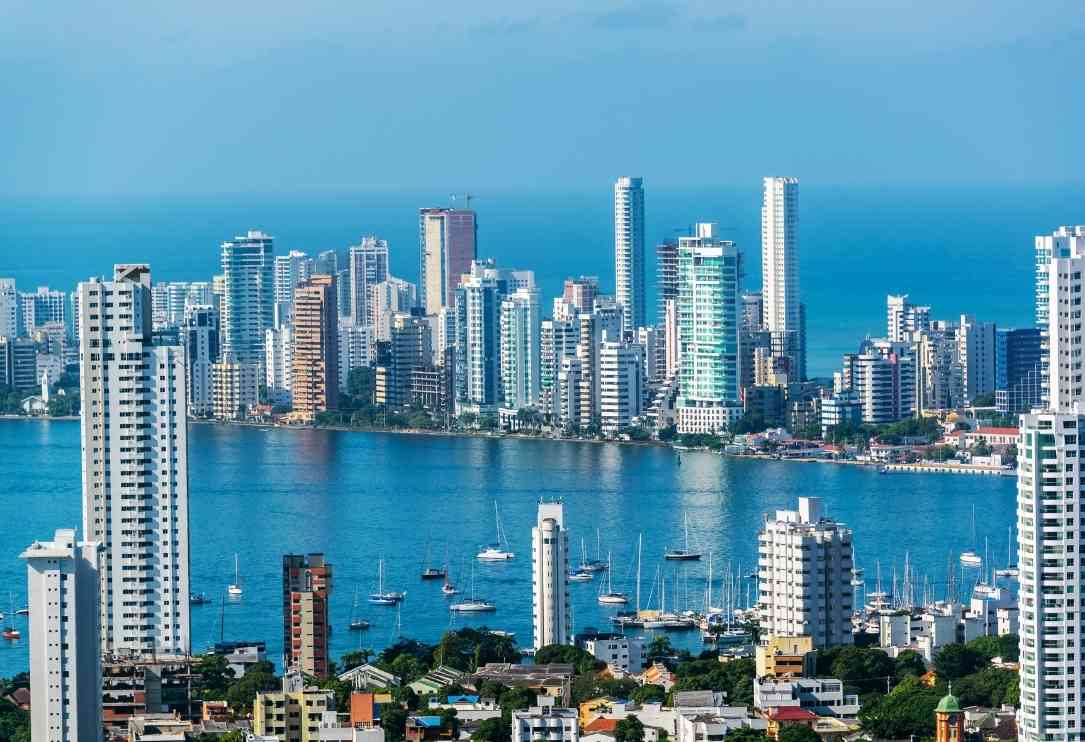 However, it can still be really effective to go around and simply ask in different buildings if anything is available. You will definitely be better off if you speak Spanish or have someone with you who does. You can also usually negotiate rent a bit.
Most landlords will ask for proof of income via a letter from an employer, and some will want a deposit. Many will want a cosigner as well, which an employer will also usually be willing to do.
Be sure to read your contract well and know that generally there are stiff penalties for abandoning a rent contract early. I've been fortunate in that of 4 landlords, I had 1 that was horrible but 3 that were just fine.
It is also possible to go through agencies known as imobiliarios, but prices tend to be higher than going directly through the landlord.
That has been my experience living in Cartagena, Colombia as a foreigner. As long as you're ok with the hot Caribbean sun year-round, you should be just fine if you're considering coming to live here yourself. And if you do, I hope you like it as much as I have!
Adam McConnaughhay grew up in Columbia, South Carolina and studied History, Political Science, and Latin American and Caribbean Studies at the College of Charleston. Afterwards, he moved to Cartagena, Colombia for a year long volunteer teacher experience and has been there ever since. In addition, to continuing to teach History at a bilingual school, he writes about Cartagena at CartagenaExplorer.com. When not working on one of those things, he might be found traveling around Colombia, reading a book, enjoying a cold craft beer or mojito, and/or bumming it at the beach.