This digital nomad guide to Medellin was written by Claire Summers, a dedicated traveler, and Digital Nomad. In this post, she shares her experiences in Medellin, Colombia as a digital nomad.
Medellin was one of the first cities I traveled to as a digital nomad, and it's the city I continue to return to every chance I get. I spent 4 months living there in 2018 and then I returned again for several months in 2020 before Covid 19 forced me to leave.
Originally from the UK, I left in 2016 to pursue a different kind of lifestyle. At the time I wasn't so sure what I wanted to do, but I knew I wanted to be a digital nomad.
During my first experience as a digital nomad living in Medellin, I was teaching English online full-time and travel blogging was my side hustle. Fast forward to 2020 and I'm now a full-time travel blogger over at Claire's Itchy Feet, and my side hustle is front-end web design and SEO.
The digital nomad guide to Medellin, Colombia
Medellin as a digital nomad: personal experience
I never planned on living in Medellin. I was offered a job as a choreographer in Bogota to make a dance performance for a company there.
My contract was 1 day a week for 2 months, and in between this I was teaching English online, blogging, and exploring.
I really didn't love living in Bogota. I found living in the city very difficult. It rained a lot, the pollution was suffocating, and I never felt particularly safe there.
After 2 months I was ready to leave Colombia. But I wanted to give it another chance, so I wrote in the Colombia Digital Nomad Facebook group telling them of my situation and asking if there was another city I could base myself in.
The response was overwhelming, everyone told me I needed to move to Medellin. The other nomads were so helpful and advised me on the best areas to live in Medellin, how much rent I should be paying, and even where to look for apartments.
Like most countries in Latin America, things move fast. I spent most of my bus ride to Medellin finding apartments and texting landlords to arrange viewings for the next day.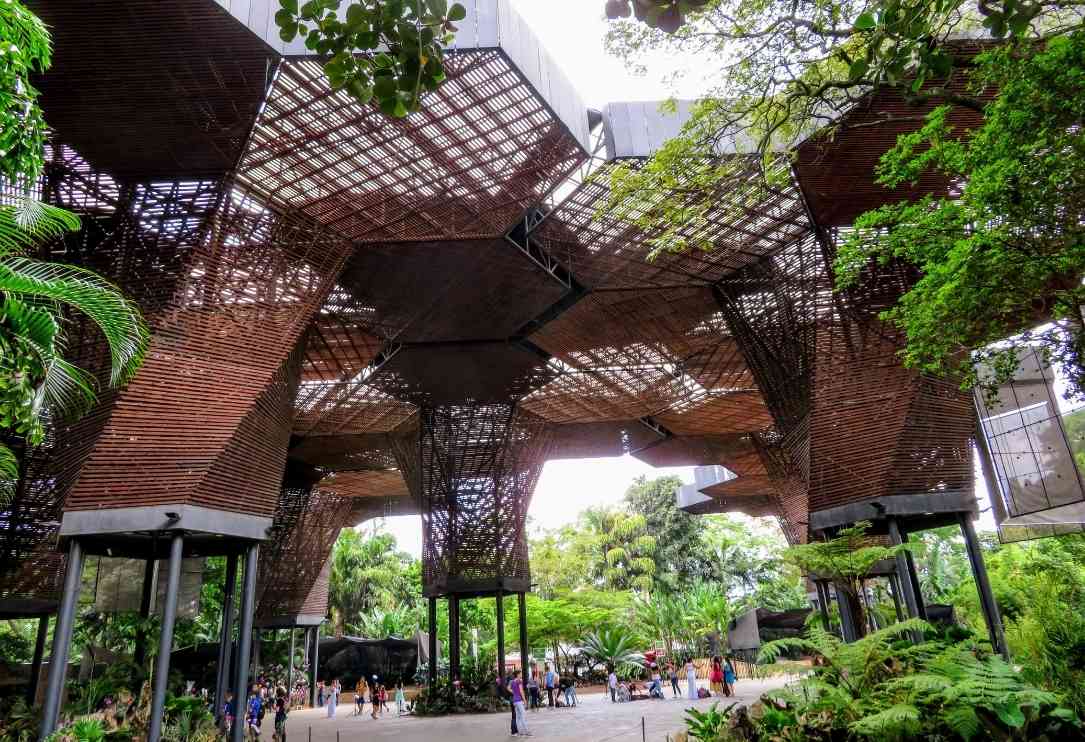 I booked 2 nights in a hotel, with a plan to find a place to live the day after I arrived, and then move in the following day.
This was actually the perfect amount of time, and I was settled into my new place just 48 hours after arriving in the city. I also found out there's just a lot of things to do in Medellin!
Although there are many great areas to live in Medellin, most digital nomads stick to two main areas, El Poblado and Laureles.
If you have a little bit more money, then Envigado is also somewhere worth looking at. Which area you choose is really going to be dependent on what you are looking for.
I've lived in both Laureles and El Poblado and they were very different experiences.
Laureles is always my first pick if you are planning on living in Medellin for 3-6 months. The best thing about Laureles is the green space.
It has much more of a local neighborhood vibe compared to El Poblado. There are many cute coffee shops to work from, great nightlife, lots of restaurants, and transport is pretty good, once you get used to it.
El Poblado is where you will find 80% of Medellin's tourists. It's full of hostels and nightclubs. The first time I lived in Laureles and often traveled to El Poblado for dance classes and to attend Spanish school.
So this time around as my stay was shorter, I decided to live in El Poblado there to save the daily commute. Although I liked it, and it was very convenient, I much preferred the vibe in Laureles personally.
The alternative to both Laureles and El Poblado is Envigado, which is just beyond El Poblado on the outside of Medellin.
If you prefer to live closer to El Poblado, but want to stay out of the 'Poblado bubble' this is a good choice. It's one of the more affluent areas to live in Medellin, so expect rent to be higher here.
Wifi is pretty strong all over the city, I've personally never had any issues, even when I was teaching. To be sure though you can ask to run a speed test when checking out a new place, or take your computer with you and do it yourself when you are viewing.
The digital nomad scene in Medellin
The digital nomad scene I found was very strong back in 2018/19, but I feel like things have changed a lot over the past 2 years. Firstly things have shifted a lot from Poblado to Laureles and Envigado. Poblado used to be full of Coworking spaces and meetups.
But every place I went to was closed and the only co-working space that was still open was Selina. Selina is great, but it's at the top of the hill in a not so convenient location if you live at the bottom of the hill. I found myself mostly working at home, or in Starbucks.
The wifi was good there, but you will need to buy something every 2 hours to keep using it. According to their website, WeWork will be opening a coworking space soon, but I couldn't find any details about when it will open or its location.
Laureles has 2 co-working spaces now, but it also has a lot of cafes catering to digital nomads. The most well known are Café Cliché, Naturalia Café, Café Revolución, and Rituales.
Most of the events I saw advertised were also advertised here. I feel like this is probably the best place for nomads living in Medellin right now if you want to get involved with the community.
Envigado is just behind Laureles. They have a WeWork as well as one other coworking space. I didn't see so many events advertised, but there does feel like there is a shift in people gravitating here from Poblado.
The best way I found of connecting with other digital nomads is on Facebook. For women, join the Expat Women in Medellin group. It's a lovely supportive group and there are many Digital Nomads and remote workers in there.
There are some other Facebook groups, but they aren't always the most positive environment to ask a question in. Join Digital Nomads Colombia and Digital Nomads Medellin. But be warned there can be a lot of negativity and these groups can be dominated by a lot of offensive comments and posts from men.
I won't go into it too much. But I don't engage in these groups much. They are good for searching for information though.
Internet speed in Medellin, Colombia
The thing that threw me when I first arrived in Colombia was that there was nowhere to buy a Simcard in the airport. Turns out Colombia has strict rules about buying sim cards.
To register a new one you will need to phone a number and enter a lot of details including your passport. For any nonnative Spanish speaker who has tried to call Claro you will understand this is no simple job!
To get a sim card in Colombia I recommend going into a phone shop. They will take care of the registration and top-up for you. If you don't speak Spanish, it's also easier to just go into the shop each time you need to top up as on most plans you top up and then you need to buy a packet with the top up, it's confusing so to keep it easy, just go in and get them to do it for you.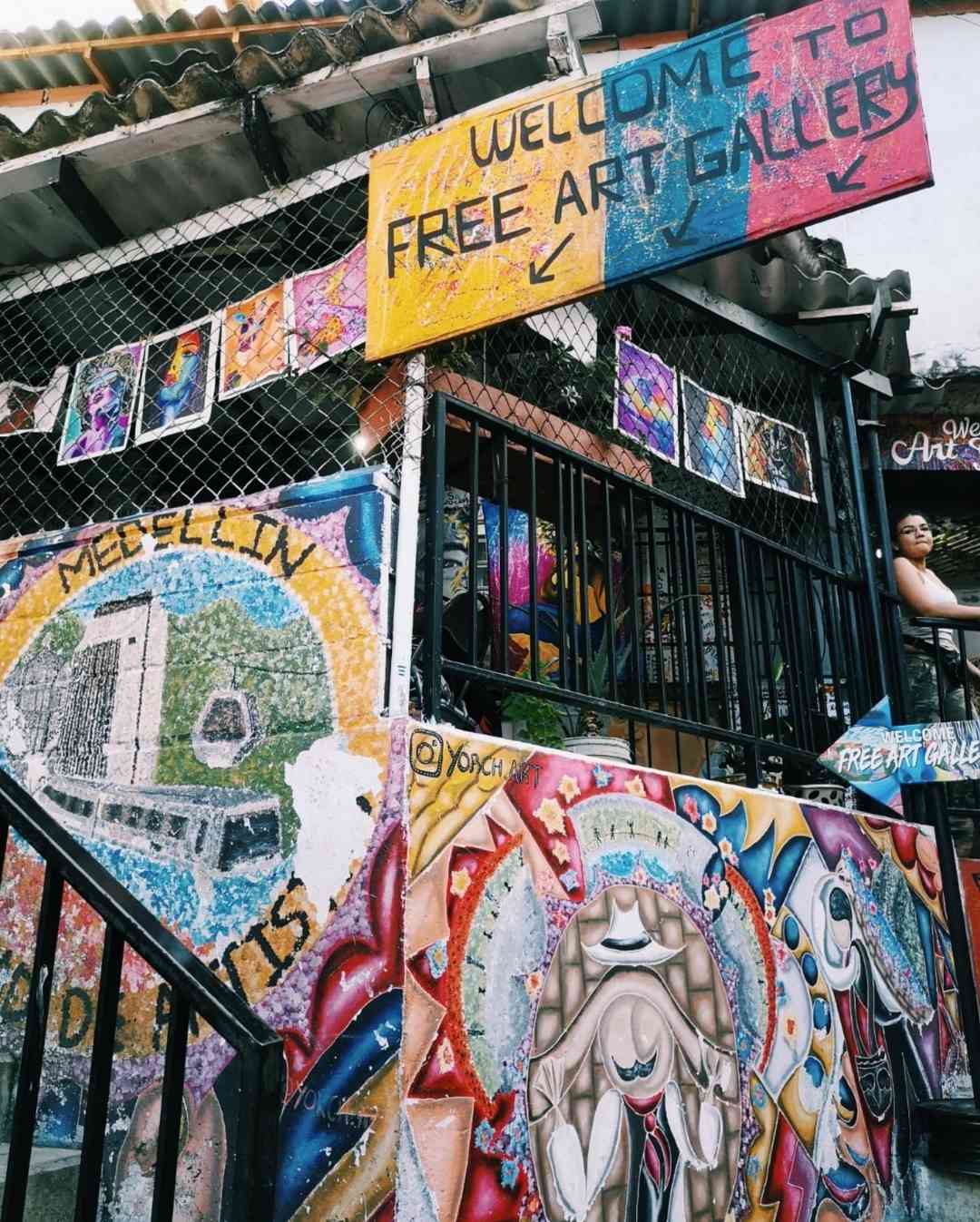 Let them know you need data and they will add a packet that is mostly data. I always go with Claro and the packet included free WhatsApp, Facebook, and some other social networks. The other big phone network is Tigo.
The reason for all the security is to deter phone theft. I found this out the hard way when my phone was stolen, my Colombian friend helped me report it and I was able to shut down my Colombian phone and transfer the credit to a new sim. So although it's a pain, it's nice to know you can do this.
As a backup, I personally always travel with a Travel Wifi device. If I'm having wifi issues it's a great alternative and I've even been able to use it to teach.
In my experience hostel wifi in Medellin can be on the slow side, which is to be expected. Coworking spaces are your best bet if you need solid wifi in a climate-controlled environment (Medellin can get very hot!).
But there are many cafes that have solid wifi and they don't mind you working for a few hours as long as you keep topping up your coffees. Most digital nomads living in Medellin I spoke to choose to work from home most of the time because of the closure of the coworking spaces.

Cost of living in Medellin
The cost of living in Colombia is low! You can live pretty well here at a fraction of the cost of living in a lot of other places. I've lived in a shared house, an Airbnb apartment, and a hostel. My room in Laureles with maid service 3 days a week and solid wifi was less than $200 a month.
I stayed in a hostel in Poblado for $130 a month for a bed in a 6-bed dorm. Then I also stayed in a studio apartment in Poblado for $400 a month. All of these are budget options, I have friends who have stayed in 1 bedroomed apartment in Laureles or Poblado for $1000 a month which were much nicer, but in my opinion too expensive for what you should really be paying here.
If you book on Airbnb you are likely to pay way over the odds for accommodation. So I recommend 2 things, first look on the Facebook marketplace and ask in the DN groups. Be clear about what you want and where you want to stay.
If you do find something on Airbnb I like to just book a week and then negotiate directly with the owner to get a better price for a longer stay.
Transport in Medellin is cheap. Most intercity buses are around 2500 COP and they will take you from one side of the city to the other. There is also a metro system that costs around 3000 COP per journey.
To be honest, as my financial situation was much better on the last visit I mostly just Ubered everywhere as it was so cheap. But if you are on a budget then the buses are great. They can be a bit tricky to get the hang of but it will save you a lot of money, and it's a great way to get to know the city better.
Food is a funny one in Colombia in general. Eating out is so cheap. If you find a good local place you can get a huge lunch (menu del dia) for 8000 COP. This will be a soup, the main plate with rice, salad, fries, and meat. Plus a drink and fruit.
Supermarkets can be expensive, so buy as much as you can from the markets as the prices are much lower, and the fresh produce is far better.
But if you don't speak much Spanish then you are going to need to get familiar with how much things should cost quickly to avoid the tourist tax. My normal weekly grocery spend in Medellin was $30-40 USD. Sometimes less as I personally preferred to eat out.
Colombia digital nomad visa
On entering Colombia most residents of other countries can get a 90-day 'tourist visa' at the end of this visa you have 3 options. Leave Colombia, leave for a few days and come back, or renew online or at the nearest immigration office.
It's important to know that you can only stay for a maximum of 180 days in one calendar year. Now there is a way around that if you time it right.
To stay in Colombia for 9 months you must arrive in October. On the 31st of December, the year ends and a new year begins. So you can do your first renewal online. So you will have 90 days in one year, then 90 days in the next year.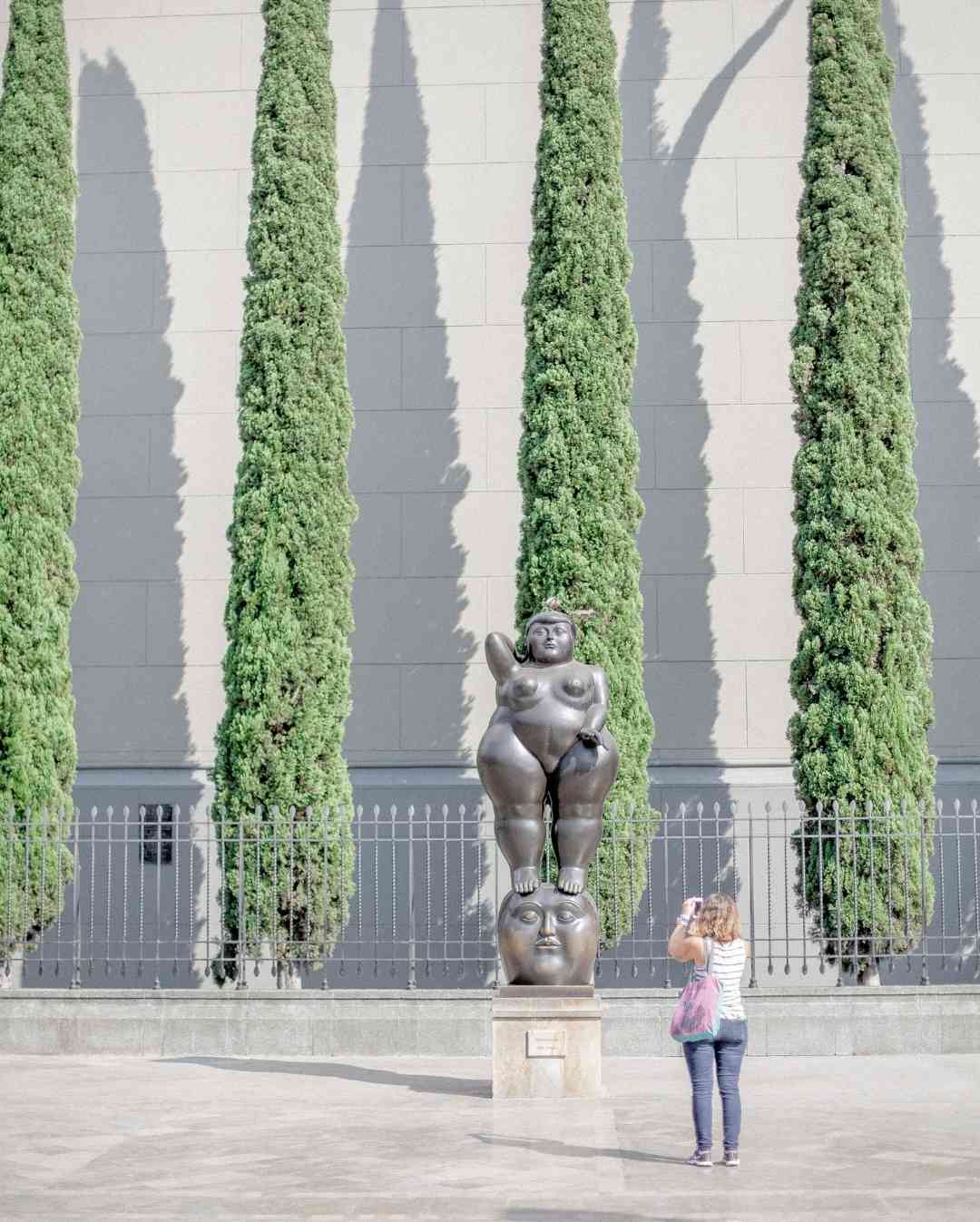 You will then need to exit Colombia for a few days and re-enter which will give you a further 90 days. After this runs out you will need to leave and can't re-enter until the following year.
Word of warning, don't mess around with Colombian immigration. It's not like the majority of other countries in Latin America and you just pay a little fine if you overstay a few days. My online renewal didn't work and was over by 3 days – I went to sort it out.
I was told I'd have to pay a fine of $120 and I had 2 weeks to exit Colombia. Fingerprints and mug shots were taken and I really wouldn't recommend it!
Medellin cafes with strong wifi
Naturalia Cafe (Laureles)
The wifi is super fast, there are plenty of power outlets, and the food is fresh and healthy with lots of vegetarian options. I highly recommend trying one of their artisanal pizzas or if you are there over lunch you can save money by ordering their Menu Del Dia.
Expect to pay 13,000 COP for the vegetarian option or 16,000 for the meat option.
Café Revolución (Laureles)
This was my go-to work spot when I lived in Laureles. Whenever I arranged to meet up with another DN in Medellin, they always wanted to meet here. Their coffee is amazing and they have great baked goods! The only thing that lets this place down is the size.
It's on the small side so sometimes you might not get a table. But the good news is they actually opened up a second location. Revolucion 2 is much larger and they have an outdoor patio where you can also work.
Be sure to follow them on Facebook and check out their events as they have regular live music. The wifi in both venues is strong and there are power outlets by most tables.
Cafe Cliche
This is another of my favorite hip cafes in Laureles. The french cafe is super popular with digital nomads in Medellin and you will always find it littered with people tapping away on their computers. In the evenings they have a full program of meetups, movie nights, and you can even take french classes here. The wifi isn't the strongest in town, but the vibe makes up for it.
Hija Mia Coffee
This was my go-to cafe in Poblado because the coffee here is AMAZING. They don't have a full menu of food as there isn't a kitchen as such. But I normally went there for breakfast, or for mid-afternoon coffee and torta (cake). They take coffee seriously here. The prices are on the expensive side, but the staff is friendly and all of the tables have a power outlet.
Starbucks Poblado
I can't believe I'm actually putting Starbucks down on a list of cafes in Medellin to work from. But in all honesty, it's where I worked from most days. The WiFi is solid, the AC is the perfect temperature, it's quiet, and there are plenty of power outlets.
But mostly it's the place I felt the safest taking out my Mac and working. This is something I was always conscious of when looking for a place to work. Plus it never gets too busy in there so as long as you buy something every 2 hours to top up your wifi code you can stay there all day.
Oh, I generally felt safe in Medellin but just take extra precautions, especially if you own a lot of gadgets.
If you are planning on eating in any of these places and drinking 2-3 drinks then I would budget 20,000-35,000 COP a day. Coffee is generally 2,500 COP and lunch between 10,000 – 20,000 COP in all of the places listed.
Co-working spaces in Medellin
Selina
Prices start from 30,000 COP for hotdesk access for one day or you can pay 130,000 COP for a month pass. I like the coworking space in Selina. But the location is pretty bad and for me, it was too far to walk every day so I stuck to working in Cafes.
La Casa Redonda
Here you can get a private office or just a hot desk. It's in a great location and they are a very warm group. You can contact them through Facebook to enquire about pricing and availability. All of their information is in Spanish, as space is mostly used by locals or Spanish-speaking nomads.
Wework Las Palmas, Medellin
I never had the chance to check out WeWork as the location wasn't great for me, plus the pricing is seriously expensive. It's like San Francisco prices in Colombia. For a monthly pass, the cost is 550,000 COP.
The digital nomad guide to Medellin on Pinterest: save it for later!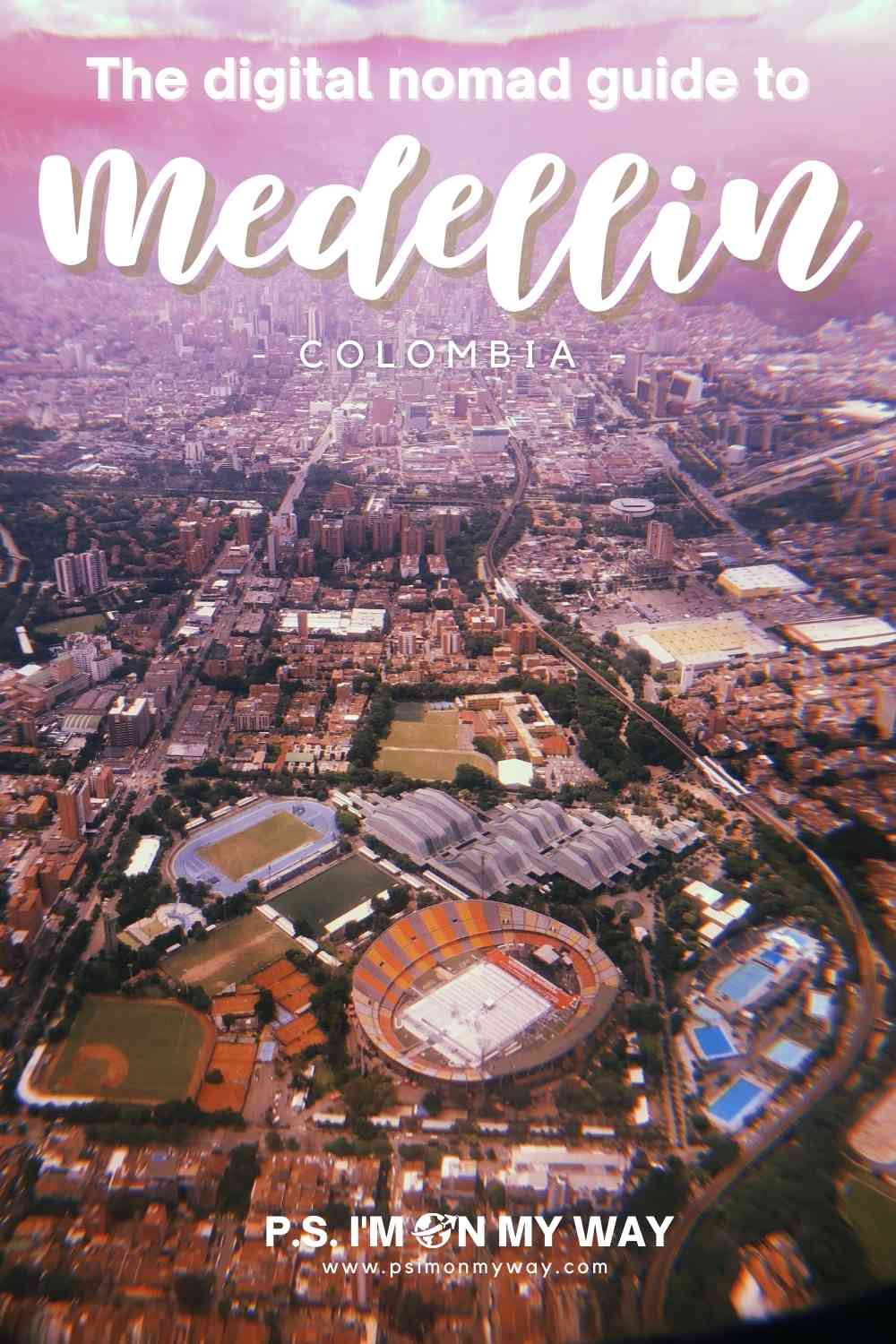 Originally from the UK, Claire has climbed volcanos, visited lost cities, been stung multiple times be a scorpion, thought she was going to die in an earthquake (well 3 actually, but the first one she slept through), found some zen through Yoga, lost her zen in Bogota along with her phone but most of all, she realized just how capable she is of traveling solo.