Cartagena, what a marvelous city! I traveled here for 3 months and in this Cartagena digital nomad guide, you'll find out if Cartagena is the right base for you.
📬 Reader Mail: Hola Trisha! I've been following you ever since you started backpacking South America in 2013. I really love your stories and it made me decide that I want to be a Cartagena digital nomad.
I was actually looking at Mexico as I know you are there at the moment but I can't help to think about the Caribbean. I find Cancun, Playa del Carmen, and Tulum super expensive!
Can you please give me tips, advice, and an overall outlook on how life as a Cartagena digital nomad is? I really appreciate all your articles and I wish you all the best in this life! Hopefully, I can join the digital nomad lifestyle soon!
– Michael Driscoll, Spokane, WA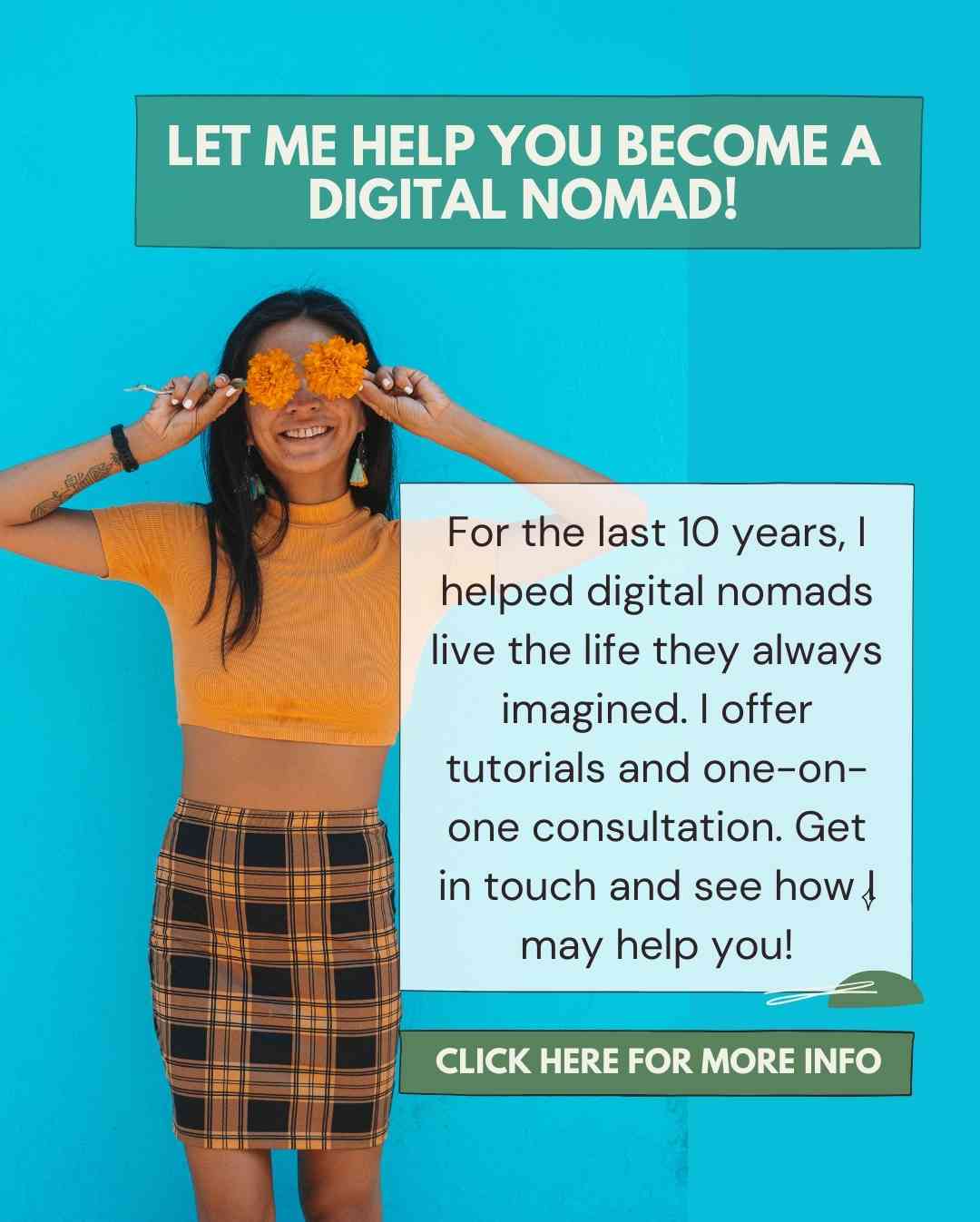 Hi Michael!
Congratulations on making the move to become a digital nomad! And Cartagena is a good choice! You are right, the Caribbean side of Mexico is really expensive so Cartagena is a good choice!
I stayed in Cartagena for three months (twice) and in this post, I will share with you some insights on what's it like to be a Cartagena digital nomad.
If there's anything that wasn't answered in this post, please feel free to e-mail me or send me a message on Instagram. I will definitely update this post for you.
Good luck and I wish you all the best!!!
Xx,
Trisha
Is Cartagena a good digital nomad base?
Honestly, Cartagena is more popular as a tourist destination than a digital nomad base. People visit Cartagena for 5-7 days and is not really as popular as Medellin in terms of being an expat hub.
View this post on Instagram
However, there are many expats living in Cartagena Colombia and personally, I love being a Cartagena digital nomad because of the many things to do, the super great quality of life, and affordable costs.
Is Cartagena Colombia expensive?
Cartagena is expensive by Colombian standards but if you are earning USD, you can definitely go a long way here. Amazingly, Cartagena is still cheaper than famous digital nomad destinations in Mexico like Puerto Vallarta or Mexico City.
View this post on Instagram
When it comes to living abroad or expat/digital nomad living, foreigners always lean on Colombia and Mexico as the cheapest beach destinations in Latin America so it's important to note the difference between these two countries.
In the cost of living in Cartagena section, I will explain further regarding costs (rent, eating out, transportation, etc).
More digital nomad destination guides in Colombia:
☕ Support this blog's honest and transparent journalism. Help us add value to our content! Keep P.S. I'm On My Way content free for all by donating to our coffee fund.
Cartagena digital nomad guide: everything you need to know
Cartagena digital nomad: personal experience
I didn't plan to stay longer and Cartagena but when I realized how comfortable it is to be in Cartagena as a digital nomad, I decided to stay longer. The first reason why I stayed in Cartagena long-term is that I was taking salsa classes.
In the beginning, I was just doing the tip-based salsa classes in Cartagena but I decided to up my salsa game by hiring a professional. It was only $25 USD per class! Plus, Colombia is the best place in Latin America to learn salsa. They really know how to do this!
Of course, I thought about the Internet when it comes to being a Cartagena digital nomad. At first, I was staying at Selina Cartagena which has the reputation of having the best wifi connection (and best co-working space) in Latin America but the thing is that I needed to pay extra for the faster Internet connection.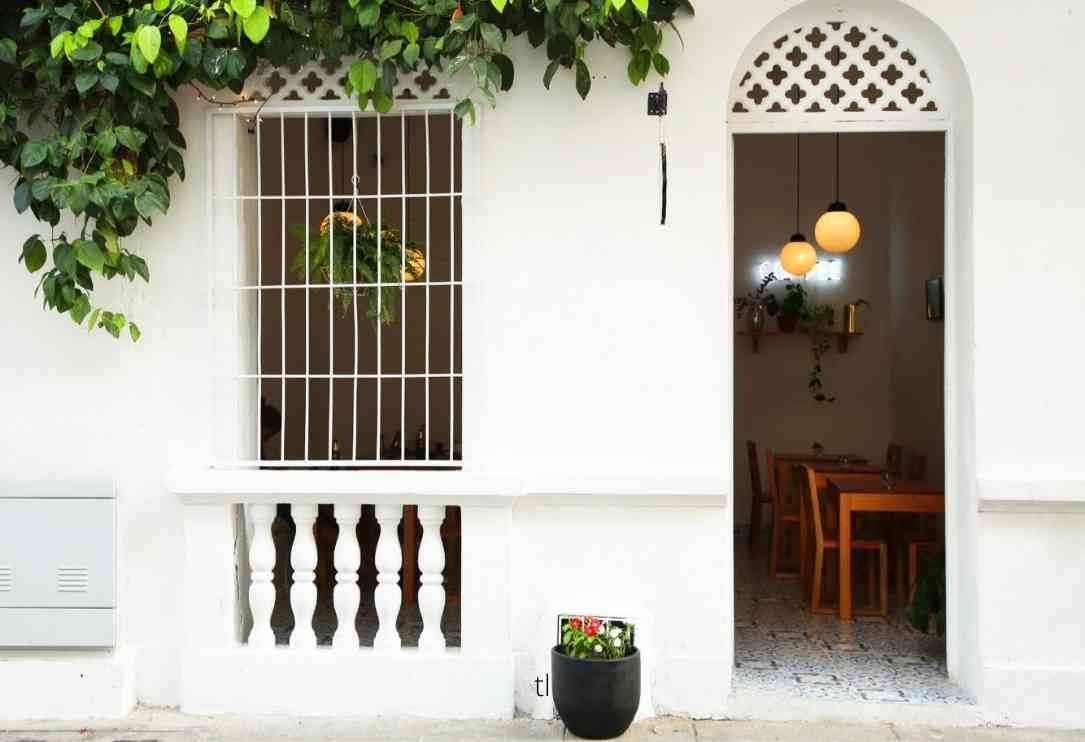 Their Internet (without the co-working subscription) is already decent but I still wanted to have a great space to work in. After a while, I couldn't stay in a hostel anymore, and renting an apartment in Cartagena will save me more money, especially when I am staying long-term.
I didn't have any idea about the Internet speed in Cartagena until I met a local who had an Airbnb and a cafe. The apartment was part of the cafe. The speed in the house is just okay but then they had fiber optic 100 MBPS in the cafe!
They also let me work in the cafe even if it's already closed. It was a win-win deal! The only problem with this is that the house was really small even for one person.
Overall, I never had any difficulties as a digital nomad in Cartagena Colombia. It's really one of my favorite areas in Colombia as it's so easy to go to the Colombian coast like Santa Marta.
Cartagena digital nomad quick facts
Nomad guide
🌍 Region: South America
🚩 Country: Colombia
📡 Internet speed (avg) 12 Mbps
⛅️ Weather: warm all-year-round
🔌 Outlet: Type A and B
🚑 Travel medical insurance: Safetywing Digital Nomad coverage
📱 Best wireless carrier: Claro
💸 Tipping: Not required
💳 Cashless society: no, cash only
💻 Best coworking space: Fundacion Surtigas
🚰 Safe tap water: No, not drinkable
👨‍👩‍👧‍👦 Population: 850,000 people
🏞 Foreign land ownership allowed: Yes
💻 Online electronics shop: Falabella
🏠 Apartment listings: Vrbo
✈️ Where to find cheap flights: Kiwi.com
Cartagena nomad costs/budget
💵 Cost of living for local: $559 USD per month
🏠 1br studio rent in center: $508 per month
🏢 Coworking: $256 USD per month
🏨 Hotel: $1,147 per month
🏨 Hostel: $25 USD per night
🏠 Vrbo: $1,000 per month
🍛 Meals (restaurants): $4 USD
🍺 Beer (bars): $1.28
☕️ Coffee: $1.53
The digital nomad scene in Cartagena
There aren't a lot of digital nomad communities in Cartagena as it's more of a vacation destination but if you live there, it is very easy to connect with expats through Facebook groups.
There are many other groups in Cartagena but the majority are in Spanish so I am only recommending groups that publish in English and have English-speaking members.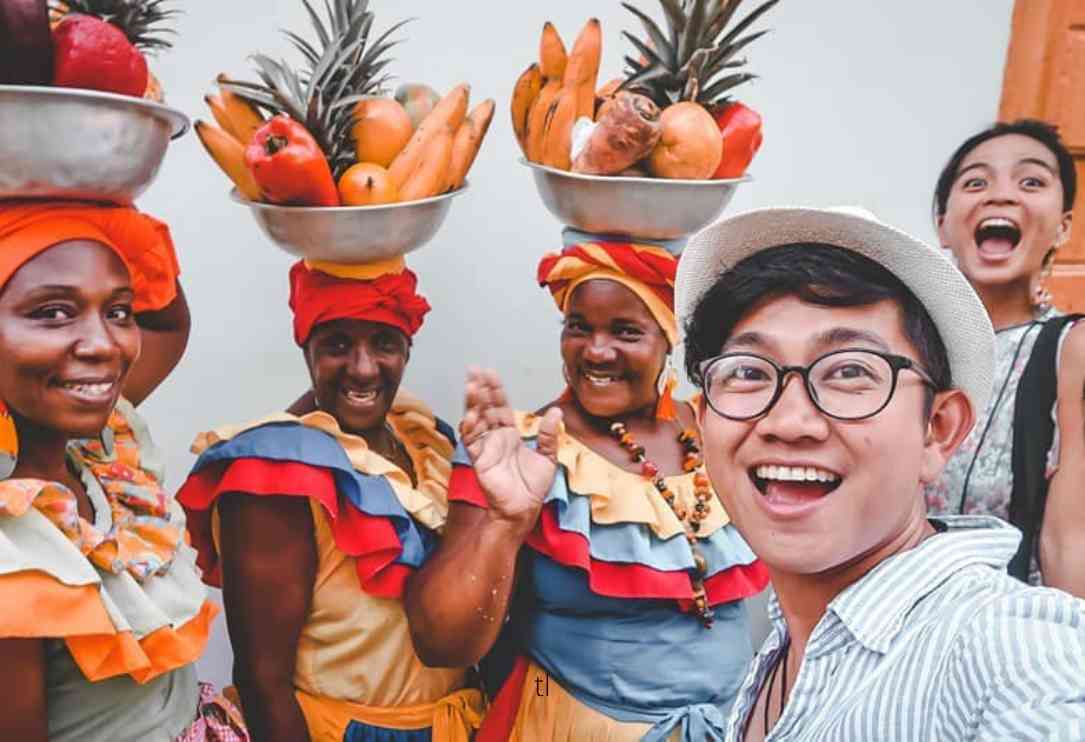 There are actually only two which prove that Cartagena isn't a famous destination for digital nomads and expats yet. The two groups to join are Expats in Cartagena and Expats in Colombia.
You can also meet people through Couchsurfing. They used to do meet-ups every week. You can download Couchsurfing hangouts but it only works on mobile.
This app allows you to see which travelers and digital nomads are in your area. Events like working dates or traveling together are always updated on the app in real-time!
Cartagena internet speed
Internet speed in Cartagena Colombia is super decent. Remember that this is not a small town on the coast of Colombia but also a big city with great infrastructure.
Cartagena is the gateway of South America from Central America. They have a port here and you can actually travel to Cartagena from Panama by sea/boat.
Fiber optic is very common in Colombia and I was really surprised that it was. 100 MBPS is a great speed but most landlords of apartments especially on Airbnb don't really see the importance of the digital nomad lifestyle yet.
Before booking your accommodation, you need to ask the owner to send you a screenshot of the speed. They can also speak English but if you need help with translations, contact me and I can give you some tips!
You would like to get a Colombian sim card if you plan to be a Cartagena digital nomad. I always use Claro because all South American countries have them so I've tried their services in many different countries.
They also have affordable International call packages especially if you need to call the US. However, Internet-wise, Tigo 4G sim card worked well better for me in Cartagena.
I never used this sim card before but when I compared it to Claro (hotspot), it worked faster. Claro has better coverage in the whole country though. I had both sim cards just in case (apart from my portable wifi device).
Cost of living in Cartagena Colombia
The cost of living in Cartagena is affordable even though it is a touristy spot. It's not that popular to expats and digital nomads yet so they are still very Colombian when it comes to prices.
You can find furnished accommodations (85 m2/900 sqft) for $600 USD that is located in the center. In the normal areas, you can get half the price for the same size and layout.
I honestly find the utilities expensive (i.e. gas, electricity, etc). I don't know why one time I had to pay $75 USD but this was when I was continuously using the air conditioning. Cartagena can get really hot but you need to be mindful of electricity use.
When it comes to eating out, Cartagena is really cheap, especially if you are going to local restaurants. These local restaurants serve quality food so don't worry about getting sick.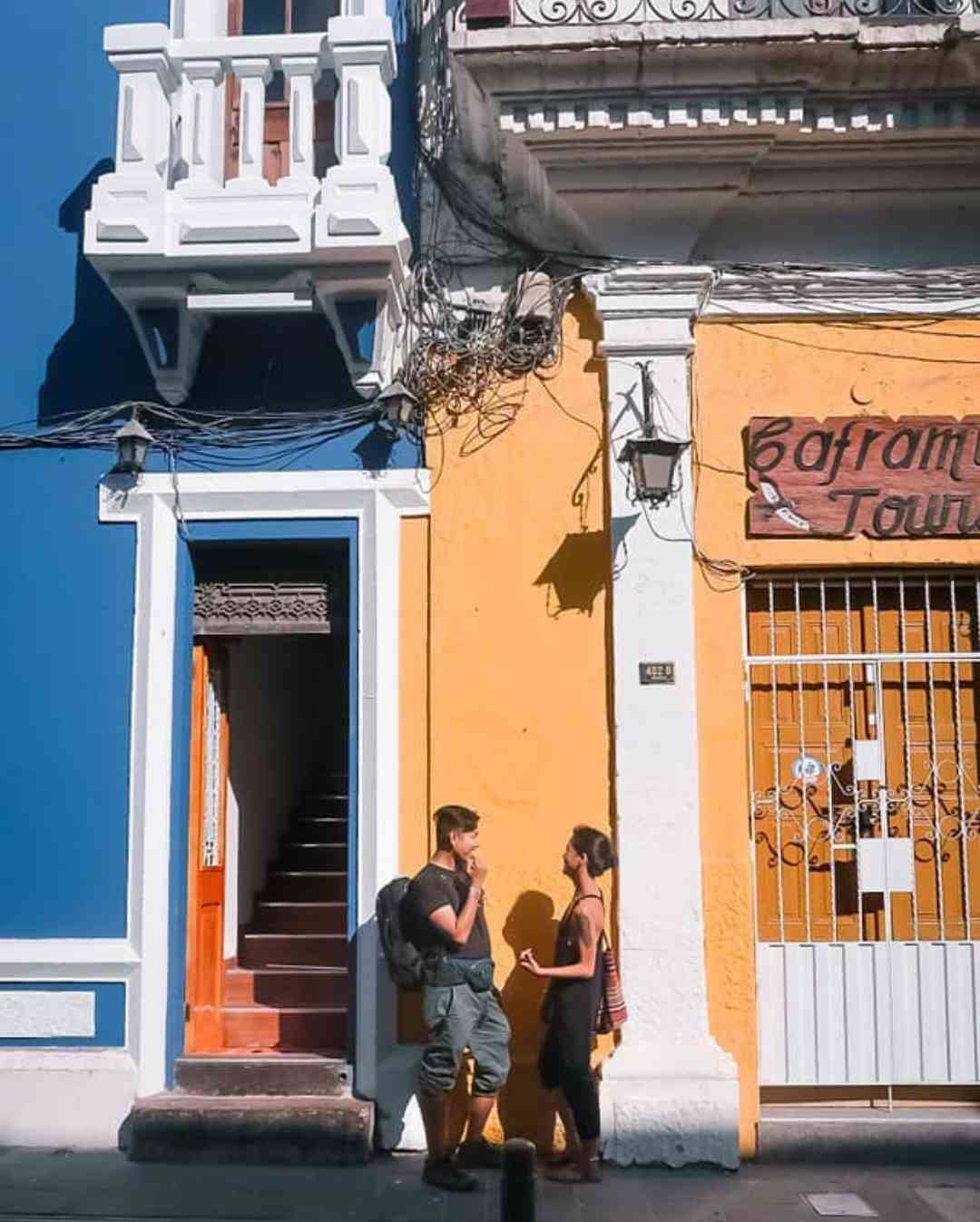 Cartagena is blessed to be next to the sea so expect a great variety of seafood. The food of the Colombian coast is way different from the rest of the country. I meet a lot of people who say they don't like Colombian food but I always tell them it's because they've only been inland (Bogota, Medellin, etc) so the food is so different!
Street food in Cartagena is also a must! Arepas is on the street at less than $5 USD and they're mostly local-family owned so expect it to be one of the best on the coast! The best Cartagena street food can be found at the main plaza where the church is.
Overall, you can easily live in Cartagena as a digital nomad for less than $1,000 USD per month.
Pros of being a digital nomad in Cartagena Colombia
Cartagena is safe
As usual, I always base safety on my personal experiences but if you look at it from a foreigner's perspective, Cartagena is a super popular vacation destination to Americans so the city will never do anything to interrupt tourism or even taint Cartagena's reputation when it comes to safety.
I traveled to Cartagena solo a lot as a female and didn't see any issues. I'd walk back to my accommodation by myself at 3:00 AM. Cartagena is a loud city and is active till the wee hours of the morning (especially on weekends) so there is always activity on the streets.
I avoid walking in dark streets when by myself but that's it. Personally, nothing bad happened to me while in Cartagena and I felt really safe!
But I am only talking about the tourist areas like Old Town. There are many dodgy areas in Cartagena so always be mindful, especially if you are going to rent an apartment outside of the center of Cartagena.
Many opportunities to meet people
As someone who travels solo all the time, the social scene of a certain place I choose to base myself in is important. And believe me, there are many places in the world where you don't get a chance to network!
Luckily, Cartagena has a very vibrant nightlife although the people you always come across are just passing by. I, however, didn't have a hard time having long-term friends here because of my language skills.
Colombians are super-friendly and you will find many people who are also into the digital nomad lifestyle especially in co-working spaces.
Best place to learn Spanish
Colombian Spanish is the most understandable Spanish in all of Latin America. They speak very clearly so if you want to learn Spanish, this is the best area to start it.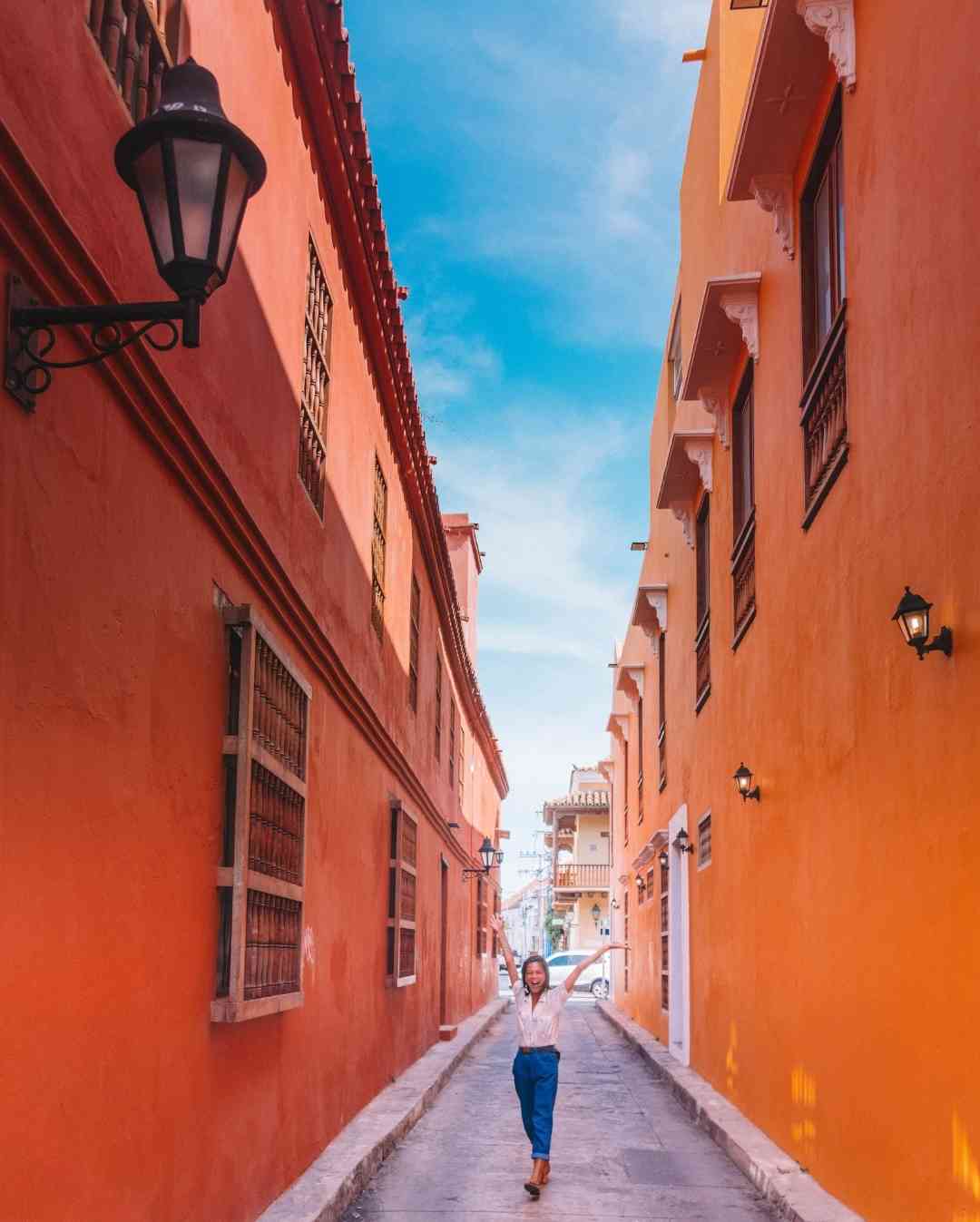 The Colombians speak in a very loving and sweet way but beware of the speed – the coast of Colombia speaks very fast (but thankfully, clear). Spanish classes in Cartagena are also affordable!
I really recommend you to learn Spanish in Colombia because this is the most correct format in South America. Take it from me – I had to change my Spanish a lot of times from learning in Spain, Argentina, and Mexico! Colombia is still the best for foreigners!
Cons of being a digital nomad in Cartagena Colombia
Might be too touristic for you
This wasn't really an issue for me – I like Cartagena for what it is but if you are living there for a long time, you can get too overwhelmed by the number of tourists.
It's one of the busiest destinations I've stayed long in. I really had to try hard and be aware of integrating local life in my every day life which was not difficult because I speak Spanish.
Meaning, I had to consciously call my Colombian friends to meet up otherwise everyone I'd meet here or hang out with will be foreigners who are traveling Cartagena.
Cartagena doesn't have the best beaches
Local beaches in Cartagena are just average, even if it's on the Colombian coast. The best place to go is outside of Cartagena which is Playa Blanca, an hour's drive from the city.
Cartagena cafes with strong wifi
Cafe de la mañana
📍 Calle Estanco del Aguardiente #05-80 | 📞 +573002839817
Located in the Getsemani neighborhood, Cafe de la mañana serves great breakfast food and has a fiber-optic Internet. The speed is 100 MBPS and it has been my go-to place for uploading videos!
Coffee prices start at $0.50 USD and breakfast at $4 USD. They both have sweet and savory breakfasts.
Co-working spaces in Cartagena Colombia
Tu Work
📍 2 locations at Boca Grande and Castillo Grande | 📞 +57 318 2535925 | 🕖 7:30 AM – 7:30 PM
Tu Work has 2 branches. One is in Boca Grande. I particularly like the Boca Grande space because I lived in that area and totally love it! What's nice about Tu Work is that they hold regular events where you can meet digital nomads in Cartagena.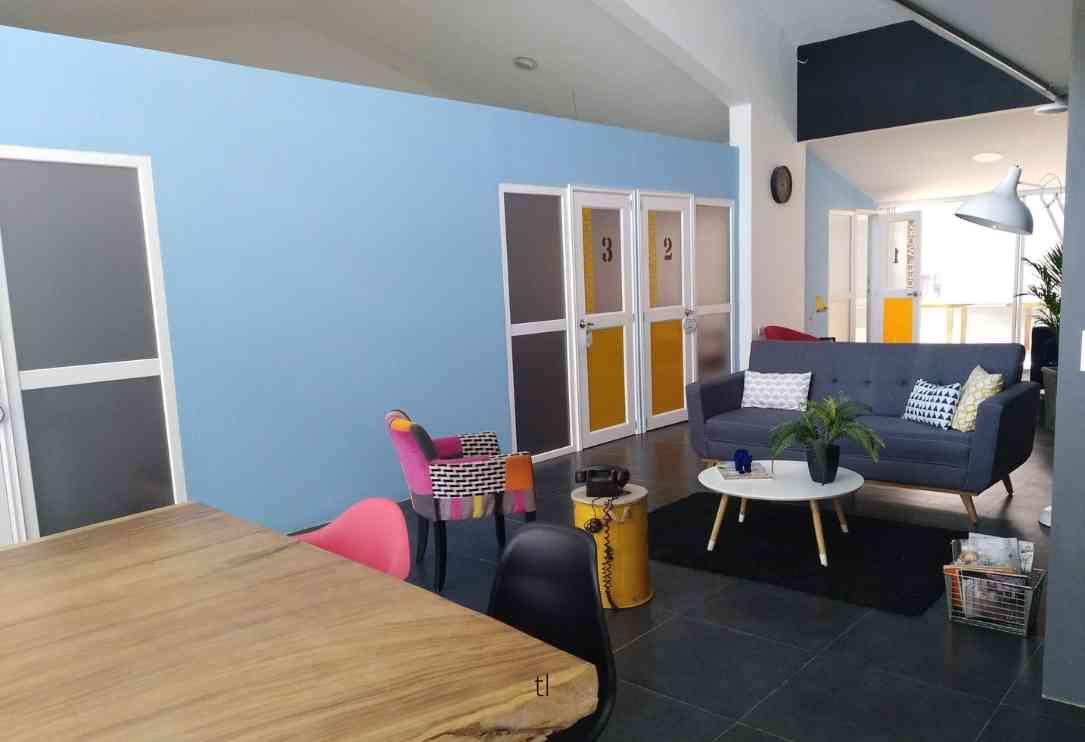 In most of the events, I honestly didn't meet a lot of foreigners so it's a great place to meet locals! A shared space starts at $15 USD per hour but they have monthly plans for those who are staying for months.
This price includes coffee, printers and scanners, lockers, and access to recreational areas. Apart from the shared space, they also have meeting/conference spaces.
Cowork Cartagena
📍 Getsemaní, Calle 24 Nº 8a-344 Centro de Convenciones | 📞 +573006810538 | 🕖 7:00 AM – 7:00 PM
Cowork Cartagena is in the Convention Center of Cartagena and I really like this better in terms of design. This area is also the business district of Cartagena so there's a lot of opportunities to network, especially for local businesses.
There's also a nice rooftop area (with umbrellas) for those who want to work under the sun! If you choose this area, you will get a view of the historic center of Cartagena.
Other spaces include a cafe with lounges. For those who are taking calls, they have telephone booths that are soundproof which is perfect for avoiding the bustling noise of Cartagena.
Cartagena digital nomad on Pinterest: save it for later!
Trisha is one of those people who left their comfortable life to travel the world and learn about life. Her style is to stay in one place she likes for 3 months (or more) to know what it feels like to eat, cook, speak, and sleep in another culture that isn't hers. She'd like to believe she's not traditionally traveling but she just chooses to be somewhere else all the time. In no particular order, her favorite cities in the world are Barcelona, Buenos Aires, Hong Kong, Mexico City, and Tel Aviv.