Thinking about building your empire and working for yourself? I've been a digital nomad for over ten years, and here's a step-by-step guide on how to become a digital nomad.
📮 Trisha, thank you for your digital nomad content! I am currently researching how to become a digital nomad. Do you have some tips? I've been following your DN lifestyle since 2013 and I think that this year, because of COVID, I will also do the same. I have no experience but I have a background in IT and can pretty much do anything. Please help me with this, I will be forever grateful!

– Laurent, France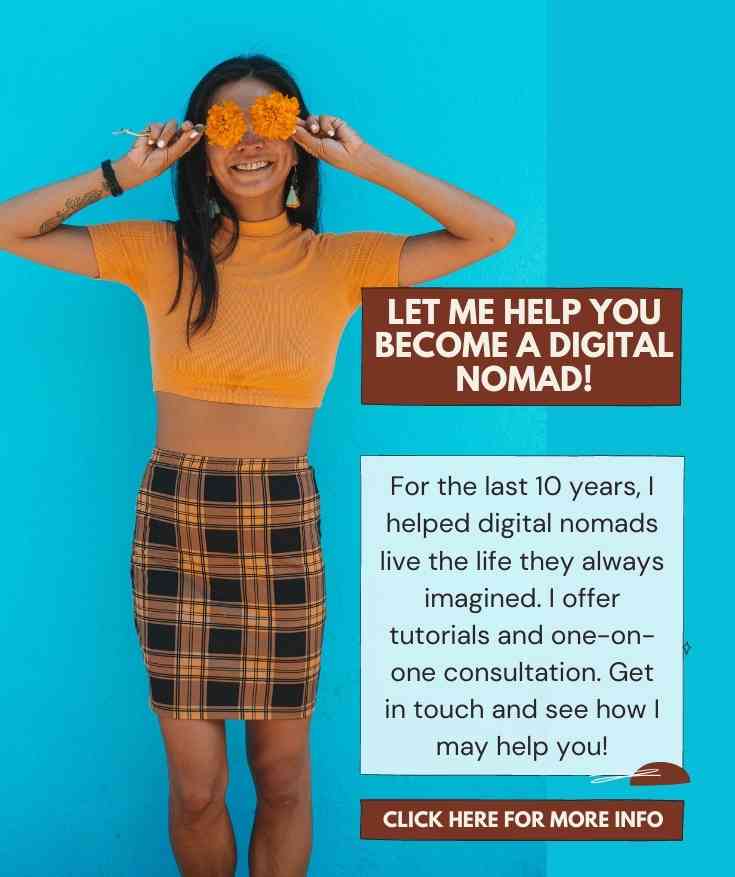 "What if the money runs out?" This is the usual question that people ask themselves during long-term travel planning. It's also one of the most frequent questions I get from readers of this blog.
I didn't wake up one day and said, "I am going to be a digital nomad." I discovered the path to location independence when I left home to travel the world.
When I was starting, it was very difficult to find income streams to sustain my life on the road but in the recent boom of travel, digital nomads leaped with that boom to make traveling the world in a modern setting more feasible.
I know you've been dreaming of traveling the world but couldn't find the right answers on how to sustain yourself financially.
Learn how to become a digital nomad today and discover the rewards of living a free life!
🙋 Questions about how to become a digital nomad? Ask me on Tiktok!
🙋 What is a digital nomad?
A digital nomad is a person who leverages technology to work remotely while traveling or living in different locations, often across various countries or continents.
Digital nomads typically use the internet to perform their work, which may include freelancing, consulting, or working for remote-friendly companies. They often work in industries such as software development, design, content creation, and digital marketing, among others.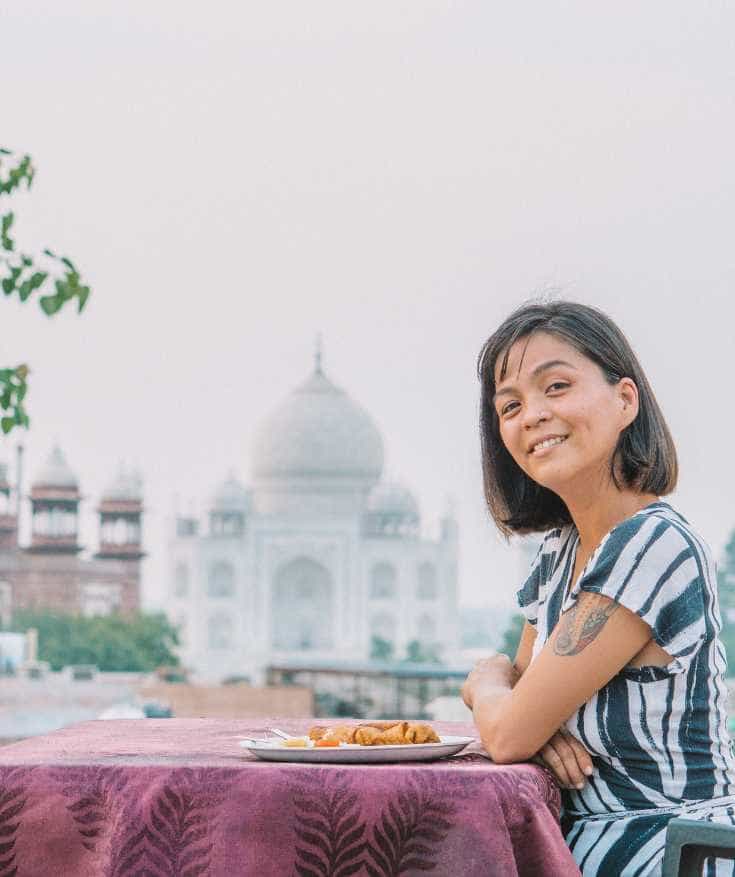 The digital nomad lifestyle has gained popularity in recent years due to advances in technology, increased internet connectivity, and a growing awareness of the possibilities for remote work.
This lifestyle allows people to combine work with travel, explore new cultures, and enjoy more flexible schedules. However, it can also come with challenges like maintaining a work-life balance, finding reliable internet access, and navigating visa requirements.
😓 How to become a digital nomad with no experience?
A lot of people worry about having an experience as a digital nomad but the truth is, you don't really need one. Nobody will ask you about your experience because being a digital nomad means entrepreneurship.
You are doing a job that you are good at and that is all that matters. There is no requirement or qualifications – as long as you get the job done, you will be fine!
Additionally, confidence is key. One of the things I learned when I started the digital nomad lifestyle is that you need to be confident in what you do because it's a really competitive industry.
You are good to go as long as you know that you can fulfill the job even if you don't have a digital nomad experience. This, unfortunately, is what is lacking for beginner digital nomads.
🐱‍💻 How to become a digital nomad fast
There is no such thing as fast. I think that we are trapped in the idea today that we can just be on the computer all day and the money will come in. When I started my digital nomad career in 2011, it took me at least 3 years to earn my first income.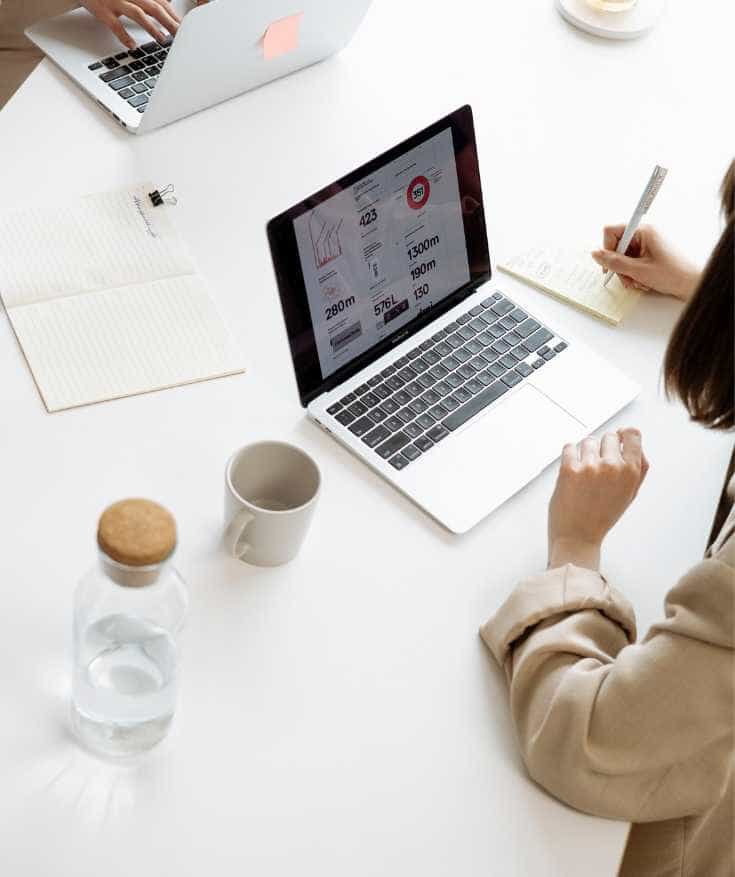 And back then, there were less competition and the word digital nomad was not even a thing. Every time I travel, immigration officers ask me what I do for a living and when I say digital nomad, nobody understood it.
Like any jobs, you start from zero to become a digital nomad and not even everyone who started has succeeded. It takes a lot of hours, consistency, and a lot of unpaid hours, before you actually start earning those 6-figures that most digital nomads brag about.
👔 Is it hard to become a digital nomad?
Very hard. Long hours on the computer can kill your back and eyes. Sometimes, you have to pass on sunset drinks by the beach because you are still working after 6.
The thing with having the freedom to work whenever or wherever you want is that you always end up procrastinating just because you can. This results in working three 24-hour days and doing nothing for the rest of the week. It's very stressful!
When you work in an office, the environment is there. There are desks around you, printers blaring 9-5, keyboards ticking, etc. I know this is not the ideal view you want to see every day but it is so much easier to work in an office because of the hours.
After 5, you are free to go. Remember that when you are self-employed, not only that you need to get the job done but you also have to monitor productivity. Sure, you are your own boss but you basically have to do everything by yourself. Sometimes, it makes me cringe.
Becoming a Digital Nomad is not a path for everyone but if you love it and you can swing with it, then do it! Every day, I am piled with so much work, and yet I still manage to go out, drink, eat out, do things with friends etc.
How can I do that? I love what I do! I think this is the only key to anyone's success: do what you love and you wouldn't have to work a day in your life. Overused. I know. But there's so much truth in it if you look at it deeply and not just read the words.
💃🏽 What I do as a digital nomad for over 10 years
One of the hottest millennial trends, the depth of blogging as a full-time career is unclear to many. Those who want to start a professional blog don't know what financial benefits they will get if they create their platform.
Whenever I tell people blogging is what I do full-time, they all smirk, raise their eyebrows, and will slowly utter with discomfort: "How?!" They'll look at me like I'm a joke and I'll glance back without talking: "I know right."
A lot of people want to build a blog but don't know where to start. The Internet is a very saturated place now because everyone is writing the same content.
By "same," I mean most bloggers publish listicles, things to do, and generic guides because this sells on Google. It will make you instantly famous if you've mastered the art of Search Engine Optimisation (SEO).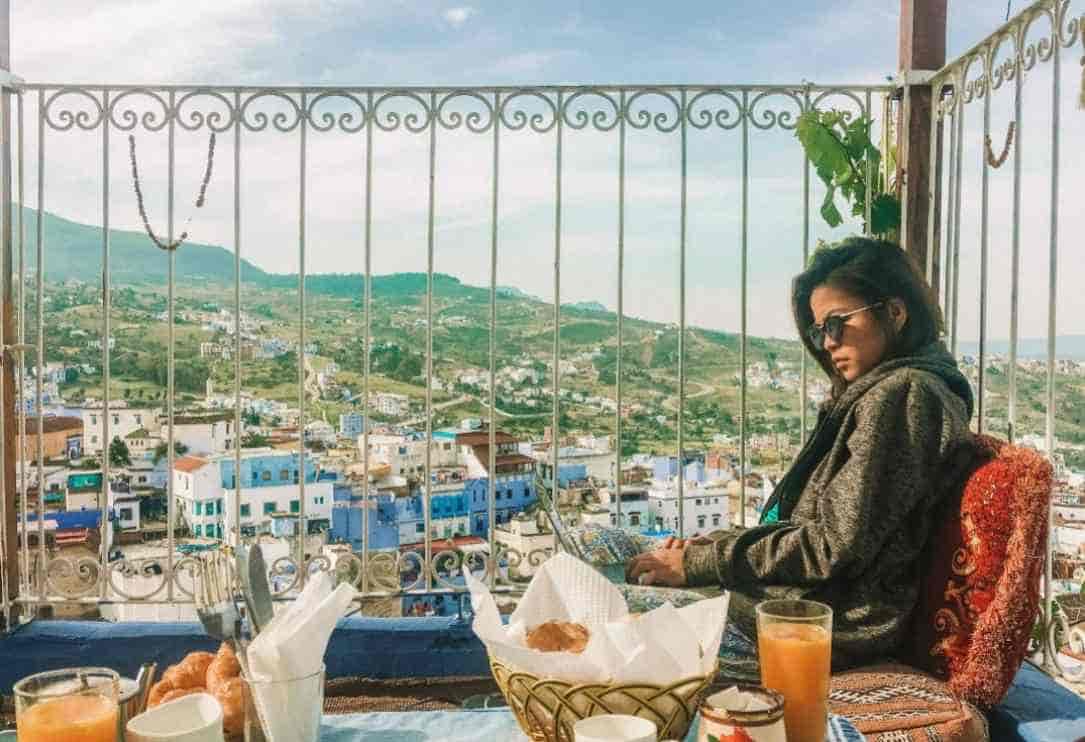 When I started this blog, I only wanted to share my stories with my friends and family. My mum couldn't bear the idea that I am traveling the world – the thought that I am not home for years terrified her.
In order to give her the benefit of the doubt, I promised to write whatever's happening to my life on a daily basis. Poof, it became P.S. I'm On My Way, a blog that is read by many young people all over the world who wishes to pursue the life they always imagined.
It took me years to figure out how I can make blogging an income stream. I did it all alone. No one was there to guide me and teach me the ways of the blogging Jedi but after long hours on the laptop and so much hard work, I finally got my seat on the blog of thrones.
💵 How do I earn from this blog as a digital nomad
Destination Marketing
Destination Marketing is about promoting a town, city, region, or country in order to increase the number of visitors. It promotes the development and marketing of a destination, focusing on convention sales, tourism marketing, and services.
In the blogging world, this is called "Press/Media Trips" wherein Tourism Boards will invite Influencers and Bloggers on an all-expense-paid trip with a daily allowance on top.
Affiliate Marketing
Some of the links in this blog are affiliate links. Meaning, if you purchase a product through those links, I may earn a commission. This commission comes at no extra cost to you.
I will have a commission if you purchased a product I am endorsing through my website. Please remember that I never recommend a product just for the commission — I only recommend something I genuinely believe in and trust. The small income I make from Affiliate Marketing will help in maintaining this blog.
Brand Ambassadorship
I receive a lot of emails about this but I barely choose any of them because I want to work with someone I truly believe in. I don't want to mislead my readers to "buy this product" if deep inside my heart, it's a brand that is shitty as fck.
Thanks to you, I am really proud to say I was able to create a close-knit community that has been supportive of what I do.
I will never ever journey into something I am not sure of just because of the income it may bring. Influencers nowadays lose their value because they are always saying yes to free stuff and not asking for compensation for the work that they do.
This is the by-product of the suffrage of the blogging community as a whole. If you are a travel blogger who is not asking for pay for reviews, you should re-think the idea of why you did a professional blog.
Big or small, YOU DESERVE TO BE COMPENSATED WITH YOUR TALENTS. Don't just say yes to freebies.
Speaking Engagements
This is probably one of my favorites. Often (especially when I am in the Philippines), I am invited by organizations, Universities to talk about a myriad of things.
The topic covers mostly travel, life and dreams but I've had more talks about life. I also discussed blogging once. My most recent talk is by the prestigious TEDx.
You can watch the video here! Making a speech/workshop requires work, too. You don't present anything just to say something. It should be well planned and efforts should be exerted in order to make it sensible and smooth. I did my speech for TEDx for almost 2 months!
Private consultations
I owe the success of this blog to my readers and followers so I vowed to myself to be always generous with information with them.
Those who were curious have signed up for my Travel Coaching Programs where I talk to people one-on-one via Skype on what they want to know about (mostly on how to afford a life of travel).
Each human is different so I wanted to give a personal touch to the coaching sessions. I always try my best to give what fits best on the individuality of the client as not all methods apply to everyone.
When I stay in a city/country for a long time, I also hold travel coaching sessions for groups held in cafes or bookstores.
The idea of interacting (in person) with people who read your stuff makes me super high!
👩‍💻 How to become a digital nomad: step-by-step
Step #1: Know what you are good at. What are your skills?
Are you good with social media, or are you passionate about it? My friend Mady started her Instagram as a hobby and little did she know that people were following her because she was sharing great tips about travel in Mexico.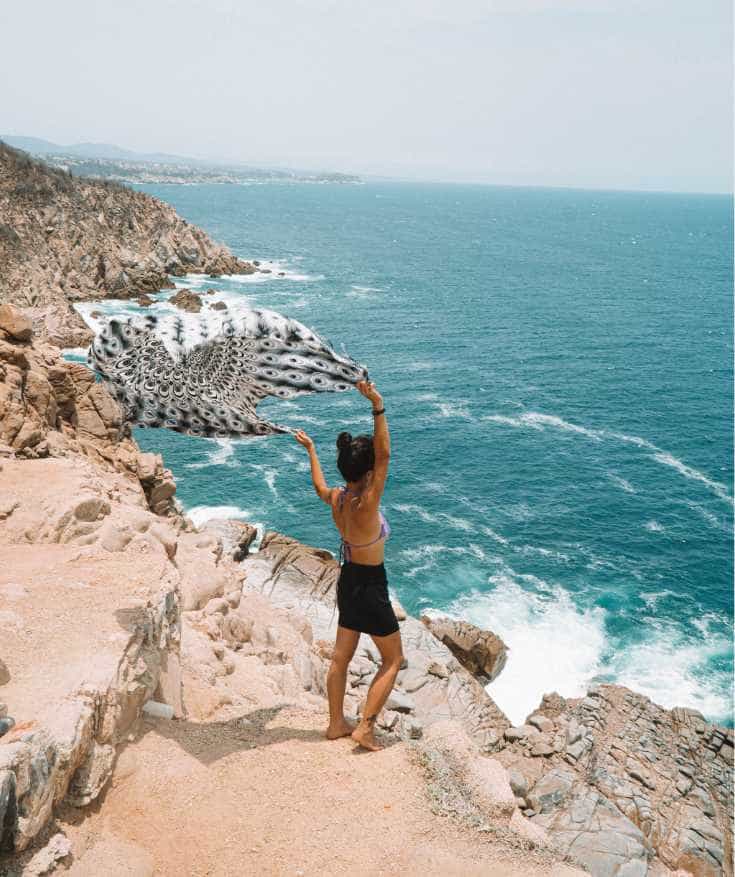 From there, she realized she can work as a content marketing manager for real estate and accommodations in Mexico – and she discovered all these by accident! In the earlier part of this article, you were wondering how to become a digital nomad without experience – this is the best example of that!
So tell me now, what's your background? Arts? Graphic design? Website? Digital marketing? Don't limit yourself to these digital nomad careers – think of everything you can do and list them down.
Step #2: Create your website
When you're looking for something online, you won't really type "graphic designer in Warsaw" on Instagram or Facebook. We all go to Google because this is the most authoritative on the Internet.
When creating your website, you need to find focus keywords that people would search for to get to you. Think about 5 keyword variations, use them all the time and stick with them.
For example, if you're a graphic designer, you can do variations like "graphic designer for hire," "graphic designer in Europe," "Europe graphic designer," etc.
Keywords can be repetitive but as long as they are sending the same message, you will do well on Google. You can also be as specific as "animator for short films," "travel video creator," – you name it!
Step #3: On your website, make blogs that will point clients to your services
Now with those keywords above, I am not saying you'll rank on Google's first page right away. You need to write about your experiences on the blog, mostly giving free information.
People like detailed information and the best way to give that FOR FREE is through writing detailed blog posts. Plan a topic list like "how to easily create designs on Canva."
Your topic of choice must be relevant to your niche and of course, again, giving information and instructions! Video tutorials on Youtube will work as well.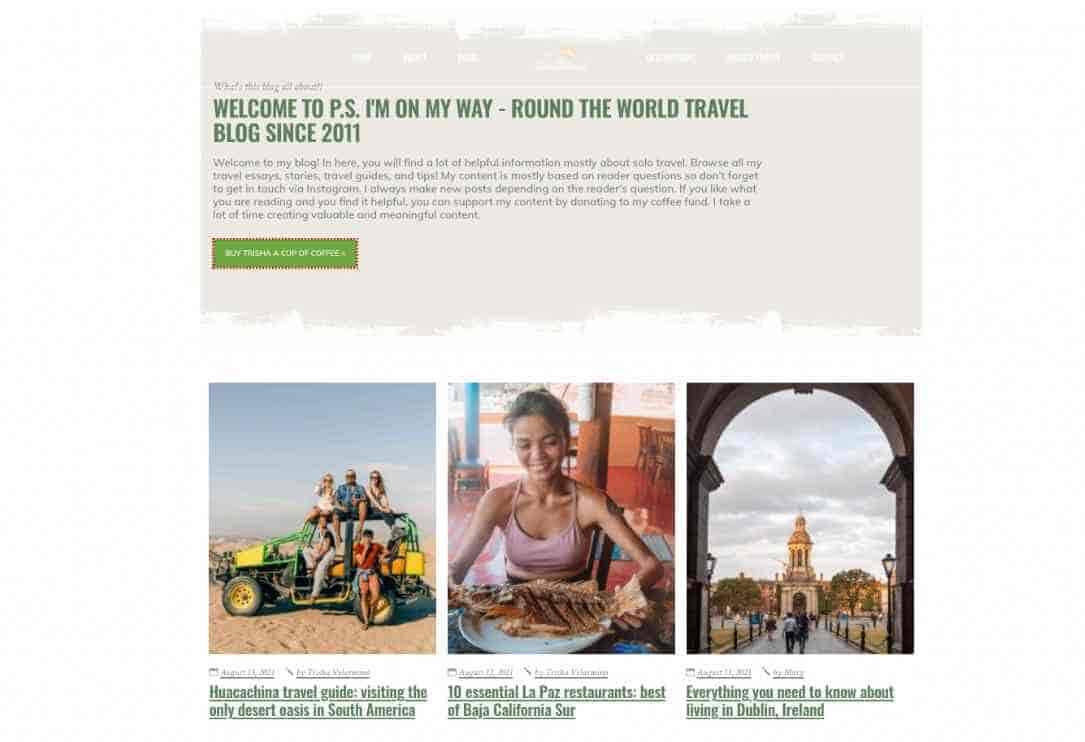 Some digital nomads panic when thinking of topics but think about what people would ask for. It can be as simple as "how to easily export HD videos on Final Cut Pro."
This could just be a one-minute video but it ranks because it's a tutorial!
Having a social media presence definitely helps but the most common mistake that digital nomads do is to focus on social media.
I have 47k following on Instagram but I honestly haven't earned as much as I earned on this website. Focus on your blog content because it will give you more traction!
Step #4: Look for clients on your own: start with friends and family
You need to offer services to people you already know first. This way, you can give samples to big clients about what you've done in the past. What better way to build that portfolio than by helping your friends and family!
Of course, you also need to give discounts to your friends and family at first. I know it's hard to gauge pricing for digital nomad services but I have a blog post about that.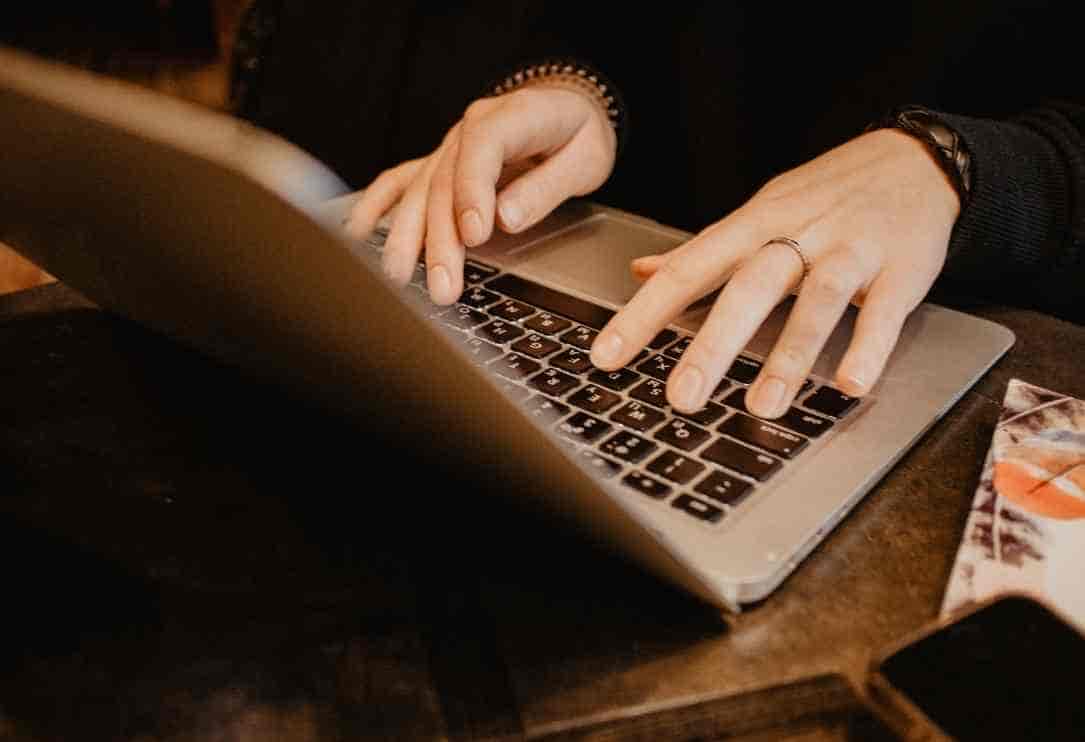 Pricing-wise, I always just look at my competitors and try to level it with them. There is also a digital marketing trick that I do that would entice people to book my services.
When I am doing a pricing list on my website, I usually do a 25% discount but in reality, that's not really a discounted price. It will make people book because they actually think there's a discount but there really isn't.
Use pricing in this format ($250 $150). Strikethroughs are very powerful online texts so make sure to use them!
Step #5: Make a stellar profile and sell yourself
Now that you have a website, you need to create profiles on other digital nomad job boards. Sign up to as many as you can!
In the beginning, I was signed up to 100 websites but it wasn't that hard to control. Since you are starting, you will receive maybe 1 out of 100 work requests but as you build your profile on these websites, previous clients can leave references on their experience with you.
You'd be surprised that after just being on job boards for 6 months, you will be overwhelmed with clients! This happened to me so for now, I only stick with LinkedIn.
On LinkedIn, I constantly change my destination because I am moving a lot. This way, I can still get 1-2 projects in every area I visit. When I was in Barcelona, I was even offered a full-time job!
Step #6: Join Facebook groups and collaborate
Facebook can be really tedious but honestly, I find more successes and projects with digital nomad Facebook groups. The messages and feed will be overwhelming but I dedicate an hour a day to interact in groups.
Not only that you are building a network and putting your name out there when joining Facebook groups but you also get to learn from other digital nomads!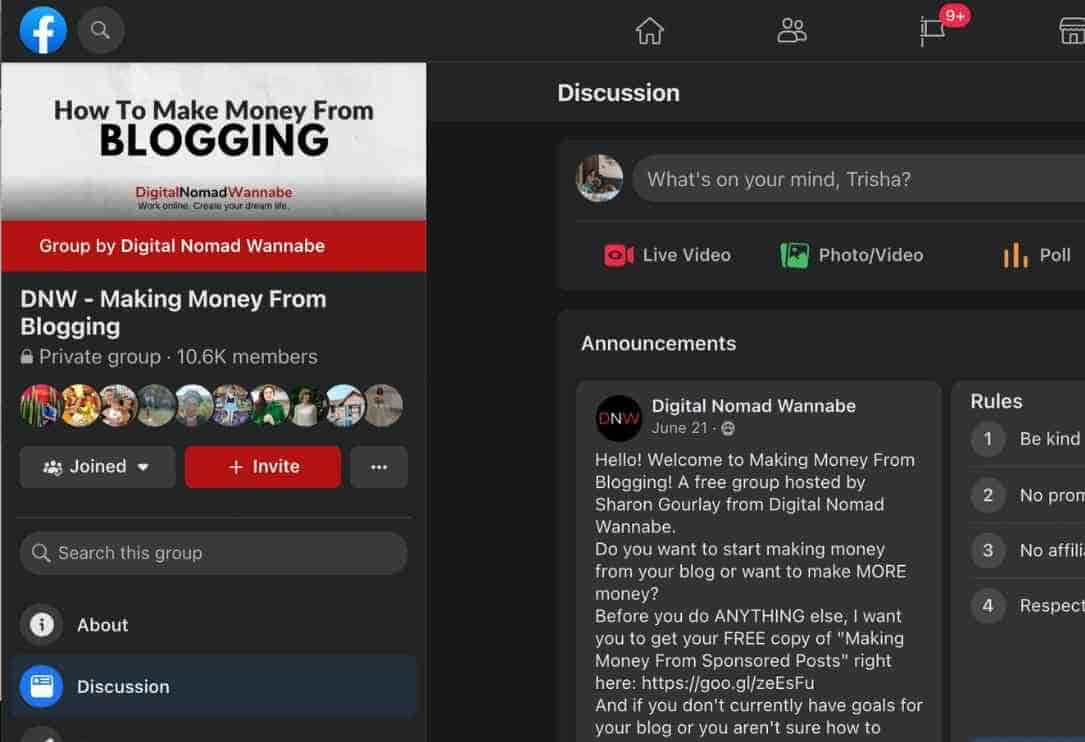 What I love about these groups are the questions. You'd be surprised what people ask and you wonder, "I've been meaning to ask the same!"
People love Facebook groups and everyone is super willing to give feedback, tips, and detailed information answering your questions.
Step #7: Live your life of being a digital nomad by traveling around the globe
The main driving reason that makes many people convert to being digital nomads is travel. All of us don't want to work from home but we want to work from anywhere in the world!
Now, those pictures of people working on the beach – they're not necessarily true. They are just for show. Honestly, I hate this kind of imagery because, for me, I only travel and stay in places long-term if there is a good wifi connection.
To tell you the truth, those beaches don't even have that strong Wifi. I lived in many beautiful Mexican beach towns and the Internet always sucked!
Your digital nomad base can be anywhere and you'll be frequently moving. You can be anywhere you want to be, really. But make sure you get the job done.
This is actually where you are going to test if you have a good balance between work and play!
#9: Make sure to do these steps in order
Why is it important to do these steps in order? Look, if you join digital nomad Facebook groups first, how are you going to showcase your work if you don't have a website?
Travel comes last of course but once you already put your profile on the Internet, it will be easier for you to sell your services anywhere.
What if you travel first then you don't have a portfolio? What are you going to show? Sure, you can travel first but only if you can support your travels and have savings!
Becoming a digital nomad is a step-by-step process so be patient and take your time. When you're already out there, you will see how easy it is to get jobs if you have a stellar profile.
💰 How much money do digital nomads make?
The income of digital nomads can vary greatly depending on factors such as their profession, experience, skills, and work arrangement. Some digital nomads may earn a modest income, while others can make a substantial living through high-paying remote jobs or successful freelance careers.
Generally, digital nomads working in industries with higher demand for remote workers, like software development, design, and digital marketing, have the potential to earn more competitive salaries.
Many digital nomads opt for freelance or contract work, which can lead to fluctuations in income based on the number and type of projects they secure. These individuals may experience periods of higher earnings followed by times when work is scarce, requiring careful financial planning and budgeting.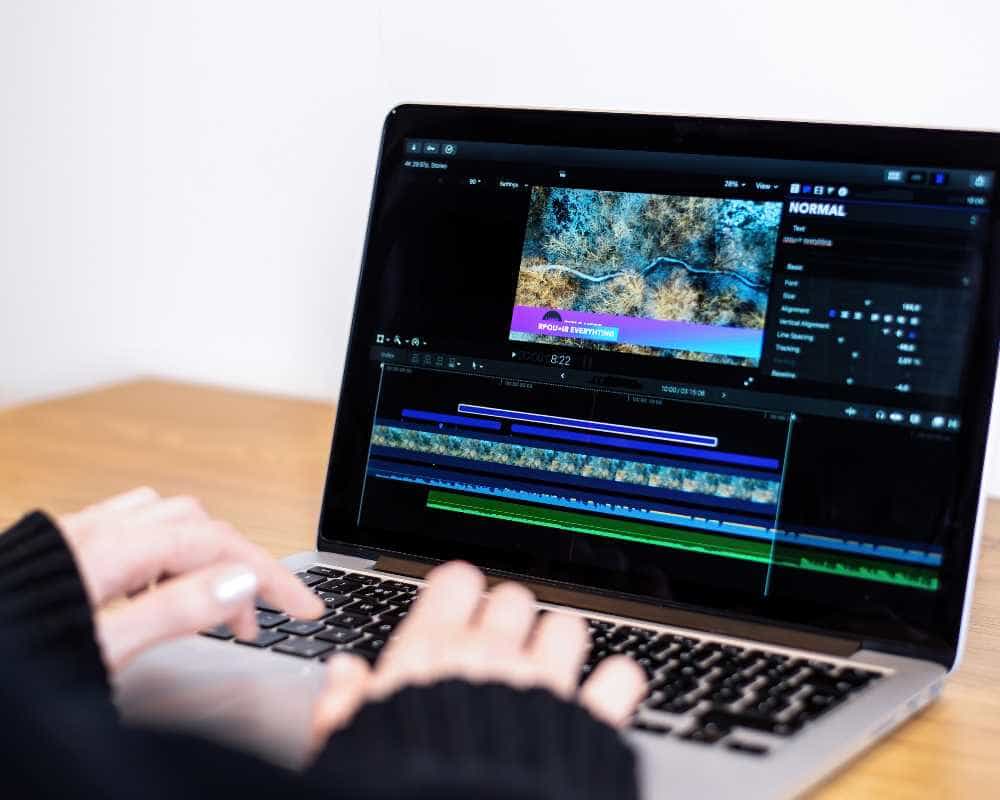 It's important to note that the cost of living and currency exchange rates can significantly impact a digital nomad's financial situation.
Those who choose to live in countries with a lower cost of living can stretch their income further, potentially enjoying a higher quality of life compared to residing in more expensive locations. Ultimately, the earning potential of a digital nomad is influenced by their professional choices, adaptability, and the balance they strike between work and the experiences their nomadic lifestyle offers.
⁉️ How to become a digital nomad FAQ
How do I become a digital nomad legally?
To become a digital nomad legally, you must comply with the laws and regulations of the countries you plan to visit or reside in. This includes researching and obtaining the appropriate visas for each destination, as visa requirements vary depending on your nationality and the country you intend to visit.
Some countries offer specific visas for remote workers or long-term travelers, which can help you stay compliant with local laws.
Additionally, it's essential to understand your tax obligations both in your home country and the countries you'll be living in. Depending on your residency status and the local tax laws, you may be required to pay taxes in multiple jurisdictions.
Consult with a tax professional to understand your tax liabilities and ensure you file and pay taxes correctly.
Furthermore, maintain a valid health insurance policy that covers you internationally. Many travel insurance providers offer plans specifically designed for digital nomads, including health coverage, trip cancellations, and your belongings.
Lastly, always respect local customs, rules, and regulations while living and working abroad. Adhering to these guidelines will help you maintain legal status as a digital nomad and ensure a positive experience for both you and the communities you visit.
What do digital nomads actually do?
Digital nomads leverage technology to work remotely while traveling or residing in different locations worldwide. They typically use the internet to perform their work, encompassing a wide range of professions and industries.
Common job roles for digital nomads include software development, graphic design, content writing, digital marketing, and social media management. In addition to traditional employment, many digital nomads work as freelancers or consultants, providing services to clients globally.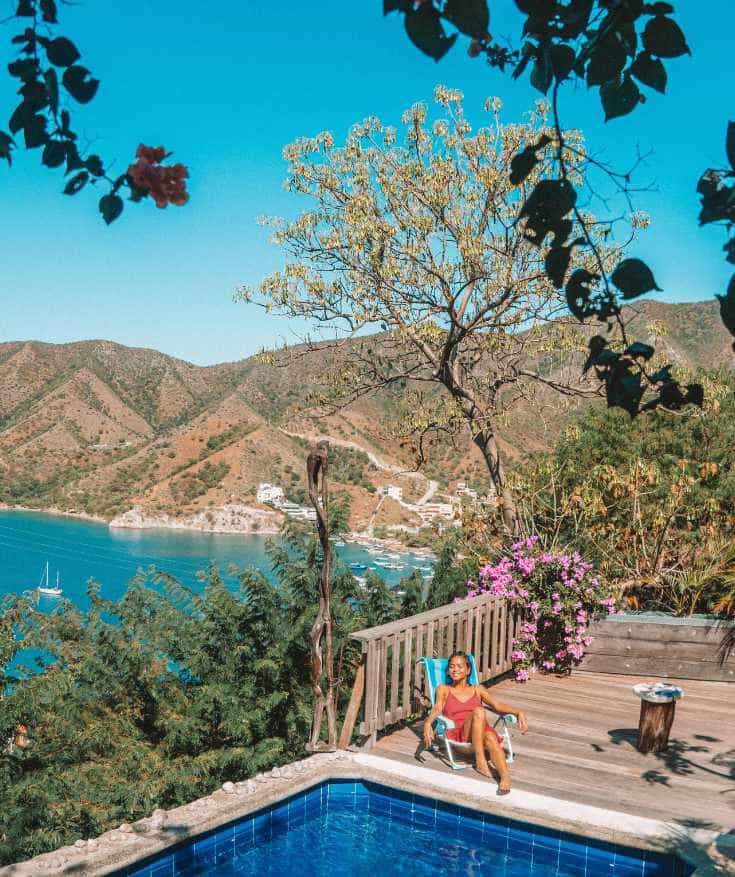 The digital nomad lifestyle allows people to combine work with travel, enabling them to explore new cultures, experience diverse environments, and enjoy a more flexible work-life balance. Digital nomads often work from coworking spaces, cafes, or accommodations, including short-term rentals, hotels, or co-living spaces.
They usually rely on strong time management skills and self-discipline to maintain productivity and meet deadlines while navigating the challenges and distractions of constantly changing locations.
While the primary focus of a digital nomad is their professional work, the lifestyle also offers opportunities for personal growth, skill development, and networking with other like-minded individuals who share similar interests and values.
Do digital nomads pay income tax?
Digital nomads are generally required to pay income tax, but the specific tax obligations depend on their residency status, nationality, and country. In most cases, digital nomads are still considered tax residents of their home country and must continue to file and pay taxes there.
Some countries have tax treaties or agreements in place to avoid double taxation, ensuring that individuals only pay tax on their income in one country. However, the rules and regulations vary, so it's important to understand the tax laws for each country involved.
In addition to their home country's tax obligations, digital nomads may be subject to taxes in the countries they visit or reside in for extended periods.
Depending on the local tax laws, they might be required to pay taxes on income earned while staying in that country. To avoid potential legal issues or financial penalties, digital nomads should consult with a tax professional or advisor familiar with international tax laws and regulations.
Furthermore, digital nomads who work as freelancers may have additional tax considerations, such as registering their business, collecting and remitting sales tax, or paying self-employment taxes. Understanding and complying with all tax obligations is essential to ensure a successful and legal digital nomad lifestyle.
What is the downside of becoming a digital nomad?
Despite the allure of a digital nomad lifestyle, there are several downsides that one must consider. One significant challenge is maintaining a healthy work-life balance. The constant change in location and the need to adapt to new environments can make it difficult to establish a stable routine.
Additionally, finding reliable internet access and suitable workspaces can be a struggle in some destinations, impacting productivity and potentially causing stress.
Social isolation can also be a concern for digital nomads, as they often leave behind established family and friends support networks. Building new connections while continuously traveling can be challenging, leading to feelings of loneliness and disconnection.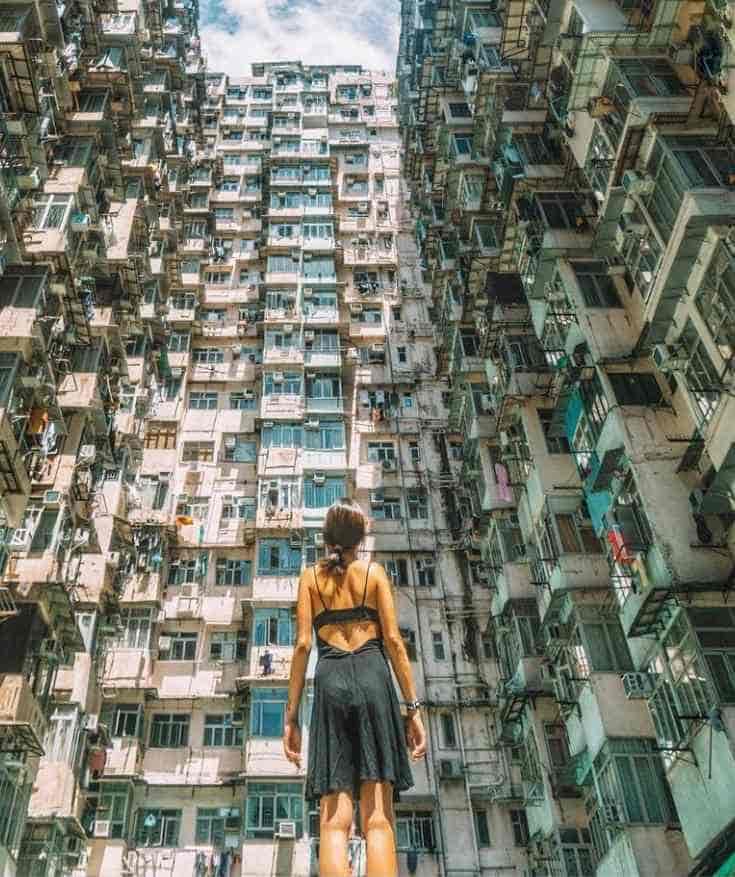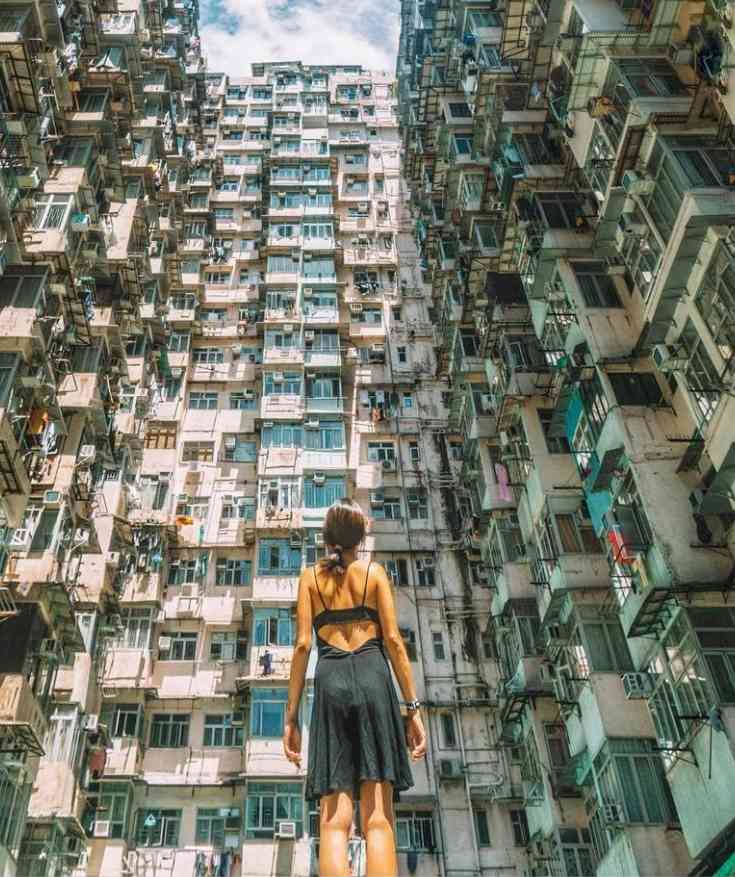 Similarly, maintaining long-term relationships and commitments may become complicated due to the nomadic nature of this lifestyle.
Digital nomads may also face legal and financial challenges, such as navigating visa requirements, understanding tax obligations, and managing fluctuating income. Additionally, the lack of a fixed address and the need for continuous travel planning can create logistical difficulties related to banking, insurance, and other administrative tasks.
Lastly, constant travel and adaptation to new environments can be physically and mentally exhausting, leading to burnout if not appropriately managed. While the digital nomad lifestyle offers numerous benefits, it's essential to carefully weigh these potential drawbacks before embarking on such a journey.
Am I too old to be a digital nomad?
There is no specific age limit for becoming a digital nomad, as it's primarily a matter of personal preference, adaptability, and willingness to embrace the lifestyle. People of all ages have successfully transitioned to a digital nomad way of life, proving that age should not be a barrier to pursuing your dreams.
What matters most is having the skills and experience to work remotely and the flexibility and resilience to manage the challenges that come with constantly changing locations and cultures.
It's important to recognize that different age groups may have different priorities and considerations when it comes to living as a digital nomad. Older individuals might have more financial stability or established careers, which could make it easier for them to secure remote work opportunities.
On the other hand, they may also have more responsibilities, such as family commitments or health concerns, that need to be considered when planning their nomadic lifestyle.
Ultimately, becoming a digital nomad is a personal decision that should be based on your circumstances, goals, and desires. If you're passionate about the idea of working remotely and exploring the world, age should not be an obstacle in pursuing the digital nomad lifestyle.
Are digital nomads wealthy?
Digital nomads come from a wide range of financial backgrounds, and their wealth can vary significantly based on factors like their chosen profession, experience, work arrangements, and personal financial management.
It's important to note that being a digital nomad doesn't inherently equate to being wealthy. While some digital nomads may earn a substantial income from high-paying remote jobs or successful freelance careers, others might earn a modest living that covers their expenses and allows them to enjoy the experiences their nomadic lifestyle provides.
A significant aspect of the digital nomad lifestyle is controlling costs and optimizing expenses based on the chosen location. Many digital nomads opt to live in countries with a lower cost of living, allowing them to stretch their income further and potentially enjoy a higher quality of life than residing in more expensive locations.
The concept of wealth for digital nomads can also extend beyond monetary terms. For many, the experiences, personal growth, and freedom associated with the digital nomad lifestyle represent a different kind of wealth that might not be measured solely by financial means.
While not all digital nomads are wealthy in the traditional sense, they often consider themselves rich in terms of experiences and opportunities for exploration and personal development.
How old are most digital nomads?
Digital nomads encompass a diverse range of ages, as the lifestyle is attractive to various age groups for different reasons. However, it's commonly observed that many digital nomads tend to be in their 20s and 30s.
This age group may be drawn to the digital nomad lifestyle due to fewer family responsibilities, an increased desire for flexibility and freedom, and a more adaptable approach to work and life.
That said, the digital nomad community is not limited to younger individuals. People in their 40s, 50s, and beyond have also embraced this lifestyle, often driven by a desire for change, personal growth, or new experiences. Older digital nomads might have more established careers or financial stability, which can facilitate their transition to remote work and the nomadic way of life.
As remote work continues to gain popularity and the digital nomad lifestyle becomes more accessible, it's likely that the age range of digital nomads will continue to expand, reflecting a broader spectrum of people seeking to combine work and travel.
In essence, the digital nomad community is a diverse group of individuals united by their shared interest in remote work, travel, and personal development, transcending age boundaries.
What is the lifestyle of a digital nomad?
The lifestyle of a digital nomad revolves around combining work with travel, enabling individuals to explore new destinations while earning a living through remote work or freelance opportunities.
Digital nomads utilize technology and the internet to perform their jobs, allowing them to work from various locations such as coworking spaces, cafes, or accommodations. This lifestyle offers flexibility and freedom, enabling digital nomads to set their schedules, adjust their work environment, and experience diverse cultures.
A key aspect of the digital nomad lifestyle is adaptability. Individuals must navigate the challenges of constantly changing locations, finding reliable internet access, and maintaining productivity while on the move. Digital nomads often develop strong time management and self-discipline skills to effectively balance their work and personal life.
The digital nomad lifestyle also offers unique opportunities for personal growth, skill development, and networking with like-minded individuals worldwide. However, it's important to note that this lifestyle can also come with challenges, such as feelings of loneliness, social isolation, or difficulties maintaining long-term relationships due to the transient nature of the nomadic way of life.
Overall, the digital nomad lifestyle is a blend of work, travel, and personal exploration, offering a unique and often rewarding way to experience the world while pursuing professional goals.
💻 Digital Nomad Resources
🏥 What is the best insurance as a digital nomad?
YES! In fact, this is one of the requirements. My digital nomad insurance is SafetyWing and I only pay $40 USD per month.
📶 Do I need a VPN as a digital nomad?
ABSSOLUTELY! Digital nomads travel to many different countries and it is important to protect your Internet privacy. Do not connect to the Internet anywhere without VPN as the Internet does not respect our privacy as private citizens! NordVPN is the only VPN I trust and use. It's cheap and it's very reliable!
✈️ Where do digital nomads find cheap flights?
Kiwi.com is one of the most trusted sites to book cheap flights to Mexico. They compare all prices for all airlines! Also try WayAway if you want to get cashback for every booking.
Trisha is one of those people who left their comfortable life to travel the world and learn about life. Her style is to stay in one place she likes for 3 months (or more) to know what it feels like to eat, cook, speak, and sleep in another culture that isn't hers. She'd like to believe she's not traditionally traveling but she just chooses to be somewhere else all the time. In no particular order, her favorite cities in the world are Barcelona, Buenos Aires, Hong Kong, Mexico City, and Tel Aviv.