☕ Support this blog's honest and transparent journalism. Help us add value to what we are sharing. Keep P.S. I'm On My Way free for all by donating to our coffee fund.
This Puerto Vallarta digital nomad guide was written by Rachel and Sasha, two full-time traveling digital nomads since 2016. When they're not teaching or working on their digital nomad blog Grateful Gypsies, you can find them chasing their favorite band Phish around the USA.
📬 Reader Mail: Hi Trisha! I am a silent follower of yours since 2012. I loved how you've grown and I am really excited that you are in Mexico.
A little about me – I am a California girl who is currently living in Austin. I have been forced to work from home because of COVID and I am thinking that I do not need to be in the USA to work.
I can easily go to Mexico as it looks like. Can you tell me a little about Puerto Vallarta Digital Nomad?
How are the people there? I have a friend from Colorado and said a lot of good things about PV. I know you live there at the moment. Hope you can help!
Also please do not publish my name. I would like to remain anonymous. I saw that you are putting reader names out there but my employer does not know I have plans to relocate to Mexico. Thank you!
-Serena, USA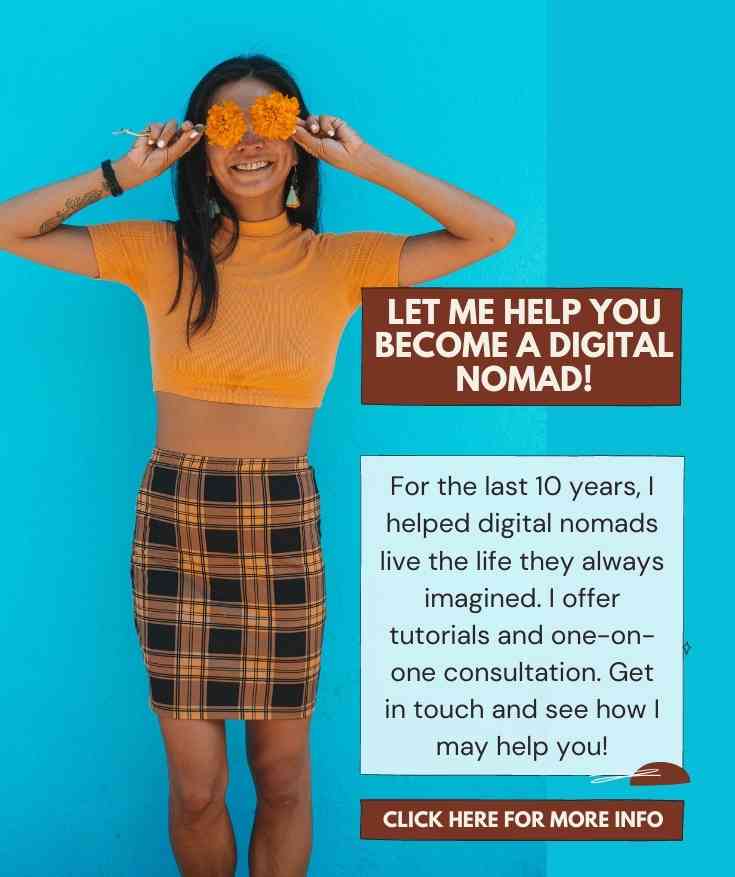 Dear S,
Thank you so much for constantly following this journey – I really appreciate it! I understand the privacy concerns. I have lots of friends and readers who are actually relocating to Mexico without their employers knowing. Honestly, it doesn't make a difference if you're here or there. Unless you have to physically show up for some work stuff.
I currently live in Nuevo Vallarta (about 20 minutes from Puerto Vallarta) but I do frequent PV. However, I do not have that much experience with Puerto Vallarta digital nomad yet – I just moved here in October 2020!
But don't worry – I called for reinforcements. Rachel and Sasha are full-time traveling digital nomads since 2016. They are still in Puerto Vallarta at the moment so I asked her to write a guide for you.
If you want to know more about places to visit in Mexico, just send me a message. I hope you'll make it to PV – I would love to meet you!
Xx,
Trisha
Is Puerto Vallarta good for digital nomads?
Yes! In fact, Puerto Vallarta is a digital nomad favorite. If you are to combine rent prices, eating out, Internet speed, and quality of life, Puerto Vallarta definitely tops the list of the best digital nomad destinations in Mexico.
Digital nomads are drawn to Puerto Vallarta because it's one of those destinations in the country that still has its Mexican culture.
When you choose this as your base, you will have the luxury of living in the city while living the beach life. It's such a great combination!
There are also so many things to do in Puerto Vallarta that draws digital nomad adventurers to this area. When you base yourself in Puerto Vallarta, you have access to many small towns all the way north of Nayarit!
Does Puerto Vallarta have good Internet?
Like most of Mexico, the only provider in the country is owned by the Telmex group. Most cafes and restaurants in Puerto Vallarta have this wifi connection.
With the increase of digital nomads in Puerto Vallarta, there have been many International fiber-optic companies that have been opening up.
For example, when I was living in Nuevo Vallarta, Telmex didn't have fiber optic in the area (for some reason) so I signed up with an Australian company which I paid a lot more ($50 USD per month vs Telmex's $25 USD per month).
It's really a hit and miss in Puerto Vallarta so but know that unlike small towns in the area (Sayulita and San Pancho), Puerto Vallarta has better infrastructure so the Internet won't be difficult here.
It's just a matter of knowing what kind of Internet plan your accommodation has. Some hosts tend to avail the cheapest without thinking they might have remote workers as customers (aka Airbnb).
More digital nomad destinations in Mexico that you may like:
Puerto Vallarta digital nomad guide: everything you need to know
Puerto Vallarta digital nomad: personal experience
Hi! I'm Rachel. Sasha is my husband and co-founder of our blog Grateful Gypsies. We're both from the USA; Tennessee and Michigan respectively.
We both teach English online, run our travel blog, and Sasha writes for a couple of other travel blogs. We've been using Puerto Vallarta as a temporary nomad base since 2017.
We landed in Puerto Vallarta just a month into our first international trip as digital nomads. What was supposed to be a one-month stay turned into six.
We left after those six months and continued our travels, only to return again seven months later. We've now spent a year and a half in Puerto Vallarta and plan to return for a few months every year for as long as we can.
Our reason for choosing Puerto Vallarta isn't really that sexy. I had read about how beautiful it is in a book and decided I had to see it for myself. Sasha, unfortunately, needed a root canal. In fact, he needed so much dental work that it was going to take longer than a month so we extended our stay and wound up falling in love with the city.
The Digital Nomad scene in Puerto Vallarta
While it's often touted as a spring break or retirement destination, we realized Puerto Vallarta is actually a great city for digital nomads. When we started making plans to go there, we read on Nomad List that they had really slow internet.
However, we found the internet to be good enough for us to teach English online at the same time. During our first 6-month stay, they began installing fiber-optic connections in several of the neighborhoods and have been continuing to install them in other 'hoods.
Then I discovered the co-working space. It had some of the fastest speeds I had ever seen anywhere so I joined as a member. It helped me meet even more people and expand my network. It seemed like living in Puerto Vallarta was actually a great idea.
Now there are two co-working spaces and plenty of cute cafes with delicious coffee and fast WiFi. It's super easy to connect with other digital nomads through Facebook groups. My two favorite groups to connect with people are Puerto Vallarta Digital Nomads and Young Expats in Puerto Vallarta.
Vallarta Co-Work also plans a variety of events like a Friday lunch meetup and even a video game hangout. I've been able to meet so many amazing people who come and go like us or live in Puerto Vallarta full-time. The community is a big part of why we keep coming back for more.
Internet speed in Puerto Vallarta
It's relatively easy to come by fast WiFi speeds living in Puerto Vallarta. Although some may not think this is fast enough, we get 10 Mbps to download and 2 Mbps to upload at home.
It's good enough for us to both teach English online through video lessons, which are quite demanding on the internet.
There are several neighborhoods that have fiber optic cables installed and a friend of mine had a speed of 40 Mbps download and 10 Mbps upload.
The co-working spaces have similar speeds. Getting a SIM card in Mexico is relatively easy and painless. The best provider is Telcel.
They have the most subscribers and the best coverage. You can get a prepaid SIM card at any Oxxo, which is like 7-11. They're on almost every corner.
What's next after Puerto Vallarta? Check out Sayulita
They have several packages on offer. It's possible to get up to 6 GB of data with unlimited calls and texts with several social media apps included for around $25 USD for 30 days.
Their 4G speeds are quite fast with download speeds up to 16 Mbps. Topping up is also easy as there are multiple options; pop into an Oxxo, pay online, or use their app.
There are a plethora of options for getting internet access. It's totally possible to find homes with fast WiFi speeds. As a digital nomad, you likely won't be setting up the internet in your Airbnb but in case you get your own place and wind up staying for a while, the most widely used company is Telmex.
If you can't find an Airbnb or other accommodation with your desired speeds and you need something faster, you can easily find it at cafes and coworking spaces in Puerto Vallarta. The WiFi is generally better than SIM cards but having a SIM card is a solid backup plan.
Puerto Vallarta cost of living
One of the best parts of living in Puerto Vallarta is the inexpensive cost of living. There is something for every budget. There are plenty of apartments, houses, and villas available for short and long-term rent.
During our first stint in Puerto Vallarta, we were pretty broke, so we found a really cheap apartment. It was a little far from the center of town for around $250 per month with WiFi and utilities included. We did a lot of cooking at home and had to pay for the gas, which cost around $20 for a huge tank that lasted a month.
If we did go out to eat, we tried to stick to $3 street tacos or go to small, local restaurants. The best way to save money on eating out in a restaurant is to eat where the locals eat. It's often the most delicious option as well.
Our cost of living in Puerto Vallarta for one month during that first summer was around $1,898. In the last two years, our monthly budget has been about $2,250.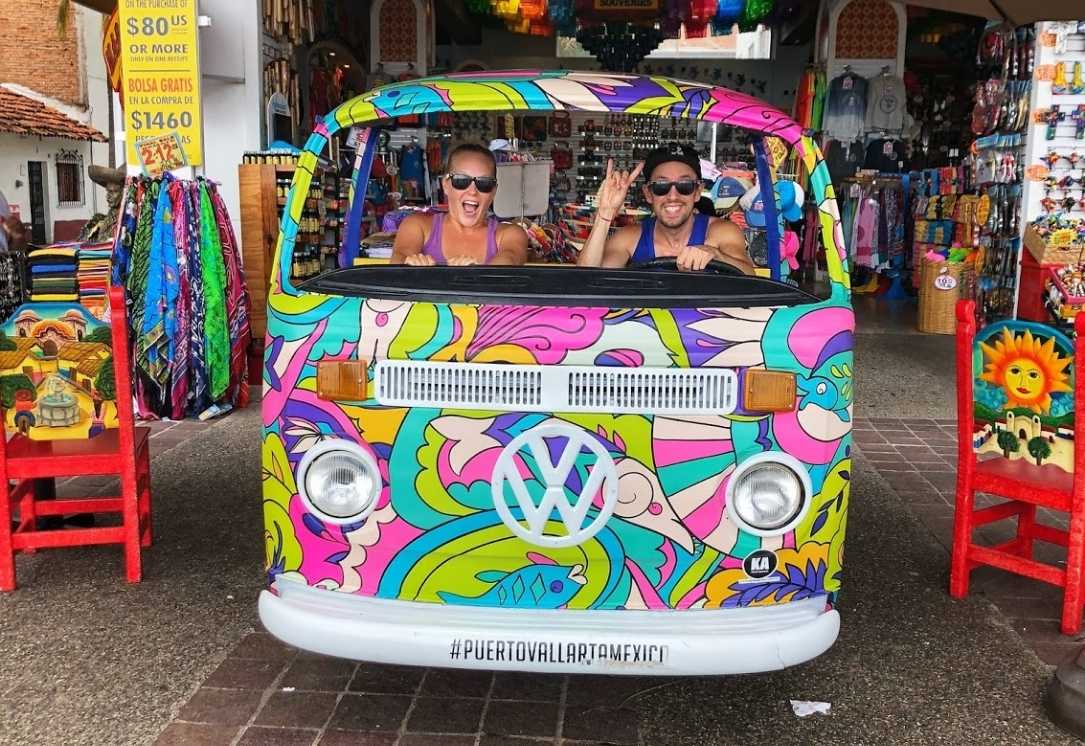 As our income has gone up, so has our budget. We moved from that first cheap apartment to an Airbnb very close to the center and only six blocks from the beach. We can only stay there in the low season (May – October) because the hosts have regular high-season tenants.
But it's the perfect digital nomad agreement. We've developed a great relationship with the hosts. They don't ask us to sign a contract or pay a deposit.
The internet is all set up and it's beautifully furnished with everything we need. We simply show up and put our backpacks down and pick them up when it's time to hit the road again.
The rent is lower in the low season. It's around $750-$800 per month depending on the exchange rate. This is on the high end of rental prices in Puerto Vallarta, but we have access to a shared rooftop with a pool.
It also includes weekly cleaning so it's a pretty good deal. It's possible to find similar deals at this time of year. It gets more difficult in the high season but not impossible.
The best way to find accommodation is through Facebook groups, Craigs List, and using Airbnb. Many Airbnb hosts are open to long-term tenants so that's a good starting place for gauging prices.
Another option is to walk around looking for "Se Renta" signs and communicating directly with the landlord, but you'll need a high level of Spanish as most landlords don't speak English.
Transportation is also great. There are plenty of public buses that will take you all over the city. Each ride is 10 pesos. Uber is also there and the minimum cost for a ride is 45 pesos.
Taxis are also plentiful. Puerto Vallarta is divided into zones and the cost for a taxi ride varies depending on which zone you're going to. The rides start at 60 pesos. Our personal cost for transportation is around $70 per month.
Buying food in grocery stores and markets is very economical. For dining out, you have a wide range of options from street tacos to multi-course, fine dining experiences.
We usually cook at home on most weekdays (with the occasional lunches out) and treat ourselves to dinner and drinks with friends on the weekends. Our monthly cost for food and drink is around $700 per month.
As for other miscellaneous costs such as gym memberships, co-working space memberships, electricity, and laundry we usually spend around $280 per month.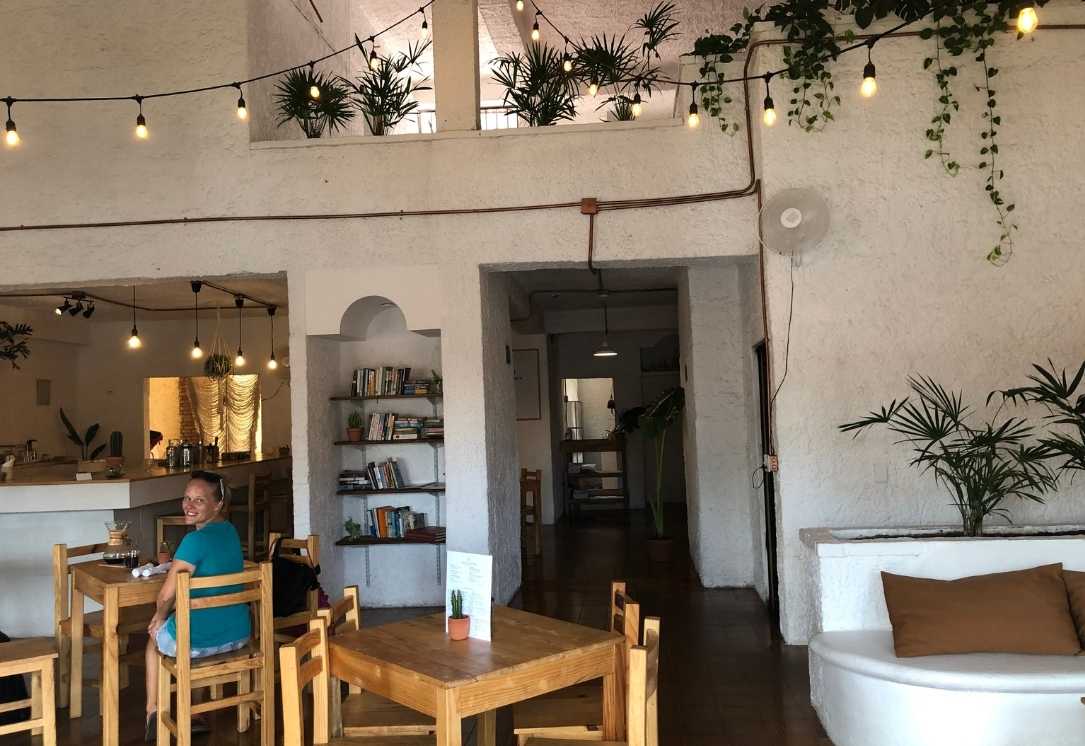 Medical tourism is huge as there are many snowbirds and retirees living in Puerto Vallarta for part of the year. It's easy to find high-quality, affordable medical care and dental offices.
Sasha's root canal that originally kept us in Puerto Vallarta only cost about $550 in the end as opposed to the $2,500 he was quoted in the US.
I have visited many doctors' offices for various health checkups and the most I've ever paid was $150 for one visit.
Mexico visas, entry/exit requirements, etc
Tourist visas for Mexico are given on arrival and are valid for 180 days for people from over 160 countries. That's one of the reasons why living in Puerto Vallarta is so great.
To renew your tourist visa, you simply need to leave Mexico and then you can come right back. It's not necessary to get another type of visa unless you wanted to open a local business or stay longer than 180 days at a time.
However, Mexico recently changed its 180-day visa rule. They don't automatically give it anymore since there are many foreigners taking advantage and overstaying.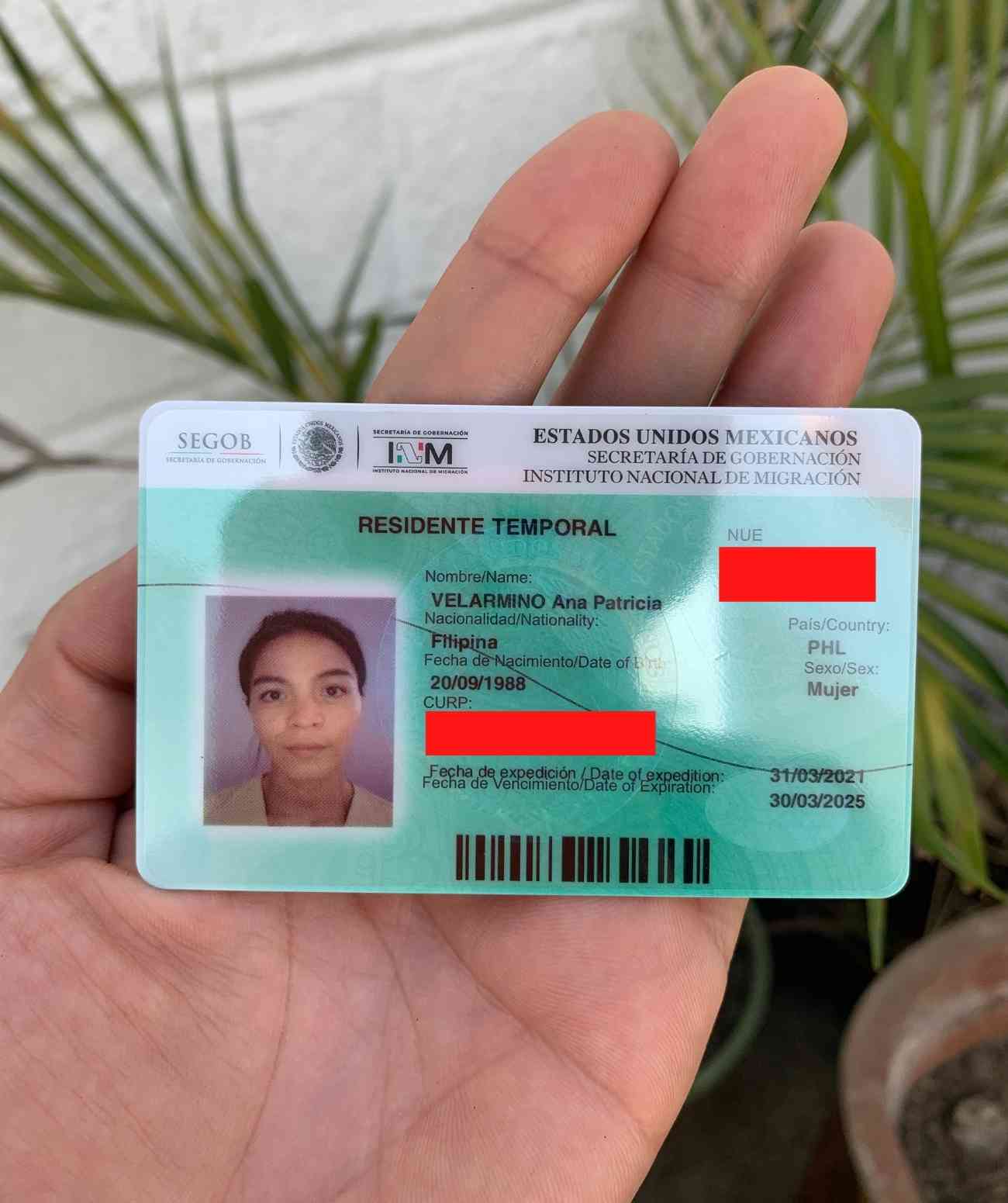 Mexico is still easy to handle. In order to get a 180-day visa, you must request it from the immigration officer. Explain that you work remotely and make it sound that you are going to spend money.
That's all they want to hear and you'll spend money in Mexico as a digital nomad anyway. Alternatively, you can also apply for a Mexico digital nomad visa if you plan to stay for more than 6 months.
Puerto Vallarta cafes with strong Wifi
The Green Place
📍 C. Honduras 309, 5 de Diciembre | 📞 +52 322 688 4173 | ☕ The Green Place PV Menu
This cafe has lots of yummy coffees to choose from. It's also a vegan restaurant with lots of different menu options. They have really fast WiFi speeds; 47 Mbps download, 8 Mbps upload. There are some plugs but you have to be sitting at a table near the wall to use them.
They also have a separate room with air conditioning (necessary in the summer months) with a couple of plugs. It can get busy in the mornings as it's attached to a hotel and provide breakfast for the guests, but it's very quiet in the afternoon. I usually budget around 200 pesos to come work here and rarely spend more than that.
Puerto Cafe
📍 Morelos 540 | 📞 +52 322 131 3891
This is a cute little coffee shop with a hipster vibe. They make flat whites which can be hard to find. Their WiFi speed is 13 Mbps download, 1 Mbps upload.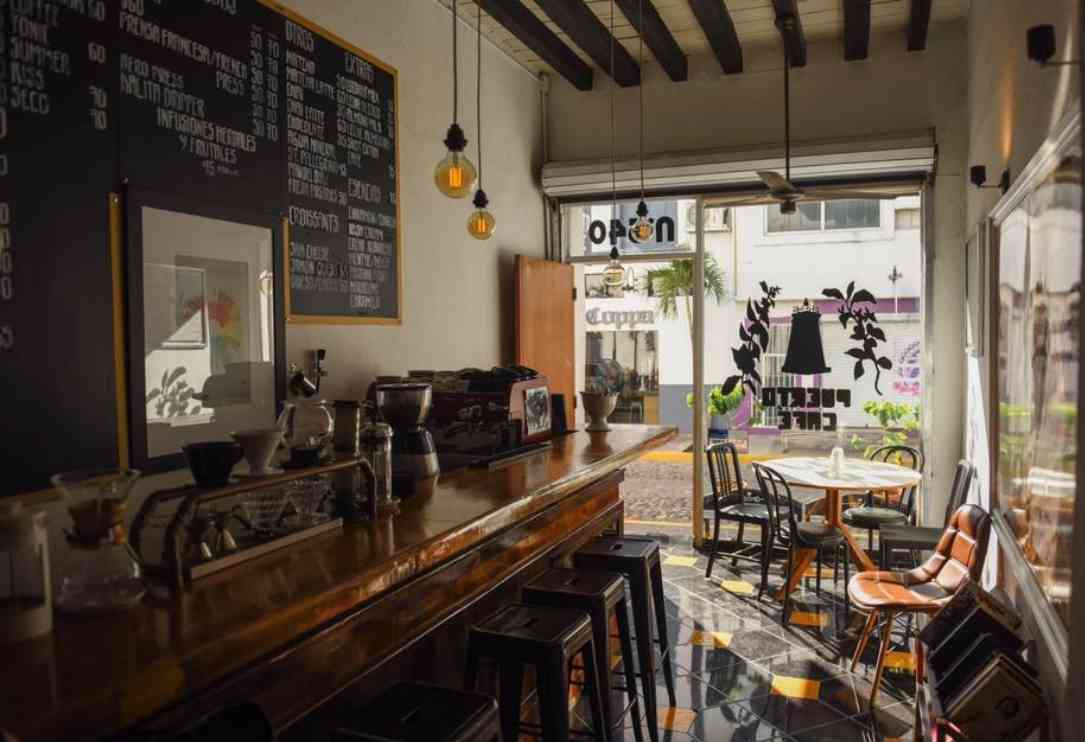 There aren't that many plugs and it's rather small so I wouldn't recommend planning to stay for longer than an hour. They are usually playing music but not at a level that's distracting.
It's not very busy, either. I usually budget around 50 pesos to work here.
Coexist Bistro
📍 Agustín Rodríguez 175 | 📞 +52 322 222 0366 | ☕ Coexist Bistro Menu
This is more of a restaurant as they have a full menu and bar but that's one of the reasons I love working here. I can come for lunch and have a nice cocktail or beer while I work for a few hours. Their AC room is a nice respite from the heat in the depths of summer.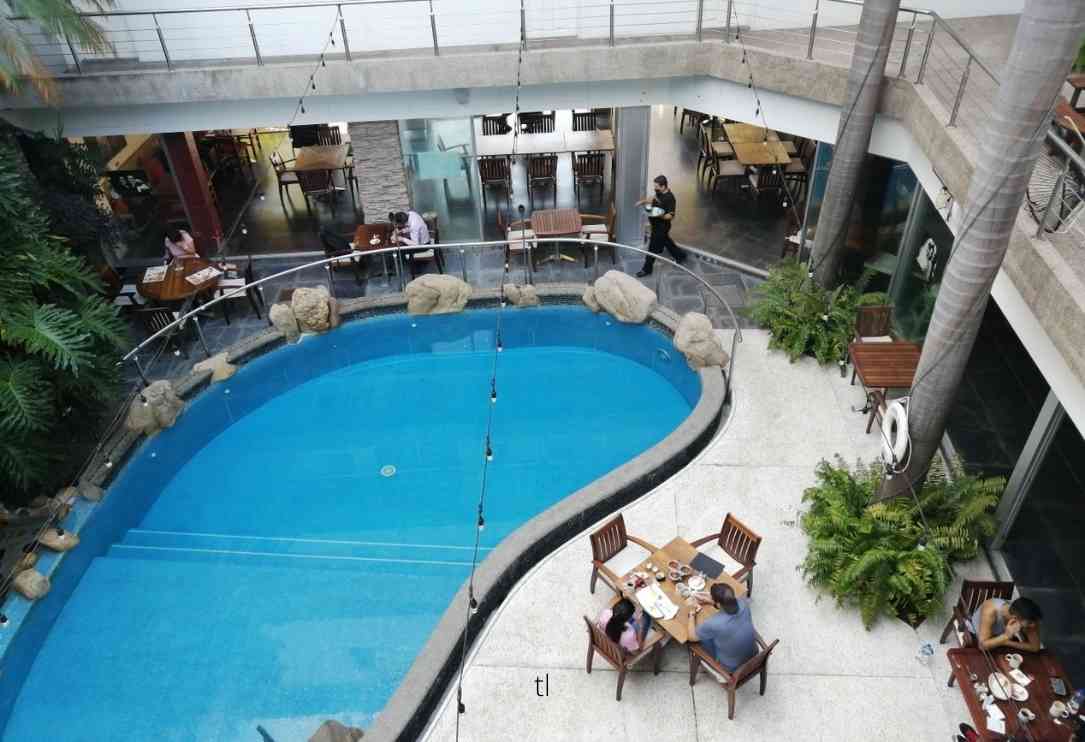 I don't have their WiFi speed written down but it's quite fast. There are plenty of plugs and it's usually very quiet unless you're there at the height of lunchtime. I usually budget 200 pesos to come work here. It's at the higher end of food and beverage costs.
Choco Museo
📍 Josefa Ortiz de Domínguez 128 | 📞 +52 322 223 4052
I love the Choco Museo because it's the only cafe I've found with an ocean view. The top floor has a little cafe serving drinks, coffee, and several different chocolate dishes.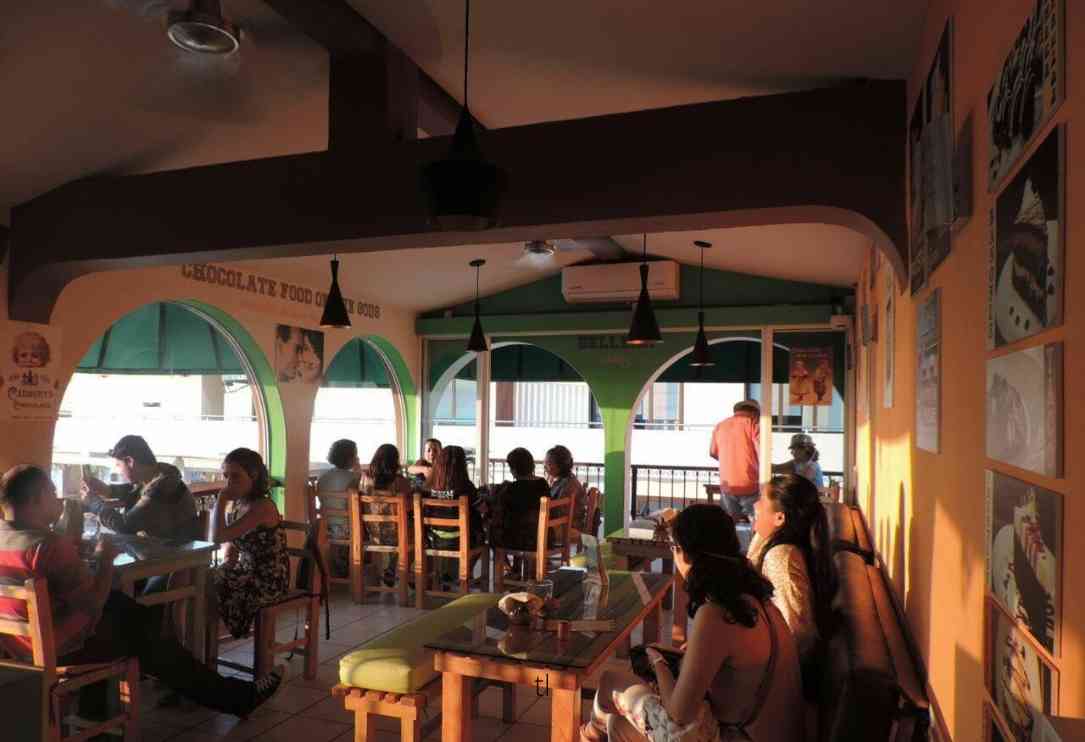 The WiFi speed is 10 Mbps download, 2 Mbps upload and there are a few plugs available. It's usually very quiet. I budget around 150 pesos to work here.
El Sofa Cafe
📍 Venustiano Carranza 306 | 📞 +52 322 223 8446
The owner of El Sofa is very friendly. She has several breakfast and lunch options on the menu and everything I've tried is quite delicious.
The WiFi speeds are 17 Mbps download, 5 Mbps upload. There are several comfortable sofas (hence the name) and several tables so it's a very comfortable place to work.
It can get busy with customers but it's not distracting. I budget around 150 pesos to work here.
Co-working spaces in Puerto Vallarta
At the moment, there are only two co-working spaces in Puerto Vallarta. Find more information below:
Vallarta Cowork
📍 Morelos 101-Local 3B | 📞 +52 322 100 5498
This was the first coworking space in Puerto Vallarta. They charge 2500 pesos per month, 2000 pesos for a 15-day pass to be used in 30 days, 1000 pesos per week, and 240 pesos per day.
These prices are for a hot desk in the common area. They also have plans for dedicated desks in both the common area and the dedicated area.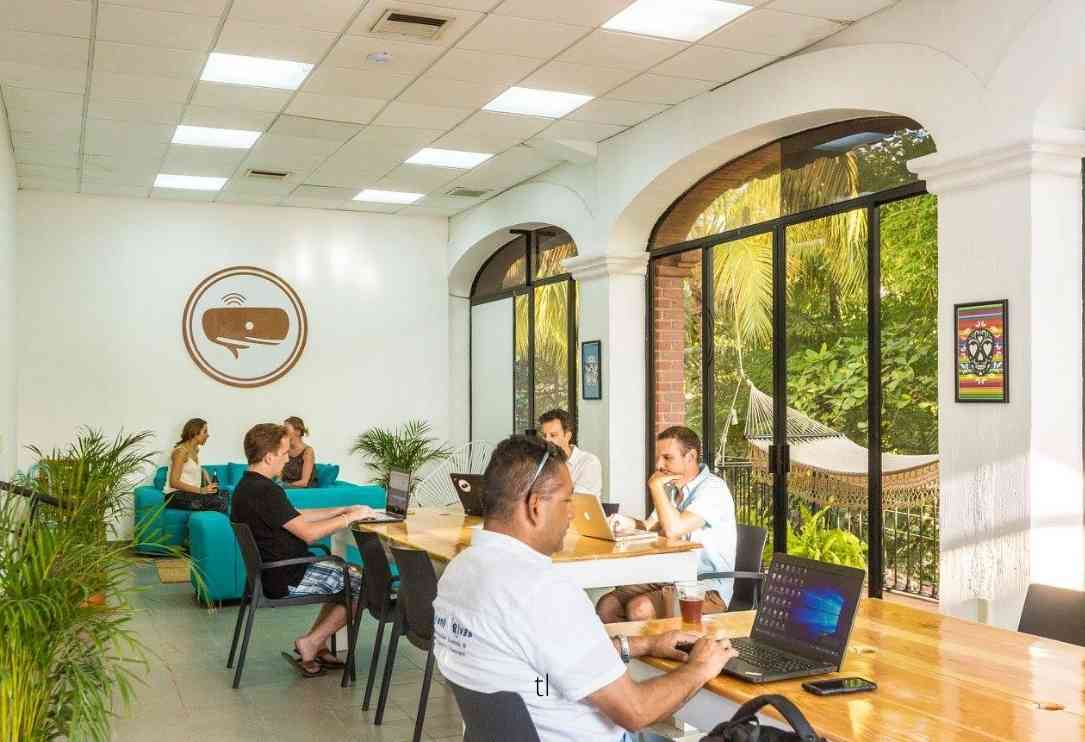 I love this coworking space because of the location and the community. It's right in the middle of downtown and you can see the ocean from the common room.
It's close to lots of restaurants. They have both weekly and monthly community events that are great for meeting new people.
Cowork Natureza
📍 Morelos 101-Local 3B | 📞 +52 322 100 5498
This coworking space is attached to a little cafe with yummy coffee and sandwiches. They have two different monthly membership options.
One is 2700 pesos per month and you get 5 hours of boardroom access, 20% off in the cafe, and you can bring a guest for 2 hours per week.
The other option is 1900 pesos per month which gets you 2 hours of boardroom access, 10% off in the cafe, and one day pass to give to a guest.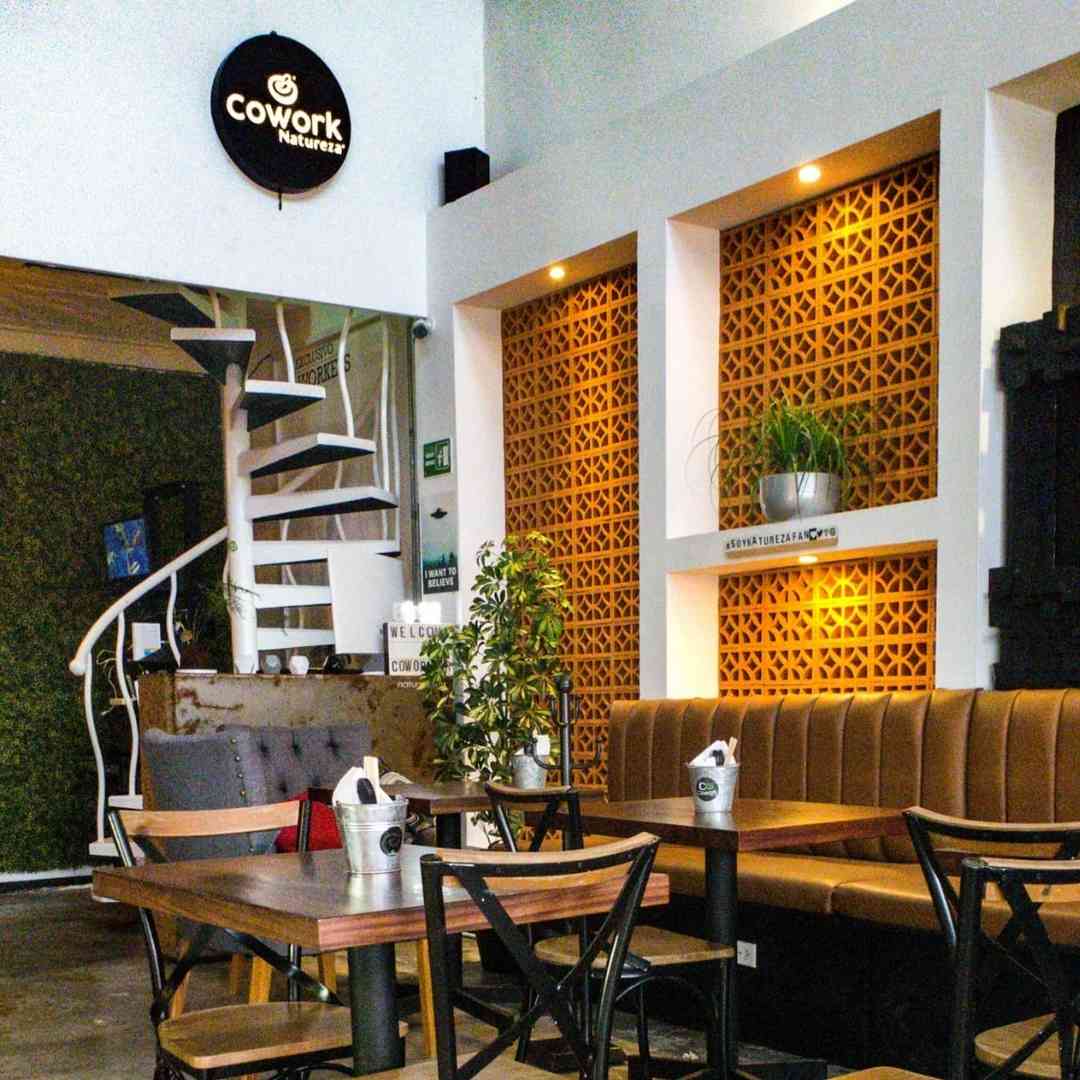 The rate for a day pass is 195 pesos. I love that there is a cafe attached to the coworking space. It makes it easy to grab lunch and coffee. It's also close to many restaurants.
I hope you've found this guide useful! If you'd like to learn more about what it's like living in Puerto Vallarta check out our YouTube video that goes deep into our favorite restaurants, bars, gyms, favorite beaches, and more. Also, feel free to reach out if you have any specific questions!
Puerto Vallarta digital nomad tips
Take note of the best time to visit Puerto Vallarta
The best time to visit Puerto Vallarta is from mid-October to late May. This is the high season in almost all areas of Mexico because of the cool weather. Other months are extremely humid!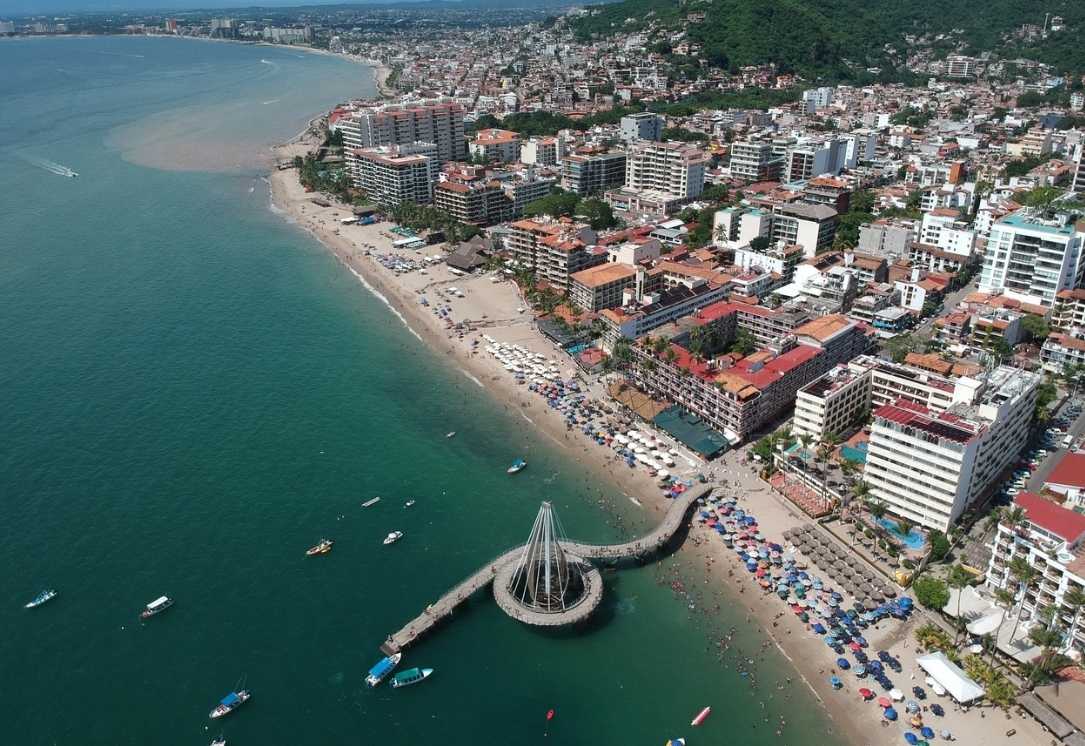 The high season also means that it's difficult to find accommodation or it will be very expensive. If you plan to stay in Puerto Vallarta during the high season (long-term), you need to find accommodations as early as June.
This is the only way you can secure a reasonably priced long-term accommodation and you will get the best ones too. If you book during the high season, all that is left are the not-so-good ones for a higher price.
Ask for a screenshot of the Internet speed before booking
As I said, most landlords and property owners avail the cheapest Internet in Puerto Vallarta because not everyone has the concept of digital nomad yet.
When they say it's fast, it's fast according to their standards. But as a digital nomad, you're the only one who knows what kind of speed you need for your productivity so make sure to ask for a screenshot before putting a downpayment.
Secure connection: get a VPN
As a digital nomad, you should protect your data from hackers and don't let other people steal your data. You shouldn't connect to any Wifi in the world without a VPN! I use NordVPN and have had great experiences with it. Their 5-year plan is super cheap and it works 100% on Netflix!
Get a digital nomad bank account or a Mexican bank account
Digital nomads on a tourist visa can open a bank account with Mexico easily. The only bank that will allow you to do this is Intercam which is not the best bank in the country but still works pretty well.
I have a Mexican bank account with BBVA and Bancomer but as a digital nomad, I need to accept multiple currencies. With this, I use Wise to manage all these currencies.
My favorite thing about Wise is that the currency conversion is higher than any other International bank accounts I tried. Read my Wise review here to know more!
Emergency portable wifi device
If you're someone like me who can't afford to be offline because of my digital nomad job, better have a portable wifi device for backup. I don't use this heavily but when I really need it, it has always been reliable! Use the code PSIMONMYWAY to get a 10% discount upon checkout.
Digital nomad travel or health insurance
I've been using SafetyWing for a while now and have filed insurance claims with them twice this year. The claim was processed fast and I only pay $40 USD per month.
I don't even need to manually pay since you can set a recurring payment on your profile. The last time I filed a claim, I thought I didn't pay for the month but the recurring payment plan saved the day!
✈️ Ready for your trip to Puerto Vallarta? This blog thrives on reader questions so feel free to leave a comment below if you need anything about being a Puerto Vallarta digital nomad!
🤳 Follow this adventure: INSTAGRAM | FACEBOOK | YOUTUBE | PINTEREST | TWITTER
Rachel and her husband Sasha are two live music lovers who met at a music festival in 2008 and have been life and travel partners ever since. Unfortunately, they hit hard times in the economic recession so they moved to China to teach English in 2010. It was the best decision they ever made as they still haven't moved home.