Looking for something extraordinary to add to your upcoming Euro trip? Here are the cheapest European cities, ranked by price!
Dear Paige,
Thank you for reaching out and still following the blog through all these years! At the moment, my travel goals dare not point to Europe because of the difficult visa application process but I am definitely looking into it next year.
While I lived in Europe in the past, I cannot say that I am still updated with the recent travel trends in the region. You know how things change abruptly through time (I haven't been back to Europe in almost 6 years!) but I gathered a few of my travel blogger friends who are experts and more updated in European travel.
I am also planning to go somewhere for the Eid holiday but I don't know where yet! If it works out, Krakow, Sofia, and Tallinn are also on
my list. Feel free to scroll down and explore your options! Make sure to follow my travel blogger friends, too! Make sure to check this Europe winter packing list, too. This way, you know what to bring for your travels! Have a great trip!
Xx,
Trisha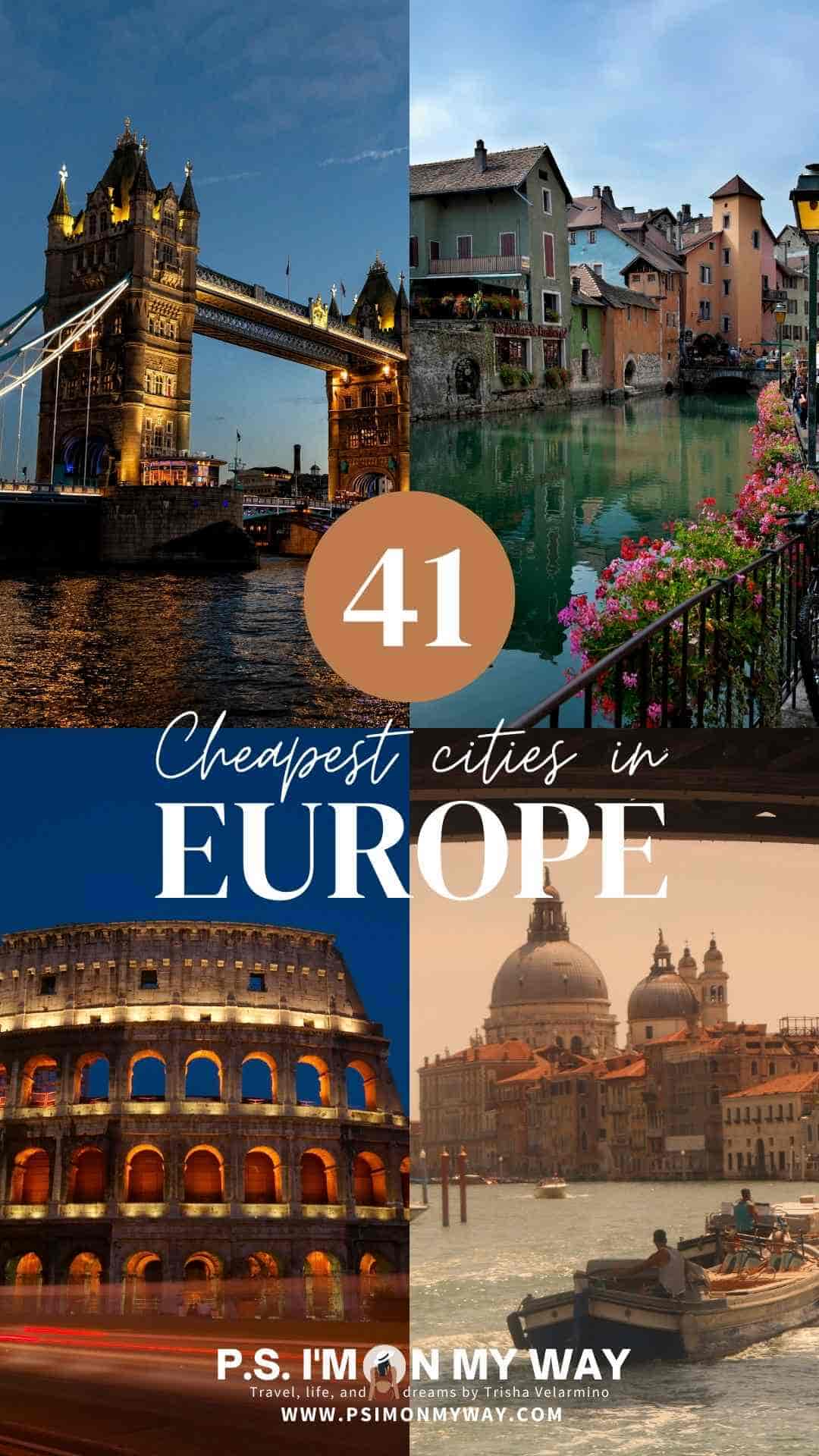 See also:
💸 The 41 cheapest European cities ranked
#1: Sofia, Bulgaria (cheapest)
🗒️ by Bilyana from Owl Over The World
Sofia is the cheapest European destination! The city is wonderful and has a lot to offer. On top of that, we also have a mountain right next to the city if you get bored with it, but I doubt you will!
One of my favorite free things to do in Sofia (most of them are) is to grab a beer, which costs around US$0.60 and relax in one of the many city parks. Sofia is also perfect for traditional food tasting and wine (oh, God, Bulgarian wine!!).
Another thing about Sofia is that it can be both relaxed and wild. If you're looking for a party you will always find one, if you're looking for a place to chill, you will always find one as well.
#2: Krakow, Poland
🗒️ by Jeremy & Kate Storm of Our Escape Clause
Krakow is the perfect budget getaway within Europe. Not only is it incredibly affordable, but Krakow is also an amazing base to explore world-class sights such as the Wieliczka Salt Mines and the extremely sad, though ever-important, Auschwitz-Birkenau concentration camp.
Within the city itself, be sure to start at the main square and wander on foot in all directions: many things to do in Krakow are completely free, including seeing the crypt under the Church of St. Peter and St. Paul, exploring the gorgeous Planty Park, checking out the views in the main square and Old Town, and the exterior portions of Wawel Castle.
As for food, delicious and inexpensive meals are available around every corner in Krakow: be sure to stop into a Polish milk bar for traditional Polish budget cuisine.
#3: Bucharest, Romania
🗒️ by Nathan Aguilera of Foodie Flashpacker
Bucharest, Romania is one of the most affordable cities to travel to in all of Europe. A typical dorm bed will cost you less than US$15 while a standard hotel room is only around US$25. I rented a large private Airbnb for US$23 per night.
Romanian food is delicious and filling and a typical meal will cost around $5. Bucharest is a great place to splurge and try some of the more high-end restaurants as they cost a fraction of what they would cost elsewhere.
I used Uber to get around the city and usually paid US$3 per ride. There is also a public transportation system you could use for US$1 per ride.
I was surprised to find out how many parks the city has. They're great to stroll through and people-watch.
#4: Belgrade, Serbia
🗒️ by Natasha Alden of The World Pursuit
The capital of Serbia is by far one of the cheapest cities I have ever spent time in. We actually spent one month there because it was so cheap!
We initially realized how cheap the city was when we booked a month-long Airbnb 2-bedroom apartment in the hippest neighborhood for US$550.
We then were flabbergasted when large lattes cost all of US$2, tickets to the ballet and opera cost US$3, and a meal out at one of the nicest restaurants in the city was US$10 per person.
I would recommend going on the Belgrade Free Walking tour to get acquainted with the city and checking out Hostel Bongo for a cheap night's sleep, Airbnb is also a great alternative to a hotel!
#5: Budapest, Hungary
🗒️ by Allison Green of Eternal Arrival
Her goal is to learn as many languages, meet as many locals, and get off the beaten path as much as possible so she can have fully culturally immersive experiences.
The Budapest Parliament building is one of the most beautiful buildings in the world, and that's coming from a major architecture snob.
The Danube River is stunning to walk along, especially at night when everything is all lit up and glittering over the river. The nightlife is fun, with funky ruin bars, live music, and hundreds of great international restaurants everywhere.
Meals are incredibly cheap, with daily lunch specials often under US$4 for a 3-course meal — try finding that in Western Europe! Beers are often less than $2, and I've found wine as cheap as 90 cents a glass!
#6: Sarajevo, Bosnia and Herzegovina
🗒️ by Gemma Armit of Two Scots Abroad
Bosnia and Herzegovina's capital, Sarajevo, is one of the cheapest European cities for travelers who love nature, (recent) history, and food. The city is surrounded by mountains free to hike.
The streets of Sarajevo show the wounds of the 90s conflict with bullet holes on wall buildings and red paint murals called the Sarajevo Rose to indicate where victims lost their lives.
Food is cheap, the local sausage dish, Cevapi, can be bought for under $4. Check out this guide on things to do in Sarajevo for more details!
#7: Kyiv, Ukraine
🗒️ by Lena Tarasyuk of Travel Monkey
Kyiv City very well might be one of the last underrated frontiers of Eastern Europe but the one that will meet you with a pleasant mix of cheap prices, delicious food, and vibrant culture.
The cradle of Slavic civilization, Kyiv has a lot to offer in terms of cultural gems intertwining the ancient golden dome scene with the newest trends of graffiti murals on post-Soviet apartment blocks. The great place to see this dramatic combination is a walk on Andriyivskiy descent.
Yes, Kyiv is chaotic, loud, and sometimes overpacked with tasteless ads, but it will blow you away with its ambition to be a European revolutionary capital, fashion center, and culinary delight.
Do not miss the chance to indulge yourself in some of the cosmetic luxury, such as massage, manicure, facial, or the like, as Kyiv is the place to get the best professional treatment for a very good price.
🇺🇦 Ukraine is in crisis and needs immediate help. Here's a list of organizations where you can donate to help Ukraine.
#8: Cesky Krumlov, Czech Republic
🗒️ by Parampara and Parichay of Awara Diaries
On our trip to the Czech Republic last summer, we decided to spend our weekend in Česky Krumlov. We already had a 15-day České Drahy train pass so our commute was already covered.
Despite booking our hostel on the day of arrival, we paid only US$10 per person. Cesky Krumlov is the second most visited city in the Czech Republic. With the tourists pouring in, we have all prepped for tourist traps thanks to our last-minute planning.
But Cesky had us by surprise! The town looked picturesque like it belonged to a fantasy movie with castles, dragons, and rivers flowing by. The entry tickets to the castle cost us US$3 per person.
Since Cesky Krumlov is smaller in area, we walked around throughout our stay. We dined at one of the finest restaurants in Česky only to spend US$6 on a sumptuous meal for one.
#9: Warsaw, Poland
🗒️ by Raphael Alexander of Journey Wonders
Even though Warsaw is the capital of Poland, you would be surprised to learn that it is surprisingly cheap (I even spent more in some southeast Asian cities than in Warsaw!!!) and very beautiful.
Food, as it is common all around Poland, is both delicious and affordable and normally you would not spend more than 3 Euros per healthy meal. Forget about that greasy kebab and try out some amazing pierogi instead my friends!
Public transportation will set you back 1 Euro although you probably won't need it because Warsaw is extremely walkable unless you plan a side trip to the Baroque Style Wilanow Palace located 20 minutes away from Warsaw by public bus.
And yes, I really advise you to also take a trip to the communist masterpiece known as the Palace of Culture and Science and talk to a local about it. 9 out of 10 times the locals will tell you how much they hate said building. Fun times huh?
#10: Zagreb, Croatia
🗒️ by Chris Backe of One Weird Globe
Zagreb's a great place to chill and get around cheap — not Cambodia cheap, but definitely cheap-for-Europe cheap. Bear in mind the Croatian kuna is about 6 to 1 US dollar, and also bear in mind both Dubrovnik and Split are more expensive than the capital city.
Expect local, excellent beer at an Old Town bar for US$2 and bottles of wine at the supermarket for US$3 (pass on the larger plastic bottles, though!). Basic coffees and espressos are around US$2, while paper tickets for downtown trams or bus rides are typical US$1.
Buy them at any tobacco shop or on the tram/bus itself from the driver. Hostels in the Old Town area start at about US$40, and surprisingly the prices are pretty competitive across the city.
What to see in Zagreb? My two favorite places: the Typhlological Museum (US$3, not a typo), which is a government-funded museum showing the 'life and art' of blind people, and the Museum of Mushrooms (US$3), which shows how much variety there is in the world.
#11: Riga, Latvia
🗒️ by Marco Buch of Life Is A Trip
Riga is a very charming city with beautiful cobblestone streets, plenty of old buildings, and an abundance of picturesque churches. Especially the Old Town makes you feel like you landed inside a fairytale. Latvia's capital is a very affordable destination for backpackers.
Accommodation and public transport are cheap and you can find great deals on food and nightlife, too. It is for a reason, that people come from all over Europe to celebrate their stag nights here.
Many of the exciting things to do in Riga are actually free: A stroll around the Old Town, a picnic next to the river, or a visit to the square at the Rīgas Doms which is busy day and night with people, vendors, and buskers.
If you are into architecture, Alberta Street is well worth a visit, too. With 800 houses, this street actually holds the world record in art nouveau buildings.
A big advantage of Riga is the proximity to the two other Baltic countries Lithuania and Estonia. Additionally, traveling the Baltic states is really easy for first-time solo travelers.
The best time to visit Riga is in the summer months. If you can, be there for the beautiful midsummer festival called Ligo. Be prepared though: It does never really get dark at this time of the year. Bring an eye mask to make sure you can actually sleep.
#12: Bratislava, Slovakia
🗒️ by Chris of A Brit And A Southerner
If you looking for the ultimate European destination to experience history, culture, gorgeous architecture, and delicious cuisine, all at an affordable price, why not check out the Slovakian capital city of Bratislava?
A nation that has suffered from alleged corruption for years has left a negative stereotype on the capital city, but having spent some time here, we want to dissuade you from believing all the negative media hype.
The best way to explore everything Bratislava has to offer is by walking around the city. What better way to do this than by participating in a daily, FREE walking tour in Bratislava is a great way to learn about the city from a true local perspective.
The towering statue of Pavol Hviezdoslav is the focal point of the main square but your eyes cannot help but wander to the gorgeous architecture surrounding you.
Take a stroll to St. Martin's Cathedral before heading into the "old town" to admire the idyllic cobblestoned streets that typify an Eastern European city.
The Church of St. Elizabeth commonly known as the "Blue Church" is a landmark you cannot afford to miss but after exploring everything Bratislava has to offer you will surely be ready to sample the delicious local Slovakian cuisine including "bryndzové halušky" (potato dumplings).
#13: Vilnius, Lithuania
🗒️ by Margherita and Nick of The Crowded Planet
A few years ago in winter, we wanted to go on a cheap weekend city break, so we found a cheap flight and jetted off to Vilnius!
The Lithuanian capital is ideal for budget travelers – accommodation, food, and sightseeing are all moderately priced, there's a cool bar scene and beer is really cheap!
Our base (and my favorite place in town) was Uzupis, a Vilnius neighborhood that is also a self-proclaimed 'independent republic' dedicated to self-determination and all things fun.
We spent a few days touring the city, which is small enough to travel around on foot (hence saving on transport costs!), and took a day trip out to the countryside to go dog sledding, something we always wanted to do and were never able to afford – in Lithuania a dog sledding trip cost only about US$35 for half a day, a bargain!
Sleeping in Vilnius cost us about US$28 in a hostel double room, and our meals were about US$12 per person for a main course and drink.
We visited in December and the city was COLD, and there were next to no tourists about, so prices may rise a bit in summer, but we think Vilnius would still be budget-friendly. We loved our trip and would love to return in the summer!
#14: Istanbul, Turkey
🗒️ by Olga Maria of Dreams in Heels
Istanbul is not as budget-friendly as it used to be, but it can be very cost-effective if you know where to eat and watch what you spend overall. In Turkey, you can find very cheap food, as well as expensive.
The advantage of Istanbul is the amazing food culture. From street food to traditional local family-owned restaurants, Istanbul has it all.
Bivalves, which are mussels, are considered popular street food, as well as Iskander kebab. Just try it all! Even better, if you love sweets, are baklava and Turkish delights.
Can't be beaten! In addition, people in Turkey are very friendly; they will offer you Turkish coffee or tea. Both are unique and delicious!
Few people know that Istanbul has two sides: The European and the Asian one. I totally suggest you take the ferry to the Asian side to enjoy amazing views of the Bosphorus. Taking the ferry is budget-friendly since it is very inexpensive.
But if you prefer the full Bosphorus Tour, be aware that, since is more touristic, people will try to sell you tickets at a higher rate; if you buy them at the window, they cost less.
Also, on the Asian side are tons of amazing local restaurants. The European side is way more touristic and thus, more expensive.
In terms of activities that are a must-do, it really all depends on your taste. I personally would not leave Istanbul without seeing some highlights such as Galata Tower, Sultan Ahmed Square, Hagia Sophia.
Also, visit the Basilica Cistern (Note: Turkish liras required to enter). Since you're in the area, stop by The Blue Mosque (free entrance). If you are into architecture and palaces, do not miss Topkapi Palace and the Dolmabahce Palace.
To save money you can get a museum card and also an Istanbul Kart to ride on public transportation.
Remember that although the grand bazaar is great to visit, the shopping is very expensive. It is a tourist trap and prices reflect that. Find smaller, local places, and don't forget to haggle. Solo female travel in Turkey is safe, too!
#15: Prague, Czech Republic
🗒️ by Rishabh & Nirali from Gypsycouple
Prague is an ideal European city with a lot of history, interesting culture, and warm welcoming citizens. It has cobblestone streets, great street food, lots of beer, a beautiful castle, and a majestic bridge leading up to it.
The best part perhaps is that tourists can enjoy all the above at a fraction of the budget needed to explore its western counterparts. It is quite an affordable destination for backpackers and budget travelers be it someone looking to party or go culture hunting.
Prague isn't all that big so it's possible to explore quite a few places on foot. A free walking tour (with tips at the end) is a great way to get a first glimpse of the old town while entry to the castle or a stroll down the Charles Bridge at sundown is perhaps the best free touristy thing you could do anywhere.
In case you want to take it easy, public transportation is both cheap and convenient and city cards which also offer access to some tourist places and all public transportation is a great way to explore the city.
The astronomical clock, John Lennon Wall, and the dancing house are all free attractions offering insight into the history, culture, and architecture of the city.
Its gothic-style buildings are instant wormholes to the middle ages with gargoyles peeping out from the edges of almost every lane.
A secret tip from our Prague guide is to take benefit of its various free concerts and other live entertainment at Wallenstein gardens or go bargain hunting at the various open-air markets like Holesovice.
The city with its charms isn't unlike its glitzy western counterparts however it is much easier to make it here on a budget and still not miss out on much if anything.
#16: Girona, Spain
🗒️ by Joan Torres of Against the Compass
Located 110km from Barcelona, Girona is the gate to the internally famous Costa Brava and one of the prettiest cities in Catalonia.
With an awesome local life, tasty restaurants, a stunning Gothic cathedral, and an old city where the 6th season of Game of Thrones was filmed, in Girona, you will not find the tourist traps that you may find in Barcelona.
Girona is cheap and a dream for those budget backpackers who want to get a taste of the local life in a European city. In Girona, there are plenty of restaurants where you can get an awesome lunch (with wine included) for only US$12.
In the city center, there are many bars filled with young crowds where you can have a beer for just US$2. Furthermore, you may not find as many hostels as in Barcelona but, the average quality is higher and you can find a dorm for as little as US$22 a night.
In Girona, I am pretty sure that you can have a lot of fun for as cheap as US$41 per day!
#17: Split, Croatia
🗒️ by Sarah and Nathan of Live Dream Discover
Croatia is no longer the undiscovered budget destination it once was but I would still choose Split as a great value, especially in comparison to many other European cities.
Split sits in an enviable central location on the Dalmatian Coast. This makes it not only a prime choice as a base for day trips to surrounding sights, like Krka National Park and Hvar, but also a perfect place to stay and enjoy sightseeing, cultural events, and beautiful beaches.
Also, the historic center of Split is quite compact meaning that you don't have to spend money on transportation to enjoy sights like Diocletian's Palace and the Riva on the waterfront (both of which are free to explore.)
There is a wide variety of food and drink establishments in Split meaning that you can eat very reasonably.
A decent pasta or meat main dish, for example, will cost about US$8, a pint of local beer will be less than US$3 and a half-liter of house wine will run around US$6. You can eat even cheaper if you seek out local food stands and cafes.
Accommodations come in a range of prices and cover everything from hostels to luxury resorts. Budget options can be found starting at US$15 per night in the low season but will be double that or more in the high season.
#18: Saint Petersburg, Russia
🗒️ by Pedro of Travel with Pedro
Gone are the days when St Petersburg was an expensive place to visit. Russia's second-largest city is today incredibly affordable and has been that way since early 2014, due to a number of reasons.
One of the good things about St Petersburg is that you can visit the city without a visa for 72 hours if you arrive by ferry from Tallinn or Helsinki since the Russian visa can be very expensive and painful to get.
Among the many places to visit in St Petersburg, the Hermitage Museum tops the list, with its world-class masterpieces and pompous classic European architecture, but the city also has a cool atmosphere and a foodie scene that few tourists know about.
Most of the city's attractions are along or near Nevsky Avenue, so walking is a great way to explore it. To get to other areas, I recommend sticking to public transport.
The metro system is reliable and efficient. Some stations are masterpieces in their own right – they were built to be the "palace of the people".
Tickets cost around US$0.90. Food can also be very cheap, with meals at around US$4 at Teremok, Russia's fast-food chain that serves healthy traditional meals, instead of greasy burgers.
But my favorite budget option is a cool restaurant called Market Place (on Nevsky Avenue), where I usually pay US$12 for a decent meal and a glass of wine surrounded by hipsters.
#19: Santorini, Greece
🗒️ by Christopher Rudder of Rudderless CA
Santorini, one of the beautiful Greek islands in the Aegean Sea, is about 200 km southeast of Athens. Often regarded as the best destination in the world or the most romantic island or the best place for a honeymoon.
It's a place with great food, fantastic wine, and luxury hotels. That being said, let's start with the bad news: Santorini is not one of the cheapest destinations.
Now that, that's out of the way. The good news: The towns of Fira, Oia, Firostefani, and Imerovigli are like mountain snow caps on 300 m high cliffs with breathtaking views of the caldera and volcano.
I get into far more detail in my post 3 days in Santorini but some of my favorite things I did in Santorini were hiking the caldera footpath, touring wineries, boat tours of the caldera/swimming in the hot springs, visiting ancient villages, riding donkey's and watching the sunset in Oia.
For my backpacker and budget-friendly friends, the key to saving money is to avoid restaurants with views of the caldera/volcano. Likewise, the best way to save money on your accommodation, especially hotels is to find one without a caldera view.
#20: Ljubljana, Slovenia
🗒️ by Rohan of Travels of a Bookpacker
This up-and-coming city is a great place to hang out for a few days and use as a base for exploring other areas of Slovenia. The pedestrian streets of the old town are lined with gorgeous little restaurants and cafes.
Food and drinks are affordable and there are plenty of budget options. Accommodation can be found for as little as €10 a night and there is also an active Couchsurfing community.
Ljubljana is a student city and is one of the cheapest European cities to study for foreigners. There are always a variety of cultural events for young people taking place.
From art exhibitions to movies under the stars on the castle grounds. This funky little capital can easily be enjoyed on a budget and will wow you with its mix of architectural beauty and edgy art scene.
#21: Tallinn, Estonia
🗒️ by Dave Brett of Travel Dave UK
Tallinn, Estonia is my topmost recommended budget destination in Europe as it offers loads for little money. Especially when you compare the costs to its expensive neighbor city Helsinki, Finland which is only a short ferry ride away.
You can simply get lost exploring the old town of Tallinn which is a UNESCO world heritage protected site that is free to wander.
With stunning views and historical architecture, this city offers a lot for its affordable value. Have fun without breaking the bank in Tallinn. Lastly, if you don't have the luxury of time, Tallinn in 48 hours is also possible!
#22: Athens, Greece
🗒️ by Hadas Aharon of The Fashion Matters
Athens is a city with a unique mix of history, culture, great food, and vibrant social life. From the taverns and the beautiful neighborhood of Plaka to the Acropolis- Athens is a perfect city for those looking for an enriching holiday in Greece.
When the recession hit Greece, Athens became a great city for budget travelers. I stayed in a one-bedroom Airbnb apartment that was only 30$ a night and had the most amazing view from the balcony.
There was also a wide variety of restaurants and food choices in town, which makes it easy to accommodate every budget and preference.
As for transportation, it is pretty affordable to use the metro, otherwise using Uber won't cost you a fortune either.
Although you normally have to pay to get into the Acropolis and the Acropolis museum, Athens has free-museum days throughout the year which is worth taking advantage of.
#23: Lisbon, Portugal
🗒️ by Amanda Ponzio-Mouttaki of Maroc Mama
Lisbon is fast becoming a must-see city in Europe and it's for good reason. The people are lovely, the city is charming, and it's also very affordable, especially in comparison to other European capitals.
The majority of attractions are very inexpensive and you'll also discover how affordable dining can be.
Spend the day wandering around the city and be sure to pop into Pasteis de Belem for what may be the city's signature sweet for just US$2. Public transportation is also affordable (I highly recommend picking up a Lisbon City Card for your explorations).
Hop on the iconic tram 28 and see the entire city without having to climb the hills on foot! When the sun sets grab something to drink and head to one of the many parks and hang with the locals!
#24: Moscow, Russia
🗒️ by Ruben Arribas of Gamin Traveler
Moscow may sound expensive but once you know how to move around the capital of Russia, it can easily become affordable.
When you travel Russia, the most important tip we can give you is to meet locals. Local friends are the best sources of information about the best places to visit, the best places to eat, and how to move around the cities.
Prices in the metro are less than US$1 and the metro in Russia is like a museum – definitely a sight to see!
There are stations where you can see paintings that depict stories about their country's history. Food is quite cheap and you can get a meal starting from US$4 in a local place.
If you go clubbing, it will depend on the area you are in, as some places are more expensive than others.
#25: Naples, Italy
🗒️ by Daryl and Mindi Hirsch of 2foodtrippers
Naples (or Napoli in Italian) is a wonderfully chaotic city in Southern Italy with ancient buildings, colorful people, and some of the best pizza in the world.
We were drawn to the city by the Naples pizza, but we decided to stay for a full month thanks to the reasonable prices and fast internet.
Prices are much lower in Naples compared to other big cities in Italy – especially the food. While in Naples, we ate pizza almost every day, often for under five euros each.
Beyond pizza, coffee costs just one Euro at most cafes and treats like sfogliatella are equally cheap.
With Naples, the key is to stay away from the train station and immerse yourself in the local culture. If you let it, Naples will pull you in and reward you with every bite.
#26: Madrid, Spain
🗒️ by Danielle Lawson of Live In 10 Countries
Madrid can seem like a backpacker's nightmare, with expensive entry fees to some major buildings and pricey day trips in mind. But with a little know-how, it's totally possible to stick to your budget and get an amazing flavor of Spain's capital.
Start your money-saving trip with a stroll through the lavish Botanical Gardens, with a ticket price equal to what you might spend on a cup of coffee, and then dig for bargains at the amazing Madrid markets- from farmers' markets to flea market havens.
From there, take your new delicacies as a picnic to the Parque Retiro and watch the Spanish enjoy the sunshine, at no cost.
The EU Erasmus Plus Programme also sometimes provides opportunities for Europeans under 30 to visit Madrid with accommodation and food paid in exchange for attending youth seminars and events, for 5 days, or a week.
For culture lovers, challenge yourself to never pay for a museum entry ticket. So many great museums in Madrid have free entry times, it's only a question of arriving at the right time, which is usually early weekday evenings.
You'll also love the Museo del Traje (fashion museum) which shows its beauties for free on weekends. With a little planning, Madrid can be an amazing stop for any budget traveler.
#27: Valletta, Malta
🗒️ by Barbara Wagner of Jet-Settera
Valletta is the tiny capital city of Malta. It is a walled city that was established in the 1500s. It is famous for its baroque architecture, beautiful churches, palaces, and museums. Valletta was one of the first UNESCO World Heritage sites. The capital city is a peninsula with the sea surrounding most of it.
Take a stroll along the sea outside of the city wall and admire the views of the surrounding turquoise water. On St George's Square, there is a fountain with colored spots of water that pops up and down. There are many places to visit in Malta – I promise you'll never run out!
#28: Bruges, Belgium
🗒️ by Gábor Kovács of Surfing The Planet
Bruges is one of the most romantic cities in Europe with its picture-perfect medieval buildings and cozy canals. When you walk around in Bruges, you can feel yourself in a fairy tale, especially at night when the main buildings are beautifully illuminated.
Bruges might not seem like a cheap destination at first sight, but the most amazing things to do in Bruges are almost all free.
You can enjoy the ambiance in Market Square, explore the canals and visit the old Begijnhof without spending a dime.
The most beautiful sights in town also include the Rosary Quay with beautiful views of the canals and the old Belfry Tower with a fascinating panorama of the city.
It's also recommended to take a boat tour to see the city from a different angle. You are in Belgium, so you can't leave Bruges without trying some local beer.
#29: Berlin, Germany
🗒️ by Inma Gregorio of A World To Travel
Although gentrification is been slowly but surely taking its toll for a few years now, it is still possible to enjoy Berlin on a budget these days.
From its many free museums to street cheap eats, nonexpensive beds, affordable transportation system, and – really important – cheap and great beer sold everywhere; experiencing the city for a few days should not break anyone's bank.
I have visited Berlin four times in different seasons and spending some time in this city is always a great idea (even visiting Berlin in winter rocks!).
So if you are on a budget, I would definitely recommend you check out Berlin. Especially if you love meeting interesting people (no shortage of them there), exploring urban decay and places where recent history was made and great nightlife!
#30: Hamburg, Germany
🗒️ by Sonal and Sandro of Drifter Planet
Hamburg is one of the coolest cities in Germany, a place where Beatlesmania started before it hit the rest of the world. This city has a bit of everything – canals, cute houses, historical architecture, interesting street art, and an amazing party scene.
The hotels and hostels in Hamburg are not as cheap as many other European cities, but you can tremendously cut down your costs if you buy your food at supermarkets and bakeries.
The cost per night in a hostel is US$25 and can go up to US$100, depending on your time of visit. Eating costs can be as low as US$3 if you pick bakeries and supermarkets over restaurants.
You can also cut down your costs by exploring the city on foot or booking a FREE walking tour.
#31: Nice, France
🗒️ by Skye Gilkeson of The Fit Traveller
The first time I traveled to Nice I was a vagabonding backpacker of 18 on an extremely limited budget. Still, I explored my options of having a luxury holiday for less.
I stayed at the YHA just out of town and caught the bus in and out, ate from supermarkets and still fell in love with the city. So much so, I've been back again, twice.
Nice can be as expensive or cheap as you would like it to be. Instead of spending a fortune paying entry and fees for the fancy beach clubs, throw down a mat on the north end of the sand with the locals.
The food markets in Nice are some of the best I have been to and sell the perfect, local ingredients to whip up your meals at the hostel or take on a picnic.
The city itself is so easy and beautiful to walk on foot and the bike and running paths along with the esplanade act as the ultimate gym.
We splurged on bike hire and the most amazing and informative organic wine tasting tour and a couple of delicious meals of mussels which you have to wash down with a glass of French wine.
#32: Dublin, Ireland
🗒️ by Janine of Fill My Passport
So you are traveling to Ireland, AKA the Emerald Isle. Great choice! Upon arrival, you will be completely enamored by its beautiful and diverse scenery, culture, flavors, and of course history. Your traveler's appetite will be hungry to explore and experience everything better in Dublin.
First and foremost, the Irish people are so welcoming in the city openly, while at the same time indirectly expressing their joy of independence.
You will have no doubt of this pride with streets decorated with Irish flags aplenty flying proudly as the sound of jigs fills the storefronts.
There is something for everyone in Dublin. No matter what your travel style or budget, there are resources to ensure your stay is as comfortable and safe as possible.
Dublin has got you covered. From hostels and cheaper hotel options to meal plans and food trucks, you will have everything you need to keep within budget in a country using one of the more expensive global currencies.
#33 – Barcelona, Spain
🗒️ by Natasha of Meldrums On The Move
Barcelona is a fun city for everyone, but it is certainly not known as a budget destination. If you plan it well enough you can see Barcelona on a budget. There is so much to see even for free you would struggle to get bored.
There are endless tours starting from US$15 and we recommend checking out Local Guddy for an authentic tour from a local.
You can get a hostel for as little as US$23 a night and eat for as little as US$12 for a big and filling meal. Extra treats will cost a little more, such as a $3 ice cream or US$3 refreshing milk drink.
If you ever get tired of the city, there are also many day trips from Barcelona like Montserrat, Costa Brava, and Sitges. These places are super close to Barcelona and are worth the trip!
#34: Florence, Italy
🗒️ by Ryazan Duray-Tristram of Everything Zany
Situated at the heart of the Tuscan region of Italy. Blessed with the beautiful natural landscape, top-notch wines, and delightful Italian food.
Among the Italian cities that I have been to, Florence is a budget-friendly city. Walking around the center of Florence is something I would highly recommend to experience the Florentine vibes of the city.
The cobbled streets, beautiful façade of the buildings, and buzzing sound of the city will give you an authentic feel of the town's character.
Of course, visiting the Duomo Santa Maria del Fiore (Cathedral of Florence) is definitely one of the highlights of the city. It is free to go inside the Duomo, but please observe the proper dress code.
Museums in the city are affordable and I would definitely recommend them to anyone. Just over the Arno river that runs across Florence, you can't miss the charming yet hectic Ponte Vecchio.
The medieval bridge is one of the iconic landmarks in Florence. Never miss the outstanding 180-degree landscape view of Florence from Piazzale Michaelangelo. It is open to the public however, you need to climb more than a few hundred steps to get to the summit of the hill.
#35: Dubrovnik, Croatia
🗒️ by Mia Herman of Travel with Mia
Dubrovnik, Croatia has been named a hot spot by countless travel websites and magazines over the past few years. It's no wonder because it has lush landscapes, sparkling beaches, and an ancient walled city all rolled into one chic destination.
You may be thinking it's too expensive for anyone traveling on a budget but that's just not true. This is, surprisingly, one of the more affordable cities in Europe.
I suggest purchasing the 1 day Dubrovnik Card for US$27. This will give you free bus transportation for 24 hours, and free entry to the City Walls, several museums, and art galleries.
The best time to visit Dubrovnik, to avoid the crowds, is the shoulder seasons which are early Spring or early Autumn.
As you explore the city, start by walking the City Walls, then hop on the cable cars to get an overhead view of Old Town. Next, have a moment of reflection at the War Photo Limited exhibit where you can get a quick history lesson.
After that, relax at one of the many vibrant beaches and wrap up the day by dancing the night away at Club Revelin – an international nightclub housed in a 16th-century fortress.
#36: Edinburgh, Scotland
🗒️ by Amy & Nathan of Two Drifters
The city of Edinburgh may not be initially considered a "cheap" destination, but the smart backpacker can definitely travel here on a budget!
There's a wealth of affordable hostels to choose from, and there are many free things to do in Edinburgh.
Instead of visiting the castle (a bit pricey), save your pounds and wander around the fascinating and historic Old Town.
There's so much to see and experience here that you can fill an entire day, from museums to hikes to free walking tours.
When it comes time to dine, you can splurge on some great spots, but there are budget options galore, including tasty Indian takeaways or meat-filled pies from The Piemaker.
#37: Munich, Germany
🗒️ by Menorca of Europe Diaries
With a lot of history and old architecture, modern museums and buildings, and the annual Oktoberfest, this is one of the top 5 biggest cities in Germany, and is a great choice for planning your weekend getaway in Munich.
I have been to Munich at least thrice now and can say that it is as good for budget travelers as it is for comfort or luxury seekers.
For starters, you can buy a 3-day transport ticket for 16 Euros, which will be very convenient if you plan to explore the city fully.
Of course, if you are traveling by a Deutsche Bahn train to or from Munich, you would already have day tickets included for the days of your journey.
There are several cheap options to eat in the city, and you can buy lunch for as low as US$6.
As Bavaria and beer go way back in history, your trip wouldn't be complete without trying out some local beer with a pretzel. A pretzel will set you back US$5, depending on the size and where you buy it from.
While you are there, go visit the ViktualienMarkt for lots of food and drink options.
🗒️ by Laura and Nick Lynch of Savored Journeys
#38: Luxembourg City, Luxembourg
Although not the first place to pop into mind when choosing the cheapest European city to travel to, Luxembourg City shouldn't be overlooked, especially as an affordable destination.
It's full of castles, vineyards, and rolling hills just begging to be explored. The old town is listed as a UNESCO World Heritage Site.
You can easily travel to Luxembourg City on a budget. The main things to do involve walking around the Old Town, the ramparts, and the Grund, to see the sights and admire the natural beauty.
Luxembourg also has many walking trails that take you outside the city center and meander through the countryside.
Although you probably won't need public transportation, as the city is very walkable and easy to get around, is also very affordable, costing just €4 for unlimited one-day travel around the capital.
#39: Brussels, Belgium
by Ivana Greslikova of Nomad is Beautiful
Brussels isn't usually on a wish list of backpackers roaming around Europe. Yet, you can still visit the city with little money.
If your idea of Brusells trip is to have a stroll among the Parliament, check out some flea markets in the Marolles district, city view from the Poelaertplein, oodles of green parks, and take a snap under the Atomium, you can do it all for free.
But if you want to leave the capital of the EU with more cultural experiences, we recommend buying a city card for 24, 48, or 72 hours (24-59 €). It'll allow you to enter 39 museums, get various discounts, and if you pay extra, you'll get free transport in Brussels, too.
To fill your stomach, grab some Belgian fries at food trucks, have a healthy lunch at Exki (3.5-9 €), Japanese chain Knees to Chin (3-11 €), or grab some Lebanese or Turkish food for 3-5 €. For the best local pub, head to the À la Mort Subite (a pint costs 2 € and up).
If you plan in advance where to stay in Brussels & the attractions you want to see, you'll experience Brussels at its best.
#40: Rome, Italy
🗒️ by Marta Correale of Learning Escapes
Rome is one of the most visited cities in Europe. Over 7 million tourists fill her cobbled streets every year and this popularity comes, literally, at a price: accommodation tends to be expensive, and many tour operators charge exorbitant rates.
However, many of Rome's most beautiful views are free and, with the right tips, it is possible to enjoy it without breaking the bank. I always recommend starting your tour with a walk along (not inside) the forum and the Colosseum, for stunning views over ancient Rome.
Then you can stretch your legs to the famous Pantheon and the Spanish steps, both free, and with a cheap bus ride get to St Peter's Basilica: the square and ground floor are both breathtaking and free.
If you love art, some of Rome's major masterpieces are not in museums but in churches: wear appropriate clothing, step into their shaded doors and you will marvel at the many Caravaggio and Ghirlandaio gracing their walls!
For lunch, you can find cheap meals in local cafes and in the evening is still possible to have an excellent meal for less than ten euro in Trastevere!
#41: Vienna, Austria
🗒️ by Sanket Dhume of Nomadic Lives
When I stepped off my bus from Budapest to Vienna, I was dreading just how big a dent this impulse decision would leave in my budget-sized pocket!
I'd heard fabled stories of how expensive some of the major cities in the DACH corridor were, but I was pleasantly surprised to discover my experience with the Austrian capital to be otherwise.
The first hint of its value for money was the cab ride from the bus stop in Schwedenplatz to the hostel – a 6km journey that cost about €10. Everything in Vienna can be as expensive as you want it to be.
⁉️ Cheapest European Cities FAQ
✈️ Ready for your Euro trip? This blog thrives on reader questions so if you need more information about the cheapest European cities to visit, leave a comment below and I will try my best to answer them for you!
Trisha is one of those people who left their comfortable life to travel the world and learn about life. Her style is to stay in one place she likes for 3 months (or more) to know what it feels like to eat, cook, speak, and sleep in another culture that isn't hers. She'd like to believe she's not traditionally traveling but she just chooses to be somewhere else all the time. In no particular order, her favorite cities in the world are Barcelona, Buenos Aires, Hong Kong, Mexico City, and Tel Aviv.