☕ Support this blog's honest and transparent journalism. Help us add value to what we are sharing. Keep P.S. I'm On My Way free for all by donating to our coffee fund.
This Algarve solo travel guide was written by Linn Haglund, a travel blogger, and writer based in Southern Spain. In her blog, you will find many interesting and local tips in planning your trip to Algarve Portugal!
When you think of the Algarve, a beaming coastline lined with rugged sun-kissed cliffs curtaining down to hidden beaches and sea caves come to mind.
Salt in the air is brought in by violent Atlantic waves creating the popular surf environment this corner of Europe is so famous for.
🚫

Is Algarve safe for solo travelers?
The first time I did my Algarve solo travel, I didn't get the usual warnings from friends and family. The warnings about safety, theft, and assaults like I got when traveling to destinations like Iran, Cuba, or India.
Portugal is seen as a safe place to travel. At least among Europeans. Well… At least as safe as southern Europe can get.
My friend once got her rental car broken into and her bag with wallet and passport was stolen while she was just down the cliffs to take a couple of photos.
This is just a reminder of how important it is to never forget the basics of safety rules, no matter where you are.
Never leave valuables visibly in the car, never leave your valuables unattended, and never leave your bag open when walking through crowded areas.
It is all common sense really, but we all forget when we get too comfortable.
It might have been because I had been in Algarve a few times before going solo for the first time that I felt so carefree when crossing the border for my road trip. Or it might be because I lived only a few hours east in the south of Spain.
Even now, 7 years later, and many Algarve solo travel adventures later, I have still never felt unsafe there.
And the locals, even if we cannot communicate in the same language (because my Portuguese is still pessimistic) are always eager to help me when I need directions or have any other issues.
💃🏽

Is Algarve good for solo travel?
After traveling extensively, often solo, I can say that the Algarve is one of my favorite places. It is safe, people are friendly, and there is a lot to do all year round to get to know other travelers.
What's next after Algarve? Check out Lisbon, Portugal
Yet, I find that there is room for retreating into yourself if that is the kind of solo trip you are seeking. Algarve has it all and with over 300 days a year of sun, it is the perfect place to escape the cold in winter too.
The Algarve. Where do I even begin? Few places have captured my heart like the Algarve. You might think there are only surfing beaches, cliffs, and caves there. But that is just a part.
🇵🇹 Algarve solo travel guide: experiences, where to stay, things to do, and more!
Algarve solo travel: personal experience
Algarve can be a whirlwind if you want it to, but it can also be a place to retreat and spend time alone if you need it.
I often go to Algarve exactly to relax, read a book, write, and explore the lesser-visited side of the region. Often even in the low season, the winter months.
It is usually sunny and warm in the low season, but not so many tourists. It gives me a chance to connect with the locals and with nature. The eastern half of the Algarve is perfect for that.
From Faro to Tavira, there is the Ria Formosa Natural Park stretching past the old fisherman settlements of Olhao and Tavira.
There are boat trips from both towns to the barrier islands that protect the saltwater lagoons, salt marshes, and dunes, that are home to a multitude of bird species and are a central resting spot for birds on their exhausting journey between Africa and northern Europe.
There are even flamingos there. The protected waters are also home to the world's largest seahorse community.
But the barrier islands. Oh my, I love the barrier islands. There is no surf there. The sea is calm, and wildlife is in abundance.
The first time I heard about this part of the Algarve, I was recommended to take the ferry from Tavira to Tavira Island.
On my first trip to Tavira, I didn't find the ferry. Curious, considering you can get it from both Tavira Town and Quatro Aguas.
That gives you an idea of my poor planning when I travel. But once again, it resulted in me bumping into a different way of reaching the island.
Tavira Island is the only one of 5 barrier islands that are connected to the mainland. A small, white footbridge takes you across the lagoon and ends at a small train station where a tiny train resembling an old steam train trots back and forth with tourists.
I did not have cash, so I walked the 1.3 km trail next to the train lines. It took me to the quirkiest place I have seen in the Algarve. An anchor cemetery.
Between the old fisherman's shacks, now serving as restaurants, cafes, and toilets for tourists, and the long, golden Barril beach, there are over 200 old rusty anchors lined up in the dunes that cascade down to the beach.
Once used in the tuna fishing that thrived in this area, they were abandoned on the beach by fishermen when the industry died out.
No one knows exactly who collected them and lined them up like that. But thanks to them, this is now a popular tourist spot that can help the local economy once again instead of an abandoned reminder of what has been lost.
Things to do in Algarve for solo travelers
There are heaps of tours which make it easy to meet other travelers.
Take surfing lessons
💲 from US$33
👉🏽 Book Algarve surfing lessons
It is true. There are amazing beaches in Algarve for surfing. It is actually one of the best places in Europe to learn how to surf – all year round.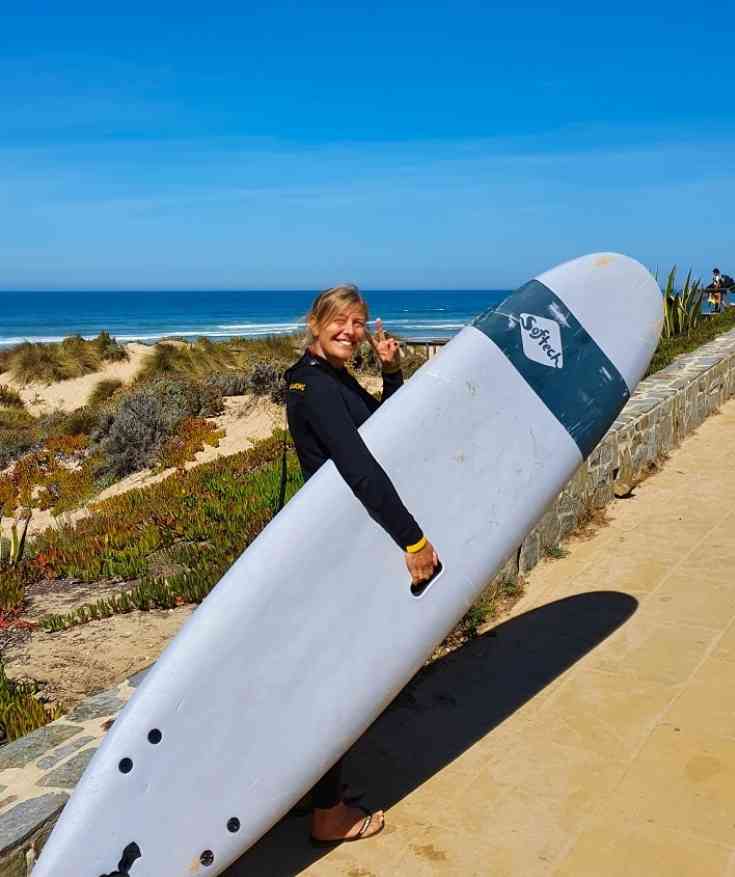 Taking surf lessons in the Algarve is not only one of the coolest activities I have done there, but it was also a great way to get to know other travelers.
Kayaking and Paddle Boarding
💲 from US$39
👉🏽 Book Algarve kayaking
The western half of the Algarve is where you find all the high cliffs. Kayaking or paddleboarding between natural arches, sea caves, like the world-famous Benagil Cave, and spotting animal figures in the tall rock formations towering from the crystal-clear water at Ponta da Piedade, is another favorite!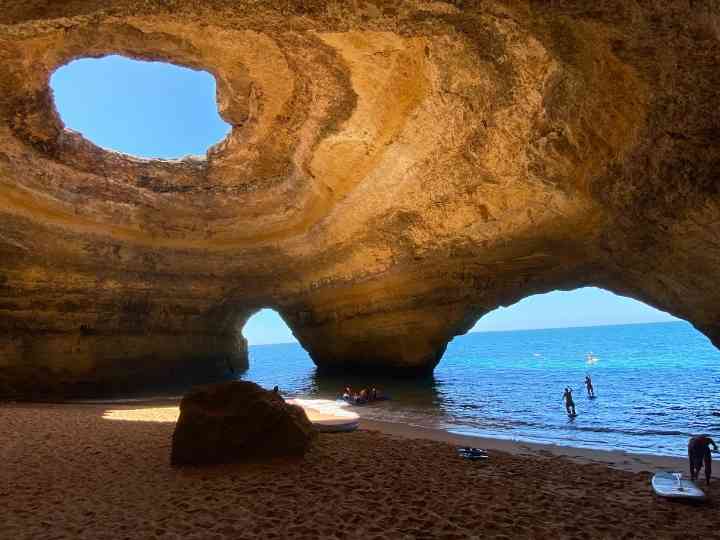 Hiking trails and cliffs
💲 from US$40
👉🏽 Book hiking tours
This is also the part of the Algarve where you find adventurous hiking trails on top of cliffs, through tunnels, caves, and natural pools, like the one in Algar Seco that connects the Carvoeiro boardwalk and the Seven Hanging Valleys Trail.
It was two hitchhiking Germans that I picked up on one of the solo trips that took me there the first time. We explored and laughed together like old friends before we split parts an hour later and I decided to hike the Seven Hanging Valleys Trail the next day.
The trail took me past massive sinkholes with waves crashing loudly inside, mesmerizing beaches, and more rock formations, while boats speed by drawing white lines in the glittering water below, like diamond necklaces laid out at the jeweler.
The walk ended at the most famous Algarve beach, Marinha beach, one of the most stunning cliffside beaches in the world.
This is the western half of the Algarve. The part where most travelers go. Most head to Albufeira to party, to Vilamoura to play golf, or to Lagos and Sagres to surf.
Algarve solo travel accommodations
When traveling solo, I always recommend staying in hostels. For me, this has been the best way to make myself feel comfortable and safe.
You'll always have fellow solo travelers around whom you can do activities and share experiences with! Depending on which area you want to stay in, these are the best hotels in Algarve listed by area:
Banana Beach House: Lagos
💲 from US$17
👉🏽 Book your stay at Banana Beach House
This hostel only opened in April 2021 but it's already a solo traveler's favorite! What I love the most about this hostel is that everyone does everything together – it's super easy to come here by yourself and end up having 50+ friends after your Algarve solo trip.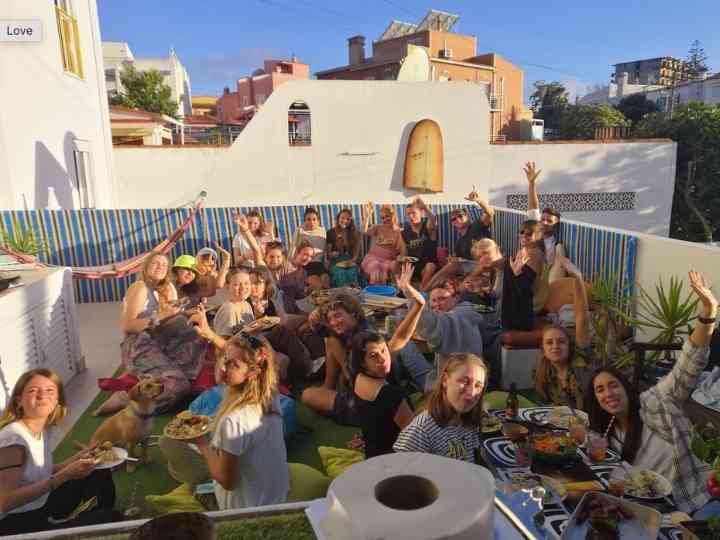 Beware as it is going to be hard to leave this hostel. Many travelers who stayed here find themselves extending their stay and the next thing they knew, they are in Lagos for a month!
Casa D' Alagoa: Faro
💲 from US$18
👉🏽 Book your stay at Casa D' Alagoa
What I love the most about this hostel is the air and light that is coming into the rooms. Some hostels are super dark but this one gives you a great good morning wake-up feel!
The staff is also very friendly and there are always group dinners to engage and connect with fellow travelers. This is the best hostel that I stayed in Faro, I will always come back!
Rich and Poor Hostel: Albufeira
💲 from US$13
👉🏽 Book your stay at Rich and Poor Hostel
This hostel belongs to one of the oldest families in Albufeira so there is always a homey feel. Located in the Baixa, Rich and Poor Hostel has a 10/10 rating in terms of location.
You can easily reach all the major landmarks and party areas in Albuferia on foot. Despite being located in party central, this is not a party hostel at all so it's a good place for peace and quiet for those who are not into crazy nightlife.
Onda Vicentina: Aljezur
💲 from US$20
👉🏽 Book your stay at Onda Vicentina
This is not a hostel per se but a bed and breakfast. Not only that it is home to solo travelers but families traveling with kids also love to be here. It's a surfer's favorite in Aljezur!
There are a bunch of affordable private rooms within the area and it is actually the most affordable accommodation in Aljezur. There is an outdoor garden, big spaces, and the owners are super hands-on with guests!
My Guesthouse: Portimao
💲 from US$22
👉🏽 Book your stay at My Guesthouse
Solo travelers who come here are super enticed and drawn to the owner which makes the stay in Portimao safe and comfortable. This hostel has its own pool and it is every solo traveler's favorite feature.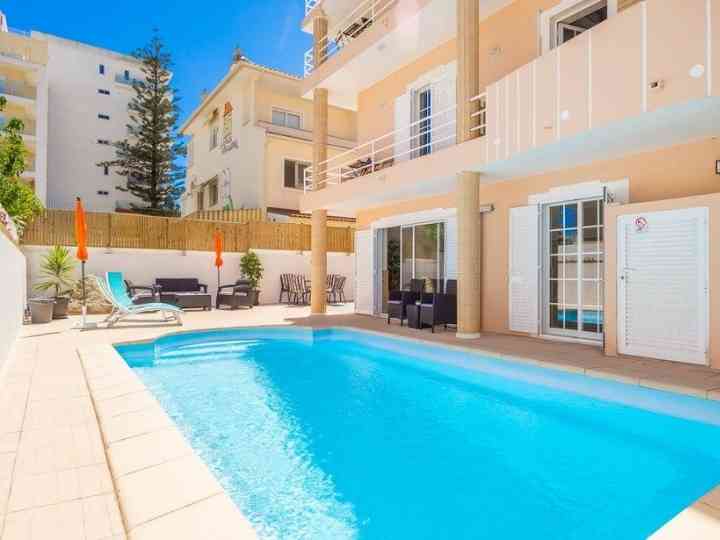 It's also super close to the beaches and the city center. There are also supermarkets nearby if you want to cook in the hostel. Even if it's close to the center, My Guesthouse is super quiet and away from the bustling crowd.
✈️ Ready for your trip to Algarve Portugal? If you have any doubts or questions about Algarve solo travel, leave a comment below and I will try my best to answer them for you!
Linn is an avid traveler and travel blogger that has been based in southern Spain for more than 10 years, thus traveled the Algarve extensively. Her love for the Algarve, the sun, the outdoors, and water activities made her return time after time, and explore it deeper each time. She created Amused by Algarve to help other travelers explore the best of the region. You can find anything from beach guides, curated itineraries, and hidden gems on the blog so that you easily can plan your Algarve trip.