Planning your solo travel in Asia? This region is home to me but in this post, I collected a few insights from fellow solo travelers to give you a quick glance at the best places to travel in Asia. I hope you'll find a destination you like and push through your travel plans!
???? Reader Mail: Hi Trisha! Thank you for all your helpful tips on solo travel. I appreciate you and I hope you don't mind if I ask more questions.
I am going on a solo trip to Asia soon and I don't know what to include in my itinerary. I have 3 weeks for this trip (can extend to 4) but I have never been to Asia. I don't know where to go! Can you please give me ideas on where to go solo in Asia?
Thank you so much! I look forward to traveling soon and I hope to bump into you!
-Connie Guinn
Hello Connie,
I am glad you decided to do a solo trip to Asia! I've traveled to Asia extensively and I grew up in the Philippines so I am very fond of this region. Honestly, it is the best area for first-time solo travel as the layout and terrain is very friendly.
As usual, I want to be more neutral and unbiased about solo travel in Asia so I have invited a few fellow solo travelers to pitch in. This way, you can see opinions from people from different walks of life. Good luck and I hope this article will help you!
Xx,
Trisha
⚠️ Solo travel in Asia: is it safe?
ABSOLUTELY! Asia is an area in the world where people are used to tourism. Although every culture in Asia shouldn't be generalized as they are unique in their own ways, the very common thing about traveling in Asia solo is that people are very friendly!
They don't speak a lot of English but everyone is always willing to help. I've never felt safer anywhere else but also remember that I am of Asian heritage – I am not considered or looked at as a foreigner. This is also the reason why I collected insights from other travelers for you to see how it is to travel to these destinations as an American, Canadian, European, etc.
???????? What are the safest places to travel in Southeast Asia?
I feel like most of the places to travel in Asia are safe but safety can also include health concerns, not only in terms of personal safety. Japan, Hong Kong, and Taiwan have low crime rates which attract many solo travelers to visit.
Places like Thailand, Vietnam, and Cambodia are popular Southeast Asia destinations so people will go anyway. Overall, you just have to take the basic safety precautions and not be too worried about it.
You might also like:
???? 20 best places to travel in Asia solo
#1: Taipei, Taiwan
I love Taipei because of the food. I come here regularly because it's such a great country, especially for female travelers. I made many friends here through Couchsurfing and the Taiwanese people are always very helpful and welcoming. I've been received in many homes here and have experienced extreme kindness from strangers.
Taipei is not a popular destination in Asia and there are so many things to do. I did focus on food on this trip to Asia since there are many dishes in Taiwan that you can't find anywhere else! If you ever add this to your itinerary, get in touch with me and I will recommend some cool Taiwanese friends!
Plan your trip to Taipei: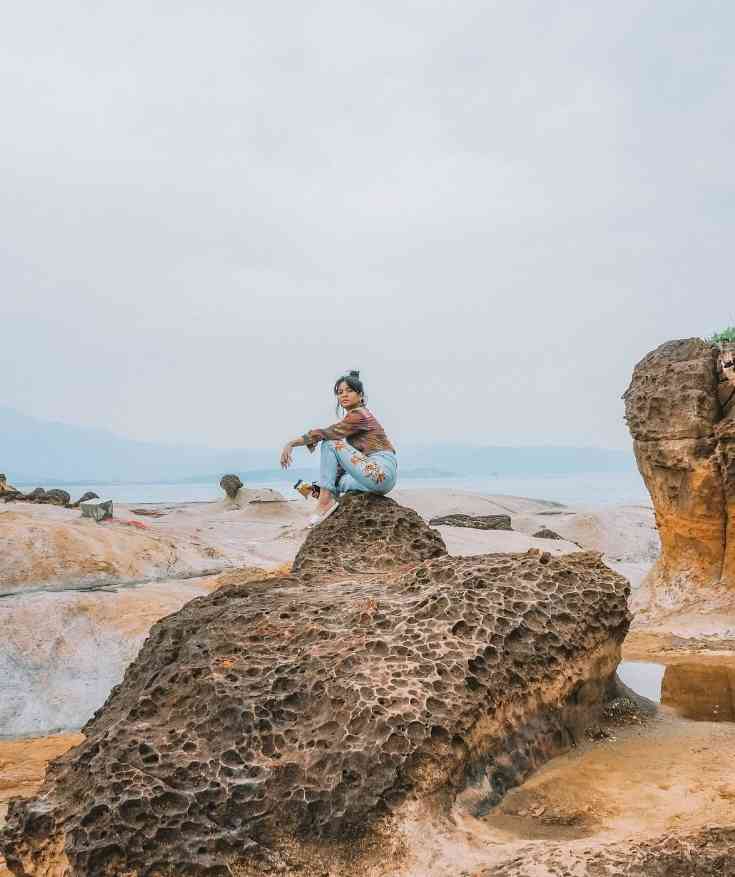 #2: Kuala Lumpur, Malaysia
For those who are interested in cityscapes, Kuala Lumpur is one of the best places to visit in Asia. Malaysia in general is an underrated travel destination but there are so many activities and experiences here. It is also less crowded with tourists – only people who know KL will go to KL.
The nightlife is bustling so there will be room for meeting people while traveling solo. Malaysian food has a big influence on many Asian countries so this is something good to explore for foodies. It is also a progressive country that is on its way to being a first-world country. Although it is predominantly Muslim, Malaysia is lenient to visitors – they do not require dress codes for foreigners.
Plan your trip to Kuala Lumpur:
#3: Boracay, Philippines
Contributed by: Johanes Godoy of Wander Era
Boracay is one of the best places to travel in Asia and is the most popular in the Philippines. The island is known for its beautiful beaches, crystal clear waters, and stunning sunset views. Traveled there for my 25th birthday and had the time of my life! Boracay is relatively safe and the locals are super friendly. The only thing is that the island can turn into a tourist trap if one is not careful.
During my stay, there were dozens of locals selling me overpriced items. I even got "scammed" with the hair braids. I wouldn't recommend it to anyone. The colorful hair braids looked really cool so I wanted to try them too. Unfortunately, after getting my hair done, I was charged more than what I was quoted because apparently, the threads cost extra.
White beach is a sight to see and the sunset is amazing. The best spot I found to watch the sunset is at station 1. Compared to station 2, this area isn't too crowded.
The main beach is good and all but Puka beach is also a must-visit. The only thing is that everything is overpriced. The usual US$1 coconut is sold at US$5. Yup. So better bring your own snacks and water. Overall, 10/10 I would go back to Boracay.
Plan your trip to Boracay:
#4: Melaka, Malaysia
Contributed by Lana of Wallflower in Wanderland
A UNESCO heritage site with over 600 years of history, Melaka is one of my favorite cities I traveled to and definitely a stop that should be on any Malaysia itinerary.
Melaka is on the backpacker route from Singapore to Thailand and so is very well-traveled. Although 60% of the population practices Islam, Malaysia is a very multicultural and multiconfessional country where you will not feel out of place.
Like anywhere, you need to be extra careful at night, and make sure you always keep an eye on your belongings as petty theft and bag snatching on motorbikes are very common. Another thing you should watch out for is scams, the most common being fake tickets.
Always use a trusted site such as 12Go to book tickets. You may also experience some staring but note that this is often out of curiosity with no bad intentions.
I especially felt very welcomed and safe in Melaka, I was gifted oranges by my hostel when they learned I was traveling alone, locals would stop by and say "hello" and I was even approached by a local group of school kids to help with their project. I would absolutely say that Melaka is one of the safest places to travel in Southeast Asia.
Plan your trip to Melaka:
#5: Ella, Sri Lanka
Contributed by Laure Wanders
Ella, a small town in the Uva province of Sri Lanka, is one of my favorite solo travel destinations. Famous for the Nine Arch Bridge and the hike to Little Adam's Peak, this part of Sri Lanka is a dream destination for nature lovers.
I initially planned to stay in Ella for two or three days but loved it so much that I ended up spending an entire week in this little town. Although I met many other solo travelers, I went on numerous solo hikes in and around Ella, and there wasn't a moment when I didn't feel safe.
Sri Lankan people are some of the most hospitable and helpful people I've ever met, and Ella was no different from the rest of the country. A friendly villager even helped me find my way back to the hiking path when I got lost during the hike to Ella Rock.
Another nice thing about Ella is that you'll find a lot of fellow solo travelers here. I found it easy to meet people from all over the world here and even got to hang out with the locals.
All in all, Ella is my best place to travel in Asia for solo (female) travelers, and it's one of my favorite places in Sri Lanka!
Plan your trip to Ella:
#6: Seoul, South Korea
Contributed by Ingrid Zen Moments
While I have seen people concerned about public safety when traveling to Seoul, South Korea, my experience has been a good one, and I have never felt in danger in the one year I have lived in the city. Even before moving there, I had traveled alone and explored Seoul extensively, stepping outside of the tourist areas without any problem.
The only concern for me was having the right tools and apps, especially because I don't speak or read Korean, and they have a very specific system in place. However, once I had everything downloaded on my phone, I could easily navigate the city and its most important attractions and neighborhoods.
When in need, locals will be more than happy to help you with information, and places like Myoeong-dong, Itaewon, or Bukchon Hanok Village have English-speaking guides dressed in red to assist you with any issues or questions.
Petty thefts are not a thing in South Korea, and even in the most crowded places, you will see people leaving their valuables unattended without any problems. Throughout my stay in South Korea, I even rented a car that was left in the parking lot with its keys and documents inside it, without being locked.
However, it is always advisable to use common sense and to always be aware of your surroundings at any given time.
Plan your trip to Seoul:
#7: Shanghai, China
Contributed by Zoe from Zoe Goes Places
A solo trip to China might not seem like an obvious choice. Strict rules, a complex language, and no backpacker scene often put people off traveling alone. But Shanghai is a place in China like no other.
In this metropolitan city where the east meets the west, I found a huge community of expats and travelers from around the world. As such, it's pretty westerner friendly. I was able to travel quickly and safely around the city on the metro, which has signs and ticket machines in English (and other languages).
Plus, I got to meet a range of people through walking tours, community events, and at the high-end (or karaoke) bars around the Bund. And, there's a whole host of attractions perfectly suited to enjoying by yourself such as viewpoints, museums, parks, and temples.
Shanghai is also incredibly safe, especially for foreign visitors. Of course, you'll want to keep a close eye on any valuable possessions like in any other city worldwide. But, I certainly didn't attract the kind of unwanted attention (particularly for women) and approaches typical to many large cities and towns.
No catcalls, no unwanted conversations about me or where I'm going and no one sat uncomfortably close on public transport. Most staring and whispering coming from a place of curiosity more than anything else. And don't worry, if you want to trade in solo travel for something more committed, you can always head over to the weekly Marriage Market in the city.
Here, parents attempt to find a match for their wonderful but single sons and daughters, typically by advertising them with pictures and a bio attached to an umbrella! I don't think the success rate is very high though.
Plan your trip to Shanghai:
#8: Istanbul, Turkey
Contributed by Sasha Kasthuriarachchi from Mog and Dog Travels
Istanbul is a fantastic destination for solo travelers – I've traveled solo in this unique historical city several times and have always had an incredible experience.
One of the main reasons that I love traveling solo in Istanbul is the super friendly local people. Turkish people are famous for their hospitality and this isn't just a stereotype: even in a bustling city like Istanbul, people are incredibly friendly and accommodating. Whenever I've looked a little bit lost or unsure, someone has always come over to help me.
The friendliness of Istanbulites also means that I've never had to worry about feeling alone on my trip. I've lost count of the times I've sat down for a cup of Turkish çay and ended up in a fascinating conversation. I've found out about the history of a certain area, been given some great restaurant recommendations, and discovered under-the-radar places to visit too!
I've always felt incredibly safe in Istanbul – I come from London and when I compare the two cities, I actually feel safer in Istanbul. I've walked home alone at night, walked through parks alone, and taken public transport and cabs in the early morning hours, and always felt safe. These are things that I would be worried about doing as a Londoner!
That's not to say that crime doesn't happen – petty crime like pickpocketing is higher in busy tourist areas. I would also recommend following the locals' advice about avoiding areas with a sketchy reputation. But on the whole, Istanbul is pretty safe!
Finally, I love that Istanbul has a great range of accommodation options for solo travelers. There are many different kinds of places to stay in Istanbul from basic B&Bs to super fancy hotels, so the city is accessible to solo travelers on any kind of budget.
Plan your trip to Istanbul:
#9: Hanoi, Vietnam
Contributed by Anh Le of Luxury Under Budget
Hanoi is an incredible city for solo travelers. First and foremost, it is one of the safest places to travel in Southeast Asia. The city is bustling during the day, but at night it quiets down significantly. I never once felt unsafe walking around in Hanoi, even at night, but you may want to stick to the city center after dark if it's your first time visiting and you're not familiar with the area.
The food is also incredible – you can find everything from street food to high-end restaurants. The culture and history are fascinating. There's so much to see and do, from exploring the Old Quarter to visiting the Ho Chi Minh Mausoleum, and plenty of museums or temples located throughout the city.
And last but not least, Hanoi has one of the best nightlife scenes in Vietnam, with bars and clubs for every taste. Whether you're looking for a quiet place to have a drink or a lively party theme, you'll find it in Hanoi. And don't forget to try the craft cocktails that are inspired by local cuisine.
My favorite was the pho cocktail – it sounds crazy, but the alcoholic drink has the perfect combination of the aroma and taste of the dish!
Plan your trip to Hanoi:
#10: Chiang Mai, Thailand
Contributed by Erika from Erika's Travelventures
Chiang Mai, Thailand ticks off every item on my list of why I love to travel: amazing culture, delicious food, natural beauty, friendly locals, and social and welcoming backpacker hostels. The town is both one of the first places I ever solo traveled (when I was 19 in 2013), as well as one of the most recent places I solo traveled (in 2019 before the world locked down).
Both times I met a number of other travelers at the hostels I stayed in and was able to explore the city and its surroundings with my newfound friends.
Chiang Mai is a popular spot for backpackers and expats, so I found it incredibly easy to meet other like-minded travelers. I felt extremely safe as a solo traveler while backpacking in Northern Thailand and Chiang Mai, even if I couldn't speak Thai.
I of course followed common-sense safety measures, but because solo travel is so common here, Chiang Mai feels very safe and welcoming.
My favorite part about Chiang Mai is its night markets, especially the largest Sunday night market which takes place in the heart of its Old Town. While being surrounded by 1000-year-old golden temples, hundreds of local artisans, street food vendors, and other market stalls are set up just for one evening. It's the perfect place to wander, solo or with new friends, and find souvenirs for friends and family back home.
Plan your trip to Chiang Mai:
#11: Siem Reap, Cambodia
Contributed by Jessica Schmit of Uprooted Traveler
Between its incredible temples, affordability, and fun nightlife, Siem Reap, Cambodia is an excellent spot for solo travelers.
During the day, there's plenty to keep busy, from exploring the largest temple complex in the world, Angkor Wat, to trying out a Khmer cooking class with a local (I was surprised at how amazing Cambodian food is!). And at night, it's easy to meet people if that's your jam- between the robust backpacking scene and the social atmosphere on Pub Street, the city's restaurant and nightlife hub, there are new friends around every corner.
Before traveling to Cambodia, I was nervous about the logistics and safety- would it feel safe, as a female, to walk around by myself? Would it be easy to get around? Would the language barrier be an issue?
Luckily, all of these issues worked out in my favor- I never felt uneasy exploring Siem Reap (although I'd advise sticking with the well-trodden touristy areas at night). Additionally, given Siem Reap's small footprint, many of the points of interest are easily walkable from most hotels and hostels, and for those that are too far outside the city center, there are seemingly tuk-tuks around every corner just waiting to act as your very affordable chauffeur. Plus, English is widely spoken everywhere- and even US dollars are accepted in most places!
Siem Reap feels decidedly foreign from my home country- from the architecture to the food to the transportation- and yet, it's an incredibly approachable and easy destination for solo travelers.
Plan your trip to Siem Reap:
Best Siem Reap hotels
Things to do in Siem Reap
Budget accommodations in Siem Reap
Airbnbs and Vrbos in Siem Reap
#12: Ho Chi Minh City, Vietnam
Contributed by Merry Allison of Virginia Vacation Guide
A few years ago, I had an unforgettable opportunity to travel solo to Ho Chi Minh City, Vietnam as part of a Southeast Asia tour that also took me to Hong Kong, Cambodia, and Thailand.
Ho Chi Minh City (also frequently referred to as Saigon) is the largest city in Vietnam, with a population of over 8 million. It lies near the Mekong Delta in the southern part of the country. The city is vibrant, energetic, lively, and young.
Ho Chi Minh City is a great destination for solo travelers because it is easy to travel to many of the city's main attractions on foot. I recommend taking a walking tour of major sights like Independence Palace, which is filled with historic items from the days of the Vietnam War; Notre Dame Cathedral of Saigon, which is a lovely cathedral in the style of the famous Notre Dame of Paris; and the Saigon Central Post Office, with its lovely ornate 19th-century architecture and design.
One of the best ways to explore the city is to take a ride on one of the ubiquitous Vespas or scooters that fill the streets. I took a day tour while riding on the back of a Vespa scooter (which was driven by an experienced local man) for a thrilling and fun tour of the city.
The Vespa zipped and zoomed through the crowded city streets, often miraculously fitting between cars and other vehicles in ways that hardly seemed possible by the laws of physics. Along the way, my tour guide stopped at off-the-beaten-track locations, like local farmers' markets, parks, and neighborhoods, to give me a more authentic introduction to the city and its rich history.
At night, I took another guided Vespa tour through the city. This trip was essentially a nighttime eating and drinking tour during which we stopped at some lively local restaurants for food and drinks. We capped off the night with a stop at two local bars with live music performances.
The experience was unique and completely unforgettable. As a solo traveler, it also gave me the perfect opportunity to immerse myself in the city and meet locals and other fellow travelers from around the world.
Plan your trip to Ho Chi Minh City:
#13: Yerevan, Armenia
Contributed by De Wet of Museum of Wander
Yerevan, the capital of Armenia, is a fantastic city to visit for solo travelers. The city is drop-dead gorgeous with many things to see and do, exceptional food, wine, architecture, and vibrant cafe culture.
While the attractions are outstanding, I love Yerevan for its amiable and welcoming people. Several times during my visit, locals would strike up a conversation with me to help when I was looking lost, make small talk or give me the scoop on a local attraction I shouldn't miss. It was my favorite city on my Caucasus trip by a long shot.
Armenians are a friendly bunch who know how to have a good time. And they want you to have a good time too. Walking through the city, you'll hear laughter and chatter spilling from the wine bars and cafes, and often people will raise a glass and cheer to you as you walk past.
The language was never a problem, as many Armenians speak good English. When there was a language barrier, a helpful bystander would come and translate and help before I could even ask.
Yerevan is safe to visit, and I walked everywhere in the city. Never did I get hassled or got dodgy vibes. Even in the markets, the vendors didn't bug me to buy anything. Instead, vendors offered free samples of their delicious apricots, berries, and other fruit.
Plan your trip to Yerevan:
#14: Phnom Penh, Cambodia
Contributed by Alex and Leah On Tour
Despite being located in the south of Cambodia, Phnom Penh is still the country's economic, industrial and cultural center; this is due to it accommodating nearly 15% of the entire country's population.
Once known as the "Pearl of Asia", Phnom Penh is a great destination for solo travelers as it's such a popular backpacking destination for westerners, making friends is incredibly easy.
This is due to the fact that there are only a select few hostels (Mad Monkey and the Big Easy) that literally everyone stays at. These two hostels have great social areas to mingle and each regularly put on activities to explore the city and its nightlife as a group.
Whilst Phnom Penh can be unsafe like any other capital city around the world, there are many steps you can take in order to keep yourself and your belongings safe. Having visited the city for a week during my Cambodian visit, I can say with certainty that your belongings are way more at risk than yourself.
When catching a lift in tuk-tuks, always make sure that no valuables are placed freely on your lap and you're always connected to any bags you may have.
It is common for individuals on mopeds to reach inside of tuk-tuks, grab anything that is loose and ride off into the distance. I have heard stories of this happening but every time I come to the conclusion they just weren't being sensible.
When I visited Phnom Penh in February it was incredibly hot and took some getting used to. I absolutely loved the buzz of the city, the bikes constantly roaming around and so many affordable restaurants all so close together.
In addition, I really enjoyed how rich the culture was in the city as there was always so much to see or new foods to try; from the Grand Palace to Central Market to the S21 Museum, Phnom Penh has so much to offer for a solo traveler that you'll want to stay here for a very long time!
Plan your trip to Phnom Penh:
#15: Beijing, China
Contributed by Laura the Explorer
After spending a week a wintery week alone in Beijing before heading out on the Trans-Mongolian Railway, I would definitely recommend the city as a great place for solo travelers.
Hostels are comfortable, affordable, and typically located in hutongs (alleyways), ideal for exploring the traditional parts of the city.
The city center is super walkable and the modern subway is very easy to navigate. I always felt comfortable walking about the city, even at night, around the main tourist areas and in the hutongs around the hostel.
This may have been due to the strong police presence, including a few random checkpoints I encountered near the Forbidden City, however, these were focused on locals, and western tourists were just waved on through.
I'd also recommend heading out independently to one of the less touristy sections of the Great Wall, such as Jinshanling – it's easy and safe to get there via public transport and I pretty much had the place to myself!
There are a few things to be aware of when visiting Beijing.
Whilst the subway has great English signage, outside of the hostel it was rare to find someone who spoke English. The lack of Google can also hamper navigation and communication so I'd recommend using a VPN or finding an alternative map and translation apps that are available in China.
In Beijing I also found it quite common to receive attention – lots of staring and locals approaching for photos of me or with me, especially at popular sights like the Summer Palace. I was told that this is due to Beijing (as the capital) being a popular location for domestic tourism, many Chinese visiting the city are not accustomed to seeing westerners.
Whilst I did find it a little overwhelming at times, it comes from a place of curiosity and isn't threatening or a cause for concern. To avoid getting cameras to thrust right at my face, I found the easiest thing was to say yes to families or females, otherwise to politely refuse.
Generally, though, the locals were super friendly and helpful and were a part of making Beijing a great destination for a solo traveler.
Plan your trip to Beijing: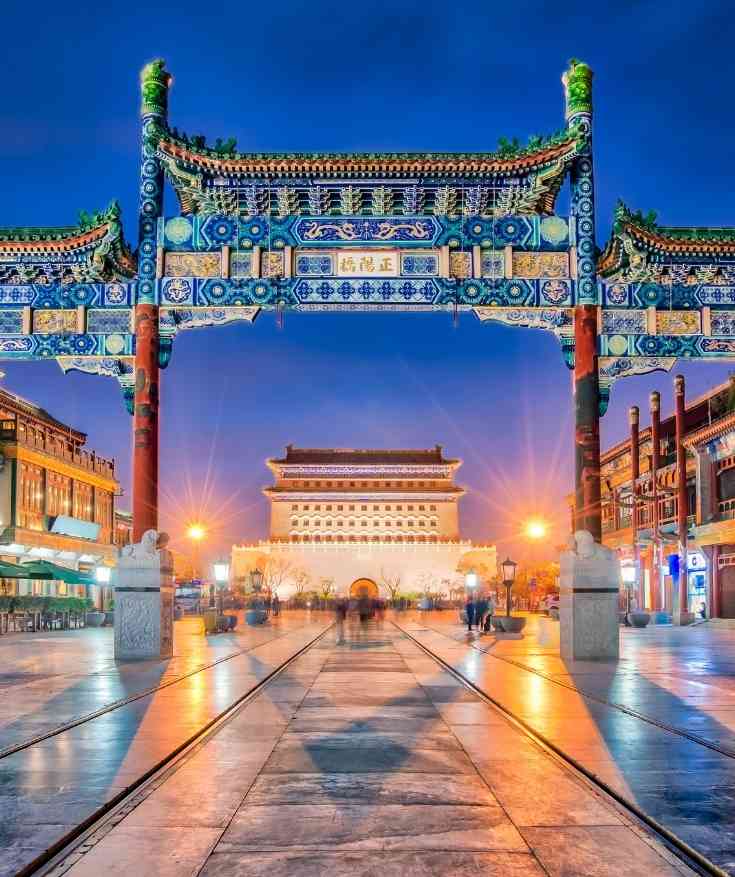 #16: Singapore, Singapore
Contributed by Delilah Hart
Clean, safe and exciting are all things solo travelers look for when choosing any travel destination. Singapore ticks all these boxes whilst being the perfect little hub in the heart of southeast Asia.
For me, safety is always top of mind so it was a relief to arrive in Singapore and to feel so safe. Of course, with any large city, it pays to be careful and follow standard best practices when it comes to safety – such as "don't walk through dodgy areas at night" and "tell people where you're going".
However, I felt absolutely confident wandering around Singapore by myself at any time including catching the MRT at night and never once worried about being pickpocketed.
Which is more than I can say about most places I've visited around the world. Interestingly, I later found out that Singapore has been rated as the 3rd safest city in the world.
Singapore is a culturally-diverse country and no matter your background the people will welcome you with open arms. You'll be confident and safe as you easily navigate the city and the countless things to do in Singapore.
From exploring the city to eating the amazing food and enjoying the finer things in life, Singapore is an amazing destination for solo travelers to visit.
Plan your trip to Singapore: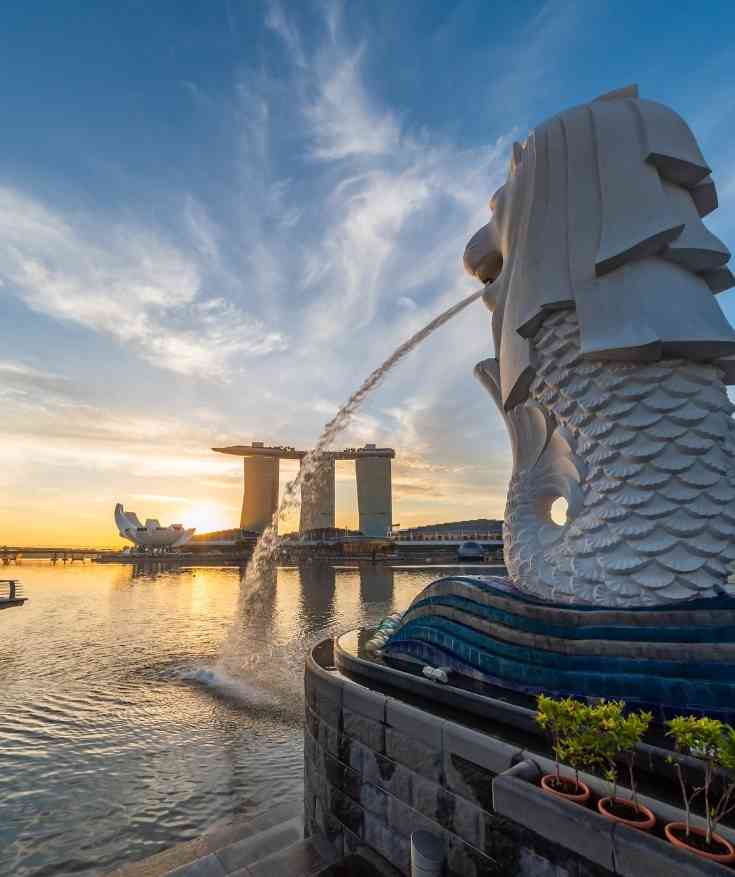 #17: Osaka, Japan
Contributed by Ashley of Culture Snapshots
Osaka was actually the first place I ever traveled solo. No one else could travel during a long weekend I had off, so I just went by myself.
Japan is a perfect destination for solo travelers, especially first-timers who are a bit anxious about traveling on their own. Japan is extremely safe for tourists.
Your chances of being scammed, mugged, and so on are quite low compared to other countries, though always be aware of your surroundings anyway.
Osaka specifically is a great destination for solo travelers in Asia. Osaka is Japan's third-largest city, so it offers plenty of activities, restaurants, and accommodation options. Osaka also has a good public transportation system for getting around on your own.
Because it's a large city, Osaka has enough English around to be able to navigate as a tourist. But Osaka is also not so overwhelmingly large as Tokyo might be for some.
There are also some amazing day trip options from Osaka to places like Nara and Kyoto.
I booked a hostel near Namba Station in the center of Osaka, so I was located near many popular attractions and could easily get around. I also felt very comfortable eating alone in restaurants, as there are many solo diners in Japan.
Plan your trip to Osaka:
#18: Siargao, Philippines
Contributed by My Blonde Bucket List
Siargao is an island in the Philippines famous for its surfing, in fact, it's known as the "Surfing Capital of the Philippines". This small island is a fantastic place for solo travelers, think of great surfing, great nightlife, and great people.
Plus the island itself is beautiful, so I always found something to do in Siargao. I felt like there were always a lot of people around (without being too busy) which made it pretty easy to make friends. I was certainly never lonely!
During the day, most people tend to go to the beach to make the most of the surf, then in the evenings, depending on what night of the week it is, everyone heads to a different club or bar. I found it pretty cool that everyone would head to the same place in the evenings because it meant that you were often bumping into people you had met earlier.
Siargao is a very safe island and the locals are incredibly friendly. If you ever got lost or were unsure of something you could always ask someone. Although there can be a bit of a language barrier at times, hand gestures certainly help. I never once felt unsafe while I was traveling Siargao alone.
Plan your trip to Siargao: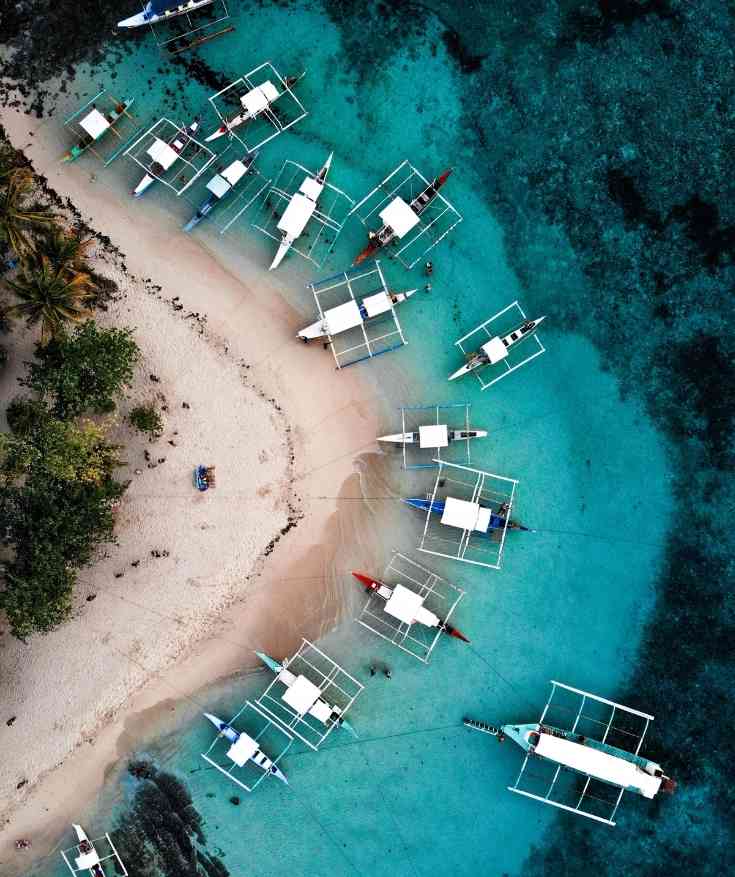 #19: Bangkok, Thailand
Contributed by Allan Wilson of Live Less Ordinary
My first time traveling in Bangkok was a little bit terrifying as it was the first-ever Asian city I have ever been to and everything was new to me.
Now having lived in the city since 2011 I consider Bangkok to be one of the safest cities for travelers and tourists in Asia with no real incidents other than the odd taxi driver 'forgetting' to start his meter.
I think a big part of why Bangkok is such a safe city is because it is a 24/7 city. No matter what time it is, even in the middle of the night, the streets are still relatively busy with cars and taxis and 24-7 food and convenience stores are open right through the night. It is rare to find yourself alone and at risk.
The public transport as well is so far-reaching and efficient with the clean/modern BTS Skytrain and MRT underground metro and it's just a very easy city to travel around in independently.
There are also motorbike taxis which are admittedly not as safe as they should be but it makes travel in shorter distances so simple and cheap.
Most accommodation will also be high rise, and hotels, condos, and apartments almost always have their own 24-hour security, and if people can enter the building there will likely be keycard elevators only allowing residents to access the floor on which they're staying.
Plan your trip to Bangkok: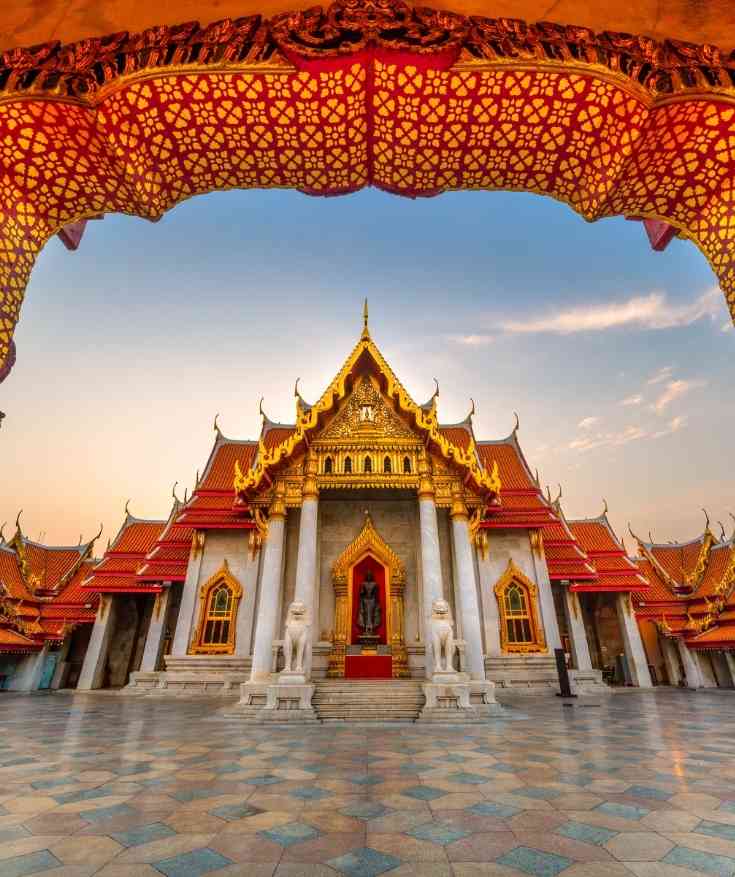 #20: Tbilisi, Georgia
Contributed by Emily Lush of Wander-Lush
The most cosmopolitan city in the South Caucasus region, Georgia's capital, Tbilisi, is a dream destination for solo travelers. Having lived in Georgia for two years and traveled there many times before, I've visited Tbilisi solo on many occasions and I've always had a fulfilling experience.
Tbilisi is compact enough that you can easily explore the city in a couple of days, discovering the many museums, sulfur baths, urban hiking trails, castles, and examples of Soviet-era architecture on foot. If you're in a social mood, you'll have no issue meeting other backpackers thanks to the many wine bars and clubs, while festivals, street markets, and events attract visitors, expats, and locals alike.
I always find it easy to chat with locals and pick up tips, especially when I'm staying at a guesthouse or family-run hotel. Georgians are known for their hospitality and while the big city lacks the charm of small towns and villages to some extent, you will still find people are incredibly welcoming and generous.
Tbilisi is an overwhelmingly safe place for travelers by every measure. Exercise the same common sense and caution as you would in any city. Personally, I have never felt unsafe although Georgia has a bad press when it comes to safety.
Plan your trip to Tbilisi:
✈️ Ready for your trip to Asia? This blog thrives on reader questions so feel free to ask questions about solo travel in Asia by using the comment box below. You can also sign up for 1-on-1 coaching with me if you need more help!
Trisha is one of those people who left their comfortable life to travel the world and learn about life. Her style is to stay in one place she likes for 3 months (or more) to know what it feels like to eat, cook, speak, and sleep in another culture that isn't hers. She'd like to believe she's not traditionally traveling but she just chooses to be somewhere else all the time. In no particular order, her favorite cities in the world are Barcelona, Buenos Aires, Hong Kong, Mexico City, and Tel Aviv.