☕ Support this blog's honest and transparent journalism. Help us add value to what we are sharing. Keep P.S. I'm On My Way free for all by donating to our coffee fund.
I did a solo trip to Vietnam and it was one of the friendliest countries I've been to! In this post, I will share with you my Vietnam solo travel experiences including safety tips and everything you need to know about this country.
📬 Reader Mail: Hello Trisha! I admire you for traveling the world solo. I've been hooked with your solo travel stories. It really inspires me to go on my own!
As Australia is already opening up for international travel, I would like to do my Vietnam solo travel (finally!) since I've been locked out for a year.
I really need some tips as I know you already traveled to Vietnam alone a lot. Can you also connect me with your local host family? I wanted to see if I can stay with them despite this COVID thing that doesn't seem to end.
Thank you for all your help and assistance. I appreciate you and I wish you all the success! I might turn to you more for tips and advice so please bear with me.
-Ginette Sherman, Australia
Hi Ginette!
Of course you can always e-mail me if you have questions about traveling to Vietnam solo! The purpose of this blog is to answer reader questions.
In fact, I don't really make posts unless someone sends me an e-mail! Oh my, Vietnam… what fond memories I have of this country. This is one of the countries I feel safest in traveling alone and I can see that isn't your worry.
I will try my best to help you and give you some personal insights about traveling to Vietnam alone but I guarantee you that you will freaking enjoy it!
Good luck and let me know how it goes!
Xx,
Trisha
🇻🇳 Vietnam at a glance
Capital: Hanoi
Currency: The currency in Vietnam is called the Vietnamese dong (VND). US$1 = 23,221 VND.
Power plug: Vietnam uses the types C (two round pins), A (two flat parallel pins), and F (two round clips + two earth clips
Visa: Americans, Canadians, Australians, British, and most European citizens are issued a visa on arrival in Vietnam which is valid for 30 days. You can fill out this form and pay US$25 for your visa. If you need more days in Vietnam, can apply upon arrival in Vietnam.
Language: The language in Vietnam is Vietnamese. Many people still don't speak English but the service industry can communicate in English.
Transportation: Vietnam uses motorbikes as a mode of transport but going around the country is super easy. Vietnam has a lot of bus beds that will take you around the country. Flights within the country are also affordable but since it's not that big, you can travel by land safely and easily.
Wifi/Internet in Vietnam: Internet is challenging in provinces but in the big cities, many have fiber-optic connections.
Vietnam sim card: There are 4 mobile providers in Vietnam. I use Viettel because it has better coverage. A 30GB plan for one month with Viettel costs US$13 and the lowest 5GB plan is US$5.
Suggested travel duration: You can easily have a good trip to Vietnam for 2 weeks. In this timeframe, you will be able to see all the important spots and landmarks which will also be discussed in this post.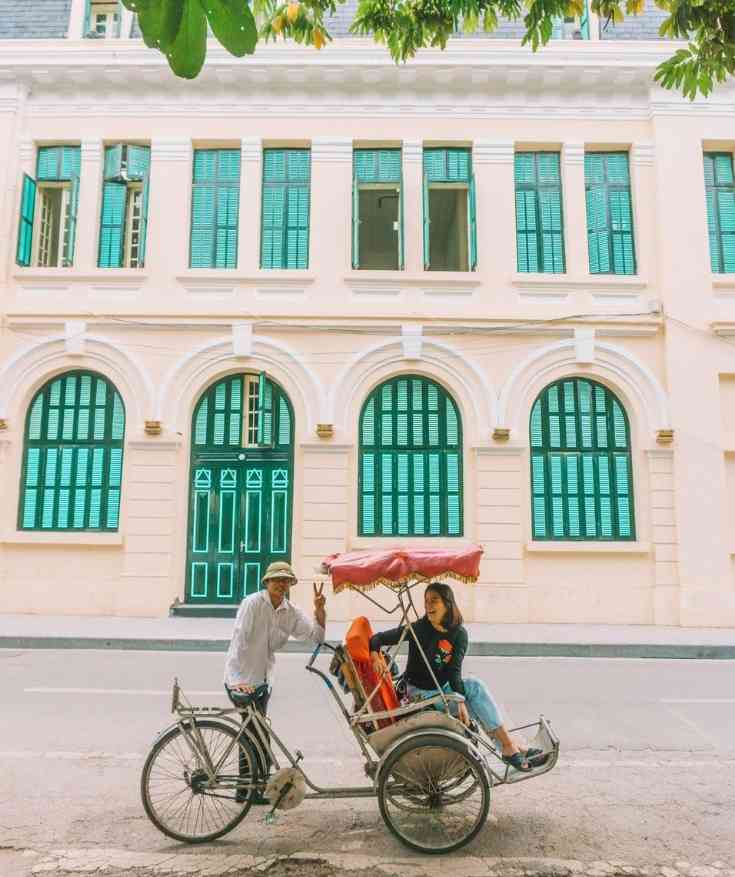 Is Vietnam safe for solo female travelers?
ABSOLUTELY! I always recommend Vietnam to solo travelers whether be it male of female. Vietnam is a good training ground for your first-time solo travel!
The Vietnamese people are naturally welcoming and very friendly even if they don't speak English. You will have a trouble-free solo trip to Vietnam as you don't really have to be extremely vigilant and paranoid about safety.
Vietnam is actually one of the countries where I felt taken care of as a female. People are always willing to help and since they are a touristy country, you don't get a lot of attention for being a foreigner (compared to India or Egypt).
Sure, they are still amazed that foreigners visit their country but they won't swarm you or even look at you endlessly. Also please note that my ethnicity is Asian so I am speaking from personal experience.
You might have a different experience as a white person but I'd love to hear your own stories!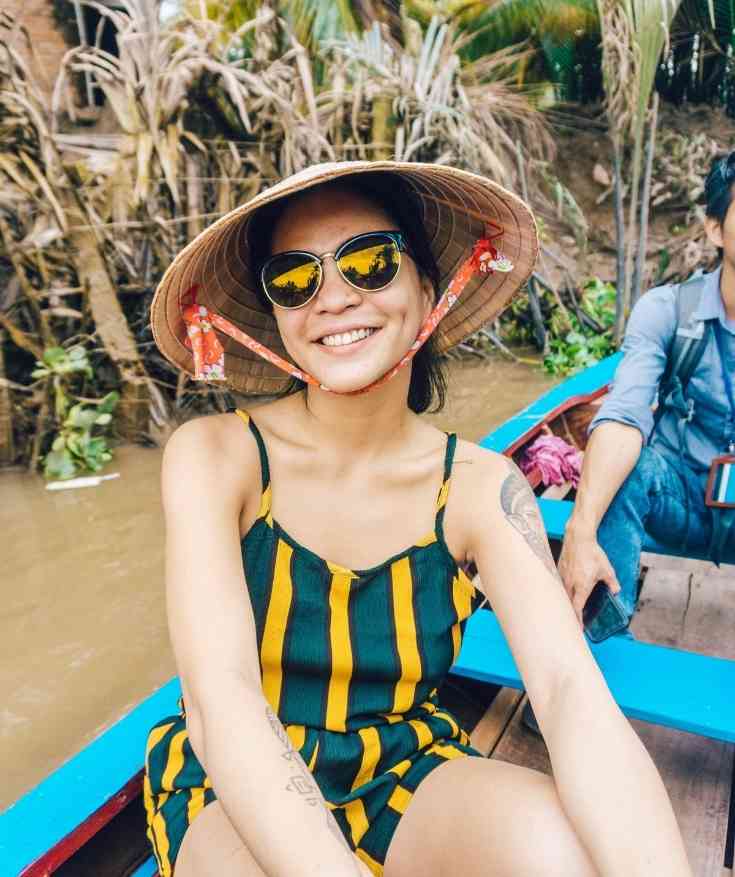 How much does a solo trip to Vietnam cost?
Super cheap! Since I stayed with local families and volunteered, I almost did not pay for accommodations for 3 months! There were even times when I treated myself to luxury hotels (which is less than $100 USD in Vietnam).
Of course, as solo travelers, the best thing to do not only to save on cash but to also meet other people is to stay in hostels. Hostels in Vietnam are super cheap and decent. This is where you'll find all the action!
Vietnam is also known for their amazing and cheap street food. You can eat for less than a dollar in Vietnam but be mindful about eating street food especially if you have a sensitive stomach.
As for tours, I don't remember being on one for more than $100 USD. Most of the activities here, you can actually do by yourself without hiring a guide!
💃🏽 Traveling solo for the first-time? Join my trips this year and learn how to be a pro solo traveler! We will have fun, I promise you! And on top of that, you will learn a lot about navigating the world solo! ✨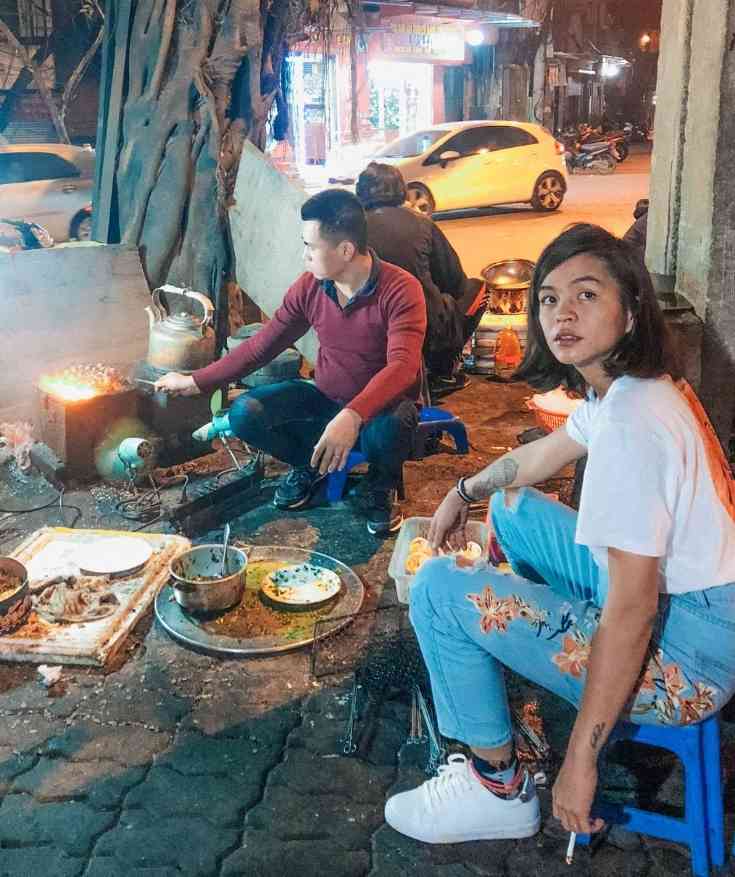 You may also like:
✈️ Planning your trip to Vietnam
Best time to visit Vietnam
July and August are busy months in Vietnam as this is the high season. Prices are higher than usual. The weather is hot and humid with occasional rain showers.
If you're only going to Hanoi and HCMC, I recommend visiting these places during December – March: the perfect excuse to escape winter in Europe and North America! Hanoi will be cold at this time for sure but HCMC will be sunny and not too hot!
The low season in Vietnam is from April to June and September to November. During these months, all areas of Vietnam have good weather, and prices are cheaper. Below is a monthly guide on what to expect in Vietnam each month:
January: Dalat Flower Festival and Tet Nguyen Dan, the Lunar New Year in Vietnam
February: Best to visit the Southern province of Vietnam
March: Buon Ma Thuot Coffee Festival in the highlands of Dak Lak
April: Hue Festival is held every two years to celebrate Hue's culture and Thanh Minh Festival in Northern Vietnam
May: Phong Sinh, a Buddhist celebration dedicated to liberating animals
June: Nha Trang Sea Festival which happens every two years, for a week in June. Nha Trang is a famous beach destination in Vietnam and this is one of the best festivals to see!
July: Danang International Fireworks Festival and the beginning of the high season in Vietnam
August: Trung Nguyen and Children's Festival
September: Pride Parade in Hanoi and Vietnam's National Day
October: Trung Thu (Mid-Autumn Festival)
November: Khmer Oc Bom Boc Festival (Full Moon Festival in Mekong Delta)
December: Christmas which the Vietnamese call Giang Sinh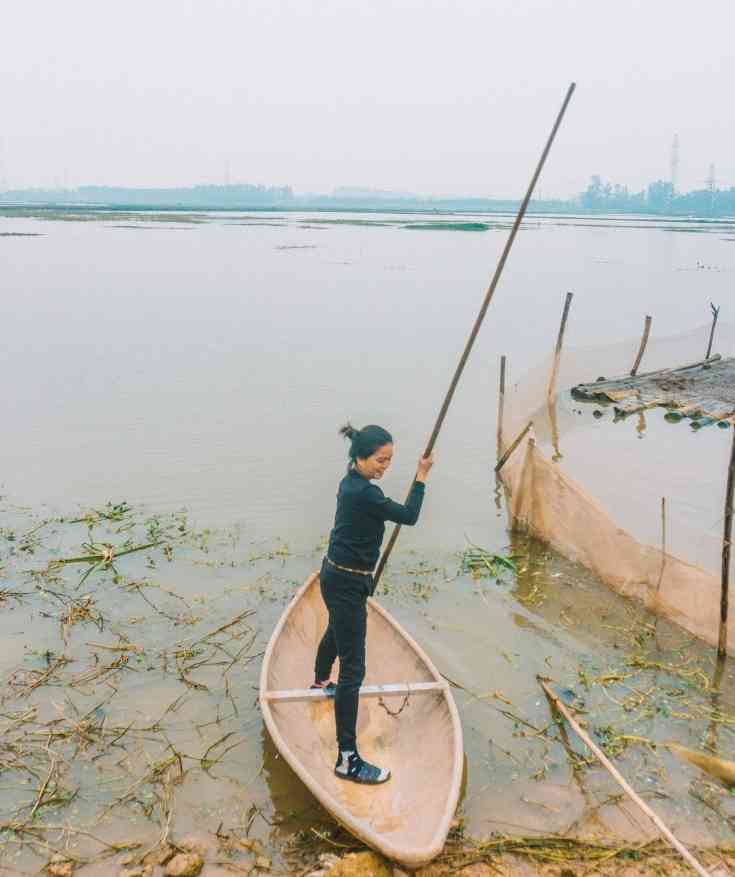 Vietnam entry requirements
Vietnam fully opened on May 15, 2022 lifting isolation and quarantine requirements. When entering Vietnam, you need to provide:
Medical/travel insurance with COVID-19 coverage (min coverage of US$10,000). I use SafetyWing for travel insurance and pay US$40 for travel insurance (per month) and US$200 for medical.
PC COVID Vietnam app should be downloaded on your mobile phone. Fill out the health declaration form. Keep this app on your phone while in Vietnam as some establishments may ask for this
The following countries, citizens, and nationalities can enter Vietnam visa-free:
Brunei (14 days)
Cambodia (30 days)
Indonesia (30 days)
Laos (30 days)
Japan (15 days)
Malaysia (30 days)
Myanmar (14 days)
The Philippines (21 days)
Singapore (30 days)
South Korea (15 days)
Thailand (30 days)
European Citizens from Belarus, Denmark, Italy, Finland, France, Germany, Norway, Russia, Spain, Sweden, and The United Kingdom are visa-free in Vietnam for 15 days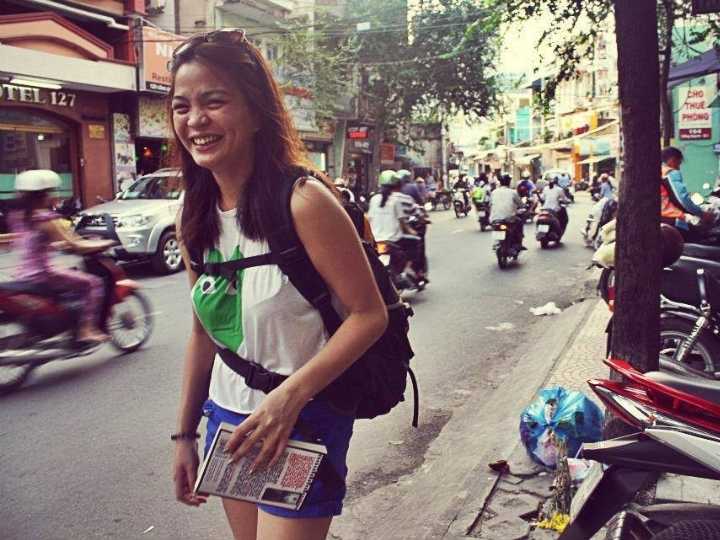 Getting to Vietnam
Travel to Vietnam from the US, Canada, Australia, the UK, and Europe
The three main International Airports in Vietnam are Noi Ban International Airport (Hanoi), Tan Son Nhat International Airport (Ho Chi Minh City), and Da Nang International Airport (DAD).
Below are some suggested flight routes from the USA to Hanoi:
from Chicago, IL: via Ana Air with a 3h 30m layover in Tokyo, Japan (22h 20m)
from Denver, CO: via United Airlines with a 1h 20m layover in Tokyo, Japan (21h 35m)
from Los Angeles, CA: via American Airlines with a 1h 20m stop in Tokyo, Japan (18h 20 m)
from New York: via Delta Airlines with a 1h 45m layover in Seoul, South Korea (21h)
from San Diego, CA: via Japan Airlines with 1h 20m layover in Tokyo, Japan (19h 30m)
from San Francisco, CA: via Eva Air with a 1h 40m layover in Taipei, Taiwan (20h 50m)
from Seattle, WA: via Eva Air/Vietnam Airlines with a 2h 20m layover in Taipei, Taiwan (17h 20m)
To save time and see more places, you can also add the layover as a 1-week destination before your trip to Vietnam. Seoul (South Korea) and Tokyo (Japan) are good destinations to add to this itinerary!
Flights from Canada to Hanoi, Vietnam:
from Vancouver: via Air Canada with 2h 50m layover in Taipei, Taiwan (17h 30m)
from Toronto: via Air Canada with a 2h 45m layover in Tokyo, Japan (21h)
Flights from Europe and the United Kingdom:
from London: Vietnam Airlines flies direct from London to Hanoi (11h 15m)
from Madrid and Berlin: via Turkish Airlines with 2h 25m layover in Istanbul, Turkey (16h)
from Paris: Vietnam Airlines flies direct from Paris [CDG] (12h)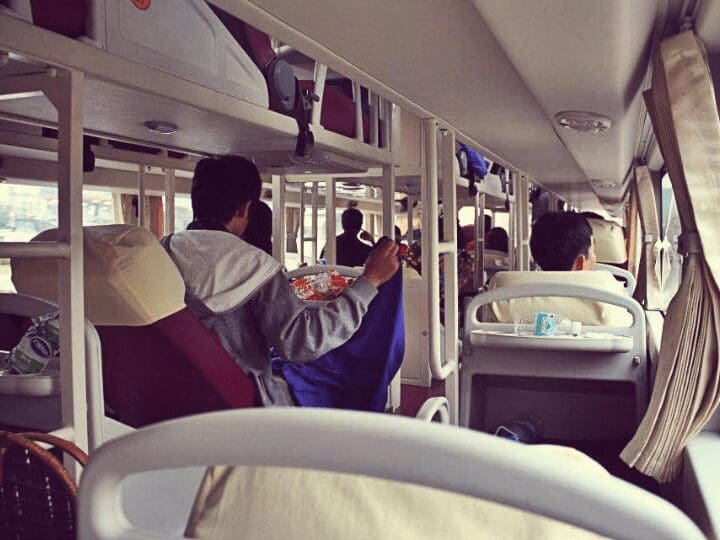 Getting around Vietnam
Busses in Vietnam
This is my preferred way of traveling in Vietnam since it's cheap and comfortable. If you refer to the picture below, you will see how small it is so definitely consider this if you are a tall person. It also saves time and money since these bus beds leave at night – you don't have to pay for the hotel!
Most bus portals in Vietnam are in Vietnamese and it gets confusing when you use the "translate" feature so I always just use BudBud as a reliable English website for busses in Vietnam.
Trains in Vietnam
Vietnam has an efficient rail system and you can choose this mode of transport if you don't want to hop on a night bus. Their trains have classes and also have sleeping cabins. The most common route is, of course, Ho Chi Minh to Hanoi.
This route is 32 hours long and only costs US$36 (compared to a 2-hour flight for US$80). This is ideal if you want to see the whole country but if you're on a fixed travel schedule, flights within Vietnam are really cheap.
Flights in Vietnam
For US$80 (one-way fare), you can easily fly within Vietnam. The local airlines that operate in Vietnam are Vietnam Airlines, VietJet Air, and Jetstar.
Renting a car in Vietnam
In my experience driving in Vietnam, it was kind of difficult to go around without the language skills. I had to use sign language to ask for directions and you may find yourself in areas where there is no phone coverage. You can rent a car in Vietnam at any major airport and city.
Renting motorbikes in Vietnam
You can rent motorbikes in every city in Vietnam as this is the most used by the locals – everyone has a motorbike! Driving a motorbike in Vietnam as you see in most pictures, looks like a crazy rodeo but my trick is to just follow the people in front of me (or keep close to them).
The roads are motorbike-friendly but you may get confused and terrified with the roundabouts – this always confuses me! For those who don't want to drive a motorbike, you can call a bike via the app called Grab (which is like an Uber for motorbikes).
💲 Vietnam trip cost
The currency in Vietnam is called the Vietnamese dong (VND). US$1 = 23,221 VND. As a result of this conversion, you will find yourself holding so many thousands of bills while traveling Vietnam but in the end, the value of each note is really low.
I will share my Vietnam trip cost (what I spent) in every section of this Vietnam travel guide (i.e. accommodations, things to do, etc) but to give you an idea about the generic pricing and cost of living in Vietnam, see below:
Lunch in a business district restaurant: US$2.50
Combo meal in a fast-food restaurant: US$4
1 bottle of red wine (good quality): US$15
2 liters of Coca-Cola: US$0.97
1 cocktail drink in a downtown club: US$7
1 package of Marlboro cigarettes: US$1.21
Cappuccino in expat area of the city: US$2
Rough estimate
Please note that most of the prices below are based on the high season (July):
Accommodation costs: A nice hotel for 2 in Ho Chi Minh starts at US$25 which is actually a superior double room with breakfast. Since Vietnam just opened, you will see many super low prices of hotels (under US$10). I believe these prices are lowered this year because they are recovering from loss since 2020.
Food costs: Food is cheap in Vietnam. The traditional way of experiencing Vietnam through food is through street food (which is safe to eat, btw). Noodles and traditional Vietnamese street food are less than a dollar.
Tour costs: Expect to pay from US$25 to US$100 for tours, depending on the tours that you want to avail. In the things to do section of this article, I will share all the prices of the tours.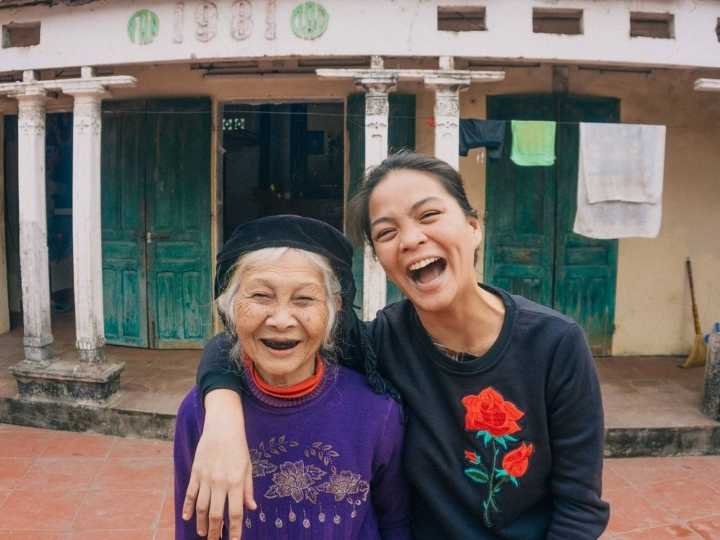 📍 Places to visit in Vietnam
If it's your first-time to travel to Vietnam alone, below are some of the best places to visit in Vietnam. It also depends how many days/weeks/months you want to travel to Vietnam.
Vietnam is a country you can easily navigate from north to south (or vice-versa). Below are some of the places I recommend for first-timers:
Ho Chi Minh
Solo travel in Ho Chi Minh City (HCMC) is super easy because this is the most visited city in Vietnam. Just within Ho Chi Minh, there are already many things to do, and most of them, you can do on your own.
As a solo traveler who likes to socialize, I loved that I was able to meet locals in Ho Chi Minh and enjoy the vibrant nightlife!
I stayed in a hostel called City Backpacker Hostel where I got to meet a lot of fellow solo travelers. We cooked meals together and went out together all the time.
Ho Chi Minh is also where you will probably land (from your home country) since this is the flying hub of Vietnam so you will go here no matter what. It's really worth a few days!
Plan your trip to Ho Chi Minh:
Hotels in Ho Chi Minh
Budget accommodations in Ho Chi Minh
Hanoi
I did many trips to Vietnam but it was in my 30-days backpacking Vietnam that I really got to experience Hanoi. Many prefer HCMC over Hanoi but I really feel they are very distinct.
Hanoi is extremely opposite (south) of the country so there are many northern traditions to learn here. In Hanoi, I was able to explore many outdoor activities.
I also stayed with a local family in Hanoi where I lived with them for 2 weeks! It was one of the greatest experience I had in Vietnam and I am still in touch with that host family.
I did many local family stays abroad but I found Vietnam the most challenging since nobody in the family spoke English. If you want to do a local homestay in Vietnam, send me a message and I will introduce you to my local Vietnamese sister!
Personal experience in traveling Vietnam solo
My first Vietnam solo travel experience was in 2011, at a time where girls like me were discouraged to travel on their own. I was 23 years old and thankfully, I had supportive parents.
Having an Asian background, my mom said, "it's just Vietnam. It's safe." She always had this impression that if it's Asia, then I won't be harmed. Which, statistically, is very true.
Later on, you can browse this blog on how I told my mom I'd be traveling by myself to South America, to the Middle East, to Europe (which I did even if she said no).
It's just funny that my Asian mom has her own beliefs in solo female travel safety and for her, Asia is always good. It doesn't even needed to be discussed.
So with the strong support of my family, I went to Vietnam (not at their expense, FYI). Since I was traveling Vietnam on a budget, I planned my solo travel well.
First, I said I will stay with local families so I can learn how to eat, speak, and cook like them. To be honest with you, my local family stay adventures only started when I was finding ways on how to find free accommodations while traveling.
With time, I realized that it wasn't my purpose anymore. It really is a great experience to live with locals and not all of us have the opportunity to do that.
I relentlessly look for host families abroad whenever I am traveling. I believe this is one of the greatest things I've seen and done in my life. I want to continue doing it.
Getting to my host family in Hanoi was a little stressful since it was 1.5 hours drive to get to their house. My host brother also spoke broken English so the instructions were not very clear.
Well, I just know that I was going to Huong Non, a traditional village northwest of Hanoi. At least I had that on the maps in case I don't find the house.
He gave me a pin on Google maps where I should go down. When I arrived that location, it was so dark and it was just a street with no name.
I didn't wait for him for more than 10 minutes, thank God. He was there to pick me up and immediately brought me to the house on his motorcycle.
So this is also the thing you have to consider when traveling solo in Vietnam – they love motorbikes. Everyone has it. I couldn't imagine myself getting on that motorbike with a freaking luggage so thank God I had a good and light backpack.
I stayed with them for 2 weeks and you can read my story about it in my stories section. This is actually my favorite homestay because this was the only country where I was challenged with language barriers.
After that family stay, I continued my journey and worked in hostels, had some crazy parties, and of course, saw the best of Vietnam on my own.
I found myself always going back as I became comfortable traveling Vietnam solo. It is one of the places I will always go back to and I hope you get to experience Vietnam the way that I did.
Why Vietnam is great solo travel destination
Vietnam is safe
Road-wise, people-wise, navigation-wise: you don't have to worry about any of this in Vietnam. You can travel Vietnam hassle-free.
Of course, there are still cases of theft in Vietnam but very minimal. When I was traveling Vietnam solo, I never really had to be paranoid about my stuff but I never let my guard down.
Overall, I didn't have the experience of someone robbing me. I even left my backpack one time in a restaurant (with my camera!) and when I returned it was still there.
Just don't involve yourself in sketchy activities like buying drugs. Despite being in Latin America for a long time now, I feel like Asia is crazier with the drug thing as some countries have shoot-to-kill orders if caught with drugs.
But more on that later. Overall, THERE IS NOTHING TO WORRY ABOUT when it comes to Vietnam solo travel. I promise you will have a good time!
Vietnam's terrain is solo traveler-friendly
Vietnam's backpacking route is the same. It is very strategic and super organized so you don't have to be worrying about your route.
Vietnam is part of the banana pancake trail, a famous Southeast Asia backpacking route. No matter where you go, there will be backpackers and solo travelers around.
With this, I even got a chance to do ride-sharing or tour trips with people I met in hostels! You will arrive Vietnam by yourself but when you are already there, you will never be alone!
Sometimes, I even had to shut my dorm curtains just to avoid other backpackers inviting me to go out to party! You'd be surprised how many alone time you will crave while traveling Vietnam solo.
The Vietnamese people are super friendly and accommodating
The Vietnamese people are good people, especially to girls who are on their own. I've received many kindness from strangers in Vietnam.
What I also noticed is that the Vietnamese people are very honest people. Of course, there are still bad people out there but for the majority of my Vietnam solo travel, I was always treated well.
There will be a lot of language barriers but this never stopped them from helping travelers. They try their best to help with hand signals even if sometimes, it gets so frustrating that you don't understand each other!
Vietnam is cheap
I spent about $300 USD a month in my Vietnam solo travel but note that I was staying with host families and volunteering all the time.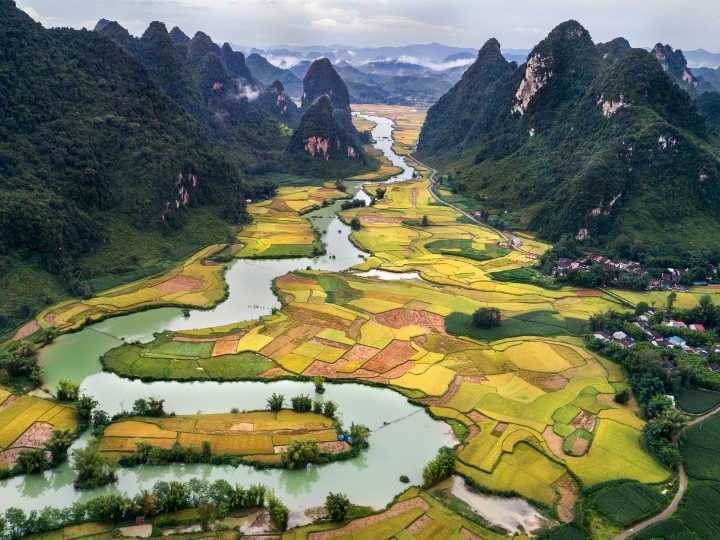 This $300 USD budget was super comfortable. I paid for my own tours, took night busses, and ate out a lot. Even if you are going to pay for your own accommodation, I still feel like you won't go over $500 USD a month.
🗺️ Things to do in Vietnam
Halong Bay
There are many ways to travel Halong Bay but as a solo traveler, I recommend you do it for 3 days! I went on a 3-day Halong Bay Cruise where you will get to sleep on the boat, eat there, and cruise the most beautiful place in Vietnam!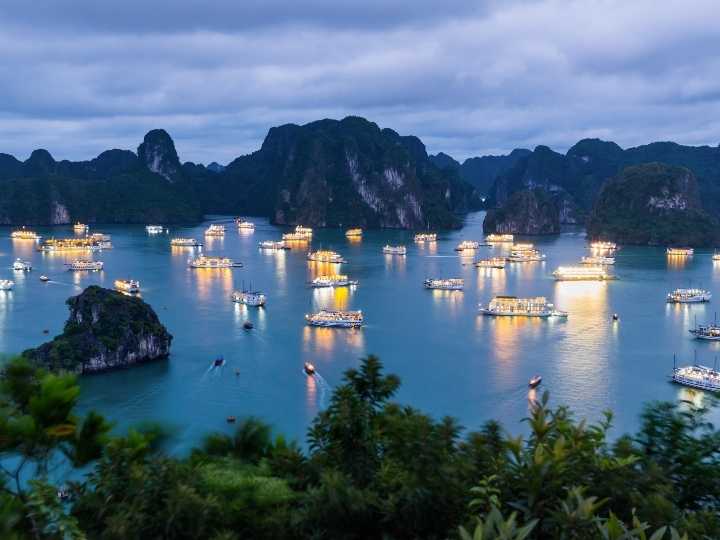 You can also do this for one or two days but I feel like it feels incomplete. When you are on this cruise, you can also do water activities like kayaking and hiking. There are even Vietnamese cooking classes on board!
👉🏽 Check prices and availability for Halong Bay Cruises
Ba Na Hills (Golden Bridge)
This is probably the most impressive structure I've seen in my life! It's always full of people so just full disclosure, we deleted the people in the photo below via Lightroom. 🙂
There are many ways to visit Golden Bridge but you can just for for a day trip, full-day tour, or lunch. This is something you shouldn't miss in Vietnam!
👉🏽 Check prices and availability for Golden Bridge tours
Essential Vietnam packing list
Before traveling to Vietnam, I never knew that there are some parts of the country that is extremely cold. I always thought of Vietnam as a tropical country (as we see on Instagram) but when I went to the north, I suffered a lot with the cold!
Good thing there were many cheap shopping places in Hanoi where I was able to buy decent coats and winter clothing. Of course, always bring summer clothes like bikinis, shorts, and flip flops.
But the most essential that we always forget are hiking boots and lightweight waterproof jacket. I feel like this is the essential and all the rest, you can decide depending when you will visit.
Also make sure to pack light and use a backpack when traveling to Vietnam. It will be very hard to roll your luggage in Vietnam or carry them – this is not a luggage country!
Vietnam solo travel tips
Check if you can travel Vietnam
We live in super crazy times but traveling Vietnam is still possible. At the moment, Australians, Americans, Canadians, and British people are allowed to travel Vietnam.
For other nationalities, make sure to get in touch with the consulate to make sure you can travel to Vietnam. Also note that COVID travel rules can change in a matter of hours so keep yourself updated. I know it's frustrating but what can we do?
Get travel insurance that covers COVID
For one month in Vietnam, I only paid $40 USD for travel insurance that covers COVID. Never travel to Vietnam without insurance as you don't know what can happen.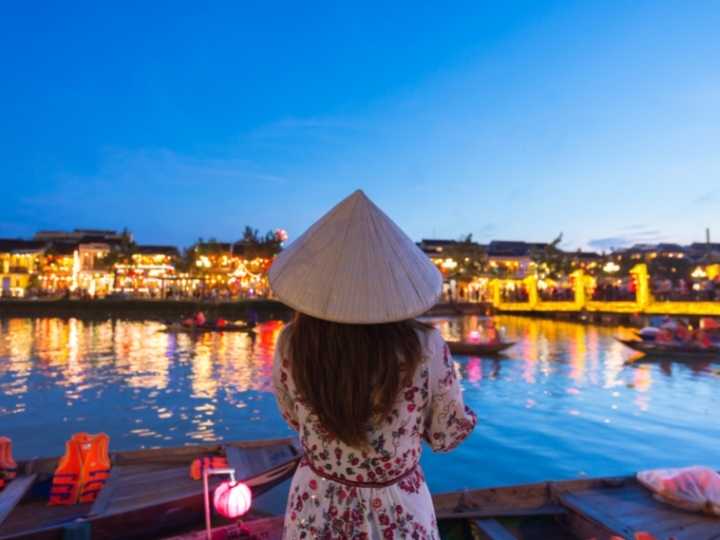 Volunteer
One of the best experiences you can have in Vietnam (and also what will save you a lot of money) is to volunteer. I've volunteered in many countries abroad and have gained many different experiences because of this!
I use Worldpackers to find volunteering jobs in Vietnam. You can also use my discount code PSIMONMYWAY10 to get $10 USD off for your one-year membership!
Get an international bank account
My bank accounts in the US and Europe always work well when I am traveling but I always lose money from conversion rates.
I've signed up with Wise, an International bank account that has better conversion rates. You can even take your money out in Vietnamese dong with high conversions!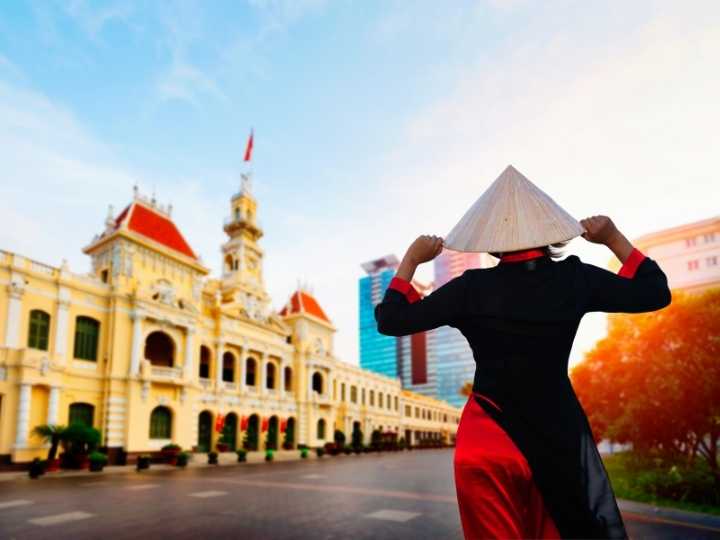 Street food in Vietnam
Know yourself. Street food in Vietnam is one of the best in the world. In fact, there are many Michelin-star street food carts here that are worth trying!
But if you have a sensitive stomach, don't do it. I never got food poisoning in Vietnam but since I travel often, I am super immune with street food.
Consider your source
Only take advice about Vietnam solo travel from people who have already been. Sure, you can read the news but it's still best to gain insights from people you know who have actually traveled to Vietnam.
For me, personal experiences are still my basis in deciding to travel solo to a country. Thankfully, I Couchsurfed for many years in my life and have gained a global chain of contacts whom I can rely on!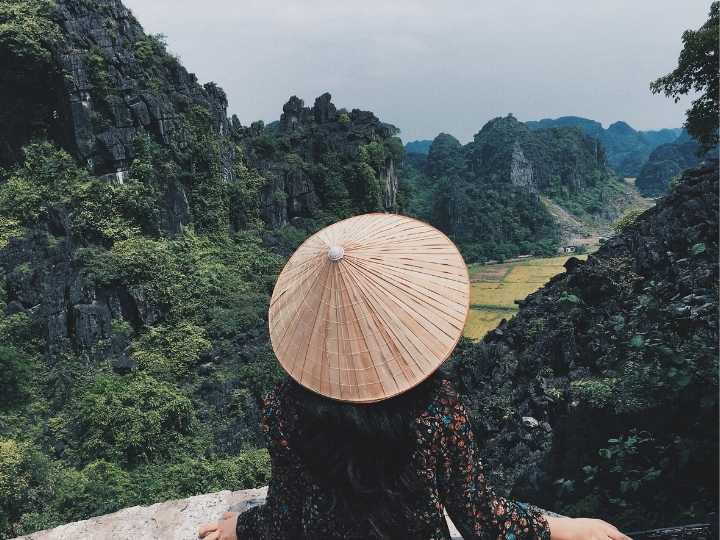 Trisha is one of those people who left their comfortable life to travel the world and learn about life. Her style is to stay in one place she likes for 3 months (or more) to know what it feels like to eat, cook, speak, and sleep in another culture that isn't hers. She'd like to believe she's not traditionally traveling but she just chooses to be somewhere else all the time. In no particular order, her favorite cities in the world are Barcelona, Buenos Aires, Hong Kong, Mexico City, and Tel Aviv.