Solo female travel in Wanaka, and all of New Zealand for that matter, is incredibly safe. You don't need to worry about pickpockets or walking alone at night. Honestly, the most dangerous thing in New Zealand is getting injured on a hike. That said, below I've listed a few tips solo female travelers can use to stay even safer in Wanaka.
Is solo female travel in Wanaka, New Zealand safe? ABSOLUTELY! Wanaka is a charming town nestled at the base of the Southern Alps.
This once little-known town exploded in popularity when photos of #ThatWanakaTree and Roys Peak went viral on Instagram. Despite the increased popularity, I still love Wanaka.
You'll find cute shops and amazing hiking, friendly locals, and great vibes. In this post, you'll find my recommendations for what to do, where to stay, and tips for safe solo female travel in Wanaka. Let's get adventuring!
Is New Zealand open for tourism?
At the moment, New Zealand is a country that is hard to visit. In order to get to New Zealand during COVID, you need to request permission to enter and you can only be granted entry if you are traveling for an emergency (i.e. death of a family member). New Zealand citizens and permanent residents are of course exempted.
On April 19, 2021, New Zealand and Australia started a 'bubble' where citizens of both countries can travel freely without undergoing a 14-day quarantine. Clearly, because of COVID, it's impossible to travel to New Zealand right now but bookmark this page and save it for later!
How safe is Wanaka?
Solo female travel in Wanaka, and all of New Zealand for that matter, is incredibly safe. You don't need to worry about pickpockets or walking alone at night.
Honestly, the most dangerous thing in New Zealand is getting injured on a hike. That said, below I've listed a few tips solo female travelers can use to stay even safer in Wanaka.
Is New Zealand safe for solo travel?
New Zealand is an incredibly safe country. In the 2020 Global Peace Index, New Zealand ranks the second safest country in the world, next to Iceland.
Based on my personal travels there, the Kiwis are very friendly and are always welcoming to tourists. Some can't even believe that I was traveling there since New Zealand is not really a popular destination.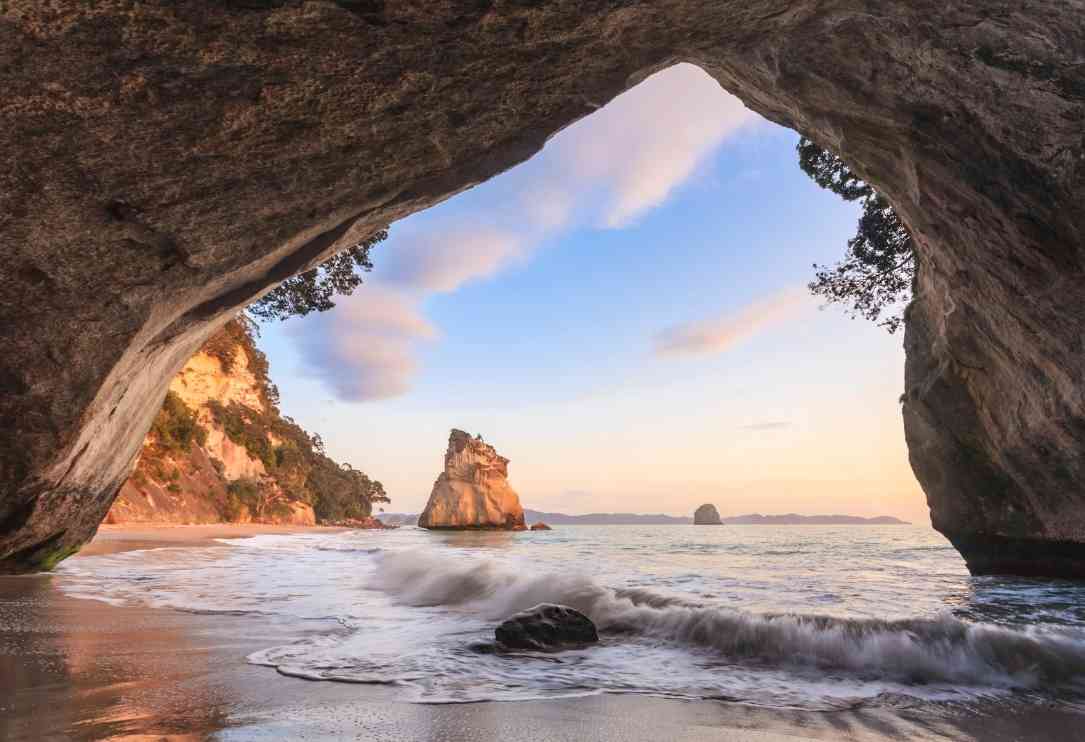 Unfortunately, in 2020, the news shocked the world when British backpacker Grace Millane was murdered in New Zealand. This is the first time that something big like this happened in New Zealand considering they are the second safest country in the world.
The New Zealand government did everything and put this case on high priority to give justice to Grace Millane's death. Things like this happen everywhere and this shouldn't be our basis on looking at the safety of a place/destination.
In the next sections of this solo female travel in Wanaka guide, I will share some safety tips and how you can travel solo to New Zealand with confidence.
Do I need a visa to go to NZ?
It depends on your citizenship. A citizen or resident of Australia and the UK can stay up to six months visa-free.
If your country is part of the visa waiver agreement, you can stay up to 3 months but you have to apply for a New Zealand ETA visa, an electronic visa waiver, introduced in July 2019.
It's best to check with the Embassy in your country to avoid hassles when traveling to New Zealand.

Solo female travel in Wanaka guide: safety, costs, and everything you need to know
Best things to do in Wanaka, New Zealand for solo travelers
While living in New Zealand, I visited Wanaka many times and tried a lot of activities. Some were classic tourist activities and others were a little more off-the-beaten-track. I've included my favorites below (to do them all I think you would need three-four full days in Wanaka).
On my New Zealand South Island Itinerary, I have all of these Wanaka activities tagged on a map you can download to your phone.
Hike Roys Peak for Sunrise
No trip to Wanaka would be complete without a hike up the iconic Roys Peak. The monotonous climb up can be challenging, but the views at the top are simply spectacular.
I strongly recommend hiking Roys Peak for sunrise – it will easily be one of the best mornings of your life. (Just bring a headlamp and some mittens because the hike up is dark and cold.)
Hike to Rob Roy Glacier
This half-day (4-5 hour) hike in Mount Aspiring National Park is an hour from Wanaka and offers stunning views of the glacier and a 600 m waterfall.
While long, the trail is relatively flat (meaning it isn't too challenging). Often out of cell phone coverage, I don't recommend doing this hike alone.
Swim at the Blue Pools Track
Blue Pools Track is another great hike in the Wanaka area, which takes you through lush beech forests and over swing bridges high above the bright blue, glacially-fed Makarora River.
Toward the end of the track, there is a great swimming spot (it's super cold though). The trailhead is a one-hour drive from Wanaka.
Shop at the Wanaka Artisan & Craft markets
During the spring, summer, and autumn, on Thursday afternoons Wanaka hosts the Artisan Market downtown where you can find everything from cute pottery mugs to homemade bread and jam to organic skincare products.
On Sunday mornings it's the Craft Market where you can find lots of art made by local artists.
Kayak or Paddleboard on Lake Wanaka
There are kayak and paddleboard rentals along the beach of Lake Wanaka (across from the main street). You can rent them for a few hours and take them out on Roys Bay (a section of Lake Wanaka).
The lake itself is huge, so be careful how far out you go. The lake can get windy and you don't want to need rescuing!
Wanaka Lavender Farm
The Wanaka Lavender Farm offers wonderful fields of beautiful lavender (the perfect backdrop for the 'gram) but also features farm animals, a cute tea and ice cream shop, and lavender-infused products for sale.
Depending on the time of year, the price is between $5 and $10 for an adult.
Visit #ThatWanakaTree
Some will call it touristy and others will say it's cliche, but how can you visit Wanaka without checking out this iconic tree? It can get busy, especially at sunset when all the professional photographers are out.
I found the early morning to be the best time for avoiding crowds while still getting beautiful lighting. That said, the crowds tend to be very respectful so it's fairly easy to get some nice photos without people in the way at any time of day.
My favorite sweets: Ice Cream at Patagonia Chocolates
I have no shame in admitting I came here for ice cream almost every day (sometimes twice per day). My favorite flavors were mint chocolate and Dulce de Leche.
And I'm not usually one for fruity flavors, but the raspberry and lemon flavors were incredible. They also have fancy chocolates and really good coffee.
My favorite drinks: Cork Bar
This was such a fun bar to come to for drinks. If you like gin & tonic, they have an extensive G&T menu – it's almost overwhelming how many options there are.
The bartender asked me a few questions about flavours I like and then made three drinks for me to try over the course of the evening.
The cheese platter is also delicious. The dark lighting and individual tables don't make it too conducive to meeting other people, so I'd recommend bringing a friend or two you've met at your hostel or on an activity.
My favorite meal: The Big Fig
I don't eat out much when traveling, but I did really enjoy The Big Fig. The restaurant is right across the road from Lake Wanaka and perfect for a quick lunch on the move.
They serve delicious, though relatively healthy, food (I had a meatball dish that was really tasty). Oh and the lattes are very good and beautifully decorated!
Wanaka travel and safety tips for solo female travelers
Keep your phone charged and carry a charger and power bank
I always recommend carrying a charger and power bank whenever traveling alone. Not only is it helpful for navigation, but you can also contact your hostel/hotel should you get lost.
I use a solar power bank (you don't need to charge it!) that's also waterproof and comes with a port dual flashlight and a compass. It's really a great device to have when you're traveling solo!
Save your hostel/hotel/hosts number in your phone
Having a charged phone is great, but if you don't know who to call when you need assistance then it doesn't do too much good! I like to save phone numbers so if I find myself lost I have someone to contact.
Avoid hiking alone
Don't schedule hiking as your first adventure in Wanaka. Arrive at the hostel, get chatty with the other travelers and ask if anyone is planning on doing the specific hike.
You'll likely find at least one other person interested in joining you. Roys Peak and Blue Pools Track are popular enough you would be fine going alone (there will surely be other people on the track).
But if you are doing a lesser-known hike, best not to do it alone as there isn't always cell phone service.
Be careful walking alone at night
I never felt unsafe walking alone at night. That said, I always had a fully charged cell phone with me and I didn't walk around with headphones in. Just like at home, be alert and attentive but there's no need to avoid walking alone outside at night.
Avoid driving at night
Specifically, avoid driving on highways in between towns at night. The winding roads don't always have cell phone service. This means if something happens to your car (like when I blew a tire on a mountain road at night) you have no way of calling for help.
During the day there is enough traffic that, should something happen, it wouldn't be long before someone drove by. At night, however, the roads are much less busy and you could end up spending the night in your car (like I had to!).
Get travel insurance that includes COVID-19
We are living in different times and a common mistake for solo female travelers is not getting travel insurance. I use SafetyWing and I only pay $40 USD a month for travel insurance.
It covers lost luggage, delayed flights, and emergency medical assistance while you're traveling. If you also want global health insurance, they also offer that. As a 30+ old, I got a quote for only $250 USD a month.

Where to stay in Wanaka: female-friendly accommodations
Hostels in Wanaka
I didn't personally stay at any hostels while I was in Wanaka (I preferred camping and Airbnbs). According to my friends, however, Wanaka Bakpaka and Mountain View Backpackers are both very nice.
They're both very similar except that Mountain View offers security lockers whereas Bakpaka has a better view of the lake. Both have cozy common areas and an outdoor terrace for meeting people.
Wanaka Bakpaka (what a witty name!) is the highest-rated by solo travelers in Wanaka. You'd want to stay here because the whole hostel has a great view of the lake – even the shower!
There's also parking for those who are traveling by car. The beds are super comfortable and the shower has great pressure! Hot water a plus!
➢ Click here to see prices and availability at Wanaka Bakpaka
This hostel has a view of Wanaka Lake and is as cozy as Wanaka Bakpaka. I loved the kitchenette in the dorm, which is a feature I don't see in a lot of hostels.
The beds are super comfortable and there are lockable cupboards with charging ports in every bed. The staff are super-friendly and are always suggesting activities for the day.
➢ Click here to see prices and availability at YHA Wanaka
Campgrounds
There are a few campgrounds around Wanaka, my personal favorite being Glendhu Bay Motor Camp. You can pitch a tent next to your car and have some views of Lake Wanaka.
While you'll be completely safe here, camping solo around strangers isn't for everyone, and if this is something you wouldn't be comfortable doing the stay at a hostel or Airbnb instead.
Airbnbs
Airbnbs became my favorite place to stay in New Zealand. You get to see inside the homes of locals (they are often gorgeous!) and learn about Kiwi life.
My favorite family I stayed with within Wanaka is no longer on Airbnb unfortunately, but there are tons of other nice options.
If your budget allows, I recommend not choosing the absolute cheapest one. The mid-tier Airbnbs come with a lot more privacy and amenities. Read the reviews and prioritize friendly hosts – they're what make the experience so nice!
The best way to meet people in Wanaka
Honestly, of all the countries I've visited, New Zealand has been the easiest for meeting new people. Both locals and fellow travelers are so warm and welcoming.
Bars and cafes
While Cork Bar isn't the most conducive to making friends, there are plenty of bars and cafes around the town. I find it easiest to make conversation with other women who look like they're also traveling solo.
Try asking the woman sitting next to you if she recommends anything on the menu or ask her what drinks she's having if it looks good. Small talk can be hard, but it's the gateway to conversation and, ultimately, making new friends!
Stay at Hostels
If you want to meet other travelers, your best bet is to stay at hostels. If you want to do some lesser-known hikes or go to bars, staying at a hostel is great because it introduces you to people who want to do similar activities to you.
Stay at Airbnbs
On the other hand, I loved staying at Airbnbs because I met a lot of Kiwis and learned so much about life in New Zealand. Locals often have great recommendations for things to do that are off the tourist radar.
And all the hosts are incredibly nice! One of my Airbnb hosts just outside of Wanaka lent me her bike so I could check out a beautiful lake nearby.
Chat with other solo female travelers at Wanaka's hot spots
When you're taking pics of the Wanaka Tree or at the lavender farm, hiking up Roys Peak, or grabbing ice cream at Patagonia keep an eye out for other solo female travelers.
If you see someone, strike up a conversation with them. Sometimes it won't go anywhere, but other times you'll get talking and realize you both want to do some activity.
I hope I've convinced you a trip to Wanaka will be incredibly fun and incredibly safe. Reach out if you have any questions about planning your trip!
Mikaela is the voice behind Voyageur Tripper, a blog dedicated to Outdoor Adventure Travel. She lived on the South Island of New Zealand for six months – paddling, hiking, and eating her way through its stunning landscape. Back home in Canada, Mikaela balances a full-time career in consulting with outdoor adventures in the wilderness. She is passionate about whitewater canoeing, arctic travel and renewable energy.