There are many things to do in Singapore and every time I visit, I make sure I always ask my local Singaporean friends about the best activities apart from the attractions!
📬 Reader Mail: I love your Instagram, Trisha! I came across your blog while looking for things to do in Singapore and your stunning SG photos were the first ones that appeared.
I believe your pictures were used for an Airline campaign. Anyway, it seems like you have lots of content in Singapore but what are the best things to do in Singapore other than the Marina Bay Sands and Gardens by the Bay?
Thank you for your amazing content! It's really aspirational.
-Gabrielle Kashiwagi, Australia
Many people label Marina Bay Sands and Gardens by the bay as the top things to do in Singapore. However, is there anything else? ABSOLUTELY!
I have to be honest here: I've been to Singapore a lot of times but this is the first time I am doing all the things in this list. I used to have this idea that things to do in Singapore do not exist.
What's different about this last trip? I was with locals. My friends @seathebreezee, @yeahyuze and @j9ryl (yes, we refer to them with their Instagram handles) are true blue Singaporeans who gave me an exclusive peak to the best things to do in Singapore.
The best things to do in Singapore
#1: Supertree Grove at Gardens by the Bay
Located at Gardens by the bay, the Supertree Grove is one of the most awe-inspiring manmade structures that has become iconic of Singapore.
In total, there are 18 supertrees that have over 100,000 live plans installed on it. I have no idea how they did this but the way Singapore's considered environmental sustainability is impressive.
These Supertrees can store energy during the day so they will not consume a lot of electricity on its nightly Garden Rhapsody shows.
For more content like this, check out my Singapore guide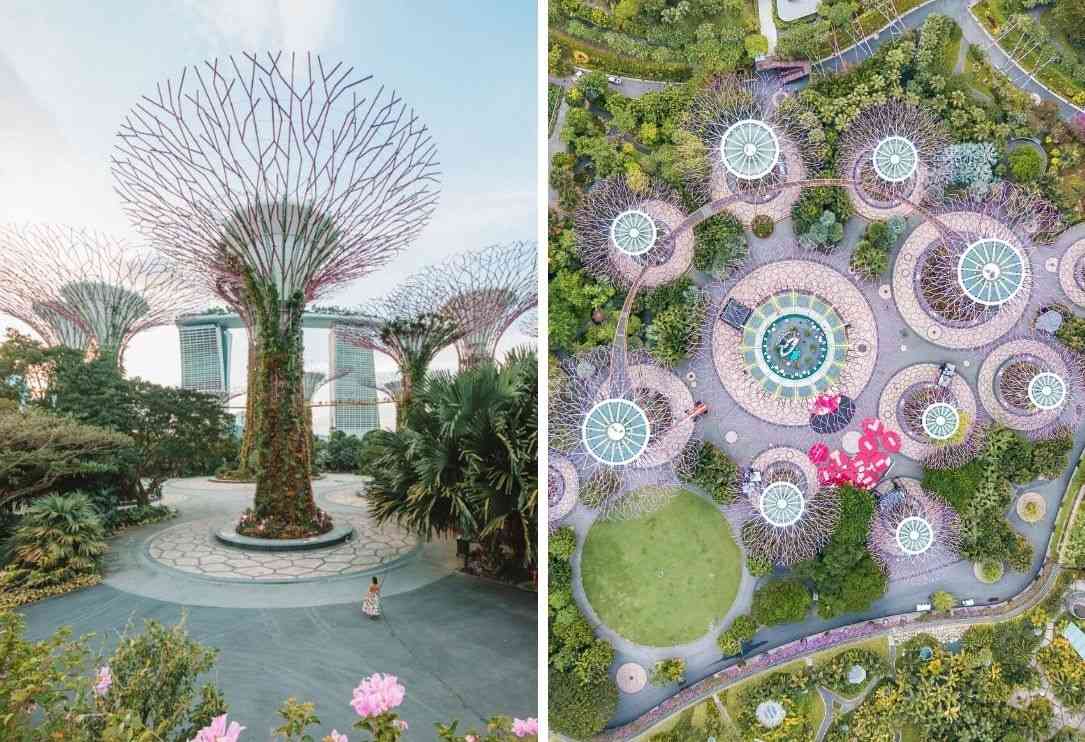 Don't miss the magic every 7:45 and 8:45 pm, both 15 minutes shows as the Supertrees comes to life with a fantastic show of lights.
There is no fee to visit the Supertree Grove at Gardens by the bay, however, if you are going to visit the OCBC Skyway, you will need to purchase tickets.
A combo Gardens by the Bay and OCBC skyway ticket starts at $23 USD per person. Included sights in this price are Gardens by The Bay, the Flower Dome, Cloud Forest, and OCBC Skyway Ticket.
👉🏽 Check prices and availability for Gardens by the Bay and OCBC skyway ticket
#2: Cloud Forest at Gardens by the Bay
Also located in Gardens by the bay, the Cloud Forest is literally the top thing to do in Singapore – I can't believe I did not do this before!
It was really interesting for me to go here because I've seen diverse vegetation and floral gems. I'm a plant lover myself and I couldn't help but be amazed by the plants that were here. I kept wondering how Singapore is able to sustain such a thing!
Similar to the Supertree Groves, the Cloud Forest has also considered the environment when it comes to the structure. Solar panels, a proper water system, and effective electricity conservation are some of the things that guarantee a construction like this are not harmful to the environment.
Inside, you will learn how Cloud Forests all over the world are essential life resources to nearby communities, countries and even continents.
They also have a lot of educational tips on how we, humans, can stop global warming and climate change. Towards the exit, there is also a film showing the prediction of what the world would look like in 2040.
It was interesting and sad at the same time because it is true – only us humans have the capacity to stop this and we must act now.
👉🏽 Check prices and availability for Cloud Forest Singapore
#3: Cheap food trip at Chinatown Singapore
We all know that Singapore is an expensive country, so much that it hinders some of us to visit. If you are on a budget, Chinatown in Singapore is the best area for you.
Hostels are really cheap (from $25 SGD = $18.43 USD) and the maze of food streets are definitely affordable! A Chinatown night tour with dinner, trishaw ride, and boat ride, prices start at $70 USD per person.
👉🏽 Check prices and availability for Chinatown night tour
#4: Take a stroll at Haji Lane
Haji Lane is considered one of the coolest neighborhoods in Singapore where all the cool kids hang out. My local friends always bring me here and introduce me to a bunch of people.
Unique restaurants and coffee shops parade the whole Haji Lane and the street art is will make you feel you're in another world. It's so dynamic and full of creativity!
#5: Marina Bay Sands
When it opened in 2010, it became the world's most expensive casino property at $8 billion SGD ($5,887,980,800 USD) including the land cost. My friends and I took photos at night and the light always plays differently.
The Marina Bay Sands is a luxury hotel fronting Marina Bay in Singapore. It has become one of the icons of the country where many photos you see on Instagram were taken.
#6: Visit the Masjid Sultan
Get to know the rich Islamic culture of Singapore by visiting the Masjid Sultan.
In this area, you will also find a lot of Middle Eastern cuisine – Turkish, Pakistani, Iraqi, etc and they're all freaking interesting!
#7: Eat, eat, and eat!
Singapore, for me, has one of the richest cultures when it comes to food. From the Chinese and Malay influences, explore the best of food fusion by tasting the great collective customs of Hawker food in Singapore.
#8: Stunning views aboard the Singapore Cable Car
Onboard the Singapore cable car is where you can get the best 360-degree views of the city! This ride starts in Mount Faber on mainland Singapore and goes all the way to Sentosa (okay, Sentosa is on another island and you'll see more of this as you go through this list).
You will also see the world's largest cable car cabin made out of Lego! Sentosa cable car sky pass ticket starts at $17 USD per person.
This is a 2-way cable car ride for both Sentosa and Mount Faber lines. These cabins are super spacious and it's also wheelchair and stroller-friendly!
Cable car hours were changed due to ongoing COVID-19 virus preventative measures. As of April 2020, it runs from 8:45 AM – 8:30 PM. Your ticket is valid for the whole day so take your time and take the ride whenever you want!
P.S. The sunset colors are amazing!
👉🏽 Check prices and availability for Sentosa cable car
#9: See SG from the Marina Bay Sands 57th floor
Everyone knows that the most iconic of Singapore is the Marina Bay Sands but very few people know about the observation deck on the 57th floor is open to the public!
Save precious time with a skip-the-line entrance ticket to the Observation Deck at Marina Bay Sands SkyPark on the 57th floor of one of Singapore's most iconic buildings!
The 57th floor is about 200 meters high (approx) and you'll get to see the whole city! I went up twice (one in the morning and another in the evening) and the night climb was my favorite!
Most city skylines are clearer at night though it's harder to take pictures with your mobile phone.
The Marina Bay Sands observation deck ticket $16 USD and is valid for 6 months upon purchase online. I recommend you buy online so you'll skip the line.
Lines are always long but there's a special window for those who purchased tickets online. All you have to do is present your voucher that comes with a QR code and you're in!
👉🏽 Check prices and availability for Marina Bay Sands observation deck ticket
#10: Visit the SEA aquarium, the largest in the world
The SEA Aquarium in Singapore is the largest aquarium in the world so don't forget to put this on top of your things to do in Singapore list.
It is home to 49 different living species and has different interesting areas such as the Touch Pool and the Maritime Xperiential Museum.
My favorite is the underwater realm that features over 100,000 marine creatures! There is also a 360-degree 4D multi-sensory shipwreck simulation enhanced by special effects at the Typhoon Theatre. All the areas in the aquarium are unique and a joy to visit!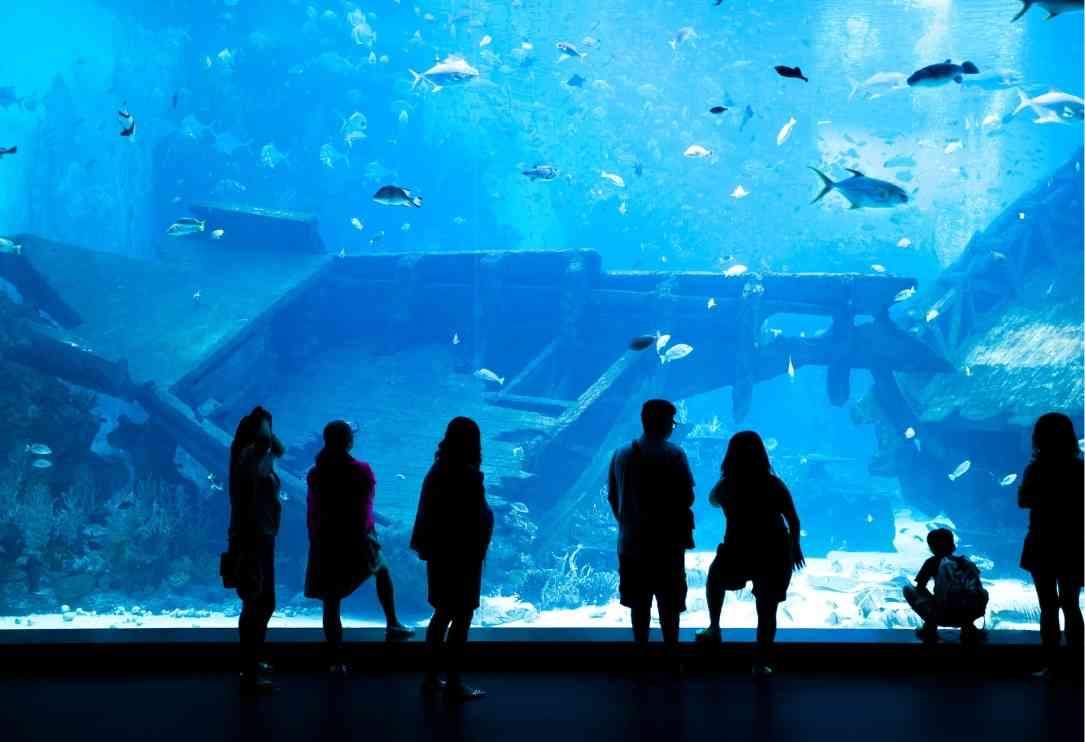 Singapore has always proven itself to be the best destination for families (and traveling with kids) so if you're a parent, you and your kids will definitely enjoy this place!
The SEA Aquarium entrance ticket starts at $26 USD per person. I am not sure about the price for kids but I think it's the same as adults (or could be cheaper). The price here is just to give you an idea of the estimate. Better purchase online to skip the lines!
👉🏽 Check prices and availability for SEA Aquarium ticket
#11: Unlimited beer tasting at the Tiger Brewery
Produced by Heineken Asia Pacific, Tiger Beer is Singapore's most popular beer brand and is iconic to the country. The world-renowned Tiger Brewery tour is very popular with groups traveling to SG.
In this tour, you'll be able to do unlimited beer tastings and get to see how they are produced. This only costs $12 USD and the tour lasts for 45 minutes.
All you have to do is purchase your tickets online and go straight to the Tiger Brewery at 459 Jln Ahmad Ibrahim, Singapore.
👉🏽 Check prices and availability for Tiger Brewery tour
#12: Go on a river cruise
Singapore may be very urban but very few people explore its waters. Like Hong Kong, this city also offers Singapore River Cruise.
Explore the city's many iconic landmarks through a bumboat, a small boat used to ferry supplies to ships moored away from the shore.
According to Wikipedia, the name comes from the combination of the Dutch word for a canoe—"boomschuit", and "boat". Of course, Singapore is famous for building environmental-friendly technology so this boat is electric.
We are familiar with the Singapore landmarks because they are really well done but what do we know about it? In this tour, you will finally get to know stories of how the Esplanade (Marina Bay Sands) is made.
The guide will also be very articulate about The Marina Reservoir, the river that gave Singapore life. Cruise starts at $16 USD per person and it lasts for 40 minutes.
If you buy tickets online, the meeting point is at Singapore River Cruise, Clarke Quay Counter, 30 Merchant Rd, Singapore, opposite Hooters.
👉🏽 Check prices and availability for Singapore River Cruise
#13: Spend a day in Universal Studios Singapore
Fit for all ages, Universal Studios Singapore (USS) is a definitely fun activity! I have to be honest, this is not as appealing as Universal Studios Japan (USJ) but it's still good to see both to compare.
The whole day pass to Universal Studios Singapore starts at $55 USD and this will give you access to 24 rides, shows, and attractions in seven themed zones.
In my experience, buying online vs buying at the site is both easy. I did buy my tickets online and they did accept my paperless voucher. I had to go to one of their printing offices and pay the printing costs.
👉🏽 Check prices and availability for Universal Studios Singapore
#14: Dine in the world's highest alfresco bar
This is sort of a fancy activity but it's definitely worth including in your list of best things to do in Singapore. After all, this city has a very lavish lifestyle so why not spend a little?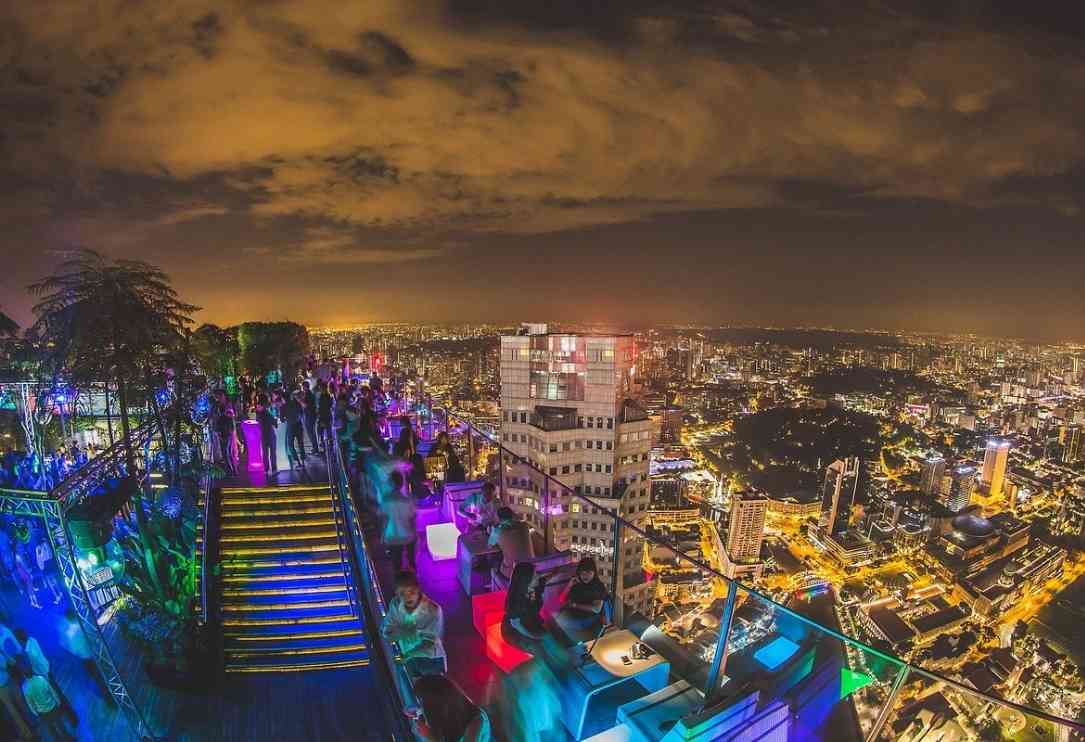 Located at the top 3 floors of the One Raffle Place, 1-Altitude is the pioneer of Singapore's multi-concept dining experience. They also have super cool parties every now and then with DJ sets.
If you don't want to dine, the 1-Altitude entrance fee starts at $18 USD per person. In this tour, you will get to enjoy panoramic views of Singapore from its highest point.
#15: Singapore Pub Crawl
This might be your best option for things to do in Singapore if you are traveling alone. On your first day in Singapore, you will realize how expensive it is to go to clubs (and everything else) so much that it is discouraging to spend some $100 SGD for a night out. However, there are a lot of cheap ways to explore Singapore's nightlife and my best recommendation is Singapore pub crawl!
This is a guided "tour" where you'll get to spend the night with a group of people from all over the world. It's best for solo travelers who are looking for great company!
This tour starts at $22 USD and with this amount, you will get to visit 4 bars and 1 club! In my experience, this is sufficient for one night of partying and it doesn't cost much!
The best things to do in Singapore: save it for your trip!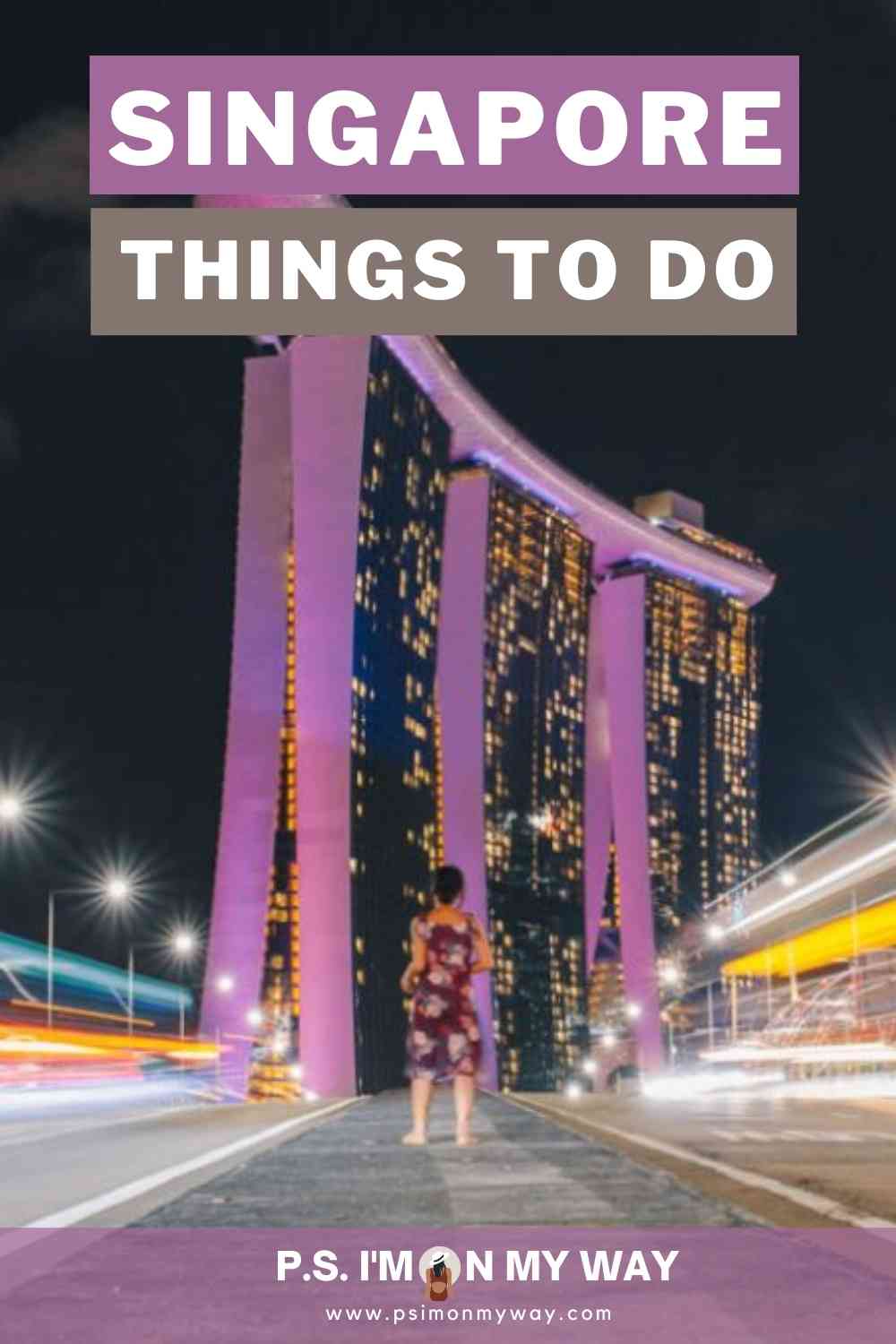 Trisha is one of those people who left their comfortable life to travel the world and learn about life. Her style is to stay in one place she likes for 3 months (or more) to know what it feels like to eat, cook, speak, and sleep in another culture that isn't hers. She'd like to believe she's not traditionally traveling but she just chooses to be somewhere else all the time. In no particular order, her favorite cities in the world are Barcelona, Buenos Aires, Hong Kong, Mexico City, and Tel Aviv.