I had the pleasure of living and experiencing life in Saigon for two months as I taught an English summer camp in the heart of the city. Before arriving, I'd heard nothing but glowing reviews of Vietnam, and I was anxious to experience solo female travel in Ho Chi Minh City for myself!
Reader Mail: Hi Trisha! I followed your Southeast Asian adventures in 2011 and I was super amazed on how you are still traveling up to now! I am starting my solo female travel in Ho Chi Minh and will go all the way to different SEA countries. I know you are an expert on this but I'd love to ask some questions! Is it safe? What are your essential tips? I hope you'll get to answer this question! More power to your blog!
– Annika, USA
Hi Annika,
I am glad you choose Vietnam for your solo female travel escapade! I love Ho Chi Minh and it's one of the countries I've visited more than once. I have a lot of articles about Vietnam but in this post, I invited a fellow solo female traveler who has experience in Ho Chih Minh.
Brittany Varano runs the blog Life of Brit where she shares her adventures as an American woman traveling solo. If you have more questions, please feel free to reach out with me via Instagram, @psimonmyway.
Good luck and I hope you make it to HCMC! Now I give the floor to Brit.
Xx,
Trisha
Ho Chi Minh City, also known as Saigon, is Vietnam's bustling capital in the south. Home to a dark yet fascinating history comprising of French colonization and the Vietnam War, today it's a modern hub in the country where the traditional and new collide.
I had the pleasure of living and experiencing life in Saigon for two months as I taught an English summer camp in the heart of the city. Before arriving, I'd heard nothing but glowing reviews of Vietnam, and I was anxious to experience solo female travel in Ho Chi Minh City for myself!
It didn't take long for me to fall in love with life in Saigon. The city has a lively and vibrant ex-pat scene making it so easy to make friends, an abundance of insanely delicious street food, and an affordable and straight-up fun standard of living.
But before I knew it, my two months in Saigon were up, and it was time to say goodbye to my lovely little life in Vietnam. Now I'm here advocating all my fellow solo female travelers – Ho Chi Minh City is worth the hype, and I have a feeling you'll fall in love just like I did!
Is Vietnam good for solo travel?
Southeast Asia is one of my top recommendations for solo trips for women because of its super-friendly environment. The Vietnamese, though with very limited English, are very kind and warm. I always feel that I am taken care of when I am in Vietnam!
There are also lots of places to visit in Vietnam, you'll never run out of options! Vietnam is also a very cheap country so your travel budget will go a long way here!
Is Vietnam cheaper than Thailand?
Ho Chi Minh City is 24% cheaper than in Bangkok. Thailand is more touristy than Vietnam so you'll enjoy solo female travel in Ho Chi Minh for a cheap price! There isn't a big difference between these two countries though. In terms of street food or dining out, their prices are pretty much the same.
I do feel that accommodation in Thailand is more expensive than in Vietnam. But overall, the price difference is not that big.
View this post on Instagram
Is Vietnam safe for solo travelers?
Yes, absolutely! As a solo female traveler who lived and traveled HCMC for two months, I never felt unsafe or bothered while walking around alone. Vietnamese people are generally quite friendly and often go about their own business.
Plus, there are so many local expats and backpackers who frequent the city, so you don't have to worry about being the only foreigner around.

Solo female travel in Ho Chi Minh City: safety tips, where to stay, things to do, and more!
Best things to do in Ho Chi Minh City for solo travelers
#1: See the Classic Ho Chi Minh City Attractions
As with any new travel destination, visiting the main tourist attractions is a must! Some of the best things to do in Saigon include:
Snapping a pic in front of the Tan Dinh Pink Church.
Sending a postcard from the Old Post Office.
Marveling at the French-built Notre Dame Cathedral.
Seeing the bright yellow City Hall and the historic Ho Chi Minh Statue.
Taking a tour of Independence Palace to learn the Vietnamese side of history.
Visiting the Jade Pagoda and Buu Long Pagoda.
#2: Have a night out on Bui Vien
Bui Vien Street is Ho Chi Minh's crazy backpacker street and where the action happens as the sunsets. Here you'll find the best hostels to meet fellow solo travelers, fun bars and clubs, and delicious food.
#3: Eat street food and buy souvenirs at Ben Thanh Market
Ben Thanh Market is one of the city's oldest surviving landmarks and hosts a local market selling various wares and goodies. At night the market transforms into a street food fest where you can sample many Vietnamese classics.
#4: Explore HCMC's Chinatown in District 5
In District Five, you'll find Ho Chi Minh City's colorful Chinatown and more fantastic Saigon sightseeing opportunities! Be sure to check out Thien Hau Temple and Binh Tay Market and sample some delicious dim sum at Tien Phat Dim Sum.
#5: Grab a coffee in the picturesque Cafe Apartments on Saigon's Walking Street
An apartment complex that once housed US military personnel during the war and then Vietnamese officers after the war, today you'll find only cute and trendy boutique shops, cafes, and restaurants. After you take a stroll along Saigon's famous Nguyen Hue walking street, stop for lunch or a cup of coffee at the Cafe Apartments.
#6: Go to the top of Bitexco for sweeping city views
The Bitexco Financial Tower is a hallmark of Ho Chi Minh's skyline and once held the title as the city's tallest skyscraper. At the top of the building's 68 floors, you'll find the Bitexco Skydeck, an observation platform open to visitors. Entry is 200,000 VND (about $8.50 USD).
Pro tip: Visit the Eon Heli Bar located one story below the observation deck instead. Here you'll pay about 210,000 VND for a cocktail, and you'll get to enjoy similar city views while sipping a cocktail!
#7: Go on a food tour of the city's best eats.
It's no secret that Vietnam has a reputation for killer dishes and street food, so obviously eating all-you-can should be at the top of the list for things to do in Vietnam! There are many organized street food tours you can choose from or opt to hop around yourself!
Some must-try restaurants in Ho Chi Minh City include:
Ban Xeo 46A: Vietnamese seafood savory pancake
Banh Mi 362: classic banh mi chain
Cong Caphe: Vietnamese coffee chain, get the coconut coffee!
Pho Hoa Pasteur: some of the best Pho in the city
Propaganda: trendy Vietnamese restaurant
Be adventurous and visit the local Seafood street market.
Vinh Khanh is one of Saigon's best places for local street food and fresh seafood.
Experiencing street food culture in Vietnam is so much more than just buying food from a street vendor – it's a way of life. In the evenings, massive groups of friends sit at low hanging plastic chairs, sipping Tiger or 333 beer, ordering plate after plate of classic Vietnamese dishes.
I highly recommend trying anything and everything from classic sea snails, large grilled prawns, expertly seasoned clams, fresh crab claws, and more.
#8: Take a day trip to the Chu Chi Tunnels and the Mekong Delta
On the outskirts of the city, lie the Chu Chi Tunnels, a network of underground pathways that were once used by the Viet Cong soldiers during the Vietnam War. The tunnels acted as hiding spots during combat and as a means to transport supplies and messages between fighters.
Today you can take a tour and try squeezing into the tiny tunnels yourself! Tours are often in conjunction with a trip to the Mekong Delta, where you will sail along a maze of waterways set against beautiful green rice paddies and rural villages.
#9: Learn about Vietnam's history at the War Remnants Museum
If you're curious to learn more about the tragic events of the Vietnam War, the War Remnants Museum in District 3 has on display thousands of artifacts and photos sharing the horrific events of a war that should have never been.
The entrance into the museum is 40,000 VND (about $1.70), and it's open daily from 7:30 am – 6:00 pm.
This list only scratches the surface of the many incredible things to do in Saigon! But it's a great place to start first-timers excited to see Ho Chi Minh City's main attractions.
Safety tips and advice for solo female travel in Ho Chi Minh
Alright, so we've already established that solo female travel in Ho Chi Minh City is totally safe and recommended, but there are still a few key things to remember when visiting. You know how it is when you're a solo woman traveling around the world!
Be mindful of how you dress
A standard safety travel tip for women, but just be mindful of the way you dress. Vietnam is a bit of a conservative place, so you may get some stares if you have a lot of skin showing, and you'll also need something that covers your shoulders and knees when visiting temples.
All that to say, I didn't have any problem wearing shorts or tank tops in the city, but I wouldn't push it much farther than that. And you're definitely going to want shorts and some short sleeves because it's a hot place!
Petty theft is common
As safe as I felt in Ho Chi Minh City, petty theft is probably the most important thing to watch out for. You'll want to keep your eyes on your expensive items like your phone, wallet, and bag. Scooter grab and runs and pickpockets are quite common.
The best thing to do is to keep your phone tucked away from the outside world and to avoid wearing any flashy jewelry or expensive things. I would put my phone in the waistband of my shorts, out of my hands and pockets, and it was fine. I also wore a backpack, so it wasn't so easy to grab off of me.
Petty theft is nothing to fear, really just something to know so you can prepare yourself! I never had any personal experience myself of pickpockets or theft, and if you take minor precautions, you'll be all good!
You will get a lot of attention for being different
If you're not Vietnamese, you'll very likely get a lot of attention no matter what you do. It's usually not negative but involves a lot of staring, people interested in chatting with you, and probably requests for photos.
If you've never traveled to Asia before, this can be a very overwhelming experience at first! I know it made me a little uneasy – like why were these people paying so much attention to me? But it gets easier, and a polite firm no is your best tool to avoid photos you don't want to take. And if that fails, confidently walk away.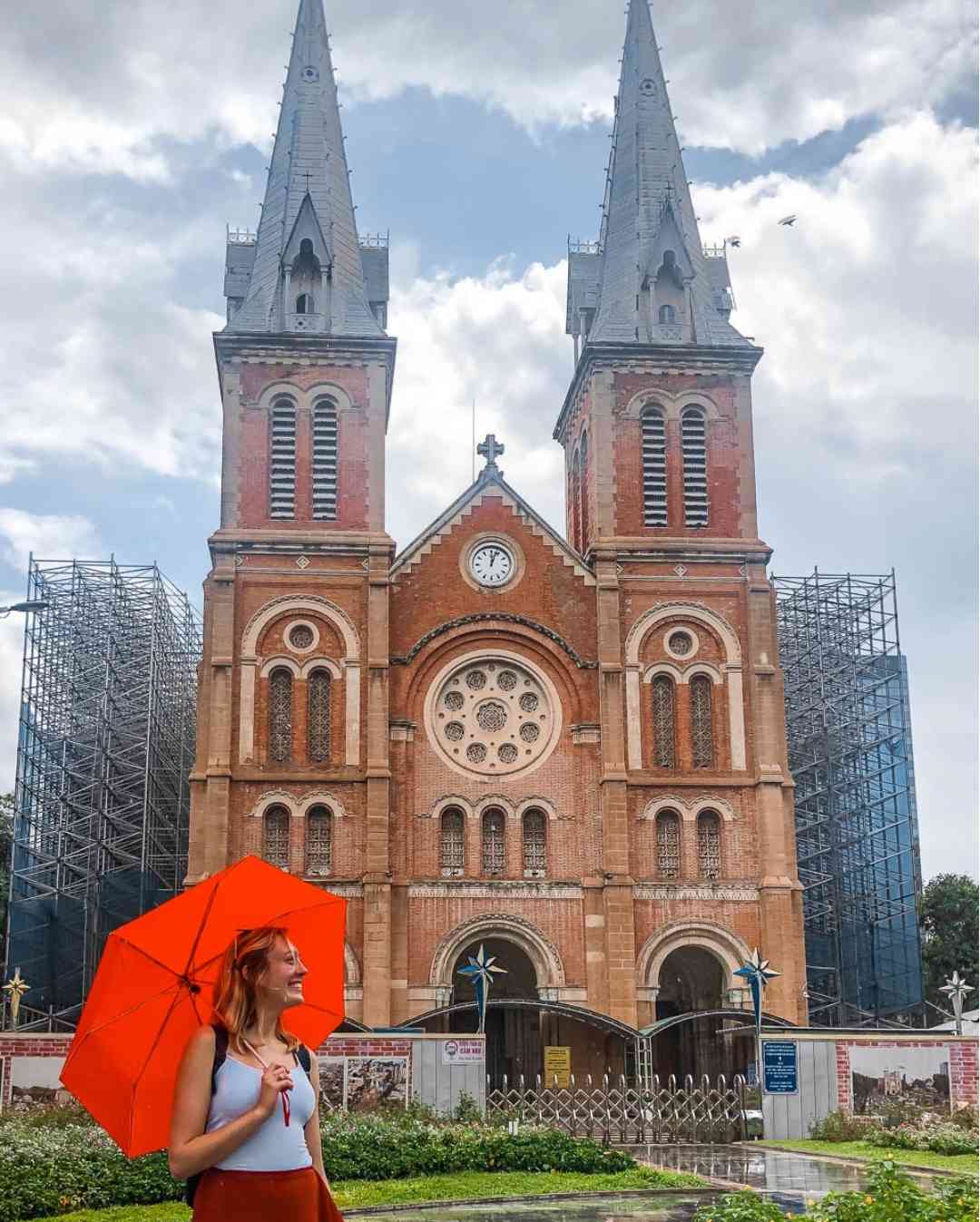 Be careful of taxi scams
A rite of passage while visiting Vietnam is to hop on a Grab motorbike taxi to get across the city. They're exhilarating, extremely cheap, and honestly a little scary at first. The main traffic rule in Vietnam is that there is no traffic rule, creating a chaotic frenzy of bikes on the road!
But just be wary of any taxi scams or motorbike drivers trying to pick you up that aren't your actual driver or from an official company. I recommend downloading the Grab App and using that to book your rides.
The app tells you the driver's reviews and license plate number and lets you share your location with a friend. The drivers also should have official Grab gear, so you know they're legit and safe.
Nights out are ok and super safe
One of the best things to do in Ho Chi Minh City is to indulge in the vibrant night scene on Bui Vien and beyond, and thankfully you don't need to worry about going out as a woman. Just follow standard female safety protocol when out drinking – don't let your drink out of your sight, try to meet friends at the hostel to go out with, and avoid walking alone at night on your way back to the hostel.
Drugs are a big thing in Vietnam too, and you'll probably run into people on the streets offering them to foreigners walking by.
While laws in Vietnam are quite strict against drugs, police tend to look the other way and don't strictly enforce drug laws like in other SE Asian countries. But please be wary, these drugs aren't always what you're told they are.
Accommodations in Ho Chi Minh for solo travelers
Choosing where to stay in Ho Chi Minh City is a daunting task because of how large and spread out the city is. There are 24 total districts/neighborhoods, and each one has its own distinct vibe and list of things to do.
As a tourist, I recommend staying in District 1, 3, or 5. These are the hot spots (1 and 3 are the city center, 5 are close to the center but less crowded and quiet) and will provide the best place to stay in Saigon.
As a long-term solo traveler, I went with an Airbnb that had discount rates for extended stays – but I've heard nothing but wonderful things about The Common Room Project for solo female travel in Ho Chi Minh City.
It's a highly rated place for its chill atmosphere, friendly staff, and social scene. I recommend checking it out while planning your trip to Saigon!
➢ Check prices and availability at the Common Room Project
Chez Mimosa is a clean and bright boutique hotel in District 1 and is located right in the heart of the action. You'll find free wifi, excellent breakfast included, and access to free bikes during your stay. Be sure to get a room with a view of the pretty garden!
➢ Check prices and availability at the Chez Mimosa Petite
Taking inspiration from Italian Renaissance design, The Reverie is one of the city's most opulent and unique luxury hotels. It's conveniently located in District 1 and has an onsite spa, restaurant, and swimming pool! This is the definition of luxury in Ho Chi Minh City.
➢ Check prices and availability at the Chez Mimosa Petite

How to meet people in Ho Chi Minh City
The best part of solo female travel in Ho Chi Minh City is meeting other travelers from all walks of life! And it's actually quite easy to meet new friends here if you know where to look. Here are some tips on how to meet other people in Saigon.
Stay in a hostel
One of the absolute best ways to meet fellow travelers on the road is by staying in a hostel, and it's even better if you stay in a shared dorm. In a hostel, you're put face to face with other like-minded people also itching to explore the city and make friends. And most hostels have shared lounges that can help connect you with others who may not be staying in your room.
Visit expat hangout spots like Saigon Outcast, Indika Saigon, etc.
Saigon Outcast and Indika Saigon are two prime examples of killer places to meet other expats. Saigon Outcast hosts a variety of events every month and has a Facebook page you can follow to stay up to date. Indika is a hopping bar famous for their free flows (all you can drink) evenings and is a great place to meet new friends.
Join Ho Chi Minh Facebook Groups
Facebook groups are a great way to connect with fellow solo female travelers either after you've arrived or before you take off! Fexpats is solely for female expats looking to live in the city long or short term and has tons of helpful advice.
And I love the Solo Female Traveler Network for any solo travel adventure because it's a community of other avid solo travelers with tons of experience and connections throughout the world. Join a few of these groups and put out a post to organize a meetup!
Go on an organized tour
I've always found that going on an organized tour is a great way to meet people because you'll be spending a few hours with other backpackers, allowing you to strike up some conversations and hopefully make some good connections.
Some of the best tours in Ho Chi Minh City are the Chu Chi Tunnels I mentioned above, a city food tour, and a traditional Vietnamese cooking class.
There you have it! My ultimate guide to solo female travel in Ho Chi Minh City and Vietnam in general. Safe and happy travels!
☕ Do you like what you're reading? Does it help? I take a lot of time creating valuable and meaningful content. If you like to support my content creation and my blog, consider donating to my coffee fund. Thank you in advance!
Solo female travel in Ho Chi Minh on Pinterest: save it for later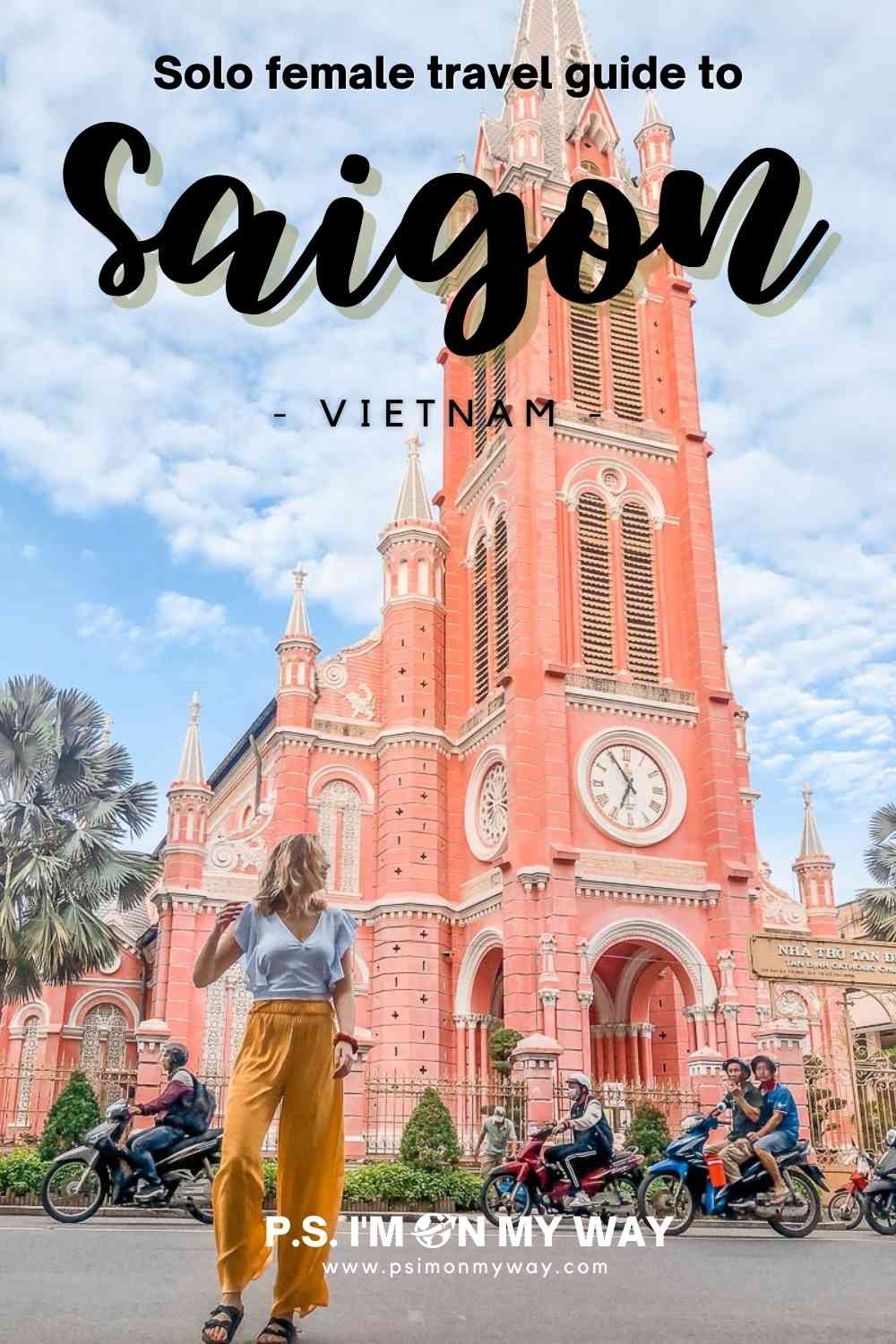 Brit is a freelance travel writer and the blogger behind life of brit and is addicted to solo female travel and budget backpacking. Originally from Madison, Wisconsin, she quit her professional job in marketing to live and teach English in South Korea for two years, where she discovered her love of writing. Now location independent, she's happiest sipping hot coffee, hiking through epic landscapes, and taking pictures of beautiful sights.