☕ Support this blog's honest and transparent journalism. Help us add value to what we are sharing. Keep P.S. I'm On My Way free for all by donating to our coffee fund.
Is this the first time you are hearing about Loreto Mexico? Well, me too. When we think of Baja California Sur, everyone goes south, particularly Los Cabos. In this post, I will share with you the most amazing things I've seen and done in Loreto, the most underrated destination in Baja Sur.
📬 Reader Mail: Hello Trisha! Like you, I am from the Philippines but I grew up in the USA. I can't help but comment about your latest trip to Loreto Mexico.
I never considered it but I checked the flights from San Diego and it's really cheap. What do you think about it? Is Loreto Mexico a destination you recommend to solo travelers like me?
I have not been to Baja California but it's so close to where I live. Really tempted to go! Thank you for all your help!
– Nadine, USA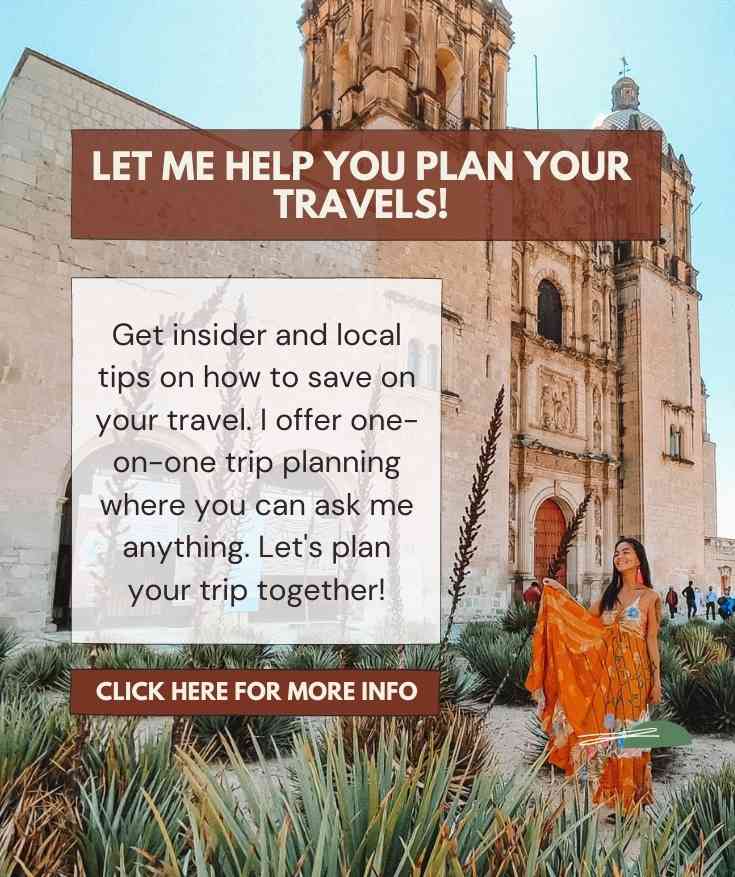 Hey Nadine,
I love it when fellow Filipinas travel to Mexico – I get too excited since there aren't a lot of Filipinos here! Like you, I also didn't think I'd travel to Loreto.
I just got invited by the tourism board without knowing what's it in for me. I don't do research prior to all my trips. I always want the destinations to surprise me! And Loreto did.
In this Loreto Mexico guide, I am going to tell you some stories about this Baja California Sur underrated destination. Should you have any questions, you can easily get in touch with me via Instagram, @psimonmyway.
Good luck and I hope you'll make it down here!
Xx,
Trisha
Why I went to Loreto
Is this the first time you are hearing about Loreto Mexico? Well, me too. When we think of Baja California Sur, everyone goes south, particularly Los Cabos.
I've already been to Cabo but I found it super expensive and touristy. I feel like I'm in the same situation where I live in Mexico (Vallarta).
Tourism in my area is quite slow because everyone is in Cancun or Tulum. Through the years I am living here, I realized how big this country is and how there are many other places to visit in Mexico that are equally beautiful (sometimes, even more!)
Many of us say we don't like going to tourist areas and yet when we see them on the Internet, we go anyway. We do that because it's comfortable and there are many more resources about these areas than the rest of the country.
View this post on Instagram
There isn't a lot of content on the Internet about Loreto so it makes us doubtful about going there. Even I was doubtful since it's the first time I heard about it.
But when I came, I realized how we should all visit this underrated Mexican town. No nightlife whatsoever (not like Tulum at least) but if you look at it in a different manner, I sort of love the Loreto vibe without even expecting anything before my arrival.
In this post, I will share with you the most amazing things I've seen and done in Loreto. Click on the table of contents below to jump on the section you are looking for.
⚠️ Disclaimer: This trip was supported by Visit Baja Sur and HipTraveler but all opinions are my own. For more information about our editorial ethics and guidelines, click here.
Where is Loreto?
I really feel like Loreto is the most underrated destination in the Baja California peninsula. It's just a 5-hour drive from La Paz and yet, not a lot of people visit.
Loreto is on the Eastern coast of Baja Sur and you're probably more familiar with Cabo San Lucas geographically – Loreto is about 508 km from Cabo.
What's next after Loreto? Visit Los Cabos
If you are researching for travel to Loreto, bear in mind to type 'Loreto Mexico' on Google since there is another Loreto in Granada, Spain. That has a more famous search volume so it will appear easily if you only type Loreto.
What is Loreto Mexico known for?
Loreto is famous for many things. The first thing I heard about Loreto is the strong and deeply rooted culture of the Jesuit's missions.
In 1683, the first Jesuits abandoned their post in La Paz and relocated to San Bruno, about 12 miles from Loreto. Baja California's lands are very dry, which made the community fail because of the lack of supply.
When they moved to Loreto, they realized it is abundant in water and lands to grow food on. This made Loreto home to many missions (they have a lot, really!) and Jesuit settlements that are still standing up until today.
Loreto is also known for its very clear waters and a myriad of sea creatures. The Bahia de Loreto National Park is home to whales, pelicans, dolphins, and manta rays.
View this post on Instagram
Diving is the most sought-after activity here. I am from the Philippines and I don't get easily impressed by the waters of Mexico but I am truly awed by Baja California Sur. I always come back to the peninsula every winter!
Aside from its waters, Loreto is backed by the Sierra de La Giganta mountain range where you can experience the best outdoor activities.
There are lots of trails, hikes, and climbs. You will also encounter lots of deserts in Loreto and I think this is the best feature of Baja.
Since agriculture is hard in the peninsula, you will see lots of dry and arid lands without massive hotels or resorts.
From living in Mexico for a while, I realized how many Mexican beach towns have been ruined by new real estate developments. Loreto's mountain ranges are still intact and well-preserved.
Lastly, Loreto is big on seafood, particularly clams. During my visit, I ate clams every day and what's really interesting about this is that every restaurant (or local homes) that I visited has very different ways of making clams.
I will share with you all the best Loreto restaurants I've been to in this article as well.
What type of travelers visits Loreto?
Due to its close proximity to the USA, Baja California Peninsula is usually expensive. I mean, it is expensive for me because I live in Mexico.
In this country, as you go south, things get more expensive (except for Quintana Roo, of course, which is the most expensive area in the south).
However, I know that this is not that expensive for American travelers so don't worry about your Loreto vacation budget. Even if you are not American, there are lots of cheap accommodations and food which I will share as we continue to this Loreto travel guide.
View this post on Instagram
The type of travelers that visit Loreto is usually couples and families. The most common vacation type is staycation as Loreto is very big on luxury and all-inclusive resorts.
I do think that this is a good destination for solo travel, too. Loreto has very impressive diving spots and there are really a lot of outdoor activities you can do while you are here.
If you are traveling solo to Loreto, I can assure you that the locals are really friendly. Even if you don't speak Spanish, most of the establishments have English-speaking staff.
Again, since they are very close to the USA, you don't have to worry about the language barrier because there isn't any!
Most of my readers are Americans and the majority of them are always looking for local experiences. I have to be honest with you – Loreto is pretty white but you can always choose a more local activity to avoid the white crowd.
If you'll feel more comfortable (and safer) meeting white people, Loreto has lots of Americans, expats and tourists alike.
Is Loreto Mexico safe?
Whenever I am asked if a certain place is safe, I kept wondering if they are pertaining to 'COVID safe' or 'crime safe.' It turns out, it's the latter.
Personally, I did not feel harmed when I was traveling in Loreto. Speaking Spanish is very helpful not just in Loreto but the whole of Mexico.
I realized that if you can speak the language and talk to the locals, it gives you more confidence, especially in a country that gets a lot of bad press.
Loreto locals are very friendly and are always very attentive to your needs. You can ask everyone on the street for directions and even if they don't speak English, they will still try their best to help you.
If it makes you feel safer, there are many ex-pats and American travelers in Loreto. So don't worry! Loreto is safe!
Other Mexico travel guides that you may like:
The complete travel guide to Nuevo Vallarta, Nayarit
Loreto Mexico travel guide: costs, where to stay, what to eat, and everything you need to know
Loreto Quick Information
💲 Currency
The currency in Mexico is called the New Mexican peso (MXN). As of 05 Feb 2020, $1 USD = $20 MXN. The travel budget in Loreto will be discussed later on.
🔌 Electricity socket
Mexico uses types A and B but in Loreto, type A is more common.
🛂 Visa
Currently, the 180-day visa program of Mexico has changed. You can read more about it here for more information. Mexico will not stamp your passport but they will give you an entry card.
Don't lose it because it's your only proof that you legally entered the country. You will need to present it when you leave.
🛬 Airport in Loreto
The airport that serves Loreto is Loreto International Airport which has direct flights to and from the major USA cities. Below are some options for direct flights to Loreto Mexico from the USA:
Dallas: via American Airlines (3h 14m)
Los Angeles: via Alaska Airlines (2h 08m)
Phoenix: via American Airlines (1h 47m)
San Francisco: via Alaska Airlines (2h 38m)
However, these direct flights are not cheap so I always tell readers to fly through Tijuana then get a cheap flight to Loreto.
📶 Wifi in Loreto
The normal wifi speed in Loreto is about 25 MBPS for most Airbnbs and hotels. I did find a few places with fiber-optic wifi and will also share it in this guide.
Loreto COVID Update: is Loreto Mexico open for tourism?
Mexico uses color codes to identify the COVID restrictions for each state. The federal government, together with the Ministry of Health decides the color and updates it every two weeks depending on the numbers (confirmed cases, deaths, etc).
Green means that a Mexican state is clear of COVID. I honestly don't know if there's any state in green. Yellow is moderate restriction.
Orange is moderate to strict while red means total lockdown. I just talked to a friend from Loreto last week and they said they are in red at the moment.
According to my local source, everything is still open since the infection is within the community, not from tourists. Hygiene protocols in businesses have become more strict.
Loreto is highly dependent on tourism so it is very important for them to pay attention to these details and implement strict precautions.
Where to get a COVID test in Loreto Mexico
When I was there in November, there weren't any labs that do COVID testing in Loreto. All tests must be done in La Paz. I called some Loreto laboratories and hospitals today and found out there are two.
Medelab
The PCR test in Medelab costs $4,500 MXN ($223.89 USD) and will take 24-48 hours for the results. The antigen test is at $1,300 MXN ($65 USD) and will take 2 hours to get the results.
You need to schedule an appointment by calling +52 613 135 2797. Dr. Salinas speaks perfect English but the staff doesn't. Medlab does COVID testing from Monday – Friday, 8:00 am – 12:00 pm.
I also asked the receptionist if they can do the tests in the afternoon and she said all you have to do is call to see availability.
Laboratorio Nuñez
Laboratorio Nuñez only does the Antigen test for $1, 1,100 MXN ($55 USD). You need to call +52 613 135 0191 to set an appointment. Their hours are not updated on Google but don't worry, they always answer the phone. You can take your tests at Laboratorio Nuñez from Monday – Friday, 10:00 am – 6:00 pm.
Canada requires PCR when you enter the country but for the United States, you need to check with the airlines you are booking with.
Apparently, it all depends on the state. Before booking your COVID test in Loreto, it's better to ask your airline first.
Best time to visit Loreto Mexico
One of the common mistakes that travelers make (or maybe just me) does not check the weather and pack the wrong things.
Summer in Loreto is from June 4th – October 7th (August is the hottest month) while cool season is from December 1st – March 8th.
Planning your Loreto rough budget
You can allot $5 USD per meal when in Loreto but I am only talking about the most Mexican food stands. In most of my time there, I ate in big restaurants with an average of $8 – $15 USD per meal.
Accommodations are a little bit more expensive. I stayed in a hotel that cost $90 USD per night and it wasn't even that great. That was the cheapest I found since I was there during spring.
There aren't a lot of free things to do in Loreto. Everything must be booked with tour agencies (except for the beaches, they are totally free).
Assume that you'll need $50 – $120 USD per tour, depending on the adventure. I will put all the prices of the tours I did in this post as well.
What to pack for traveling Loreto Mexico
Take note that Loreto and the Baja Sur peninsula are arid lands and deserts. During the summer, expect extreme weather conditions.
I visited in November so it was in the middle of spring and winter. I just packed the usual beach stuff but at night, it can get really cold.
What I realize, since I am from a tropical country, is that the cold for me may not be cold for you. Always check the temperature before packing for your travels to Loreto.
Pack light and use carry-on luggage to avoid long lines at the airport. Also bring a water bottle since it can be really hot during the day.
Even if it's winter in Loreto, the sun is always hot – you'll love it!
Arrival in Loreto
I flew from Puerto Vallarta (where I live) to La Paz via Aeromexico. I paid $280 USD for a 2-way flight. Take note that this flight stops for a few hours in Mexico City but it was a short ride.
From La Paz, I drove for 4 hours to Loreto. Roads are really scenic and modern. Every time I do road trips in Mexico, I am really impressed by Mexico's infrastructure.
I often encounter American readers who are afraid to drive in Mexico but it's safe and convenient, especially in these times of COVID.
Why didn't I fly to Loreto? It was expensive. I checked Puerto Vallarta straight to Loreto and it showed me $1,000 USD flights!
There were only 2 flights per week (at this price) and I needed to be in Loreto on a certain date so I chose the cheaper option.
✈️ Getting to Loreto by plane
If you are coming from the USA, the best thing to do is fly from Tijuana. From Tijuana, the flight costs to Loreto are really cheap and frequent. The last time I checked, you can go for as low as $80 USD!
🚘 Getting to Loreto by car
From La Paz, car rental rates in Baja California Sur start at $30 USD per day (without gas and security deposit). I love road trips and I feel like cars are the best way to travel, especially during COVID.
I just really feel safer in cars! If you rent a car, you can go all the way to Loreto, do Todos Santos, Cabo, La Paz etc. The drive is scenic and you can totally stop whenever you want.
You can also include Loreto in your Baja California road trip itinerary if you have more time to explore Baja.
🚌 Getting to Loreto by bus
Buses from La Paz (to Loreto) take 5 hours but the night bus is faster. If you are traveling solo, you can definitely save money by taking the night bus and spending the night on the bus.
As soon as you wake up, you will be in Loreto ready to start your day! Bus fares start at $500 – $800 MXN (about $25 – 40 USD).
👉🏽 See prices and availability for busses to Loreto
Where to stay in Loreto
Loreto has a lot of all-inclusive/luxury resorts but again, I will only recommend hotels I know and I have stayed in. If you are traveling solo, I am afraid that the lowest rate for a private room in Loreto is $35 – $50 USD.
All these places are super decent, have free breakfasts and a swimming pool!
Best all-inclusive in Loreto Mexico
Loreto Bay Golf Resort and Spa has the best location in all of the all-inclusive hotels I've encountered. The beach is directly in front of the hotel so you don't have to go out – everything is here!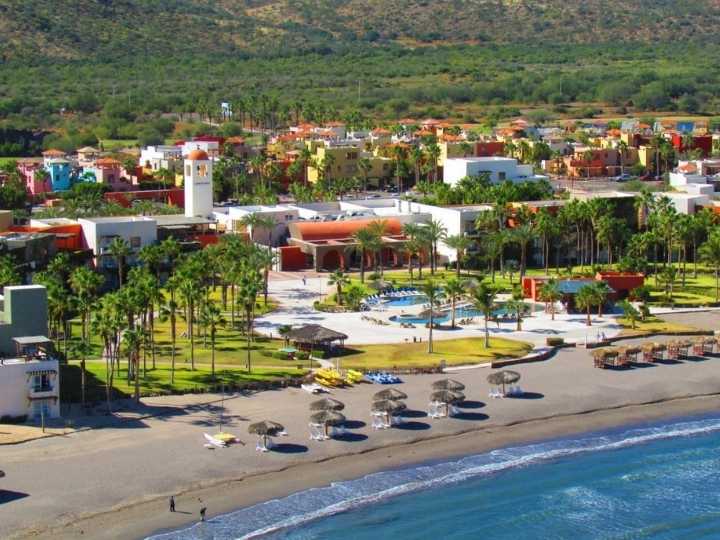 I mean, that's the idea of being in an all-inclusive, right? Loreto Bay Golf Resort & Spa has 2 restaurants, Mexican and Western cuisine. There is something to do for the whole family to enjoy a vacation in Loreto Baja California Sur.
👉🏽 Check Loreto Bay Golf Resort and Spa's prices and availability
Best Loreto Hotel
If all-inclusive is not your thing, I stayed in Rosarito Hotel, about 3 minutes walk to the Malecon. It is located in a very Mexican neighborhood but don't worry, it is safe.
The streets are well-lit, too. Rosarito has a pool and breakfast is included when you book at night with them. The complex is very quiet and I was mostly alone in the pool during my stay!
👉🏽 Check Rosarito Hotel's prices and availability
Things to do in Loreto Mexico
Visit the San Javier Mission
San Javier mission was a Spanish Mission founded in Loreto in 1699 and was closed in 1817. It's less than an hour's drive to get here from downtown Loreto and you will pass vast deserts (which is also part of the tour if you choose to book it with a local guide).
Upon arrival in Loreto, cobblestone streets, ancient architecture, and beautiful mountain views.
👉🏽 Check prices and availability for San Javier Mission tours
Eat Machaca: a Baja California Sur favorite
After the San Javier Mission tour, you can go to a local restaurant in the San Javier community and try machaca, one of the best dishes in Baja California Sur.
Machaca's common meat is beef or pork. Ingredients vary, depending on who's making it but it usually consists of onions, peppers, tomatoes, and chilies.
The meat is usually dried/rehydrated and rolled like a burrito. Some people use skirt steak and is usually slow-cooked.
Cruise the sea of Cortez on a catamaran
In the beginning, I was a little discouraged about the limited things to do in Loreto but this Catamaran cruise made up for all of it!
The Sea of Cortez is really impressive – I loved how its waters are so different from where I live in Mexico. Loreto is a very family-friendly destination so I'd recommend this one for families traveling with kids and people traveling in big groups.
👉🏽 See all things to do in Loreto
Top Loreto Mexico restaurants
Casa Carmen
📍 Esquina Francisco I Madero, Atanasio Carrillo
📞 +52 61 3100 8236
Casa Carmen was my favorite culinary experience in Loreto where I had the chance to see how the traditional clams are made! Clams are Baja California's seafood candy.
They literally have it everywhere and it seems to be the newest tourist attraction in Baja Sur. Doña Carmen, the local lady who owns this restaurant is very generous with the recipe too.
Hotel Oasis
📍 Calle Baja California E, P.º A. Lopez Mateos S/N
📞 +52 61 3135 0211
You probably see Hotel Oasis in the top hotels in Loreto but they have an amazing restaurant that you can visit even if you are not a guest in the hotel!
I was fortunate to meet the family who owns Oasis. They are one of the oldest families in Loreto and are all from a lineage of cooks.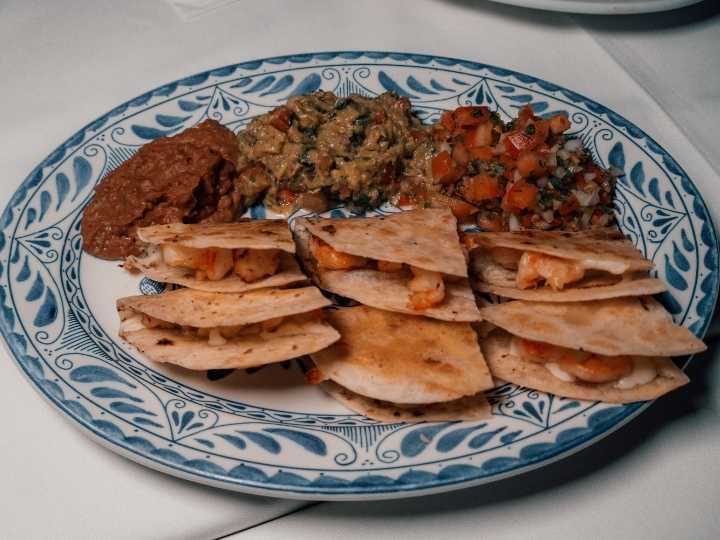 Surely, their food have showed me the traditions of Loreto, including what they cook in local homes. Of course, they also have their own way of making clams!
El Zopilote Brewing Co. Loreto and Cocina
📍 Calle Davis #13
📞 +52 61 3135 2538
This is a great place for beer lovers. They have many artisanal beer that they brew and their food is also excellent! Since I stayed in the hotel that owns it (Hotel 1697), I had many meals here and all of them are great!
Don't worry, they only not have clams. They also have international food like pizza. This restaurant has an open layout and this is the spot to hang out in the evening!
Bars and nightlife in Loreto
I only went to one bar in Loreto called Augie's Bar and I didn't have a good experience. Before my friends and I entered, we asked for the menu and they said they have none.
As most of us are expats living in Mexico, we know this is the case in many establishments in Mexico. They always say "we have everything."
We are also well-traveled in Mexico so we know the estimate prices for drinks. We ordered shots of mezcal (not one, but 4) and when we got the bill, they were charging us $12 USD per shot!
It was then I realized that Loreto is expensive (by Mexican standards). Overall, Loreto does not have a vibrant nightlife. It's more of a sleep town for resort goers and vacationers.
Currency, budget, cash, etc
The currency in Mexico is called Mexican peso (MXN). $1 USD = $20 MXN. To understand this conversion, I'm going to give you an idea about some basic prices:
Basic lunchtime menu (including a drink) in the centre: $12 USD
1 cocktail drink in a downtown club: $12 USD
1 beer in neighborhood pub (500ml or 1pt.): $3 USD
Cappuccino in a specialty coffee shop: $4 USD
💰 Money exchange in Loreto
There are two money exchange houses I know in Loreto but I never tried them personally since I have a Mexican bank account.
They apparently give better conversion rates but most foreigners I know exchange their USD in big banks like BBVA and Intercam.
You can also use USD in Loreto without a problem. They accept it at $16 MXN per USD (instead of $20 MXN).
🏧 ATM withdrawals in Loreto
If you want to use the ATM to get Mexican pesos, you can just go to BBVA and Intercam in Loreto. These are both trusted banks in Mexico.
💳 Credit/debit cards
Credit and debit cards are widely used in Loreto. All establishments accept them including hospitals, convenience stores, etc. However, if you are going to eat in local Mexican restaurants and street food, you still need cash.
💵 Tipping in Loreto
Mexico is a tipping country so the salary here is very low. In Loreto, I usually give 15% and 20% – 25% if I like the service.
✈️ Ready for your trip to Loreto? This blog thrives on reader questions so feel free to leave a comment below if you need anything about planning your trip!
🤳 Follow this adventure: INSTAGRAM | FACEBOOK | YOUTUBE | PINTEREST | TWITTER
Trisha is one of those people who left their comfortable life to travel the world and learn about life. Her style is to stay in one place she likes for 3 months (or more) to know what it feels like to eat, cook, speak, and sleep in another culture that isn't hers. She'd like to believe she's not traditionally traveling but she just chooses to be somewhere else all the time. In no particular order, her favorite cities in the world are Barcelona, Buenos Aires, Hong Kong, Mexico City, and Tel Aviv.