Nick and Val Wheatley are an American couple living in Ho Chi Minh. Prior to actually moving to HCMC, they visited the city several times. Recently, they've settled down in Ho Chi Minh City, Vietnam to give birth to their baby boy and to get serious about expanding their blogging empire.
Reader Mail: Hi Trish! First of all, thank you for all the free information you offer in this blog. Your experiences traveling the world are so impressive. I want to thank you for sharing genuine and real articles!!! I know you spent a lot of time in Vietnam so I want to take the opportunity to ask some questions. I know you are very busy but I hope you get this message! What's living in Ho Chi Minh City like?
I know it's very affordable but I do not know anyone there. Is it easy to make friends? What other tips and advice can you give? Thank you so much and I hope to hear from you!
– Denise Shepherd, USA
Hi Denise,
I love Vietnam and it's one of my favorite countries to eat in the world! I know our first concern when moving to another country is the community of friends and expats. You'll definitely find that from living in Ho Chi Minh and if not, you can always immerse with the locals! Just make sure to learn some Vietnamese phrases.
I haven't visited Vietnam in 2 years so to give you a more updated account about living in Ho Chi Minh, I invited my fellow travel bloggers Nick and Val who recently had their baby in Vietnam! They will share all these tips about this city and you can connect with them when you are already in HCMC.
Good luck and I hope you make it to Vietnam!
Xx,
Trisha
Nick and I started traveling back in 2016. We ended the lease on our apartment, quit our jobs, moved our belongings into a 5×7 foot storage unit, and hit the road.
First was a road trip across the US, from our home in Portland, Oregon to the Florida Keys, and then back again. Then we flew to Venice and took a ferry to Croatia to explore the Balkans.
We took hot air balloon rides in Turkey, wandered around the Great Pyramids, floated in the Dead Sea, drove the circumference of Iceland, and camped in Namibia. We visited 42 countries in 3 years and we were always on the go – packing and unpacking our bags and booking transportation and accommodation for our next destination. We knew we wanted to settle down one day.
We were ready for more stability and, more importantly, we found out we were pregnant while touring the United Kingdom in June of 2019. So we wanted to find a city with excellent but affordable medical care. And we wanted to find a livable, relatively inexpensive city with a strong expat community.
We first visited Vietnam in 2018. We started in Ho Chi Minh City, making our way north to see the colonial buildings in Hoi An, sail through the limestone cliffs of Halong Bay, and hike among the rice terraces in Sapa.
But there was something about Ho Chi Minh City that we loved – and that kept us coming back. Between 2018 and 2019 we made many trips back to Vietnam and eventually decided to move to Ho Chi Minh City in September of 2019.
We absolutely fell in love with Ho Chi Minh City from the first moment we arrived. We loved the hectic motorbike traffic, the bustling markets, and getting lost down the winding back alleyways.
We found amazing restaurants with cuisine from all over the world and quaint neighborhoods where locals sat on tiny stools outside of cute coffee shops. And we especially love how amazingly friendly and welcoming everyone is in the city
We signed a 9-month lease on our apartment and have no idea what we'll do when it expires in June!

Is Ho Chi Minh City a good place to live in?
Definitely! One of the best reasons to live in Ho Chi Minh City is the warmth of the Vietnamese people. You'll never feel like a stranger here as an expat – everyone is very friendly and welcoming! The cost of living in Ho Chi Minh is very affordable, too.
If you want to travel within Southeast Asia, Ho Chi Minh is also a good base. Flights are super cheap to Singapore, the Philippines, Thailand, Cambodia, and more! You can definitely explore the whole of Asia while living in Ho Chi Minh City.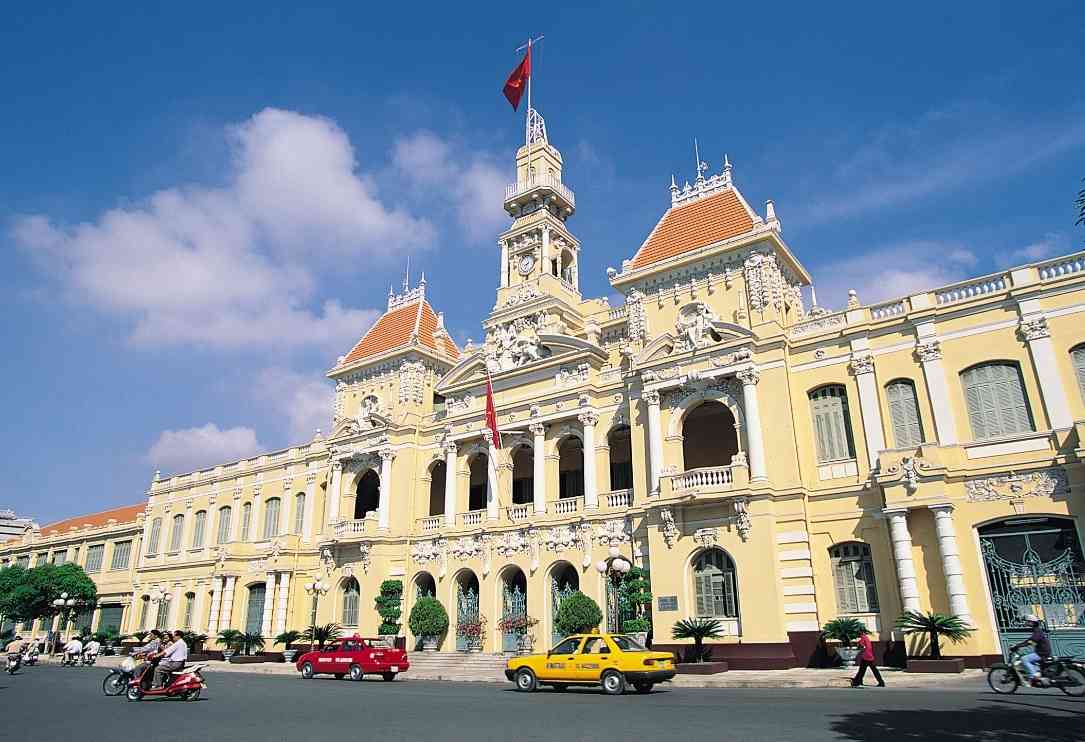 How much do you need to live comfortably in Vietnam?
You can comfortably live in Vietnam with $1,500 USD but you can even go less. We just chose to have a home in a 32nd-floor building and it only cost us $900 USD! Since we are a family, we spend more on accommodations but singles and digital nomads can definitely find rent for as low as $350 USD.
Where do most expats live in Ho Chi Minh?
Most expats living in Ho Chi Minh City choose to reside in District 2. This is about 20 minutes from downtown but it has wonderful international schools for children. There are also countless delicious restaurants, coffee shops, and bars that are filled with foreigners. Sometimes District 2 doesn't even feel like you're living in Vietnam!

Living in Ho Chi Minh: costs, safety, visas, and more!
Our personal experience living in Ho Chi Minh
Prior to actually living in Ho Chi Minh City, we visited the city several times. We started renting Airbnbs in an area of town called "District 4". Airbnbs were always cute and modern and we loved that the buildings always had a gym and a pool.
Plus we could easily walk Downtown, just by crossing the canal. So when we actually decided to move to Vietnam, we knew we wanted to live in one of the 5 brand-new apartment buildings in D4.
We love living in District 4 because it's actually not totally full of expats. There are many Vietnamese people who live in our building and the neighborhood surrounding us is filled with local markets, hole-in-the-wall restaurants, and the friendliest people.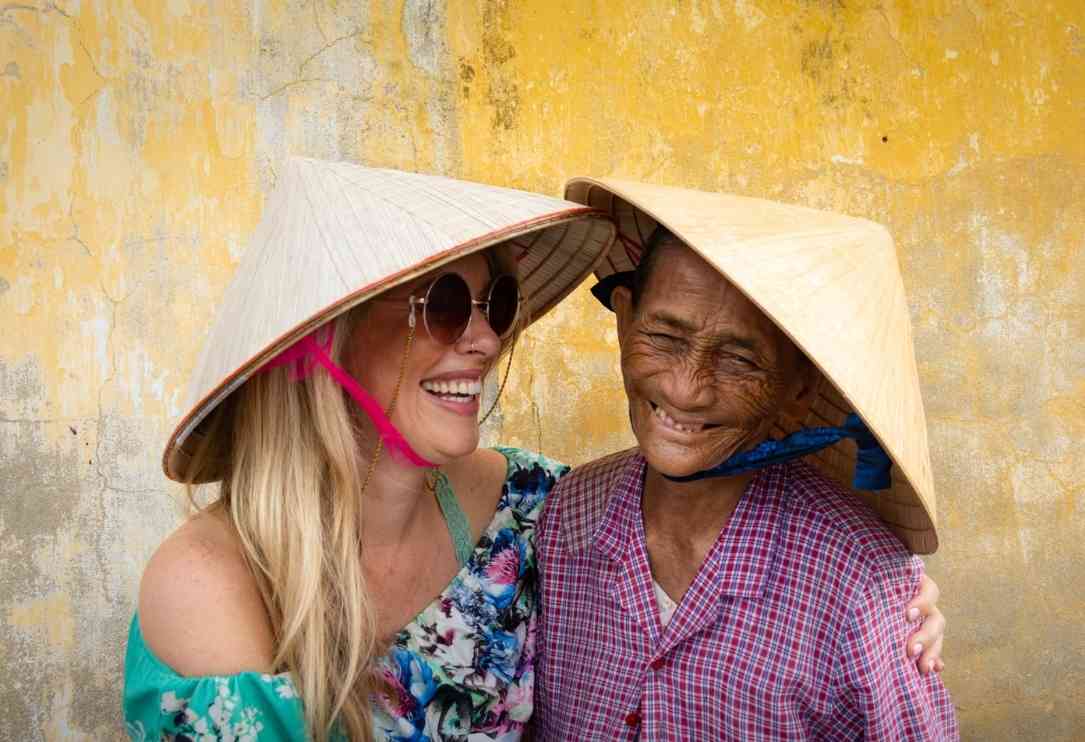 Our favorite restaurant in the neighborhood is a few blocks away and none of the employees speak any English. Ordering is always a bit of a challenge but they love that we attempt to speak the language.
As it turns out, Vietnamese is hard! There are 6 tones so a single word can have 6 different meanings depending on how you say it.
After several months of lessons, we can confidently say that we still have no idea how to communicate effectively here. But at least we try!
Connecting with fellow expats in Ho Chi Minh
The expat scene in Ho Chi Minh City is incredible. There are countless Facebook groups for expat women, creatives, parents, actors, photographers, etc. There are groups for buying and selling secondhand goods, book swaps, foodie groups – there's something for everyone!
And there are countless expat meetups and language exchange meetups, it's easy to make new friends here!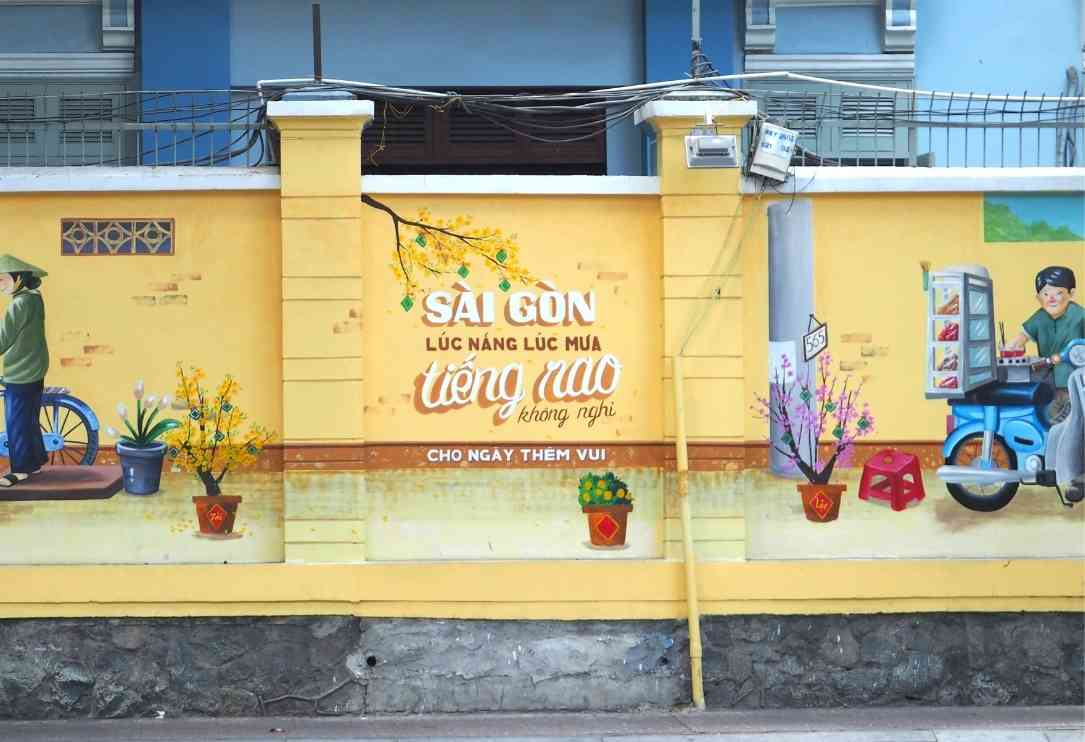 My favorite Facebook group is called Fexpats and it is specifically for women living in Vietnam. It's a chance for women to connect and make plans, or just to warn about purse snatching experiences. We ask for recommendations and share stories.
It's a fantastic group of women and has been great for learning about living in a new city. And it occasionally provides some laughs when women try to sell half-used bottles of lube or pose warnings about dodgy expat men on the prowl.
Cost of living in Ho Chi Minh
The cost of living in Ho Chi Minh City is quite cheap. You can choose to live lavishly or stick to a strict budget, and it's easy to find housing and dining options to suit either.
We pay $900 USD/month for a furnished apartment on the 32nd floor of a modern building right near downtown.
Our apartment has a washing machine and our building has a pool and a gym. We can easily walk to downtown and there are lots of great restaurants and bars right nearby.
The currency in Vietnam is the "dong" (VND) and it's about 23,000 VND to $1 USD which can get pretty confusing. Many purchases end up being over 1,000,000 VND so a currency converter app really comes in handy.
Also, most of the ATMs in HCMC only give 2,000,000 at a time which is just about $80 USD. So a debit card that refunds international ATM fees is a necessity here.
We actually never, ever cook while living in Vietnam. The restaurants and food stalls are simply too cheap, delicious, and diverse to justify it. Plus most apartments don't have an oven, just a burner. If we want to eat classic Vietnamese dishes like pho or a banh mi, we usually spend less than $4 per person on our meal.
When we want to get Mexican or Italian or any other cuisine options, it's rare that we spend more than $20 USD on our meal between the two of us.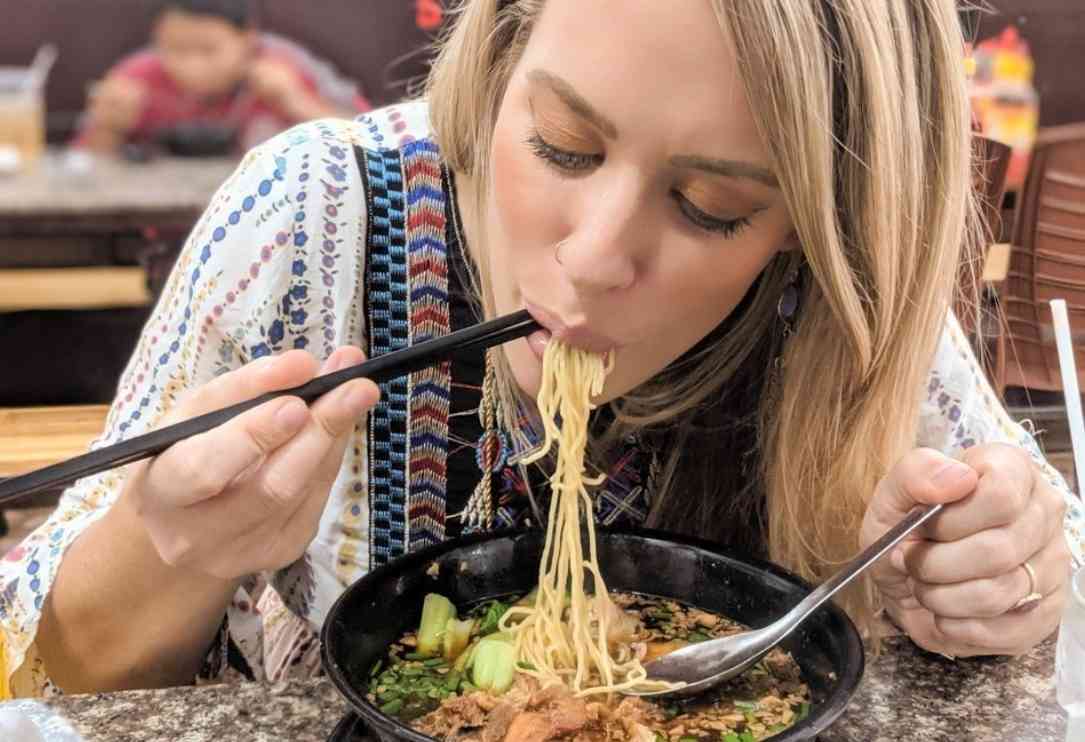 There are western-style coffee shops all over Ho Chi Minh City with fancy pour-over coffee concoctions, but you'll pay western-style prices.
If you stick to Vietnam's classic coffee drink, the cà phê sữa đá (iced coffee with condensed milk) you'll usually only spend a dollar or two on a big refreshing glass. But if you're looking to get some work done in HCMC, there is no shortage of cute coffee shops with fast wifi and yummy snacks.
Amazon doesn't deliver to Vietnam but we have something similar called Lazada. It's a strange service – when you order you get a large possible delivery window (such as 7-22 days) and you can choose to pay cash on delivery.
So with very little warning, you'll get a call letting you know that a delivery driver is here with your package. If you're not home, they'll simply send it back to where it came at no cost to you. They have everything under the sun but the quality is not always reliable.
We don't own a car or a motorbike, and we rely on Grab to get around Ho Chi Minh City. Grab is like the Uber of SE Asia but it's significantly less expensive.
A Grab Bike ride – where you ride on the back of someone's motorbike – is usually about $1 or less for a 10-15 minute ride. And we can get to restaurants downtown in a Grab Car for less than $2. And to get a Grab Bike to deliver food to our apartment, it's generally around $1.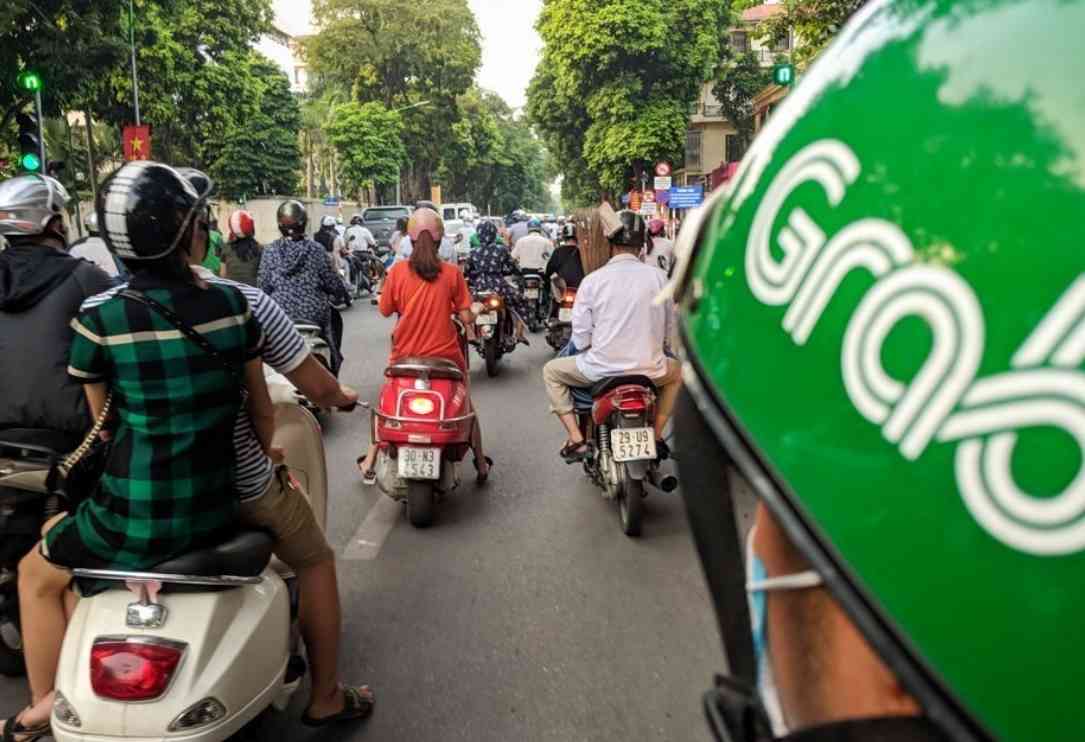 Most expats live in District 2. But we moved to Vietnam because we wanted to really experience Vietnam so we live in District 4 which is right across the canal from downtown. We highly recommend D4 because it is easy to get anywhere in the city and there are several new, beautiful buildings to choose from.
Plus we love that our neighborhood was once run by a notorious gangster and it was known that you could get stabbed for parking your motorbike in the wrong place! But don't worry, it's been gentrified and is now one of the best up-and-coming neighborhoods in Ho Chi Minh City!
It's incredibly easy to find apartments in Vietnam. We joined a few Saigon Real Estate groups on Facebook and simply posted what we were looking for on their page.
Immediately we have dozens of real estate agents sending us photos of various apartments in our desired neighborhood. They would show us dozens of different units and walked us through the contract and negotiation process (it turns out that it is quite common to negotiate your rent in Vietnam).
For travelers, Ho Chi Minh is one of the top honeymoon destinations in Asia because of its cheap (but great hotels!) Most budget honeymooners choose Saigon even if it does not have luxury resorts or beaches.
It's really a great city to explore the authentic Vietnamese culture for cheap.
Residency visa in Vietnam
Most expats who live in Vietnam are here on a work visa. And others on a 1 or 3-month tourist visa. Americans are lucky as we can apply for a 1-year tourist visa which is what we are on. We still have to do a border run every 3 months to get stamped out and back in, but there are lots of tourist agencies to help.
If you're just planning a 2-week vacation in Vietnam, the e-Visa is the easiest option.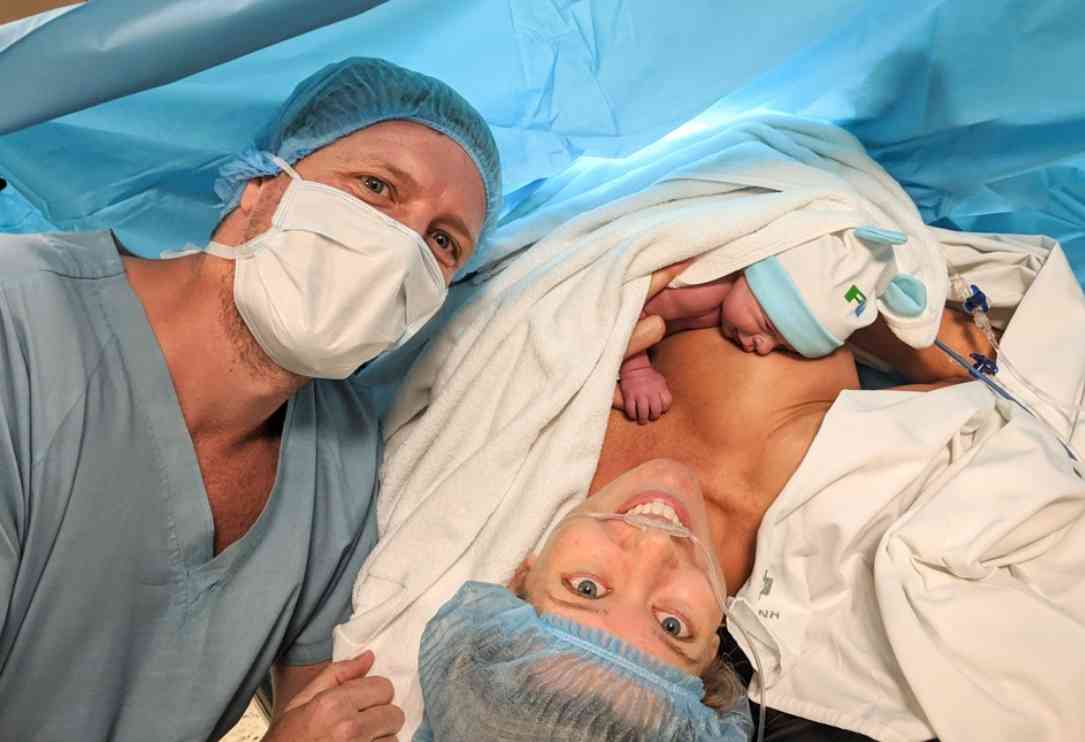 Medical care in Vietnam
While many expats living in Vietnam have health insurance, health care is actually quite affordable without it. We gave birth in a French Vietnamese hospital in January which involved a cesarean section, a NICU stay for our premature baby, and a 5-day stay in the maternity ward.
The total cost was just over $3,000 and we paid with our credit card. I have no clue what that would have cost in the US but probably at least 5 times that!
Transportation in Ho Chi Minh
Very few expats buy cars in Ho Chi Minh City, but many purchase a motorbike. We just rely on Grab cars to get around the city. It's so cheap and convenient! And since SIM cards are just $15 USD for 60 gigs of data – it's super easy to have internet access on your phone, without the commitment of a phone plan.
Apartments in Ho Chi Minh
You'll find apartments in Ho Chi Minh City range in price from a couple of hundred dollars a month for a simple, no-frills spot, to several thousand dollars for a luxurious place with all the amenities you could ever hope for. And everything in between.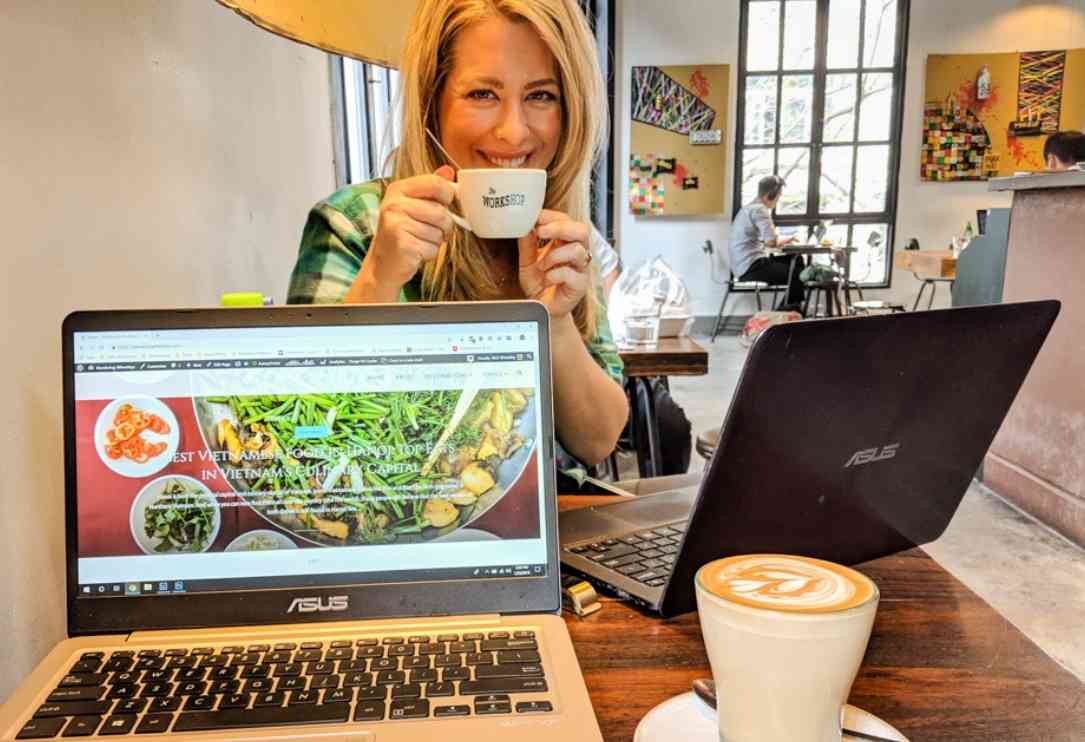 You'll likely be required to pay first and last month's rent and a deposit for damages. Many expats have chosen to open a simple bank account in Vietnam, but we choose to pay our landlord cash.
Safety in Ho Chi Minh
And the best thing about Ho Chi Minh City is how safe it is! There are a few instances of purse snatching here and there but we've never experienced anything that has made us feel even the slightest bit uncomfortable.
We walk all over the city, even at night, and never feel nervous. Vietnamese people are so friendly, hospitable, and accommodating – you'll feel right at home here!
☕ Do you like what you're reading? Does it help? I take a lot of time creating valuable and meaningful content. If you like to support my content creation and my blog, consider donating to my coffee fund. Thank you in advance!
Living in Ho Chi Minh City on Pinterest: save it for later!
Nick and Val Wheatley (aka "The Wandering Wheatleys") originally met in Portland, Oregon when Val interviewed Nick for a job back in 2005 but they didn't start dating until 2011. Since 2016 they've been wandering around the world together, seeing all the sights, eating too much delicious local cuisine, occasionally getting on each other's nerves, and documenting their adventures along the way. But recently they've settled down in Ho Chi Minh City, Vietnam to give birth to their baby boy – Humphrey Harlen Wheatley – and to get serious about expanding their blogging empire. But mostly they just sit around all day and stare at their cute little baby!