☕ Support this blog's honest and transparent journalism. Help us add value to what we are sharing. Keep P.S. I'm On My Way free for all by donating to our coffee fund.
I talked to 12 experienced solo travelers about their best solo trips in the US recommendations and here are their suggested itineraries including safety tips!
📬 Reader Mail: Hi Trisha! I am a 23-year old first-time solo female traveler from Australia. A friend from home recommended your blog for solo travelers and I love all your words of encouragement for girls like me!
I am moving to the US for a study abroad program. It is my first time in the USA and I was wondering what are the easy and best solo trips in the US that I can take?
Please note I am a first-timer so I need it to be something simple and easy. I have traveled to Australia a lot but it's different when you are not home!
I will keep reading your solo travel tips on the blog but I will be grateful if you can suggest small trips I can do in the USA solo. Thank you for your work!
-Amelie Boyce, Australia
✈️ First time solo travelers, I am inviting you to join my trips this year! We will have fun, we will do crazy things but best of all, you will also learn about conquering the world on you own! 💃🏽
⚠️ Is USA safe for solo travelers?
I know. This is a valid question. I also feel scared traveling alone in the US because of all those TV shows that I'm watching – psychopaths, serial killers, etc.
But in this article, pro travelers are also sharing how they felt in their solo trips, and believe me, you have to take it from them.
I always wrote on this blog that safety is subjective and personal. You'll never really know which destination in the world (no matter where it is) you'll feel safe in as each of us has our own ways of the comforts of solo travel.
🇺🇸 Best solo vacations USA: where can I go on vacation by myself?
The USA is a big country so it can get overwhelming on deciding where to go or what to do. With this, these best solo trips in the US suggestions actually focus on specific trips, not a certain destination.
This way, it will be easier for you to decide what's the USA best solo vacations that you can take. All these were suggested by pro solo travelers who've actually done these trips alone.
I hope you find the best one that suits you! I also made it short for you to not be overwhelmed. There is no way on Earth you can travel the whole country in a short time so take it slow and start with these ones!
📍 Best solo trips in the US according to pro solo travelers
#1: Island adventure in Molokai, Hawaii
✨ by Casandra of Karpiak Caravan
Molokai is one of the least visited islands in Hawaii and is known as one of the friendliest. It is a pristine, untouched island with beautiful beaches and lush nature.
This is one of the best solo vacations USA if you just want to relax and have time for yourself!
It's the perfect place for solo travelers to experience Hawaii. The small-town atmosphere makes it easy to meet other people and share travel stories.
Even though Molokai is a small island, there are more than enough activities to fill five days of your trip. You will want to rent a car upon arrival at the airport.
There is only one taxi on Molokai so having a car allows you to freely explore the island at your own pace.
The first stop I always make is picking up a box of papayas and fresh produce from Kumu Farms, just a few minutes down the highway from the airport.
Hotel Molokai is the only hotel on the island and it is located just a few minutes from the main town of Kaunakakai.
After exploring the island during the day, I enjoyed coming back to the hotel for dinner and drinks and hearing the sound of the waves crashing against the beach.
Since Hotel Molokai is the only hotel on the island, it is easy to meet people having drinks at the bar and the locals are some of the friendliest people you will ever meet.
Solo travelers will enjoy the solitude of Molokai. Some of my favorite things to do on the island included snorkeling at Dixie Maru and then walking to the abandoned beach village at Kaupoa Beach.
I loved walking along Papohaku Beach and then hiking up to the lookout. A visit to the Phallic Rock and a lookout over the Kalaupapa Peninsula is a must and make sure you have pancakes at Kualapu'u Cookhouse.
There are plenty of adventures to be had on Molokai and I find that five days is the perfect amount of time to explore this friendly part of Hawaii.
#2: Wilderness backpacking in Joshua Tree National Park, California
✨ by Katy Shaw of A Rambling Unicorn
One of my favorite solo travel experiences was a backpacking trip on the California Riding and Hiking Trail.
This 37-mile trek typically takes 3-4 days to complete and rambles through gorgeous scenery in Joshua Tree National Park.
During my adventure, I saw coyotes and endless Joshua Tree forests along with brilliant starry skies unmarred by light pollution.
While the trail mostly travels through the wilderness, the path does pass a few roads and major landmarks. I was glad to know that I could easily bail out at these points if something went wrong.
Since the park lacks cell reception, I had a Garmin In-Reach Explorer with me so I could message my husband over satellite in case of emergency.
Before attempting this backpacking trip solo, I spent some time training for it and fine-tuning my gear.
There is no water available in Joshua Tree, so I also cached some jugs of water beforehand. I knew I wouldn't be encountering many other people on this trip, so I packed accordingly.
The effort was worth it, however. My three days alone in the Mojave Desert were some of the most memorable that I'd experienced in a long time.
It was a wonderful opportunity for solitude and spiritual renewal, which is hard to get at national parks these days given the crowds.
If this trail is beyond your ability level (or if you are new to backpacking), you can still experience the joys of wilderness camping in Joshua Tree.
Simply self-register for a permit at a backcountry registration board and hike at least 1 mile away from the road. I recommend talking to a ranger first who can help you plan the perfect adventure.
#3: Blue Ridge Parkway in Virginia
✨ by Erin Gifford of Go Hike Virginia
For the solo traveler, a scenic drive along the iconic Blue Ridge Parkway that meanders across Virginia and North Carolina is more than just a drive.
It's an epic outdoor adventure filled with hiking, biking, and paddling.
The Blue Ridge Parkway begins where Skyline Drive ends, at the south entrance to Shenandoah National Park in Afton.
On this adventure, I stayed in Virginia and made Humpback Rocks at milepost 5.6 my first stop for spectacular 360-degree views across Virginia's Shenandoah Valley.
I also couldn't resist a side trip to Charlottesville, which is home to my alma mater, the University of Virginia. It's just 30 minutes away from the Humpback Gap parking area.
You'll want to stop in for delicious bagels at Bodo's Bagels and snaps of UVA's Rotunda, then overnight in Quirk Hotel.
From here, I continued on to experience the wildly popular Peaks of Otter in Bedford, including Sharp Top, Flat Top and Harkening Hill.
I stopped in the Peaks of Otter Visitor Center at milepost 86 to get my bearings. Then I was off to tackle these three gram-worthy summit hikes.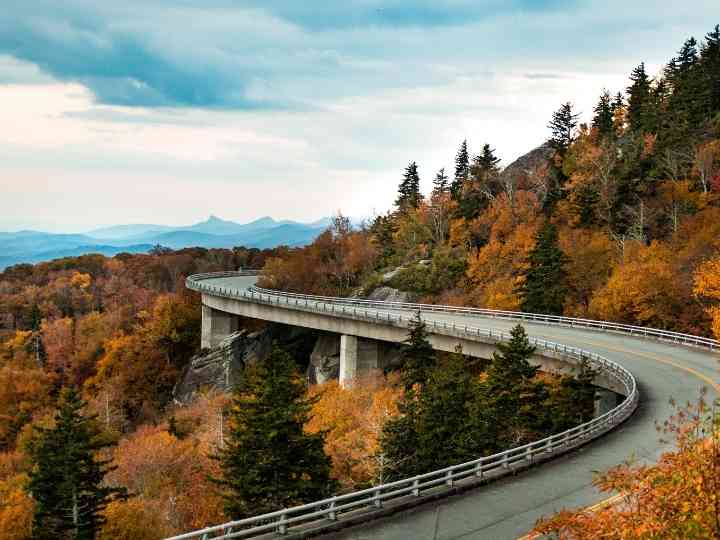 I took two days to tackle these three hikes, spending the night just one-hour southwest in Roanoke. Closer to the trails, many also opt to stay at the Peaks of Otter Lodge, but for a solo traveler, there's more to see and do in Roanoke.
One of my favorite stops in Roanoke was the Mill Mountain Star, the world's largest man-made star that stands at 100 feet tall.
You can hike or drive to the overlook for views across the Roanoke Valley. I also spent time at 1,100-acre Explore Park at milepost 115 for mountain biking and kayaking.
This four-day trip from Afton to Roanoke could easily be extended beyond four days. There's so much more to see and do.
You can also skip the hotel stays and opt for camping at well-trafficked Peaks of Otter and Explore Park, as well as the Crabtree Falls Campground near Humpback Rocks.
#4: Camping in Humboldt Redwoods, California
✨ by Kristel of Chef Travel Guide
One of the best solo trips to do in the US is going on a camping trip in the Humboldt Redwoods State Park. If you're looking for the perfect getaway where you can unplug from your day-to-day grind and immerse yourself in nature, then this solo trip is what you need.
The state park spans over 53,000 acres which is about twice the size of San Francisco. It is home to 17,000 acres of an old-growth redwood forest which is the largest expanse of ancient redwoods left in the world.
One of the best things I love about this solo trip is driving through the Avenue of the Giants, which is a 32-mile long stretch of towering redwood trees.
I had to do multiple stops to take photos and stand next to the giant trees which can be as tall as a 30-story building!
As a solo traveler, I would recommend staying at least 2-3 nights at the park. There are 3 main campgrounds to choose from but I always stay at the Hidden Springs Campground or at Humboldt Redwoods Inn if I feel like spoiling myself.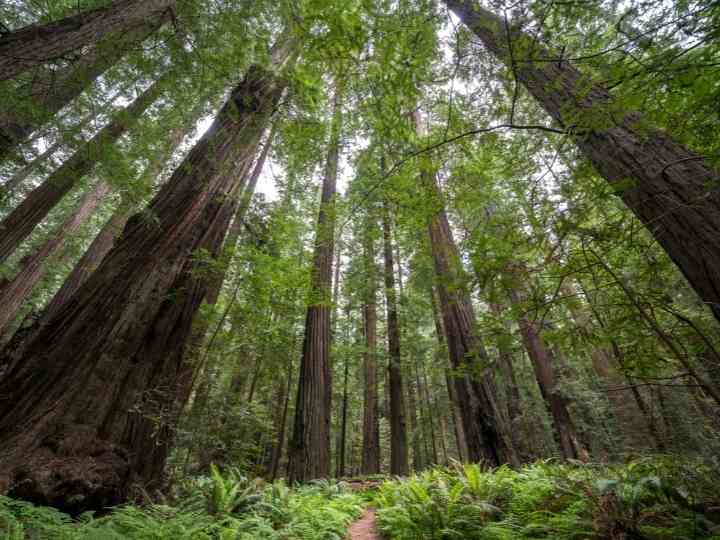 I love waking up to the smell of pine from the trees, the sound of rushing creeks, and the majestic canopy formed by the towering redwoods.
Solo travelers would feel perfectly safe exploring the different hiking trails. You also have the option of cooling down at a local swimming hole at the end of your hike, which I love.
This solo camping trip always gives me a good mental reset and leaves me feeling recharged.
#5: Hiking in Arizona
✨ by Natasha Karcz of Planes, Trains and Karcz
Arizona has been a bucket list hiking destination of mine for years, so when the opportunity arose to spend a week in Phoenix, I knew there was no way I'd be turning it down!
As a solo female traveler, I felt safe immediately upon arrival; having already coordinated plans to hike alongside some locals before the plane had even landed.
Meeting people will come naturally in this bustling state, especially so if you're intending to join its vast hiking network.
Be it amongst local community trails or hitting the "big name" hikes, you'll certainly find no shortage of scenic viewpoints and challenging yet captivating desert terrain.
I found that budgeting 7 days to hike my way through Arizona was the perfect amount of time (though it'd have been remarkably easy to fill more days if I'd had them!), working my way from South to North – leaving the spectacular Grand Canyon for the big finale.
Starting with the oasis that is the Seven Falls Trail near Tucson, to the quaint little trek up to the notorious sunset spot of Hole-in-the-Rock in Phoenix, to the famed Cathedral Rock hike that borders on more of a climb during some sections.
Finish it off with the distinguished Bright Angel Trail and so many others along the way. It's a trip for the books that's sure to fuel even the most adventurous solo traveler!
Just don't forget your camera, you'll want to document every moment.
#6: Waterfall adventure at Yosemite National Park
✨ by Olivia of Girl With Blue Sails
Yosemite National park, located in California's beautiful Sierra Nevada Mountain Range, provides amazing solo traveling opportunities.
I've taken many solo hikes in the valley, and the waterfall hikes have always been my favorites. Below are my recommendations for one of the best solo trips in the US: a waterfall-focused Yosemite hiking trip.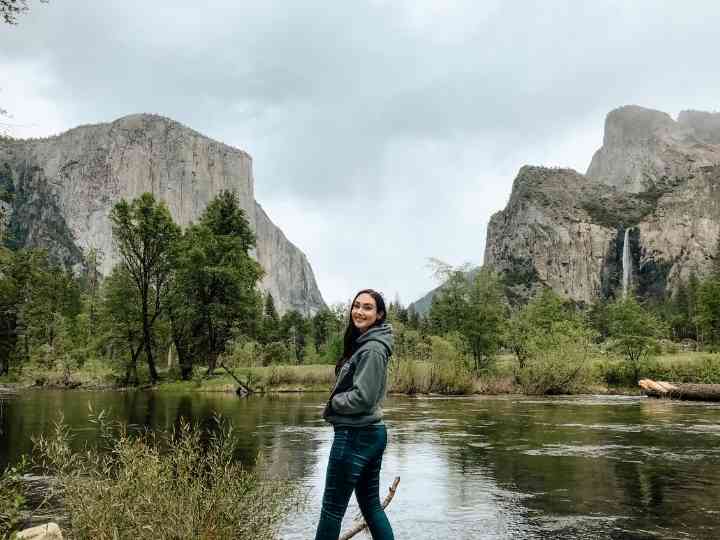 This trip can be done in 3 days, and the first day should include a visit to Bridalveil Falls and Lower Yosemite Falls. Both are popular, easy hikes that I love to do on my first day in Yosemite.
Both waterfall hikes provide a quick way to get your waterfall fix in and get acquainted with the valley surroundings, which are all very clearly marked and easy to follow.
The second day of this solo adventure should be spent at Vernal Falls, also known as the mist trail. It's moderately paced and will involve some incline and amazing views.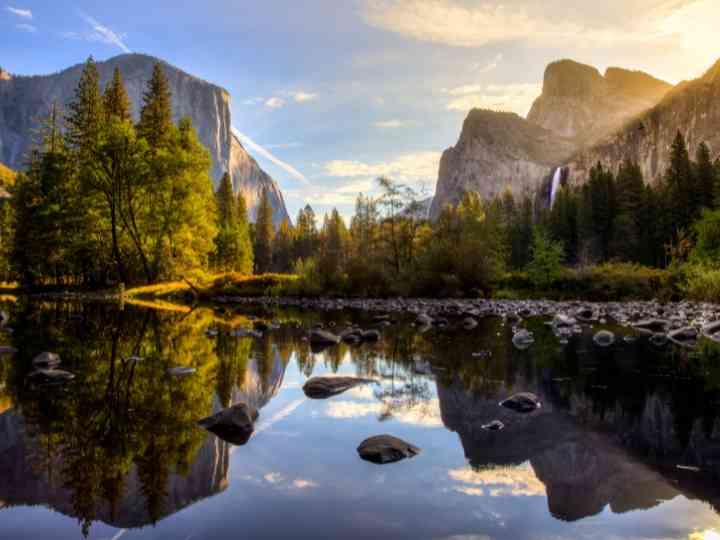 The third day of the trip should include the epic Upper Yosemite Falls hike. It's an all-day, strenuous hike, so be sure to get an early start to beat the heat.
Yosemite Valley is very populated and safe for solo travelers. Park rangers are happy to help, and there are awesome restaurants where it's easy to meet fellow travelers.
The best lodging in the park is Curry Village, and spring is the best time of year to visit. In springtime the sun is shining, the wildflowers are out, and it's when the waterfalls are at their fullest.
#7: A musical road trip through the United States
✨ by Talek Nantes of Travels With Talek
I'm a music lover and I love to travel. I decided to indulge both these passions with a solo musical road trip to some of the most important music cities in the U.S.A., Cleveland, Memphis, Austin, and good ole, always-exciting, New Orleans.
I started my solo road trip in the Rock and Roll Hall of Fame in Cleveland. Here I followed the history of Rock and Roll from its origins through to the Beatles, Elvis, Michael Jackson, and more.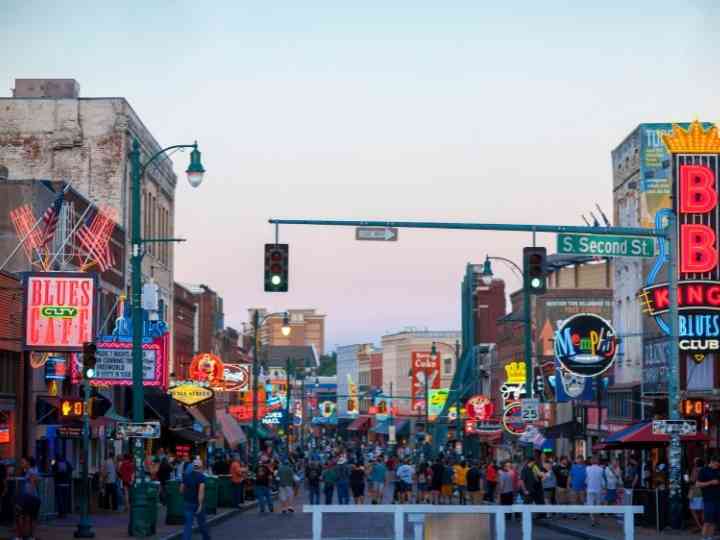 From Cleveland, I headed southwest 730 miles via I-70 and I-40 to Memphis, The House of the Blues. I made sure to visit Beale Street where all the blues clubs are. The other can't-miss destination in Memphis is Graceland, where Elvis lived.
I headed further southwest for another 647 miles via I-30 to Austin, Texas, The Live Music Capital of The World. Music is everywhere here!
Some of the coolest concentrations of live music venues can be found on Rainey Street, Red River, and Sixth Street off Congress Avenue.
Next up is the mother of all U.S. music cities, New Orleans. I headed east for 511 miles on I-10E and arrived at The Big Easy.
New Orleans, or NOLA, is in a class by itself for music lovers. Yes, you can visit Bourbon Street and have a Hurricane cocktail at Preservation Hall like every other tourist.
But if you really want to experience the best music this town has to offer, check out Frenchman Street with all the clubs. This is where the classic jazz musicians appear regularly. Go there!
#8: Weekend in Miami, Florida
A fun and vibrant place to spend a solo weekend is the fascinating city of Miami. From Cuban food to world-class street art, Art Deco buildings, and beautiful beaches, there's plenty to do and see.
With endless accommodation including sociable hostels, it's an easy place to spend time solo especially if you base in Miami Beach.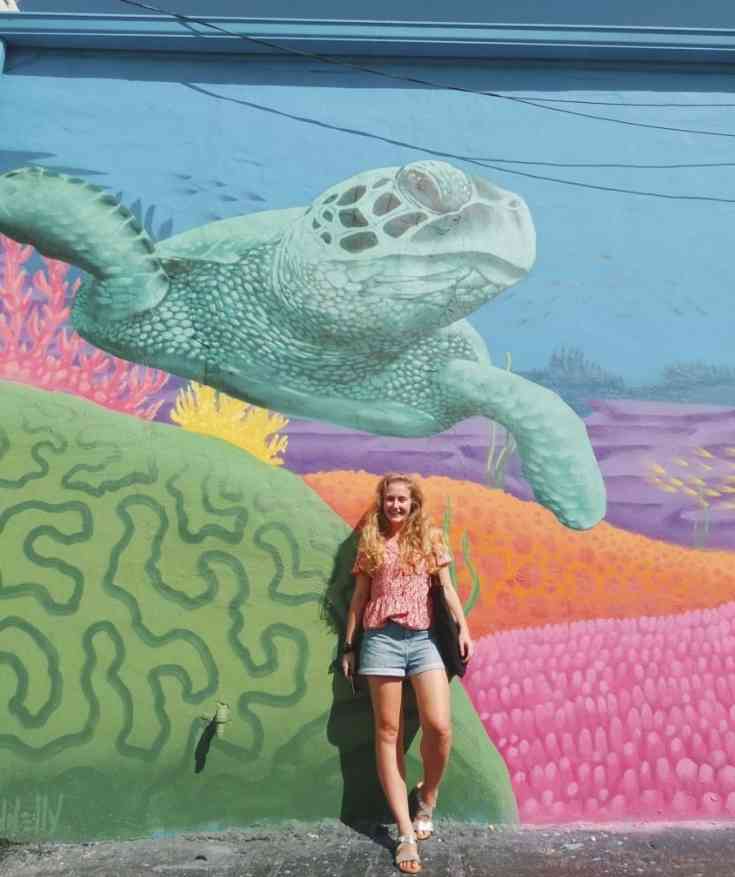 No Miami itinerary would be complete without a trip to Wynwood Walls, one of the street art hubs of the world. This once-industrial area is now a popular part of town, gentrified with enormous murals completed by famous street artists.
Wander the streets solo or take a tour starting from the GGA Gallery. It's a safe place to explore on your own but taking a tour means someone will likely help you get in your own photos.
Next, visit Little Havana and eat your heart out at restaurants, cafes, and food stands. Due to the situation in Cuba under Castro, many Cubans fled to the US and stayed put in Miami, bringing with them their delicious cuisine.
You'll need to brush up on your Spanish but don't let that stop you from exploring one of the coolest parts of the city!
Finally, spend at least one day hanging out in Miami Beach and spotting iconic Art Deco buildings. Around 2-3 days in Miami is optimum.
If you can squeeze Wynwood and Little Havana into one day, spend a couple hanging out at the beach. Stay in any of the hostels near South Beach and you're bound to meet people to explore with!
#9: Acadia National Park solo hike
✨ James Ian of Parks Collecting
Hiking in Acadia National Park is a great solo trip. The town of Bar Harbor is just outside the main section of Acadia, and there is a free shuttle bus service that runs all around the park from the center of town.
This makes it extremely easy to get around by yourself. You can hike even one way on some of the trails, and get picked up at a different spot.
One of the most famous trails in Acadia National Park is the Beehive. This is a challenging hike involving climbing on iron rungs in parts, and with steep drop-offs.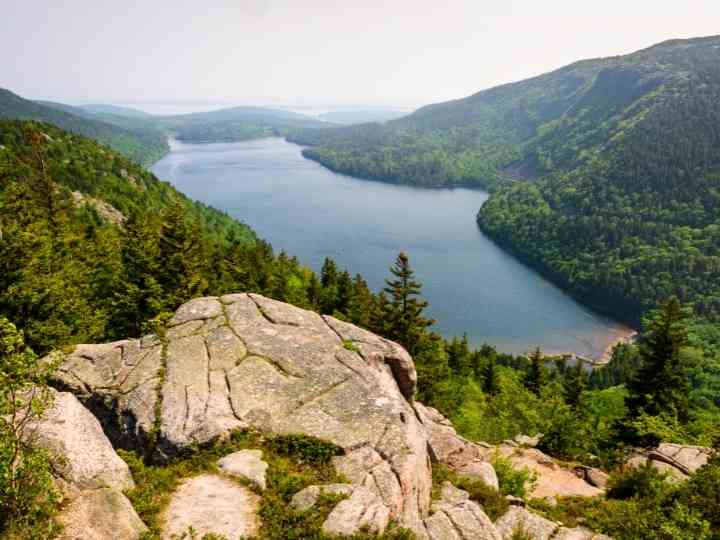 It's a fun hike, and the views at the top of the surrounding islands are stunning. Another highlight is the hike up to the top of Acadia Mountain and down to Echo Lake, which is the perfect place to cool off after the hike in summer.
Bar Harbor has several bars and casual restaurants where you can meet other travelers. I also struck up conversations on the shuttle and with fellow hikers on the trails and hiked for part of the way with others.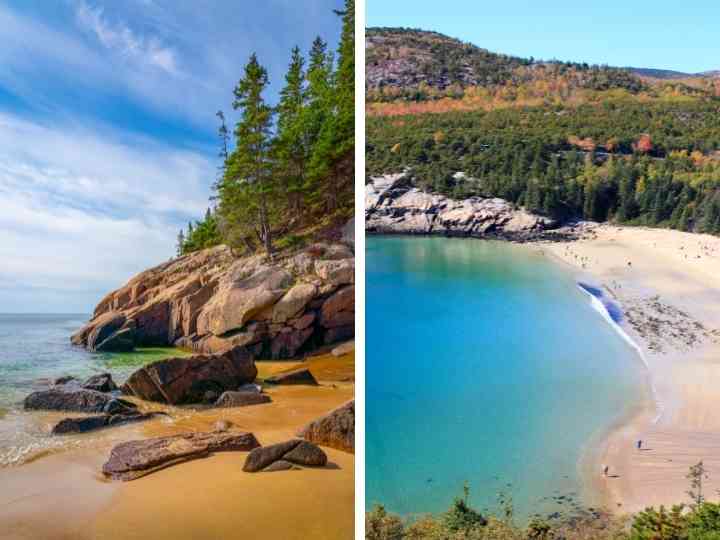 Jordan Boathouse, which has outdoor seating on the shores of Jordan Pond, and serves their home-baked popovers, is also a great place to hang out and meet other travelers at the end of a hike.
I recommend at least 4 days hiking in Acadia, though you could easily stay longer, as there are plenty of trails to discover and conquer. Because there are other travelers around, it's a very safe destination for solo travel.
If you love hiking, then a trip to Acadia National Park is the perfect solo trip for you.
#10: Orcas Island, Washington
✨ by Sumeeta of Sumeeta Seeks
One of the best solo trips in the US I have ever taken was a visit to Orcas Island. Orcas Island is a peaceful island in the San Juan archipelago to the west of Washington State.
As a solo traveler, it is truly an ideal destination because it provides a diverse abundance of activities, it is safe and offers comfortable accommodation options, and it leaves plenty of room for magic to occur.
If you need any more convincing, know that Oprah recently purchased a home there, which makes sense because Orcas Island is easily one of the most beautiful places in the US!
Allot at least 5 days for your solo visit to the island, ideally a week if you can.
Orcas Island is a great place to visit any time of year, but for solo travel, I personally prefer the winter months. Winter is the low season for tourism, and you'll feel like you have the whole island to yourself.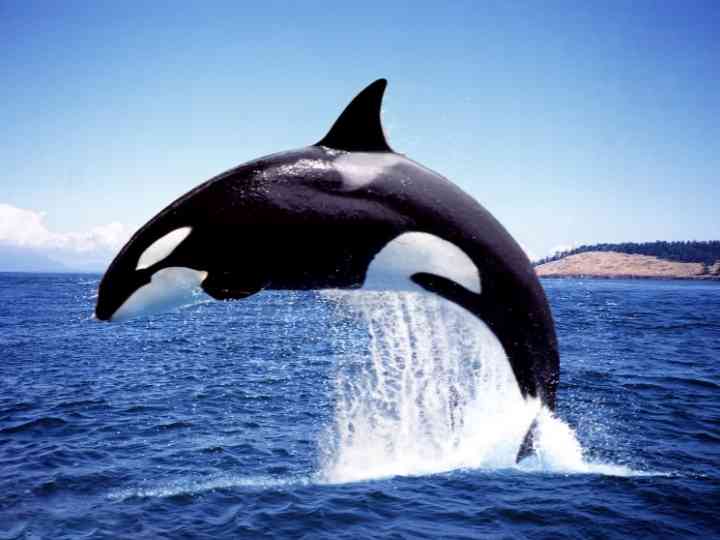 There is a multitude of activities to suit a range of interests. As an art lover, I personally loved Orcas Island Artworks where you can see the work of local artists.
Orcas Island Pottery is also a special place to visit for unique handmade pieces, and Darvill's Bookstore has stunning views and was my favorite place to curl up with a book and coffee.
There is also a lot on offer for nature lovers. Some of my favorite hikes were Mount Constitution and Obstruction Pass. As a foodie, I was delighted with all the excellent culinary choices!
You can't go wrong anywhere you eat – everything on the island is fresh, cooked slowly, and made with love. Finally, if relaxation is on your solo travel agenda, there are some great spa resort options to choose from.
Be sure to plan ahead for ferry times especially during the busy season, and bring a car so you can access all the best parts of the island.
If you're a solo traveler looking for a unique travel experience that allows you to reconnect with yourself, Orcas Island is your ticket!
#11: Utah Mighty 5 road trip
✨ by Krystianna of Volumes & Voyages
Easily one of the best solo trips in the US is the Utah Mighty 5 Road Trip. With ample free spots to camp along the way, this is even a trip that can be done on a budget and you can meet other solo travelers at the campsites!
This road trip is one of the best trips for solo travelers because it's filled with nature. I recently did the Utah Mighty 5 and was able to see the beauty of some of America's greatest National Parks.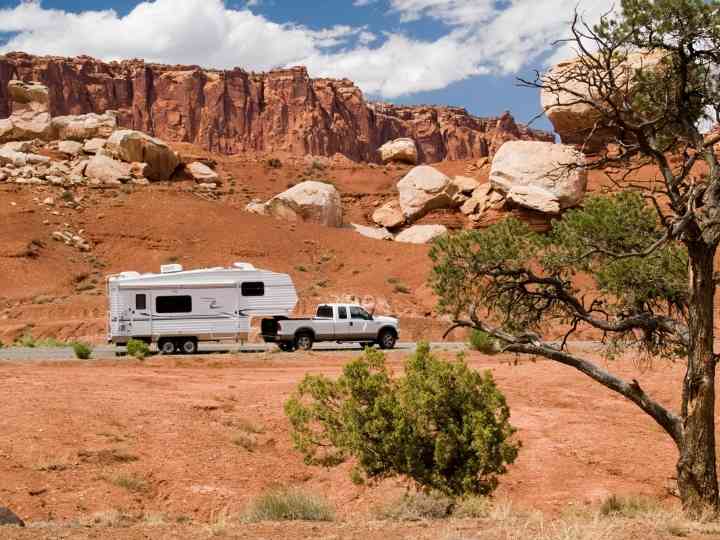 I started up by Moab and headed to Arches National Park first. Then, I went to the rest of the parks in this order: Canyonlands, Capitol Reef, Bryce Canyon, and Zion. You can also do the trip in the opposite order if you're coming from the west coast!
To do this road trip, it's recommended that to have at least six to seven days of time. Many people don't realize it, but even a day in Bryce Canyon or any of these other parks really lets you experience the beauty of them.
For ample time without being rushed, plan on about ten days. I personally had six days during my trip, and felt perfectly fine, but also was traveling in the fall when fewer tourists visit.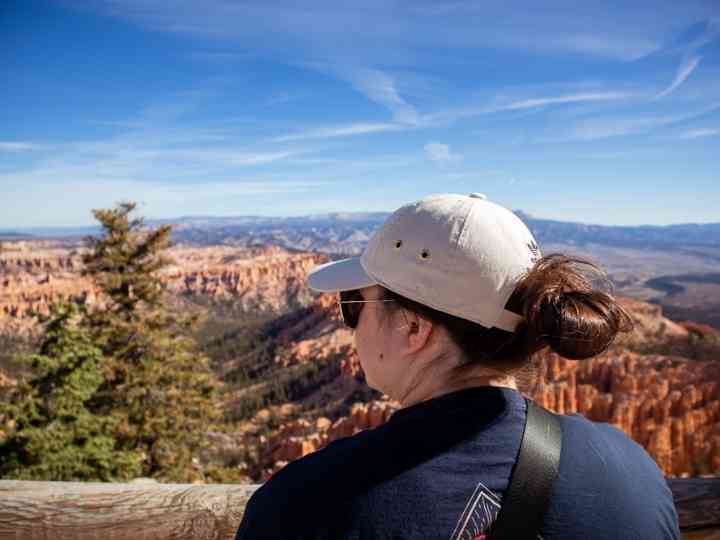 As far as safety goes, there's really not that much to worry about. Make sure to do research on the campgrounds where you're staying though – it often feels safer if you're lucky enough to be camping on-site with other people!
The Utah Mighty 5 Road Trip is one of the best I've ever done, and it's one of those trips you can keep taking again and again.
#12: A week of outdoor adventure in WNC
✨ by Carrie of Trains Planes and Tuk Tuks
Western North Carolina is home to the highest mountains in the East. You couldn't pick a better destination for a weeklong solo trip filled with outdoor adventure.
Start by backpacking the Art Loeb Trail – a 3-4 day adventure. I began at Davidson River, climbed to the 6,000-foot peaks of Shining Rock, walked 7 straight miles with panoramic views, and ended on iconic Cold Mountain (note it's easier, but anticlimactic, in reverse). It's 100% safe for experienced backpackers to go solo, but bears harass campers at Shining Rock Gap.
Next, head to Nantahala Outdoor Center for a whitewater kayaking course on WNC's legendary rivers. A two-day class includes skill-building on flat water, a half-day paddle, and a full-day paddle on Class I-II whitewater.
This is also the best activity for meeting other solo travelers – my group ended up hiking together after the class.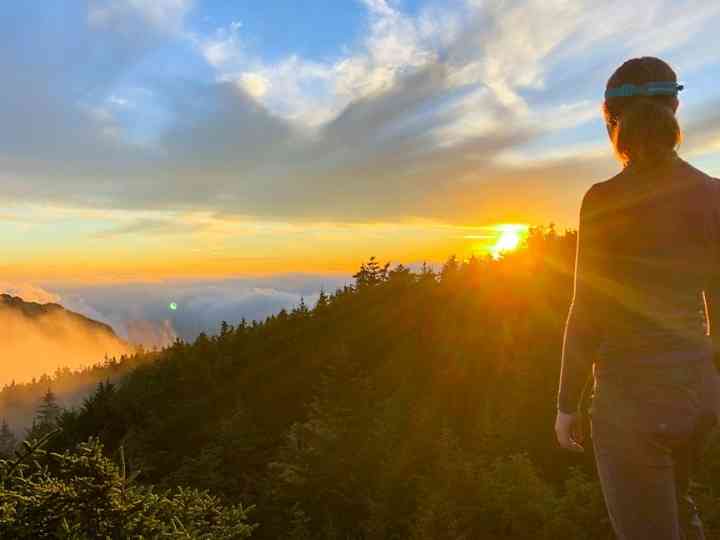 Spend your last couple of days mountain biking. Dupont State Forest is a great beginner option with waterfalls, while the Pisgah Ranger District offers intense descents amid wildflower blooms.
If you've never mountain biked before, you can learn with Pura Vida Adventures.
The Carolina mountains are one of the safest outdoor destinations in the U.S. Bring good rain gear and stay within your experience level, and you have nothing to worry about.
I've done well over 100 solo hikes here and never felt uncomfortable alone in the backcountry.
Meet other solo travelers on outdoor adventures, or head to a brewery. Papa's and Beer on Brevard Road in Asheville is where the mountain bikers hang out, paddlers love Big Pillow in Hot Springs, and I usually go to Lazy Hiker in Franklin to find hiking buddies.
✈️ Ready for your trip to the US? This blog thrives on reader questions so feel free to leave a comment below if you need help in planning your best solo trip in the USA!
🤳 Follow this adventure: INSTAGRAM | FACEBOOK | YOUTUBE | PINTEREST | TWITTER
Trisha is one of those people who left their comfortable life to travel the world and learn about life. Her style is to stay in one place she likes for 3 months (or more) to know what it feels like to eat, cook, speak, and sleep in another culture that isn't hers. She'd like to believe she's not traditionally traveling but she just chooses to be somewhere else all the time. In no particular order, her favorite cities in the world are Barcelona, Buenos Aires, Hong Kong, Mexico City, and Tel Aviv.