If you're looking for my Peru solo travel safety post, this is not it. In fact, this is not the traditional post I write about traveling alone. This is sort of a walk to memory lane on the amazing things I've seen and done.
I was browsing my Facebook photos today and came across multiple photos from the crazy year that I did my Peru solo travel. I remember the 20-something girl in me, and at that moment, I still recognize that girl who left home to travel the world at 25.
Peru was part of my 3-year South America backpacking where I get to travel countries like Argentina, Colombia, Ecuador, Uruguay – all by land! At a very young age, I never believed I've done it. Now, 14 years later, I still can't believe the amazing stories that I had while traveling slowly.
I want to share these stories with you in the hopes that you'll decide to embark on your own solo travel to Peru. Even if you think it's impossible for you to travel Peru solo, you'd be surprised with your capacity as a human being. With time, you'll get used to being alone. And the truth is, you're never really alone.
Peru solo travel experiences: 1 year in the land of the Incas
#1: I took a bus from Ecuador to Peru for 72 hours!
Before arriving in Peru, I was in Ecuador, a country I did not like so much so I only stayed for 90 days. After my 90-day visa expired in Ecuador, I decided it was time to move on. Peru was the closest and I was able to navigate all these by bus.
The bus ride was long because I started in Quito to Guayaquil. From there, I crossed the border to Peru (by foot) and then took another bus again. I first stopped in Mancora, a beautiful beach town north of Peru where I worked in a hostel (more on that later).
This was so memorable not because the bus journey was long but because I never thought that traveling to Peru overland from Ecuador was easy. At first, I was thinking about all the bad things that could happen but then I learned if you just push through, everything will be fine!
#2: When I arrived in Lima, I stayed with a stranger
Alright, don't freak out. He was not a total stranger. When I was traveling Palawan in the Philippines (some lifetime ago, honestly), I met this Peruvian guy who became my travel buddy in Palawan. Actually, there were four of us who did all the tours together and just basically hang out the entire trip.
When I told him I was visiting Lima for the first time, he said that he was still in Asia and could not host me in his house. To tell you the truth, I was not even looking for a free stay. Hostels in Lima are cheap so even if I was on a tight budget, a bed in a dorm is still part of my main expenses. In fact, a priority!
Back when we were in the Philippines / 2012
Out of nowhere, he opened a Facebook messenger thread between me and his best friend. He introduced us and when I arrived in Lima, I stayed in his house for a few days! It's really amazing how the chain of people you meet while traveling is all connected. My friend's best friend didn't know me but he openly welcomed me into his home just because his best friend said so.
Up until today, I keep in touch with these guys and I know that when they visit my home in Mexico, it will be my turn to return the favor.
➢ Click here to read about this experience
#3: I stayed in a hostel in Lima for a while
I only planned to stay in a hostel in Lima because I got a volunteering job at Kokopelli Hostel, a hostel chain in Peru that has branches in Cusco and Paracas. I was going to the Paracas branch so I figured, why not check out the branch in Lima just to see the vibe?
Love this gang!!! I can't believe this photo was from 7 years ago!
But then I ended up staying longer than expected. The moment I entered the hostel, I immediately clicked with the bar volunteers (and the manager) and they asked me to work in Lima instead of going to Paracas! At the time, Lima was not that inviting for me to stay long-term. I declined the offer but I stayed there as a normal guest. I still got to hang out with everyone!
The people in the photo above? We're still best friends up to now – I never outgrew them!
#4: I went to Paracas and volunteered in a hostel
This one deserves a book. And I'm on it. I don't know how to start but sorry Lima, the Paracas branch is way cooler! Paracas is a small town south of Lima (about 4 hours bus ride). Originally, I was only volunteering here for 2 weeks but I ended up staying for 4 months!
The job was at the hostel bar. Meaning, I had to mix drinks for clients even if I had no idea how to. The bar manager trained us a little bit but pretty much, we were on our own. I don't remember how old I was at this time (probably 22-25) but I do remember that all of us, including the hostel staff, were drinking every night!
Part of the job is to make backpackers drunk and what better way to do that than to get drunk with them.
#5: My friends in Paracas became my best friends forever
One realization from my Peru solo travel escapades: you are never really alone. I mean, I arrived by myself but after a while, I found a family. When you volunteer in hostels, you will share a dorm with fellow backpackers from all over the world. You will have to put up with all the mess and the craziness because you technically live with these people.
There were more guys in my volunteering group than girls so you can imagine how disgusting our dorm room is. But half of my heart is these people (photo above). I am not kidding when I say we talk almost every day up until now. We have a Whatsapp group and most of us, though not complete, have met in different countries after Peru.
We were a big family!
To tell you the truth, these are my current best friends and I share everything with them. I feel closer to them than the best friends I grew up with, mainly because we are on the same wavelength when it comes to living life. When you make living in the present your mission, you will come across people like this! I love these kinds of encounters!

#6: I became the hostel manager after volunteering!
The ex-manager had to leave and he recommended me to be the next manager. Look, I am really a hard worker but I never thought that a bar job was something I'd be offered. Because of my highly organized skill as a volunteer, the hostel owner hired me as an employee and processed my work visa in Peru!
Celebrating my birthday in the hostel. Love this gang!!!
Then I stayed in the same place for another year which was another chapter. I got an apartment, I was in a relationship, I lived in Paracas and stopped moving frequently for a year. It wasn't something I was expecting to do since the plan is to keep moving.
But when opportunities like this arise and you feel good about it, then you have to take it. I felt good about staying longer in Paracas and that's all that matters.
#7: All of us in Paracas went to Bolivia together
As if we didn't spend enough time together, all of us went to Bolivia together and start our journey there! The good thing about backpacking is you're not following a schedule. You can stay and leave whenever you want to. I don't remember the exact conversation we had about going to Bolivia together.
But I do remember that when people leave, I always had the feeling of feeling left out. I start getting lonely. In this case, I think I was the one who was leaving so without questions, the whole dorm packed their stuff and hopped on a 32-hour bus ride to Bolivia!
When we arrived in Bolivia, we also worked in a hostel… TOGETHER. We told the hostel owner that he had to accept all or nothing. We also explained to him our bar dynamics in Paracas and that we know how to work together very well. He was convinced and gave all of us the bar job!
#8: I went to Machu picchu. Thrice.
I don't know why I did this three times but every time I come across people who are about to go to Machu Picchu, I always tag along. My very first Machu Picchu trek was literally by myself. I just met some people on the bus on the way up. The second one was a sponsored trip for the blog and the third was with friends from the Philippines (and the hostel).
Recommended: Your guide to visiting Sacred Valley, Peru
First Machu Picchu trip in 2014.
I always had fun visiting Machu Picchu but what I enjoy the most is the 6-hour trek to Aguascalientes! Through these trips, I realized how little difference there is if you are traveling alone, with a tour guide, or with a big group of friends. It just gave me more courage to keep traveling solo and never feel afraid.
#9: I stayed in a hostel in Cusco for 2 months and made awesome friends!
It's the same hostel chain that I worked in in Paracas but has a different vibe. I really like Cusco even if a lot of people only stay for a short time because of the altitude.
There is a different culture in Cusco that is so young, vibrant, and exciting but only if you know locals. If you're visiting Cusco just because of Machu Picchu, then that's a different experience.
I did not work here. I was just a normal guest who kept hanging out with the hostel crew, but most of the time with guests. There wasn't another way to spend a whole month in Peru but to live in this hostel. No rush, no activities, no early morning tasks.
The only thing you need to do is to go up the bar when it's time for happy hour – everyone will be there for sure.
#10: I worked in a vegetarian restaurant in Cusco
This was a sort of emergency accommodation. I never really planned to work in a restaurant because I know that the hours are super long. But as someone who loves food and cooking, I went with it anyway. The truth is, when I was looking for volunteering jobs in Cusco, this was the only one available so I applied and got accepted.
The owners of the restaurant are an Israeli and Peruvian couple. They have a cute newborn baby (probably already 8 years old now!) and I lived with them together with a German volunteer. This wasn't the best volunteering job because there were only two of us but I really learned a lot about Israeli food.
#11: I worked in a hostel in Mancora
This is probably the loudest hostel I've worked in my whole life. Up until today, I kept thinking about how I was able to rest and live in this very loud environment. Or maybe I didn't?! It's funny how we feel so invincible in our 20s' but now it's taking its toll – I am pretty sure I can't live this life anymore!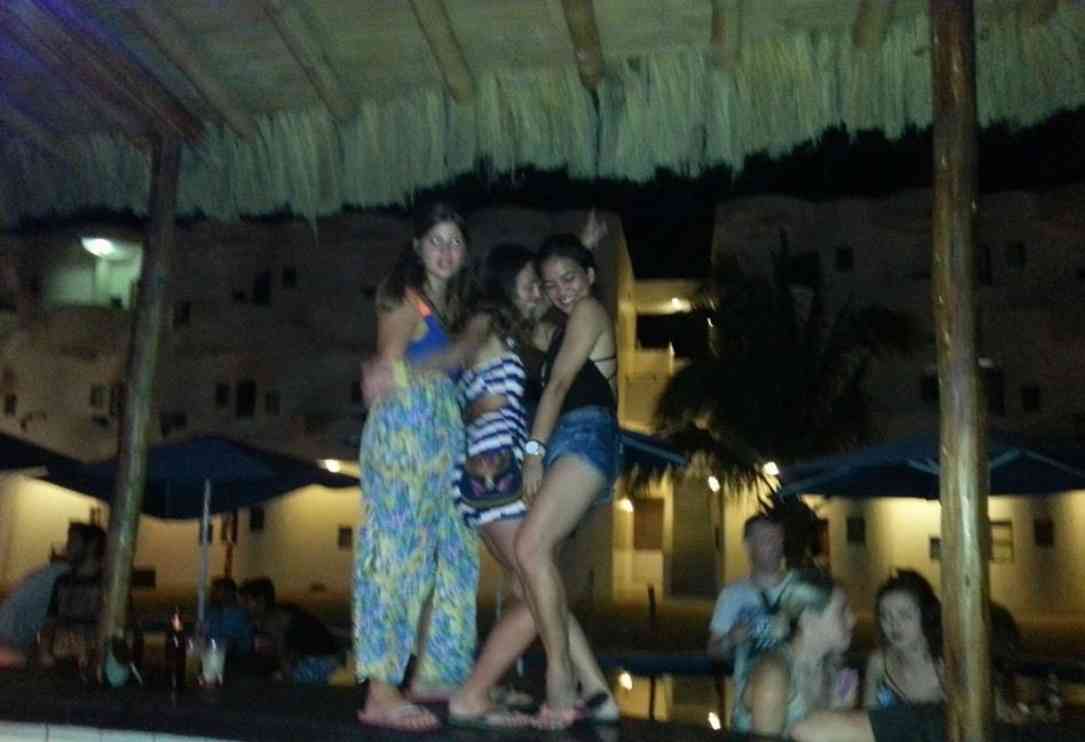 Mancora is a surf town in Northern Peru. Most people don't really visit this route but I loved Mancora because of its small-town vibe. I also worked with a lot of girls here, something new because I always worked with guys. For sure, there were many nights I don't remember but always with the people I will never forget.

Peru solo travel: was it worth it?
I still have a thousand things to add to this post but I will continue to update this as I write my book about Peru. For now, these are all the memories that I can remember – I have to browse all the photos again on my Facebook to see some more memories!
If you're doubting traveling to Peru alone, check out my post about solo female travel in Peru. This article tackles more about safety and how to navigate Peru by yourself. Should there be any more questions, feel free to get in touch with me. Let's chat and plan your solo trip to Peru!
☕ Do you like what you're reading? Does it help? I take a lot of time creating valuable and meaningful content. If you like to support my content creation and my blog, consider donating to my coffee fund. Thank you in advance!
Peru solo travel experiences on Pinterest: save it for later!
Trisha is one of those people who left their comfortable life to travel the world and learn about life. Her style is to stay in one place she likes for 3 months (or more) to know what it feels like to eat, cook, speak, and sleep in another culture that isn't hers. She'd like to believe she's not traditionally traveling but she just chooses to be somewhere else all the time. In no particular order, her favorite cities in the world are Barcelona, Buenos Aires, Hong Kong, Mexico City, and Tel Aviv.