I actually say do it all (if you have time) when asked where to go in Peru. There are many places to visit in Peru and I've traveled the whole country (twice) and in this post, I will share my personal experiences hoping you'd visit Peru, too!
📬 Reader Mail: Hi Trisha! I've been reading your South America blogs for 5 years now and I finally had the courage to go this year.
I want to start in Peru but I have no idea how to start. Can you tell me where to go in Peru? It looks like there's a lot of choices but I only have 2-3 weeks max. Thanks for all your help and keep writing! I hope you can write your book very soon!
– Lucas Callanan, Australia
Dear Lucas,
Thanks a lot for writing. Really, I understand your pain, most especially you are only staying in a big country for a short time.
I spent 163 days backpacking in Peru and I understood how hard it was to decide where to go in Peru. This country has everything! Adventure-seekers from all over the world go to this country because of its vast outdoor activities.
Below are some of my recommendations and these are the places in Peru that you can't miss. I'm sure 2-3 weeks in these places will do.
Good luck and enjoy Peru! Let me know if you have additional questions!
Xx,
Trisha
What are the three famous attractions in Peru?
Peru is a country where there are many outdoor activities. Really, there are a lot from north to south! I would say that the top three famous attractions are Machu Picchu, Rainbow Mountain, and the Sacred Valley.
View this post on Instagram
The north (Huaraz) which is my favorite is popular to hikers but is often skipped because it's not part of the mandatory places to visit in Peru circuit.
What's the most visited destination in Peru?
The most visited destination in Peru, is of course, no doubt, Machu Picchu. Everyone dreams about having an Instagram photo on top of this seven wonders of the modern world.
View this post on Instagram
Machu Picchu displays an exquisite culture and structure of the Incas. It is very well-preserved and it's one of the most beautiful places on Earth! No one goes to Peru without visiting Machu Picchu.
What cities should you visit in Peru?
People often skip Lima because many tourists think there aren't a lot to do but Lima is a great city I always come back to! Lima also has a reputation of being unsafe hence people just swing by, usually for International flights.
View this post on Instagram
Another city that I love in Peru is Arequipa. You can miss Lima but not Arequipa! Arequipa is one of the most beautiful cities I've seen in my life!
☕ Support this blog's honest and transparent journalism. Help us add value to our content! Keep P.S. I'm On My Way content free for all by donating to our coffee fund.
15 places to visit in Peru: top places you should't miss!
#1: Machu Picchu
The #1 reason why we want to visit Peru in the first place, Machu Picchu is one of the most visited tourist spots in the world.
You can reach it in different ways: through the Inca trail for 4 days/3 nights, a total of 43 km hike. If you don't want the long way, this trail is also available for one day (15 km trail).
Each year, the Inca Trail closes for maintenance during the month of February, reopening on March 1.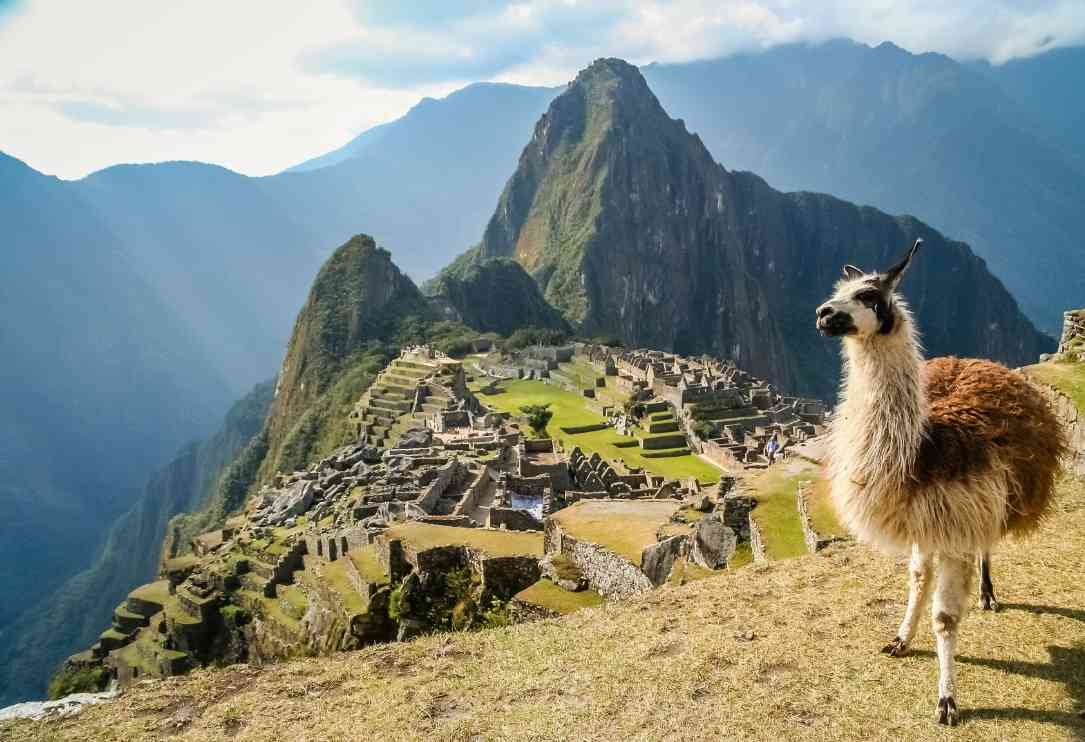 Machu Picchu is also accessible by train via Peru Rail from $400 USD. Majority of the people do the cheapest route: van from Cusco then a 6-hr hike to Aguas Calientes.
After the hike, spend the night there then Machu Picchu sunrise hike. This costs less than $100, not including entrance fee to Machu Picchu.
Where to stay in Aguas Calientes
#2: Cordillera Blanca
Experience the best of the Andes Mountains with breathtaking snow-capped mountain views. It is the second highest mountain range in the world and surprisingly, one of the most accessible. In the Cordillera Blanca, you can do five different treks:
Santa Cruz Trek, the most popular of all the Cordillera Blanca trekking trails and one of the best treks in Peru. This is an easy to moderate trail. You can do this for 4 days with camping in between. It's definitely an outdoor experience! May to September is the best season for this trek.
Laguna 69, is a very easy trek, taken by those who want to acclimatize for the bigger treks. Only a 3-hour drive away from Huaraz, the trek is uninhabited mountain trails. You can do this for one full day. May to October is the best season for this trail.
Alpamayo Base Camp trek, where you will get to see the two highest mountains in Peru: Alpamayo (5,947 m) and Huascarán (6,768 m). It is a challenging trek as the trail is secluded. Few trekkers take this route as it is remote and a rarely visited area.
Laguna Churup day hike, another good acclimatization hike that can be done independently. As you hike, you will see fantastic views of Huaraz and Churup Mountain from a distance. You will also get to visit Laguna Churup, one of the most beautiful lakes in the Huascaran National Park.
Quilcayhuanca – Cojup trek, where there's a chance you will see Peru's finest, the condors. This trek is short and easy so it's good for people who are not staying long in Huaraz. See breathtaking views from the Huapi Pass, about 5,000 m.
Where to stay in Huaraz:
#3: Kuélap
Kuélap is a walled settlement located in the mountains near the towns of María and Tingo, in the southern part of the region of Amazonas, Peru.
It was constructed between AD 900 and 1100, and rediscovered in 1843. Access to the wall is via three deep, narrow gates designed like funnels.
To get there, you can fly from Lima to Chachapoyas. A day trip to Kuelap (via cable car from Chachapoyas) starts at $80 USD.
Where to stay in Chachapoyas:
#4: Laguna Parón
Located east of Caraz, Laguna Paron is a spectacular lake and considered one of the best sights of Peru. It is the largest lake in the Cordillera Blanca with a catchment area of 44.3 km², 3.7 km long (E-W) and an average of 700 m width (N-S).
If you're an adventure/outdoor type of person, then you will enjoy this site! A full day tour to Laguna Parón starts at $18 USD.
To get to Caraz, you can take a bus from Huaraz, a 1.5 hours ride that costs $35 USD est. If you're coming from Lima, you can take a 5-hour bus to Chimbote.
The bus station in Lima is located in Luna Pizzaro. This bus runs once daily and costs $9 – $13 USD. You can check the hours at Grupo Palomino, a bus company in Peru.
Once you reach Chimbote, you will take another bus to Caraz for 2.5 hours. This bus only runs 4 times a week and the price varies. You can check Yungay Express for the trip hours.
Where to stay in Caraz:
#5: Isla Ballestas and Reserva Natural de Paracas
I spent a lot of time in this coastal town in Peru called Paracas and this is where the Ballestas Islands lay. It is dubbed as the 'budget Galapagos' of South America because you will also see a lot of animals here.
Paracas is a very small city and the one that holds a special place in my heart, the best chapters of my life in Latin America happened in Paracas.
I volunteered, worked and lived here and I just couldn't leave. I also met my best friends here so it's really an important place for me! Paracas is a small town filled with expats, beaches and very peaceful surrounding.
Travel time from Lima is 3-4 hours by bus and costs around $12.00 – $20.00 USD. A half day tour to Isla Ballestas and Reserva Natural de Paracas starts at $36 USD.
Where to stay in Paracas:
#6: Huacachina Oasis and Nazca lines
I lived an hour away from this place and never thought of visiting until I continued my journey to Cusco. Huacachina is a healing oasis where people from all over the world come for sandboarding. Ideal for a day trip but there are also hostels nearby if you want to stay the night.
Everyone calls the Nazca lines an archaeological mystery. These super straight lines (800 lines, to be exact) with 300 geoglyphs and 70 animal and plant drawings that you can see over the 500 square km plain of the Pampa Colorada.
Most people take a helicopter tour here to see the drawings from above the ground. A 30-min flight over the Nazca lines start at $150 USD.
Huacachina and Nazca are about 2.5 hours away from each other but you can do both for a full day tour. You can easily get to Ica from Paracas and Lima through a 30-min to 1-hour bus ride.
Where to stay in Ica:
#7: Colca Canyon
Dubbed as the Grand Canyon of the South, this is one of the deepest canyons in the world and is one of the most popular tourist destinations in Peru.
Arequipa is all the way to the south of the country so this is a good place to go on your way to Cusco.
Flights are available from Lima to Arequipa from $91 – $195 USD. Flight duration is 2 hours. If you want to take the bus, it will cost between $18 – $25 USD on a bed bus.
This bus ride will take at least 18 hours. A 3-day tour at the Colca Canyon starts at $100 USD.
Where to stay in Arequipa:
#8: Uros Islands
If you're continuing your journey from Peru to Bolivia, make sure to pass by Uros Islands, a floating island created with totora reeds, a plant that grows in swampy areas throughout the Andes.
They also have bundled reed boats for tourists where you need to pay $3 USD to take photographs. The indigenous group of people who live here is called the Uros, from Peru and Bolivia.
They live on an approximate and still growing 120 self-fashioned floating islands in Lake Titicaca near Puno.
From Cusco, you can get to Puno by bus. The fare range from $12 – $45 USD and the trip can last up to 7 hours. Puno is usually the next route after Cusco or Arequipa.
Where to stay in Puno:
#9: Sacred Valley
A popular stop to tourists going to Machu Picchu, the Sacred Valley is also sacred to the Incans. Situated 15km north of Cusco, this lush green valley is rich in agricultural lands.
In here, you will be able to go to see the Ollantaytambo ruins, an ancient Inca temple in Peru. You can also do activities like white river rafting, mountain biking, and paragliding.
Maras and Salinas de Moray are also located here, a dug-out amphitheater. Up until today, scientists are not exactly sure about the purpose of the site.
To reach the Sacred Valley of the Incas, you need to go to Cusco. Normally, tourists start their journey to Pisac, Urubamba next then Ollantaytambo.
Where to stay in Cusco:
#10: Huacas del Sol y de la Luna
Located 8 kilometers south of Trujillo within the Moche Valley, this archaeological complex was the capital of the Moche culture during the 1st and 7th centuries AD and its current extension is 120 hectares.
Being part of the Moche route, Huacas del Sol y de la Luna are two of the main tourist attractions of Trujillo. A day trip tour from Trujillo starts at $43 USD.
From Lima, you can take a bus to Trujillo for $24 USD (est). Duration on the bus ride is about 8 hours. Multiple bus companies in Lima service this route so it runs pretty frequent.
Trujillo is only 6 hours away from Huaraz. The bus ride costs less than $15.
Where to stay in Trujillo:
#11: Catarata de Gocta
The Gocta Waterfall, which falls from a height of 771 meters, is one of the highest waterfalls in the world. Enjoy the power of this natural wonder in a 9-hour hike or on horseback from Chachapoyas.
After a 2.5-hour hike or horse ride through the spectacular landscapes of the Amazon rainforest, you will reach the Gocta waterfall and have the opportunity to cool off under its powerful currents of water.
For a full experience, book a stay at Gocta Andes Lodge, Peru
An all-inclusive day tour starts from $93 USD. To get there, you must go to Chachapoyas. Take a night bus from Lima (Victoria).
Bus ride duration is about 17 hours and costs $35 USD (est). For accommodations in Chachapoyas, please refer to #3 (Kuelap).
#12: Caral
Caral is a large settlement in the Supa Valley, Barranca Province, Peru. It is considered Peru's most impressive ruins and makes a popular day trip from nearby Lima (about 200 km north of Lima).
Caral is the most ancient city of the Americas and a well-studied site of the Norte Chico civilization. The city was declared a UNESCO World Heritage Site in 2009.
A day trip to Caral Archaeological site (from Lima) starts at $125 USD.
To get to Caral, take a bus from Lima. This costs $13 USD and the bus ride duration is 3-4 hours. Go down to Huacho and from there, take a taxi or shared taxi to Caral ($45 – $50 USD, around 45 mins ride).
Where to stay in Huacho:
#13: Chavín de Huántar
A phenomenal ancient construction, Chavín de Huántar has temple-like structures above the ground and an electronically lit labyrinth underground passage.
A day trip from Huaraz (including Querococha Lagoon) starts at $24 USD. If you are looking for accommodations in Huaraz, kindly refer to #2 (Cordillera Blanca).
#14: Reserva Nacional Tambopata
The Tambopata National Reserve is one of the true jewels of the Amazon jungle. It is a mandatory destination for travelers from Peru and nature lovers from around the world.
Flights from Lima to Puerto Maldonado start range from $120 USD – $300 USD, one-way, depending on the season.
To get here by bus from Lima will take you 28 hours and will cost $65 – $100 USD. From Cusco, it will take a 10-hour bus ride that costs $12 – $45 USD.
Civa, Movil Tours, Tepsa, and Transzela are 4 of the bus companies servicing this route (from Cusco).
Where to stay in Puerto Maldonado:
#15: Amazon Rainforest (Iquitos)
Iquitos is the "capital of the Peruvian Amazon". The city is located in the Great Plains of the Amazon Basin, fed by the Amazon, Nanay, and Itaya rivers. Indigenous people from Peru inhabit this area.
You can fly from Lima to Iquitos. Flight prices range from $98 USD to $200 USD. If you want to take the bus from Lima (Victoria), the destination is Yurimaguas.
This ride will take 25 hours and costs $45 USD. From Yurimaguas, you will need to take a 12-hour ferry to Nauta that runs three times a week.
Tickets are purchased on-board. When you reach Nauta, you will reach Iquitos via car/taxi. This costs between $9 – $14 USD and takes 2 hours.
Where to stay in Iquitos:
The best places to visit in Peru on Pinterest: save it for later!
Trisha is one of those people who left their comfortable life to travel the world and learn about life. Her style is to stay in one place she likes for 3 months (or more) to know what it feels like to eat, cook, speak, and sleep in another culture that isn't hers. She'd like to believe she's not traditionally traveling but she just chooses to be somewhere else all the time. In no particular order, her favorite cities in the world are Barcelona, Buenos Aires, Hong Kong, Mexico City, and Tel Aviv.