Is Puerto Vallarta cost of living cheaper than any Mexican city? I've been living in Mexico for the past 3 years and have been seeing the different costs around the country. So far, I think Puerto Vallarta wins in best in value and quality of life.
📬 Reader Mail: Trisha, thanks for all the helpful Mexico posts! My name is Nancy and I just transitioned from office life to work from home.
Next year, I would really love to leave the USA. My goal is to save money and I feel like the costs are cheaper in Mexico. What's the general view of Puerto Vallarta cost of living?
Is Puerto Vallarta expensive? I found some Airbnbs for less than $1,000 USD. Can you verify the legitimacy of these accommodations? Thank you for all your help!
– Nancy Larios, USA
Hi Nancy,
I am glad you are choosing Mexico as your digital nomad base! For sure, your money will stretch further here as opposed to living in the US.
Especially if you're already working at home! I am currently based in Baja California Sur but I was in Puerto Vallarta for a year.
I feel like it's the cheapest digital nomad base in Mexico so as I've also lived in other cities like Mexico City and Guanajuato. The costs are incomparable! PV always wins!
I'll share with you my personal expenses in this post when I was living in Puerto Vallarta. I hope you find your way to PV. I still visit quite a lot so I hope our paths will cross! Just send me a message when you arrive and let's see if our wavelengths will connect!
Good luck! I really wish you'll enjoy Puerto Vallarta!
Xx,
Trisha
In the middle of the COVID-19 pandemic in 2020, I decided to move to Puerto Vallarta. Since I came from Sayulita, one of the Mexican beach towns with a high cost of living, I found Puerto Vallarta cheaper.
I was actually choosing between PV and Mexico City but found out that PV is still cheaper. I even compared it to Guadalajara and still, PV won.
As an expat in Mexico who tries to live in different towns/cities every year, I learned that I have to set a budget when it comes to housing.
The rest of the other stuff like food and transport are easier since they are almost the same in every Mexican City. As for the apartment costs which are the bulk of all our costs, I've seen a very big difference so setting a budget was the smartest thing to do.
Why move to Puerto Vallarta?
Living in Puerto Vallarta is kind of a mix of both. You'll have the city and you'll have the beach at the same time – think Barcelona and Tel Aviv.
The busses are efficient and can go all the way to the small towns of Sayulita and San Pancho. Uber is also cheap and works everywhere. I have a car but I really don't think you need a car in Puerto Vallarta since parking is super impossible.
The streets are too small (and one-way) so it will take a lot of time to find parking. Rental homes and apartments don't have their own parking so you always have to search whenever you use your car.
As a digital nomad, having a strong WiFi connection is one of my requirements. Honestly, that's a luxury in Mexico but Puerto Vallarta has a very modern infrastructure and has over 25 Internet providers. Fiber optic wifi is also available.
I did not have this while living in Sayulita so it's really a relief to have cheap (and fast) Internet! Because of this, the number of digital nomads in Puerto Vallarta is increasing every year.
Quality of life in Puerto Vallarta
In the expat groups on Facebook, you'll see how a lot of people share how their quality of life has changed when they moved from the USA/Canada to Puerto Vallarta.
One even said he retired in Mexico waiting to die and found out that his health changed when he moved to Mexico. It's really heartwarming to read posts like this because it is true! Moving to Puerto Vallarta can definitely better your way of life.
If you live by the Zona Romantica or Marina Vallarta, you will be within walking distance to the beach.
According to Tessera Brandon, there are lots of benefits to living near the water such as breathing fresh air, strengthening your immune system, getting better sleep, increasing white blood cell count, and extreme relaxation.
These factors have changed the lives of a lot of expats in Puerto Vallarta and you can have this kind of lifestyle, too!
See also: The best things to do in Puerto Vallarta, Mexico
View this post on Instagram

I also believe that living space contributes to life quality. For example, if you are paying a $2,500 USD studio apartment in New York where there is not enough space for your dogs, your $2,500 USD in Puerto Vallarta will be a 4-bedroom villa facing the ocean. Of course, you don't have to pay this amount as there are apartments with large spaces for less than $1,000 USD.
Expats also enjoy eating out in Puerto Vallarta without thinking about the price. In fact, most of them do it every day! You can have a nice meal in an upper-scale restaurant in Puerto Vallarta for $20 USD (i.e. steak) and can have a bottle of wine for the same price.
Is Puerto Vallarta cheap?
ABSOLUTELY! I consider Puerto Vallarta as one of the cheapest places to live in Mexico. I feel like you can easily live here for $80) USD a month, especially if you are not renting an apartment in an expensive area like Zona Romantica. Traveling Puerto Vallarta on a budget is also achievable. You can easily do it for $30 USD per day if you're on a tight budget!
How much does it cost to live in Puerto Vallarta for a month?
You can comfortably live in Puerto Vallarta for $1,200 – $2500 USD per month. I also know some people who go by with less than $1,000 USD! As expats, we always want rental homes near the beach and in PV, that comes with a price. Bills are super cheap (about $15 USD per month for electricity) and eating out is very affordable (about $10 USD per meal in a good restaurant).
If you plan to live in Puerto Vallarta long-term, you might want to find apartments in the cheapest neighborhoods (not Zona Romantica, sorry!). If you are a remote worker who wishes to stay in Puerto Vallarta short-term, read the digital nomad guide to Puerto Vallarta as the costs might be different.
Is Puerto Vallarta a good place to retire?
There are many retirees in Puerto Vallarta. In the Puerto Vallarta expat group, these retirees have reported that their quality of life have improved when they decided to retire here. PV has everything for you to retire comfortably in Mexico.
While some expat retirees choose Mexican beach towns, Puerto Vallarta gives you the best of both worlds: living in the city and at the same time near the ocean.
More cost of living in Mexico guides that you may like:
☕ Support this blog's honest and transparent journalism. Help us add value to our content! Keep P.S. I'm On My Way content free for all by donating to our coffee fund.
Puerto Vallarta cost of living guide
Your baseline cost of living in Puerto Vallarta is $1,200 minimum, a price that most expats in PV spend. Of course, your lifestyle will always be the baseline for your costs. I will also share my lifestyle below but here are the estimated prices.
| Monthly expense | Estimated monthly cost |
| --- | --- |
| Rent | $600 USD |
| Electricity | $15 USD during the winter, about $100 USD during the summer with AC on |
| Water | $10 USD |
| Housekeeper | $100 USD (once a week visit, $25 USD per visit) |
| Groceries | $225 USD |
| Transportation | $100 USD |
What I spend monthly
Again, your Puerto Vallarta cost of living will depend on your lifestyle. To give you a better example, I will share with you my fixed monthly expenses:
🏡 Housing/rent
I pay $650 USD for a 2-bedroom house with one studio, 2 floors, and a back garden. Please note that if you want to live in popular areas like Zona Romantica, a house this size can be double or more. In Puerto Vallarta, having an oceanview apartment and a terrace also makes the rent prices increase.
🛍️ Grocery shopping
I love to cook and even if Puerto Vallarta has some great restaurants, I still prefer homemade food. The good thing is there are lots of groceries in PV. We're even one of the cities in Mexico that has Costco! Since I am living alone, I try to do $75 USD for 10 days worth of groceries. I also try my best not to throw food so I do weekly visits to the supermarkets.
⛽ Gasoline
I go to Sayulita and Punta Mita a lot but I only spend around $100 USD every 2 weeks. I have a truck and a full tank costs about $100 – $120 USD. I don't always drive in PV because parking is super hard. Uber rides are about $5 – $10 USD per ride.
🐾 Dog stuff
I have two dogs so their monthly expenses are part of my Puerto Vallarta costs, too! Dog grooming costs $10 USD per dog. Their one month dog food is about $30 USD. This brand is Beneful ($21 kg) but Kirkland brands in Costco are also in the same price range.
💅 Beauty and wellness
One of the great perks of living in Mexico is that beauty and personal care are super cheap! Teeth cleaning is at $25 USD and I do it every 4 months. I also do weekly massages for 1.5 hours around $30 USD (deep-tissue massage). For manicure and pedicure, a package is at $30 USD in a good spa.
I also do monthly facials for $10 USD. Waxing is about $50 USD for a package (brazilian, legs, and underarm). I also spend $100 USD for 20 sessions of pilates per month. My monthly gym membership is $7 USD (unlimited).
📶 Wifi
I am not with Telmex since their fiber-optic services are not available on my street. I use an International wifi company in Puerto Vallarta and I pay $50 USD per month for a fiber-optic connection. This also came with two routers as I have two floors in my house.
🔌 Electricity bill
My electricity comes every 2 months and I pay about $15 USD for 2 months in the winter. Temperatures are cooler from November to May so I never turn my AC on.
I'm also not a big fan of AC. However, during the summer, my electric bill goes up to $120 USD for two months. I work at home and this rate goes up when AC is on for at least 8 hours a day.
🚰 Water bill
No matter how much water I use, I pay a default bill of $6 USD per month. Mexico has a very strangely cheap water bill. In fact, in Sayulita, I never paid for the water bill!
🚰 Cleaner/housekeeper
I have a cleaner that comes twice a week to do deep cleaning. I pay her $17 USD per day so it's roughly $100 USD per month to have someone clean your house in Puerto Vallarta.

Food costs in Puerto Vallarta
How often do you eat out? I am super guilty about eating out all the time because Puerto Vallarta has a lot of amazing restaurants! Even if I was already here for the last three years, I was not able to try them all!
| Item | Price in USD (est) |
| --- | --- |
| Street taco | $1.51 USD |
| Restaurant food (malecon) | from $10 USD |
| Restaurant food (Mexican) | from $5 USD |
| Fast food restaurant (combo meals) | $5.82 USD |
| 500g boneless chicken breast | $2.50 USD |
| 1 dozen of eggs (non-organic) | $1.62 USD |
| 1 dozen of eggs (organic) | $4.53 USD |
| Bread (Mexican bakery) | $1.26 USD |
| 1 kg tomatoes | $1.02 USD |
| 1 kg apples | $1.82 USD |
| 1 kg potatoes | $1.12 USD |
But living here also means that I have to cook, which honestly, I truly love doing! Grocery prices are super cheap in Mexico.
In fact, I only spend about $75 USD for 10 days if I am strictly eating at home. I did a Puerto Vallarta supermarket tour on Youtube where I showed all food shopping in PV. Check it out to see real-time prices!
Housing/rent costs in Puerto Vallarta
Zona Romantica is the most expensive neighborhood in Puerto Vallarta. Rent can start at $1,000 USD per month considering that it meets your standards.
The usual request/questions when looking for housing in Puerto Vallarta includes: is it flat or uphill? Is it near the beach? Will I have a rooftop? Will I have a pool?
Puerto Vallarta is very hilly so it's better to look for apartments when you are already here. As someone who speaks Spanish, I can get cheap rent in Puerto Vallarta that starts from $500 USD in the Zona Romantica.
| Item | Price in USD |
| --- | --- |
| 1-br apartment in Zona Romantica | $650 USD |
| 2-br apartment in Zona Romantica with pool | from $1,500 USD |
| Studio (outside Zona Romantica) | from $268 USD |
| 2-br oceanview (Marina Vallarta) | from $2,000 USD |
| 3-br home in a subdivision (Fluvial Vallarta) | $1,000 USD |
| 2-br with shared rooftop (Versalles) | $600 USD |
Note that Zona Romantica is not the only neighborhood in Puerto Vallarta but is most preferred by expats. You can also get cheap apartments in other areas but you will need an Uber to go to the Malecon.
It seems to be very important for foreigners to live near Malecon. I lived in other PV neighborhoods and it's not really that bad!
Transportation costs in Puerto Vallarta
I have a car so I just mostly spend on gas. But if you are going to find an apartment in Zona Romantica, don't get a car! Parking is horrible and you really won't need a car if you are already by the Malecon. Everything you need will be there.
| Item | Price in USD |
| --- | --- |
| 1 liter (1/4 gallon) of gas | $1 USD |
| Uber rides | from $5 USD |
| Uber ride from Zona Romantica to Costco | from $7 USD |
| Bus from Puerto Vallarta to Sayulita | $2.51 USD |
| Uber ride from Puerto Vallarta to Sayulita | from $25 USD |
Uber is widely used in Puerto Vallarta and you might have to hop on one if you are going grocery shopping. Walmart, Costco, Mega, and La Comer are not by the Malecon.
You can also take a bus which will only cost $2 USD. These busses go all the way to Sayulita and San Pancho if you want to do a day trip.
I have a trusted driver that takes me around Puerto Vallarta and also gives me a ride all the way to Sayulita for cheap. Get in touch with me and I'll connect you to him. He's a good driver!
Beauty and personal care in Puerto Vallarta
This is something I do regularly (literally on a monthly basis) so it's a big chunk of my expenses. I can say that I spend about $350 USD on beauty and wellness packages in Mexico.
Occasionally, I also do some IV drips for $150 USD (vitamin C, collagen, etc). There are a lot of wellness spas in Puerto Vallarta that won't have to break the bank!
| Item | Price in USD |
| --- | --- |
| Massage (1.5h in a spa) | $35 USD |
| Manicure (gel) | $17 USD |
| Pedicure with foot spa | $25 USD |
| Facial | $10 USD |
| Waxing (brazilian) | $20 USD |
| Waxing (underarm) | $7 USD |
| Waxing (full leg) | $12 USD |
| Haircut | $10 USD |
| Pilates (20 sessions) | $100 USD |
| Gym membership (monthly) | $7 USD |
The spas in Puerto Vallarta are quite high-end even though a 90-minute massage is only $35 USD. As for the haircut, I am not really very picky with the salon.
That's the rate at a Walmart salon but my friends who are blonde and need special treatment usually pay a luxury hair salon $100 USD for a haircut!
Shopping in Puerto Vallarta
Please note that whatever brand you have at home in the USA and Canada, they're also in Mexico! There are many shopping malls in Puerto Vallarta but the most popular is Gallerias where Liverpool is. Here, you can buy anything that you need from clothing to homeware.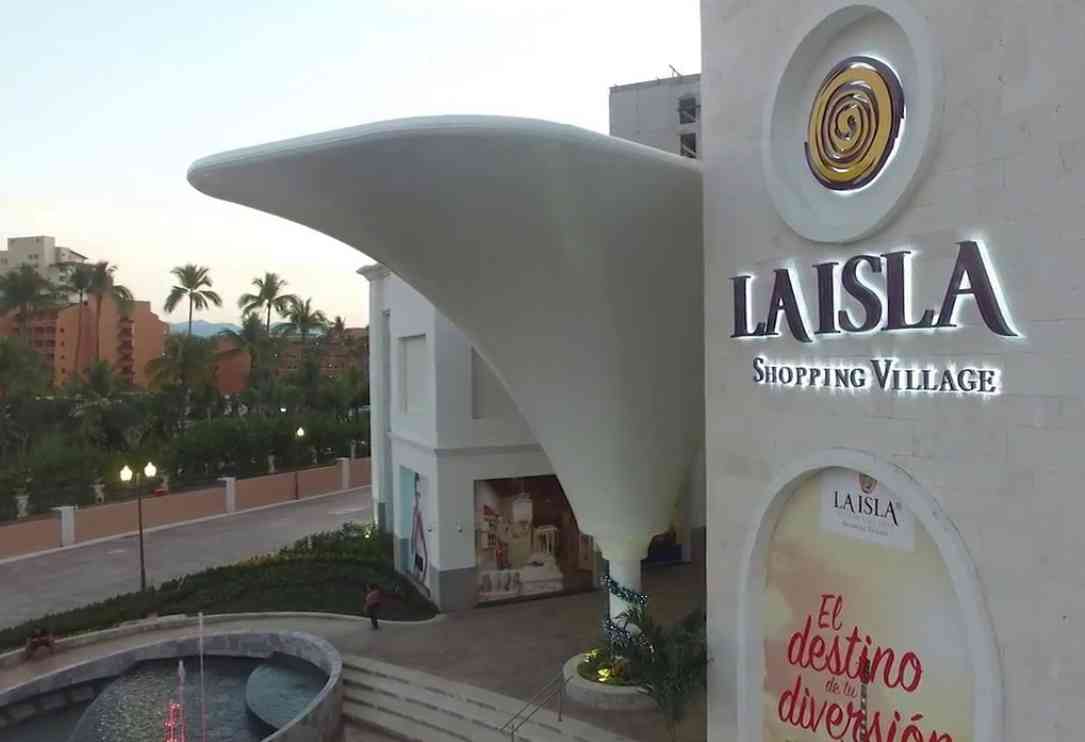 If you're looking for brands like Forever21, H&M, Pull & Bear, etc, you can find them at La Isla Shopping Center. I don't usually shop in malls as I have a lot of vintage stuff but La Isla is good for cheap shopping. A top at Forever $21 starts at $7 USD.
Puerto Vallarta cost of living on Pinterest: save it for later!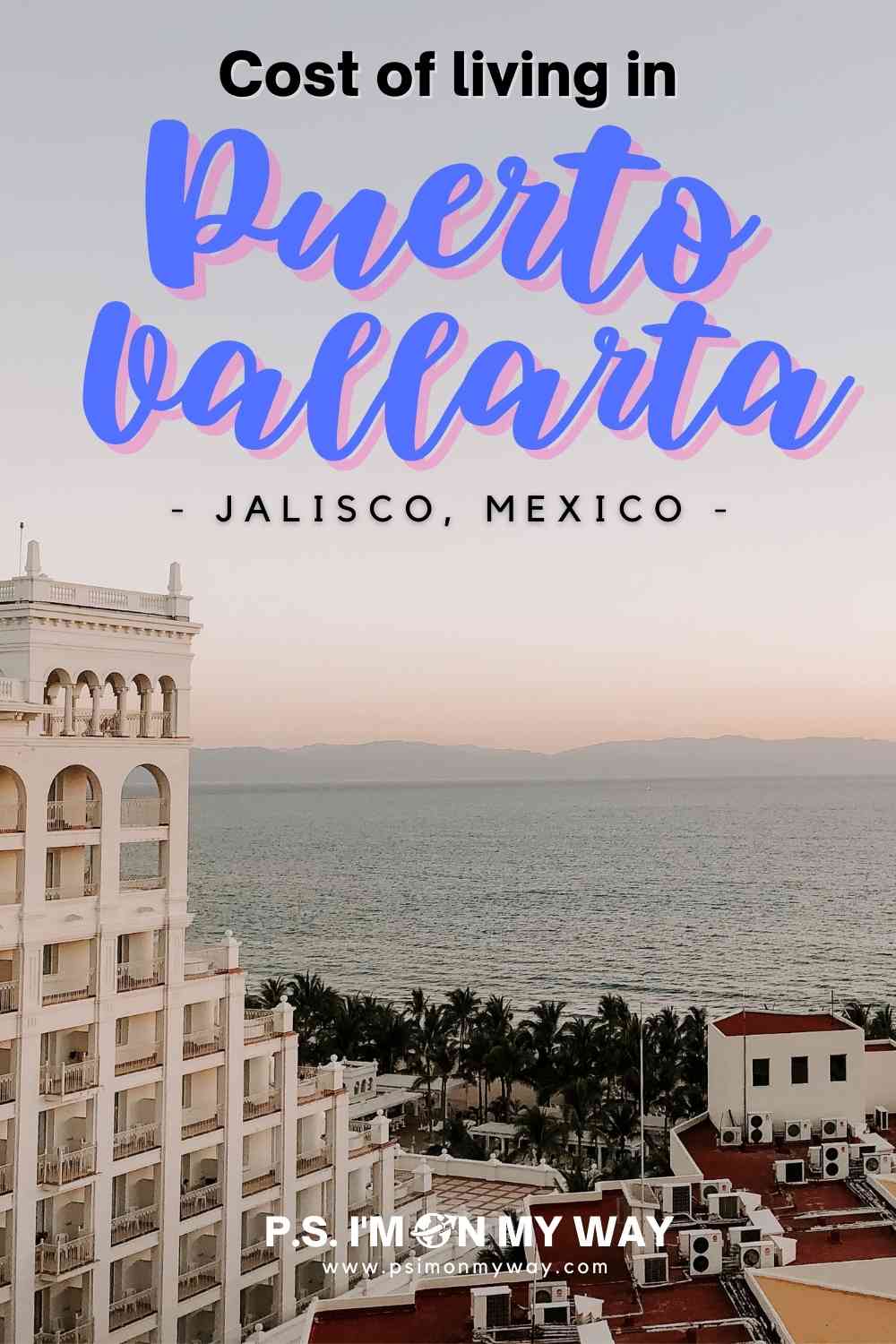 Trisha is one of those people who left their comfortable life to travel the world and learn about life. Her style is to stay in one place she likes for 3 months (or more) to know what it feels like to eat, cook, speak, and sleep in another culture that isn't hers. She'd like to believe she's not traditionally traveling but she just chooses to be somewhere else all the time. In no particular order, her favorite cities in the world are Barcelona, Buenos Aires, Hong Kong, Mexico City, and Tel Aviv.