I've been living in Copenhagen since 2017. It's been a little over 3 years and I just celebrated third Denmark Day, the anniversary of my final passport stamp as a non-resident. It was surreal booking that one-way plane ticket from Philadelphia to Copenhagen, but living here has been amazing!
Reader Mail: Trisha, I followed you in your younger days in Europe when you had another fashion blog. I am so glad to come across you again and now a travel blog! Wow, that was what, like 10 years ago??? Anyway, I know that you had a Danish boyfriend and you lived in Denmark for a while. Can you provide some insight as I am looking to move there this year! I know Europe is not ideal because of COVID but I just want to see what you think about living in Copenhagen. Thank you and more power!
– Howard Shire, USA
Hi Howard,
That really is a long time ago, wow! It's funny that you knew about my Danish ex – I feel like that was ages ago! Yes, I did stay in Denmark for a bit but since you are an American looking to move to Copenhagen, it's better to get an insight from your fellow American.
I invited Derek, an American expat in Denmark to share his personal experience. He will also give some tips about living in Copenhagen. You can get in touch with him directly if you have more questions. He's very generous with giving information.
Thank you so much and good luck on your journey to Denmark!
Xx,
Trisha
Is Copenhagen a good place to live in?
ABSOLUTELY! Denmark is in the top 10 countries with great quality of life. The city of Copenhagen is safe, clean, and has an efficient transport system. You don't even need a car! You'll never hear Danish people complain about their lives. They have superb healthcare and free education. If you ever become a legal Danish resident, you will get these perks, too!
Is it expensive to live in Copenhagen?
It is quite expensive but it breaks even with the salary in Copenhagen. However, Denmark has a lower cost of living than other Scandinavian countries. While Copenhagen is on the list of the most expensive cities in Europe, you'll get what you pay for in this city. Nothing really beats the quality of living in Copenhagen!
Can you live in Copenhagen without speaking Danish?
Yes! No problem at all! Danes speak very good English because of their education system. You won't have trouble communicating here. However, if you plan on living in Copenhagen in a longer-term, I highly encourage you to learn how to speak Danish for proper cultural immersion. The Danish language is not easy but when it becomes your environment, you can definitely learn the basics easily.

Living in Copenhagen, Denmark: costs, quality of life, and everything you need to know!
Living in Copenhagen: personal experience
I moved here along with my partner, Mike. His company asked him to fly to Denmark for an emergency project in November of 2016. They needed help after acquiring a Danish company and quickly asked him to stay in Copenhagen for a month.
I actually flew over to Denmark during the American Thanksgiving holiday that year. I wanted to take advantage of the company-paid hotel and meals on what I thought was just Mike's work visit.
When I flew home to Philadelphia, Mike was still spending an additional 10 days in Copenhagen. It went quickly and I was excited for him to be back in the States, and then he called me the night before he was set to fly back across the Atlantic.
He told me that he was offered an ex-pat assignment at dinner on his last night and wanted to know what I thought. Naturally, we would discuss it in person the next day, but we didn't need long to make the move. We said ''yes'' to adventure, and that's what we got.
I guess you could say that Copenhagen chose us, but Mike and I both considered opportunities to work abroad earlier in our careers and turned them down.
There was a lot to leave behind: proximity to loved ones, my career stability, our recently purchased home, and our entire American lives. We weren't going to let those things and the fear of uncertainty keep us from taking this second chance at living abroad.
We're so thankful that we made the move and created a life in Copenhagen. We love living in Denmark and the European lifestyle. Copenhagen is consistently rated as one of the most livable cities in the world. I can vouch for the accuracy of those ratings!
Copenhagen is a great city that's easy to navigate with public transportation. It's a hub for travel through Scandinavia and all of Europe. Almost 90% of Danes speak English as a second language and there are government-sponsored Danish lessons for foreign residents.
The city is a foodie paradise with the most Michelin stars in Scandinavia and a vibrant street food scene. Copenhagen is also one of Northern Europe's best cities for nightlife – it's where the rest of Scandinavia goes to unwind. On top of this, Copenhagen is absolutely beautiful.
From the charming cobblestone streets lined with pastel houses to the ribbon of canals and beautiful waterfront of Copenhagen Harbor – it's a gorgeous place to live. There are so many things to do in Copenhagen like Tivoli Gardens, scenic Nyhavn Canal, and beautiful Renaissance castles.
When we arrived in Copenhagen, we felt like we were in a great place although the first 30 days living abroad can be the most stressful. Of course, we had to get acclimated and build new social connections. This was really important because we had a great network of friends in Philadelphia and we were used to being social.
Danes have a reputation of being closed off, but it's not the case. Our Danish friends have formed deep connections with us, it's just something that takes time. Culturally, Danish people have fewer but deeper connections with friends.
This was definitely the case with our Danish neighbors. When we moved in we got a cordial ''hello'' but the other questioning was immediately screening us for what kind of neighbors we would be. Our neighbor asked me if we were students or had jobs here and why we moved to Denmark.
This seemed a little unfriendly to me for a first conversation. I've gotten used to the Danish style of direct conversations. It's not a culture for small talk and to Danes, Americans are notoriously long-winded without really saying much.
Connecting with fellow expats in Copenhagen
We began making friends in the expat community, which seemed natural because these were people in similar social circumstances. Typically, expats are also without their longtime friends and looking to make connections. This happened quickly when we signed up for Danish classes.
As mentioned, they're free of charge for expats. We had a great group of new Danish classmates who organized post-class beers by the second week of classes. A month later, we were having group dinners and meeting for bike rides.
The expat scene in Copenhagen is active, young and easily accessible. We have had great luck attending social events for expats through Internations, an organization designed for connecting the expat community. We have also attended events through language exchange programs where foreign residents of Copenhagen meet to converse and practice languages. We made several friends through these social events.
Copenhagen also has a well-resourced agency for international residents called The International House. They offer many types of services from helping trailing partners begin their job search in Denmark to assist with housing and schooling.
Like most of life's problems, we also found valuable resources on the internet. Specifically, we used Facebook groups to help us with some of the ''newbie situations'' we would find ourselves in.
There seem to be expat Facebook groups in every city, but we used the members of Expats in Copenhagen and American Expats in Denmark to get us through some of the early stages of expat life.
Online strangers helped us with everything from where to find a dry cleaner and buy ricotta cheese to how to buy a bike second-hand and mail a package back home to the States. The one thing we miss more than friends and family (oh and of course Philly cheesesteaks) is the familiarity of life.
It's unimaginable before you find yourself living in a new country, but it can be really tough to suddenly not know how to do simple tasks in life. You take for granted that you simply know how to get by in the culture and country you were raised. Moving to Denmark meant more than learning a new language, it meant relearning how to do everything.
We leaned heavily on the expat community during this time. Our friends who were living in Copenhagen longer than us and those who have Danish spouses were the biggest help.
Cost of living in Copenhagen
One thing we noticed right away is that the cost of living in Copenhagen is much higher than it is in Philadelphia. Even the most expensive cities in America, like New York City, were cheaper than the Danish capital.
Luckily, while Mike was on an expat contract, he was being paid a cost of living adjustment. This is a factor paid on top of his normal salary, and for expats it's where you can earn additional money to make up for the change in scenery.
In Copenhagen, a regular coffee shop latte will cost you about $8, and a draft beer at a bar will be between $8-10. Midrange Copenhagen restaurants will charge about $25 for the main course.
With prices like that, it's common for Copenhageners to avoid dining out except for special occasions. Instead, we take to the parks and waterfronts to picnic and share drinks. In the winter, we cook at home and meet for drinks at friend's apartments.
Renting a cozy 2-bedroom apartment will cost about $2350 per month and Danish landlords are notoriously difficult. Most require 3 months of rent as a deposit and 3 months' rent upfront (first month's rent and the last two month's rent). Most renters don't receive their deposits back without a fight. This is where The International House can come in handy for advice and legal help.
One thing many expats do, especially when they first arrive, is finding a room to rent. There are also Facebook groups that can help in that process. There are also online groups where you can find information about landlords and rental companies before you sign a lease with them.
The most expensive neighborhood to live in is Copenhagen's city center. This is true of most cities, but you pay a premium for access to the public transportation hubs, proximity to the downtown restaurants and bars as well as the beauty of historic Copenhagen buildings.
To save a little money in your rental budget, ex-pats often move one neighborhood out of the city center. The Nørrebro neighborhood is popular with foreign residents and so is the neighborhood of Amagerbro. Vesterbro is also a nice neighborhood and a little cheaper than living in the city center.
It's the former red-light district and adjacent to the meatpacking district. This historically downtrodden part of the city has become the hip and trendy neighborhood in the last 5 years, so apartments there are increasingly becoming as expensive as the city center. Still, you can find a good deal there if you look and can afford to be patient.
The great thing about living in Copenhagen is that all of the neighborhoods surrounding the city center are connected by the city ring. The city ring is a new metro line that opened in late 2019 which circles Copenhagen in 24 minutes. This means you're never more than 12 minutes from the farthest stop away in Copenhagen.

Denmark residency visa
Copenhagen doesn't make the visa process easy for those who aren't sponsored to work in Denmark. The reason is that they want to make sure you can support yourself and put into the system while living in Denmark. It's easier for EU residents to enter and live in Denmark, but as a non-EU citizen, I was granted residency through family reunification.
Mike was given a fast-track work visa and we qualified as domestic partners because we are not married. The International House, once again, was super helpful in the process of my visa and support after I was a resident.
One of the services provided by the International House was an orientation on the healthcare process. All residents of Denmark receive national healthcare and you're able to pick a doctor based on your zip code.
The representative who assisted me walked me through the process and left me with all the temporary cards and information I needed to get started in Denmark. As a non-EU resident, this process took about 60 days.
Buying a car in Denmark
Other major life events, like buying a car and buying a home are a little different for expats in Denmark as well. Lending is much more about trust and relationships than data and credit scores.
Mike was given the option of paying a small amount to use a company car, however, the taxes on the car added to our budget and we decided to get rid of the car. The great thing about living in Denmark and especially about Copenhagen is that you don't really need a car.
Public transport in Copenhagen
Public transit connects the country to the city and travels around the city are clean, efficient, sustainable, and convenient. We bike almost everywhere despite how great public transit is in Copenhagen. Almost every meter of city road is outlined with a bike lane and there are more bikes than cars in the city of Copenhagen.
Buying a house in Copenhagen
We are in the process of buying a home now and it's quite different than what we experienced in America. For example, it's uncommon for buyers to be represented by an agent. Most often, you visit many houses on a Sunday for Open Houses that last about 15-20 minutes.
There is no home inspection or long mortgage approval process with numerous contingencies. The home buying process moves fast and once you agree to purchase, it can be completed in a matter of weeks.
For foreign residents of Copenhagen, the biggest pitfall is finding a bank that will give you a loan for a reasonable downpayment. Unlike American banks, mortgages in Denmark are mostly backed by bonds. Therefore, the rates are super low and there isn't much money to be made for the bank.
Their main concern is mitigating risk, and if you're foreign you could always just move away and leave the bank with an unpaid mortgage. We were first offered a loan with a 22% downpayment before shopping around to get a normal 5% downpayment.
In 3 years, I can honestly say that living in Copenhagen has been an overwhelmingly positive experience. There have been ups and downs, but it's brought Mike and me closer together and taught us so much about ourselves as individuals.
We've built great new friendships and been able to travel the world. We've had experiences working in a new country and culture. Our empathy and cultural sensitivity have grown from being an immigrant and there's nothing we would change about what our lives have become.
☕ Do you like what you're reading? Does it help? I take a lot of time creating valuable and meaningful content. If you like to support my content creation and my blog, consider donating to my coffee fund. Thank you in advance!
Living in Copenhagen on Pinterest: save it for later!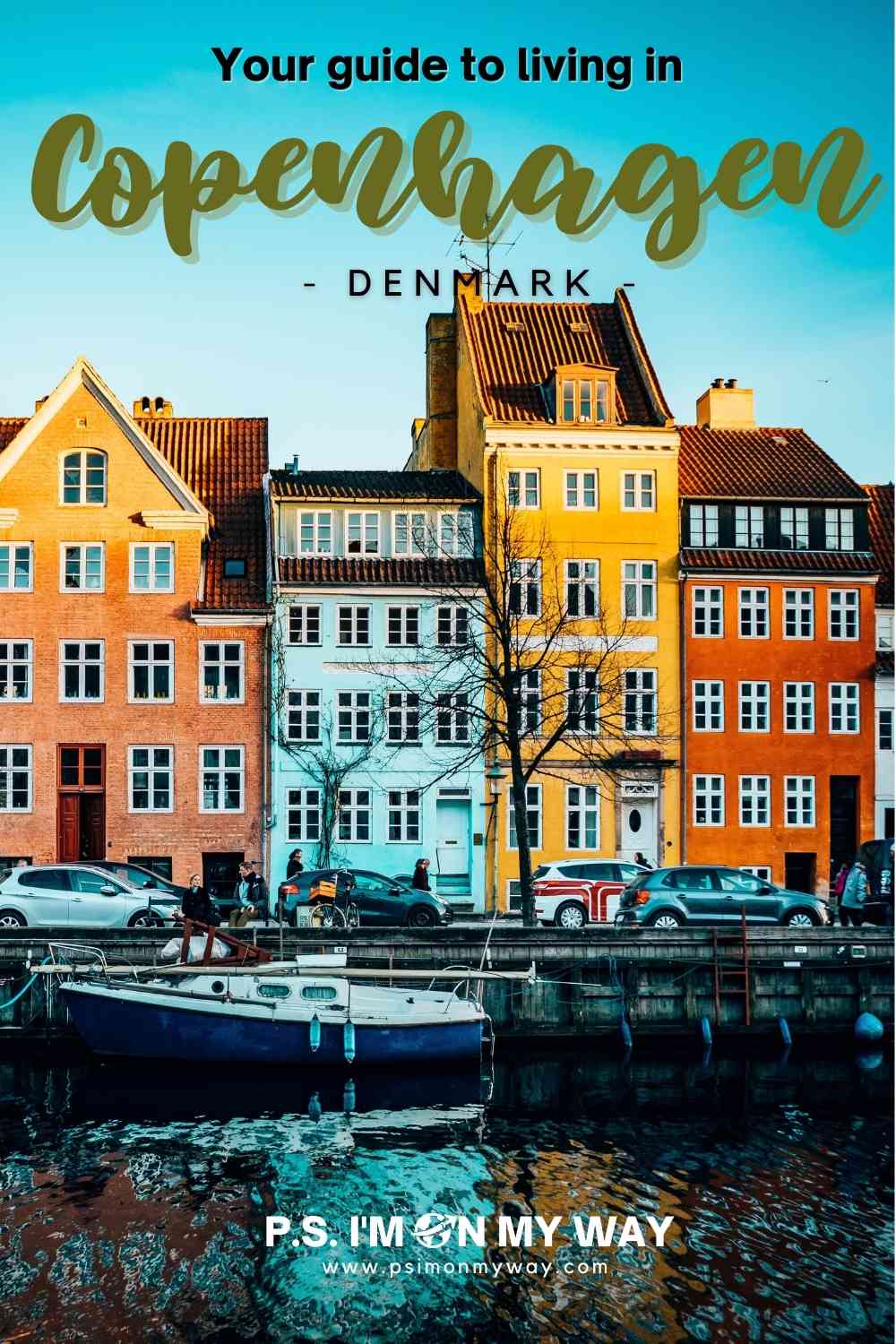 Derek Hartman is an American ex-pat from Philadelphia exploring Europe and the world from his new home in Copenhagen. He and his partner Mike run a travel blog, Robe Trotting, where they share their lives as a gay millennial American couple living abroad and traveling the world. They love helping others who want to travel more or visit other countries for a few weeks or a few years.