Living in Surat Thani truly opened my eyes to a new perspective on life, especially since I moved here right after a rough patch of my life. Even though I moved without knowing or understanding a word of Thai, it was incredibly easy to fit in here.
I lived in Surat Thani, Thailand – the "city of good people," for 6 months. I'm originally from California, but I've been traveling for the past 7 years and haven't truly "lived" there since 2013. I chose to live in Surat Thani (southern Thailand, also known as the gateway to the famous islands such as Koh Samui) since I applied on a whim to teach English in Thailand.
Within a week, I had secured my visa and was on a plane. While the city is quite unknown to many travelers, it has quite a few gems that can be explored by motorbike. Since it's not nearly as touristic as its neighboring cities, it's not crowded and also far cheaper.
In this post, I will share everything I know about living in Surat Thani based on my personal experiences!

My personal experience living in Surat Thani
Living in Surat Thani truly opened my eyes to a new perspective on life, especially since I moved there right after a rough patch of my life. Even though I moved without knowing or understanding a word of Thai, it was incredibly easy to fit in there.
Thai people are considered some of the friendliest, most polite people in the world, so it isn't necessary to speak Thai just to feel welcomed. I learned a few basic phrases to get by, but the majority of the time I just said "Kob-kun-ka" (thank you) profusely. Much like Japan, everyone bowed when giving thanks or saying goodbye, so it became customary to also bow to anyone passing by.
I was lucky to have a studio apartment (complete with a balcony and two large beds) that was completed furnished upon arrival, since the private language school had arranged it beforehand. I got used to living with the fan on (because air conditioning was far too costly) and constant bug bites, but after awhile, my body acclimated to the humid weather conditions.
It was nothing fancy, but I learned to do most of my washing in the sink and leave it on the balcony to dry, rather than use our apartment's one washer for the entire complex. That's the life I chose for a few months, and it was easy to get used to. It was humbling to also realize how grateful I should be for having been raised with a lot more resources.
Since I only worked 3.5 days a week as a weekend teacher, I had the luxury of most of the week off. I used my time off to take my motorbike all across southern Thailand, visiting countless national parks, waterfalls, rivers, forests, and caves. As an avid hiker and nature lover, I was truly in my element – it was the most "free" I had ever felt in my life, just zipping around and exploring vast miles of acreage.
Of course, hiking and biking alone meant that I had several close calls with death – like the time I climbed a Buddhist temple and almost lost my footing, or the several times I thought I'd be hit by a semi-truck on the highways. I had a tendency to get trapped on the top of large cliffs as well.
There were a few times in which I realized too late that I wouldn't be able to bike down a cliff that was as steep as a vertical-drop waterfall, and by the grace of God, I somehow was always rescued by locals in the area. Multiple times, locals would hop on my bike, drive it down for me, and then pick me up in their own bike, drop me back at the bottom of the hill, and then refused to take any payment.
Another time, when I had to push my bike along the side of a highway to get my flat tire changed, I tried leaving a hefty amount of Baht as a thank you tip – but they wouldn't even allow me to pay for the actual service. In a land where meals cost less than a pack of gum in the states, it was incredible to realize how locals don't value money over lifestyle.
Thai people, much like the rest of Southeast Asia, aren't concerned with status – they are content with their lives. Instead of asking, "What do you do for a living?" they inquired about where I was from and whether or not I enjoyed their country (to which I always profusely commended and hailed as being such a generous nation).
The food was my favourite part of Surat Thani. Thai food in general is sensational – it's like a party of flavours happening in your mouth. I frequently visited our local night markets and considered it a jackpot whenever I'd stumble upon a new one. My favourite dish of all time was Pad Kra Pao (pork and basil stir fry) with a spoonful of hot chilis. Kuay Teaw (noodle soup) was also a local delicacy that I survived off. It was very similar to Vietnamese pho and around the equivalent of $1.50 USD per heaping bowl.
Connecting with fellow expats living in Surat Thani
Surat Thani is quite a small city – its population was roughly 132,000 as of 2019. The majority of people only speak Thai here since it's more close-knit and much smaller than touristic cities like Chiang Mai.
However, there are still a few private language and international schools that employ plenty of expats, which is how I met quite a few during my time living there. Our school had about 12 expats employed together, so we had a small family circle within ourselves, and from there, we met a few others at local bars and restaurants.
There definitely isn't a nightlife scene, but it's still possible to meet other expats if you wander the small city centre. It was the perfect-sized compact city for me, especially due to its prime location near the islands. I used my apartment as the launchpad for several daytrips to national parks, which would have otherwise been unreachable to someone just taking a vacation through the touristic islands.
Community is also a large part of Thai culture, and you may get the chance to participate in Thai festivals such as Songkran or Loi Krathong, Thailand's most renowned festival.
InterNations is a good place to start for expats living in Surat Thani, but with the ever-growing sphere of Facebook, I'd recommend joining expat groups.
My go-to group is Surat Thani Teachers and Expats. Other sources like Reddit have also been the best places to connect with others and get my questions answered efficiently and accurately rather than hopelessly Googling for hours.
Cost of living in Surat Thani
The cost of living in Surat Thani, in general, is extremely cheap, which is why it attracts so many foreigners in the first place. As a fairly small city that isn't a tourist hub, it only cost around 3,900 Thai Baht (about $120 USD) per month to live in a studio apartment, all utilities included.
While I was fortunate enough to have everything set up for me via the company who hired me, there are trustworthy resources online that guide you to the best areas to search for an affordable apartment or rental home in Surat.
However, my apartment didn't have a kitchen space (most don't, since the cost of eating out is actually cheaper than shopping for local groceries), and I didn't use air conditioning at all (since that bill itself would have cost more than the monthly rent).
It's easy to only average about $5 USD/day on food when living in Surat Thani, since things are cheaper here than touristic cities. Your Bangkok travel budget will stretch a long way in Surat Thani so consider including it in your itinerary even if you won't decide to live here.
The mini-fridge was also helpful for storing drinks and leftover takeaway food, but most of the time I just bought things on the go and finished them.
While I definitely wasn't rich, I was able to live comfortably off my teacher salary, especially since the cost of living is so low. Unless you choose to settle in Thailand permanently, most expats do not own a car and instead opt for a rented motorbike (you can sign a contract with a better deal if you stay for a few months rather than a few weeks).
I'd recommend Deer's Motorbike Rentals whether you're renting a bike in Surat for a day or a few months since all of the expats in the city rented through him (he was the husband of our headteacher at our school).
Typical motorbike rental is roughly 3,500 Baht ($107 USD)/month, but this price varies. A full tank of gas cost me less than $2 USD in total, and I only had to fill up every few days (and this is when I took long day trips hours away from the city). Thus, the cost of living is very doable as long as you have a steady income whilst there.
Thailand residency visa
It was very easy to get a working visa for Thailand. I just dropped off my passport at the Thai Embassy in Los Angeles and then picked it up within a few days. My company provided the necessary documentation for me to obtain the 90-Day Non-B visa, and once I arrived in Surat Thani, it was changed to an official working visa.
Transportation in Surat Thani, Thailand
Surat Thani is a walkable city within certain streets, but you'll definitely need a motorbike to get around in general. It took about 10 min. on a motorbike from my apartment in the city center to the main CentralPlaza shopping mall, and other supply stores were much farther.
Because of the humidity and warm weather, it's exhausting to walk on foot after a while and much more refreshing to feel the air whip past your fast as you speed by on a bike. We never used public transport since everyone just rode motorbikes in Surat Thani. Unless you're in Bangkok, public transportation is very limited in Thailand.
Definitely invest in a sturdy helmet that secures over your entire head rather than just your face – the helmets with only a flimsy face shield won't protect you in case of a severe accident. Additionally, these are great for inclement weather and when driving through lots of unpaved dirt roads.
There is no helmet law in Thailand and the majority of locals won't be seen wearing one, but definitely buy one for your protection. I purchased a heavy-duty motorbike helmet that cost only $20 USD and sold it when I moved.
I also rode in track pants, a sturdy jacket, gloves, and hiking shoes since I had a few accidents where I scraped my entire leg and feet when riding without any coverage.
Medical insurance in Thailand
I was provided with health and medical insurance through the company I worked for and thankfully never needed to visit the hospital. The only thing I paid for was a $20 USD blood test for another job and an $80 USD X-Ray in Koh Lanta for a wrist injury.
Medical care in Thailand is trustworthy and incredibly cheap, so there shouldn't be a concern about moving here. However, you should invest in travel insurance or some type of insurance before you move abroad – my recommendation is World Nomads.
Overall, I'd highly recommend living in Surat Thani, but consider securing a job there first so most of your accommodation and living arrangements could be prepared beforehand.
☕ Do you like what you're reading? Does it help? I take a lot of time creating valuable and meaningful content. If you like to support my content creation and my blog, consider donating to my coffee fund. Thank you in advance!
Living in Surat Thani, Thailand on Pinterest: save it for later!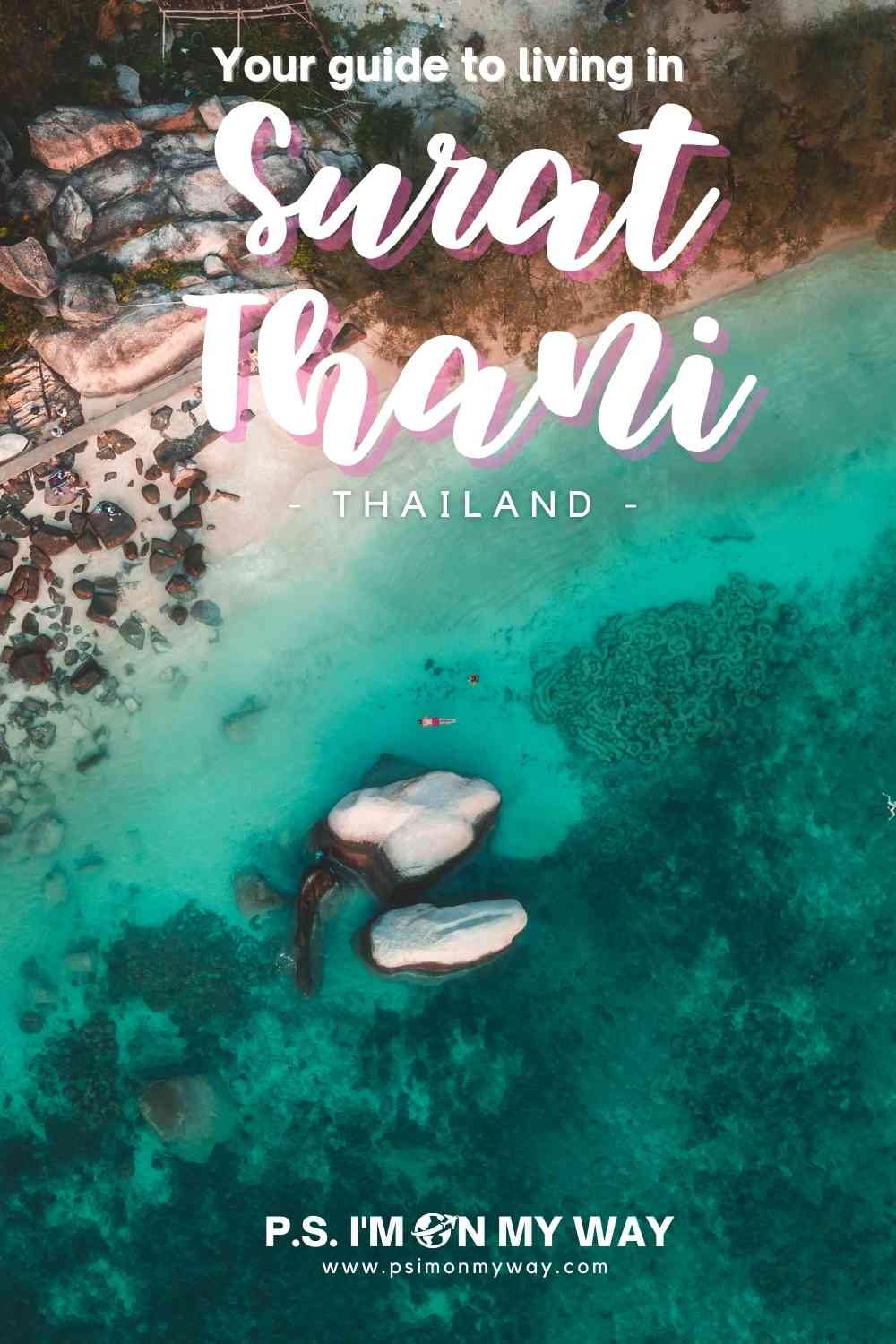 Debbi Shibuya is the California-grown founder and content curator for My Debstinations. After sailing all seven seas, teaching English in Japan and Thailand, and working in New Zealand and Australia, she has seen 75 countries. She specializes in the content on budget solo backpacking, hiking, Disney theme parks, food, and finding cute dogs to play with wherever she goes.