Trisha, thank you for the amazing blog. I know you live in Mexico now and I also read that you did a lot of hostel volunteering in Mexico. Can you recommend hostel volunteering opportunities in Mexico? I want to volunteer in a hostel because I've never done it. Where is the best place to volunteer in a hostel in Mexico? I hope you can also give insights on safety! Thank you so much!

Tamara Bergman, Sweden
Hostel volunteering in Mexico (actually, in all of Latin America) is one of the best things I did and still am doing.
Over the course of my 3-year backpacking here (the first time was in 2013 and I eventually stayed here), I saved over $4,000 USD in accommodations while backpacking!
Mexico is a vibrant and young country. Though you will see a lot of bad press about the country, it is a hotspot for tourists, especially for long-term backpackers.
Where to find opportunities in Mexico
Use my code PSIMONMYWAY10 or simply checkout using this link to get a discount for a one-year membership with Worldpackers. You will see hundreds of hostel volunteering in Mexico here!
My personal experience in hostel volunteering in Mexico
I thought I'd actually stop volunteering after 25 years old but now that I am 32, I still dig it! I've been traveling for the past 10 years and volunteering in hostels is one of the major keys that helped me continue to travel forever.
In Mexico, most of the co-volunteers are Spanish speaking (from Argentina, Colombia, Chile, etc) so this led me to be fluent in Spanish in less than a year. Though most hostels only require volunteers to be fluent in English, some hostels ask for at least a basic Spanish communication skills.
And if you come to think of it, learning Spanish while staying in one place is not hard at all because it's your environment!
If you're doing reception work, you will be able to practice with guests. If you're helping with the cleaning, housekeepers are the best people to practice with because 90% of them have zero English knowledge.
As for the length of stay, I found Mexico to request a longer period for volunteers. When I volunteered in Peru, the minimum is two weeks but here in Mexico, most of the hosts ask for a one-month minimum stay.
All tourists entering Mexico are given a 180 days visa. Meaning, you can stay as a tourist in Mexico for 6 months! I am not familiar with the volunteering rules but Mexico is quite lenient if it's only a work exchange job.
Meaning, you work less than 8 hours a day and you are not paid for it. It's just a simple cultural exchange between you and your host.
If you like Mexico and want to extend for more than 6 months, you can easily cross the border to Guatemala or fly out to the nearest country.
I find flights to Colombia and Peru cheaper than to its neighboring countries Costa Rica, Nicaragua, Panama, Belize, etc. Mexico is a big country and you will, for sure, would love to explore Mexico for more than six months!
Ready to do hostel volunteering in Mexico? If you have any questions, please don't hesitate to get in touch with me via Instagram DM or Facebook.
Meanwhile, here are my recommended hostels for volunteering in Mexico. All of these opportunities are located in Mexico's famous beach towns. Personally, I like staying long in small areas and that's the kind of places you'll find in this post!
Opportunities for hostel volunteering in Mexico
Volunteer in Mazatlan
You probably came across Sinaloa in the news as one of the cartel caves. However, Sinaloa is a big state and there are lots of cities within this state.
One of them is Mazatlan, a completely safe paradise popular to backpackers. It's Zona Dorada is famous for nightlife which drives long-term travelers to stay here longer.
Funky Monkey Hostel is one of the leading hostels in the area known for accepting hostel volunteers from all over the world. Available hostel volunteer positions include:
Housekeeping/handyman volunteers: If you are good at repairing, cleaning, tidying, and organizing, this is for you!
Reception work: 3-month commitment & you must have team leading experience as well as decent Spanish to answer the phone, respond to messages on Facebook and emails. This position will also include some help with cleaning or other things when there are no guests to check-in or messages to respond to.
Gardening: help plan and landscape our back yard. Someone with knowledge of what plants to use in what environments and what fertilizers each plant needs. This position will also include some help with cleaning or other things when there isn't gardening work to be done.
Painting: 1 position for a qualified mural artist for paint, tile, and concrete mural projects.
Funky Monkey asks 20 hours a week of work from its volunteers (4-5 hours a day, 5 times a week with 2 days off) and in exchange, you will get a comfortable bed in the staff dorm plus breakfast (pancakes and bananas or eggs with vegetables.).
Note that lunch and dinner are not included but hostel volunteers always share food! You can also avail of free laundry services, free drinking water, Wifi, Netflix, books, and board games.
Volunteer in Playa del Carmen
Famous in the south, Playa del Carmen is always on a backpacker's Mexico itinerary! This destination is in all the stunning photos of your favorite Instagrammers – it's probably the Bali of Mexico.
Many young people (especially from the United States of America) frequent Playa del Carmen for its nightlife and beautiful seas.
The top hostel that accepts volunteers in Playa del Carmen is Kaban Hostel. The help they need is very simple: cleaning the rooms and common areas, changing bed sheets, welcoming guests (at the same time making sure the premises are always closed/locked), check-in/out guests, and answer guest questions.
In exchange for 4 hours a day/6 days a week of work, Kaban has a special room for volunteers with comfortable beds. You won't be staying in guest rooms so there will be lots of crazy bonding with your fellow volunteers!
They also offer daily breakfast for volunteers and free bicycle use. Playa del Carmen is a bicycle city and this hostel is only 10 minutes away from the beach by bike!
🛏️ See more hostels in Playa del Carmen for volunteering in Mexico opportunities
Volunteer in Cancun
If Playa del Carmen is not enticing for you, then maybe Cancun will be! Just an hour from Playa del Carmen, Cancun is a prominent backpacking destination in Mexico. Mostly flocked by Spring Breakers, Cancun is also a nightlife haven with a beach strip of hundreds of bars and night clubs. The two popular districts are El Centro which is the downtown area and the Zona Hotelera where you will find all the 5-star hotels by the beach.
Chiibal Hostel is a busy backpackers and Spring Breakers paradise and they are always looking for young, fun, and energetic hostel volunteers. They are looking for volunteers who can help in:
Music: If you are a performer, this is your time to shine! Do you play any instruments? Can you sing? Get a chance to play your music in this hostel while having fun!
Tour Guide: Organize and lead tours around the city. If you are an outgoing person who can handle big groups of tourists, then this is for you!
Party Promoter: Well, if you're volunteering in a hostel, you should be a drinker. As a party promoter for Chiibal, you will help organize and promote parties and social activities.
In exchange for 30 hours of work (6 hours a day, 5 times a week with 2 days off), you will get to stay in the volunteer's dorm for free. They also offer free breakfast every day to volunteers. Other perks include discounts in nearby restaurants, pubs, and bars, discounts to other hostels in the area, and first-hand local party insights. You also get a discount on all products in Chiibal Hostel as a volunteer.
🚌 eTransfers offers services like Cancun Airport transportation, shuttle from Cancun to Tulum, transportation from Cancun to Playa del Carmen, etc. Lowest prices guaranteed!
Volunteer in Puerto Vallarta
I live just 40 minutes away from Puerto Vallarta by car so I frequent this Mexican beach coast slash city. Like most Mexican coast towns, Puerto Vallarta is famous for Americans and Canadians looking for an all-inclusive staycation. However, hostels are also very big in this lively city.
One of the hostels that are always looking for volunteers is Chanclas Hostel. In Spanish, 'chancla' means flip flops/slippers.
Help needed in this hostel volunteering in Mexico include reception work where you will check-in/out guests. They require fluency in English and a little bit of conversational Spanish.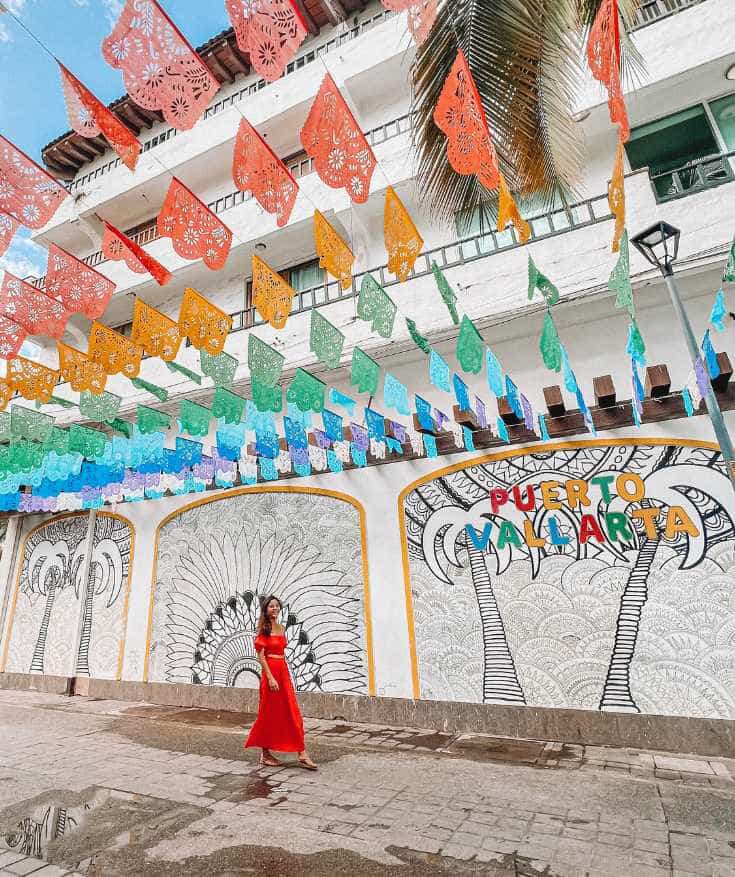 Based on past volunteer reviews, the host is very laid back and fun so they all had a great stay. Some even stayed for more than a month!
They are also looking for volunteers who can hype their rooftop bar and make sure that all the guests are having a great time. The minimum stay for volunteering in this hostel is 1 month.
In exchange for 5 hours a day (5 days a week with 2 days off), you will get free accommodations in the volunteers' dorm and free breakfast. This is also the best place to hone your Spanish skills while in Mexico!
🛏️ See more hostels in Puerto Vallarta for volunteering in Mexico opportunities
Volunteer in Sayulita
This is where I live! Originally, I volunteered in a hostel in Sayulita for a month then after that, I decided to stay and rent an apartment!
Sayulita is located in northwest Mexico (about 40 minutes away from Puerto Vallarta). It is well-known for its beaches and small-town vibe. I've been here for a year and I am still not sick of it!
The Amazing Sayulita Hostel is one of the hostels where you can find volunteering opportunities in Sayulita. Help needed include customer service where you can help with guests in the reception, guest check-in/out, hanging out with guests, and just be around whenever help is needed.
If you are into some housekeeping work, they're looking for that, too! Not all their guests speak English so basic Spanish communication is required.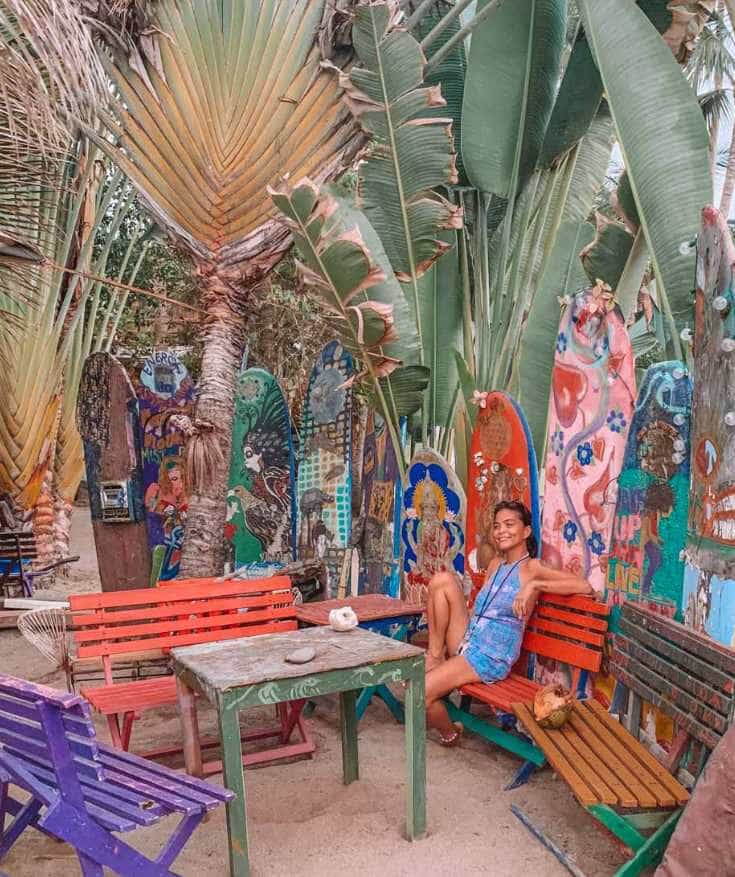 The minimum stay for this hostel volunteering in Mexico is one month. If you want to stay longer than a month (which you will, for sure!), you may, depending on your performance and availability.
If you are someone who's knowledgeable in digital marketing and social media, they are also looking to fill this position. Managing Facebook, Google, web pages, etc is part of the job.
In exchange for a 5-hour-a-day work (5 days with 2 days off), you will get a single bed in the volunteers' dorm equipped with a reading lamp, bookshelf, and charging area. You will also get fresh towels and access to lockers/safes.
👌 Looking for a great Spanish teacher? Check out Chelsea, my American friend who speaks like a Latina!!
Volunteer in La Paz
The north is a very popular destination for Americans. Its close proximity to the USA means frequent flights and the busiest in the north is Baja California.
Bordering the state of California, USA), Baja California is very diverse: mountains, beaches on the Pacific Ocean, and the Gulf of California are some of the familiar landmarks.
Casa Bermejo is a family-run hostel in La Paz, Baja California Sur. They always have a room for 3 volunteers who can work 3-4 hours a day.
Help needed includes reception/front desk where you will help in the check-in/out, welcoming guests, assisting guests with activities, etc. Normal volunteering shifts are from 8 to 10 am and 8 to 10 pm so you have almost all day long to go out and explore the area!
In exchange for 4 hours/day work (5 days a week with 2 days off), you will get a bunk bed space in one of the mix dorms, with AC. Daily breakfast is also provided for volunteers.
🛏️ See more hostels in La Paz for volunteering in Mexico opportunities
Volunteer in Holbox
Isla Holbox is an island in the state of Quintana Roo, Mexico. Its Yalahau Lagoon is home to flamingos and pelicans and you've probably seen it on Instagram!
This island is car-free and the mode of transportation includes bikes and golf carts. There are also whale sharks and sea turtles in this area.
Tribu Hostel Holbox accepts volunteers all-year-round. Created by travelers Mia and David, this hostel was built from scratch and most of the furniture, details, paintings were made with a lot of love and a HUGE help by volunteers.
Below are the volunteering positions you can apply for:
Party/Hostel Promoter: a "social butterfly" to help entertain guests in the winter. This could involve organizing trips to the beach, sunset beers, or getting a group together for a night out.
The perfect volunteer Tribu is looking for is someone who loves interacting with people, highly energetic, and able to communicate in English and Spanish.
Kayak Guide: must have knowledge of stars and constellations. Spanish is necessary. This position has paid benefits.
Yoga Instructor: if you are a certified yoga instructor, you can earn from this, too!
In exchange for 4 hours per day, 6 days a week, you will get shared accommodations and free breakfast every day.
Change how you travel and see the world by going deep into the culture. Come and travel with me!
Trisha is one of those people who left their comfortable life to travel the world and learn about life. Her style is to stay in one place she likes for 3 months (or more) to know what it feels like to eat, cook, speak, and sleep in another culture that isn't hers. She'd like to believe she's not traditionally traveling but she just chooses to be somewhere else all the time. In no particular order, her favorite cities in the world are Barcelona, Buenos Aires, Hong Kong, Mexico City, and Tel Aviv.