Is La Paz cost of living cheaper than anywhere else in Baja California? I lived in La Paz for a while and in this post, I will share with you what I spent monthly and how you can live for cheap in this Mexican city.
📮 Hola Trisha! I love all your living abroad blogs. It gives me a push to finally leave my life in the US so I am starting my hunt! Thank you very much for all the free information you provide. I am interested to know more about your time in La Paz Mexico. How is the cost of living in La Paz? I see that Baja California is really expensive so I want to get some insights from you! Lastly, should I choose La Paz over Cabo? What is the difference in terms of cost? Thanks again for your work! If I finally come down to Mexico, I would love to take you out to dinner or coffee!

Samantha, United States
Hey Samantha!
Thanks for your e-mail. I will be happy to answer your questions about La Paz cost of living in this post! Coming from Puerto Vallarta, I really found La Paz cheaper than what I am used to, considering it is in Baja California.
Baja California, in general, is more expensive than the south since it's the closest vacation spot for Americans.
You will probably feel like you're just back home in the US because of how this city looks exactly like San Diego but with a mix of vibrant Mexican culture.
La Paz is definitely cheaper than Cabo so if you are trying to save, I suggest choose La Paz since your finances will go a long way here. I will still be living in Baja California for the next year so send me a message when you arrive!
Xx,
Trisha
🙋 Questions about La Paz cost of living? Ask me on Tiktok!
🔗 La Paz cost of living: quick links
💲 La Paz cost of living
Your baseline La Paz cost of living is $1,200 USD a month which is really a good price. This price will give you a great quality of life living in La Paz!
Of course, your lifestyle will always be the baseline for your costs. I will also share my lifestyle below but here are the estimated prices.
Rent: $650 USD
Electricity: $15 USD during the winter, about $100 USD during the summer with AC on
Water: $10 USD
Cleaning help: $140 USD (once a week visit, $35 USD per visit)
Groceries: $225 USD
I just need to be clear that your La Paz cost of living will be based on your lifestyle. I eat out at least 3 times a week (for work) but I mostly cook at home. To give you a better insight, here's what I spent monthly while living in La Paz Mexico.
What I pay for rent
I paid $650 USD for a 2-bedroom house in the Pueblo Nuevo neighborhood (literally right next to Chedraui Colima). I shared with a friend so we split the bill to $325 USD per person.
The house was a condo-type with no oceanview whatsoever. Just a basic apartment with everything that I need. The house is also fully furnished and I did not have to buy appliances or furniture.
Grocery shopping
I was literally next to Chedraui, a popular Mexican supermarket chain so I didn't have to stock food. All I did was walk to the supermarket whenever I needed something.
It was just a 2-minute walk and I hate stocking food. I almost end up throwing a lot (not just food, but money as well) if I buy in big bulks so having the Chedraui next to me was really convenient and cheap.
I spend $75 USD for two weeks and this includes wine, cheese, vegetables, fruits, and fish. I do not eat meat but I spend more on gourmet products.
If there are no supermarkets near you, the Rappi app can deliver groceries for you from Walmart and Chedraui. Pharmacies can also deliver through this app.
Dog stuff
Of course, my two dogs are always part of my monthly costs. I always buy dog food from Costco (in Puerto Vallarta) but when I moved to La Paz, I had to improvise. The Costco in Baja Sur is in Cabo San Lucas which is an hour drive from La Paz.
I ordered food from PetCo and if it's not available, I just buy the normal food in Chedraui. A 10 kg dog food cost $28 USD while 25kg costs $34.86. This is the Purina brand which is the most common dog food sold in Mexico.
For pet grooming, I pay $20 USD for 2 medium dogs and I only do the grooming once a month.
Beauty and wellness
Manicure and pedicure (gel) cost $35 USD in a very nice spa in La Paz. While there are many, I opted for the spa that was walking distance in my house but I found that some of the salons near the Malecon were cheaper.
Gym membership is about $15 USD. The closure is also applicable to pilates and yoga studios so what people do is work out at the beach.
Wifi
The Wifi bills were included in my rent but if this is not included in yours, you will pay about $20 USD per month (35 MBPS) plus $50 USD installation fee. The most popular company in La Paz is Telmex because it has better coverage.
Wifi is usually included in long-term rentals but if you are to do the installation on your own, your landlord can help with that, too. You don't have to worry about it as most Telmex staff don't speak English. It will be a pain to do it on your own!
As a digital nomad, it's always important for me to have a portable wifi device in case of emergency. If you plan to purchase one using this link, you can use my 10% code PSIMONMYWAY upon checkout.
Electricity bill
I moved to La Paz during the summer and the house I was living in was really hot. I used the AC 6 hours per day and paid $31.11 USD per month. Which, for me, wasn't so bad because I was expecting to pay $100 USD or more!
Water bill
My water bill was also included in my rent but in Mexico, the default water bill rate is $6 USD per month and they don't even have a meter for this! No matter how much water you use, you will just pay a default amount.
Cleaner/housekeeper
In Puerto Vallarta, I only paid $25 USD for a cleaner to come once a week and do deep cleaning but in La Paz, I paid $35 USD.
I felt I was being scammed by the housekeeper I hired so I asked my neighbors for the price. They said that $35 USD is really the base price.
Food costs in La Paz
There are lots of restaurants in La Paz so I made sure I tried the best ones by eating out thrice a week. This was costly than what I am used to in Puerto Vallarta and to be honest, I had more bad food in La Paz than good ones.
Each supermarket in La Paz have different prices and the prices above are from Chedraui. Walmart, in my experience, is always cheaper but has lower quality. You can also see grocery prices using the Rappi delivery app.
🚗 Living in La Paz: do you need a car?
Here's the shitty thing – Uber works in La Paz but there are not a lot of drivers! I even had a week where I encountered the same driver in 4 rides. He told me that because of the extreme summer heat, drivers tend to not work because the fares are also not that expensive.
I live 10 minutes away from the center (Malecon) so I pay around $2 USD for an Uber ride. During rush hour, the fare can go up to $7 USD (which for Uber in La Paz is actually a lot!).
I also use public transport which is not that efficient since there aren't bus stops in La Paz. You can hail wherever you want and the bus will stop for you. Don't worry, it's safe and it's really very spacious! The bus fare in La Paz is around $0.50 USD (one-way).
Ubers also go to Todos Santos and Cabo for $50 USD (one-way). You can also get one if you want to visit Balandra beach but you need to haggle. The fare to Balandra starts at $35 USD.
For visiting beaches in La Paz, you can either rent a car or just take the Playa Bus, the official bus for touring all the beaches in La Paz. Mind you, there are a lot!
🏠 La Paz apartments for rent
As usual, you will always find better and cheaper apartment rental rates in La Paz if you can speak Spanish. Initially, the landlord wanted $950 USD for the house I was renting but I managed to put it down to $650 USD because of my language skills.
If you don't speak Spanish, don't worry about it as you can always rent on Airbnb then just find a rental when you are already here. That is if you don't mind paying the ridiculous taxes that Airbnb charges (which is about $200 USD).
I really like my neighborhood in La Paz (Pueblo Nuevo) but most expats prefer to live in the center with oceanview where rents are more expensive. I actually don't like living in condos because of my dogs so I always find a house for them to have a space to be in.
There are many oceanview condos in the center that start from $1,600 USD per month. They are fully furnished and you can share it with a friend you are moving with. Usually, they have 2 bedrooms.
For singles, this is a lot to pay for rent, especially in Mexico so I advise that you also take a look at the Facebook marketplace where locals who are not equipped with Airbnb post their listing.
There are many options there for cheap and you don't need to pay crazy Airbnb taxes/fees.
☕ Support this blog's honest and transparent journalism. Help us add value to what we are sharing. Keep P.S. I'm On My Way free for all by donating to our coffee fund.
🛂 Mexico Residency Visa
I have a 4-year Mexico residency visa but you can also live in La Paz on a tourist visa. It won't be a problem! Mexico gives a generous 6-month visa to tourists so you can just exit the country before it expires. 6 months is a great time to live in La Paz and stay in Mexico!
But if you are really serious about moving to La Paz as a digital nomad, retiree, or expat, you should apply for a Mexico non-lucrative visa which entitles you to live in Mexico for a year.
You just need to prove your financial capability in order to be qualified for this visa. You should also be working for a company outside of Mexico and is earning at least $2,000 USD per month.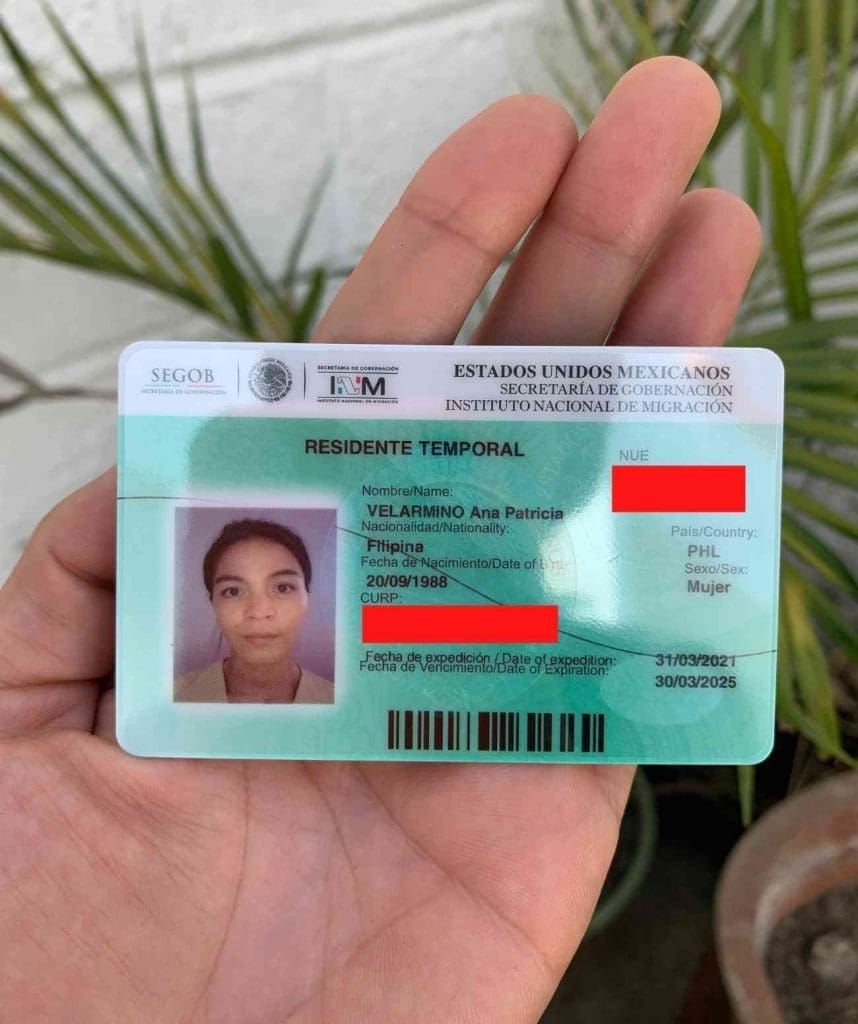 🧑🏿‍🤝‍🧑🏻 Connecting with expats in La Paz Mexico
La Paz expats are super active and are always meeting, connecting, and giving advice through Facebook groups. The best group to join is Loco La Paz Ex-Pats where you can check current events and updates.
I swear, this group helped me a lot when I first moved to La Paz – everyone's super proactive in sharing information! I usually met older expats (50 and above) living in La Paz while the digital nomad age group is between 23 – 42 years old.
👍🏽 Pros of living in La Paz Mexico
La Paz is child-friendly
La Paz is super child-friendly and I've seen this because I lived in a neighborhood with families. Kids bike on the streets freely as La Paz has a dedicated bike lane all over the city.
There are also no stoplights so everyone is more cautious in slowing down. Cars also voluntarily stop when you're crossing the street which is highly unusual in other Mexican cities.
La Paz is pet-friendly
I would say it's not as pet-friendly as Puerto Vallarta or Sayulita where I can bring my dogs to restaurants. Many restaurants in La Paz don't accept pets which was sad because I couldn't bring my dogs all the time when I go out!
Dogs are allowed to be unleashed on the beaches but you will probably have a hard time finding a house that allows pets.
Cost of living in La Paz is the cheapest in Baja Sur
I now live in Cabo San Lucas and I've seen how my expenses are doubled. Obviously, Los Cabos is a resort city so prices will be more expensive (plus it was my choice to move to Cabo from La Paz).
I pay $2,000 USD for rent in Los Cabos while in La Paz, it was only $650. Just with rent, it's already a big upgrade! The same goes for other expat areas in Baja Sur like Loreto and Todos Santos.
👎🏽 Cons of living in La Paz Mexico
Very few restaurants
It's great if you're just going to live here as a digital nomad for a month but after that, you will see how there are very few restaurants in La Paz Mexico.
As someone who travels a lot for food (check my food blog!), being able to go out and try food at least three times a week is important for me. I also write a lot about food for work and in La Paz, I notice how I was able to finish all the restaurants within 2 weeks!
Restaurants in La Paz Malecon are definitely a no-no. They're expensive because of the view, but they are not necessarily good.
Not a lot of business opportunities
Yes, I work in the tourism industry and you will wonder why I am writing that there aren't business opportunities in La Paz. The truth is, this is one of the reasons why I moved to Cabo from here – I get more clients in Los Cabos than in La Paz.
As for you who wants to live in somewhere cheap and not touristy (and if you are not working in the travel industry), La Paz will be a great choice. Move now while it's still not that popular and expensive!
⁉️ La Paz cost of living FAQ
Why move to La Paz Mexico?
If you choose to move to La Paz, you will have a mix of both – being in a big city and at the same time, having access to the ocean.
Many Americans are living in Cabo San Lucas but if you want a real Mexican vibe with a little California feel, La Paz is on the top list of the best places to live in Mexico.
Is it expensive to live in La Paz Mexico?
You can easily live in La Paz for $1,500 USD though I only did it for $1,000 USD. I was lucky to know how to speak Spanish so finding apartments in La Paz and haggling worked for me well.
I will also discuss my personal expenses in this article so you'll have a clear idea of what you need to spend monthly. Remember that we all have different lifestyles so I can't really tell you how much money you need to live in La Paz. It's up to you!
Is La Paz Mexico safe?
La Paz gets a lot of bad press in terms of safety but I felt extremely safe when I was living in La Paz. I didn't have a car so I walked everywhere even late at night.
The police are patrolling 24/7 all over the city so that gives me a little security blanket.
My landlord also lived close by so as a woman living in Mexico alone, it's very important for me to have someone around in case of an emergency. My landlord is also super nice and has treated me as part of their family!
Is La Paz Mexico a good place to live in?
I always use the Quality of Life Scale (QOLS) to measure the domains of a good quality of life. First, in terms of material and physical well-being, I am able to afford groceries ($75 for 2 weeks), eating out ($15 USD per meal) and other luxuries like mani-pedi ($40 USD) and massages in La Paz.
Dental care is super cheap in La Paz, too! Well, cheaper than the US but not really that cheap in terms of Mexican standards.
It is also very easy to make friends in La Paz because of the expat groups so you won't feel alone when you are here – there are always people to meet!
I am so lucky to be living in a Mexican neighborhood in La Paz where the people have always been kind to me, especially when I first moved.
Many expats say you need a car to live in La Paz but honestly, I got by with walking and taking public transportation which I deem comfortable for the quality of life I am aiming for.
I sold my car when I left Puerto Vallarta thinking that I won't need it in Baja California. But Baja California is a car area – you really need a car but I did not feel that need in La Paz.
Another thing that makes my quality of life so great is that there are many things to do in La Paz. Just within the city, there are already 9 beaches and I don't need to go far!
🇲🇽 La Paz Travel Planning
✈️ Flights to La Paz
Use Kiwi.com to find the cheapest flights to La Paz. This is my favorite booking engine because they compare prices across all airlines for your route. The airport that serves La Paz is La Paz International Airport or Manuel Márquez de León International Airport (LAP). Don't confuse La Paz Mexico with La Paz, Bolivia!
🛏️ Hotels and resorts in La Paz
Budget travelers can use HostelWorld to find cheap dorm rooms in La Paz (from $15 USD). If you want boutique or resort-type accommodations, Booking.com is the best choice.
🚑 Mexico Travel Insurance
Do not travel to La Paz without travel insurance! This is the top item you have to buy when traveling, and it is a must. Be prepared for the possibility that something can happen to you while traveling abroad. My favorite travel insurance is SafetyWing (for digital nomad and entrepreneur trips) and Ekta Travel for comprehensive medical insurance starting at $0.99 USD!
Trisha is one of those people who left their comfortable life to travel the world and learn about life. Her style is to stay in one place she likes for 3 months (or more) to know what it feels like to eat, cook, speak, and sleep in another culture that isn't hers. She'd like to believe she's not traditionally traveling but she just chooses to be somewhere else all the time. In no particular order, her favorite cities in the world are Barcelona, Buenos Aires, Hong Kong, Mexico City, and Tel Aviv.