I never thought I'd like living in Cabo San Lucas Mexico because of its very touristy prices. Now that I am here, I realized how this is one of the best living abroad experiences I will ever have – Cabo is currently my favorite!
📬 Reader Mail: Hi Trisha, happy happy birthday and I love that you are already in Baja California! I recently had a quick vacation in Cabo and loved it. I just discovered there are direct flights from Seattle so I took a leap and checked it out.
While browsing about living in Mexico, I found your fantastic blog and have seen that you've lived in many different Mexican cities. To my surprise, I saw on your Instagram stories that you are in Cabo – too bad I didn't get to meet you!
I am a digital nomad and I want to know about your experience in living in Cabo San Lucas? I am new to remote work and I am finding a lot of great information on your blog about this lifestyle. Thank you so much and I hope to meet you in Cabo!
-Anna Collins, Seattle
Hi Anna,
Thank you for the birthday greeting! Bummer, I missed you – I just finished a one-month celebration with friends! Actually, I didn't think that I would like Cabo so much!
I've been here for 2 months now and have been really out and about so in this post, I will definitely share with you if living in Cabo San Lucas is the right option for you.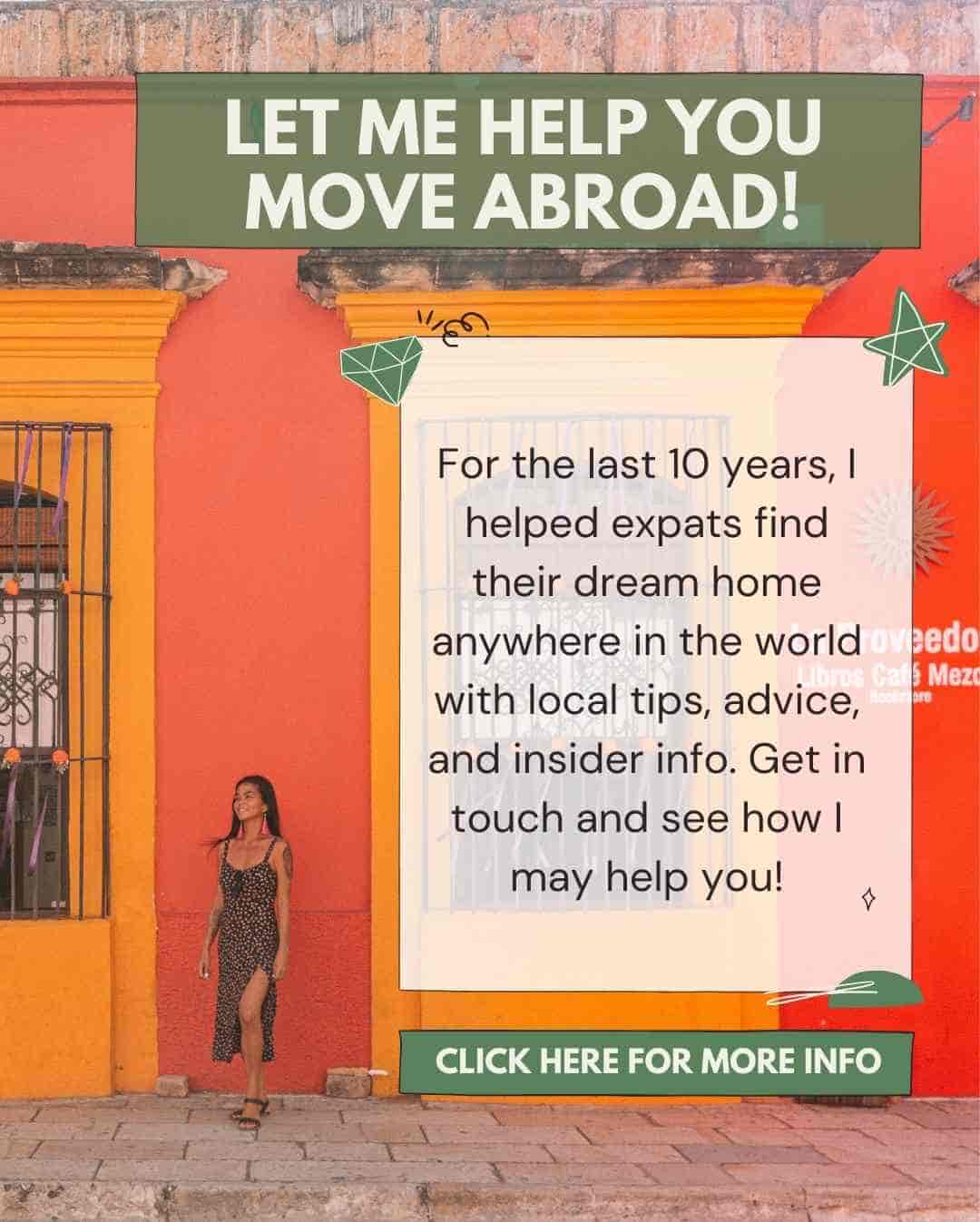 If you feel like Cabo does not fit your needs, feel free to check other places to live in Mexico – there are a lot of choices! Should you have any questions about living in Mexico, I am always here to help.
Good luck!
Xx,
Trisha
⁉️ Is Cabo a good place to live in?
You might be wondering why of all places in Mexico, I chose to live in Cabo San Lucas. Okay, let me be clear: I did not pack my life in Puerto Vallarta and ultimately planned to move to Cabo.
What happened was I got tired of living in one place so I decided to sell all my stuff (again) and do a road trip in Baja California Sur.
It was by the end of May 2021 which was the beginning of summer so mainland Mexico was hot and humid. Baja California is hot too but you know, dry and more tolerable.
So I grabbed the dogs, packed a suitcase, and got rid of so many things to start my road trip in Baja. First stop was La Paz which I also loved but somehow very similar to my old home in Puerto Vallarta.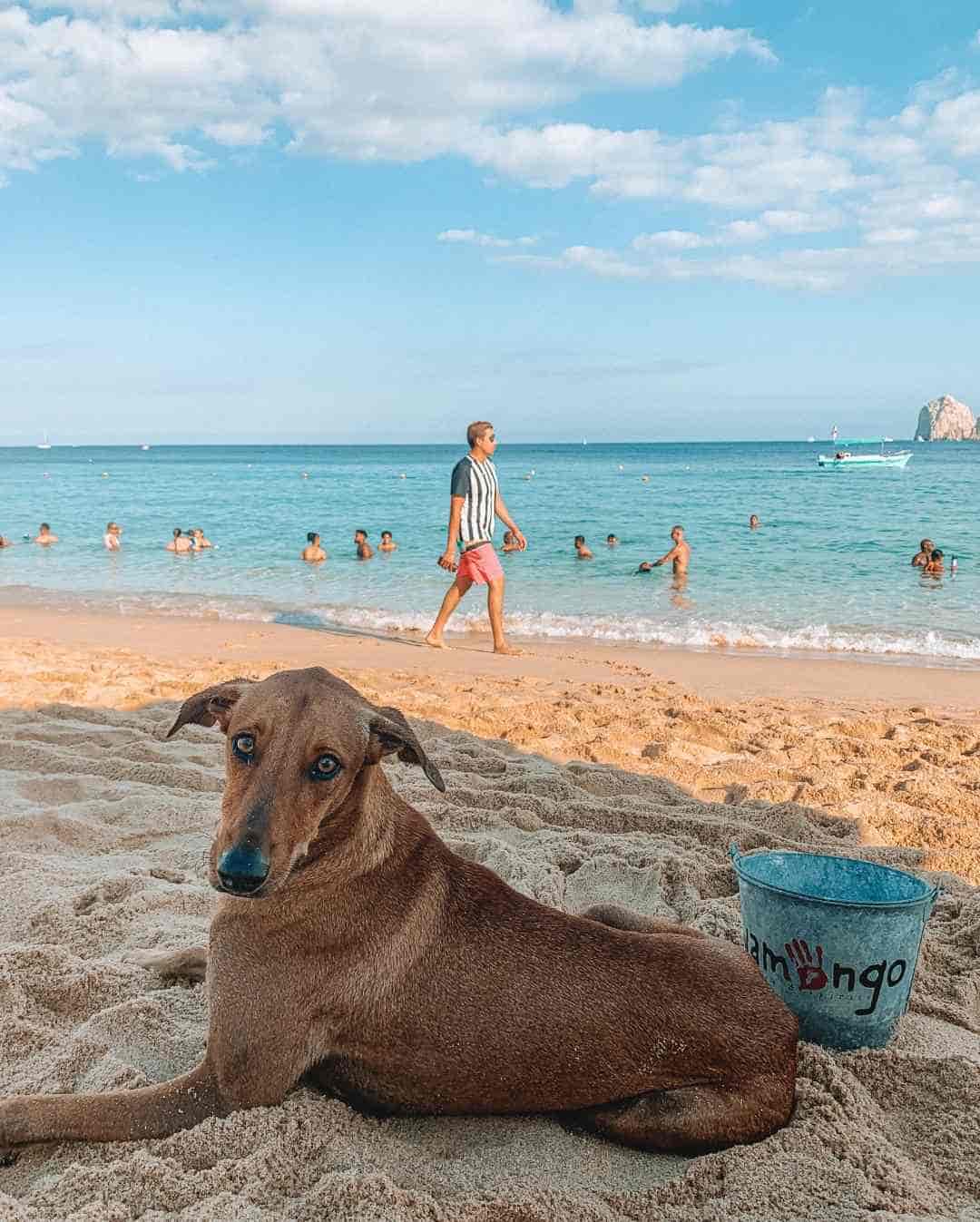 I am not saying I won't consider living there but it wasn't something I needed at the moment. I did put it in the list of future homes though. I stayed there a month and felt the need to move on right away.
Then there was Todos Santos which was worse than I expected. This small town has this crazy beautiful imagery on Pinterest so I thought maybe it will be like when I lived in Sayulita.
WRONG. Todos Santos was so ugly – okay, I am sorry because I really can't find another word for it. Ugly seemed to be the most polite description.
I couldn't live because I already paid for a one-month stay with no flexible refund policy. I had a nice home in El Pescadero and just spent my days working, reading, going to the beach, hiking – but I got really bored. I couldn't wait to get to my next destination which was Cabo.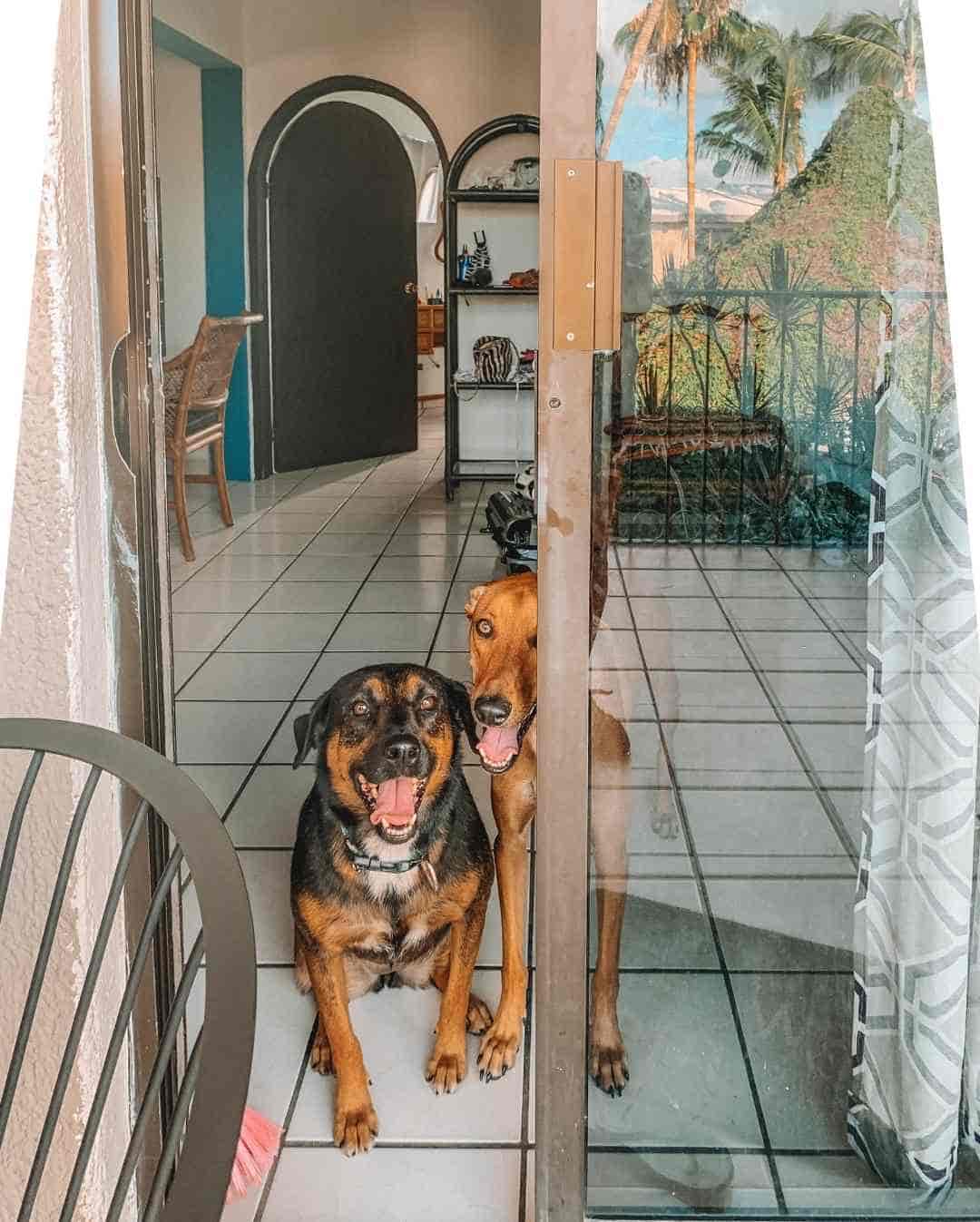 Then we moved to Cabo. Please note that when you read the word 'we' within this blog, I am pertaining to my dogs, Lola and Archie. I am a single woman (ouch) who is moving around Mexico, one city at a time.
Anyway, we moved to Cabo on my birthday month so my days here didn't start as an expat. I was a freaking tourist for a month. I always have a month-long birthday celebration. My birthday is my favorite holiday of the year and I am actually off work all September.
Friends and family came from different parts of the US and Mexico. Of course, they all did not come at the same time so I had to repeat and repeat my birthday celebrations.
Ocean clubs, hiking, day trips, steak dinners, seafood lunches, and many nights I don't remember – the more I explored Cabo, the more it grew in me.
I know y'all going to be like "isn't Cabo so gringo? Ew. Why would you want to live there?"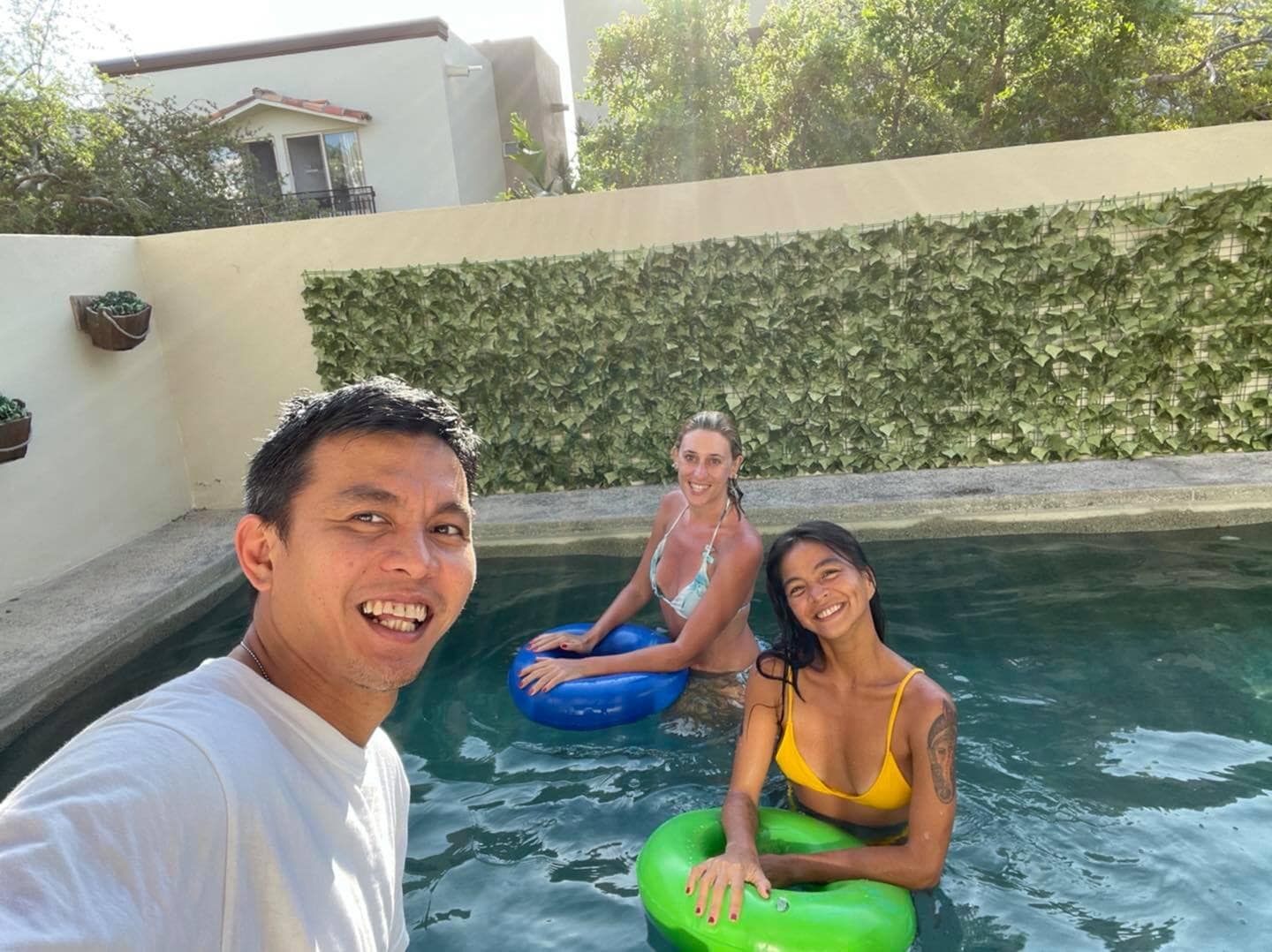 It is a matter of fact, very American, boys and girls. Please remember that I have been living in Mexico for quite some time now and I am craving a different culture.
Since I cannot go to the US (no US visa right now), Baja California is the most different I have been in the past years. My trips to Colombia and Peru weren't that different either.
That is why instead of the short stint in Cabo, I decided to stay here and make it my base, maybe for the next year. I always followed my instincts and always listened to what I feel so right now, Cabo is the one that makes so much sense to me.
In the next few months, I am going to share stuff on my Instagram about living in Cabo San Lucas Mexico as a young expat. This is just the beginning!
⛔ Is it safe to live in Cabo San Lucas Mexico?
ABSOLUTELY! Cabo San Lucas loves tourists so they will never do anything to interrupt tourism. Cabo is actually one of the safest and crime-free destinations in the world so you don't have to worry about your safety here!
The streets are well-lit and there is always something happening at night so you will never be alone. I was actually surprised how Cabo is super active till the wee hours of the morning (weekends) since a lot of places in Mexico have implemented nightly curfews because of COVID.
💲 How much money do you need to live in Cabo San Lucas Mexico?
I am going to be very honest here – Cabo is the most expensive place to live in Mexico, just because it's very close to the USA. More Americans also opt to come here because Cabo is an unquestionable destination.
It's not like other places to live in Mexico where you have many questions such as safety, language barrier, etc. Everyone knows Cabo – we don't need to sell it to you.
Rent is actually affordable except when you want to live downtown. Later on, I will explain to you the different areas and costs in Cabo according to my experience.
I can't give you an exact number just yet since the cost of living in Cabo San Lucas Mexico also depends on your lifestyle. You can read my post about the costs in Cabo so you'd know what I spend every month.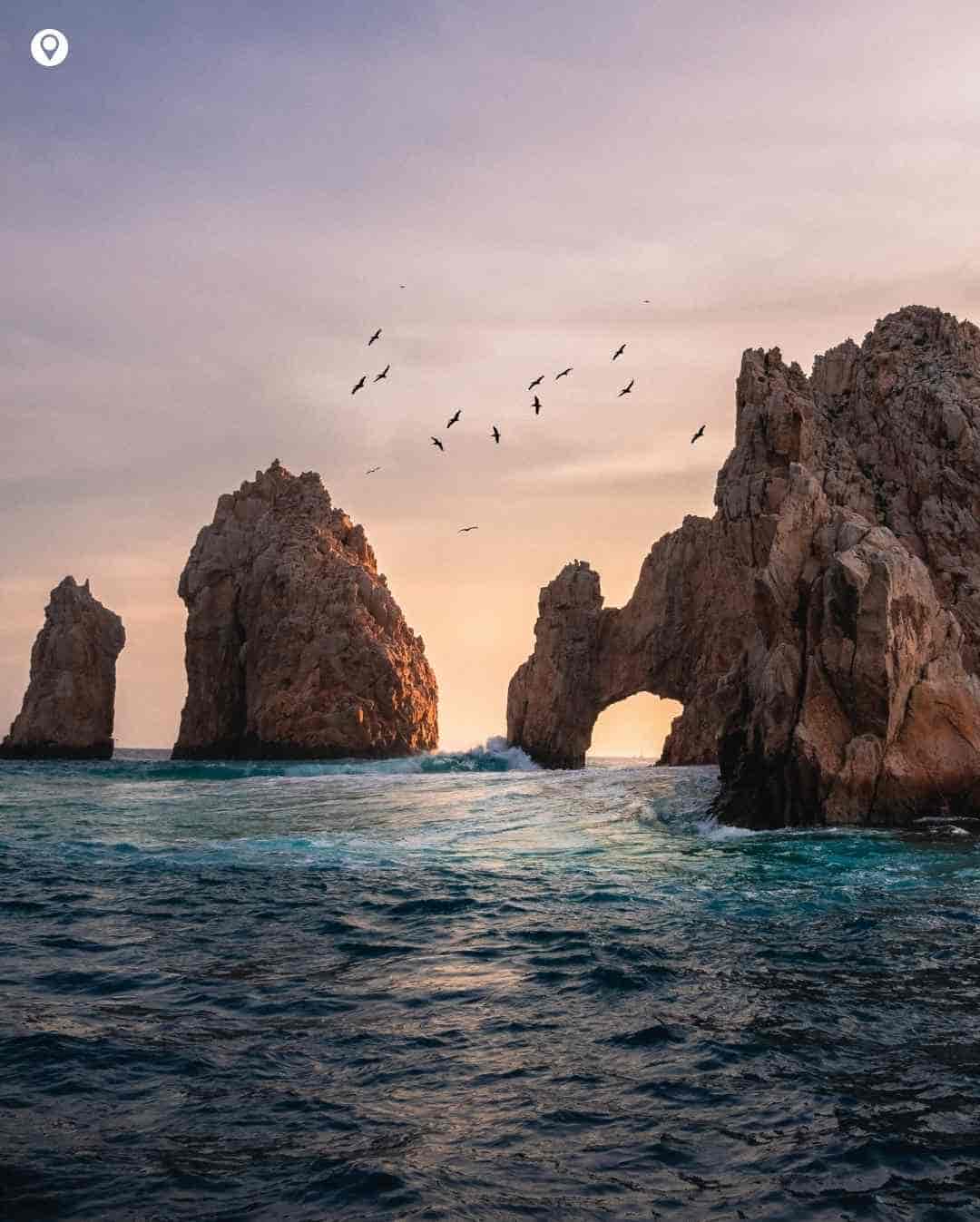 🆚 Cabo San Lucas vs. San Jose del Cabo
People often use the term 'Los Cabos' but Cabo San Lucas (CSL) and San Jose del Cabo are two different things.
To tell you the truth, I thought foreigners loved visiting CSL than SJC more but I realized that they have very even playing fields. Most of the resorts are in SJC so people tend to stay there for their short vacations.
However, there is more local life in CSL and it's honestly easier to go around. SJC has better restaurants than CSL – I must say.
I still need to explore San Jose del Cabo and as always, I will share these experiences with you. For now, let's focus on living in Cabo San Lucas Mexico.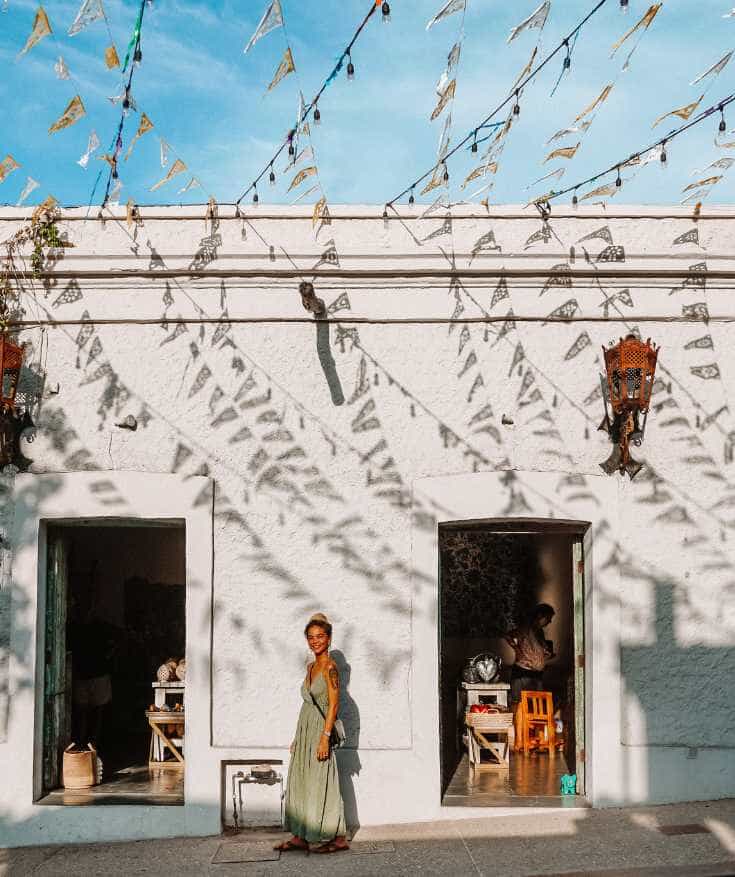 💵 Cost of living in Cabo San Lucas Mexico
I find that living by yourself has always been costly but in this living abroad series that is my life, I decided to live in a 1-bedroom apartment in Cabo instead of my normal 3-bedroom shebang.
I realized I am always traveling anyway and that smaller apartments are easier to maintain. I am currently designing my apartment and I am loving all the process that goes with it.
Honestly, I was surprised that apartments in Cabo are super affordable. I found 3-BR apartments for $600 USD but note that they are not in the city center but a 15-minute drive. Meaning, you need a car.
As for groceries, I spend about $75 USD for 2 weeks worth of groceries. Supermarkets even have delivery via the Rappi app if you don't have a car.
Costco, of course, is another story because we all seem to feel obligated to hoard once we enter this place. As much as possible, I avoid Costco unless I need something in bulk like dog food, garbage bags, laundry detergent, cleaning stuff, etc.
I have a more detailed article about what I spend monthly in Cabo so make sure to check that out and know what to expect when you move here.
🏘️ Renting apartments in Cabo San Lucas
I have a separate post about finding cheap apartments in Cabo but the most important things that you need to know are:
You can rent an apartment in Cabo with a tourist visa
You can get a decent house for less than $1,000 USD a month; (3) houses/apartments downtown can cost double.
I am currently renting a 1-BR apartment downtown and I am paying $350 USD. This apartment is about a 15-minute walk to the marina which I don't mind because I love walking!
It really helps to find prices like this if you speak Spanish and know the prices in each area. If you need help, I offer those services to people who want to move to Mexico. Just send me a message!
🧑🏿‍🤝‍🧑🏻

Connecting with fellow expats in Cabo San Lucas
Let me be honest here – I did not come to Cabo without knowing anyone (which I'd normally do). I already knew a bunch of people living in Cabo San Lucas Mexico so it was a bonus for me not to put extra effort into making friends.
As usual, in every expat community around the world, a Facebook group always helps. My go-to groups are Cabo Expats and Los Cabos Expats.
Both groups are super packed with information about living in Cabo San Lucas. You just need to put the time into browsing every single topic and you'll find answers to your questions!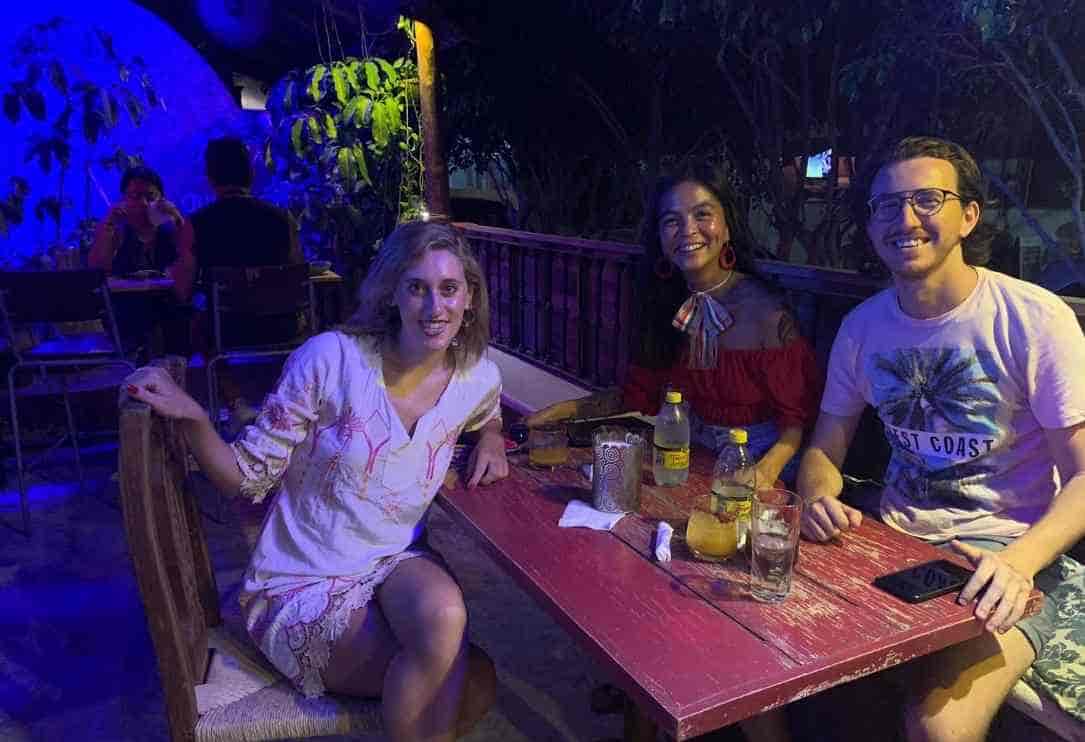 Some instances that also made me connect with expats in Cabo San Lucas were random dog walks and routine marina runs. You'll come across the same people and eventually connect with them!
You can also join dance classes, go to the gym, pilates class, etc. This is where I met the bulk of the people I know in Cabo! In the last part of this article, I made a comprehensive directory of everything you need to know like where to take yoga classes, gym memberships, etc.
🚘 Living in Cabo San Lucas Mexico: do I need a car?
Here's the thing: I rented a studio apartment in the center for the same price as a 2-br apartment in the outskirts of the city because I sold my car.
Ever since I sold my car, I realized how much I loved walking and that it became my unconscious exercise. I really feel stronger and healthier now!
A lot of foreigners can't take walking in the heat, especially during the summer so if you ask them, they would say you need a car to live in Cabo.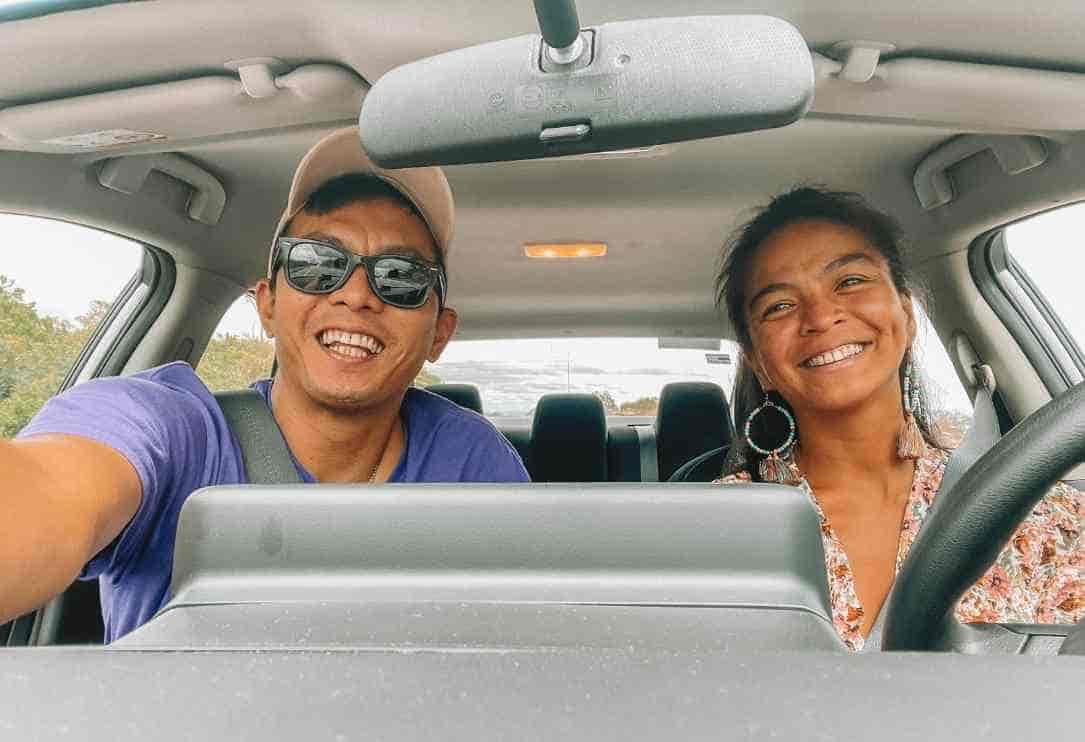 But if you're asking me, I feel like Cabo San Lucas has great terrain for pedestrians. There are no stoplights so cars stop for you when you cross the road!
I also loved how I can just walk to the beach with my dogs anytime. My apartment is just a 10-minute walk to the marina and the main beach.
I can't imagine us living in a 2-BR house but driving to the beach every day. That would be too tedious for me because we are always outside.
🛂 Mexico Residency Visa
If you plan to live in Cabo or anywhere in Mexico full-time, I highly encourage you to apply for a residency visa in Mexico. Most foreigners start with the 180 days tourist visa on their first move to Mexico to test the waters.
Mexico gives a generous 180 days tourist visa and you can definitely rent an apartment here with that visa. However, you will need to leave before this visa expires.
Many digital nomads or remote workers also apply for non-lucrative visas in Mexico. It's way easier to apply as long as you can prove that you are earning $2,000 USD per month.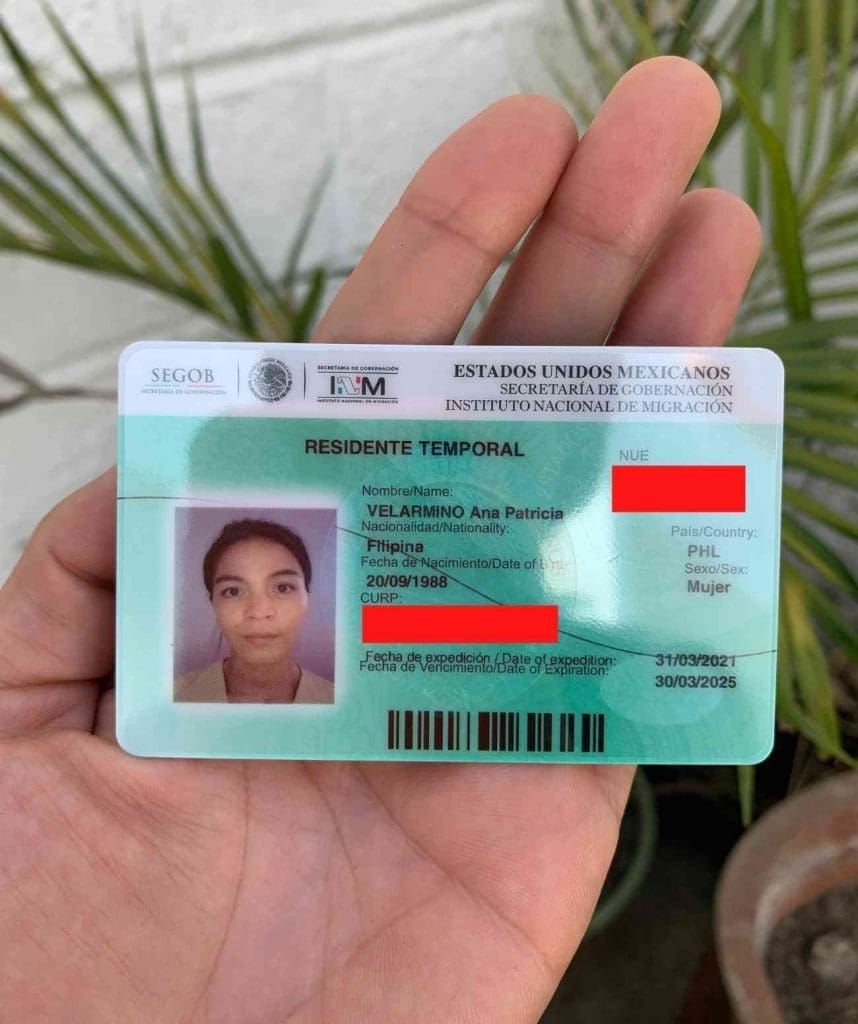 👍🏽 Pros of living in Cabo San Lucas Mexico
Great selection of food
As for food, there are a lot of varieties in Cabo. I usually mix my week eating in the most local food stands to the classy Sunday brunches. From Argentine to Italian cuisine, Cabo will have everything you crave for although there is a shortage of Asian food.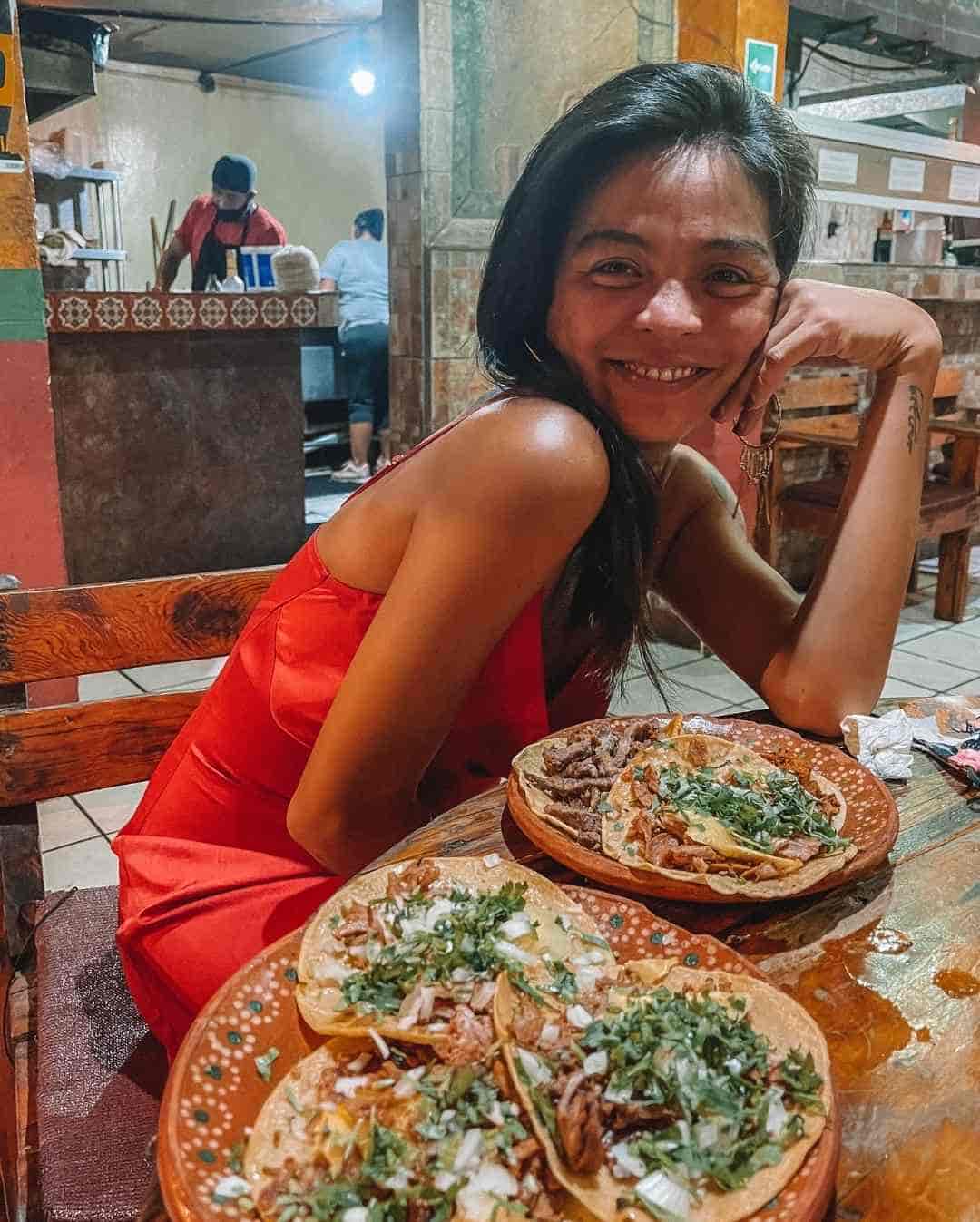 Since I live here and I love to cook, I also do a lot of grocery shopping. We have Costco in Cabo and everything that you have back home in the US are also available here.
So many things to do!
Baja California Sur is one of the best outdoor spots in Mexico. This is really my favorite part of living here. So many beaches and so many hikes!
However, if you want to explore Baja California Sur, you need to have a car. Within Cabo San Lucas, there aren't many outdoor spots aside from the main beach and some hikes but if you drive out of Cabo, wow, there are numerous spots to visit!
It will take you a while to visit them all so having a car is very ideal. Most drives aren't that far because Baja California Sur is a small area. The most I've driven is about 2 hours. This area is just a continuous loop.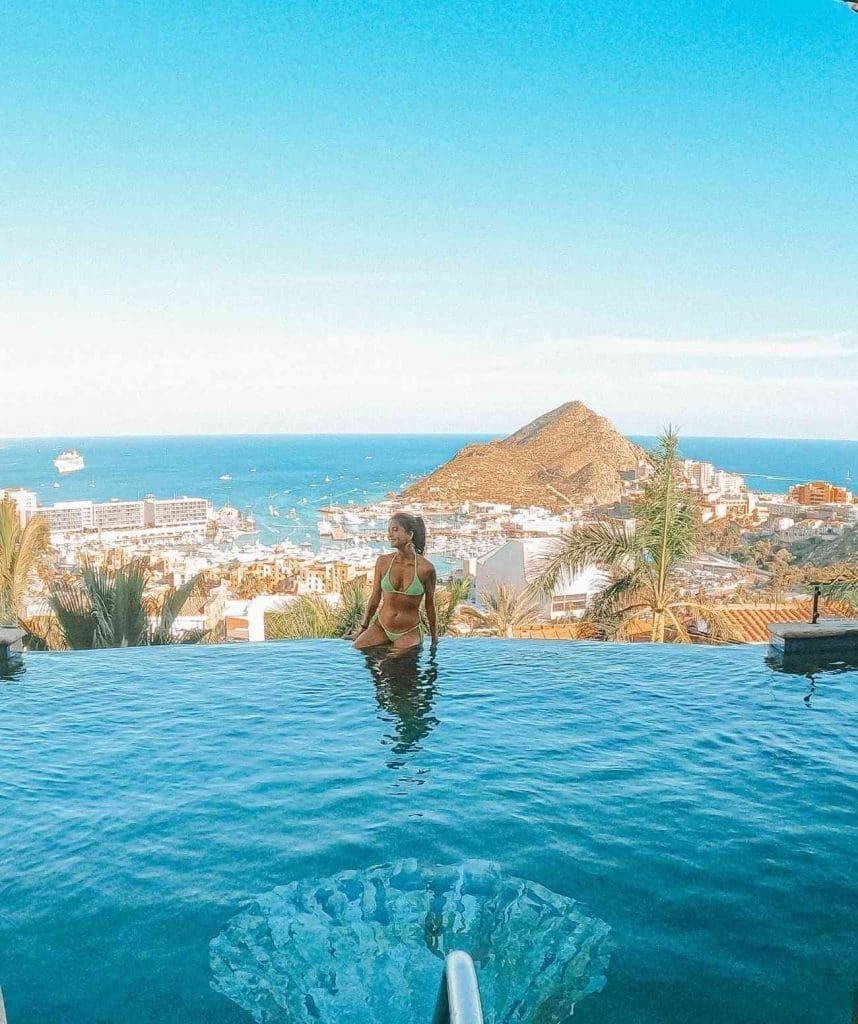 Many families with kids live in Cabo
Cabo San Lucas is a favorite destination for families traveling with children. The streets are super safe even if there are no stoplights.
This actually makes the road safer as drivers don't overs peed and are more vigilant. CSL is so pedestrian-friendly, they always stop for you as long as you are in the right crossing lane.
There are many expat communities that raise their children here. Colegio el Camino is one of the most popular International schools where expats enroll their children.
Other choices include Delmar International School and Colegio Amaranto. There are many other choices of schools for kids in Cabo and you can definitely ask other parents who live here about it.
Your children will definitely learn Spanish even if they are in International Schools because of their Mexican classmates. I've seen a lot of American kids here translate for their parents it's such a sight to see!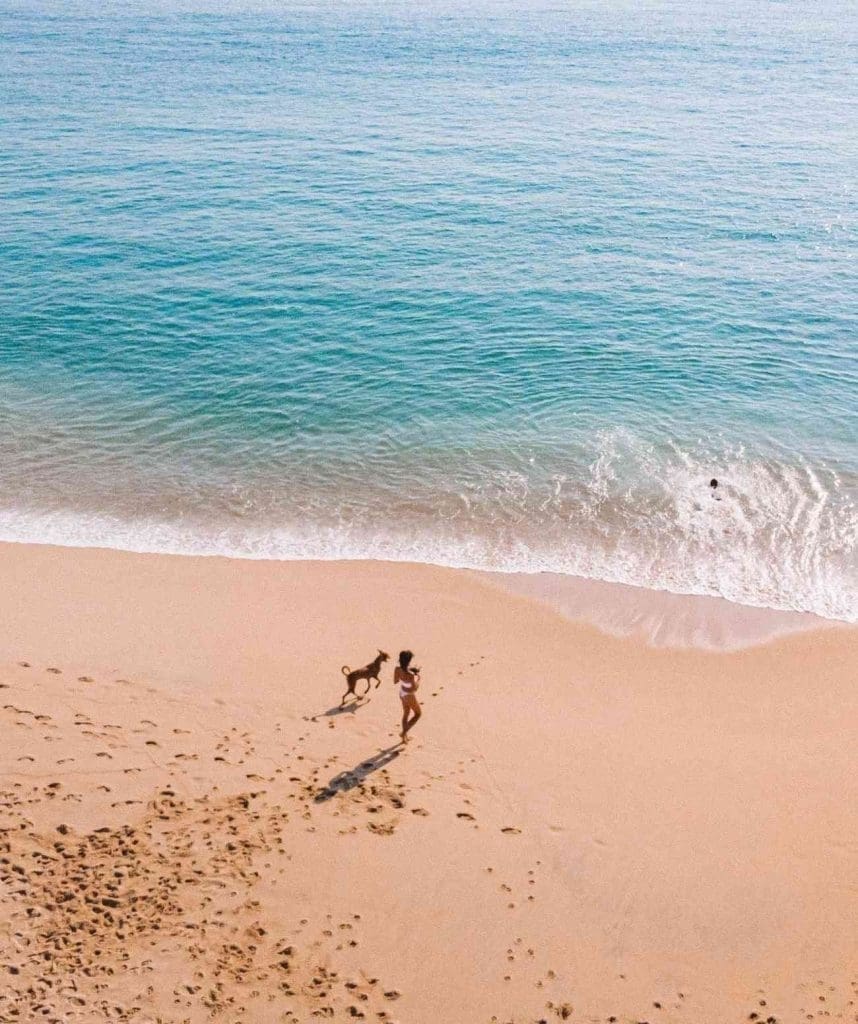 Cabo is pet-friendly
Cabo is not too pet-friendly but I am only saying this because I am coming from living in Sayulita and Puerto Vallarta where pets are accepted everywhere.
Dogs can roam freely in El Medano beach and all the other main beaches of Cabo San Lucas but Pedregal Beach is a little strict about pets.
Not all establishments accept pets. It's really a hit and miss so before going to the restaurant with your dog, you need to call to confirm. You can bring small dogs to beach clubs but you have to tie them.
Cabo is safe
Cabo San Lucas, I feel, is the safest place I've lived in in Mexico. Tourism here never stops so the cartel or any other dangerous forces will not do anything to interrupt that consistent tourism flow.
I walk to my apartment by myself at night (even til 4:00 AM) because the streets are well-lit. Cabo San Lucas is very active so you'll always have someone around.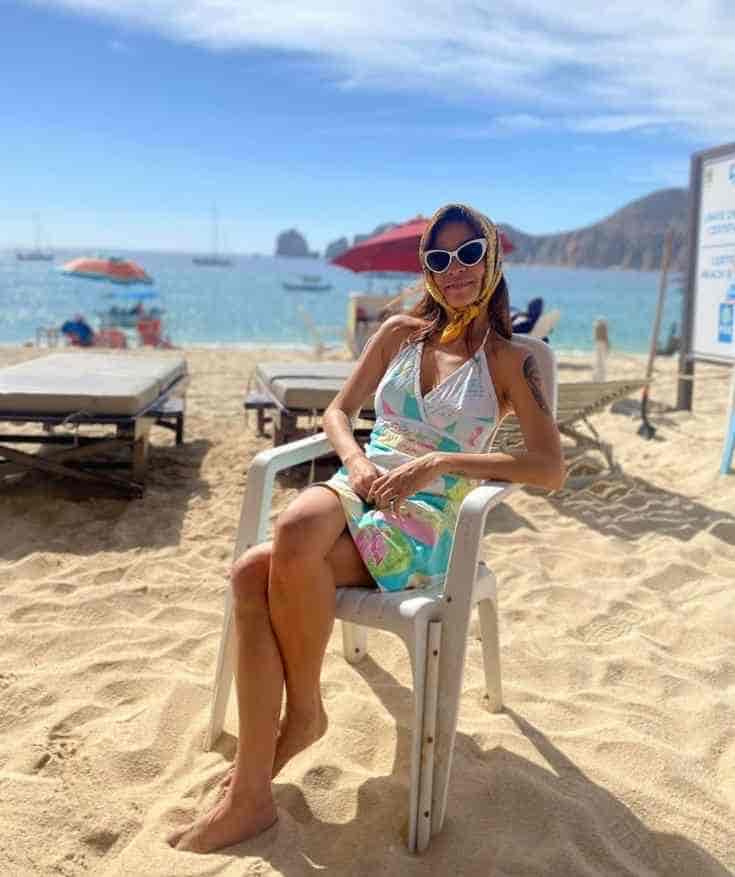 Cabo Mexico has great weather
Expats who live here choose to stay from mid-October to mid-May where we experience cool weather all over Mexico. However, during the summer season in Mexico, most expats can't take the (dry) heat so they go to their second homes either in the USA, Canada, or Europe.
Some rent their homes during the summer but in my experience, it's really very uncommon to go to Mexico during the hot season so most of us just hire caretakers and pet-sitters to stay in our homes. However, I do know a lot of expats who live here full time and just got used to the summer heat!
Note that Cabo San Lucas is located in the deserts of Baja California Sur so our weather here is way different than mainland Mexico.
Culture in Cabo San Lucas
You probably already know this – Cabo is very much like America. Everything here has been hollywoodinized according to an American's liking. I can say that there is very little Mexican life here except if you have Mexican friends and/or you speak Spanish.
As soon as you arrive downtown (center), Hard Rock Cafe is in the middle of all of it with an imposing facade. American couples walk around with their toddlers.
A group of 10 men who are probably on bachelor parties is walking around town with beers in their hands. You will see at least 4 groups of girls all wearing white while one wears a crown (and a sash) that says "bride to be."
The bachelor/bachelorette parties, they're not exclusive to foreigners. Even Mexicans regard Cabo as the 'it' destination for this celebration.
The marina, where I do my daily run with the dogs is always alive from morning til night. Bars start blaring at 8:00 pm but can start earlier during weekends.
The center is full of color, life, and happy noises but as someone who lives here, I always feel like a tourist (still) when I am walking at the city center.
I live in a Mexican neighborhood that is just one block from downtown but you'll see the difference when you enter the small streets of Cabo versus the main avenue. It always feels like I am entering a different area even if my house is just 5 minutes from the center!
For me who has Mexican friends here, the culture in Cabo can be two different layers so I really can't generalize the culture here – it all depends on the way of life you imagine to be when you move to Cabo.
Are you a foreigner/expat who likes to immerse with the local culture or you're just moving to Cabo to have a cheaper version of America? You can do either but as I said, you need to identify the life you want before you move here. This is Mexico and anything is possible!
Living in Cabo San Lucas Mexico as a young expat
I would say that the expats living in Cabo San Lucas are mixed. Everyone is here! I can't say that the majority of the foreigners who live here are young professionals but let me tell you what's it like to live here in your 30s.
We all know how Cabo is a popular party spot not to mention many Americans come here for a weekend to party. My friends always thought there is no way that you can live healthily in Cabo and/or avoid parties but that's not the case all the time.
To be honest, when I first moved to Cabo, I had a hard time not going out but only because I was still trying to get to know the city and gain some friends. The only way I can get to know people is by actually going out.
After a while, it became very exhausting. Working remotely allows me to play around with my work schedule but I forced myself into a daily routine that I religiously followed.
How did I do that? I enrolled in a one-month pilates class. I paid 3-month gym membership. I subscribed to weekly yoga classes. While it is true that Cabo is a party place, there is also the healthy side of it that you'll only know if you live here.
Aside from that, there are many outdoor activities in Cabo like small hikes, surfing, diving, etc – you can definitely dictate how you will live here!
Overall, I could say that Cabo is a good place to live for young people. Please note that I am single (no kids just 2 dogs lol) so all the experiences that I am stating here are based on the lifestyle of a single woman living abroad.
Supermarkets in Cabo San Lucas
We have Costco!!! And we're one of the few cities in Mexico that has it! Costco is an American's favorite and being one of the places in Mexico that has the most Americans, Costco here is a big hit.
However, Costco is not very convenient for those who are living alone like me. Here are the best supermarkets in Cabo San Lucas which I go to, depending on what I want to buy:
Gym, yoga, pilates, health, and wellness
I would also like to share with you some of the places where I go for health and wellness in Cabo. I know this is important for some and it's hard to find information if you don't know where to look. I experienced that when I first came here and I don't want that to happen to you!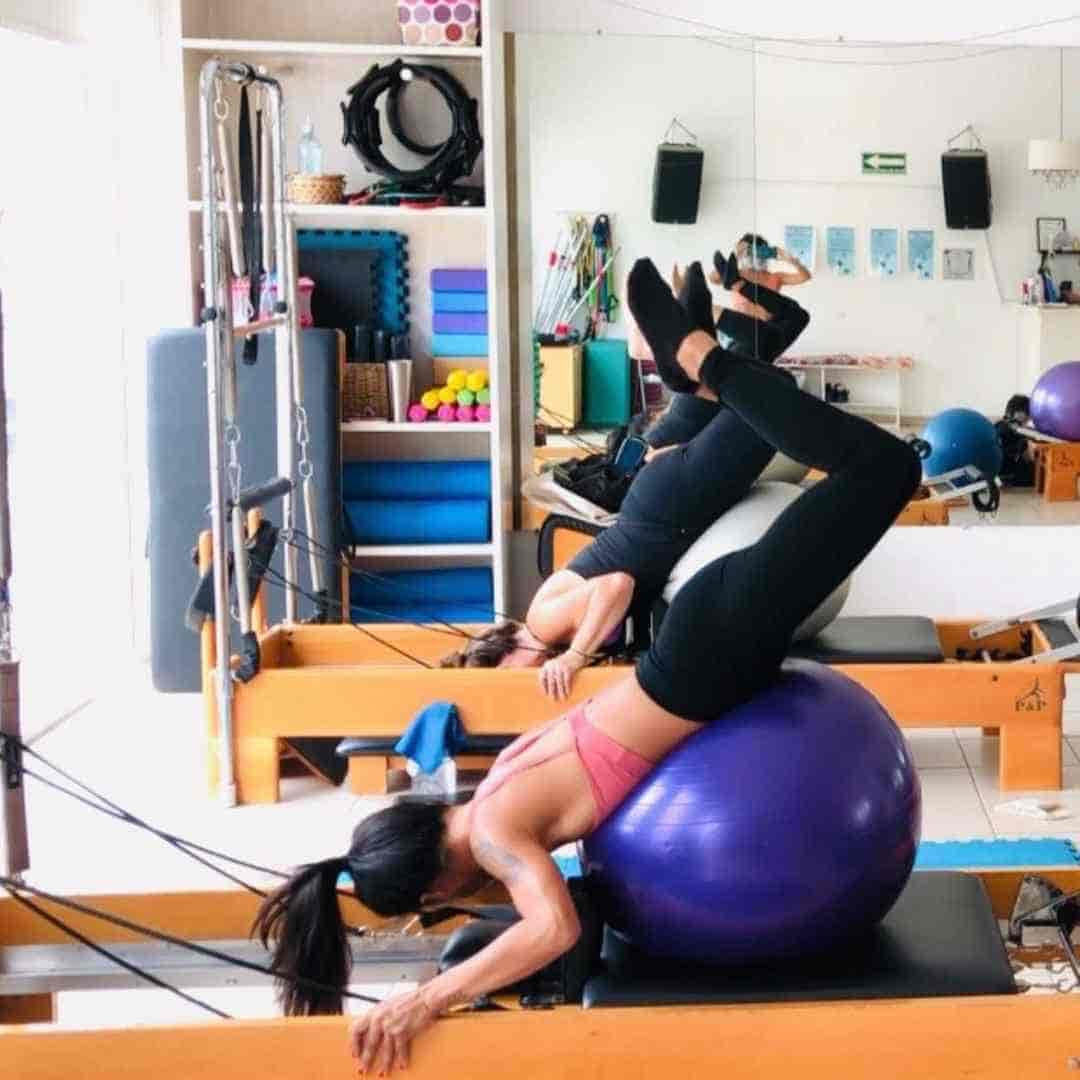 💃 Dance classes in Cabo: So far, I only found a Pole Dancing class at Dolls Kingdom. For any type of dance and choreography, I found this Russian girl who offers monthly dance classes and I am about to try it at Elenium Arts and Fitness Studio! For all types of Latin dances, Studio Corazon is a great place to learn!
🏋️ Gym in Cabo San Lucas: I go to RU2 and I pay about $35 USD for a monthly membership. If you want a personal trainer, it costs $150 USD per month together with the membership. Along with other gyms in Cabo, this one is downtown and is within walking distance from where I live.
🧘🏽 Yoga classes in Cabo: I go to Cabo Yoga Fitness because I love Vinyasa! They are a little bit far away from downtown but an Uber ride costs less than $2 USD to get to them. They are near Costco, too!
🧘🏿‍♀️ Pilates classes in Cabo: This is my favorite workout! I pay $125 USD for 12 classes at Indigo Pilates. The instructor is from Uruguay but she also speaks great English.
Healthcare in Cabo San Lucas
I've been told that if you become a resident of Mexico, you need to switch to Mexican health insurance but I didn't do that yet. I still use my International medical insurance that covers COVID-19.
Hospitals in Cabo are very state of the art and have professional medical practitioners. I really don't worry about healthcare in Cabo or Mexico in general because they have a very good and modern system.
In case of emergencies, 911 works in Cabo (and all over Mexico). They respond super fast and will attend to your needs 100%.
I even know many Americans who have grave medical conditions and moved here because healthcare in the US is expensive.
Trisha is one of those people who left their comfortable life to travel the world and learn about life. Her style is to stay in one place she likes for 3 months (or more) to know what it feels like to eat, cook, speak, and sleep in another culture that isn't hers. She'd like to believe she's not traditionally traveling but she just chooses to be somewhere else all the time. In no particular order, her favorite cities in the world are Barcelona, Buenos Aires, Hong Kong, Mexico City, and Tel Aviv.