👋 Hola! My name is Trisha. Before I moved to Mexico permanently, I went backpacking around the country. In this post, I will share with you my backpacking Mexico itinerary including safety precautions and money-saving tips.
📬 Hello Trisha! I don't know anything about Mexico and since you live there, I decided to reach out! I love all your Mexico content, by the way so thank you so much! I only have 3 weeks in Mexico and I got so overwhelmed when I looked at the map. That country is so big so I don't really know how to plan my Mexico backpacking! I know you lived in many places and areas in Mexico so please give me some tips and advice! Thank you for all the great content you put out there. It's helping me a lot!

Katie Barnett, United Kingdom
Hi Katie!
I am glad you decided to go to Mexico! For sure, 3 weeks backpacking Mexico is doable but I do believe you'll end up staying more. That's what happened to me and now I got my Mexican residency!
I will only give you backpacking Mexico itinerary that I have experience in and areas that I recommend. Unfortunately, I do not have the Quintana Roo and Yucatan area here as I haven't been south. I am not an expert in that area. It's also expensive and not too safe for foreign backpackers.
If there's anything that wasn't answered in this post, feel free to contact me and I will update this post. Good luck on your journey!
Xx,
Trisha
⛔ Backpacking Mexico: is it safe?
I lived in many different areas in Mexico since 2018 and for me, safety is subjective and personal. Although I must admit, when I first went to Mexico in 2013, I wasn't very worried about safety since I was coming to stay with friends.
There are many areas in Mexico that are not safe but I am not including those in this backpacking Mexico itinerary. I will also write about routes I have personal experience in.
Another important thing to note about safety in Mexico: I know you are worried about cartels and such things but they will not do anything to interrupt tourism in Mexico.
Sadly, the area of Quintana Roo (where Cancun, Tulum, and Playa del Carmen is), is becoming very dangerous as time passes even if there are many tourists still visiting.
🌆 Backpacking Mexico itinerary: Central Mexico
The most important thing to know when planning your backpacking Mexico itinerary is that you will always start in Mexico City. Unless you are coming from the USA which has direct flights to every major city/state in Mexico.
If you are coming from Europe, London and Madrid have direct flights to Mexico City that last for 15 hours. Some backpackers flying from Europe want to combine it with USA travel as flights can also be cheap to the US.
Once you are in Mexico City, there will be land access to every area in the country. You can take busses everywhere! If you choose to fly, all flights within the country stop in Mexico City as well.
I have a few extensive guides in each city where you can check everything you need to know including cost of living, digital nomad experiences, expat living, etc. I will leave the links to each city guides below.
💃🏽 Why visit Central Mexico: Central Mexico is the cultural capital of the country. This is where you'll see all the traditional Mexican towns on Instagram and Pinterest. Central America is the iconic imagery of Mexico on social media. It is a good place to start your travel and experience the real culture of Mexico.
💲 Central Mexico prices: Central Mexico is the cheapest area in the country. You can find $7 USD accommodations here and eat for $1 USD. This is the baseline of pricing in Mexico and everywhere else is more expensive.
👮 Safety in Central Mexico: Generally safe but Mexico City has areas that you have to avoid. The rest of the destinations in Central Mexico are okay and you don't have to be extremely vigilant.
Mexico City
Like many capitals in the world, travelers always skip Mexico City (CDMX) but this is not your ordinary capital to skip! In fact, this is one of my favorite cities in the world and in my experience, one of the best places to live in Mexico.
Mexico City is so young full of bustling cafes, quirky neighborhoods like Roma and Condesa, really cheap street food. There's even a vegan taco street stand for the vegan backpackers!
With its structures, you will feel like you are in Madrid! It's a very European city and I am so sad that not everyone knows about it.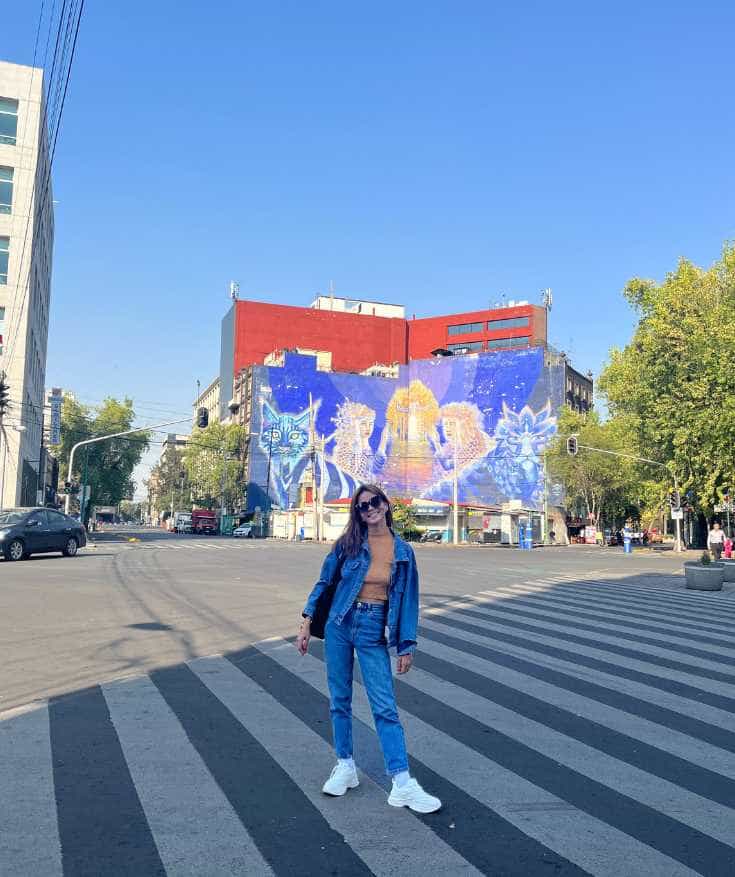 The best areas to stay in Condesa and Roma if you are traveling solo. I always stay at Central Hostal Boutique because it's the cheapest hostel in Roma. Plus, it is well-located. Some hostels in the city are in downtown but of course, you don't have a way of knowing that it's far from the events and places you'd like to be in as a solo traveler.
Note that these neighborhoods are very safe so expect them to be more pricy than other areas. But this hostel is super affordable!
In terms of things to do in Mexico City, don't miss the Frida Kahlo Museum, a visit to Teotihuacan, and also a booze cruise in Xochimilco!
Queretaro
Queretaro (QRO) is not very famous to tourists and backpackers because it's more of an option on a place to live (or a digital nomad base) than a backpacking destination.
It is way cheaper to live here than in Mexico City and it's only an hour away from the capital. Expats experience a lush living here for an affordable price. The infrastructure is great too!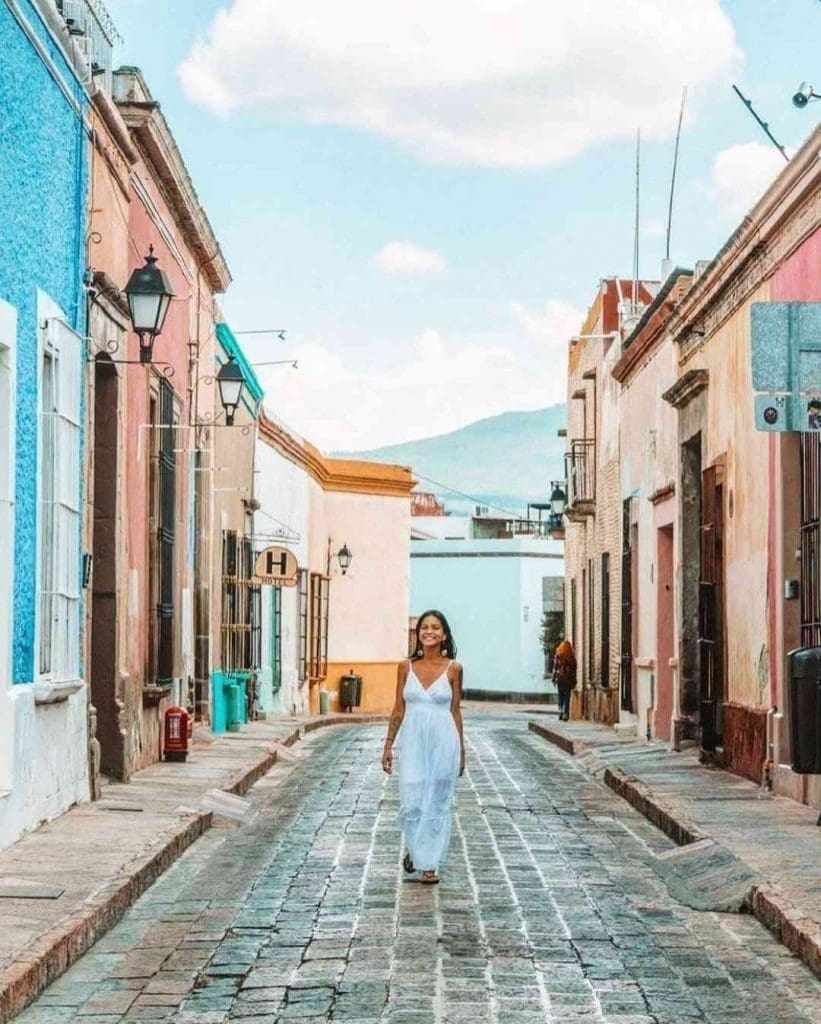 However, I would recommend including Queretaro in your backpacking Mexico itinerary because it's a great city to swing by – let's say spend 2 days here to see the culture. It's on the way to other Central Mexico destinations anyway.
The Peña de Bernal is super iconic to this area. I think this will be a great place for you to do cheap manicures, pedicures, haircuts, waxing, and all the backpacker's self-care that you need.
Hostels in Queretaro are of great value and are also very cheap. Backpacking digital nomads fall in love with this place so you might find yourself staying long-term!
Guanajuato
I love Guanajuato!!! It's one of my most favorite weekend getaways. I live by the beach and when I want a city break, Guanajuato (GTO) is always my option! It's so easy to get to and it feels like I am in Rome!
The streets of Guanajuato are narrow so you won't need to take a taxi here. I stayed in a hilltop guesthouse with a host family and walked up and down with no problems. I also felt safe in Guanajuato!
There aren't many hostels in Guanajuato. The format of accommodations here is more of a guesthouse but the layout is like a hostel (with bunk beds).
San Miguel de Allende
San Miguel de Allende (SMA) is what we call gringo land here in Mexico. This is a famous expat hub for Americans and Canadians because of the quality of life. You will see a lot of foreigners living here but I swear it's not something you'd like to skip. SMA is worth it!
Through the years, I've seen an increase in prices here but there are still affordable hostels in San Miguel de Allende. Restaurants are a little bit posh but SMA doesn't fail when it comes to good and cheap street food.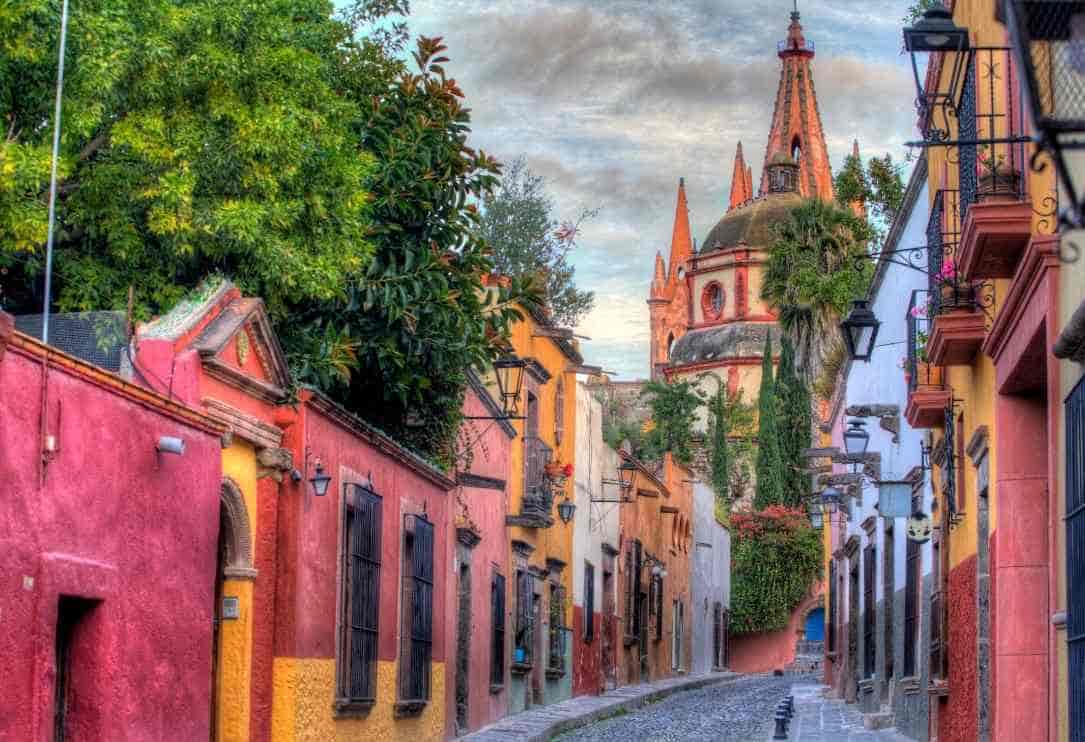 San Miguel de Allende is one of the most beautiful cities I've seen in my life because of its colonial structures and colors. It really is a joy to see!
Some say it is very similar to Guanajuato but I always felt a different vibe between these two places. SMA and GTO are also 40 minutes away from each other so you can see the similarity.
Taxco
Oh, Taxco! The silver capital of the Western hemisphere. Most of the silver you buy all over the world must be from here. I've seen many silver artists from Israel, France, and other parts of Europe spend most of their time here. The silver is so cheap!
Aside from silver, Taxco is also one of the most iconic cities of Mexico because of its narrow streets, steep hills, and cobblestone roads. I love coming to Taxco because there's a very different vibe that makes you feel you are not in Mexico.
San Luis Potosi
I did a road trip in San Luis de Potosi for 7 days. This is the most adventurous experience you'll ever have in Mexico and honestly, not a lot of people have been because the terrain is not very easy to navigate.
🏺 Backpacking Mexico Itinerary #2: Oaxaca
💃🏽 Why visit Oaxaca: I go to Oaxaca every year not only for day of the dead but the coast is so beautiful and so unique! Oaxaca is the name of the state and the capital is also called Oaxaca.
I've done a Oaxaca road trip twice and I'm planning to do it the third time! From mountains to beautiful cities to beaches, Oaxaca has it all so it deserves to be in this backpacking Mexico itinerary although you can combine it with the Pacific Coast itinerary.
💲 Oaxaca prices: The city is very cheap. I stayed in hostels in Oaxaca for $10 USD per night but when you go to the coast and the beach areas, dorm beds can start at $25 USD per night. The coast of Oaxaca is particularly famous to surfers.
👮 Safety in Oaxaca: Like Mexico City, some areas of Oaxaca City are not safe but the rest of the Oaxaca state are small towns so it's super safe!
Oaxaca City
Oaxaca City is culturally rich. If you are a fan of food, this is the best place to explore the food of the state. They have all the good stuff here as Oaxacan food is synonymous with Mexican cuisine.
People actually come to Oaxaca City because of its popular sites like Hierve del Agua. However, this is outside the city. You still have to travel to go here.
Within the city, you can visit the Zocalo markets, explore the many restaurants, discover the nightlife, and just admire the colors of Oaxaca de Juarez. You don't need to go far – there are so many things to do in Oaxaca!
Hostels in Oaxaca City are super affordable and are in the center. Oaxaca is a walking town and if you ever use a taxi, use the Didi app. Uber is not a common taxi app in Oaxaca.
San Jose del Pacifico
San Jose del Pacifico is quite a drive from Puerto Escondido. The roads are winding and when you are the driver, you'll feel like it never ends!
I am always the assigned driver of my group(s) so I drove this highway twice and I LOVE IT! Pine trees, cold weather, and super nice accommodations – San Jose del Pacifico is a Oaxacan gem!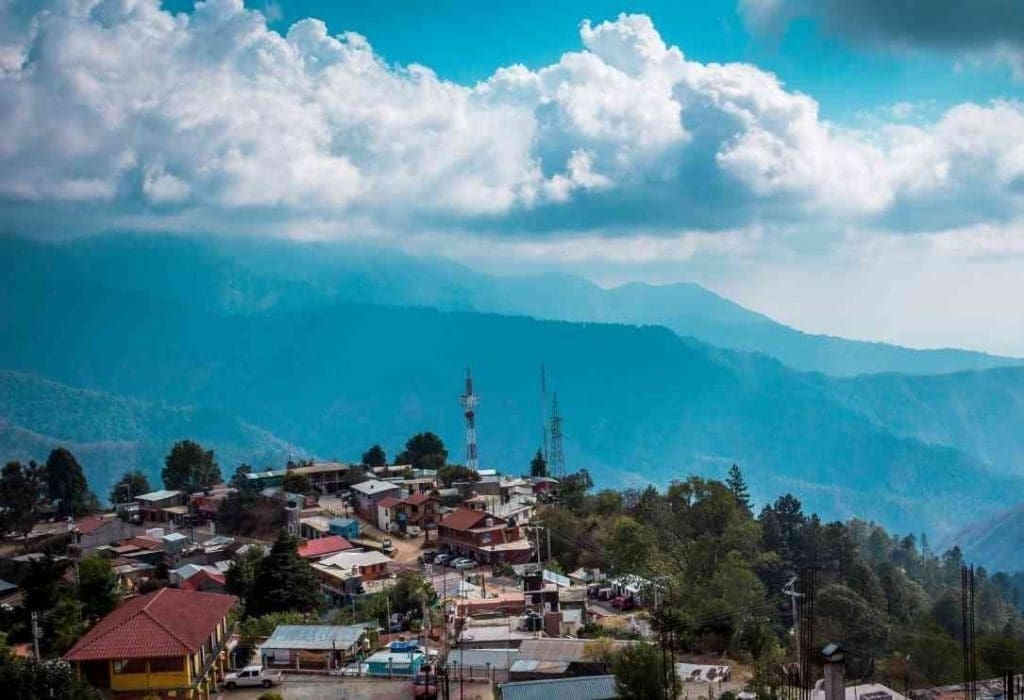 There aren't many things to do in San Jose del Pacifico but it's famous for the mushrooms. People come here to experience mushrooms and deep in the forest for the experience.
It's also on the way to the coast of Oaxaca so you'll pass by it no matter what. Rent a cabin for a night and enjoy the quiet in the woods. San Jose del Pacifico is cold so make sure you have proper clothing.
Huatulco
Within Huatulco, there are already many beaches and little treks around – you will definitely enjoy these places if you have your own transport. If you want to save on costs, taxis within Huatulco are also very cheap (about $2 USD per ride).
Huatulco is famous for its 7 bays (Bahias de Huatulco) and there are boat tours that do these. There were days that we did not use the car since these bays are not accessible by land.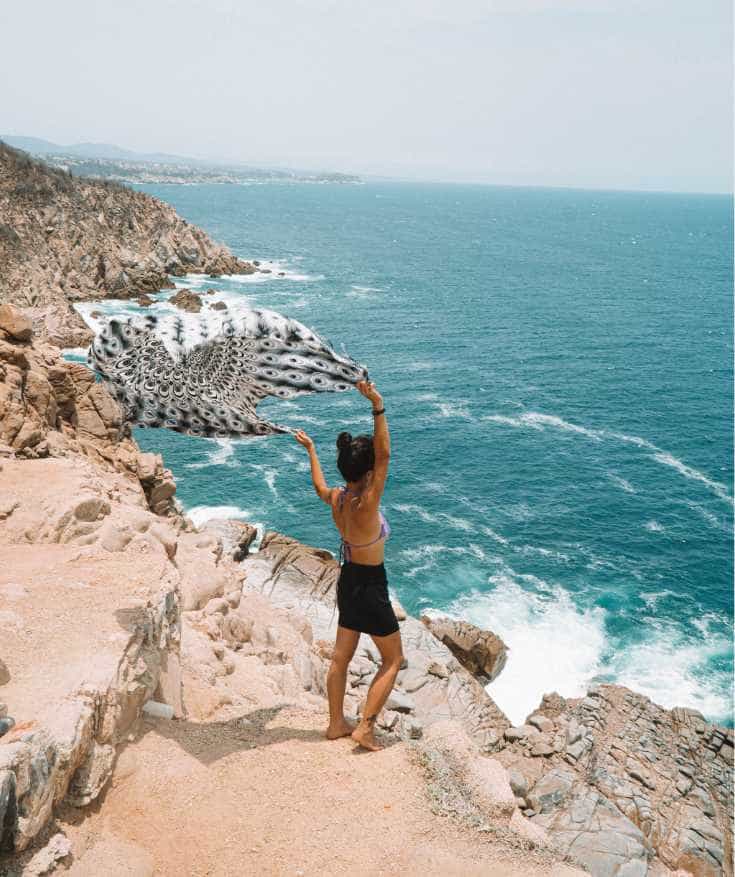 I stayed in Hostal Azul y Blanco Huatulco and paid $18 USD per night for a bed in a dorm. It is well-located and the backpackers here always hanging out and doing activities together.
This hostel is also in the center where the supermarkets, banks, and famous landmarks are. I didn't need to take a taxi and everything is walkable. Just don't walk at night because theft in Huatulco is very common.
Mazunte
Mazunte is one of my favorite pueblo magicos in Mexico and I keep coming back! This is actually named as one of the best beach towns in Oaxaca. It somehow has the Sayulita lifestyle I am used to but smaller and quieter.
There are many outdoor activities like hikes and in the evening, the bars and restaurants are super full of life! It's also one of the most "instagrammable" places I've been to in Mexico. Everything looks so cute!
There are many Mazunte hotels but I always stay in Balamjuyuc because it's super cheap and it's located on a cliff near Punta Cometa. Both my 2020 and 2021 groups stayed in this place and we paid $45 USD (divided by four) per night for a shared cabana.
Zipolite
Zipolite is not an actual town like Mazunte. It's actually a beach in the municipality of Pochutla. It's just so funny that the name Zipolite is more famous than the town it's in.
Playa Zipolite is the only nudist beach and Mexico so you better not skip this. This is a very interesting culture and even if it's just 15 minutes away from Mazunte, the vibe is totally different.
Aside from sun tanning nude on the beach, I also had the best massage of my life here! I am very picky with my massages and believe me that I am not exaggerating that this is the best massage of my life.
I'm also Asian so I take good massages seriously. Her name is Jessica, she's a local in Zipolite. Her phone number is +52 222 719 4231. She doesn't have a Whatsapp but you can call her directly.
Puerto Escondido
Puerto Escondido is my favorite! This destination has always connected to me in so many ways and forms but I honestly have not had the calling to live here. I just love coming here to make it my solo getaway.
There are many things to do in Puerto Escondido and I haven't really updated my list. Every time I come here, I just go visit friends and do nothing. On my April 2021 trip, I didn't even have one single picture on my camera! I was very happy to see my friends who live in PE so I forgot about the work.
But my best PE advice is to just go with the flow and don't plan your days. Just see where your feet take you because it will always take you somewhere. That's the beauty of Puerto Escondido.
There are many hostels in Puerto Escondido and rest assured that you'll love it here because of the young vibe. You will meet many backpackers here and for sure, this is one of the places in Mexico that you will stay longer.
🏄‍♀️ Backpacking Mexico Itinerary #3: The Pacific
💃🏽 Why visit the Pacific: I spent most of the years living in Mexico here so I am pretty biased with this destination. The Pacific Coast of Mexico is best for travelers who love the beach and nature. It is often compared to Cancun and the Yucatan area but honestly, they don't have mountains in the south and we do have it here!
💲 Pacific prices: Prices here are still cheaper than in the south. You will also see a lot of Mexican cultures here. It is often compared to Quintana Roo but the price is way cheaper.
👮 Safety in the Pacific: VERY SAFE! As I said, there are many shootings that are happening in Tulum and Playa del Carmen now so a lot of my expat friends who live there move to the Pacific to have a safer quality of life but cheaper.
Guadalajara
What I loved about living in Guadalajara is that is very culturally rich. In fact, it is considered the cultural center of Mexico. Mariachi is from here. Actually, it originated from the state of Jalisco but you will see a lot of Mariachi bands in every corner of GDL.
The nightlife is also very vibrant as the Avenida Chapultepec is lively 24/7. I remember meeting my first friends there (outside of the people I already know) when I randomly joined a salsa class in the middle of the Chapultepec.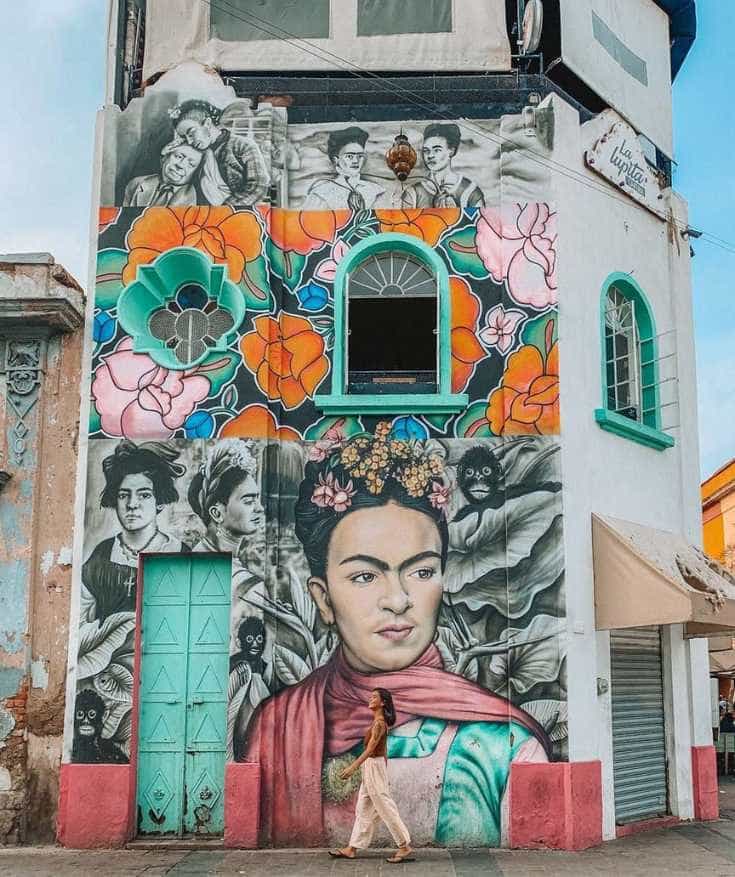 That's also where all the bars and restaurants are. They are always full so on Saturdays, we always make sure to go out before 8 pm. Otherwise, there will be no tables!
There is a very rich hostel culture in Guadalajara and almost all backpackers I know stopped here at one point. There is also a community of German exchange students here so expect to see them around. Guadalajara has the best Universities in the country.
Puerto Vallarta
Puerto Vallarta is one of the areas in Mexico that I stayed the most. I lived here for one year before moving to Baja California and it's a great area for expats and backpackers alike!
I first traveled to Puerto Vallarta on a budget in 2018. It is notoriously famous to Canadians and Americans so I was worried about expenses here. I thought it would be a resort city like Acapulco.
To my surprise, Puerto Vallarta is still cheaper than any Mexican beach areas and I really had fun so much that I had to live here! The Mexican culture in PV is still very evident despite its American/Canadian expat culture.
There are many accommodation types in Puerto Vallarta. However, when you search on Google, it will only give you results on the all-inclusive stays since this area is well-known for that.
Very few travelers know there are a lot of hostels in Puerto Vallarta that are in the center and start at $12 USD per night at a dorm.
Sayulita
I spent an awful lot of living in Sayulita so you'd see my blog every time you Google search Sayulita. I originally came here to volunteer at a hostel and two years after, I found myself still living there!
Sayulita is a very vibrant town and you'll definitely enjoy the young culture here. Actually, it is a hippie town and is also an expats hub. You will not find many Sayulita hostels, unfortunately. The culture here is vacation rentals and Airbnbs.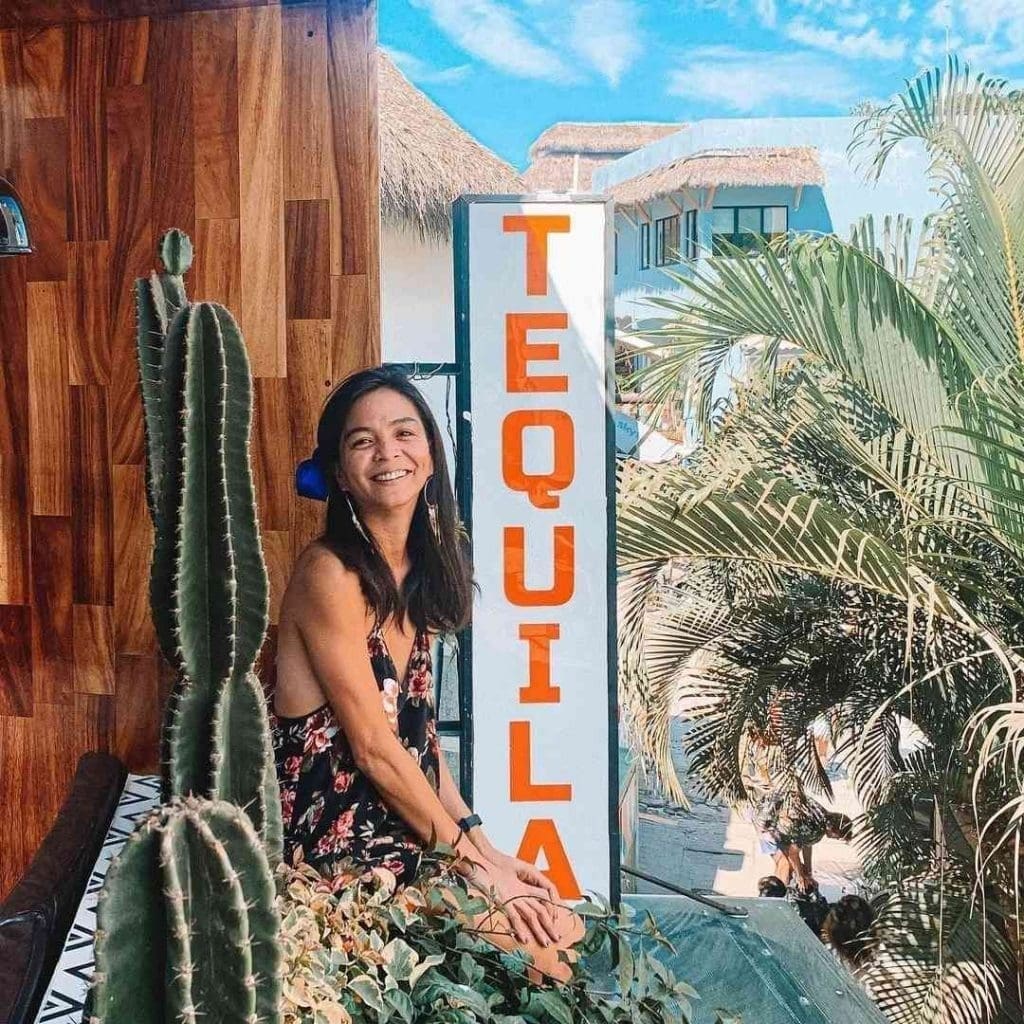 I can go on and on about my life in Sayulita as a backpacker and an expat but one thing I need to tell you is that you should not skip it! This is the most beautiful place in Mexico and I am very sure you will enjoy it!
I have to admit it's more expensive than Puerto Vallarta but I can hook you up with some volunteering gigs here to save on accommodations.
San Pancho
Just 10 minutes from Sayulita is San Pancho. Way quieter and way hippier than Sayulita so this is good for you if you are looking for something tranquil. I forgot to mention that Sayulita is a party town.
You will see a big difference between these two small towns despite their close proximity. San Pancho has an older audience but they are also super cool and laid back!
You can either stay in Sayulita or go to San Pancho for a day trip (or vice-versa). Although I would say that Sayulita is cheaper than San Pancho. FYI, San Pancho is also referred to as "San Francisco" so when you research, just type San Francisco Nayarit.
Mazatlan
Mazatlan is not a famous destination. It's more of an expat destination than a backpacker. However, if you want a non-crowded and infamous destination, add it to your list!
From Mazatlan, you can easily take a ferry to Baja California (12 hours) and continue your backpacking Mexico itinerary.
🌵 Backpacking Mexico Itinerary #4: Baja California
💃🏽 Why visit Baja California: I moved here in September 2021 (from Sayulita/Puerto Vallarta) and I've been loving it! Baja California is like a different country. With its deserts and beaches, you will never think you are in Mexico!
💲 Baja California prices: Baja California is the most expensive area in Mexico because it's very close to the US. I wouldn't consider this as a backpacking area but if you have extra, you should visit!
👮 Safety in Baja California: SUPER DUPER SAFE. Since it's an American hub, they will never do anything bad to interrupt the tourism here. I go out here and walk to my house even in the wee hours of the morning.
Los Cabos
We all know how Cabo is a popular party spot not to mention many Americans come here for a weekend to party. My friends always thought there is no way that you can live healthily in Cabo and/or avoid parties but that's not the case all the time.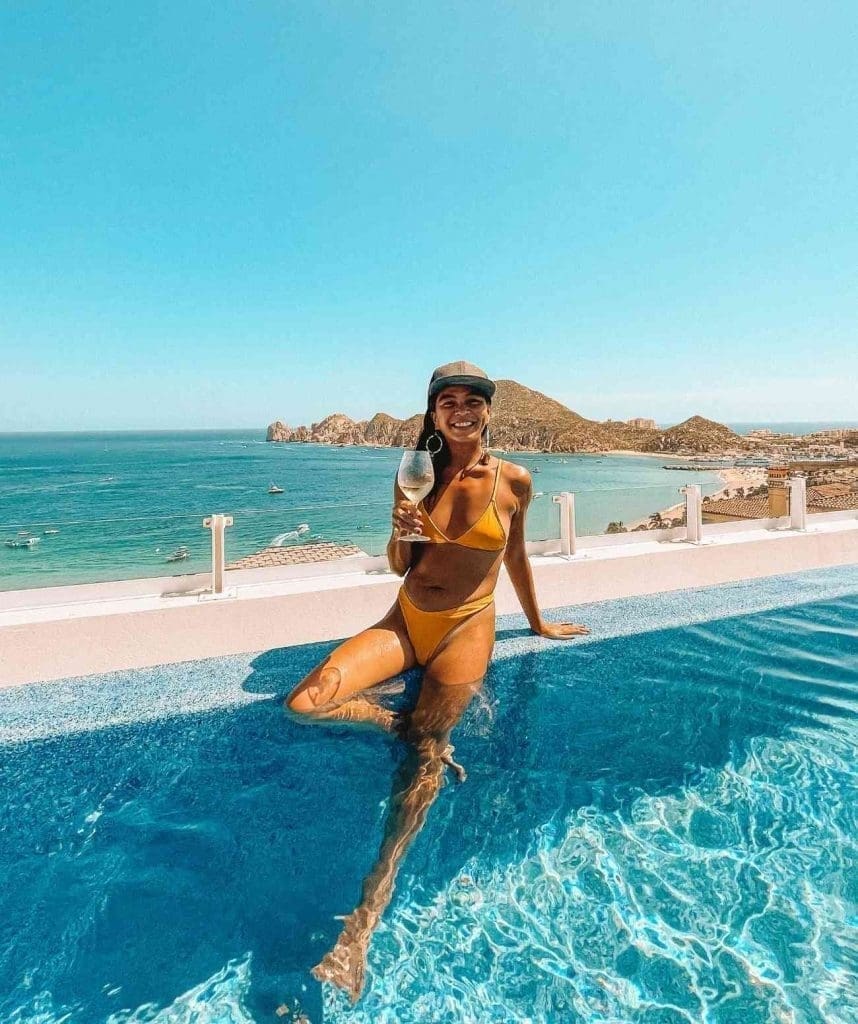 What you'll love about backpacking in Los Cabos is that it is very diverse and our beaches are nothing like mainland Mexico. You need a car to go around Cabo (which is unfortunate) but if you drive around, there are many hidden beaches that are not popular to tourists!
Todos Santos
Not my favorite destination because it is expensive. You can volunteer at a hostel here (there's only one) to be able to afford traveling around Todos Santos.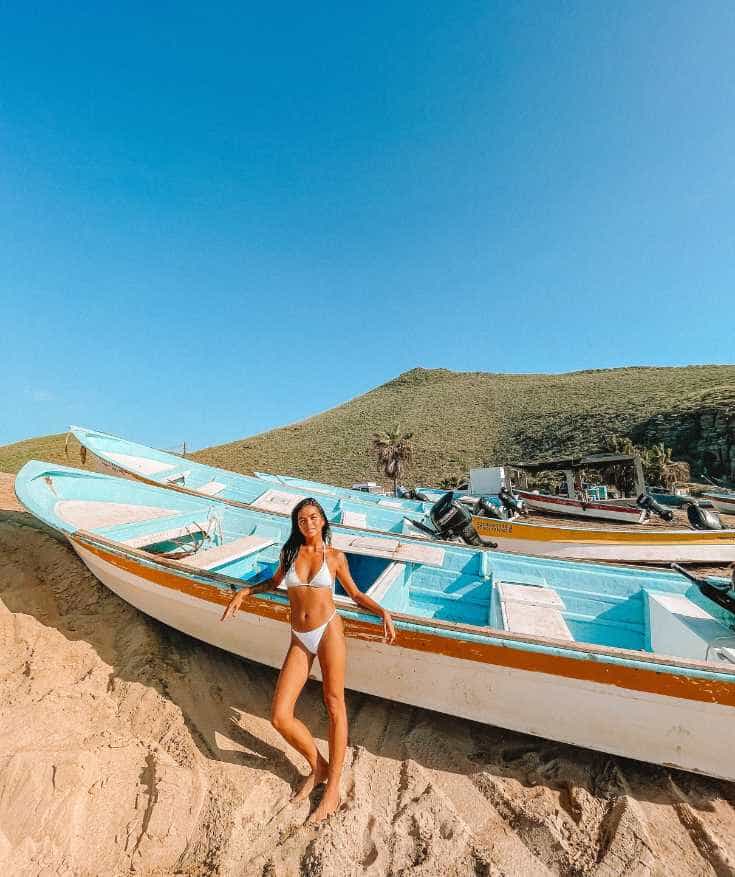 What's so great about Todos Santos is the community of locals. I've met a lot of cool people here who originally backpacked to Todos Santos and never left!
Another good thing I can say about Todos Santos is that the beaches are always empty! There are also so many hikes and outdoor activities!
La Paz
La Paz is the most Mexican in Baja California Sur. It's still not an American/Canadians favorite so when you come here, you will still see a lot of Mexican culture. Apart from that, there are more things to do in La Paz than Todos Santos or Los Cabos. You don't have to drive out – within the city, you can do a lot of activities!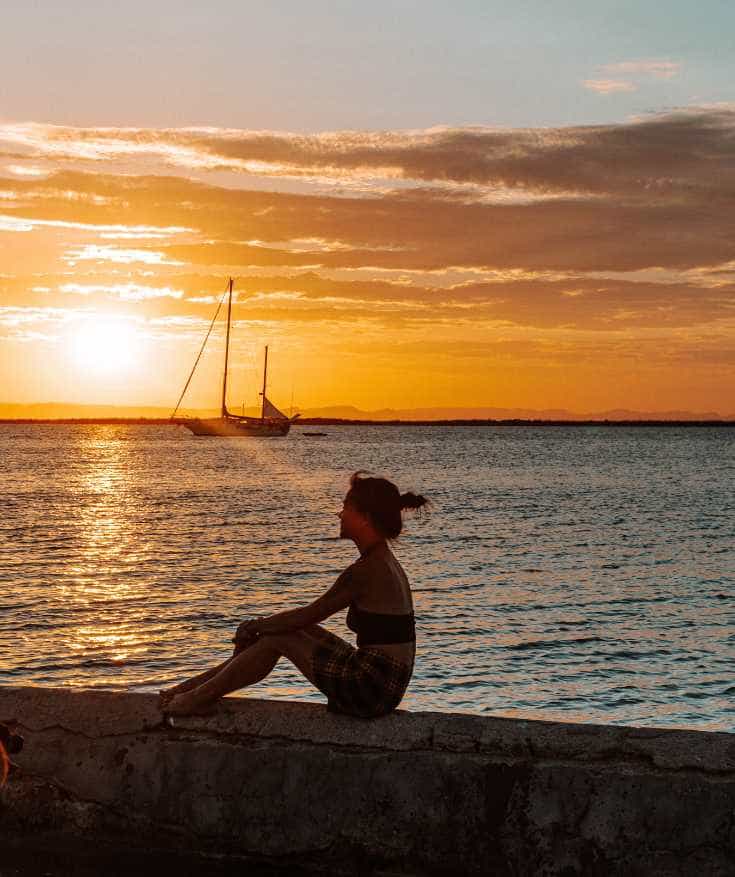 There are many hostels in La Paz that will also accept you for volunteer work. These hostels are close to the Malecon, which is the center of downtown. Some restaurants also accept volunteers plus there is also a lot of work at dive shops!
Baja California Norte
If you wish to continue your journey, you can go all the way up to San Diego, California. This drive is one of my favorite because you are driving through the deserts of Baja California. It really is a great outdoor experience.
Baja California is a popular route for motorbikes and van rides. Some even go up to Oregon from Baja! The roads are flat but beware because there are a lot of deserted areas where you can be lost.
I will make another post about my Baja California road trip soon! For now, I live here so if you ever decide to come, get in touch with me. X
⁉️ Backpacking Mexico FAQ
How much does it cost to go backpacking in Mexico?
Luckily, this backpacking Mexico route is achievable by bus. Mexico has a great bus system especially if you are traveling solo. The busses in Mexico are super comfortable and are affordable.
I wouldn't say they are very cheap though. Overnight busses (10-hour rides) can cost up to $50 USD but you'll save on accommodations by taking night busses. They are very common!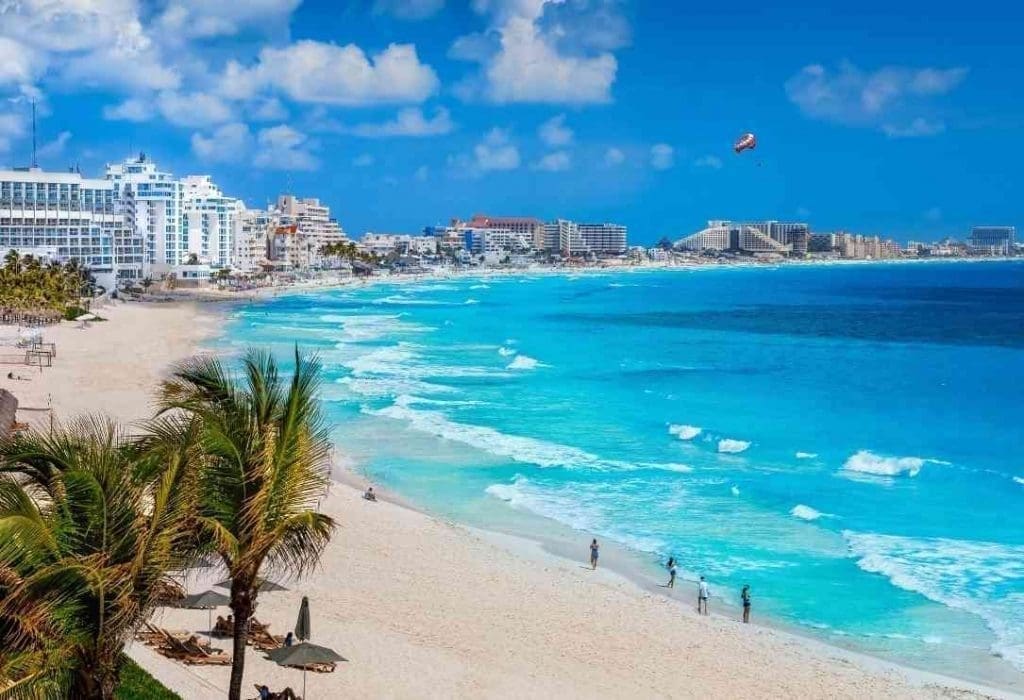 When I am with friends, going by car is usually the cheaper option ($25 USD per day) but renting a car in Mexico is a little bit complicated for foreigners.
As per accommodations, hostels in Mexico are super decent and can start at $15 USD per night in a dorm bed. However, as I said, the costs in each area of Mexico are not the same but I will include them in each item in this Mexico backpacking itinerary. These costs really depend on where you are!
What can you see in Mexico in 3 weeks?
A lot! Again, you can't see the whole country for only three weeks so I divided the Mexico backpacking itinerary by area namely Central Mexico, Oaxaca, the Pacific, Baja California, and Riviera Maya.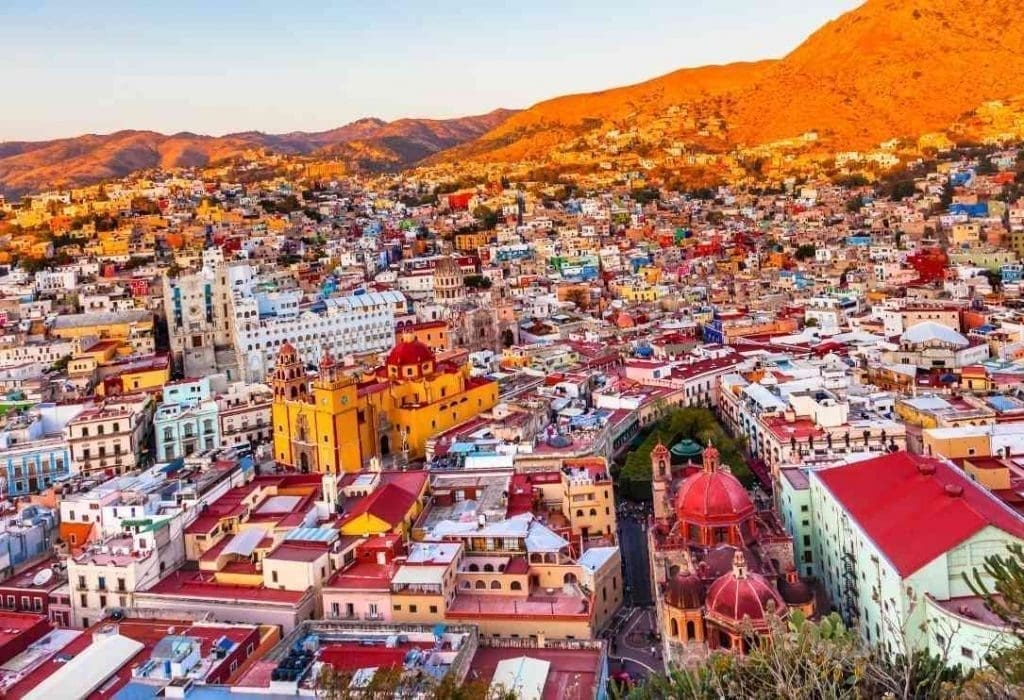 Each of these areas is achievable by three weeks but feel free to combine them if you wish. I honestly don't know the pace of your travels so it's up to you what to see in Mexico in 3 weeks!
When is the best time to go backpacking Mexico?
The best time to go backpacking in Mexico is from mid-October to May. This is Mexico's high season and the country is super bright and colorful. There are also events like day of the dead in Oaxaca which you'd actually want to see. It's a one-of-a-kind Mexican event!
As backpackers, I feel like you'd want to explore Mexico during the low season (from June – September) because prices are lower and there aren't a lot of people in Mexico.
The country is really slow and a lot of establishments close during this season because of the scorching heat! Expats also go back to their homes at this time of the year so the country's really quiet. I myself go to Europe from June!
I don't mind the heat if I can have the beach to myself but Americans, Europeans, and Canadians who are used to cold weather can't take this kind of heat. We also have occasional rain showers during the summer.
🇲🇽 Mexico Travel Resources
Trisha is one of those people who left their comfortable life to travel the world and learn about life. Her style is to stay in one place she likes for 3 months (or more) to know what it feels like to eat, cook, speak, and sleep in another culture that isn't hers. She'd like to believe she's not traditionally traveling but she just chooses to be somewhere else all the time. In no particular order, her favorite cities in the world are Barcelona, Buenos Aires, Hong Kong, Mexico City, and Tel Aviv.