If you're looking for the best places to visit in Mexico that are not Tulum, Playa del Carmen, or Cancun, then this is your list! Explore Mexico beyond Quintana Roo because this country has it all!
Reader Mail: Trisha I feel so lucky to find your blog! I am looking for the best places to visit in Mexico in 2021 and all I see is Playa del Carmen or Tulum. Are there any other places you can recommend? I feel like these places are already very touristy so I would like to go to a place in Mexico that is not Tulum, Cancun, or PDC. Thank you in advance and keep up the amazing blogs about Mexico!
– Nancy Hales, California, USA
Dear Nancy,
Thank you so much for your kind words! I never really thought I will travel the whole of Mexico. I thought I'd just make it my base and still travel to nearby Latin American countries.
I know you are frustrated with seeing Cancun and Tulum in all the places to visit in Mexico lists online but in this one, I will surely give you other routes, destinations, trips, and places!
Again, thank you so much for reaching out, and let me know which is the most enticing place for you on this list. Good luck and I hope to see you in Mexico! If you still have questions that weren't answered in this post, please feel free to reach out to me via Instagram.
Xx,
Trisha
How I selected the places to visit in Mexico to be on this list
Even though I have been living in Mexico for the past 2 years, I have never traveled the whole country (yet). This blog is surely an authority with Sayulita and the Riviera Nayarit content since this is where I am currently residing. However, this state is not that popular with tourists yet.
View this post on Instagram
In order to come up with a solid places to visit in Mexico list, I contacted some of my blogger friends who are also experts in Mexico travel.
Each of them submitted a 250-word essay on their favorite destinations in Mexico. All of their inputs are based on their real-life experiences traveling the country. If you feel like you need to reach out to them, please feel free to do so!
You may check out my Mexico travel guide for more content. Of course, if you have any questions, I am always here to answer them. Whether you are planning a solo, couples, or family vacation, these are the best places to visit in Mexico in 2021.
Let's get started with this list, and let me know if you need help in planning your trip!
The best places to visit in Mexico aside from Cancun and Tulum
#1: San Miguel de Allende
by Neethu Nair, Our Backpack Tales
San Miguel de Allende is a quaint colorful colonial town located in Guanajuato, Mexico. It is named after Juan de San Miguel, the founder, and General Ignacio Allende, Mexico's War of Independence hero.
Standing at an elevation of 6000 feet above sea level, this beautiful town is famous for its historical nature and the Baroque/Neoclassical colonial architecture.
It is a UNESCO World Heritage Site similar to the Hampi Group of Monuments in Karnataka, India, which is rich in history and architectural wonders.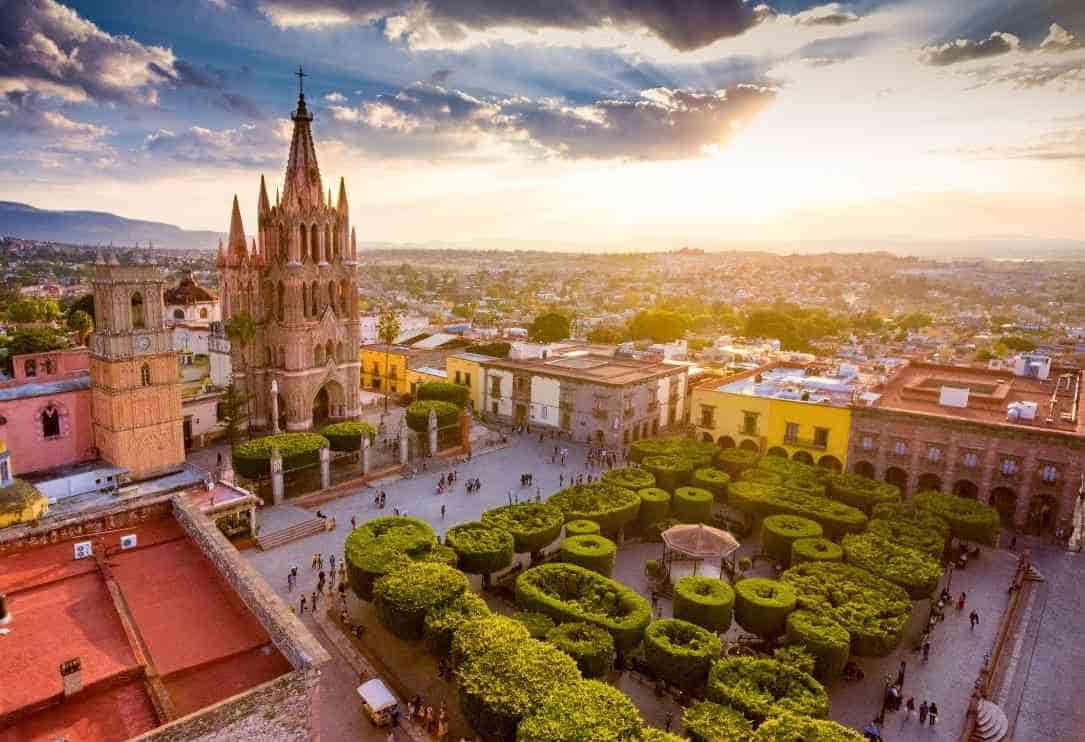 From taking a walking tour through the charming cobblestone streets and visiting art galleries, there is a lot to do in this vibrant town.
The most popular places to visit in San Miguel de Allende are the El Charco del Ingenio botanical garden, Home of Ignacio Allende, Sanctuary of Atotonilco, and Fabrica La Aurora.
A visit to the El Mirador viewpoint is mandatory as this spot gives a beautiful panoramic view of San Miguel de Allende. Apart from sightseeing, tourists often engage in different activities like horseback rides, taking part in jazz festivals, relaxing in the thermal baths, flying in a hot air balloon, and tasting the unique cuisine.
Croissants, the pozole (Mexican stew), aguachile (Mexican ceviche), and tacos are some of the best things to try here.
You can fly to Del Bajío International Airport in León or the Querétaro International Airport in Querétaro and take a bus to San Miguel de Allende.
You can find cozy bed and breakfast stays, inns, and luxury hotels to make your stay memorable. Cañada de la Virgen, Dolores Hidalgo, Mineral de Pozos, and Jalpa are some of the best day trips from San Miguel de Allende.
🛏️ Check accommodation prices: San Miguel de Allende Hotels | San Miguel de Allende Hostels
#2: Valle de Bravo
by Nicole Hunter, Go Far Go Close
Valle De Bravo is a beautiful small town 140 km or approximately a two-hour drive from Mexico City. It is on lake Avandaro which offers many water sports and is surrounded by lots of natural beauty, including forests and mountains.
Valle de Bravo is a resort town and many wealthy families from Mexico City have lavish weekend homes in the hills above the town center and the lake. Intermixed with the lavish homes are gorgeous boutique hotels offering sophisticated accommodation.
The town itself is very pretty with lots of well-preserved colonial buildings. In the center is the Plaza de la Independencia, a lovely plaza surrounded by flowers and park benches, busy with locals meeting and socializing.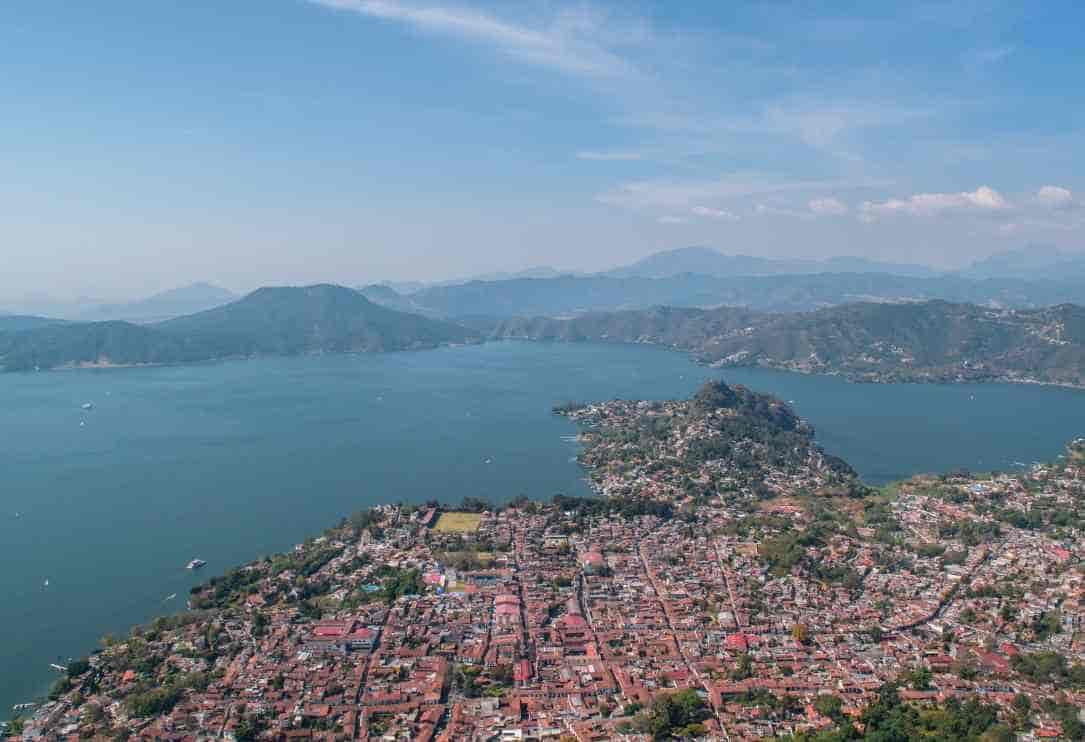 The stunning 17th century San Francisco de Asis Church is also located here.
Many tourists stay in Valle De Bravo before visiting Piedra Herrada Butterfly Sanctuary, a further 45-minute drive away. Piedra Herrada is part of the Monarch Butterfly Biosphere Reserve, a World Heritage Site.
It is home to the largest insect migration in the world when millions and millions of monarch butterflies fly from Canada to these Mexican forests for the winter.
You are able to climb the mountain into the reserve to experience a world where thousands and thousands of butterflies are flying inches from your body or even landing on you, and turning trees orange because of the sheer number of them.
🛏️ Check accommodation prices: Valle de Bravo Hotels | Valle de Bravo Hostels
#3: Izamal
by Trijit Mallick, Budget Travel Buff
Located in the center of Mexico's Yucatan Peninsula, Izamal is one of the best places to visit in Mexico. If you are planning for a road trip from Merida, the capital of Yucutan, it will take around 1 hour(70 km) to reach Izamal. Make sure to check out these road trip essentials before starting your journey.
This fascinating, overlooked destination in Mexico is a perfect place for people looking for natural beauty, various attractions, rich culture, and historical significance but with less crowd.
Izamal is also known as the 'Yellow City of Mexico' as you often see years old colonial buildings painted in bright mustard yellow color that represents the sun.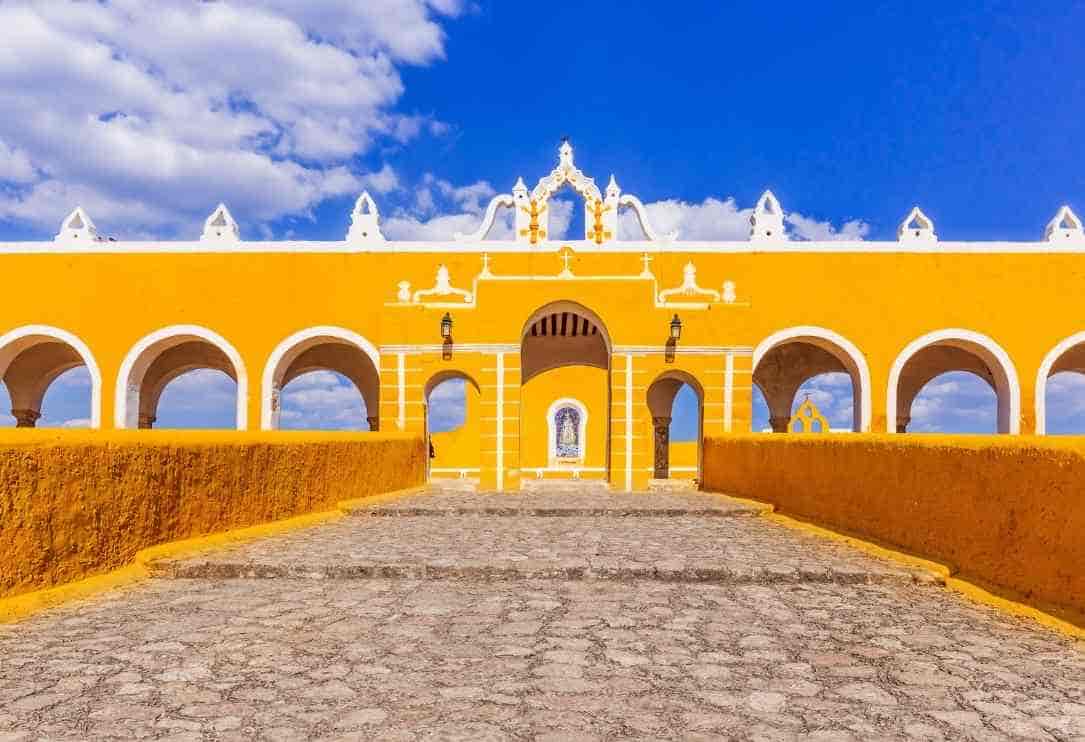 This charming Mexican city was also awarded as Pueblos Magicos by the Mexican tourism board of the Mexican Government for its uniqueness and magical beauty. Although Izamal is a small Mexican town, it has plenty of things to offer its visitors.
The best way to discover this hidden gem is to stroll around the city. Explore the narrow cobblestone streets with yellow-colored colonial houses on both sides.
You can also rent a bike if walking is not your thing. Take as many pictures as you can for your cool Instagram feed.
Kinich Kakmo Pyramid is the most popular tourist attraction in Izamal. This is the third-largest Maya structure in Mexico. It was built between 400-600 AD.
The local people used to worship the God of the Sun in this temple. Climb the pyramid and enjoy the stunning view of the city from the top.
Convento de San Antonia de Padua is another must-visit place in Izamal. This beautiful yellow-painted convent was built in 1561. Explore the spacious, grassy atrium in a calm and relaxed atmosphere and admire the impressive architecture of the monastery. There is no admission fee to visit this convent and the church.
🛏️ Check accommodation prices: Izamal Hotels
#4: San Jose del Pacifico
by Sean Lau, Living Out Lau
When you close your eyes and imagine a trip to Mexico, what do you see? Do you vision white-sand beaches, turquoise water, and relics of ancient civilizations such as ruins?
While those are the most popular attractions in Mexico, there is something that many visitors don't get to explore, such as small towns like San Jose Del Pacifico.
Located in the lush mountains of Oaxaca state, San Jose Del Pacifico is a tiny town with only 700 inhabitants. The laid-back atmosphere and beautiful greenery make it the perfect location to escape the hustle and bustle of Mexico. There are many hiking trails where travelers can (re)connect with nature.
Though the unspoiled nature is one of the biggest attractions in San Jose Del Pacifico, it is not the biggest one. San Jose Del Pacifico's biggest attraction is its magic mushrooms.
San Jose Del Pacifico's location in the mountains creates the ideal conditions for growing magic mushrooms.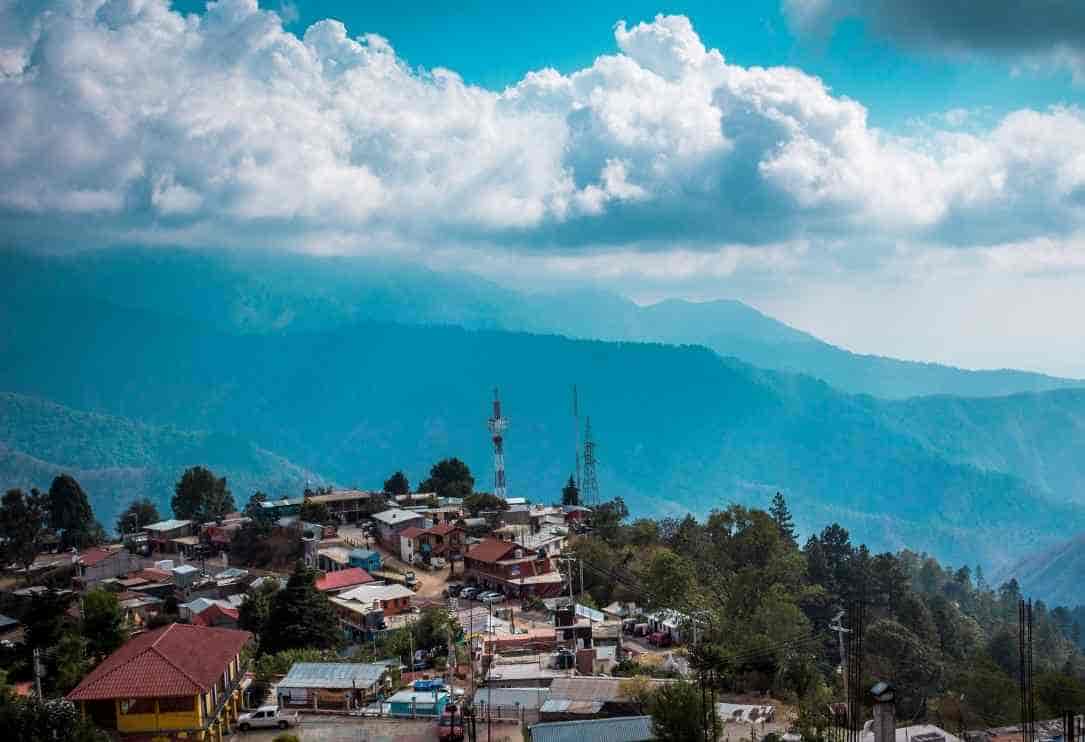 Because the town only has a small number of residents, locals make their own laws. Not only is the consumption of magic mushrooms not illegal in San Jose Pacifico, but it is one of its top driving forces of tourism.
You will find them in convenience stores, restaurants, and just about anywhere. Though they are common, some locals have taken this opportunity to sell "fake" or expire magic mushrooms to unaware tourists.
San Jose Del Pacifico is slowly becoming a wellness town. Visitors can find other wellness-related activities here such as temazcal, yoga studios, and even ayahuasca.
Located between Oaxaca City and the Oaxaca Coast, travelers can easily catch one of the shuttle vans from Oaxaca City to Pochutla or vice versa.
The ride is about 3 hours (relatively short for Mexico) but it is on a windy road! The driver tends to be a very aggressive driver as well so take your motion sickness pills beforehand!
🛏️ Check accommodation prices: San Jose del Pacifico Hotels
#5: Isla Holbox
by Manouk Bob, Bunch of Backpackers
"Just don't miss Isla Holbox. It's paradise", said a friend. And, she was right. This pretty island with broad, sandy streets, colorful murals, friendly dogs, ocean hammocks, and beautiful beaches is truly a perfect place to relax and unwind. The island is located within the protected Yum Balam nature reserve.
As there is no motorized traffic allowed, Holbox remains peaceful and quiet. No sound of horns, no traffic jams. To move around, you can simply walk, rent a bike, or hire a golf cart.
See also: Mexican beach towns aside from Tulum and Playa del Carmen
If you don't feel like relaxing on one of the beautiful white-sand beaches, there are also plenty of things to do. Swim with whale sharks (make sure to select a tour operator who takes ethical tourism practices into account), go snorkeling, take a kiteboarding lesson, or explore the street-art scene.
One of the most popular tours is a 'Three Island boat trip', which takes you to Isla Pajaros (famous for birdlife), the Yalahau cenote, and the gorgeous beaches of Passion Island.
In the evening, have fresh ceviche and lobster in one of the excellent restaurants. You can also find a number of local vendors on the town square, selling delicious crepes (marquesitas) and tacos.
Fortunately, Isla Holbox is well off the main tourist routes. To get there you first need to get to Chiquila town, which is a 3-hour bus drive from Cancun. From Chiquila, you can then take a ferry to the island.
🛏️ Check accommodation prices: Isla Holbox Hotels | Isla Holbox Hostels
#6: Mazunte
by Michele Peterson, A Taste for Travel
One of a string of three interconnected beach towns on the southern Pacific coast of the state of Oaxaca, Mazunte is a great place to visit if you're looking for a laid-back vibe but don't necessarily want to rough it.
Along with the towns of San Agustinillo and Zipolite, it's set on a coastline featuring picturesque bays, golden sand beaches, big waves, and tropical jungle.
Although it was originally established as an industrial center for processing the products of the sea turtle industry, when the hunting of sea turtles was banned in Mexico in 1990, Mazunte was declared an ecological reserve.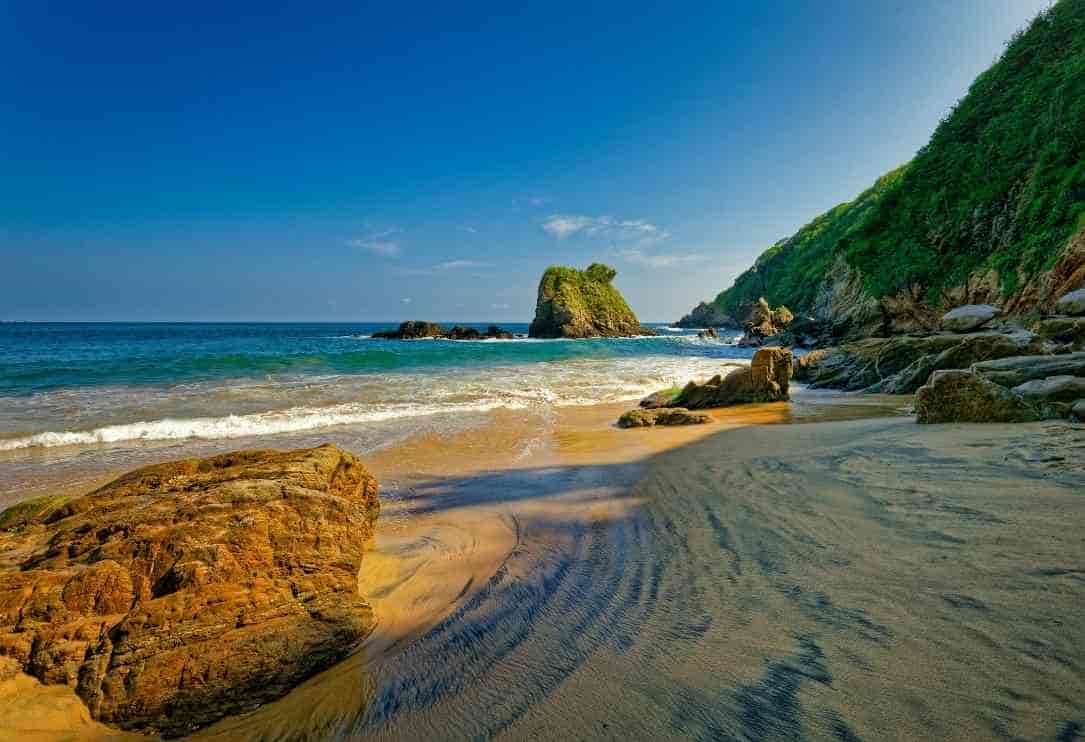 It has since established a new identity as an ecotourism destination and at its heart is the National Mexican Turtle Centre (Centro Mexicana de la Tortuga), which serves as an educational resource, aquarium, and research facility for all seven of Mexico's marine turtle species.
In addition to learning about sea turtles at the museum's indoor and outdoor exhibits, visitors can participate in sea turtle releases or even witness a sea turtle nesting.
However, there are many other things to do in Mazunte beyond communing with sea turtles! Top activities include exploring the still-wild mangroves at the ecotourism cooperative La Ventanilla, relaxing at an open-air yoga class, taking a dolphin-watching excursion, surfing, snorkeling, and kayaking, or simply enjoying a spectacular Pacific coast sunset at Punta Cometa, the rocky cape at the west end of Mazunte beach.
While it can sometimes be challenging to find a place to stay as there are no sprawling all-inclusive resorts or timeshares, a wide range of accommodation types — from rustic beach bungalows to swanky boutique hotels — is available to choose from if you book well in advance.
🛏️ Check accommodation prices: Mazunte Hotels | Mazunte Hostels
#7: Huatulco
by Alyssa Watson, Like Where You're Going
Huatulco offers the perfect mix between a quiet, relaxing paradise and an outdoor adventure playground. Since it's located so far south, it's a very hot and arid climate (perfect if you're not into humidity).
With no big cities nearby, it's the perfect secluded escape with the Sierra Madre mountain range looming in the background.
One of my favorite experiences in Huatulco was getting a mud bath at La Bocana Beach. Here, the local ladies use an ancient Zapotec technique to cover your whole body in mud.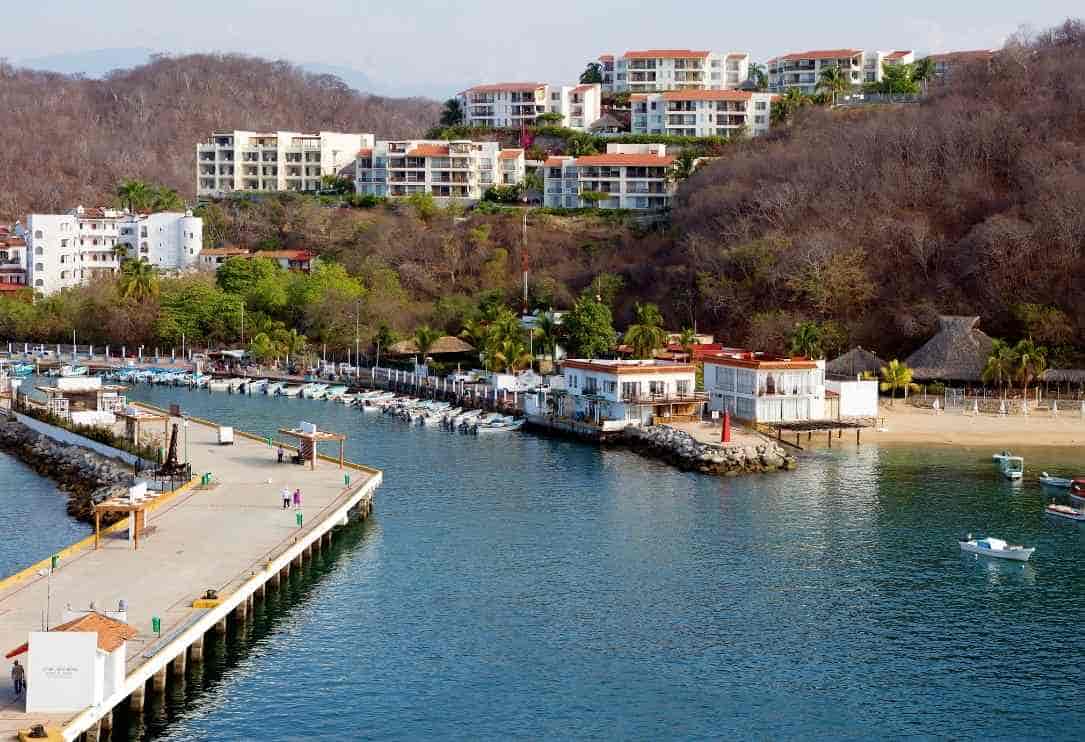 Once it's dry, they give you an exfoliating massage to rub off the dried mud. After you rinse off in the ocean, you're left with the softest skin you've ever had since you were a baby.
Beyond this authentic experience, you can also tour the mangroves to find crocodiles, hike to stunning viewpoints and watch the golden sunsets and go beach hunting to find a natural jacuzzi among the rocks.
Above all, Huatulco might just be the perfect place for a getaway in 2021, with hotels spread out (many are situated within their own bay) and fewer crowds than other tourist areas on the Pacific coast, you'll have all the space you need to relax on the beach or sunbake by the pool.
🛏️ Check accommodation prices: Huatulco Hotels | Huatulco Hostels
#8: Morelia
by Dean and Laynni, Routinely Nomadic
When the weather turns cold in the northern hemisphere it is natural for people to dream of those gorgeous Mexican beaches.
However, there is far more to this huge country, and visitors who take the time to get off the beaten beach path will discover fascinating cultural diversity and intriguing historic sites. Beautiful, dignified Morelia – located in the highlands between Mexico City and Guadalajara – has plenty of both.
Recognized as a UNESCO Heritage Site, Morelia was an important city known as Valladolid under Spanish rule. It was eventually renamed in honor of Jose Maria Morelos, one of the leaders of the revolution.
The colonists left plenty behind, however, in the form of wide, picturesque streets, elegant buildings, and magnificent churches.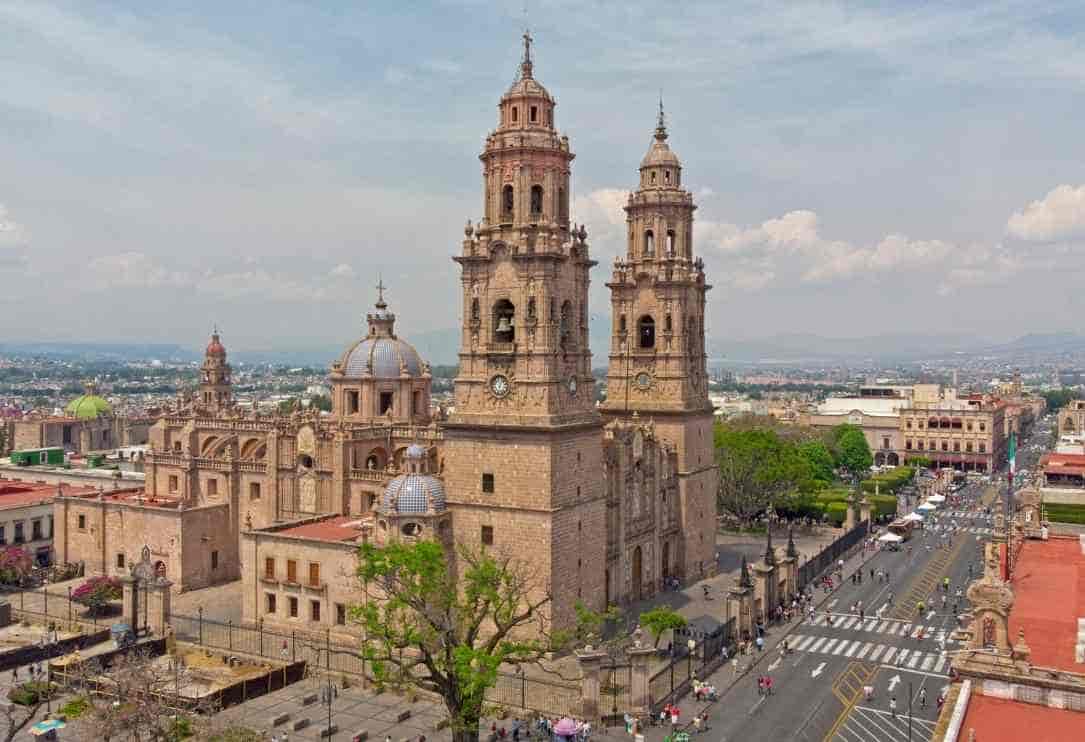 Around practically every corner you will find yet another lush plaza, a grand mansion, or an intricate pink limestone building. With nearly all the main highlights concentrated in the manageable historic center, every visitor should set aside time to enjoy a self-guided Morelia walking tour.
Compared with other popular tourist spots in the region, Morelia receives relatively few foreign tourists, making it a pleasant, uncrowded destination.
Plus, locals are understandably proud of their clean, orderly city, a feeling which is never more evident than on Sunday mornings during the "Ciclovia", when a large block of downtown streets are closed to vehicles to allow walkers and bikers to enjoy the broad, pleasant boulevards.
Throw in a large selection of great restaurants and a thriving café culture and Morelia deserves to be on every traveler's hidden gem shortlist.
🛏️ Check accommodation prices: Morelia Hotels | Morelia Hostels
#9: Puebla
by Rose Munday, Where Goes Rose
Puebla is without doubt one of the most charming and historical places in Mexico. Just 2 hours by road from Mexico City, it's the perfect getaway from the big city.
Puebla is the capital of Puebla state. There are many places of interest in Puebla and some fascinating places to visit within the state as day trips, for example to Cholula which is famous for the Great Pyramid of Cholula dating back 2,000 years.
Other Puebla things to do include Puebla Cathedral and the Amparo Museum home to many important artifacts relating to Mesoamerica's indigenous civilizations. You can also browse the Artists Quarter and shop for handicrafts and souvenirs at the Parian Market.
If you fancy something different – especially if you're a foodie – you'll want to indulge in the Puebla cuisine which is some of the most famous in Mexico.
Try mole poblano flavored with chocolate, chili, nuts, and spices. The other dish to try in Puebla is chile en nogada translating as chili in walnut.
This dish is thought to have been invented by nuns of the convent when an important general came to town. The colors of the dish (green chili, red pomegranate seeds, and white walnut sauce) are meant to represent the Mexican flag.
For dessert, stroll along Calle de Dulches, in other words, Sweet Street, and try local candies and other sweet delicacies from the region.
These are handmade, colorful, and very affordable. Take home a decorated basket for a loved one (or to snack on later yourself!).
🛏️ Check accommodation prices: Puebla Hotels | Puebla Hostels
#10: San Cristobal de Las Casas
by Claire Summers, Me and Hashimotos
San Cristobal de las Casas is one of my favorite places in Mexico. It's a place many backpackers visit on their way in and out of Guatemala thanks to its proximity to the border. So what makes San Cristobal one of the best places to visit in Mexico?
Personally, I love it for 2 reasons, the culture, and shopping. It's one of the few places in Mexico where you will see local people still wearing traditional dress.
It's very similar to Guatemala in that way. It also has a real holistic vibe to it and there are always plenty of interesting events from jewelry making to yoga classes.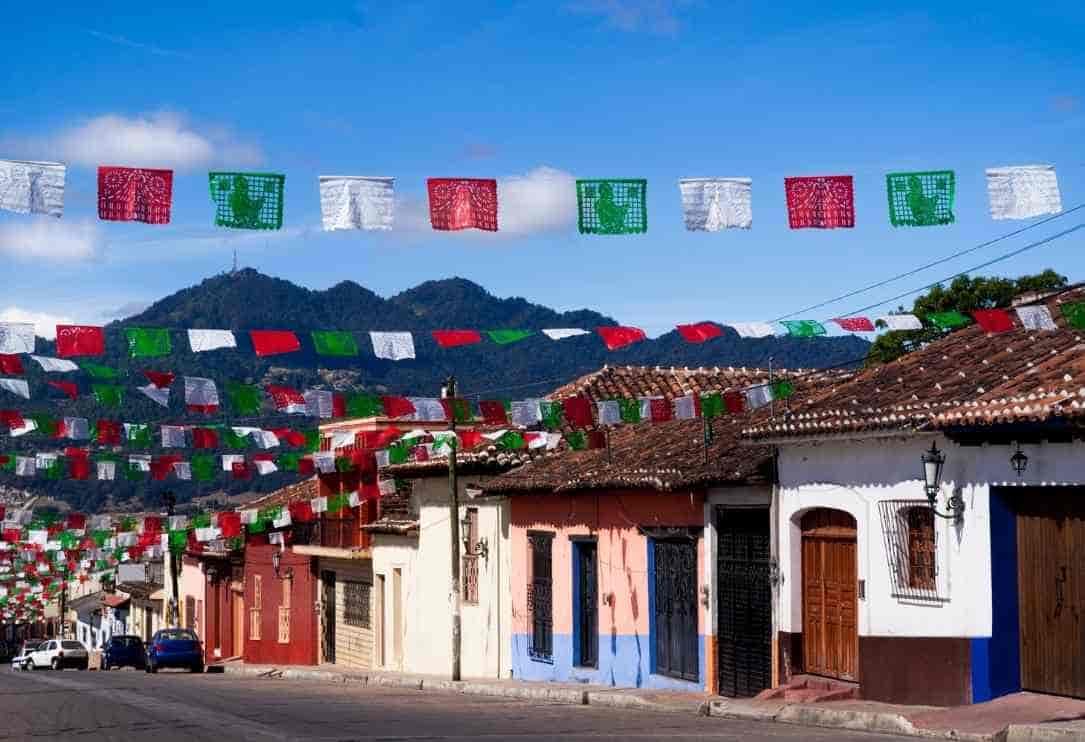 The last time I visited San Cristobal de las Casas I went in an empty suitcase. The artisan markets there is my favorite in the whole of Mexico. You can easily take a full day just wandering around the main market.
Here you can buy textiles, leather goods, and jewelry. It's especially good for buying crystals (amber and jade are both popular here) at rock bottom prices.
When you get tired of all the shopping there is also a strong food scene in San Cristobal. For such a small place you will be surprised at the variety of food you can find from really good pizza too (also really good).
Thai food, which makes a nice change if you have been traveling for a while and eating a lot of Mexican food.
If you head just a little away from the center you will find the street food market which starts getting busy after 6 pm. San Cristobal is a great jumping-off place if you want to explore rural Chapas, many of the tours to places like Canyon de Sumidero depart from here.
🛏️ Check accommodation prices: San Cristobal de las Casas Hotels | San Cristobal de las Casas Hostels
#11: Puerto Morelos
by Christine Rogador, Mexico Viajera
Puerto Morelos is still one of the best-hidden gems of Yucatan. Located between the two more popular destinations in Mexico, Playa Del Carmen, and Cancun, it still exudes the authentic Caribbean vibe and has the small-town feel that you can not find anymore in other Yucatan coastal towns due to mass tourism.
This small fishing village is also literally hidden by a stretch of protected mangrove forest that separates the seaside from the Colonia (the town center).
They also manage to keep the big hotel and resort chains at bay, although there are few all-inclusive resorts, they are mainly on the other side of town and a bit far from the main village and even from the Colonia.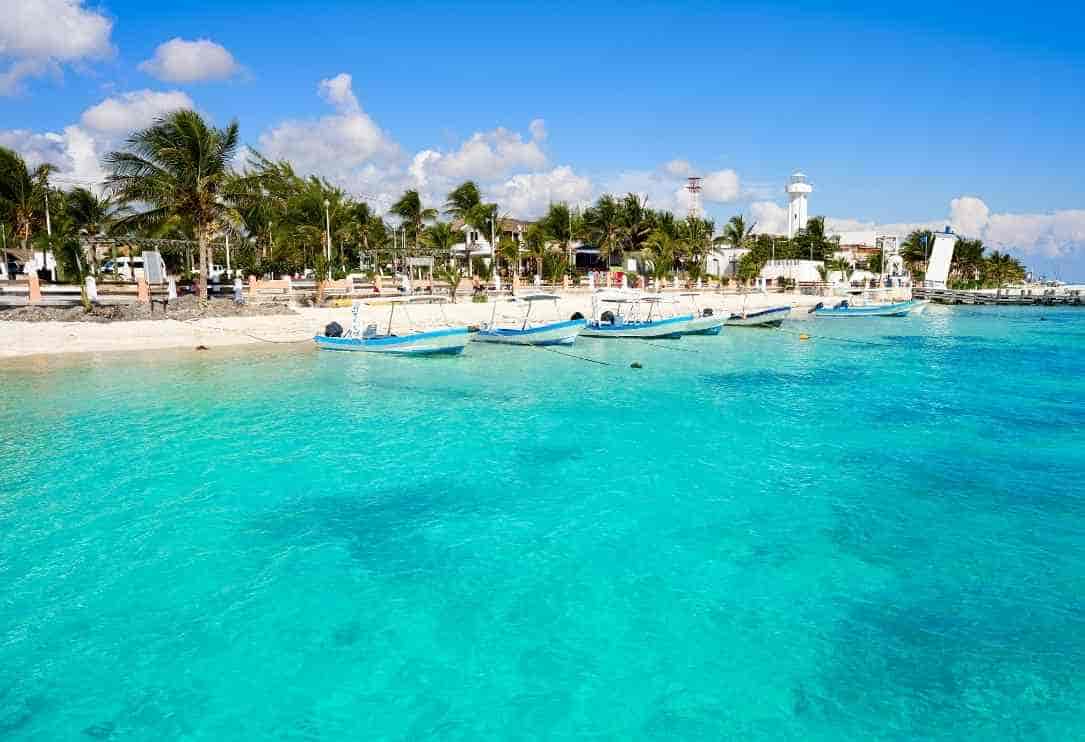 So if you are looking for a quiet place in Yucatan, away from the massive crowd that flocks to Mexico, Puerto Morelos might be the place for you.
There are also several things to do in Puerto Morelos. The Mesoamerican Barrier Reef, the largest barrier reef in Western Hemisphere and the second largest in the world after the Great Barrier Reef, runs along the Yucatan Peninsula.
Its rich tapestry of coral reefs, diverse marine life, and coastal wetlands made it one of the best diving destinations in Mexico, and all of these are only 300 yards away from the shore of Puerto Morelos.
Aside from the beaches and diving, you can also do horseback riding or bike through the Ruta de Cenotes. La Ruta De Cenotes is the best place in Mexico to experience the magic of cenotes.
There are over a hundred cenotes in the area and it's so easy to find your own cenote and claim it as your own! 😉
Jardin Botanico is also a good place for those who love nature. This botanical garden is considered one of the best and biggest in Mexico. It is also a popular hiking trail in the region to enjoy the best of flora and fauna in Mexico.
Puerto Morelos might be small and quiet but it is adventure-packed and it offers something for everyone.
🛏️ Check accommodation prices: Puerto Morelos Hotels | Puerto Morelos Hostels
#12: Tepoztlan
by Shelley Marmor, Travel Mexico Solo
In search of the best off-the-beaten-path destination near Mexico City? Look no further than the pueblo magico (magic town) of Tepoztlan, located just one hour south in Morelos state.
Tepoztlan is one of the 132 pueblos magicos in Mexico. For those who have never heard of Mexico's magic towns, this prestigious title is similar to a UNESCO World Heritage Site designation but exclusive to Mexico.
To be included, the Mexican Secretary of Tourism declares a pueblo (small town) as "magical" because it has unique qualities including history, folklore, cuisine, and natural beauty. In the case of Tepoztlan, it has all four!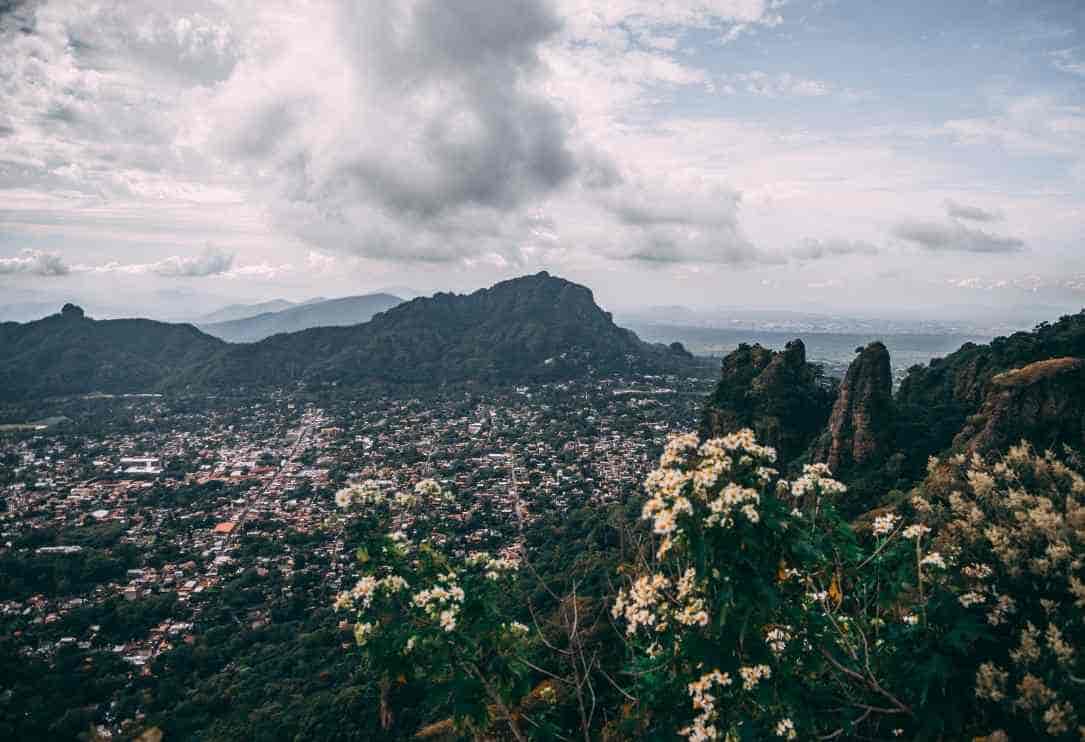 Known as one of Central Mexico's most spiritual places, visitors head to Tepoztlan for its holistic offerings, including temazcal (sweat lodge) and cacao (chocolate) ceremonies.
Beyond those reasons, no visit to Tepoztlan is complete without climbing to the Tepozteco pyramid. It is quite a climb to the top, but the views are spectacular. This pyramid is dedicated to Tepoztēcatl, the ancient Aztec god of pulque.
This prehispanic adult beverage dates back to ancient times. It is made with the fermented agave plant, the same plant used for mezcal and tequila. Though acquired taste, do try pulque in Tepoztlan. You can find it all over town, sold by street vendors and at the City Market of Tepoztlan.
This colorful mercado (market) also has many other unique, prehispanic foods to sample, including quelites and alaches (two dark green veggies), and itacates (fried corn cakes). If you eat meat, try cecina, Morelos state's most famous food.
🛏️ Check accommodation prices: Tepoztlan Hotels | Tepoztlan Hostels
#13: Uxmal
by Lori Sorrentino, Travlinmad
Looking to explore some of the must-see places on your Mexico bucket list? The UNESCO World Heritage site of the Mayan site of Uxmal in Yucatán should be on your list.
The name Uxmal is Mayan for 'thrice built' and refers to the fact that the highest structure in the city, the Pyramid of the Magician, was built on top of older pyramids.
At its peak, the city was most vibrant between the 6th and 10th centuries AD with the main pyramid being built between 900-1000 AD. The Pyramid of the Magician is most impressive at a height of 115 feet with 150 steep steps to the top. Climbing to the top is thankfully not allowed, but you can explore almost all of the other structures on your own or with a guided tour.
Climb up to the impressive Nunnery Quadrangle which offers excellent views of the city and the surrounding landscape. Stone representations of the Mayan rain god, Chaac, can be seen everywhere and adorn nearly every structure.
Located about an hour south of Mérida and roughly 90 miles southwest of the uber-famous Chichén Itzá, the ancient ruins at Uxmal (pronounced OOSH-mol) are extensive, well-preserved, and much less crowded than Chichén Itzá. Stay overnight in nearby Hacienda Yaxcopoil when you plan a visit to Uxmal.
There is an entrance fee of $20 USD per person (around $413 pesos). Given the excellent preservation of the ruins and mere scope of the city, the fee is quite reasonable.
🛏️ Check accommodation prices: Uxmal Hotels
#14: Taxco
by James Ian, Travel Collecting
Taxco is a wonderful – and underrated – tiny hill town in Mexico's Guerrero province. It is delightful enough to wander up and down the narrow cobbled streets that spill down over a steep hill, but there is more to Taxco than just that.
The main church, the pink-colored Santa Prisca church, located on the main square, is just one of many churches in town. It is a wonderful example of over-the-top New Spanish Baroque architecture. Don't miss the gold-covered altarpieces inside.
However, Taxco is best known for silver. Silver mines can be found all over the surrounding hills, and there are several workshops that you can visit to see silversmiths at work. Of course, this is also a great place to get a bargain on fine silver jewelry!
The other main claim to fame that Taxco has is the Semana Santa (Holy Week) processions. Every day and night in the week leading up to Easter, there are elaborate processions.
The festivities begin on Palm Sunday when crowds of people carry tiny figures of Jesus made out of palm fronds through the streets.
For the rest of the week, during the day events from the bible are reenacted by carrying effigies of the main characters around the streets.
At night, penitents parade through the streets, lashing their backs with sharp thorns, carrying heavy bundles of thorny sticks on outstretched arms, or laboring under heavy wooden crosses. It is a gruesome, but unique sight.
Whether you visit Taxco at Easter or any other time of the year, you will love your visit there.
🛏️ Check accommodation prices: Taxco Hotels | Taxco Hostels
#15: Guanajuato
by Kay, The Awkward Traveller
Hands down, Guanajuato is one of the best places to visit in Mexico. If you've seen the Disney movie "Coco," then you'll immediately recognize the vibrant colorful streets as you stroll through the lively downtown of Guanajuato City.
While Guanajuato still remains on the outskirts of Western tourism, it is a popular vacation destination for Mexican citizens. Combined with the large university bringing a younger demographic to the city, Guanajuato is always alive with different events, festivals, and celebrations every month of the year.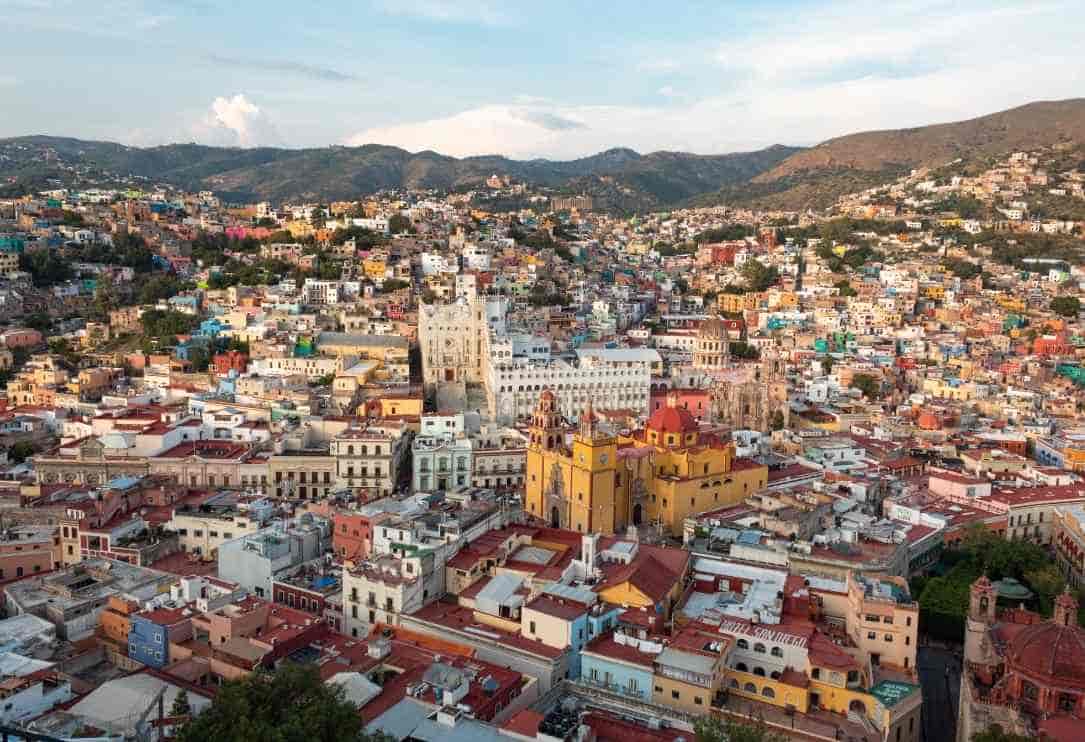 The weather in Guanajuato is mild, and the city is extremely walkable, so visitors can easily and comfortably get around without much hassle. That said, both taxis and rideshare services like DiDi and Uber are prevalent and simple to use, even for travelers who don't speak Spanish.
There are plenty of things to do in Guanajuato with a wide variety of attractions to suite history, art, AND literature buffs with the site of the first Mexican victory against Spain, the home of one of Mexico's most renowned painters Diego Rivera, and even a Don Quixote museum!
Or, for those interested in dark history, you can also visit Guanajuato's Mummy Museum, which holds the most intact naturally preserved mummies in the world.
At night, you can join a callejonada, a musical interactive walking tour given by local university students that sings the legends of Guanajuato.
Or, you can relax in the town square under the twinkling fairy lights and eat dinner alongside battling mariachi bands. Plus, Guanajuato is a perfect jump-off point to other amazing cities in the state like picturesque San Miguel de Allende and the magic town of Dolores Hidalgo.
🛏️ Check accommodation prices: Guanajuato Hotels | Guanajuato Hostels
#16: Valladolid
by Corritta, It's a Family Thing
One of my favorite places to visit in Mexico when I want to get away from the chaos of living in Playa Del Carmen is Valladolid. Valladolid is only 2.5 hours away from Playa Del Carmen.
It would be a nice day trip, but if you are looking to relax and get the real Mexican experience, plan to stay a few days.
The claim to fame here is the Cenote Zaci, which is near the city center. You don't have to go trekking through the jungle to find this beautiful oasis filled with fresh water.
Adventurous travelers can enjoy cliff jumping and get a bite to eat when at the on-site restaurant at the end of the day.
If you love history, this is the place for you. The Templo de San Bernardino is a church built in the 1500s. You can't get more Instagram worthy than this, plus there is a light show that reflects the church's history.
The Casa de Los Venados is one of the best museums in the Yucatan to see Mexican folk art and truly appreciate the artistic history of Mexico. Before leaving, be sure to check out Mercado Municipal for some inexpensive shopping.
For travelers interested in seeing the Mayan Ruins, this is the perfect launching pad to visit Chichén Itzá, Ek' Balam, and Río Lagartos.
🛏️ Check accommodation prices: Valladolid Hotels | Valladolid Hostels
#17: Merida
by Julien Casanova, Cultures Traveled
Rooted in ancient Mayan culture and influenced by centuries of Spanish rule, Merida is a culturally vibrant city. Both influences are evident in the architecture, food, and traditions.
Opportunities to learn about the history and customs are easily accessible through numerous things to do in Merida and the surrounding area.
During the day, many visitors enjoy walking through central Merida to discover the colonial architecture and beautiful cathedrals. Getting lost among the never-ending stalls at Merida's largest market, Mercado San Benito, is a must for travelers who wish to taste the flavors of the Yucatan.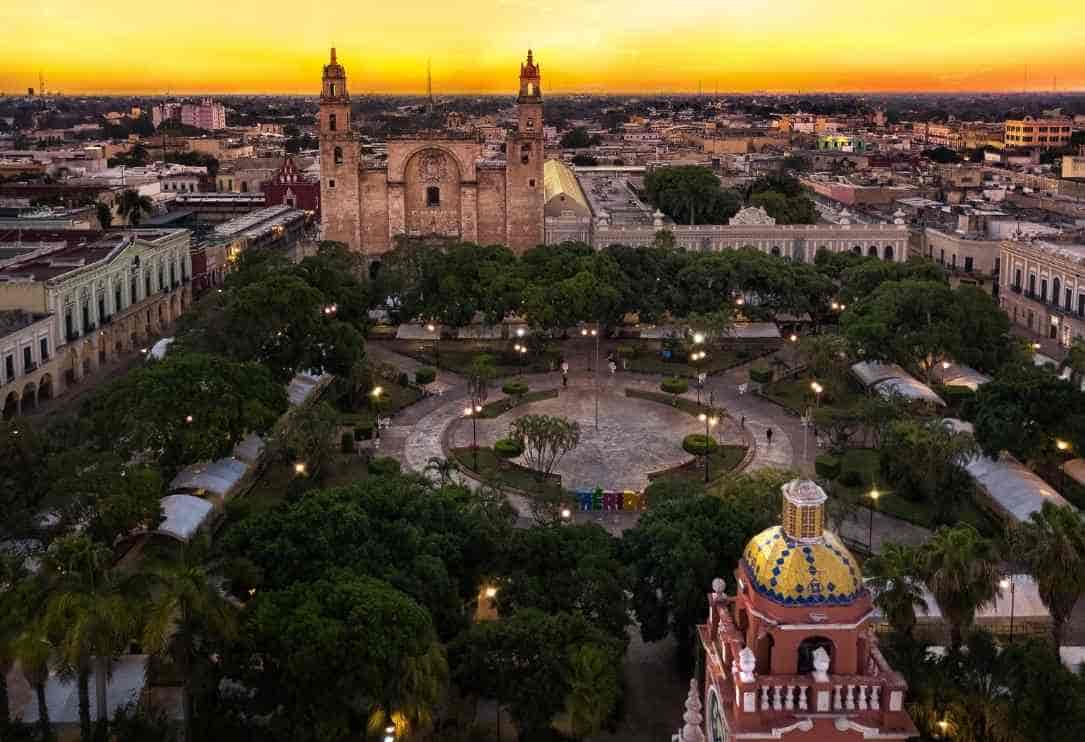 And a visit to a nearby hacienda will take guests back to a prosperous era of producing henequen, an agave plant, that was processed into a fiber used to make twine.
In addition, the city has curated an incredible array of free weekly events that bring residents and visitors together to celebrate Merida's rich history. Mondays, Thursdays, and Saturdays are for dancing. On these evenings, dancers perform different traditional dances in parks throughout the city.
On Saturday evenings, spectators gather at Plaza Grande for a demonstration of the Mayan ball game, pok-ta-pok. And on Sunday, Merida's grandest street, Paseo de Montejo, closes for a leisurely bicycle ride along its impressive row of mansions that were built during the henequen boom.
Merida is a manageable city with a dynamic blend of cultures, old and new. The city government has done an extraordinary job of providing tourists with a lot of ways to learn about the history of the area. While exploring Mexico's Yucatan Peninsula, Merida is a must-visit.
🛏️ Check accommodation prices: Merida Hotels | Merida Hostels
#18: Isla Mujeres
by Kanupriyaa Choudhary-Legha, My Lost Camel
The gorgeous island of Isla Mujeres just off the coast of Cancun is a beautiful gem hidden away from the rowdy crowds at Cancun.
While there are a lot of things to do in Cancun, Isla Mujeres beckons the adventurer that wants to dive deep into nature and the magic of the Yucatan Peninsula. Most tourists that visit the place do so on catamaran trips from Cancun in the morning and return by sunset.
While this trip is enough to leave you stunned at the beauty of Isla Mujeres, to have a truly amazing stay you should stay a night. Since the island is so small, the only vehicles here are bright-colored golf carts.
Once you have secured one of these cute buggies you are ready to begin your trip down Isla Mujeres.
Start at the top of the island on Playa Norte beach with seaside massages and cocktails. Next to it, you will find Pueblo Magico or the Magic City, full of activity in the main square as the catamaran ships arrive every afternoon.
Venture a little further down and you will arrive at La Tortuga Granja, the hatching ground for the sea turtles on Isla Mujeres. You can see the turtle eggs being incubated or watch as they are released into the ocean.
At the southern tip, you will find Punta Sur where you can visit the Pre-Colombian Mayan Ruins of Ixchel. This calm and beautiful island is the perfect way to pamper yourself and enjoy a few days of luxury and culture away from the crowds.
🛏️ Check accommodation prices: Isla Mujeres Hotels | Isla Mujeres Hostels
#19: Sayulita
Of course, don't forget to visit my home, Sayulita! I've been living here for the past 2 years and have nothing but good things to say about it! You all know how much of a city girl I am: from living in Milan, Barcelona, Buenos Aires, Tel Aviv… and now, Sayulita, a very small town with less than 5,000 inhabitants.
It's funny that I was just here to do volunteering work in a hostel. After 5 weeks of that gig, I ended up moving to Sayulita. I never really imagined myself as a small-town girl.
Sayulita has a laid-back vibe and is best for surfers and yoga practitioners. There are lots of outdoor activities here as Sayulita is in the jungle. People are always out and about! Though staycations are still very big in the Riviera Nayarit.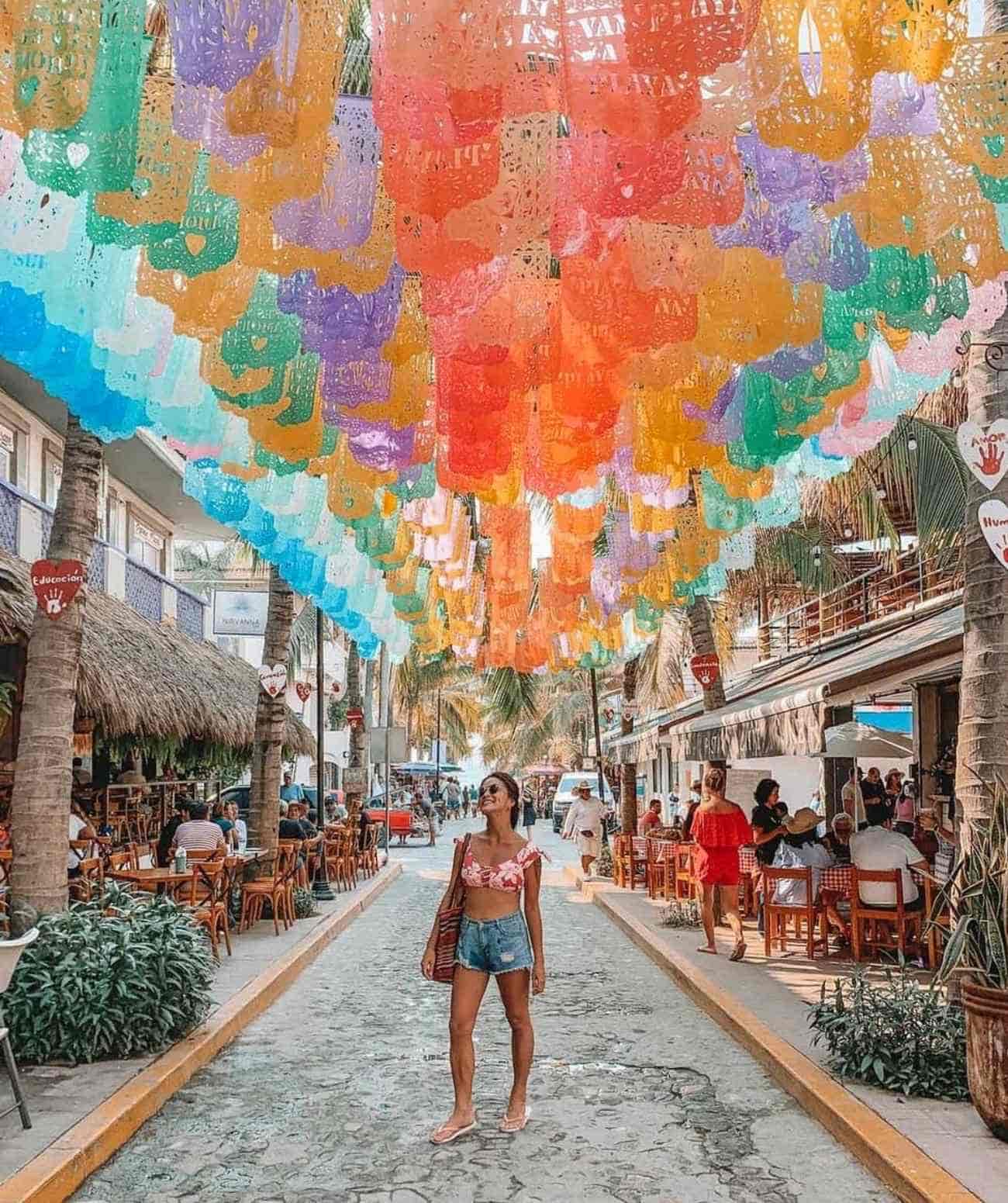 Things to do in Sayulita involve diving, fishing, surfing, and all the water sports you can ever imagine. Sayulita is also very close to the famous Islas Marietas, a protected site in Punta de Mita. As for COVID, sadly, we do not practice wearing masks here so if you ever decide to visit, please come at your own risk.
Lastly, don't forget to reach out if you decide to visit Sayulita. I always meet with people who found out about Sayulita through my blog so it will be really nice to meet you!
🛏️ Check accommodation prices: Sayulita Hotels | Sayulita Hostels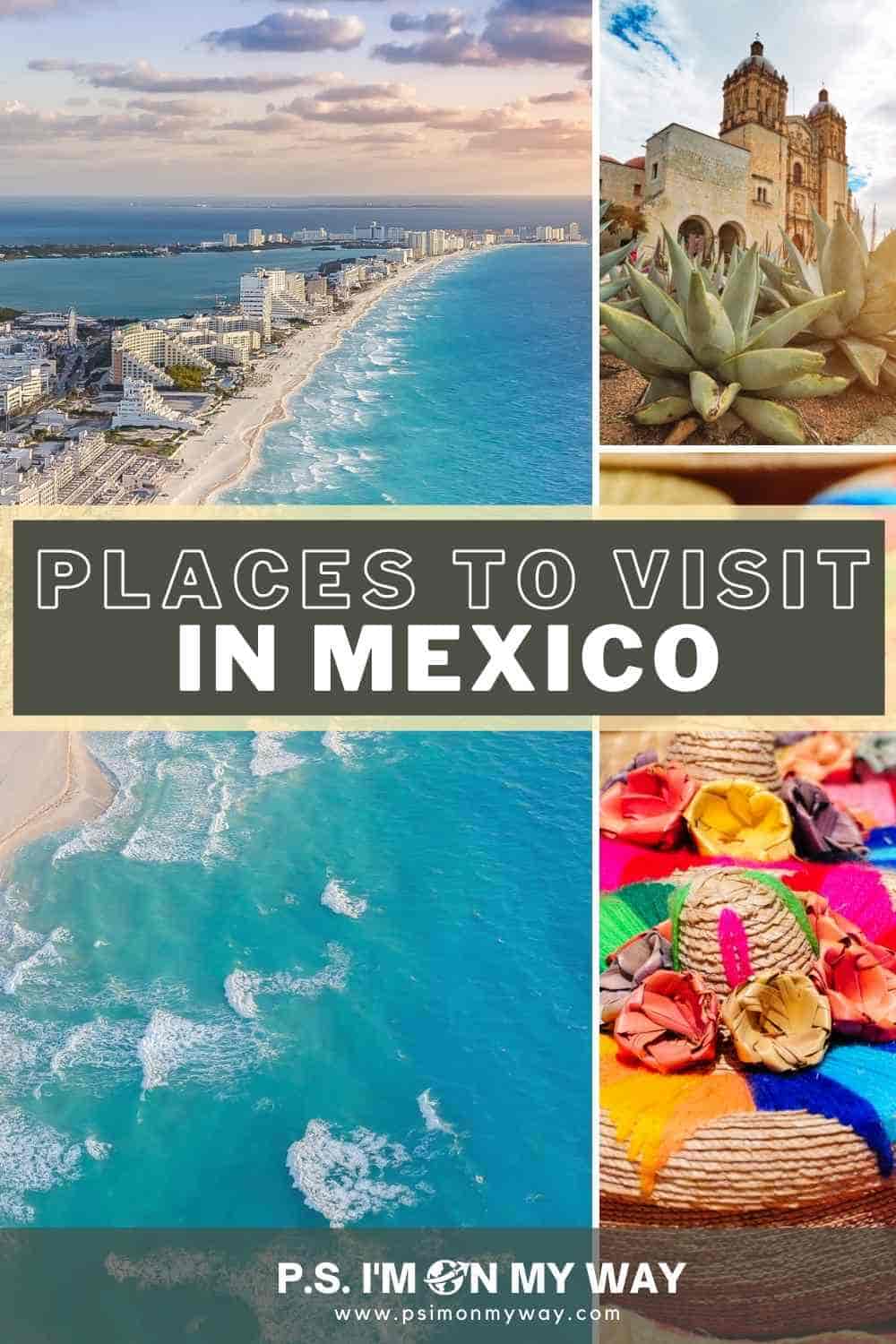 Trisha is one of those people who left their comfortable life to travel the world and learn about life. Her style is to stay in one place she likes for 3 months (or more) to know what it feels like to eat, cook, speak, and sleep in another culture that isn't hers. She'd like to believe she's not traditionally traveling but she just chooses to be somewhere else all the time. In no particular order, her favorite cities in the world are Barcelona, Buenos Aires, Hong Kong, Mexico City, and Tel Aviv.