☕ Support this blog's honest and transparent journalism. Help us add value to what we are sharing. Keep P.S. I'm On My Way free for all by donating to our coffee fund.
Being a Guadalajara digital nomad is super easy and fun, especially for young remote workers who are looking for a city that's dynamic, modern, and affordable. In this Guadalajara digital nomad guide, I will share with you all my experiences in this beautiful Mexican City that's often skipped.
📬 Reader Mail: Hi Trisha! I'm Lara from San Jose, CA. I recently quit my job and opted for a less traditional job like you. With this, I want to go out of the US and visit different places in Mexico.
I am already eyeing Guadalajara as I love cities. How is it to be a Guadalajara digital nomad? Is it safe for solo female nomads like me? How is the Internet connection there?
It would also help if you can let me know if Guadalajara is expensive! I plan to stay for 2 months before moving on to another Mexican city. Thank you for all your help and continue blogging!
-Lara Callihan, San Jose, CA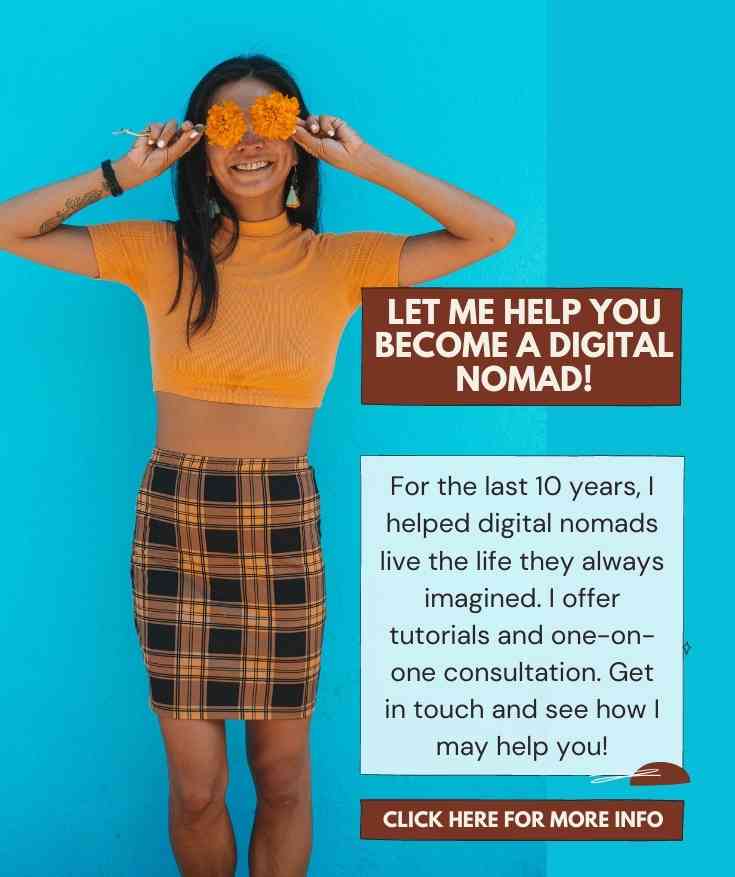 Hi Lara,
Thank you for following the blog. I am glad you find this blog helpful. I stayed in Guadalajara for one month and I can say that it was one of . my most productive months as a digital nomad.
Here's a digital nomad guide to Guadalajara packed with information on the digital nomad scene, co-working spaces, and best coffee shops (that I only have experience with). Good luck in your digital nomad journey and don't forget to get in touch when you're in Mexico! I live here!
Xx,
Trisha
Is Guadalajara a good digital nomad base in Mexico?
YES IT IS! Guadalajara (GDL) is inexpensive compared to other Mexican cities. There is a great nightlife, an amazing community of digital nomads, many cafes, and co-working space to work in.
Guadalajara is also very accessible because of its international airport. It's also central Mexico (just 5 hours from Mexico City) so you can visit nearby cities like Mexico City (CDMX) and Puerto Vallarta (PV) by bus.
View this post on Instagram
What I love the most about living in Guadalajara as a digital nomad is that it's super easy to make friends! I've never lived anywhere that has a big population of digital nomads. Everyone seems to be working remotely in Guadalajara!
Guadalajara is a big city but not as big as Mexico City. It is also a bicycle city so you won't need to take an Uber everywhere. I also feel very safe cycling the streets of GDL compared to CDMX.
Is Guadalajara safe for digital nomads?
Even if I traveled to Guadalajara solo, I already have a lot of friends who lived there. Personally, I don't feel unsafe in Guadalajara because of this but my friends always warn me not to ride my bicycle or walk in the evening.
I didn't have to be hyper-vigilant during the day, especially I was always going to cafes with my laptop. However, I am extra cautious in the evening. Uber works in Guadalajara and it's not expensive so for your safety, don't walk after 9:00 PM.
Is Guadalajara expensive for digital nomads?
No, not at all. I honestly think I spent more money when I was living in Puerto Vallarta and Mexico City. The rent difference is very big. In Guadalajara, you can get a studio for $350 USD while in PV and CDMX, it's very challenging to find something this cheap (and decent).
I also ate out almost every day because I loved the digital nomad cafe culture in Guadalajara. I spent about $10-$12 per sitting and sometimes I end up hanging out in the cafes for a full day!
You will find more information on what I spent in the cost of living section of this Guadalajara digital nomad guide.
More Mexico digital nomad destinations that you may like:
Guadalajara Digital Nomad guide: cost of living, Internet connection, and everything you need to know
Guadalajara digital nomad: personal experience
Guadalajara is the first destination I went to when I moved to Mexico in 2018. At first, I thought I was only swinging by to say hello to friends who I haven't seen for years.
I stayed with my friend Maylis whom I met while backpacking Peru in 2016. It's always nice to reunite with people whom you met on the road and I have a lot of those who live in Guadalajara!
I was not in a rush to leave and each day, I felt more connected to Guadalajara. It was a city that I can live in so I stayed a while. Plus, it was so affordable and I was sort of living for free.
Then my friend Maylis had to go home to France in the summer. She asked, "would you like to stay in my house while I am in Paris?"
I did not even think about it! I said YES right away. She didn't even have a pet for me to take care of so I really appreciated the invite. Maylis already introduced me to all her friends so if there was something I needed for her house, I have someone to call.
While she was in France, I also got to meet some people I went hiking to Machu Picchu with. It's funny that I didn't meet the people I know in Guadalajara at the same period of my life and yet, every encounter was from Peru!
My friend Elena is Mexican and she is from Guadalajara so she gave me a lot of tips about GDL. She even offered to do a roadtrip with me but that didn't happen since I was still enjoying Guadalajara. I did not have the need to explore neighboring towns.
My friends Vicky and Elisa are digital nomads and are originally from Guadalajara so I spent most of my time with them. Since they literally work from home, it was so easy to hang out with them and do work dates.
Plus, they brought me to all the digital nomad spots that only locals know! Most of the Guadalajara digital nomad tips I am sharing with you in this article are from my experiences with Vicky and Elisa.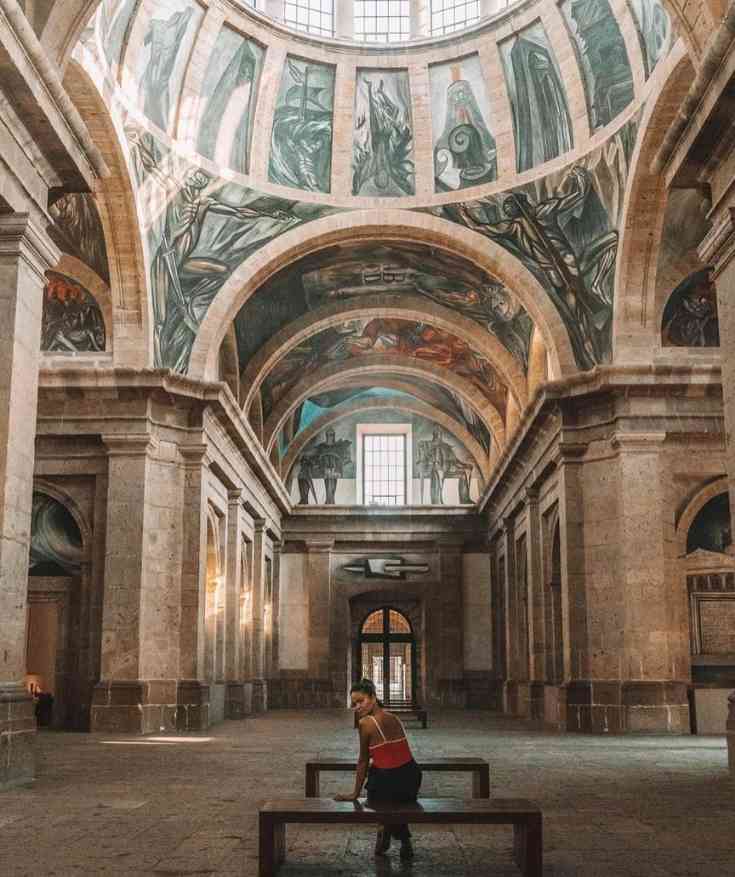 The best experience (tourist-wise), was staying in a barrel hotel in Tequila, just an hour away from Guadalajara. The town is literally called Tequila so it was the best place to do tequila trips.
Tequila is also the only place in the world who can use the branding "tequila." In Mexico, you are not allowed to produce tequila in other parts of the country. This is the only place that has the legal right.
Overall, my experience as a Guadalajara digital nomad was one of the best since I hangout with local people. I am so thankful that I was able to get to know this city deeply and from then on, I always came back to Guadalajara! It was a mandatory pit stop.
Guadalajara Digital Nomad quick facts
Nomad guide
🌍 Region: North America
🚩 Country: Mexico
📡 Internet speed (avg) 12 Mbps
⛅️ Weather: 4 seasons
🔌 Outlet: Type A
🚑 Travel medical insurance: Safetywing Digital Nomad coverage
📱 Best wireless carrier: Telcel
💸 Tipping: Required
💳 Cashless society: credit cards accepted
💻 Best coworking space: NeverMind
🚰 Safe tap water: No
👨‍👩‍👧‍👦 Population: 1,500,000 people
🏞 Foreign land ownership allowed: Yes
💻 Online electronics shop: Linio
🏠 Apartment listings: Vrbo
✈️ Where to find cheap flights: Kiwi.com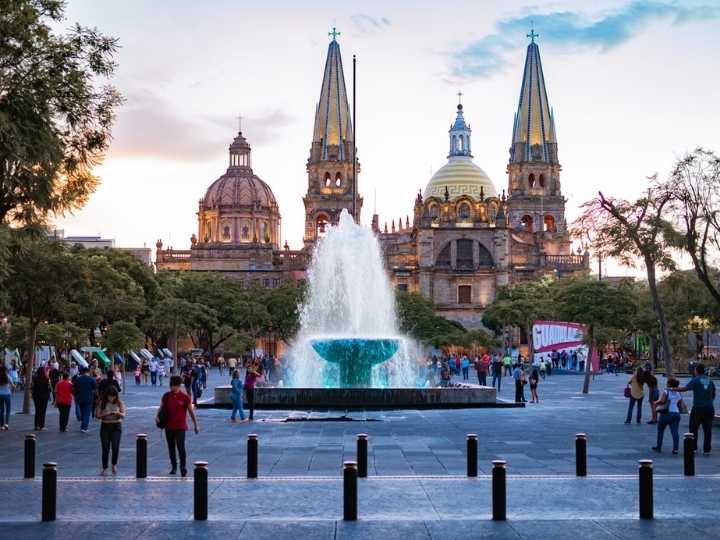 Guadalajara Digital Nomad costs and budget
💵 Cost of living for local: $350 USD per month
🏠 1br studio rent in center: $300 per month
🏢 Coworking: $200 USD per month
🏨 Hotel: $544 per month
🏨 Hostel: $12 USD per night
🏠 Vrbo: $1,000 per month
🍛 Meals (restaurants): $4 USD
🍺 Beer (bars): $1.71 USD
☕️ Coffee: $1.25 USD
Guadalajara Digital Nomad groups to join
The digital nomad scene in Guadalajara
I think this is the most digital nomad city I've been to (next to Tel Aviv). In every cafe you go, people are sitting down on their computers. It feels like everyone is working remote in Guadalajara!
This kind of scene is really important to me because I've lived in cities where I feel uncomfortable in sitting down at a cafe and spend hours working. I feel like some places or cities are not built for the digital nomad lifestyle yet.
For example, in Sayulita, some cafes don't even install fast wifi because they don't want to encourage the digital nomad culture. They even frown upon digital nomads there and criticize them sitting down for hours (without ordering).
Guadalajara Digital Nomad scene is vibrant and you will always feel like you belong here.
Internet in Guadalajara is super fast. I never went to a place where there was slow wifi. Even the basic router at my friend's house (Telmex 7 Mbps) worked so well. She's not a digital nomad so she didn't have to install fiber-optic at her place.
I did not have problems with doing Zoom calls or uploading big media files on Youtube and on the blog. I also didn't stress about Internet getting cut off and then running to the nearest cafe just to re-connect or be on time for a call.
I can sit down everywhere and work for hours in one place since Internet is very stable. As I said, I ate out almost every day in GDL so I will also share with you the best Guadalajara digital nomad cafes in this post! They're all super local!
You can also get a Mexico sim card as an extra. You need it for ordering Uber and navigating with Google maps anyway. You can also use your sim card as a hotspot in case of emergency! It works really well!
Cost of living in Guadalajara
Guadalajara is still the most affordable digital nomad destination in Mexico. You can get a studio at the center for $350 USD. In the outskirts of Guadalajara, condo living is also very common and can go up to $700 USD per month for a 2-br unit.
Eating out in Guadalajara costs $4 USD per meal and these are really good meals in a nice place. Guadalajara is also home to a lot of street food carts so you'll get to explore Mexican food as well.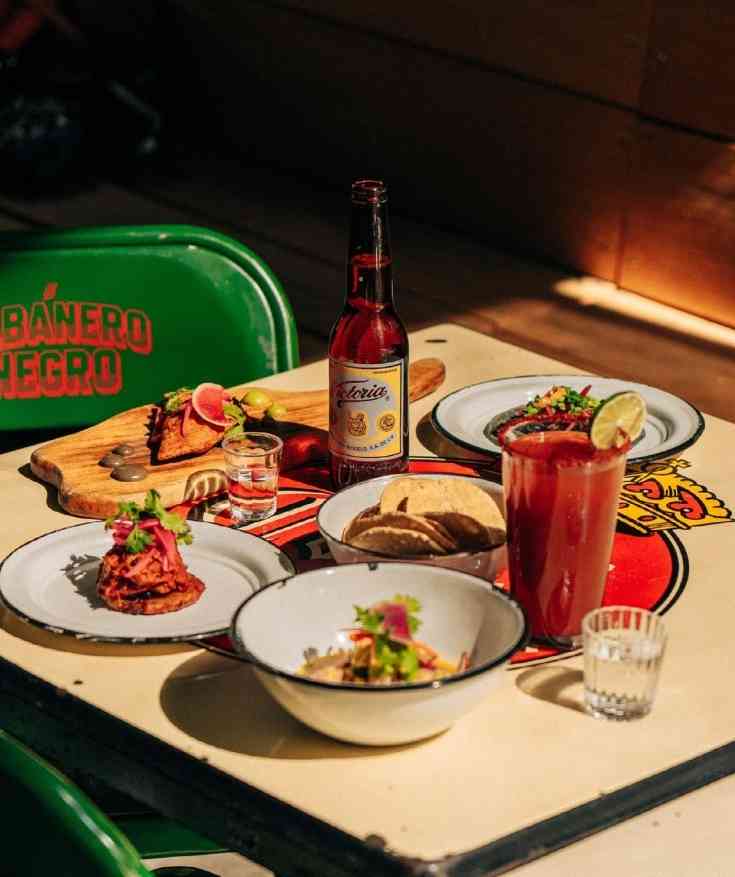 The daily bicycle rental rates in Guadalajara is $5 USD but you can pay for it for a whole year for only $25 USD! Of course, you won't be staying a full year but it is almost the same price as the weekly rental ($17 USD).
Uber is widely used in Guadalajara and you'll often pay less than $5 USD if you're only going around the city. The Uber in Guadalajara also goes to Tlaquepaque, a hip neighborhood just 20 minutes away ($12 USD per ride) and to Tequila, I think I paid around $30 USD for the Uber.
Pros of being a digital nomad in Gualadajara
Accessibility
As a digital nomad, I am sure you'd also love to travel around Mexico while making Guadalajara your digital nomad base. Guadalajara has an international airport and they have flights straight to Baja California which is amazing for me since I hate stopping in Mexico City.
Guadalajara is also very central to the country so you can go anywhere with the bus! Busses in Guadalajara are super convenient, cheap, and comfortable. They are also safe so don't worry about it!
BlaBla car, a ride sharing app is commonly used in Guadalajara for long distance drives.
Not everyone speaks Spanish
I am putting this as a pro because this is a good opportunity for you to learn Spanish while in Guadalajara! I became fluent in Spanish from making it my environment and being in places where no one speaks English.
My first BlaBla car experience in Guadalajara (2019). Since then, I've been using the app in this area all the time!
I loved all these experiences even if I sounded stupid at the beginning but now that I can speak Spanish well, I am very thankful I put myself in those situations and places where no one spoke English.
Good digital nomad scene
If it's your first time in Mexico, you'd want to live in a place where you are comfortable as a digital nomad. Guadalajara is by far, my best digital nomad destination because I can be around fellow digital nomads easily!
Affordable cost of living
I really feel my quality of life has been great in Guadalajara. I always lived in beach areas and somehow had the notion that there is no way you can have a good quality of life in a city but Guadalajara is a very livable city!
Cons of being a digital nomad in Gualadajara
I really don't have a list of cons on being a Guadalajara digital nomad except for the safety. Sometimes, we could be at a wrong place at the wrong time and be victims of theft, attacks, etc.
Nothing like this happened to me in Guadalajara but I heard a lot of stories from other expats. Just don't get too drunk, don't walk at night and don't buy drugs at all costs.
Guadalajara cafes for digital nomads
El Terrible Juan Cafe
I probably went here 10,000 times and I was so happy when they renovated. They now have a bigger space! The food at El Terrible Juan is amazing and their coffee is really high-quality.
📍 C. José Guadalupe Montenegro 1871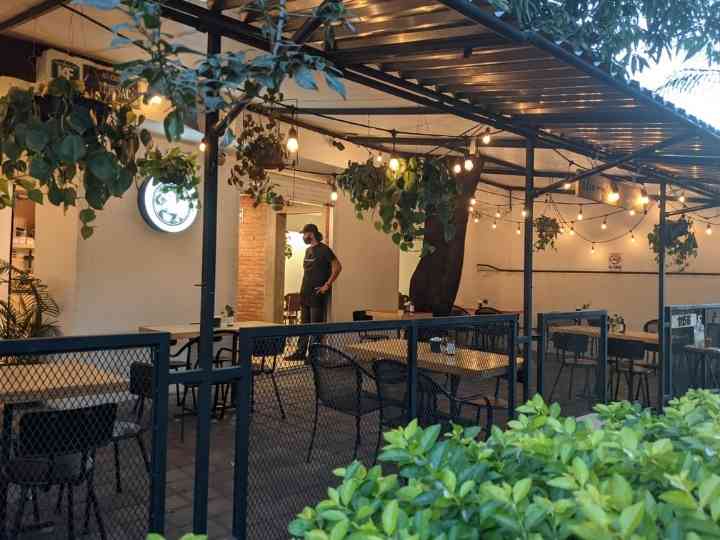 Most days, this place is full but the servers already know me that they always reserve a little spot for me at the corner. Their service is great even if it's always full and almost all the tables here are digital nomads. I barely saw people without laptops here.
Sinonimo
Sinonimo is super upbeat and full of young people. Most Guadalajara digital nomads who come here bring their pets because it's super pet-friendly! There are two seating areas and all tables are equipped with plugs.
The best thing I love about Sinonimo is that they have milk tea (a new addition to their menu!) I mean, their coffee is great but if I am staying here half a day, it's great to have variations to order.
Most of their food menu are super healthy and organic. I love the breakfast pancakes because it's usually very filling. The vibe is really nice because everyone's working and during your breaks, you can chat with Guadalajara digital nomads and learn more about this city!
Cafe Correcto
📍 Calle Prisciliano Sánchez 1030
A really small cafe in Guadalajara, Cafe Correcto's specialty coffee costs less than a two dollars. I highly recommend their espressos for a great kick to start your morning work.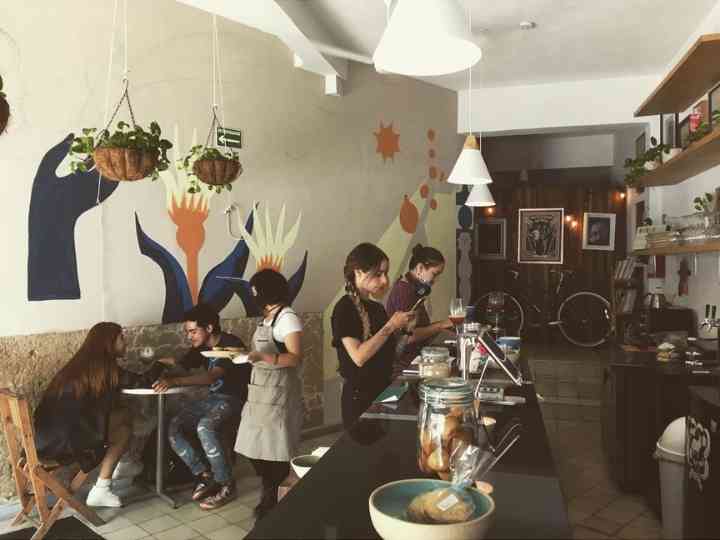 Some days that I come here, I always opt for their tea infusions of black tea and chai tea (from India) both for $30 MXN or $1.50 USD. I honestly haven't had any food here but their wifi is super-fast I always come here for 2 hours in the morning then move to another cafe.
If you're not coming here to work, they have live music every once in a while that is truly worth checking because they feature local artists from Guadalajara!
Rin Tin Tin Cafe
Rin Tin Tin is actually a bakery so if you are craving for sweets, this is the best place to work as a Guadalajara digital nomad! They also have savory food for brunch. My friends and I actually come here a lot for brunch without our laptops!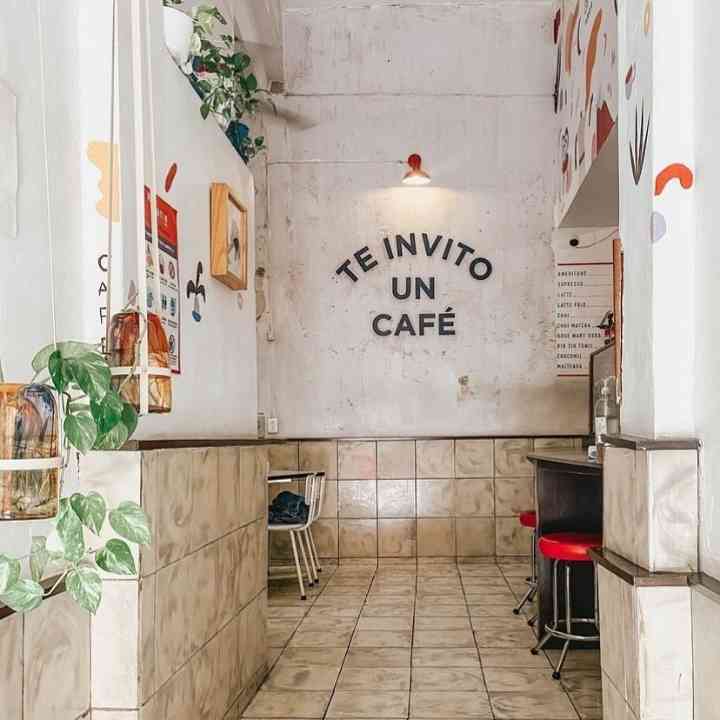 They serve breakfast from 9:00 am – 3:00 pm which makes it a perfect brunch place. Most food their menu are less than $5 USD (can you believe that?!) so if you're spending a full day of work here, you'll probably get a lot for $15 USD! Better than paying for a co-working space!
Guadalajara co-working spaces
Nevermind
Nevermind is the best coworking space in Guadalajara that I always frequent. The tables are super comfortable. There are plugs everywhere and the space is small enough for you to mingle and collaborate with other digital nomads.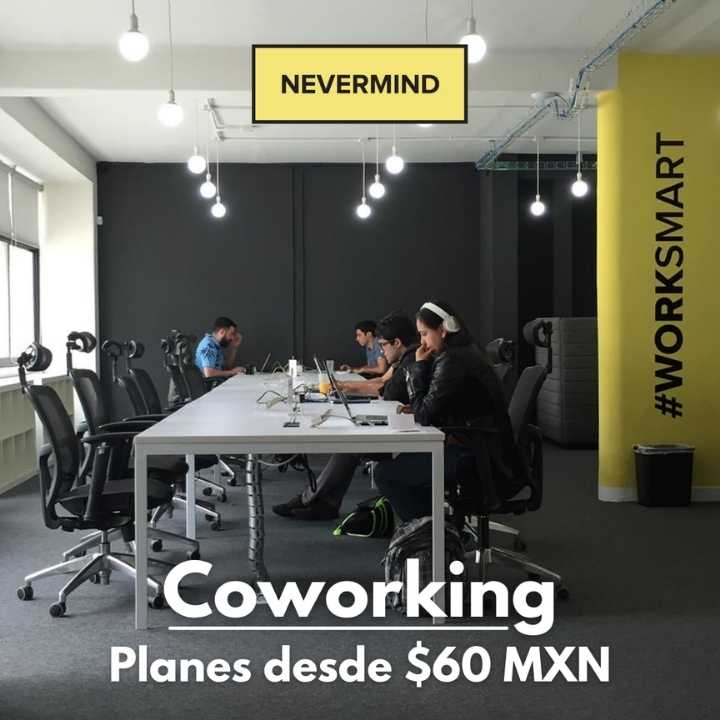 Below are the basic pricing plans for a shared table space on Nevermind:
Hourly: $3 USD
Daily: $9.25 USD
10 days: $75 USD
20 days: $100 USD
Monthly: $125 USD
If you want to have a table for yourself, it costs $150 USD per month but they don't have enough spaces for this category since this is the best-seller!
WeWork Guadalajara
WeWork is super common all over Mexico and they have a branch in Guadalajara! I love going to WeWork during my call day (Tuesday) since they have a dedicated cube space for receiving calls.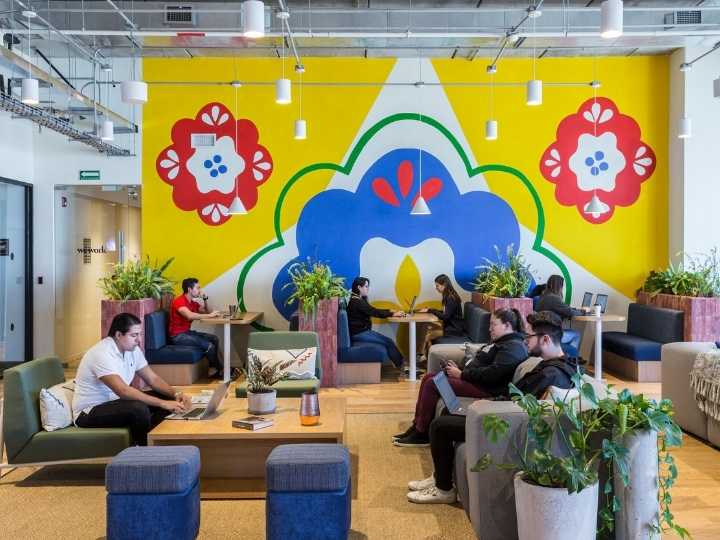 They have 4 branches in Avenida de las Americas, Midtown Jalisco, The Landmark, and Punto Sur. I always go to the Americas one because it was closer to where I lived.
Prices at WeWork are personalized (depending on your needs) so you have to contact them to get a quote.
How to find rentals in Guadalajara
I've had many luck in Facebook Marketplace for apartments in Guadalajara. This is actually a more suitable platform for you if you don't speak Spanish as many websites that local use are only in Spanish.
If you can read and communicate in Spanish, locals in Guadalajara use iNMuebles24 and Viva Anuncios for apartment hunting. Of course, having the language skill will always land you on good deals.
Guadalajara Digital Nomad tips
Get a digital nomad insurance that covers COVID
I pay $40 USD a month for my digital nomad insurance that covers COVID. It's super affordable and the service with my insurance company is superb. I already did many claims with them and their process is very understandable and easy to do.
Use an International bank account
In Mexico, your USD, AUD, CAD, or EUR will always go well if you don't use your main debit card to withdraw cash. I realized the difference with conversion rates when I started using Wise. I always get a higher amount versus using my US debit card!
Note that Mexico is still a cash country so you may need to take out cash frequently.
Protect yourself online with VPN
As a digital nomad, you've connected in many wifi routers all over the world which makes you vulnerable to online theft. Like me, I am sure you have your whole business and your whole life online so make sure to ALWAYS connect to the Internet with a good VPN service.
Connect with locals
I promise you won't have a hard time connecting with locals here but if you need some cool friends, I can introduce you to mine! Just get in touch with me and I'll make an intro!
✈️ Ready for your trip to Guadalajara? This blog thrives on reader questions so feel free to leave a comment below if you need anything about being Guadalajara digital nomad!
🤳 Follow this adventure: INSTAGRAM | FACEBOOK | YOUTUBE | PINTEREST | TWITTER
Trisha is one of those people who left their comfortable life to travel the world and learn about life. Her style is to stay in one place she likes for 3 months (or more) to know what it feels like to eat, cook, speak, and sleep in another culture that isn't hers. She'd like to believe she's not traditionally traveling but she just chooses to be somewhere else all the time. In no particular order, her favorite cities in the world are Barcelona, Buenos Aires, Hong Kong, Mexico City, and Tel Aviv.