This Bratislava solo travel guide was written by Nina of Lemons and Luggage, a travel blog dedicated to vegan and responsible travel. In this post, she will share with you her best experiences traveling to Bratislava alone and tips on how to do it on your own.
Bratislava seems to be one of those cities that people tend to overlook when visiting Europe. And so you may be wondering if the city is worth visiting at all and if it's safe for solo travelers. I'm here to tell you that the answer to both questions is an emphatic yes.
The reason I decided to do my Bratislava solo travel in May 2019 was that it was my father's birthday. Ever since my father died in 2016 I try to spend his birthday in a city on the Danube, as he was born in one himself.
One of the obvious choices for such a trip would be Vienna, a city I had long been wanting to visit. But it's a more expensive city, and I thought I could combine Bratislava and Vienna but fly into Bratislava.
People had told me that you can see Bratislava in less than a day, but I wanted to see if that's really true. So I ended up booking my flights in and out of Bratislava and decided to visit Vienna for a few days in the middle of my trip.
As someone who has solo traveled to quite a few cities in Europe I wasn't too nervous about the general idea of traveling solo to a new city.
But I was concerned I might get bored because of all the stories of how there wasn't anything to see and do in Bratislava.
In the end, I felt like I could have stayed even longer to explore more of the city.
Because here's the thing: You can go somewhere and just visit the main sights and be done, or you can try to get a feel for how it would be to actually live in the city.
The former really might just take a few hours, but the latter could take you weeks or months. Yes, even in a small city like Bratislava.
Is Bratislava safe for solo female travelers?
I've been to many major European cities on my own and have never felt as safe as I did in Bratislava. Because the city isn't huge it still has a bit of a village vibe where you feel that everyone looks out for each other.
Even without knowing the language, I had the impression that if I needed help I could approach anyone and they'd try to help.
It also felt quite safe in the evenings after dark. As the city is quite small you can easily walk everywhere in the center. But even staying outside of the city center it's possible to walk which is what I did most of the time during the day.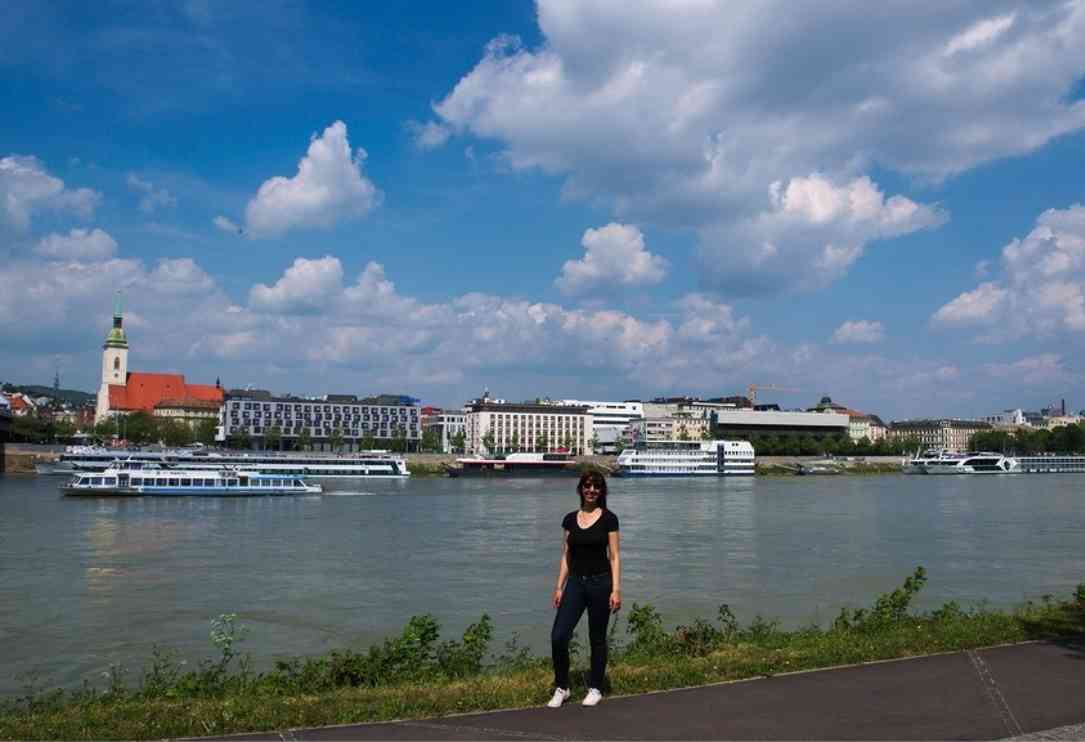 In the evening I opted to take public transport, mainly because I was a bit tired at the end of a long day exploring the city. At night, I definitely consider public transport a safer option than walking. The buses and trams in Bratislava really impressed me, as they were modern and in great condition.
One thing I will say is that I cannot judge how safe the city feels if you're a visible minority. Roma people in particular experience a lot of discrimination in Slovakia so please keep that in mind.
Is Bratislava worth visiting?
ABSOLUTELY! Bratislava is one of the best destinations in Europe as it is not crowded and not over touristy yet. Unlike some European cities, expect to not see the typical tourist stuff.
Bratislava was not built unlike other capitals (Budapest or Prague). While it is already Westernized, you can still see (and feel) the old communist culture which will make you understand the history of Slovakia.
Is one day enough in Bratislava?
You can definitely do one day in Bratislava if you're on a tight schedule. It is normally not included in the Eurotrip loop but people who visit Austria and Hungary take the day for a short drive to Slovakia.
Within 24 hours, you will get to experience Bratislava's culture, great food, and amazing nightlife! It's ideal to spend the night so you won't feel rushed. Hostels in Bratislava are affordable – you can get a bed for $25 USD per night in decent accommodation.
Bratislava solo travel: safety, things to do, where to stay, and everything you need to know
Bratislava solo travel: personal experience
Bratislava had a really relaxed and comfortable vibe, especially compared to Vienna which I also went to visit for a few days during my trip.
Although Vienna is often considered the world's most livable city, I found Bratislava to be much cleaner and quieter and overall felt safer there, despite the fact that I know German but not Slovak.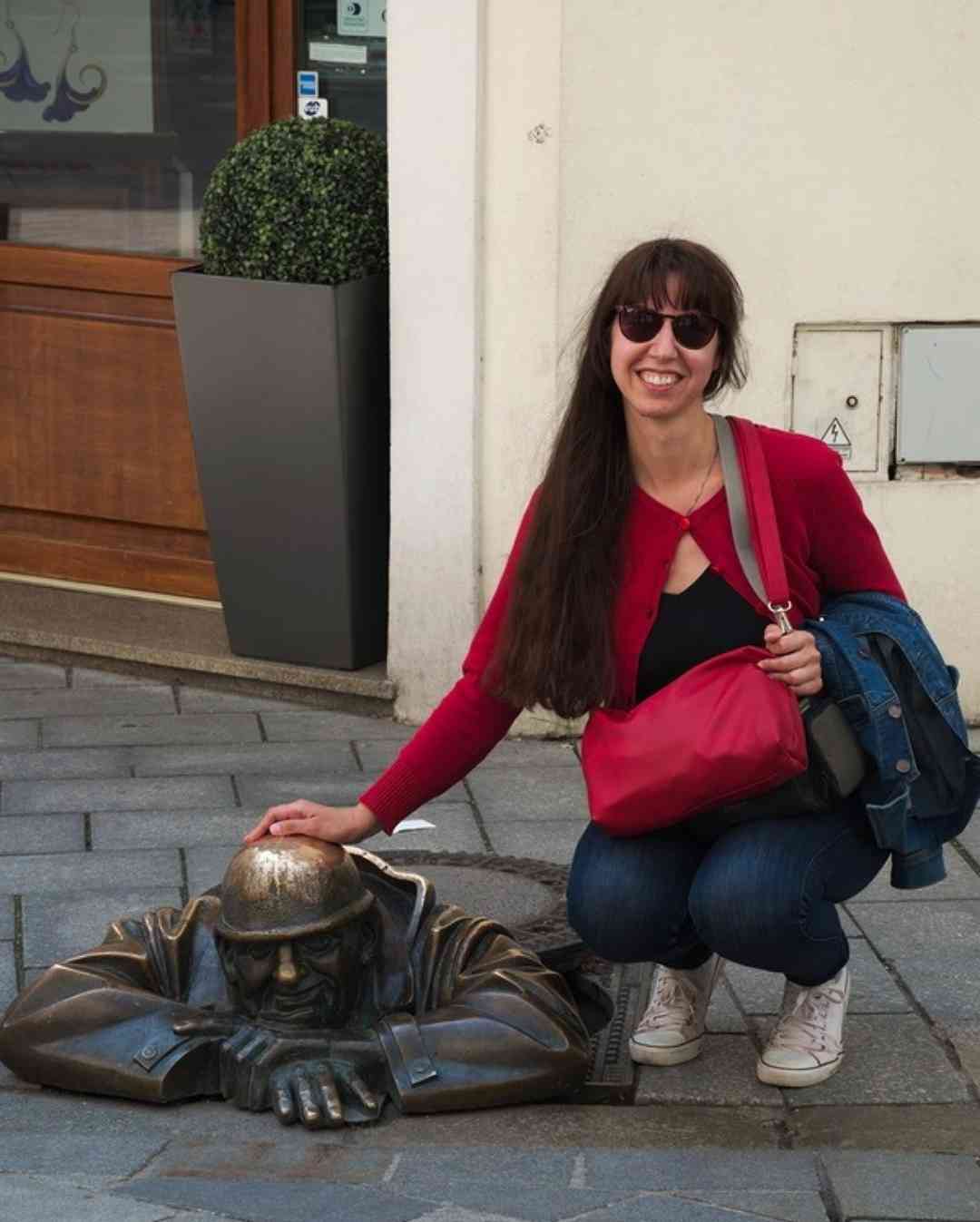 In fact, Bratislava impressed me so much that I felt like I could live there. Overall, the city doesn't feel like your typical tourist destination. Instead of walking around and running into tons of tourist groups, checking off one sight after the other, I simply enjoyed the atmosphere in the city.
It felt more like a city I had just moved to and was exploring rather than a major tourism hotspot. Personally, I really liked that because I sometimes feel that as a tourist I get a very limited view of life at a given destination because I'm so focused on seeing the important attractions.
Things to do in Bratislava for solo travelers
First, get the idea out of your head that a city is only worth visiting if there are hundreds of things to see and do there. Instead, Bratislava is a great city where you can sightsee at a slower pace and just take in everyday life in the Slovak capital. But of course, there are quite a few things to do in Bratislava for tourists.
Take a walk through the Old Town
Most major European cities have a picturesque old town where you can stroll through narrow alleys, marvel at the details of historic buildings, and imagine what life must have been like there in the distant past.
Bratislava is no different, although the old town is significantly smaller than in other European capitals. I do think this makes it perfect for first-time solo travelers because it's not as overwhelming. Overtourism hasn't reached Bratislava yet, and so you won't encounter many of the typical tourist traps here.
Instead, you can simply walk around and enjoy the vibe in the Old Town. It's a very lively part of the city and home to plenty of restaurants where you can grab something to eat. You can even find vegan food in Bratislava, also in the historic center.
If you don't have a lot of experience traveling solo the idea of eating alone might seem scary, but trust me when I tell you that nobody will look at you.
At some point in the future, you will actually shake your head in disbelief when you think about how many restaurants this concern stopped you from trying.
The Old Town is also full of lovely cafés, so if you're not ready for a restaurant experience yet maybe try this instead. You could take a book with you and order one of your favorite drinks and read a bit. As I said, Bratislava is all about experiencing the city as if you lived there.
Finally, I can't forget to mention that the Old Town is also a great place to find souvenirs. Although other old towns are often filled with shops that sell tacky souvenirs that aren't even locally made, in Bratislava's historic center you can actually find high-quality items that will remind you of your trip long after you have returned. And the best thing is that they're not even expensive!
Check out the view from Bratislava Castle
Hiking up to Bratislava Castle is another great thing to do for visitors. I have to be honest and say that the museum inside didn't really impress me much, but the hill the castle is set on, the gardens surrounding it, and the views are definitely worth a visit.
Make sure you take some photos of both the castle and the views. Below the castle, you will see the neighborhood of Petržalka, a huge residential area consisting of enormous apartment blocks built during the Communist era.
It used to have a very high crime rate, and although it is now much safer than it used to be, it's probably not the best place to head to if you're on your own. Consider simply taking a photo from the castle and then move on to other parts of Bratislava.
Rest in the Garden of the Presidential Palace
The Presidential Palace is a very pretty building that makes for great photo opportunities. However, you cannot enter it. But make sure to visit the garden that is located right behind it. It's a very calm place where you can relax, and it feels very safe to be there alone.
Take a walk along the Danube River
By the time I did this I had already met another female solo traveler, but it seems like a perfectly fine thing to do solo as well. The Danube is one of the longest rivers in Europe, and its banks can get very busy in other cities.
But as Bratislava is so much smaller and also less busy with tourists you can have a really lovely walk here. For me, it was a very special place because my late father was born in a city that lies on the Danube and it would have been his birthday when I was in Bratislava.
If you're a nature lover you'll be really excited about the fact that you can enjoy so much greenery in the center of a European capital. Just make sure you don't head there at night.
Go on a free walking tour
I love free walking tours in any city because they're a great way to connect with other travelers. Many solo travelers join free walking tours, so going on one is the perfect opportunity to meet someone else to do some more sightseeing with.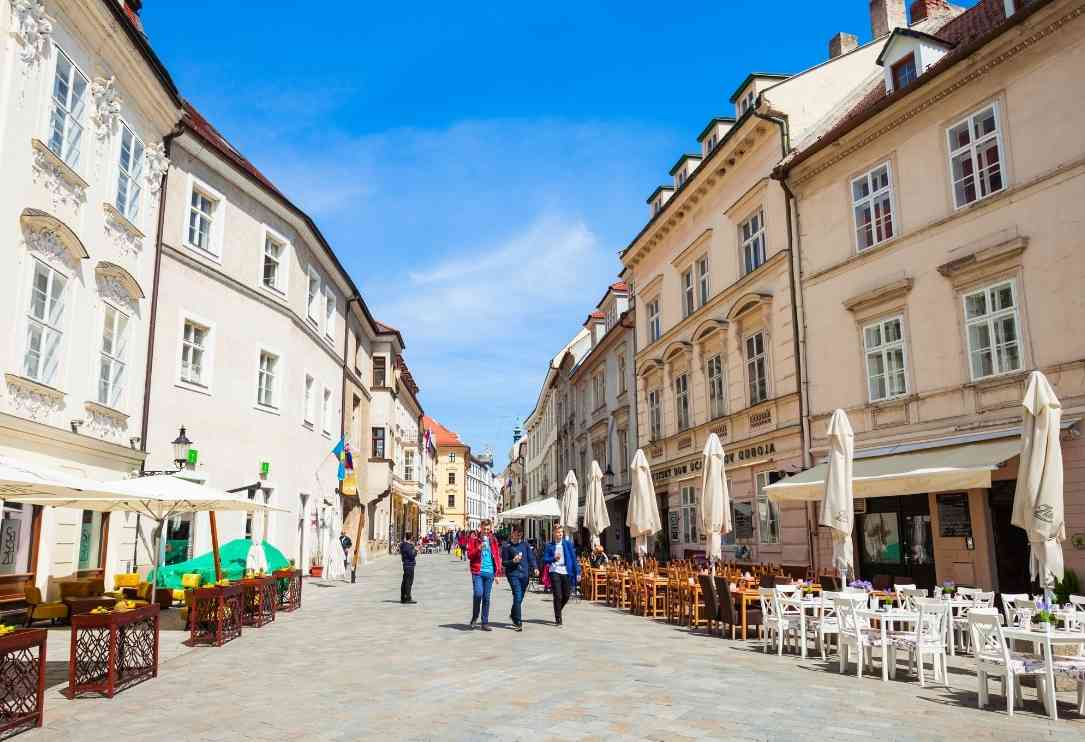 In my opinion, walking tours give the best introduction to a city so you really get a feel for the parts that interest you the most. And because you're in a group you feel safe.
Later on, when you continue to explore Bratislava on your own you'll feel much more prepared and more like you know the city and won't have to worry about getting lost.
Visit one of the museums
The capital of Slovakia is home to several museums, and even if you're not the biggest fan of museums they are usually a good place to learn more about the city and country you are visiting.
One museum I really wanted to visit but didn't have time for is the Museum of City History. Traveling to a city should not just be about the way it looks now but also include some information about its past so you understand its present more.
Take photos of the Blue Church
The Church of St. Elisabeth might just be one of the prettiest churches I've ever seen with its Art Nouveau architecture looking straight out of a fairytale.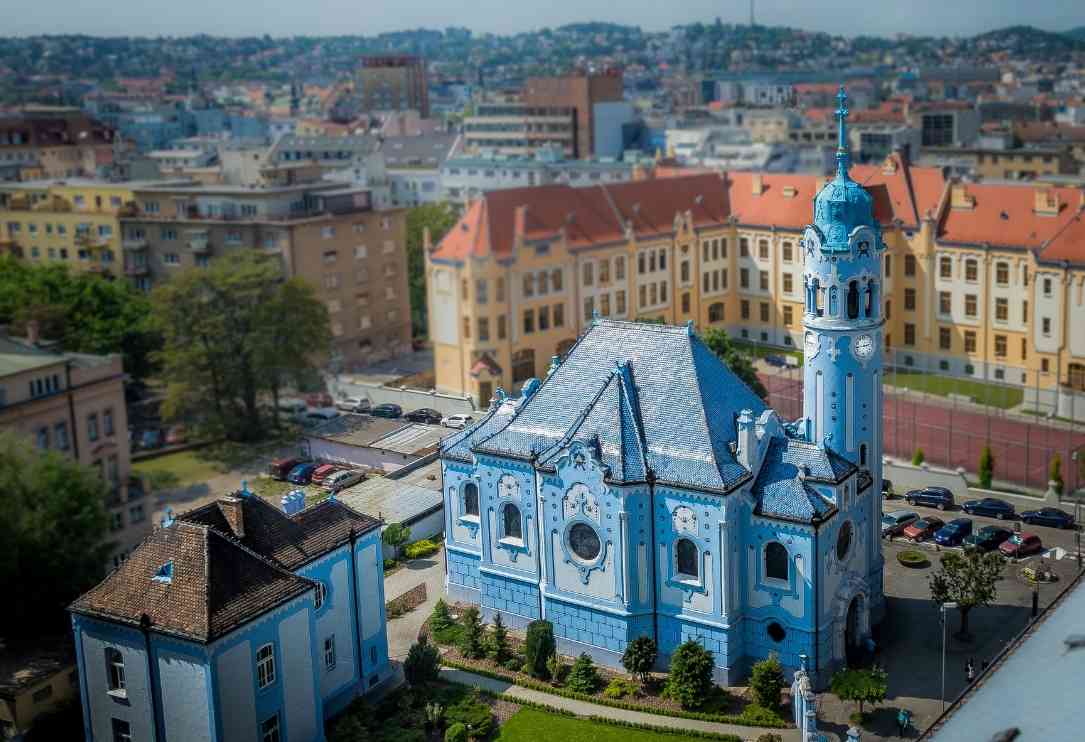 You could spend hours here just trying to get the perfect shot. The Blue Church is not in the historic center, but the walk doesn't take very long and was actually included in my free walking tour.
Where to stay in Bratislava: best accommodations for solo travelers
When traveling solo, the best option is to stay in hostels in Bratislava. A standard (but decent) bed in a dorm starts at $9 USD per night per person. Below are my favorite solo traveler accommodations in Bratislava:
💲 dorms from $22 USD per night
CHORS has been awarded Europe's best art boutique hostel in 2020. This hostel is not only known for its modern design but also the mix of privacy and socialization that the hostel offers. I really recommend staying here if you want to experience both!
It's also very centric and close to the city center (about 0.6 km). There are bars, shopping centers, restaurants, and a train station near the hostel.
👉🏽 Check prices and availability at Chors
💲 dorms from $17 USD per night
This hostel is right by Leškova Street, a quiet and safe street that's close to the famous landmarks of Bratislava. The train station is just 500 meters away so you won't have trouble getting to different parts of the city when you stay here.
There are also many cafes, restaurants, and bars in the neighborhood of Safestay Bratislava. A bed in a dorm starts at $17 USD per night per person.
👉🏽 Check prices and availability at Safestay Bratislava
Bratislava solo travel tips and advice
Traveling to Bratislava was pretty straightforward and didn't require much preparation. But there are a few things that will make your trip even easier.
Learn a few phrases of Slovak
In my experience most people you will encounter in Bratislava as a tourist will probably know English. But if you deal with anyone who doesn't know English it's always nice to know a few basic words of Slovak.
I was at a clear advantage here as I know some Bulgarian which is also a Slavic language. I found that staying outside of the city center helped me when I went to the supermarket for example.
Other foreign languages besides English that are common in Bratislava are German and Hungarian so if you know either of those this will also make it easier to get around.
Exchange some money
Slovakia uses the Euro, and although as a major city there are plenty of places where you can pay by debit card there are a few smaller shops where cash might be appreciated.
In particular, when you buy very inexpensive products it is not always appreciated by shop owners if you pay by card due to the transaction fees.
So having some cash on hand is a great idea in Bratislava, especially since a lot of things are really quite cheap. As you're traveling solo you will also not be spending a lot of money in most cafés or restaurants.
Don't wander the streets alone on weekend nights
Although Bratislava is generally a very safe city weekend nights can get a bit overwhelming as there are a lot of people who get very drunk.
This can lead to groups of men getting into physical fights which is uncomfortable at the least but can also potentially be dangerous. Men, in particular, could be provoked into getting involved.
If you go out on weekend nights make sure you have a safe way to get home and don't walk around alone on unfamiliar streets.
How to meet people in Bratislava
One big misconception people have is that solo travelers always want to be alone. Sometimes our schedules simply didn't align with someone else's, but we'd very much enjoy hanging out with someone else on our trip. Here are some useful tips for meeting people when you solo travel.
Join a walking tour
As I mentioned above, I met a fellow female solo traveler during a free walking tour. But there are all kinds of walking tours, not only free ones.
If you join one with a very specific theme you have the chance to meet people who are into the same things as you. It's always a lot of fun for me when I go on street art tours and meet people who are just as passionate about it as I am. That way we can explore more of the city's graffiti scene together.
This goes for many different interests as there are a ton of different tours people offer in any given city. Simply look for one that caters to your hobbies.
Use an app
In today's day and age, we're very lucky to see apps for all types of scenarios. Solo travelers can download apps like SoloTraveller (for all genders) and Tourlina (for women only).
Perhaps someone else is going to be in Bratislava during the same dates as you and you could meet up there.
Look for events on Couchsurfing
Many people focus on Couchsurfing as a website to find a place to stay. But I've met several people at events that were organized via Couchsurfing.
You can also simply post that you're planning to go on a specific day trip and if anyone would like to join you. These are things you can start doing before you even arrive.
So if trying your luck at a walking tour is too spontaneous for you, then travel apps or websites are a great way to plan your trip a bit beforehand and maybe even start communicating with the person you plan to meet once you arrive.
Bratislava solo travel on Pinterest: save it for later!
Nina is a travel content creator who was born and raised in Germany, studied in Canada, and currently lives in Greece. She is the voice behind Lemons and Luggage, a travel blog dedicated to vegan and responsible travel.