I got my Mexico digital nomad visa and now, I am officially a resident of Mexico! Read on and see the semi-easy process I went through.
Hi Don,
Glad you decided to move to Mexico! I applied for a Mexico digital nomad visa 2 years ago and I was quite surprised by the smooth process and easy list of requirements.
Currently, I have a 4-year temporary resident visa in Mexico which is different from this visa type.
You can check that post if you feel like you are more qualified for the visa category. Meanwhile, if you are a digital nomad, this is the right visa application process for you so read on!
Good luck and let me know if you need anything else!
Xx, Trisha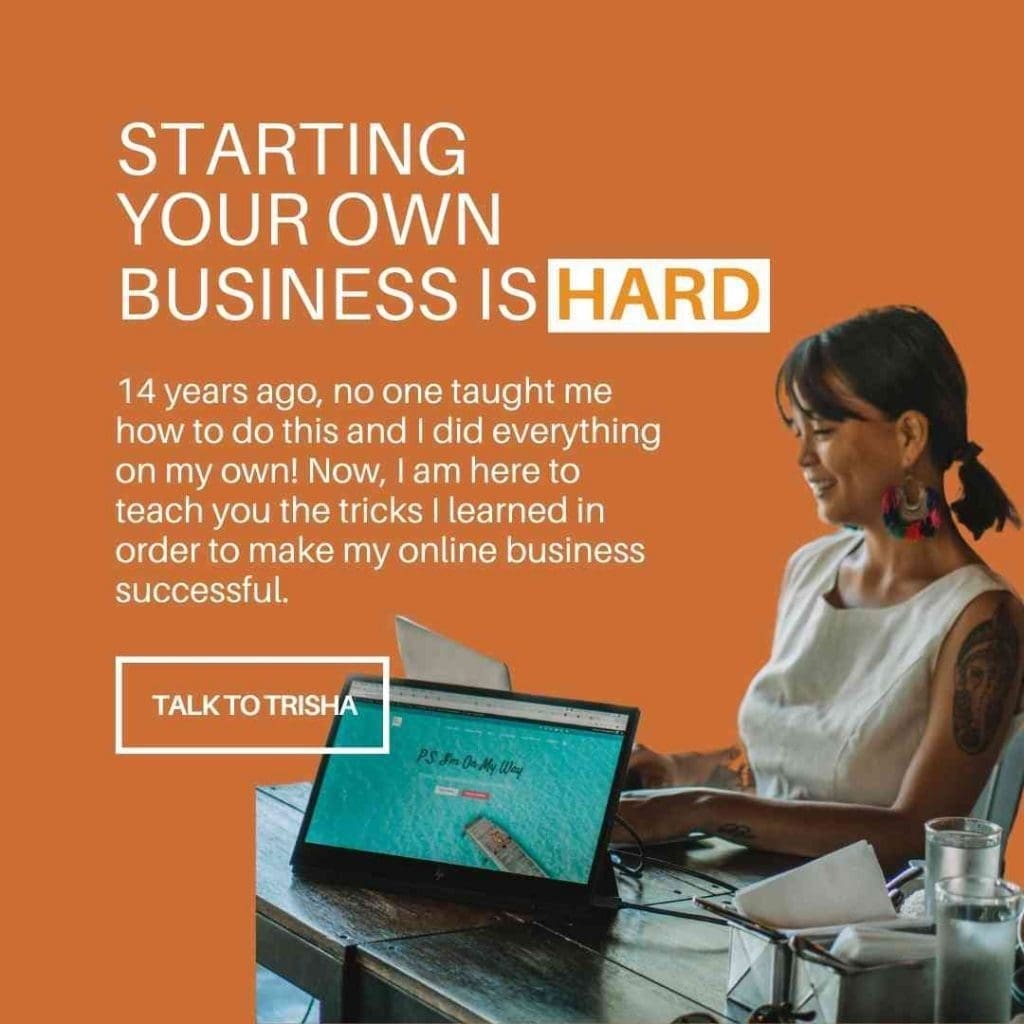 🇲🇽 Why I applied for a Mexico digital nomad visa
I was on a tourist visa in Mexico for a looonnggg time (maybe one year) before I finally decided to apply for a remote work visa Mexico.
At first, it wasn't an issue. When people ask me if they need a digital nomad visa, I simply tell them that a tourist visa should work, especially if you don't want to stay for more than 3 months.
Actually, Mexico WAS not very strict with online workers. You can enter Mexico with a 6-month tourist visa and work remotely from here.
However, in the event that you are caught by the authorities, they have the right to deport you. I know it's strange especially if you are working for a company outside Mexico. What do they care?! Doesn't it work that way anywhere?
The chances of you getting caught are super low but the INM, which is the National Institute of Immigration do monthly sweeps in popular destinations in Mexico like Sayulita and Cancun.
Honestly, they are just looking for undocumented people who work in bars as there are a lot of those here.
However, if you are where they are at the wrong time, the INM officer has the right to check your visa status. I've only experienced this twice, and luckily, I wasn't violating any visa rules in Mexico.
Since I have the residency permit, they did not ask me anything else.
See also:
ℹ️ Mexico digital nomad visa: important info
Mexico temporary resident visa through NUT
NUT means Número Único de Trámite and it's only for those who are going to Mexico to work for a Mexican-registered company (foreign or local).
For example, if you are to work for a Canadian or American Real Estate company in Mexico, they are technically registered in Mexico as a business even if the owners are foreigners.
In this case, you need to apply for a temporary residency visa in Mexico through NUT. This post is only for non-lucrative activities so I was not required to apply for NUT.
Check the requirements for a temporary resident visa Mexico through NUT before applying. Also, see if you are qualified for that visa category.
Qualifications to apply for the Mexico digital nomad visa
Those who are qualified to apply for the non-lucrative visa are as follows:
You are traveling to Mexico for retirement, investments, professional activities, technical activities, artistic activities, scientific activities, and sports activities or as a minister of religion.
You will be in Mexico for more than 180 days but less than 4 years.
You don't have a work authorization
You are working and earning for a company outside Mexico
Financial requirement for remote work visa in Mexico
As per the 2021 rule, below are the amounts you need to present depending on your case.
Investment or bank account: $35,530 USD
Employment or pension: $2,131 USD
In my case, I applied as a digital nomad so I needed to show that I was earning $2,132 USD per month (6 months to one year proof of bank statement from my home country).
Lawyer help for the visa
Since it was my first time applying, I was advised to hire a lawyer. I have some British and American friends who have been denied a Mexico temporary resident visa and I was really quite shocked since these people are from first-world countries.
I realized it will be more challenging for me so hiring a lawyer was necessary.
It ended up very costly as opposed to doing it myself but I had to be sure that I will get a visa. Remember that the non-lucrative visa in Mexico is all about showing financial proof.
If you are confident with the amount of money you have in the bank, then it wouldn't be a problem.
From being here in Mexico for a long time, I know that things like this are really costly. The Mexican bureaucracy has a lot of loopholes and is always solvable if you have money (and the right contacts, of course).
I feel that you won't need a lawyer but I'd still like to share the lawyer expenses. Please take note that the visa expenses will be discussed later in this post.
Total legal fees: $7,000 MXN (US$357)

Please note that Mexico also uses the $ for their currency.
The first payment for legal advice is $1,000 MXN. Basically, the lawyer will explain the process of how to apply for the visa like what I am doing now.
This fee includes the lawyer booking your visa interview. He/she will also fill out the form for you.
The second payment is $3,000 MXN ($153 USD) for the lawyer to process your visa in the INM (Instituto Nacional de Migración) whichever Mexican city you wish to apply to in Mexico.
In my case, the lawyer needed to process it in Nuevo Vallarta, Nayarit. This is where I am currently based.
The third payment is for your biometrics/fingerprints at INM which is another $3,000 MXN ($153 USD). Again, these are just the fees for the lawyer. I will discuss the visa fee later.
Now, my friends have asked me a lot if it's worth it to get a lawyer to apply for your visa. It's really up to you. I just feel like I need one for my case since I also don't have a lot of savings but can meet the monthly financial requirement for the non-lucrative visa.
Whether you are hiring a lawyer or doing it by yourself, below are the exact same steps to apply for a digital nomad visa in Mexico.
🛂 How to apply for a Mexico digital nomad visa (non-lucrative)
Step 1: Schedule your appointment at a Mexican Embassy outside of Mexico
If it is your first time applying for this Mexican visa type, you need to do it outside of Mexico. My American and European friends always choose the Embassy in Miami since it's closer and the fares are cheap.
As for me, I need to get a tourist visa to enter the USA so the consulate/embassy is not really an option. I need to find a Mexican embassy in countries where I was free to enter without a visa.
My options were Costa Rica, Colombia, and Nicaragua.
Why am I being particular with the embassies? You can also do it in your home country but in my experience (and my friends), Miami and Costa Rica are the most relaxed when it comes to this visa type.
I chose Costa Rica not because I want to visit it (believe me, it's my least favorite country) but because I was witness to the smooth visa processing in this country.
I once accompanied my Argentine friends in San Jose, CR who processed their work visa (not non-lucrative) and they told me it was a really fast and easy process.
Of course, since they applied for a different visa type, it might have been easier as their visa is company-sponsored. I saw the dynamics in the Mexican Embassy in CR and they seem to be very chill.
To schedule your appointment, you have to go to the Mexitel website and follow the necessary steps.
Last year, I was able to schedule an appointment 3 months ahead of time but as of January 2021, the Embassy in Costa Rica has fewer appointment slots.
You can't even schedule it a month in advance! Since the non-lucrative visa requirements are not that hard to gather, I feel like it's okay if you schedule your appointment on the same week to secure your slots.
Again, I am only talking about the schedule in Costa Rica. All these depend on the Mexican Embassy you are trying to set an appointment in.
☕ Support this blog's honest and transparent journalism. Help us add value to what we are sharing. Keep P.S. I'm On My Way free for all by donating to our coffee fund.
Step 2: Gather the requirements
While you are scheduling your interview appointment in the Mexican Embassy of your choice, you need to ask for the requirements as well. It's so strange that each consulate/embassy has its own list but so far, I've seen very little difference.
For those who want to apply in Miami, you may get in touch with Cristian Flores at visas[at]mexicomiami[dot]org. I asked for the Miami requirements just in case and they were kind enough to send it via e-mail.
Meanwhile, here's what the Embassy of Mexico in Costa Rica required:
Duly-filled out the visa application form which you can download here. My lawyer filled this out for me.
Valid passport with a minimum validity of six months. You need to photocopy the first and last page.
$40 USD visa application fee to be paid on the day of your interview.
Original and copy of the document proving your legal stay (residence card) or copy of the last entry stamp (in force) to Costa Rica if the foreign person is not a national of the country where you are applying for the visa.
A passport-sized photograph (4.5 by 3.5 cm) with the face visible, without lenses, in front, in color, and with a white background.
Original and copy of proof of investments or bank accounts with an average balance equivalent to $27,000 USD or above.
Proof of monthly salary of $1,625 USD for the last 3 months. In my case, I printed 12 bank statements (for one year). My lawyer suggested it's better to have the whole year's financial report as opposed to only 3 months.
Proof of employment with the letterhead of the company. Of course, if you own your company (like I do), I just showed proof of registry of my online business (off-shore) plus I also asked my regular clients to provide proof of employment for me. Overall, I had 5 recommendations from my employers/clients!
You don't need to present numbers 5 and 6. You can just need to choose 1. I have a Mexican bank account but since I am not a Mexican national, I need to show proof from my bank in my home country, which is a pain because I already stopped using that bank.
6 months prior to my appointment, I had to make sure that I was depositing $2,000 USD to my Philippine bank account just to make the record.
The tricky thing about this is that I needed to get the bank statement from my bank in the Philippines and ask my family to bring it to the Department of Foreign Affairs to be apostilled (red ribbon).
Then my mom sent it to me in Mexico. The document shipping cost me $200 USD from Manila to Mexico City (3 working days via FedEx).
Step 3: Go to your appointment
Appointments should not take long but please remember to go at least an hour early. In Costa Rica, there were 2 embassies on Google maps, but one is actually the consulate.
I was in the consulate but my interview was in the Embassy! These are two different things so make sure that you have the right address. I was an hour late but they still allowed me to come in, thank God!
The interview is quick as long as you have all the documents needed. You can choose the language of your interview (English or Spanish).
Even though I speak fluent Spanish, I chose English just to better understand the technical terms. They will ask the purpose of your visa application and everything relevant about your remote work.
Once your visa is approved, the immigration officer will ask you to leave your passport. You need to come back after two days for your passport with the visa stamp.
In my case, I asked if I can get it within 24 hours since I only had 3 days in Costa Rica. They were kind enough to approve my request (I show them flight proof). The key is to ask and you will get!
This visa stamp allows you to enter Mexico. Once back in Mexico, you will have 30 days to process your canje (temporary visa card). See the next step below.
Step 4: Process your residency card in Mexico
You need to process your canje in any INM in Mexico. I did mine in Nuevo Vallarta since I am based here. Below are the steps and requirements on how to apply for your canje:
Fill out an online form here.
A letter of request for your canje where you must state that you are already granted a Mexican visa outside of the country. You also need to include the purpose of your stay in Mexico (aka work online).
Original and copy of the passport.
Completed FMM form, provided at the port of entry, marked as canje for 30 days. You will get this when you enter Mexico with the granted temporary visa on your passport.
Filled out formato básico which you can download here.
Temporary resident fee of $4,271 MXN ($218 USD) for one year. When you renew the following year, the fee is the same but you can request for a 2 or 3-year visa instead of 1. To pay the fee, the Immigration Officer will provide an E5 form. You need to bring it to any Mexican bank to make a payment. In the INM in Nuevo Vallarta, there were lots of banks outside so I did not have to go far.
Once you've completed the required documents above, you will be given 2 documents which are (1) NUT; (2) pieza which are just two reference numbers to track your application online.
You will normally receive a notification within 10 (working) days to 2 weeks that your canje has been approved.
Step 5: Fingerprints at INM
Once your canje is approved, you must to back to INM to for fingerprint appointment and bring the following:
Three colored photos with white background (2.5 x 3 cm)
You must not be wearing glasses or earrings in the photo. Your hair should also be behind your ears. There are always photo studios in embassies so just do it there since they are more familiar with the format. This will only cost less than $4 USD.
In this last appointment, you will sign documents and have your fingerprints taken. After this, your resident card will be ready within one week.
⁉️ Mexico digital nomad Visa FAQ
🇲🇽 Ready to make Mexico your digital nomad base? This blog thrives on reader questions so feel free to leave a comment below if you need anything about the Mexico digital nomad visa!
💻 Digital Nomad Resources
✈️ Flights discounts and deals: Use the code PSIMONMYWAY to get a 10% discount upon checkout on WayAway! This is what I use to find cheap flights.
🚑 Travel Insurance: SafetyWing is the best. I only pay US$40 per month and this is very convenient for those who are traveling for an indefinite time.
📶 VPN for nomads: Do not use your browser without a VPN! As a digital nomad, you can protect your personal data with NordVPN.
📜 Digital Nomad Courses: I am self-taught and did NOT study entrepreneurship. Skillshare helped me access unlimited courses for US$18 per month. Get 2 months FREE membership courtesy of P.S. I'm On My Way.
🐕 House and Pet Sits: Use Trusted House Sitters to find the coolest house-sitting projects anywhere you like in the world!
Trisha is one of those people who left their comfortable life to travel the world and learn about life. Her style is to stay in one place she likes for 3 months (or more) to know what it feels like to eat, cook, speak, and sleep in another culture that isn't hers. She'd like to believe she's not traditionally traveling but she just chooses to be somewhere else all the time. In no particular order, her favorite cities in the world are Barcelona, Buenos Aires, Hong Kong, Mexico City, and Tel Aviv.