This living in Antigua guide was written by Courtney Vondran, a travel writer and content creator from Chicago, USA. In this post, she will share with you all her insider tips about living in Guatemala!
Antigua, Guatemala is one of those cities that immediately feels like home. It was love at first. The cobblestoned roads, colorful colonial buildings, cute cafes, and warm, welcoming locals make it impossible to leave.
Initially, I wasn't planning on staying in Antigua for more than a month, but Antigua had other plans for me.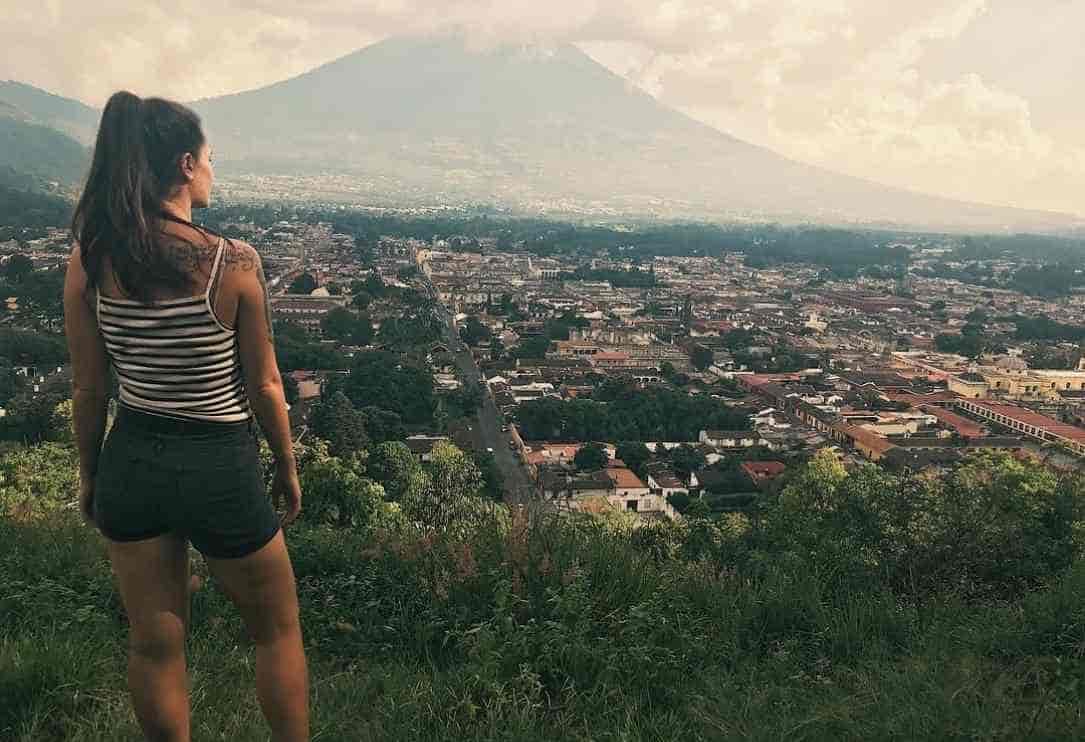 I'm originally from Chicago, USA. I quit my job, sold everything I own, and took a one-way flight to Guatemala City in 2015. I lived in Antigua for about three months.
I would have stayed forever if it wasn't my first stop in an 8-month backpacking trip. I later went back for a long visit in 2018. I'm not quite ready to settle down, but when I am, Antigua is on the list.
💃 Personal experience living in Antigua Guatemala
I signed up for a work exchange opportunity through WorkAway. I would be a caretaker for an 86-year old English artist who had been living in Antigua for most of her life.
In exchange for being her live-in best friend, I received free housing and meals. I lived in her gorgeous four-bedroom, three-bathroom colonial-style house in the heart of Antigua.
It was truly the home of an artist, flooded with personality and flair. In the morning I woke up to have breakfast with her at around 9:00 am, after we would do tasks on her long to-do list.
Tasks included painting her toenails for the first time in 10 years, going through old keepsakes, Ipad lessons, and having tea with her many accomplished, well-to-do friends.
Antigua is a very livable city, perfect for expat living or a long stay. I signed up for the local gym, attended biweekly private salsa lessons, went to weekly local events, and volunteered often at an organic farm, just outside of town.
I grew genuine friendships with other expats and Antigua locals. I had a favorite coffee shop where I started my travel blog. I became a regular at a delicious vegan restaurant blocks away from my home.
I joined a running club and even dabbled into the dating scene. I went out salsa dancing at the best salsa club in town for live music and dancing every week. I felt a part of the community in such a short period of time.
💵 Cost of living in Antigua Guatemala
I stayed with Annette for free and had all my meals covered for about 1.5 months and for the rest of my stay I lived in an apartment with other foreigners. I had a private bedroom and shared bathroom for about $250 USD per month (breakfast included).
While I lived with Annette, my budget was around $500 USD per month and when I lived on my own it changed to around $1,000 USD per month.
Anywhere in between the two is doable. As a rule, I budget for about $50 USD per day when saving for trips. You will find the cost of living in Antigua more affordable than your costs in the states.
My gym membership at a gym was $32.50 USD, my private Spanish lessons were $6.50/hour, private salsa lessons were $8.50 USD per hour, coffee is around $1.50 USD, and $5 USD for a big delicious lunch at Toko Baru.
Transportation is inexpensive if you want to go out of the city via a chicken bus. You can get anywhere in Antigua on foot. The taxi from the Guatemala City airport is around $25 USD (an hour's drive).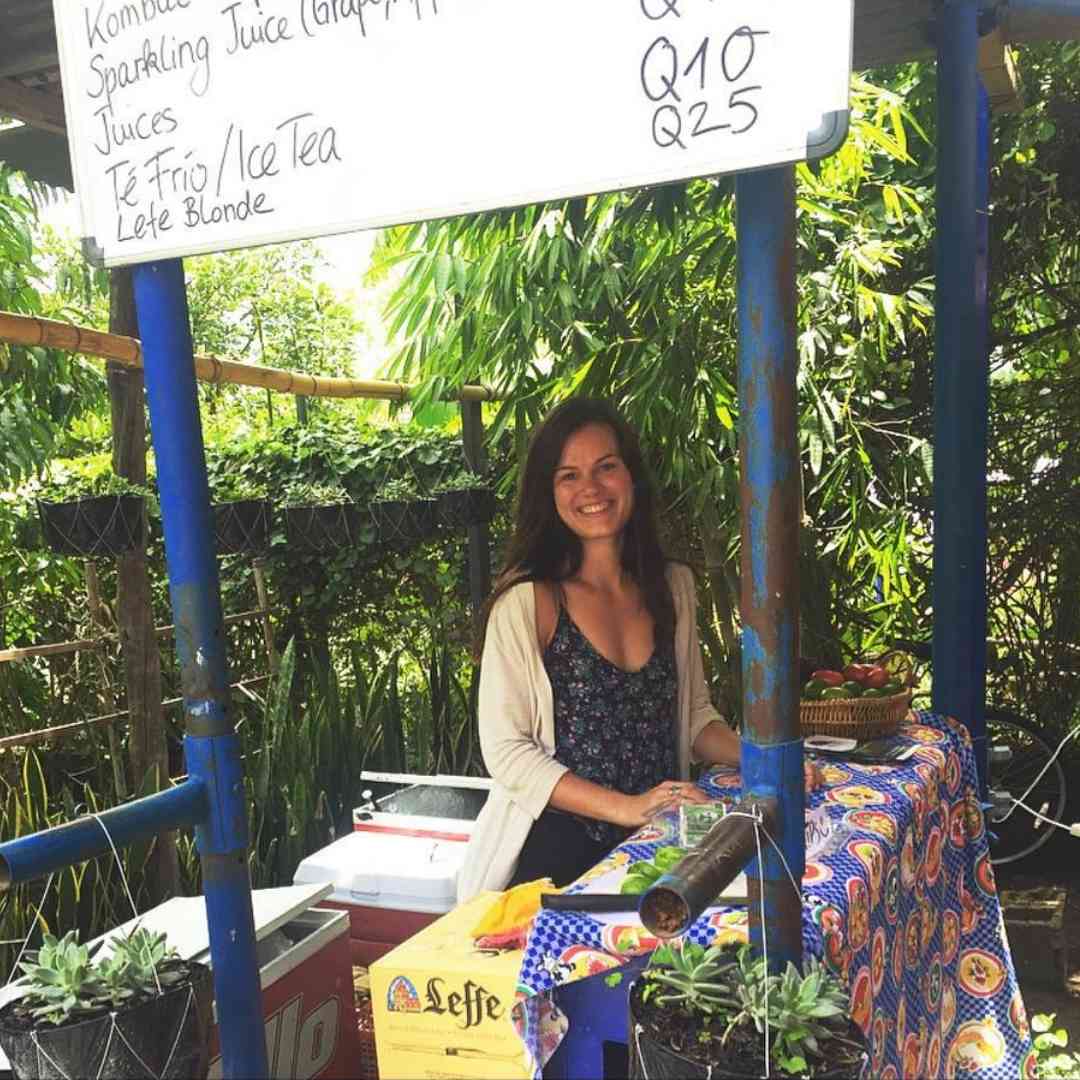 I recommend finding housing upon arrival. It's possible to find options on Airbnb for the long term, but they tend to be on the expensive side $500 USD per month.
Antigua is the type of city where you can find things easier once you know a couple of people. I found my housing through asking around.
I found my favorite restaurants just by touring the city on foot. I recommend finding a place in town and staying away from the outskirts for both safety and convenience.
You can find cheap housing in town and it makes life easier. I can't stress enough how easy it was to find affordable housing once you make a few friends and ask around.
🏘️ Cost of living in Antigua Guatemala: average rent
The average rent in Antigua, Guatemala, can vary depending on factors such as location, property type, and the overall condition of the rental unit. Antigua is a popular tourist destination and a UNESCO World Heritage site, known for its well-preserved Spanish Baroque-influenced architecture, which influences the rental market.
For a one-bedroom apartment in the city center, monthly rent can range from $300 to $600, depending on the amenities and the level of luxury. If you are looking for a more affordable option, a one-bedroom apartment outside the city center can cost between $200 and $400 per month.
Two and three-bedroom apartments in Antigua's central areas can range from $500 to $1,200 or more per month, while similar accommodations outside the city center can be found for $300 to $800 per month.
It is important to note that these figures are approximate and can change based on market conditions, demand, and the specific characteristics of the rental property. Additionally, rental prices in Antigua can be influenced by seasonal fluctuations, as the city is a popular destination for both tourists and expats.
✨ Living in Antigua Guatemala tips
Resident visa in Guatemala
I lived in Antigua on a tourist visa. On a tourist visa, you can only stay in Guatemala for 90 days. I lived in Guatemala for about 5 months.
After my initial 90 days were up, I took a bus to Chiapas, Mexico, crossed the border for a night, then headed back to Guatemala. Border crossing is surprisingly popular among expats in Antigua.
Many expats are living in Antigua are there with tourist visas. With that being said, you have a few different options for visas.
First, as I said, you could choose to live in Antigua and leave for 90 days. I met a few expats who were paid someone every 90 days to get their visas extended.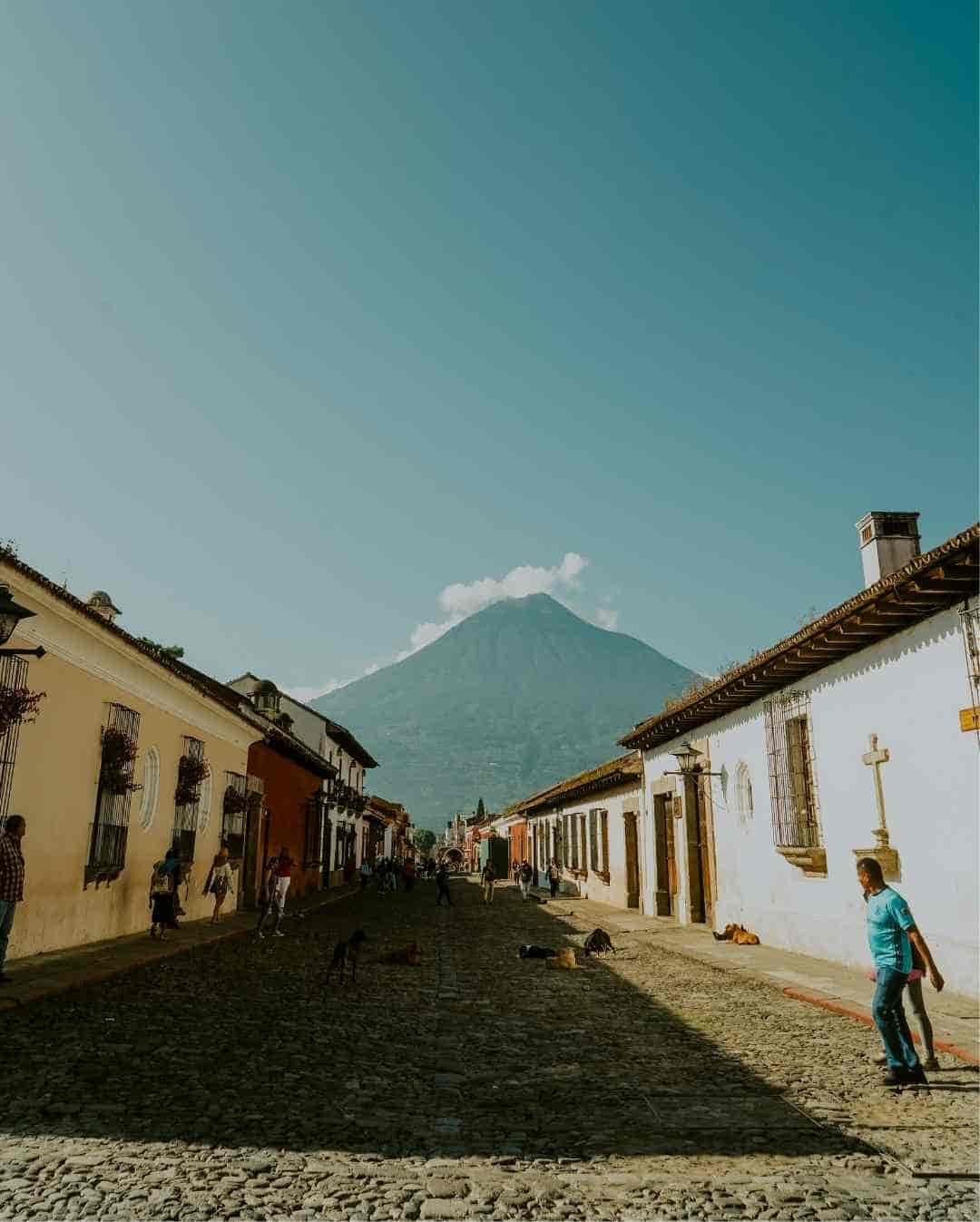 For about $100 USD, you could pay someone to extend it for you. I personally do not have experience with that. But, you could ask other expats upon arrival.
Your second visa option is a temporary residence permit which allows for you to stay up to two years. It takes about three months to process. To apply for a temporary residence permit, you need:
Photograph
Passport (with a legalized photocopy)
Clean criminal background check from your country of residence
Certification of validity of your passport
Identity documents and financial statements of a Guatemalan guarantor
Once your temporary residence permit expires, you are eligible to apply for permanent Guatemalan residency if you please.
Tip for border crossing from Guatemala to Mexico
There are many "tourist traps" while crossing into Mexico. Don't talk to anyone, know where exactly you're going, and if you have no idea where you're going, fake it!! There are direct routes, make sure to research beforehand!
Health care in Guatemala
Medical care in Guatemala can be a bit tricky. The healthcare system is split into three sectors: public, private, private- nonprofit.
There is free, public healthcare in Antigua, but the wait time in the public hospitals can be outrageously long. I also recommend stocking up on any medication you get from home before you come.
I personally do not have any preexisting conditions and did not have any severe emergency medical situations during my stay.
When I got sick with traveler's sickness, I went to a public hospital. I impatiently left after waiting over an hour and decided to go the private route.
I found it was worth the (affordable) price to just go to a private clinic. My doctor fees and medicine were somewhere around $20-30 USD.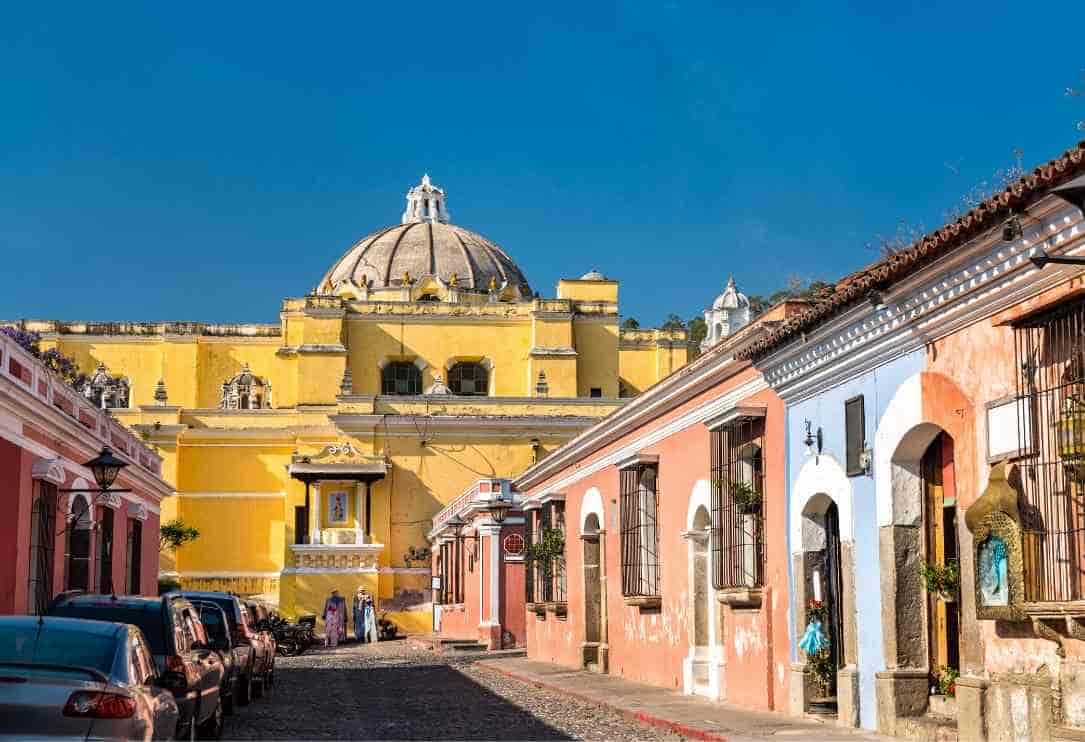 If you plan to move here long-term, there are expat medical insurance that covers COVID-19 and start at around $50 USD per month.
It increases depending on pre-existing conditions. I always recommend talking to other expats and getting their experiences.
Facebook groups can be helpful when finding medical insurance (and other current information/housing). There's a rather large FB group called Expats in Guatemala and many more specific to gender, location, or hobbies.
Tip: do not drink the water and be cautious when eating in the market. Always use basic sanitary precautions. There are water filters at most of the restaurants, just remember to ask for no ice!
Transportation in Antigua
Transportation is also affordable and accessible. There are taxis, tuk tuks (small bicycle taxis), and chicken buses (local buses that look like school buses).
Taxis are the most expensive option. Always negotiate the price before stepping into a taxi or tuk tuk or they will give you a ridiculous price at the end. Most taxi drivers do not use meters, so it is normal to negotiate.
Chicken buses are the least expensive option. You pay once you are seated on the chicken bus. Once the bus gets moving or possibly beforehand, an attendant will come by and ask you where you are going, you then hand them the amount.
It's usually a few dollars depending on where you are going. Make sure to watch how much everyone around you is paying so you are not overcharged.
Warning: chicken buses are overcrowded, hot, and can be overwhelming for a first-timer. Theft is common. Do not use your cell phone, dress nicely, or have visible jewelry. Always keep an eye on your belongings. If you have a large bag, they will put it on the roof of the bus.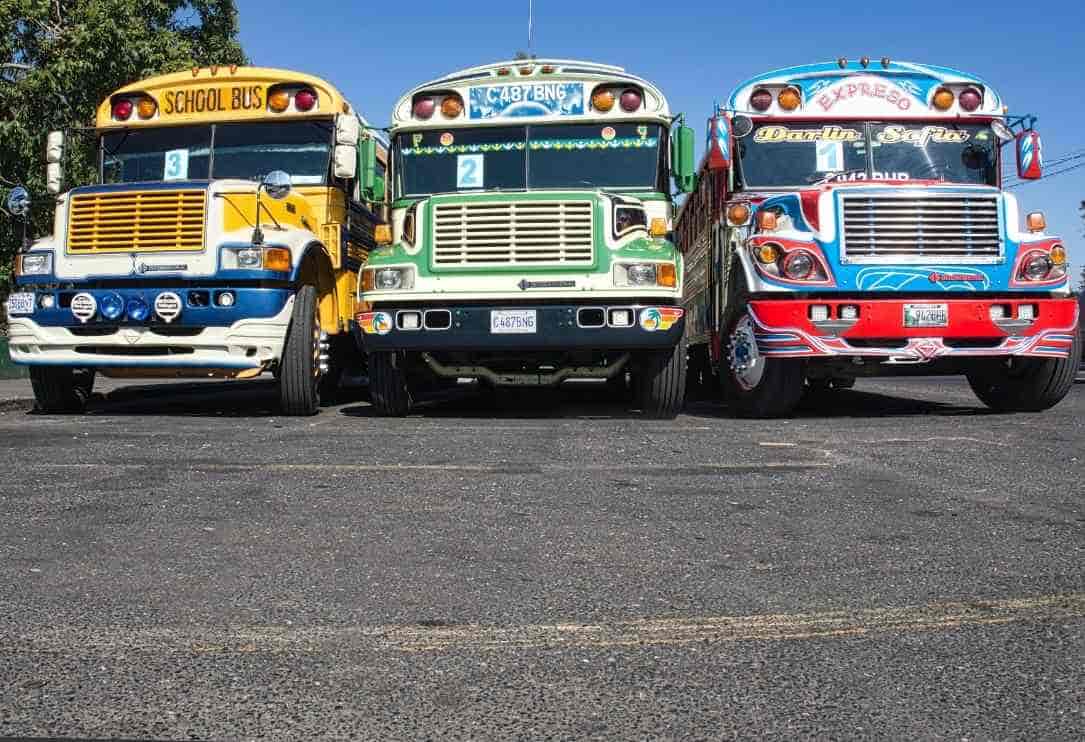 Tuktuk rides are a must-do! They are cheap and an adventure to ride on. Again, make sure you ask how much it is before hopping in.
If you live a bit out of town, I recommend taking a tuktuk home at nighttime. I don't remember walking alone at night.
There are also affordable shuttle buses for hikes and day trips. There are different services and you can buy the tickets in person beforehand.
Keep in mind, people and services in Latin America are rarely on time. It's important to be patient and enjoy the ride.
Tip: learn common Spanish phrases before you arrive. You will be less of a target. Taxi drivers especially are known to give obscene prices to tourists.
Make sure to look up or ask a local friend how much things are beforehand. For first-time chicken bus adventures, I recommend riding with a local so they can show you the ropes.
Buying a car or home in Antigua, Guatemala
If you are looking to buy a home or car, there could be a language barrier if you do not speak Spanish. Things in Guatemala aren't always easy and you may find yourself frustrated throughout the process.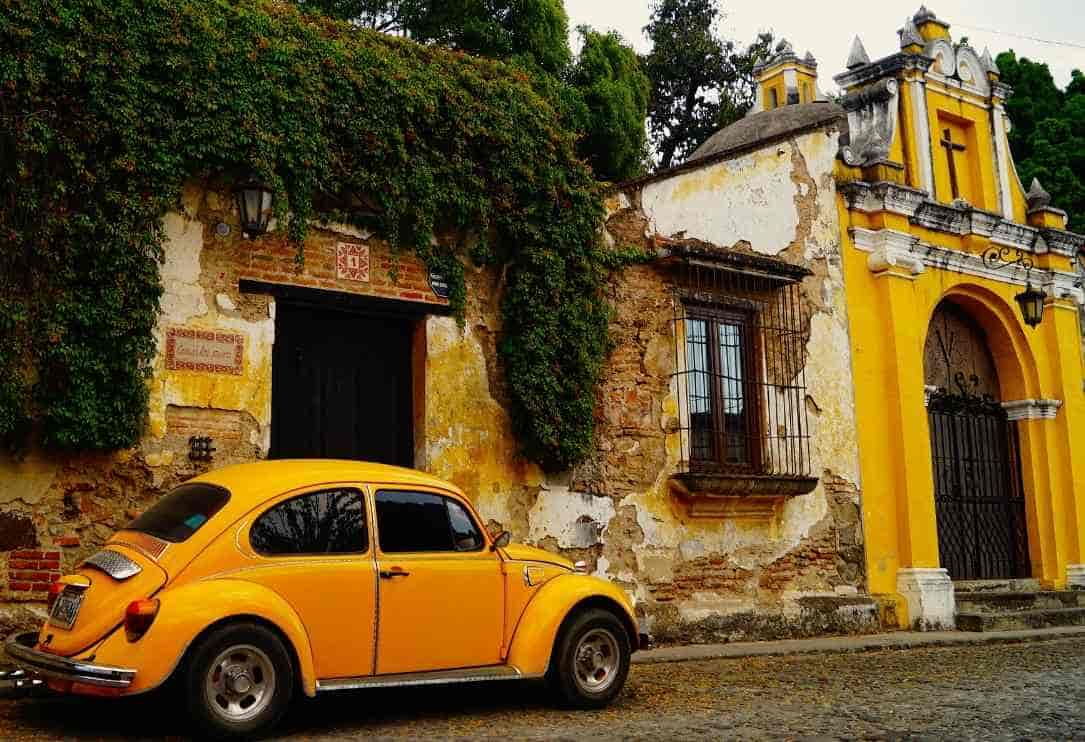 As I mentioned before, I can't stress enough how crucial it is to befriend locals. But with all that being said, it is possible. Annette and her son owned multiple vehicles and properties inside and outside of the Antigua area.
Cars and property tend to be expensive, but it is doable if that's your goal. A lot of people pay someone to translate and help you through the process.
⁉️ Living in Antigua Guatemala FAQ
Is it safe to live in Antigua Guatemala?
Antigua is small and there aren't really neighborhoods. When I lived here, people were very friendly, especially towards Americans. There are many Americans in my area but I also got to live the local Guatemalan experience.
I felt safe when living in Antigua because of the friendly people and the environment I was in. Latin America has a very welcoming culture so I never felt harmed.
Although you have to be aware that Guatemala has one of the highest crime rates in Central America (mostly drug-related). You won't really be involved in these kinds of stuff but learn how to act like a local and move around. You'll be fine!
How much does it cost to live in Antigua Guatemala?
You can find a nice apartment in Antigua Guatemala for $500 USD. The utility bills vary but I paid around $100 USD per month (which I think is high by Guatemalan standard).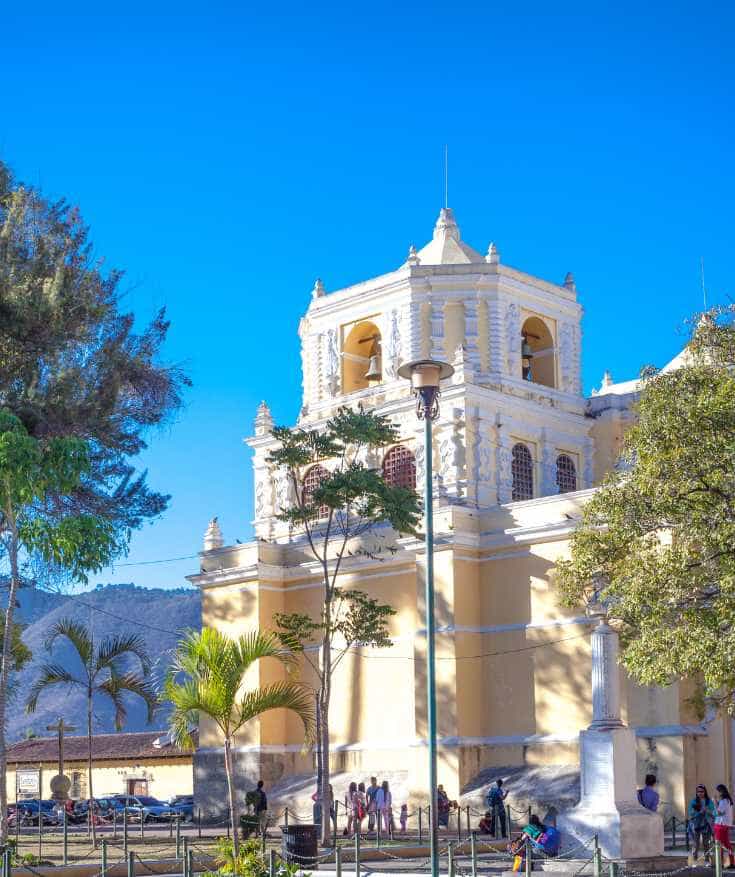 I can say that you can live comfortably in Guatemala for $1,000 USD a month. If your living expenses is higher than that, then you can really have a great place to live in Antigua!
The costs are really depending on your lifestyle as always. In the latter part of this article, I will share with you my personal cost of living in Antigua for you to have an idea.
Is Guatemala a good place to live in?
Although Guatemala is not the cheapest in Latin America and also not the number one choice for US citizens, I find the quality of life in Guatemala really good.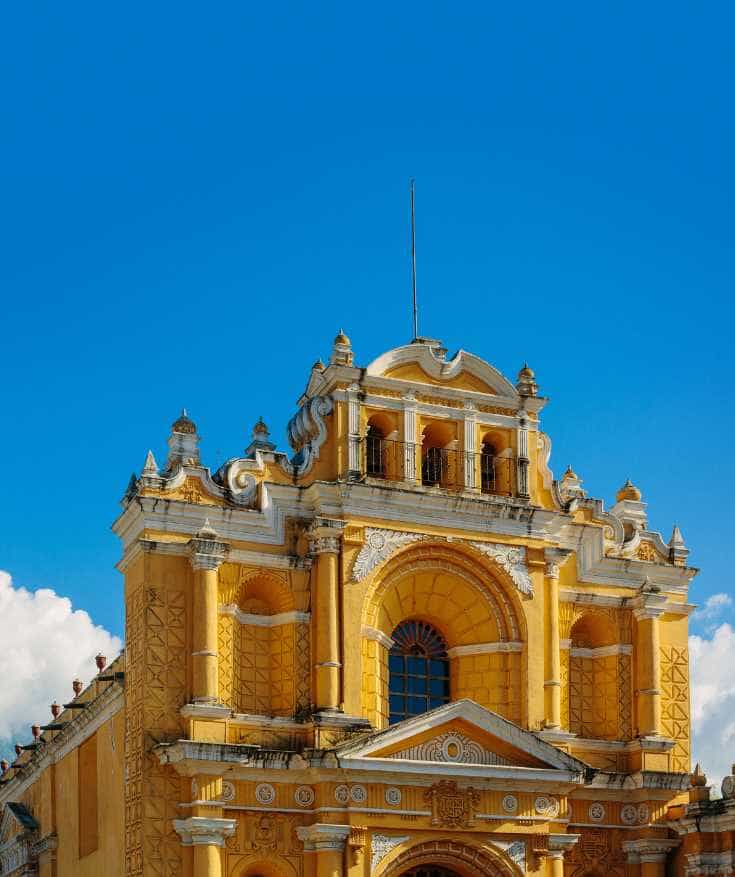 There are lots of farmer's markets, the city is so easy to navigate, I never needed a car to go around and the people are always very friendly and helpful!
Living in Antigua Guatemala is one of the most amazing things I've done and I will always come back if I have that option!
How much money do you need to live in Antigua Guatemala?
The cost of living in Antigua Guatemala, depends on your lifestyle preferences, housing choices, and personal financial circumstances. However, it is possible to provide a general estimate of the funds required to maintain a comfortable lifestyle in this beautiful city.
For a single person living in Antigua, a monthly budget of around $1,000 to $1,500 is typically considered sufficient to cover housing, utilities, groceries, transportation, and other everyday expenses.
This estimate assumes living in a modest one-bedroom apartment, using local transportation, and eating out occasionally while enjoying leisure activities on a moderate budget.
For a couple or a small family, a monthly budget of approximately $1,500 to $2,500 can provide a comfortable lifestyle, including a two or three-bedroom apartment, childcare or education expenses, and other family-related costs. This figure assumes a relatively conservative lifestyle with a focus on essential expenses and occasional leisure activities.
It is essential to note that these estimates are based on a modest lifestyle and can vary depending on personal preferences and spending habits. For those seeking a more luxurious lifestyle, the required budget will be significantly higher.
Antigua, Guatemala, is known for its lower cost of living compared to many North American and European cities, which makes it an attractive destination for expats seeking a more affordable and culturally rich living experience.
How is it to live in Antigua Guatemala?
Living in Antigua, Guatemala, offers a unique blend of cultural richness, historical charm, and natural beauty. As a UNESCO World Heritage site, the city is famous for its well-preserved Spanish Baroque-influenced architecture and vibrant atmosphere.
One of the main appeals of living in Antigua is its relatively low cost of living compared to many North American and European cities. Housing, food, and transportation costs are generally more affordable, making it an attractive option for expats and retirees seeking a comfortable lifestyle on a modest budget.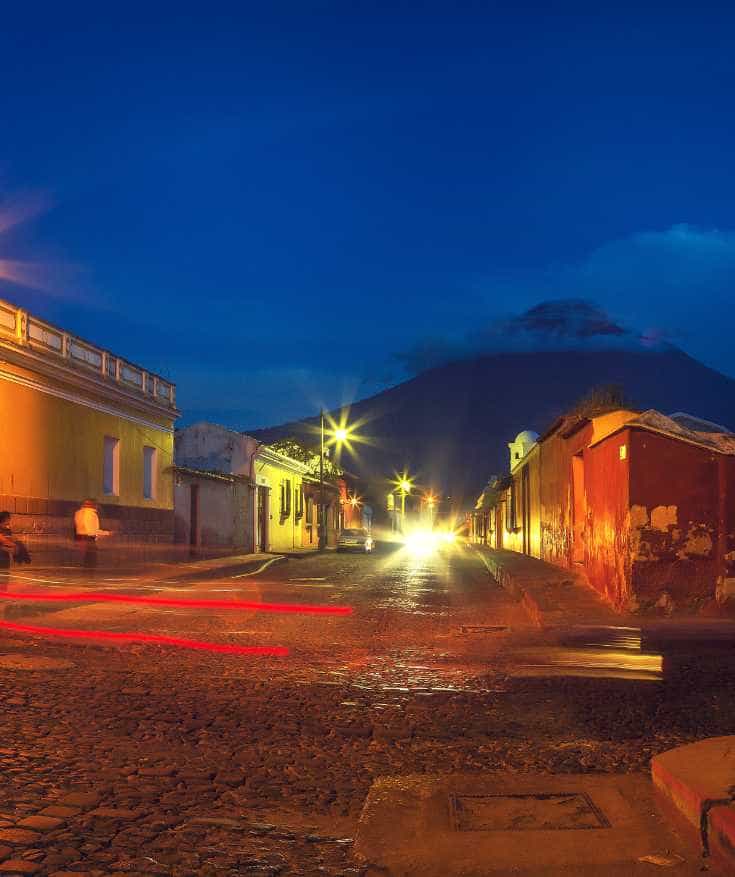 Antigua's climate is another draw, with mild temperatures throughout the year, which locals often refer to as the "eternal spring." This pleasant weather allows residents to enjoy various outdoor activities, including exploring the city's many parks, gardens, and historical sites.
The city's small size and walkability make it easy to navigate and foster a sense of community among residents. Antigua also boasts a lively cultural scene, with art galleries, museums, and numerous events and festivals throughout the year.
However, living in Antigua has its challenges. The city's popularity as a tourist destination can lead to crowded streets and noise during peak seasons. Additionally, while Spanish is the primary language spoken in Antigua, English is not as widely spoken as in some other popular expat destinations, which may pose a language barrier for some newcomers.
Where do most Americans live in Guatemala?
In Guatemala, most American expats tend to gravitate towards Antigua and Guatemala City, as these locations offer a combination of lifestyle, amenities, and opportunities that appeal to many foreigners.
Antigua, a UNESCO World Heritage site, is a popular choice for its charming cobblestone streets, well-preserved Spanish Baroque-influenced architecture, and a vibrant expat community.
The city's relatively low cost of living, pleasant climate, and rich cultural scene make it an attractive option for retirees, digital nomads, and expats seeking a more relaxed pace of life. Antigua also has several international schools and language institutions, which can be appealing to families and individuals looking to learn Spanish.
Guatemala City, the country's capital and largest city, attracts American expats seeking job opportunities, particularly in sectors such as business, education, and non-governmental organizations.
The city offers a more urban lifestyle, with a wide range of amenities, including shopping malls, international restaurants, and nightlife options. Guatemala City's established expat community and the availability of international schools make it a viable choice for families and professionals alike.
While Antigua and Guatemala City are the primary hubs for American expats in Guatemala, smaller expat communities can also be found in other areas, such as Lake Atitlán and the coastal town of Monterrico, among others. Each location offers its unique attractions and lifestyle, catering to a diverse range of preferences and needs.
What are the disadvantages of living in Antigua?
While Antigua, Guatemala, offers a unique and attractive living experience, there are some disadvantages to consider when contemplating a move to this historic city.
Firstly, Antigua's popularity as a tourist destination can lead to overcrowded streets, particularly during peak seasons and special events. This influx of tourists may result in increased noise levels, higher prices for goods and services, and a general sense of congestion in the city center.
Another potential disadvantage is the limited availability of certain amenities and services that one might expect in larger cities. Antigua's smaller size means there may be fewer options for shopping, dining, and entertainment compared to urban centers.
Additionally, specialized medical services and advanced healthcare facilities may not be as readily available in Antigua, requiring residents to travel to Guatemala City for specific treatments.
The language barrier can also be a challenge for some expats, as Spanish is the primary language spoken in Antigua. While English is spoken in tourist areas and by some locals, a lack of fluency in Spanish may make day-to-day interactions and integration into the local community more difficult.
Lastly, Antigua is located in an earthquake-prone region, with the city having experienced significant earthquakes in the past. This risk might be a concern for some individuals considering a move to the area.
Despite these disadvantages, many expats find the overall quality of life, cultural richness, and the sense of community in Antigua to be well worth the trade-offs.
Can a US citizen live permanently in Guatemala?
Yes, a US citizen can live permanently in Guatemala, but they must obtain the appropriate legal residency status to do so. One common option for long-term residency is applying for a Guatemalan residence permit.
Temporary residency is typically the first step towards permanent residency. US citizens can apply for temporary residency under various categories, including retirees, investors, employees, or relatives of Guatemalan citizens.
Applicants need to meet specific requirements and provide documentation to support their application. Temporary residency is usually granted for an initial period of two years.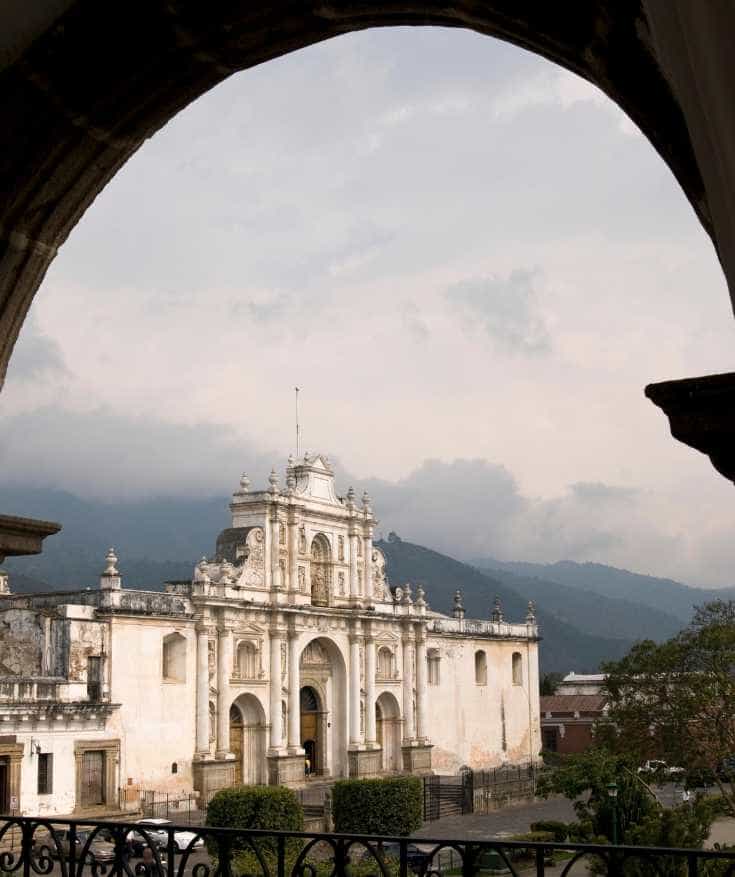 After holding temporary residency for two consecutive years, a US citizen can apply for permanent residency. The application process requires submitting additional paperwork, including proof of financial solvency, a clean criminal record, and proof of having lived continuously in Guatemala during the temporary residency period.
Once approved, permanent residents can live and work in Guatemala indefinitely, with the option to apply for Guatemalan citizenship after five years of continuous residency.
It is essential to consult with an immigration attorney or expert in Guatemalan immigration law to understand the specific requirements and procedures for obtaining residency.
The process can be time-consuming and complex, but with proper guidance and preparation, US citizens can successfully establish permanent residency in Guatemala.
Courtney is a travel writer and content creator from Chicago, USA. Nearly 6 years ago, she quit her 9-5 to travel the world and hasn't stopped since. She runs her travel blog, Courtney The Explorer which helps curious souls explore the world on a budget. Courtney has a passion for solo travel, long-term trips, and storytelling aka sharing all her travel fails in an attempt to help and inspire other travelers. Her favorite places in the world are Antigua, Guatemala, Cali, Colombia, and everywhere in Mexico.