This guide to living in Dublin, Ireland was written by Mary, a travel blogger who writes about money-saving tips while traveling and living abroad. In this post, she will share her personal experiences and advice on how to live in Dublin.
My name is Mary and I'm from France. When I turned 18, I left France to go live in the US as an exchange student. I was completely immersed in the US culture, going to school there and living with my American family. When I came back, I swore to myself I would go live abroad after finishing university.
I chose to move to Dublin for multiple reasons. I was very keen to live in an English-speaking country. I had visited Dublin and Ireland multiple times before and loved the ambiance and the culture.
Being a singer and musician myself, I loved being able to walk around and listen to buskers sing on the street. Music is a big part of Ireland and Ireland is the home to some of my favorite bands like The Script.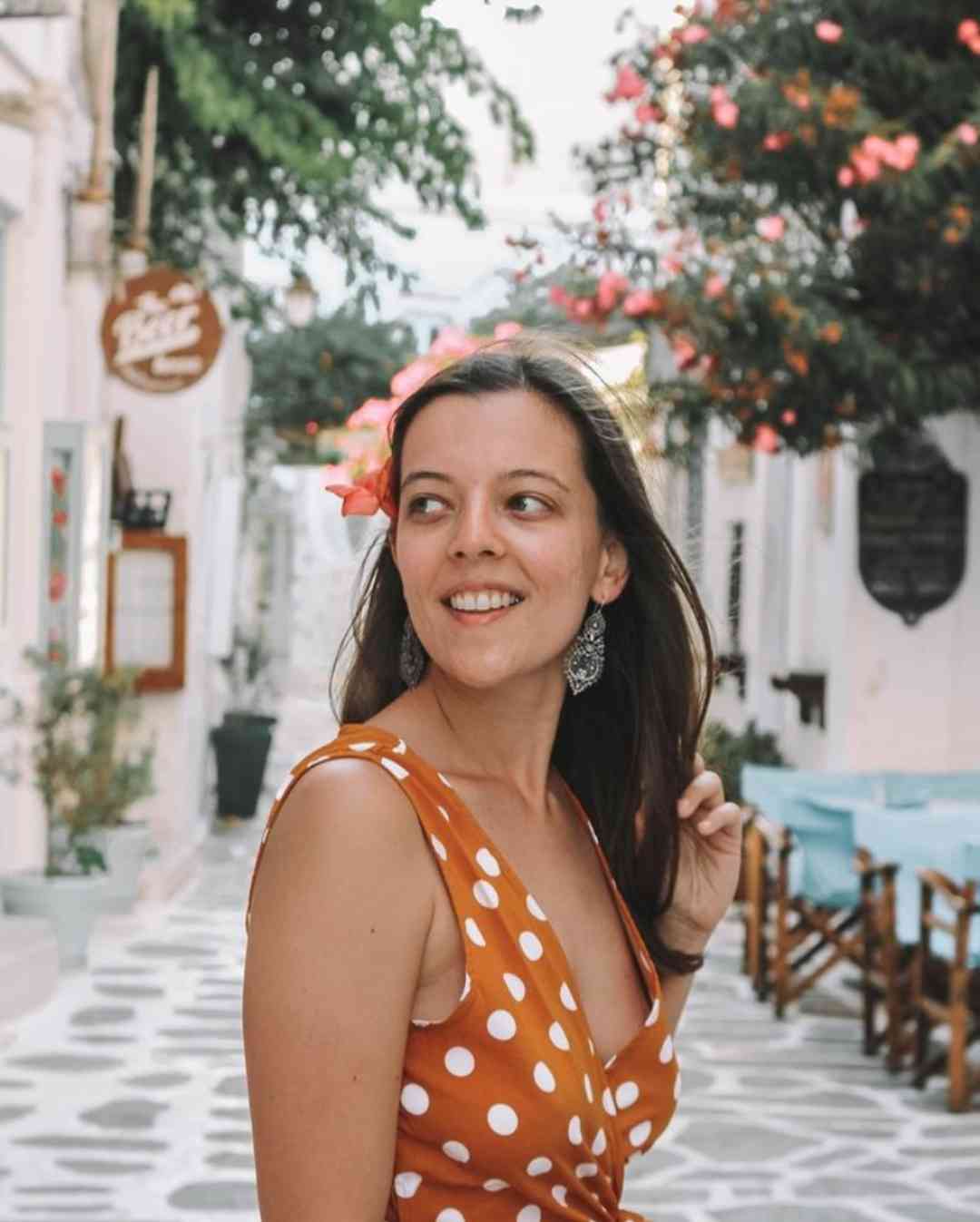 In addition, I had noticed that people were very friendly here and always ready to help. That was definitely another reason why I was attracted by Dublin.
I also grew up in the countryside so I liked the idea of living in a human-sized city. In Dublin, I can walk almost everywhere and the city does not feel too overwhelming. So all together, Dublin seemed like a great fit for me.
After living here for over two years and having visited almost every nook and cranny of the city, I finally feel like I'm a local and Dublin is my home.
Is Dublin expensive to live in?
Dublin is definitely one of the most expensive cities in Europe. Many expats within the EU region has shied away from living in Dublin because of the costs.
Ideally, to live well and comfortably in Dublin, you need to be earning at least $5,000 USD per month. Housing is particularly expensive and the cheapest, furnished apartment in the center starts at $2,000 USD.
However, the cost of living in Dublin is still 12% cheaper than London.
What salary do you need to live in Dublin?
The ideal salary for living in Dublin is around $5,000 USD a month. The minimum wage in Ireland is $1,944.96 USD per month so if you find a great job in a good industry, you'll definitely get a higher salary than this.
Guide to living in Dublin, Ireland: costs, expat tips, and everything you need to know
Personal experience living in Dublin
My personal experience living in Dublin has been very positive so far. I have been extremely well welcomed by my colleagues.
Starting a new job in a new country can be a bit intimidating. But my colleagues were very warm to me from the beginning. That helped me feel at home pretty quickly as those people are the ones I see and talk to the most. Some became good friends!
I do love the Irish laid-back vibe. Irish people are always ready to crack a joke and have good craíc (aka "fun"). I think it is a good philosophy of life to live by!
I also enjoy living in Dublin as it has lots of parks. Phoenix Park is probably my favorite as it is home to 600 wild deer! I love visiting the Phoenix Park deer, especially when the babies are around!
One thing I didn't expect though was how I would be struggling with pronouncing Irish names! My pronunciation has caused a lot of good laughs and has led to a few moments of confusion.
After two years, I think I've nailed down the most common Irish names such as Tadhg, Sinéad, Caoihme, and Padraig. Accents also vary quite a bit between the different counties. I've found myself asking people from Cork to repeat themselves a lot because I just could not understand them.
I learned later on that the Cork accent is indeed quite strong and that even native speakers and Irish people sometimes struggle to understand it.
Connecting with fellow expats in Dublin
Dublin is very cosmopolitan. I see people from everywhere every day. It's fairly easy to connect with other expats, especially through Facebook.
There usually is at least one group for each country. For example, one group I use the most is "Les Français à Dublin" ("French in Dublin").
This group is great to hear about available rooms and apartments to rent, travel recommendations, and food recommendations.
The French community is always struggling to find French products or equivalents abroad so this group is great to learn about which stores have our favorite gruyère cheese and grenadine drink!
Our Consular Delegate is also part of this group and relays any important information to us which is super useful.
Cost of living in Dublin
Dublin's biggest flaw in terms of the cost of living is the housing situation. When I arrived in Dublin, I had a budget of $1529 a month for rent, split between two people. Needless to say, that didn't work out so well.
First, there are lots of scams in Dublin. Everyone I had talked to and everything I had read prior to moving here indicated that renting before arriving in the country was a bad idea.
So I packed my bags, rented an Airbnb for the first two weeks, and dedicated those two weeks to find an apartment.
Second, for every apartment, there would be about 20 to 30 other people visiting at the same time. And the apartments were…well, really bad for the price.
From mold on the ceilings to sketchy landlords and broken windows, I think I've seen where Dublin's bad housing reputation comes from. Who wants a moldy apartment for $1,882 USD a month?
So I ended up bumping my budget to $2,117 USD a month and found a decent (and clean!!) apartment in a decent neighborhood with a great landlord. Still, it's quite expensive if you ask me!
The best sites to find an apartment are daft.ie and rent.ie. I recommend setting up alerts so you can apply right away. Some apartments are gone in a few minutes! If you're looking for a room, then Facebook groups would be where it is at.
The other big cost when living in Dublin is transportation. In my experience, bus and Luas (tramway) tickets are more expensive than in any other city I've lived in or visited.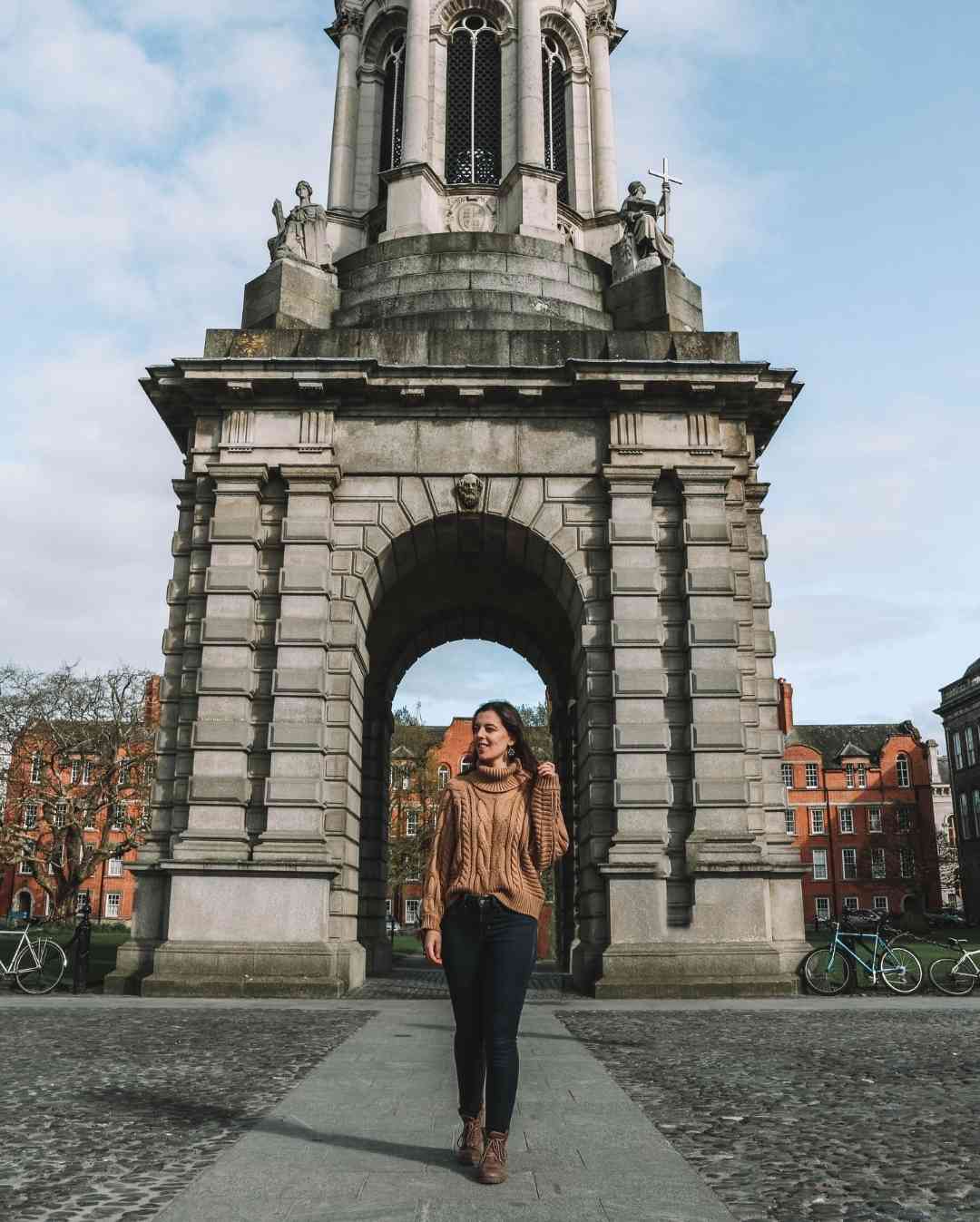 When comparing the rent and cost of transportation from living further from work to my current rent close to work, there was barely any difference.
I made the choice to live closer to work so I could walk or bike to work instead of using transportation. As I don't have to commute, I save lots of time which I can allocate to living my life and writing my blog.
As for food cost, Dublin is actually pretty decent. There is an endless choice of restaurants for all budgets in the city. I spend about $352 a month on groceries for two people and I get quite a lot of groceries!
☕ Support this blog's honest and transparent journalism. Help us add value to our content! Keep P.S. I'm On My Way content free for all by donating to our coffee fund.
Pros and cons of living in Dublin
Dublin, to me, is a great city to live in for several reasons. The diversity in the city is quite amazing and you will for sure find a friend! It's also a great city to find a job with a decent salary even with little experience or beginner English.
That makes it a great city to move to learn English while still earning an income. One of my favorite things about Dublin though is that it is surrounded by nature.
There are beaches all around it such as Portmarnock beach or Sandymount beach. I walk to Sandymount beach several times a month and I love it!
Also, the Wicklow Mountains National Park is only an hour away and it is a must-see in my opinion. Finally, I, as a woman, feel very safe in Dublin.
It's not to say that there aren't any sketchy places. But overall, I feel very safe and people (men especially) do behave better than what I have experienced in France, even after a few pints!
Some cons about Dublin would be the cost of rent which is absolutely atrocious and sometimes the weather. The weather here is actually not as bad as people make it out to be.
The sun does shine almost every day even if it's just for a couple of hours. That said, the temperatures are pretty average all year long.
Although you will see people wearing shorts and crop tops when it's 59°F and sunny, it rarely gets hotter than 73.4°F. Real hot summer is probably the one thing I miss the most.
Transportation in Dublin
Although I don't use it every day, the transportation system in Dublin is actually pretty good despite it being expensive. Dublin is a walking city so that's a big plus for me as I can walk to work and to most places I like or want to go to.
That said, I understand that walking an hour morning and night to go to work and walking two hours to visit the city are two different things.
Lots of people ride their bikes to work or anywhere really. It's a very common means of transportation and there are bike lanes pretty much everywhere in the city.
There are also lots of buses, and taxis to go around. Bus tickets range from $1.76 to $4.47 depending on your destination in the city.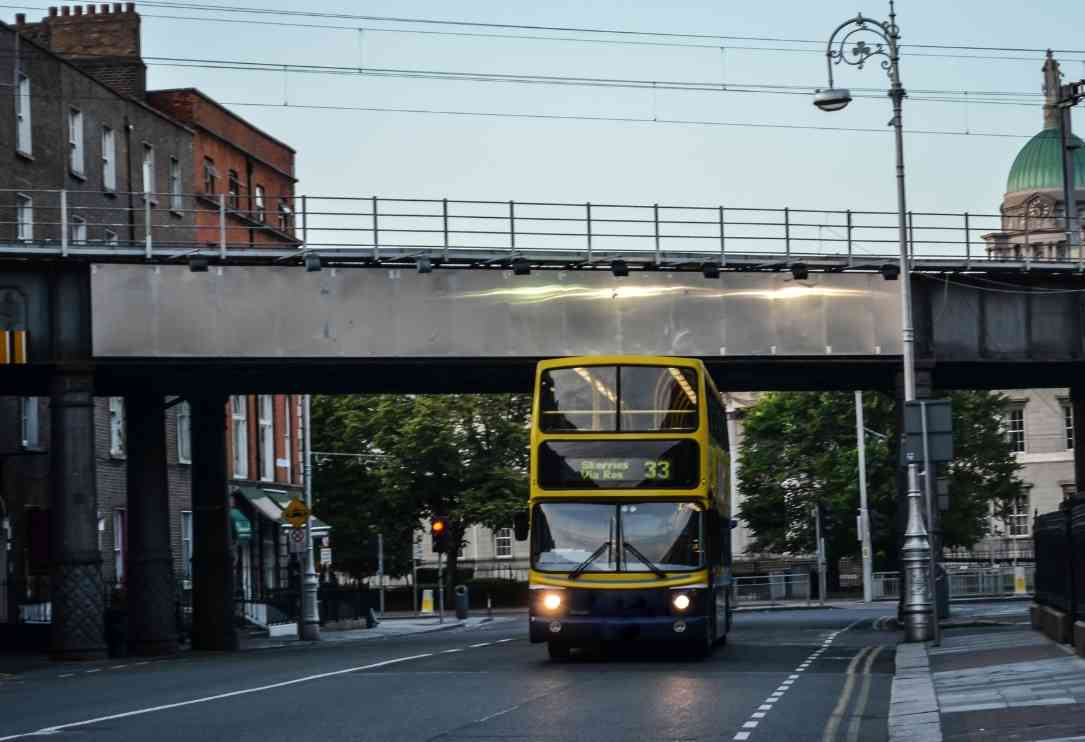 The downside of buses is that the schedule has a reputation of being approximative. So if your appointment is important, a taxi might be the best option.
Dublin is also equipped with the Luas (the tramway) and the DART (the city train). I don't own a car so I probably use the Luas and the DART the most.
They are the perfect means of transportation to go to the East coast and visit all the cute seaside towns like Dalkey and Howth.
Resident visa in Ireland
As I am a French citizen, I can live and work in any EU country without a visa, this includes Ireland. If you are from outside the EU, your best source of information would be your Embassy or government website. You can also find quite a bit of information on citizensinformation.ie
Buying a car in Dublin
I really don't think you need a car to live in Dublin. I don't own one and it has never been an issue. When I traveled to the Wicklow Mountains National Park and to the Dingle Peninsula, I rented a car for two weeks right from the city center.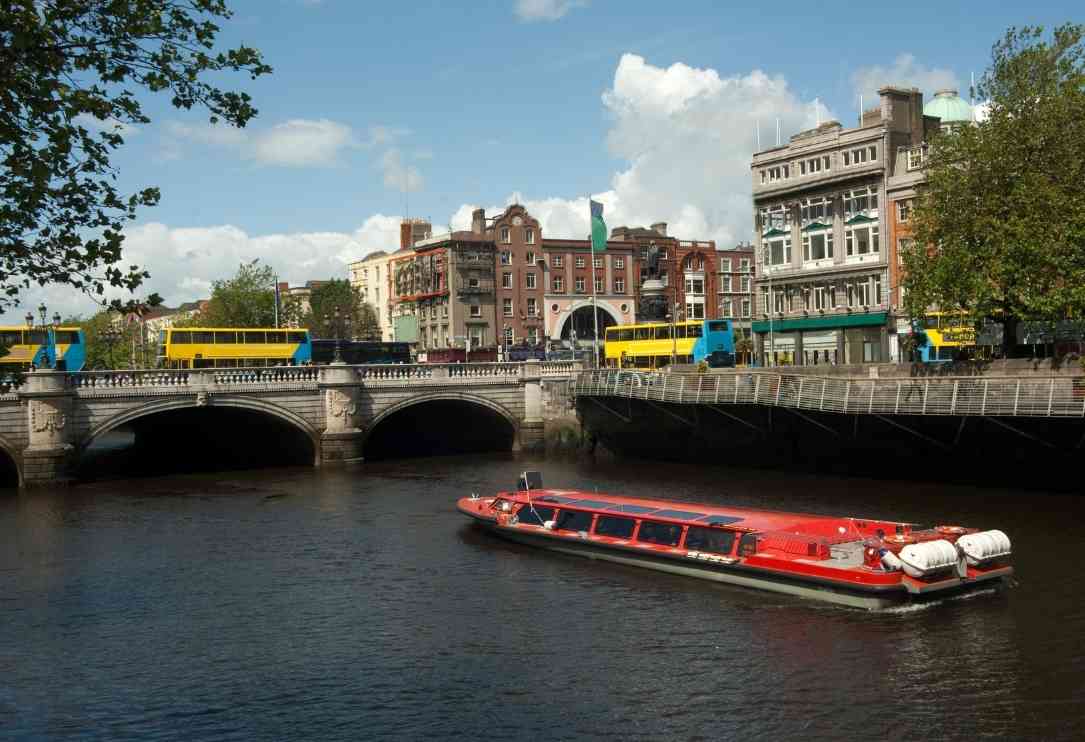 If you just need a car for a day or a few hours, GoCar is a great alternative to owning a car, although more expensive than the bus or Luas (about $70 – $94 USD a day).
Setting up my account with GoCar was fairly easy although there is an approval period of about 48hours, so just keep that in mind.
Medical care and expat insurance in Dublin
There are a couple of hospitals in Dublin. I actually had to go to the emergency room once and can testify the service was pretty great and the wait was short. The ER cost $117 USD which was the flat fee for EU citizens.
In France, we have a pretty good health system and are covered for pretty much everything through social security. However, in Ireland, health costs are not covered in the same way and bills can add up quite quickly.
For comparison, in France, a GP visit would cost me around $35 USD whereas here, it costs me $70-90 USD! In France, I would be reimbursed that amount through social security but not here.
It took me a while to accept that difference but eventually, I got there. I also decided to take out health insurance with an Irish company called VHI.
My cover costs around $1,176 USD a year. My understanding of the health system here is that waitlists in the public sector can be months or years. Taking out private health insurance ensures that you have access to the care you need much faster.
I pay about $250 USD for global medical insurance that covers COVID-19. The quote will depend on your age but this is great insurance especially for expats who are constantly moving.
Renting a house in Dublin
There is no such thing as easily finding an apartment in Dublin. However, there are things that definitely helped me get appointments.
After setting up the alert as I suggested above, make sure you apply as fast as possible. Keep in mind that there are probably a hundred other people who will apply in the next 15 minutes.
In your application, include your name and the name of the people living with you, your and their occupation, and your style (are you quiet or a party animal?)
Landlords will expect you to have a recommendation from a previous landlord and even from your employer, and proof of employment or your bank statements.
I recommend letting the landlord know in your application that you have those documents available.
If you are looking for a room, you can check out several Facebook groups such as "Dublin Rent a room" and "Sharing Accommodation in Dublin".
Buying a house in Dublin
I haven't purchased a house here yet and to be honest, am not planning to anytime soon. However, I have been around people who have recently bought a house, and let me tell you, I have not heard a single positive word about the process.
From the bidding process that takes prices to a whole new level to the time, it can take to get the keys (I've seen months and I've also seen a year!), it looks like buying a house in the current economical context might not be the easiest thing to do.
Guide to living in Dublin on Pinterest: save it for your move!
Mary is the writer behind brbymary.com, a budget travel blog with a passion for islands, hidden gems, road trips and living abroad. From the Cyclades Islands in Greece to road tripping across the USA, she loves discovering new places and cultures.