These 44 Thailand travel tips are for those who are traveling to Thailand for the first time. I come here often and this is what I've learned from all my visits. Browse away and feel free to ask me anything!
📧 Hi Trisha! I found your blog and Pinterest and I was amazed on how much you've traveled solo! I am going to Thailand for the first time and I want to know what to expect in terms of culture. I know they are very different there in terms of religion, respecting the King, etc.. Can you give me some of your Thailand travel tips that I should keep in mind? Thank you for all your posts!

Anne Clark, United States
Hola Anne!
Thank you for being here and following this journey! I'm glad that you are going to Thailand – to be honest, I don't get asked a lot by American readers about Thailand so good decision about going here for a trip!
Thailand is known for its friendly and welcoming culture. Thai people are generally polite and respectful, and place a strong emphasis on family and community.
Buddhism plays a significant role in Thai culture, and many Thai people participate in Buddhist practices and rituals. Thai cuisine is also an important part of the country's culture, with a wide variety of dishes that combine spicy, sweet, and savory flavors.
Here, you will find all my Thailand travel tips and I hope this really helps you! If you have any questions that weren't answered in this post, feel free to send me a message on Instagram and I try my best to answer! Good luck!
Xx,
Trisha
🙋 Need more Thailand travel tips? Ask me on Tiktok!
🔗 Thailand travel tips: quick links
✨ 44 Thailand travel tips for first-timers
#1: Dress code for entering temples and shrines
Please note that there is a dress code to enter The Grand Palace (and all temples and shrines in Thailand) so make sure you are properly dressed before leaving your hotel and going to the street food stand.
The dress code for temples in Thailand typically includes:
Covering your shoulders: Wear shirts or blouses with sleeves that cover your shoulders. Avoid tank tops, spaghetti straps, or other revealing tops.
Covering your knees: Wear long pants, skirts, or dresses that extend below your knees. Avoid shorts, mini-skirts, or tight-fitting leggings.
Avoiding tight or revealing clothing: Choose loose-fitting clothes that do not reveal too much skin or cling to your body.
Removing your shoes: You will be expected to remove your shoes before entering the main worship area of a temple. It is a sign of respect and helps maintain the cleanliness of the sacred space.
Avoiding hats and sunglasses: As a sign of respect, removing any hats or sunglasses while inside a temple is best.
If you are not dressed appropriately, some temples may provide sarongs or wrap that you can borrow or rent to cover up before entering the temple grounds. Carry a light scarf or shawl in your bag so that you can quickly cover up if needed.
#2: Learn basic Thai phrases
Thailand is not an English-speaking country so you may want to learn some basic Thai phrases. You don't necessarily need to speak in full Thai sentences but knowing the basic words and phrases will suffice.
Thai people are super-friendly and even if they can't explain it to you in English, they will always try their best to help with hand signals and sign languages. Below are some of the helpful Thai phrases that I always use in traveling to Thailand:
Hello: สวัสดี (Sawasdee) – This is a common greeting that can be used at any time of the day.
Thank you: ขอบคุณ (Khob khun) – Use this phrase to express gratitude.
Excuse me / Sorry: ขอโทษ (Khor thot) – This phrase can be used to get someone's attention or to apologize.
Yes: ใช่ (Chai) – Use this to agree or confirm something.
No: ไม่ใช่ (Mai chai) – Use this to disagree or deny something.
How much?: ราคาเท่าไหร่ (Rakha thao rai?) – This phrase will help you inquire about the price of an item.
Can you give a discount?: ลดราคาหน่อยได้ไหม (Lot rakha noi dai mai?) – Use this phrase when bargaining at markets or shops.
Where is the restroom?: ห้องน้ำอยู่ที่ไหน (Hong nam yoo tee nai?) – A useful phrase to know when you need to find a restroom.
Can you help me?: ช่วยฉันหน่อยได้ไหม (Chuai chan noi dai mai?) – Use this phrase when you need assistance.
I don't understand: ฉันไม่เข้าใจ (Chan mai khao jai) – This phrase can be used when you're having trouble understanding someone.
Do you speak English?: คุณพูดภาษาอังกฤษได้ไหม (Khun phut phasa angkrit dai mai?) – This phrase can help you find someone who speaks English.
What's your name?: คุณชื่ออะไร (Khun chu arai?) – Use this phrase to ask someone their name.
My name is…: ฉันชื่อ… (Chan chu…) – Introduce yourself by adding your name after the phrase.
How do I get to…?: ฉันต้องไป…อย่างไร (Chan dtong bpai… yaang rai?) – Use this phrase when asking for directions, adding the name of the place you want to go.
Delicious: อร่อย (Aroi) – This is a great phrase to use when you want to compliment a meal or express that the food is tasty.
#2: Get a local SIM card
If you're traveling to Thailand, purchasing a Thai sim card is advisable. This will help you stay connected while in the country and help with navigation.
You can find prepaid sim cards at many convenient locations, such as airports, markets, and convenience stores. Make sure to check the carrier's coverage and that your device is unlocked before purchasing a sim card.
#3: Use Grab for transportation
Grab is a multi-purpose app used in Thailand for transportation. It is similar to Uber and Lyft in other countries but with more options. With the Grab app, you can book taxis, private cars, motorbike taxis and even delivery services such as food or groceries.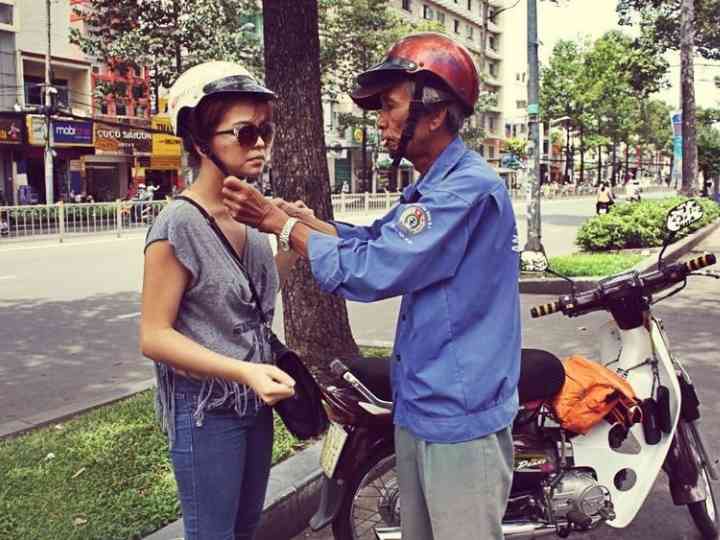 Grab bikes are a popular mode of transportation in Thailand, and they can be a convenient option for getting around. However, as with any mode of transportation, there are some safety considerations to keep in mind.
It is important to wear a helmet, which Grab provides to riders. Don't be one of those people who don't want to wear one just because of how it looks. In Bangkok, they are very strict with wearing helmets.
Grab Bikes are super cheap (around $2-$5 USD) so this should be your main mode of transportation, especially when traveling solo!
#4: Opt for 7-Eleven meals
Eating in Seven-Eleven stores in Thailand is a widespread practice, especially for those on the go. The stores offer a variety of prepared meals and snacks for people who don't have time to sit down for a full meal.
They tend to be reasonably priced and are generally of good quality. Seven Eleven also offers various drinks like coffee, tea, or energy drinks. Eating in these stores is a convenient and hassle-free way to get food quickly.
You can buy various Thai food in Seven Eleven Thailand, such as instant noodles, fried rice, salads, and desserts. The prices can range from 15-40 baht ($0.50-$1.30 USD) depending on the type of food you buy. The stores also offer drinks and snacks such as chips or cookies that are a bit cheaper.
#5: Try street food cautiously
Street food in Thailand tends to be quite affordable. Street food can range between 30-50 baht ($1 – $1.70 USD) per plate, with some dishes being cheaper. Additionally, Bangkok is well known for its regional specialties and delicious seafood dishes that can be bought reasonably.
Generally, it is safe to eat street food in Thailand. Many vendors selling street food have been doing so for many years and follow strict safety protocols. It's always recommended to use common sense when deciding what to eat, however – such as ensuring that food is freshly cooked and hot when served.
#6: Respect the Royal Family
In Thailand, due to the strong reverence for the Royal Family, it is important to show respect and abide by certain etiquette when speaking or interacting with people.
It is considered disrespectful to speak ill or joke around about members of the Royal Family and even gesture in a way that might be construed as disrespectful. Referring to them with honorific titles and pronouns is also considered good manners.
If you disrespect or joke about members of the Royal Family in Thailand, it can be considered a severe offense and can lead to punishments up to imprisonment.
It is essential always to show respect when speaking or interacting with people in Thailand and avoid making jokes or comments that could be taken as disrespectful towards the Royal Family.
#7: Thailand is still a cash country
Thailand is primarily a cash-based society, with most transactions done in Thai Baht. Credit and debit cards are accepted in many places, but it's always best to have some local currency on hand when traveling.
There are also ATMs and currency exchange services that can provide you with the Thai Baht you need. Many places accept credit and debit cards.
However, it is always best to have some local currency with you if a business does not accept cards or smaller transactions.
ATMs and currency exchange services are available throughout the country, allowing you to access Thai Baht when needed.
#8: Tourist scams in Thailand
When traveling to Thailand, it is essential to be aware of the various tourist scams common in the country. These include taxi drivers charging exorbitant fares and taking roundabout routes, gem scams involving fake precious stones, and counterfeit goods being sold as authentic.
It is also essential to be aware of pickpocketing and other forms of theft. To avoid getting scammed in Thailand, it is essential to do research on the local culture and customs before your trip, plan wherever possible, only buy goods from trusted vendors, and always remain vigilant.
Additionally, when taking a taxi, it is best to agree on a fare in advance or use an app such as GrabTaxi. If someone approaches you with a deal that seems too good to be true, it probably is – so always be skeptical and walk away. Finally, always keep your personal belongings secure at all times.
#9: Use insect repellent
Mosquitoes are most prevalent during the rainy season from May to October. During this period, mosquitoes are most active due to higher temperatures and increased rainfall.
To avoid mosquitoes and other insects, wearing insect repellent and long, light-colored clothing when traveling in Thailand is essential. Additionally, staying in places with good air conditioning and screened windows can also help keep away bugs.
#10: Visit during shoulder season
Shoulder season in Thailand typically begins in November and runs until February. This period is a great time to visit as temperatures are cooler and the peak tourist season has yet to begin.
It is also a cheaper time of year to travel, as prices tend to be lower during this period. Additionally, many attractions will still be open, offering visitors the chance to explore without too much crowding.
The weather during the shoulder season in Thailand is generally pleasant, with mild temperatures and little rainfall.
Average daily high temperatures range from the mid-20s to the low 30s, while average lows can drop to around 20 degrees Celsius. Humidity levels remain low during this time, making it a comfortable time of year to explore the country.
#11: Rent a motorbike only if you are a good driver
Driving a motorbike in Thailand can be a great way to explore the country – but it is important to exercise caution. Motorbikes are more vulnerable to accidents than other forms of transport, so it is essential to drive defensively and observe local laws.
You should also purchase travel insurance before embarking on your trip, as this may provide financial coverage in the case of an accident.
To rent a motorbike in Thailand, you must provide a valid driver's license (international or Thai one), passport, and credit card.
In most cases, you must be over 18 to rent a motorbike, but this varies by provider. It is also essential to check the local laws regarding motorcycle rental before embarking on your trip.
#12: Thai massages are cheap!!!
Massages in Thailand can be pretty cheap compared to many other countries. Prices range from just a few dollars for a foot massage to several hundred dollars for a private session with a highly experienced masseuse.
Unfortunately, it is possible to get scammed by Thai massages. Some massage parlors can be reputable, but some operate illegally or unethically.
It is essential to do your research before booking a massage and ensure that the business you are using is certified and licensed. Additionally, always pay attention to your surroundings and don't leave valuable items unattended during your massage session.
#13: There are many unethical animal tourism in Thailand
Animal tourism in Thailand is controversial and considered unethical by many. This includes activities such as riding elephants, swimming with dolphins, or visiting "tiger temples" where visitors can interact with tigers.
These activities can harm the animals involved, so it is essential to research any potential animal tourism before participating to ensure no harm is being caused to the animals. Look for businesses that try to protect their animals' welfare and improve animal welfare standards.
It is best to avoid any animal tourism activities in Thailand that involve physical contact with animals, including swimming with dolphins, elephant rides, or tiger temple visits.
Do not support the exotic pet trade by buying endangered species for your private collection. Animal shows and circus performances can also be cruel and should be avoided.
#14: Explore less-visited destinations in Thailand
Exploring lesser-known cities in Thailand can be a great way to get off the beaten path and experience a different side of Thailand. These less-visited cities often contain hidden gems such as quaint cafes, local street art, or small temples not usually seen by tourists.
By exploring these lesser-visited sites, you can get an insight into the locals' culture, history, and everyday life. You may also find unique experiences such as workshops or cultural activities that would not be available in more touristy areas.
Some of the less visited places in Thailand include Mae Hong Son, Kanchanaburi, Chiang Dao, and Udon Thani. Mae Hong Son offers stunning mountainous scenery, rich culture, and several hill tribes to explore.
In Kanchanaburi, you can participate in an eco-adventure such as zip lining or rafting through the jungle. Chiang Dao can offer visitors beautiful views of limestone peaks in the surrounding area and explore local markets and caves.
Finally, Udon Thani offers a great mix of modern hotels and traditional stilt houses on the riverside.
#15: Drinking tap water in Thailand
Tap water in Thailand is NOT safe to drink. Tap water may contain bacteria or other contaminants which can cause health problems. Billing tap water before consuming it or sticking to bottled water instead is recommended.
When traveling in rural areas of Thailand, it is also advisable to stick with bottled water as tap water may not be treated in these places. Also, don't forget to carry your own water refillable water!
The Hydro Flask 32 Oz Wide Mouth is one of the best water bottles I always bring. This bottle keeps drinks cold for up to 24 hours, has a wide mouth for easy ice insertion and cleaning, is made from 18/8 stainless steel, and features a BPA-free Flex Cap.
It also comes with a lifetime warranty, making it an excellent choice for anyone looking for a durable and reliable refillable water bottle.
#16: Book train tickets in advance
It is recommended to book train tickets in advance in Thailand, especially if you are traveling during peak times or on a popular route.
Tickets can be booked online with 12Go or through the official State Railway of Thailand offices. Booking tickets ahead of time is the best way to ensure you get a seat and avoid overcrowding.
If you don't book train tickets in advance in Thailand, you run the risk of not having a seat during your journey. Additionally, some routes and train journeys are known to be exceptionally crowded.
This makes it even more important to book ahead of time, as there is a greater chance that tickets may sell out. If a ticket becomes available just before your intended journey date, it will likely cost much more than advance tickets.
#17: Don't skip: Thai cooking classes!
Cooking classes are a great way to experience Thailand's local cuisine and culture. Not only will you learn how to make some of the country's signature dishes, but you'll also get to explore new flavors and ingredients.
Plus, many cooking classes also offer visits to local markets for an inside look at where locals shop for ingredients.
Introductory classes will usually be around 1,000-2,000 baht per person, while more advanced or exclusive classes can increase to 10,000 baht per person. Many chefs/teachers also provide discounts for larger groups and special offers throughout the year.
#18: Learn or watch Muay Thai fights
Muay Thai, also known as "the art of eight limbs", originated in Thailand as a martial art and combat sport. It combines kickboxing, Western-style boxing, and stand-up wrestling techniques and utilizes fists, elbows, knees, and shins.
In Thailand, it is both a professional sport and an essential part of the country's cultural identity. Muay Thai is often called "the science of eight limbs" due to its focus on precise and strategic strikes with each limb.
Learning Muay Thai in Thailand is a great way to experience the sport firsthand and gain a deeper understanding of its cultural significance. It's also an excellent workout and will help you stay in shape during your travels in Thailand.
If you're looking for an immersive experience, you should consider signing up with established gyms or taking individual classes with reputable instructors. Prices vary depending on the type of classes and packages offered, but expect to pay around 500-1,000 baht per hour.
#19: There are many national parks in Thailand
There are currently 52 national parks in Thailand, covering an area of more than 8,140 km2. The parks offer various activities such as trekking and backcountry camping, bird watching, rock climbing, and many other outdoor pursuits.
Each park is unique and boasts stunning landscapes and wildlife, so if you're looking to explore the outdoors in Thailand, visiting one or more of these national parks should be on your list!
The top three national parks you should consider visiting in Thailand are Khao Yai National Park, Erawan National Park, and Doi Inthanon National Park.
Khao Yai is mainly known for its picturesque waterfalls and rich wildlife. Erawan is famed for its breathtaking seven-tiered waterfall and diverse flora and fauna. Doi Inthanon is renowned for its beautiful cloud forest, amazing views of the Himalayas and rich bird life.
#20: Local transportation in Thailand
Local transportation in Thailand mainly consists of tuk-tuks, motorcycles, and local buses. Tuk-tuks are a popular transport mode as they are affordable and offer flexibility when traveling in urban areas.
Motorcycles provide the freedom to navigate congested streets quickly and get to your destination. Local buses provide a cost-effective way to travel between cities or towns. Ferry boats are another option for those looking to explore coastal regions in Thailand.
Tuk-tuk is a popular mode of transport in Thailand, especially in urban areas. A tuk-tuk is a three-wheeled motorized vehicle, typically with an open roof and seating for two or more passengers. It is an easy and affordable way to get around cities and towns, as fares are usually negotiated before departing.
Songthaews are another standard mode of transport in Thailand. Songthaews are pickup trucks with two rows of benches for passengers. They are an affordable way to get around and often run on set routes between towns and villages. Songthaews can also be booked in advance for those looking to explore more remote areas.
#21: Thailand is popular for yoga and wellness
Thailand is increasingly popular for yoga retreats due to its beautiful scenery and relaxed atmosphere. Some of the most popular spots include Chiang Mai, Koh Samui, and Phuket, where you can find a variety of retreats catering to different interests and skill levels.
Yoga retreats in Thailand can typically range from $500 USD to upwards of $3,000 USD depending on the length, accommodation and other amenities included.
For example, a 3-day yoga retreat in Chiang Mai may cost around $500 USD, while a 2-week retreat in Koh Samui can cost up to $3,000 USD.
#22: Use a sarong for versatile clothing
A sarong is a traditional piece of clothing typically worn as a long skirt or wrap-around dress in Thailand. It is commonly made of lightweight fabric, such as cotton or rayon, and is often decorated with intricate patterns, colors, and designs.
Sarongs can be used for everyday wear and special occasions, such as festivals or temple visits. You can have one and use it all the time for covering!
Sarongs can be found at most major markets and department stores in Thailand. Popular destinations for discounted sarongs include the Chatuchak Weekend Market in Bangkok, the Patpong Night Market in Silom, and the Asiatique Night Market on the Chao Phraya River.
Prices typically range from 150-500 baht depending on the fabric and quality of craftsmanship.
#23: Volunteer to save on costs
Volunteering programs in Thailand are typically focused on providing assistance with education, healthcare, and community development projects.
Typical activities include teaching local children and adults English, providing medical care to underserved communities, improving living conditions with construction projects, and supporting environmental conservation efforts.
The minimum stay for volunteering in Thailand depends on the organization or program. Most volunteer programs require a commitment of at least one month, though some may require a more extended stay. Some programs also offer short-term and internship opportunities with commitments ranging from 1-3 weeks.
#24: How to haggle in Thailand
Haggling is common and acceptable in Thailand. Generally, if you are buying something from a night market, it is expected that you will negotiate the price with the vendor.
However, it's essential to be respectful during negotiations, as haggling can be seen as offensive in some places. It's also important to remember that haggling does not always result in a lower price – sometimes it is just part of the conversation or process.
When haggling in Thailand, it is essential to use the local language. Polite phrases such as 'phom mai jep' (the price is too high) or 'ka niao jep nai dai mai' (I can't afford this much) can help you respectfully negotiate.
Body language also plays an important role in haggling in Thailand – a smile and nod will demonstrate that you are open to negotiation. If all else fails, it's worth mentioning that discounts might be available if you're buying multiple items.
#25: Taking photos in Thailand
Responsible photography in Thailand involves taking pictures in a respectful manner, respecting the privacy of those photographed, and avoiding disrespectful or offensive images. It is important to always ask permission before taking photos of people or religious sites.
Additionally, it is advised to avoid photographing sensitive political situations or military sites. It is also important to be mindful of any risks posed by flash photography near animals or wildlife.
Lastly, it is advised to not use drones without obtaining permission from the appropriate authorities and to avoid littering if shooting outdoors.
Generally speaking, taking photos of Thai people is considered acceptable if you have obtained permission and done so respectfully. It is important to consider the context of the situation and avoid taking photos or videos that would make someone feel uncomfortable or embarrassed.
Some people may be offended if you take pictures without their permission, so always ensure they are comfortable with it beforehand.
#26: Carry toilet paper or tissues
In Thailand, toilet paper is not commonly used due to the large presence of bidet-like fixtures in bathrooms. Instead, people use a water sprayer attached to the wall to clean themselves after using the restroom.
It is advisable to carry your own toilet paper with you when traveling in case a bathroom does not have a bidet-like fixture or running water. Additionally, never throw toilet paper into the toilet as this can clog the pipes and cause sanitation issues.
#27: Cheapest months to visit Thailand
The cheapest time of year to visit Thailand is generally during July and August, when temperatures are beginning to cool down. This is also a popular time for tourists as it tends to be less humid and hotter than other months.
Additionally, this period sees the lowest number of international tourists, allowing travelers to take advantage of cheaper hotel rates, flights, and transportation.
#28: Best time to visit Thailand for great weather
The best time to visit Thailand for good weather is generally in winter, between November and February. This is when temperatures are the most pleasant, and there is minimal rainfall.
Although the temperatures can become quite hot during the day, they cool down significantly in the evening, making it a great time to explore all Thailand offers. Additionally, beach resorts tend to be busiest during this period as this is when people love traveling due to the wonderful weather conditions.
#29: Opt for overnight busses to save on accommodation costs
Overnight buses in Thailand are generally safe, but it is important to research and ensure you are traveling on a reputable bus company.
The buses are comfortable and air-conditioned, some even offering luxury options like beds and blankets. It is also worth noting that buses in Thailand tend to be very crowded.
Overnight buses in Thailand are typically air-conditioned and offer comfortable seating, with some even offering luxury options such as beds, blankets, and footrests.
The seats are usually wide enough to accommodate most adults, although tall people may find them cramped. There are also plenty of cup holders and adjustable headrests that make long journeys more comfortable.
#30: Visit Thailand during festivals!
Thailand is full of exciting festivals that offer a range of experiences. The Songkran Festival is one of the most popular and takes place over three days in April each year to mark the start of the Thai New Year.
Other events include Loy Krathong, which celebrates light, and Kraben Rahu (the ghost festival). No matter what time of year you visit, you will find something unique and fun to enjoy.
#31: Thailand travel insurance
Travel insurance is not technically mandatory in Thailand. However, it is highly recommended. Many travelers mistakenly believe that the Thai healthcare system offers excellent coverage in case of an emergency, but this is often not the case, as medical costs can be very high.
Travel insurance will cover emergency medical bills and other important needs like lost or stolen items and personal liability.
#32: Familiarize yourself with Thailand travel apps
Thailand's top three travel apps are Grab, Get and Line. Grab is a ride-hailing app that provides an affordable and convenient way to get around. It also allows you to pay with cash or credit card.
Get is a food delivery app, allowing users to have their orders delivered right to their door. Line is a messaging app that can be used to communicate with friends, family, and business contacts all over Thailand.
#33: Tipping in Thailand
Tipping culture in Thailand is more relaxed compared to some Western countries, and it is not considered obligatory.
However, tipping is appreciated and is increasingly becoming more common, particularly in tourist-heavy areas. Thai people are known for their warm hospitality, and leaving a tip is a way to show your gratitude for good service.
While there is no strict rule or percentage for tipping, it is generally accepted that small tips, such as rounding up the bill or leaving a few extra coins, are adequate in most situations.
A tip of around 10% of the bill may be more appropriate in higher-end establishments, such as fine-dining restaurants and luxury hotels.
Remember that tipping customs can vary depending on the service or establishment, so it's always helpful to observe local practices and use your discretion when deciding whether or not to leave a tip.
#34: Using credit cards in Thailand
Using credit cards in Thailand is generally a convenient and widely accepted payment method for travelers, particularly in major cities, tourist areas, and upscale establishments.
Visa and Mastercard are the most commonly accepted credit cards, with American Express and JCB also accepted at some locations. Hotels, restaurants, shopping malls, and larger retail stores typically accept credit card payments, making it easy for travelers to purchase without carrying large amounts of cash.
However, it's important to note that smaller businesses, local markets, and street vendors often operate on a cash-only basis. As a result, it's advisable to carry a mix of both cash and credit for a seamless travel experience.
Additionally, it's a good idea to inform your credit card company of your travel plans to avoid any potential account freezes due to suspected fraudulent activity.
#35: ATM withdrawals in Thailand
Withdrawing cash from ATMs in Thailand is a convenient and straightforward process for travelers. ATMs are widely available throughout the country, including in major cities, tourist areas, and even some remote locations.
Most ATMs in Thailand accept international cards with Visa, Mastercard, or Cirrus logos, making it easy for travelers to access their funds.
Some of the best banks to withdraw cash from in Thailand include Bangkok Bank, Siam Commercial Bank (SCB), and Kasikorn Bank, as they have extensive networks of ATMs and a reputation for reliability. The ATM withdrawal limits may vary depending on the bank but typically range from ฿20,000 to ฿30,000 per day (approximately $600 to $900 USD).
Remember that withdrawal fees for foreign cards are generally around ฿220 ($6 to $7 USD) per transaction, in addition to any fees charged by your home bank.
#36: Currency exchange in Thailand
When looking for the best places to exchange money, consider visiting well-known banks such as Siam Commercial Bank (SCB), Bangkok Bank, or Kasikorn Bank.
These banks have branches throughout the country, and their exchange booths are often found in shopping malls and tourist areas. Another option is to use specialized currency exchange services like SuperRich or Value Plus, which offer attractive exchange rates. Always remember to bring your passport, which may be required for identification when exchanging currency.
#37: Is Thailand safe?
Safety is objective and personal. I am of Asian descent so I do not feel strange in Thailand nor people pay attention to how I look. And even if you look differently, Thailand will not treat you differently.
This is a country of smiles, good people, and very warm citizens. There is nothing to worry about safety in Thailand other than petty theft or being responsible of your own belongings, like what you'll do at home.
#38: Eating with spoon in Thailand
Dining etiquette in Thailand is fairly informal, but still important to observe. It is customary to wait for the oldest person in the group to take their seat before sitting down. Most meals are shared, and it's polite to only take what you can eat so as not to waste food.
Spoon and/or chopsticks are usually used for eating food in Thailand. A fork may be provided for dishes that require it, such as salads or Western-style food. However, if a dish is served with just a spoon, using the spoon rather than a fork is polite.
Avoid pointing your spoon or chopsticks at anyone while eating, and don't lick your utensils. The meal usually ends with a Thai phrase expressing gratitude.
Soup is usually sipped directly from the bowl in Thailand. It is also polite to make sure that your spoon does not touch anyone else's spoon while sharing a bowl of soup.
Also, it is important to remember to put the spoon back in the soup when you have finished with it – this is considered more polite than leaving it sitting on the edge of the bowl.
#39: Do not touch monks in Thailand
It is very important to respect monks in Thailand and abide by specific rules when interacting with them. It is considered disrespectful to touch them or even point at them. In addition, it is considered impolite for a woman to look directly into a monk's face or talk directly to him.
Touching a monk in Thailand could be considered disrespectful, and could make the monk feel uncomfortable. It is usually better to gesture with your hand when talking to a monk rather than touching them directly. You should also always remember to stand or sit at a respectful distance away from monks.
#40: Purchasing Budhhas or Buddhist figures as souvenirs
It is important to remember that Buddhist imagery and souvenirs are sacred objects and should not be purchased to use as decorations, toys or trinkets.
Buddha images should be treated with respect, so it's best to purchase them from respected shops and avoid buying anything seen as disrespectful or offensive.
If you are not Buddhist, you can still show respect for Buddha by ensuring that any representations of him, such as statues or images, are treated respectfully.
Avoid touching them or taking photos without permission, and don't point your feet at the statue. Take some time to learn about Buddhism before visiting temples, and follow the etiquette while on the premises.
Thai people are very sensitive when it comes to their religion. They expect visitors to respect their beliefs and practices, particularly those associated with Buddhism.
Be aware that many places in Thailand are sacred and must be treated with care and respect. Avoid making jokes about the religion or taking pictures without permission, and permanently remove footwear when entering temples.
#41: Treat ladyboys with respect
Thailand has a vibrant culture of 'ladyboys' or transgender people. Local society has embraced and celebrated this community, with the tourism industry often providing opportunities for those living as ladyboys to find gainful employment.
Ladyboy shows are now commonplace in tourist attractions, and there are even entire festivals dedicated to honoring their unique culture.
However, it's important to remember that the Thai people respect and accept transgendered individuals as community members – not as a source of entertainment or novelty.
Always treat ladyboys with respect, be aware (and respectful) of cultural sensitivities, and don't make assumptions about them based on what you think you may know.
#42: Do not overstay in Thailand or break visa rules
Overstaying your tourist visa in Thailand is a serious offence and can result in hefty fines, detention, and even deportation. Depending on the time you have overstayed your visa, you may face up to 5 years of imprisonment for each year that you remain in the country illegally.
It's important to note that overstaying your visa can also have longer-term consequences; if you are caught again trying to enter Thailand as a foreign visitor, or if there is any evidence that you have overstayed in the past, border authorities will likely deny your entry into the country.
#43: Add other destinations to your Thailand itinerary
Thailand is bordered by five countries: Myanmar (Burma) to the west and northwest, Laos to the northeast, Cambodia to the east, and Malaysia to the south. All of these countries can be accessed by land. In addition, Thailand has a maritime border with Vietnam in the Gulf of Thailand.
Myanmar has the easiest border crossing from Thailand. There are direct land routes between the two countries and no visa restrictions. The crossing at Mae Sai/Tachileik on the Burmese side is especially convenient as it has an international immigration checkpoint and is open 24 hours a day.
#44: Do not buy drugs at all costs
In Thailand, it is illegal to purchase drugs, and doing so can result in a jail sentence. If caught selling and/or trafficking drugs, the penalties are even more severe and could result in death.
It is important to note that possessing any amount of an illicit substance is also prohibited, and travelers must exercise discretion in Thailand.
🇹🇭 Thailand Travel Planning
✈️ What's the best platform for booking flights to Thailand?
Kiwi.com is one of the most trusted sites to book cheap flights to Thailand. They compare all prices for all airlines! Also, try WayAway if you want to get cashback for every booking.
🏥 Is travel insurance mandatory in Thailand?
YES! You need to get into the habit of buying travel insurance, not just for Thailand. SafetyWing, is my digital nomad/remote worker insurance, while I use Ekta Traveling for short trips (from $0.99 per day).
🚗💨 Is it safe to rent a car in Thailand?
ABSOLUTELY! Use Discover Cars or Rentalcars.com for the best car rental deals in Thailand. Remember to book online prior to arrival and don't do it in person as cars run out fast!
🛏️ Where can I find affordable hotels in Thailand?
Booking.com is a great platform, but Agoda.com is more popular in Asia. They have the most extensive list of hotels in Thailand that you won't find anywhere else. Budget travelers should still book using Hostelworld.
📞 Personalized itineraries and moving to Thailand services
Whatever you need for Thailand, I can help you with that! Call my office or send a Whatsapp message to +52 473 171 5259 – our office staff will take care of you!
Trisha is one of those people who left their comfortable life to travel the world and learn about life. Her style is to stay in one place she likes for 3 months (or more) to know what it feels like to eat, cook, speak, and sleep in another culture that isn't hers. She'd like to believe she's not traditionally traveling but she just chooses to be somewhere else all the time. In no particular order, her favorite cities in the world are Barcelona, Buenos Aires, Hong Kong, Mexico City, and Tel Aviv.