San Jose del Cabo Mexico is the quieter, more sophisticated sibling to its bustling neighbor, Cabo San Lucas. I live in Los Cabos, and in this guide, I will share all my experiences in the place I now call home.
📮 Hi Trisha! First of all, thank you for the great Mexico blogs. I always relied on your blogs since I am a solo traveler! All your tips and experiences in Mexico encourage me a lot and makes me feel more at ease. I even showed your blog to my mom because she won't believe that Mexico travel is safe!

I know that you currently live in Cabo San Lucas but I was wondering about your opinion on San Jose de Cabo? Is it great for solo travelers? Is Los Cabos safe at all??? Planning to visit in 3 months and I thought of you! I hope we can meet! Thanks for all your content, really! Salud!

Tanya McNeil, United States
Hola Tracy!
Thanks for following this journey! I am glad that you are getting comfortable with traveling around Mexico. I always tell my friends and family too that they shouldn't worry about me living here!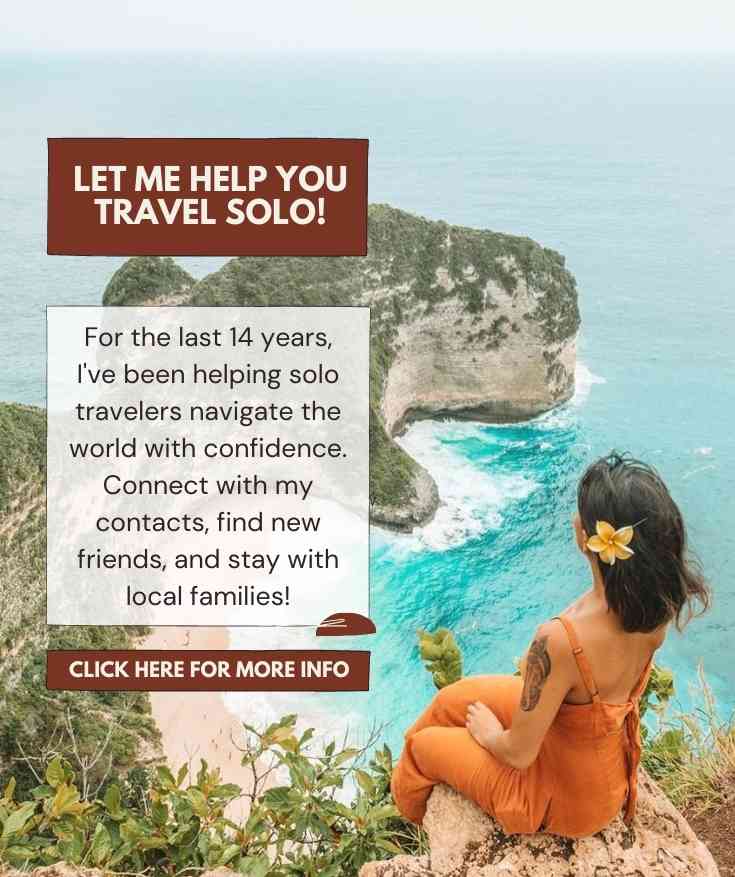 I live in San Lucas but go regularly to San Jose. In this blog article, I will only share my personal experiences traveling here solo including safety tips (if any).
If you ever make it to my city, please, let's have a drink! I can easily drive to San Jose – just let me know! Enjoy your vacation and let me know if you need more help in planning your trip here.
Xx,
Trisha
🙋 Questions about San Jose del Cabo Mexico? Ask me on Tiktok!
🔗 San Jose del Cabo Mexico: quick links
🆚 What is the difference between Los Cabos and San Jose del Cabo?
Los Cabos comprises 2 sub-cities, San Jose del Cabo and Cabo San Lucas. You can use the term "Los Cabos" if referring to SJD and CSL. However, for us who live here, we barely use the term Los Cabos.
San Jose del Cabo is a small town about an hour away from Cabo San Lucas and 20 minutes from San Jose del Cabo Airport. When you arrive at the airport, and the driver asks you where your hotel is, you can't say Los Cabos because that's quite vague. The drivers won't understand
Before booking your accommodation, make sure that you know if your hotel is in Cabo San Lucas or San Jose del Cabo. This way, you can give your driver the correct address.
P.S. There's another term in Los Cabos, which is the Tourist Corridor. The Tourist Corridor is in between San Jose del Cabo and Cabo San Lucas and that's neither San Jose nor San Lucas. I know, the addresses here are complicated!
🛑 Is Los Cabos safe?
ABSOLUTELY! Both Los Cabos are safe although there are different town rules for San Jose del Cabo Mexico and Cabo San Lucas. Believe me, I live here – there is nothing to worry about safety in Los Cabos.
Los Cabos is the most visited destination in Mexico and the Mexican government will do everything to no taint the safety reputation of Los Cabos. The main livelihood here is tourism so Los Cabos definitely takes care of their tourists.
🗺️ San Jose del Cabo Mexico Map
💗 Why I love San Jose del Cabo Mexico
You might be wondering why I am lobbying for San Jose del Cabo when I live in Cabo San Lucas. Most of my friends ask me, "why don't you just move to San Jose?!"
The reason why I still live in Cabo San Lucas is because of work. Most of my tourism clients are here and I recently moved to an amazing house in front of the Arch of Cabo San Lucas.
Basically, I am still in San Lucas for business decisions but in a few years, I am really looking into moving to San Jose! Below are some of the reasons why I love visiting San Jose:
Quieter than Los Cabos
If this is your first time to visit Los Cabos, the most common question is: should I go to San Jose del Cabo or Cabo San Lucas? Since I have a car, I don't have issues accessing both towns.
But if you are traveling here, you must know that San Jose del Cabo is a more popular option for families traveling with kids. The big resorts are in San Jose including golf courses, which makes it more popular with those who don't want to party.
Some solo travelers have asked me if there is nightlife in San Jose and THERE IS. Not just as wild as Cabo San Lucas. I think that if you want a lesser (foreign) tourist area, San Jose is the choice for you.
But if you want to socialize and easily meet people, go to Cabo San Lucas, but expect blaring noises from the clubs downtown. San Jose del Cabo Mexico is EXTREMELY QUIET as the hotels are far from the bars and clubs.
More Mexican culture
In Spanish, there is this term, "pueblear," which my friends and I always joke about. It is not even a Spanish word. It comes from the root word, "pueblo" (town).
The action word "pueblear" means you can hang out at the plaza, eat ice cream, and chat with Mexicans. The plaza in Cabo San Lucas simply does not have the same vibe.
In San Jose, you will see kids skating at the plaza while their moms chat away and eat ice cream. For someone who is living in an extremely American city, seeing this kind of culture in San Jose del Cabo still amazes me!
While I do have Mexican friends in San Lucas, I just feel like the overall vibe here is more American than San Jose. If this is something you want for your vacation, then choose San Jose.
FYI, I am not saying that you will not see a single foreigner in San Jose. Of course, there are but the ratio of local and foreign tourists is more balanced in San Jose than San Lucas.
💃🏽 Solo travel experiences in San Jose del Cabo Mexico
San Jose del Cabo Mexico safety: cat-calling
Nope, no cat-calling in San Jose del Cabo although I've noticed how they always approach solo girls traveling. It can be to start a conversation or sell something.
Either way, when this happens to you, don't be afraid, these people are harmless and probably just want to earn a living. People in San Jose del Cabo are super-friendly but I am sure you get the vibe of who to avoid.
You are NOT obligated to chat with these people if you do not feel comfortable. Just walk away and don't talk at all if you don't feel like socializing. They won't take offense. Mind you, some can get extremely chatty!
Police presence in San Jose del Cabo Mexico
There are police everywhere in San Jose del Cabo Mexico. Take note that Cabo San Lucas and San Jose del Cabo might be part of the Los Cabos umbrella but each sub-city is still governed independently and differently.
San Jose has a more organized police and street system, especially in the center of town where pedestrians are a priority. On weekends, some streets are closed so you can walk freely and safely without worrying about getting hit by a car.
You will always see police on every corner who always organizes thee narrow streets for travelers' safety.
Dating in San Jose del Cabo Mexico
I am in a serious relationship now, but when I moved to Cabo San Lucas in 2021, I was into Tinder a lot. As someone who was new to town and had zero friends (I came from living in Puerto Vallarta, btw), I found dating apps to be the stepping stone to meeting people.
The only issue with the matches: like most of you who are not familiar in Los Cabos, the Tinder area coverage will not explain to you where people are (San Lucas or San Jose) until you chat with them.
In the first few weeks, I always found myself chatting with guys in San Jose, but none of us are willing to visit each other's pueblos. Which sucked and I gave up.
In the US, a 45-min drive is normal, but here, we just won't really drive that far for dinner or drinks (unless absolutely necessary).
Is San Jose del Cabo swimmable?
YES! San Jose del Cabo is on the Sea of Cortez side (Gulf of California), and this side of the Peninsula is swimmable. Some beaches in Cabo San Lucas are not swimmable because Cabo San Lucas is in the tip of the Peninsula, where the Pacific Ocean meets the Gulf of California.
Basically, the Pacific side of the Baja has stronger waves and currents and swimming is not encouraged. But San Jose del Cabo, on the other side, has more swimmable beaches.
☕ Support this blog's honest and transparent journalism. Help us add value to what we are sharing. Keep P.S. I'm On My Way free for all by donating to our coffee fund.
✨ San Jose del Cabo Travel Tips
Is it worth visiting San Jose del Cabo?
I am not saying it just because I live here but YES, San Jose del Cabo Mexico is worth visiting! As the more sophisticated and tranquil counterpart to Cabo San Lucas, San Jose del Cabo is an idyllic destination for relaxation, adventure, and a rich cultural immersion.
The beautiful coastline boasts pristine beaches with turquoise waters, providing the perfect setting for sunbathing, swimming, snorkeling, or simply enjoying a lazy day on the beach.
The historic downtown features charming colonial architecture, cobblestone streets, and a vibrant art scene. The Art Walk, held weekly during high season, showcases local and international artists in the numerous galleries.
The region's unique desert-meets-ocean landscape offers breathtaking views and opportunities to explore the diverse flora and fauna of Baja California Sur.
Thrill-seekers can indulge in various water sports, including scuba diving, snorkeling, surfing, and deep-sea fishing. The local culinary scene combines traditional Mexican flavors with fresh seafood, creating a delectable fusion.
I customize Los Cabos tours! 🎉🥳
I live in Los Cabos and have traveled the whole Baja California Peninsula. You can call or send a Whatsapp to my office at +52 473 171 5259 to get a quote: no hidden costs, just simple prices
Can you walk around San Jose del Cabo?
YES, but only if you are in downtown or centro. San Jose's downtown has a layout of narrow streets where you can simply walk around but if you are staying in other areas, you really need a car.
How many days do you need in San Jose del Cabo?
The number of days you need in San Jose del Cabo depends on your interests and the type of vacation or the type of traveler that you are.
For most of my friends who visit me here, a stay of 4 to 7 days allows enough time to explore the area, enjoy the beaches, and even do day trips to Todos Santos and nearby areas.
During this time, you can experience the historic downtown, visit art galleries, indulge in local cuisine, and unwind on the pristine beaches. Additionally, you'll have the opportunity to do water sports and whale-watching tours.
Is it better to stay in Cabo San Lucas or San Jose del Cabo?
Deciding whether to stay in Cabo San Lucas or San Jose del Cabo depends on your personal preferences and the type of vacation experience you are seeking. Both destinations have their unique charms and attractions, so consider the following differences to make the best choice for your trip:
Cabo San Lucas:
Vibrant nightlife: Cabo San Lucas is known for its lively atmosphere, bustling nightlife, and popular party scene, making it ideal for those seeking entertainment and socializing.
Tourist-centered: It caters primarily to tourists, with numerous resorts, restaurants, and shops catering to visitors' needs.
Outdoor activities: With easy access to various water sports, boat tours, and the famous El Arco landmark, it's a great choice for adventure-seekers.
Beaches: Although the beaches in Cabo San Lucas are beautiful, some are not suitable for swimming due to strong currents.
San Jose del Cabo:
Tranquil atmosphere: San Jose del Cabo Mexico is quieter and more laid-back, making it perfect for relaxation, romantic getaways, or family vacations.
Cultural richness: The historic downtown offers a rich cultural experience, with colonial architecture, art galleries, and a weekly Art Walk during high season.
Local charm: The town has a more authentic Mexican feel, immersing visitors in local culture and traditions.
Beaches: The beaches in San Jose del Cabo are generally calmer and more suitable for swimming and snorkeling.
Ultimately, choose Cabo San Lucas for a lively, energetic experience, and opt for San Jose del Cabo if you prefer a more serene, culturally-rich vacation.
How much is cab from Cabo airport to San Jose del Cabo?
The cost of a cab from Los Cabos International Airport (SJD) to San Jose del Cabo typically costs between $50 to $100 USD (one-way trip).
Shared shuttle services, which are generally more affordable, can also be a cost-effective option for those on a budget. Remember than San Jose del Cabo is closer to the airport than Cabo San Lucas so this cab price will be cheaper.
You can check the current prices of the Los Cabos International Airport taxi services to see the current rates. You can also use the code PSIMONMYWAY10 to get a 10% discount upon checkout!
✅ San Jose del Cabo Mexico safety tips
Get travel insurance
Do not travel to Mexico without travel insurance! I use SafetyWing, for my nomad insurance and only pay $40 USD per month (both travel and medical insurance).
Lately, I discovered Ekta Traveling and loved their services! Their medical insurance is as low as $0.99 USD and they accept travelers from 2 months to 100 years old.
Mexico will not ask you for mandatory travel insurance (upon entry) but make it a priority when planning your trip to Cabo Mexico.
Respect Mexican culture, don't be such a gringo
And I don't mean this in a bad way. What I mean by this is that we are visitors here and we are not entitled to anything.
I also don't want to apologize for this, but many Americans feel entitled here disrespecting service people, talking so loud, and being not aware that Mexico is not their country.
I am saying this because there are so many great Americans here who respect the Mexican ways and culture. Case in point, this is not your country, so there is no room for your entitledness here.
Do not buy drugs at all costs
Do not engage in any drugs nor look for drugs. Do not ask people you don't know about drugs or even weed. This is a no-no when traveling in Mexico, not just in Cabo.
From living here, I've shared this tip in almost all my posts: you will only get in trouble in Mexico if you buy drugs. If you are just a tourist spending money on touristy things, then no one cares about you.
⁉️ San Jose del Cabo FAQ
What is San Jose del Cabo known for?
Is it expensive in San Jose del Cabo Mexico?
San Jose del Cabo Mexico can be considered moderately expensive compared to other Mexican destinations.
However, the overall cost of your trip will largely depend on your personal preferences, the time of year you visit, and your choice of accommodations, dining, and activities.
Accommodations can range from budget-friendly hostels and motels to luxury resorts and boutique hotels. Similarly, dining options include a mix of affordable local eateries and more upscale restaurants.
Activities and entertainment vary in price as well, with some options like beach visits and exploring the art district being low-cost, while others like guided tours, water sports, and golf can be more expensive.
To save money, you can try traveling during the off-peak season (typically from May to November), when hotels and activities might offer lower rates.
Is San Jose del Cabo airport the same as Los Cabos?
Yes, San Jose del Cabo International Airport (SJD) is the same as Los Cabos International Airport. The airport serves both San Jose del Cabo and Cabo San Lucas, which together form the popular tourist destination known as Los Cabos in Baja California Sur, Mexico.
Los Cabos International Airport is the main airport for the region and offers various domestic and international flights, connecting the area to major cities in the United States, Canada, and other parts of Mexico.
If you see Cabo San Lucas Airport on any booking platform, that's only for private jets and charter planes. Big passenger carrier planes do not operate at Cabo San Lucas Airport and it is more of a regional airport than International.
🇲🇽 San Jose del Cabo Mexico Travel Planning
✈️ Flights to San Jose del Cabo
Use Kiwi.com to find the cheapest flights to Los Cabos. This is my favorite booking engine because they compare prices across all airlines for your route. The airport that serves Cabo is San Jose del Cabo Airport.
🛏️ Hotels and resorts in San Jose del Cabo
There are no budget accommodations or hostels in San Jose del Cabo. If you want accommodations under $100 USD, Booking.com is the best choice.
🚑 Mexico Travel Insurance
Do not travel to San Jose del Cabo without travel insurance! This is the top item you have to buy when traveling, and it is a must. Be prepared for the possibility that something can happen to you while traveling abroad. My favorite travel insurance is SafetyWing (for digital nomad and entrepreneur trips) and Ekta Travel for comprehensive medical insurance starting at $0.99 USD!
Trisha is one of those people who left their comfortable life to travel the world and learn about life. Her style is to stay in one place she likes for 3 months (or more) to know what it feels like to eat, cook, speak, and sleep in another culture that isn't hers. She'd like to believe she's not traditionally traveling but she just chooses to be somewhere else all the time. In no particular order, her favorite cities in the world are Barcelona, Buenos Aires, Hong Kong, Mexico City, and Tel Aviv.