I've seen a lot of moving to Mexico guides online that are very generic and super hard to understand. I tried my best to use simple words in this guide hoping that you can successfully move to Mexico without help!
Reader Mail: Hi Trisha! I'm sure you get these types of messages all the time but I just came across your blog. After trying multiple Google searches, your blog is exactly what I was looking for!
I am a US citizen, single, female, and I plan to move to Mexico this winter. Your Mexico blogs have been incredibly helpful because they are very detailed and not generic. I love your writing voice!
I want to know what are the necessary steps for my move to Mexico? A lot of websites I see are not very direct so I hope you can write a post about this. Thank you in advance and I appreciate you, girlfriend!
– Mindy, USA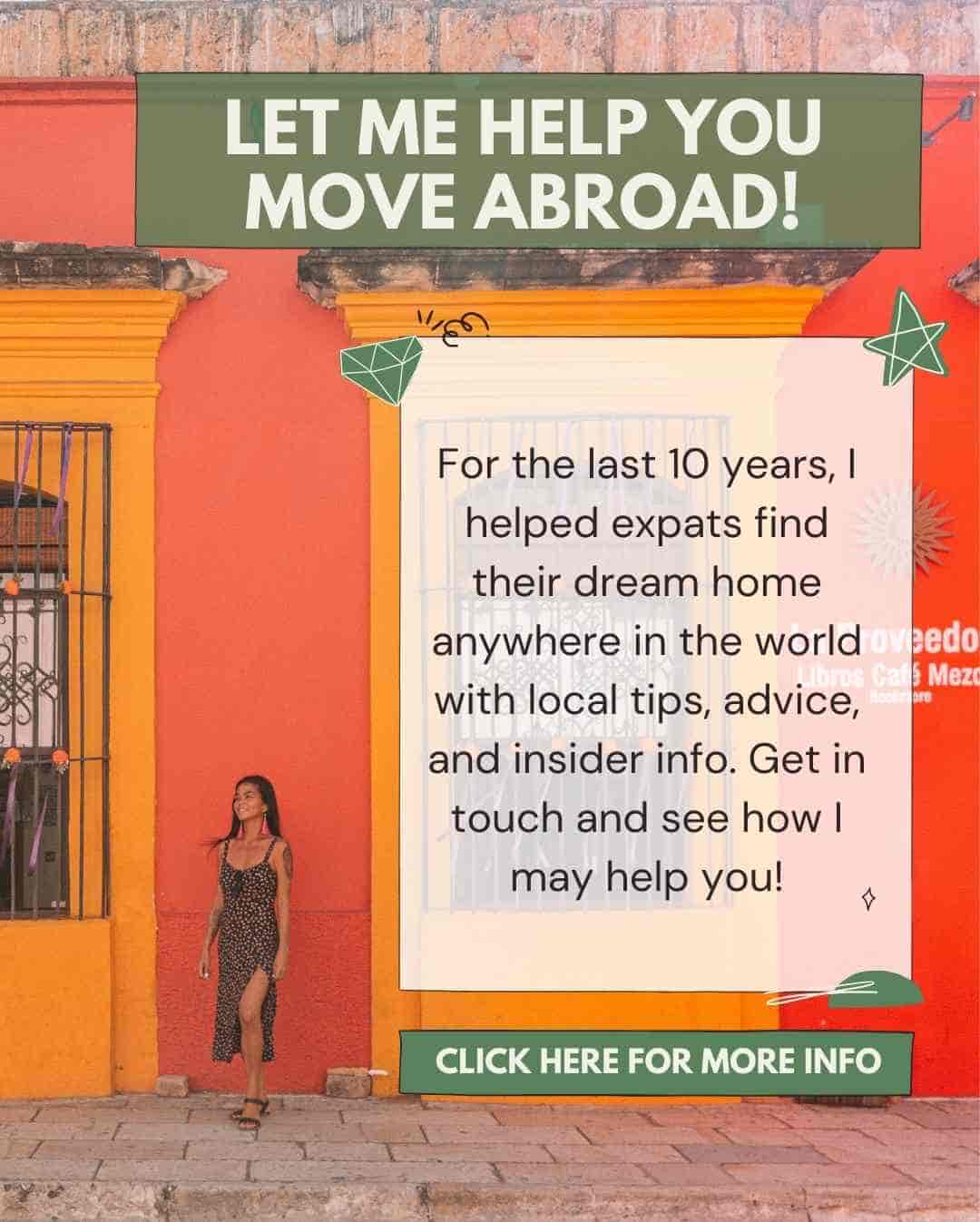 Dear Mindy,
Thank you so much for the kind words! I try my best to be detailed but give easy to understand information at the same time. I am glad you are here with me on this journey!
To be honest with you, moving to Mexico was kind of accidental for me. I was just here to travel and voila – after a year, I found myself receiving a 4-year Mexico residency visa.
I've been living abroad for the last 10 years (Hong Kong, Buenos Aires, Tel Aviv, Barcelona) but I never really stayed in one country for more than a year.
Living in Mexico truly changed my life and I am sure it will be a different experience for you, too! Please see my moving to Mexico guide below and if there's anything you need, you know where to find me!
Xx,
Trisha
🙋 Can you just move to Mexico?
Yes, of course! I don't see why not! As long as you are qualified for the residency visa (which is a quick and easy process), you can certainly move to Mexico without problems.
Of course, there are a lot of things to do in terms of logistics but I will discuss how you're going to manage to move to Mexico in this easy-to-understand step-by-step guide to read on!
Is moving to Mexico a good idea?
ALWAYS! Mexico has the most affordable cost of living, the Mexican people are nice and I've felt safer living here than in Europe!
For sure, Mexico gets bad press in terms of safety but think about all the 1.5 million Americans living in Mexico – why do you think they chose to live here if it's not safe?
Safety comes in different layers, and the way we perceive safety is all different so my advice is to come here and see it for yourself!
Mexico offers a great quality of life and many Americans have reported that when they moved here, their health has greatly improved.
💵 How much money do you need to comfortably live in Mexico?
There is an impression that Mexico is super cheap but like most places, it really depends on the area. Foreigners usually aim to move in popular neighborhoods where a tourist would usually go but there are many cheap options within a city in Mexico that you want to live in!
You can easily find a decent $350 USD per month long-term rent but I have to tell you that you need to be equipped in finding these best prices. Meaning, you'd have to speak Spanish fluently.
Unfortunately, rent prices here in Mexico change when you're a gringo (foreigner) so in an American's mind, the cheapest rent price in Mexico starts at $600 USD but that's not the case!
Additionally, the cost of living in Mexico depends on where you want to live. You will see a lot of generic cost of living articles for Mexico on the Internet and they're not accurate. The costs here differ by area.
❌ What are the disadvantages of moving to Mexico?
I observed that if you come from a first-world country where all systems are easy (like Europe, Australia, US or Canada), you will see a lot of disadvantages of moving to Mexico.
Before moving to Mexico, bear in mind that this is not a country where banking is easy. You will need to go through a lot of hassles just with a simple banking day. It can even take your whole day just doing one transaction.
The Mexicans are also a fan of the mañana habit so if you want something repaired, rest assured that workers will not come on the hour that they said they would.
I wrote about 50+ things you need to know about living in Mexico. If you read that post, you will be familiar on how everything works here – from banking to grocery shopping, to paying bills etc.
🏦 Can I move to Mexico with student loans in the US?
Yes, you can. But you need to understand that moving to another country does not exempt you from paying your student loans in the US. It won't just magically disappear because you left the US.
You will still incur interest rates and your overdue payments will still be there. I do not have student loans in the US but most of my friends who live here do.
According to them, it doesn't matter if they live in Mexico. As long as they are paying their student loans back home in the US, then there won't be a problem.
When applying for a resident visa in Mexico, they won't really ask if you have student loans or not. Basically, Mexico does not care about this subject as long as you complete the requirements for visa application.
🧾 Do I need to still pay taxes in the US if I move to Mexico?
Like your student loans, there is no escape route. According to the US laws, no matter where you are living in the world, you need to file a US Federal tax return. You are not exempted from this.
I am not a US citizen but I have a US-registered company so I am also compelled to pay taxes in the US as a non-citizen, even if I am living in Mexico.
To be honest, this is quite hard to track but I pay an accountant for expat taxes to do all these for me. This way, I don't need to think about it as I am also very bad with numbers!
I can connect you to my expat tax accountant in the US if you are a digital nomad/expat who lives outside of the US. Just contact me. I swear they are awesome!
Do I need to hire someone to help me move to Mexico?
Absolutely not! You can move to Mexico all by yourself by following the steps below. However, I do know a lot of Americans and Canadians who don't want to go through the hassle and prefer paying someone knowledgeable for their hassle-free move to Mexico.
For the last 3 years, I've helped Americans and Canadians move to Mexico. I've assisted them with translations, residency visas, and looking for a place to live.
I am not an agency but just an individual but I am knowledgeable about living and moving to Mexico. If you want to get a quote on how I can help you move to Mexico, you can see my private consultation page for more info.
Honestly, if you have the time, I do not recommend you to hire someone because moving to Mexico is easy!
✈️ Moving to Mexico: a step-by-step guide
Step #1: Travel here first
You won't possibly have the idea of moving to Mexico if you haven't visited first. Seeing photos of Mexico on the Internet is very enticing that most of us don't even think that traveling and living here are two different things.
We tend to rush everything because we want to escape the life we are currently in but honestly, moving to Mexico won't make sense if you haven't traveled here.
By traveling to Mexico first, you will get to familiarize yourself with the language. You need to get a feel if you will survive here without speaking Spanish, if it's okay for you to live in an area where there are lots of Americans, if the food won't hurt your stomach.
These are just some of the factors to consider when thinking about moving to Mexico and you will only know all these if you come here first. Who knows? You may not like Mexico at all.
I highly doubt that you will not like it here but still, you know yourself more than I do. Come here and do an initial ocular. There are many places to visit in Mexico and I am sure you'll fall in love with one at some point!
Step #2: Decide where you want to live in Mexico
There are a lot of great places to live in Mexico but how would you know which one is for you? How I decided where to live in Mexico was all because I traveled a lot around the country.
My lifestyle allows me to move as much as I can (as long as I have WiFi) but there was a point that I became tired and just wanted to stay in one place.
I started staying a few months in the digital nomad destinations in Mexico which have good Internet because I won't be able to afford to live here if I can't work. So that's the first thing you need to think about.
Are you Internet-dependent? If yes, I hate to break it to you but the dream of living in Mexican beach towns will be very difficult but I found ways to go around it. It really depends on what you do.
Each town/city in Mexico has a different lifestyle so check in with you first. Have an inner dialogue: what kind of lifestyle do you want when you go to Mexico?
Some factors include internet connection, grocery shops, need for a car, expat communities, safety, weather, transportation, outdoor activities, and cost of living.
The good thing is there is always a place for every preference of living in Mexico. Beach towns, mountains, and even the Mexican cities are really really great places to live in!
You won't really have any idea of what life is like in the place you want to move to so make sure you do step 1 or get in touch with me to have a better idea of what it's like.
Step #3: Tie loose ends at home
This is what I ask all my clients who want to move to Mexico: are you completely sure that you are going to leave your life in the USA or Canada? Or you're just going to spend half the year in Mexico?
If you are 100% sure about moving to Mexico, you need to tie loose ends at home because this will also save you money. You don't want to pay 2 rents (unless you own the house). The idea of moving to Mexico is for you to have an affordable lifestyle and save money on the side.
If the house is yours, you can sign it up on Airbnb and Vrbo but you still need a property manager to handle the bookings. Otherwise, you can just sublet it until you decide to come back.
Storage fees are also a different story. Some of my friends in New York are paying $400 USD on the side just to store their belongings they don't even know if they are coming back!
Personally, I'd suggest you get rid of all the belongings that you don't really need. Keep one box that you can easily leave with friends or family because that's what I did.
Moving to Mexico means starting fresh so it would be great if you only bring what you need. You can buy whatever it is that you need here anyway. We have the same stores as the US!
I also have clients who moved here together with their furniture and everything that they own which is costly but that was their decision.
The logistics of this is pretty tedious but if you are 100% sure that you want to bring all your stuff, so be it. Just make sure you know that there are extra costs to transport all your belongings to Mexico but it is doable.
You also need to cancel your phone bills, gym membership, Costco subscriptions, etc – I know you may think that these are only a few dollars but if you add it all up in a year, that's still a lot of money for memberships that you do not use.
Oh, don't cancel Amazon Prime because that works in Mexico. Addresses in Mexico are so hard to find (thanks urban planners) so being an Amazon Prime member is really convenient. They always do their best to find your location!
Also make sure that your phone is unlocked so that it will work with a Mexican sim card. Other things to consider to sell/rent is your car.
Most people just bring their cars to Mexico but that's a whole lot of another customs/border crossing shebang to move your car from Mexico to the US. Again, it is tedious but doable (and extra costs).
You can easily open a Mexican bank account once you are already here but if you still want to use your bank, make sure your bank at home is informed that you are going to travel.
I never told my bank that I will move permanently. I just say travel because I don't really know the implications of informing the bank that I am leaving the country.
Banks might block your US card in Mexico if they weren't informed of your 'travel' so it's better to let them know before you leave.
There is an implication that if you move to Mexico, you will not pay US taxes but I hate to break it to you – that is not the case. You still need to pay taxes as I mentioned in the first part of this article.
Make sure you have an accountant that will take care of your US taxes for you while you are living in Mexico. I just hired someone to get over with it – I really can't be bothered with this since I don't live in the US!
Lastly, you might want to do a full-body medical check (blood pressure, x-ray, CT scan, etc). You can definitely do that in Mexico too but if you have health insurance in the US that will cover these tests, then do it!
Dental care is way cheaper in Mexico so you don't have to worry about that here.
Step #4: Get your Mexico temporary resident visa at home
For those who are still not sure if they want to move to Mexico full-time, you don't really need to apply for a Mexican temporary resident visa. Mexico has a generous 6-month visa program for tourists that fits every American's set up of having part-time homes in both countries.
You will not get busted for renting an apartment here for 6 months with a tourist visa. You will only have a problem if you exceed that stay. 6 months is a good time, right? Spend the winters here then go back to the US because summer in Mexico is unbearable.
Step #5: Get global health insurance that covers COVID-19
Your expat insurance in Mexico will depend on what kind of residency visa you apply for. Since I am on a digital nomad visa in Mexico, I can still use my digital nomad insurance which I pay $40 USD a month.
There are many expat insurance providers in Mexico but I haven't tried them myself so I can't really recommend it. Plus, it seems like they are international companies that are not operating within Mexico. It's best if you find insurance on your own.
When I got my residency visa, I tried to contact a local expat insurance company in Mexico and they told me that I can only be insured after a year of monthly payments. I found that super annoying and useless so I just stuck with my own insurance.
Step #6: Find a long-term rental
The most common mistake that expats do when they move to Mexico is buying a house first. In my experience (and as many expat stories here), people get too excited about purchasing a home in Mexico then, in the end, they realize they didn't like the location, they can't sell the house easily, the title transfer is difficult, etc.
I really don't encourage you to buy a house in Mexico unless you know the area you are buying in. And that, my friends, take time.
Mexico has very blurred rules in home buying as different real estate agents will tell you differently. Another thing to consider when buying a home is having a trusted realtor that you can count on if something goes wrong.
Building relationships with the locals is also essential when purchasing a home. When the community knows you, you and your home will be taken care of.
So the best thing to do is to rent first. Long-term rental in Mexico is very affordable. As I am currently living in different parts of Mexico, I set a $650 USD rent budget, and with that amount, I always get big houses inaccessible areas.
I must warn you that as an American who doesn't know how to speak Spanish, people will tend to put the prices up because they know you will pay.
For example, I can get charged $650 USD for a house because I can speak Spanish (not to mention I haggle, too) but white people can be charged double if you don't know what the real price is.
I've helped a lot of people get the proper price rent as I offer services of apartment hunting on-site. I can definitely help you with this if you want to save money!
Finally, I discourage you to use Airbnb when you're on a budget. Their service fees are too high and you will lose a lot of money.
The best way to look is always with locals – you even get a better house for your budget if you do it like this as opposed to just relying on what you see on Airbnb.
Step #7: Shipping/moving your things to Mexico
Mexico's shipping system is, oh well… very inefficient. The addresses on Google maps are all incorrect because of the poor urban planning in Mexico. Unless you are in a gated community (like me), packages will arrive smoothly.
If you are shipping things to Mexico, you need to find an address that is reliable. When I was living in Sayulita, I use my co-working space address to receive packages.
That co-working space is not easy to find either but the thing is they receive a lot of packages that the delivery guys already know the address by heart. In small towns like Sayulita, the same delivery guy goes every day. I swear, it's the same person!
You can easily ask your realtor or landlord if you can use their office address to receive your packages. Don't worry, Mexican landlords are super trustworthy so rest assured they will take care of your stuff!
I also advise using premium delivery companies that work in both Mexico and worldwide such as DHL, UPS, and FedEx. This way, it will be easy to contact them if you run into any problems.
Most importantly, you need to have a Mexican phone number since delivery guys always call when they can't find your location. I highly rely on their calls whenever I am scared that a package won't get to my address. They always call, I swear!
Step #8: Moving to Mexico with children or pets
Like in all countries in the world, you need to have a permit when traveling with children. But you only need this permit if both parents are not entering Mexico with the child.
In some cases, parents travel separately because one has to take care of tying loose ends at home and one had to set up in Mexico. If you are a single parent, you definitely need a signed permit from the other parent.
The requirements to fly with pets to Mexico depends on the airline so after booking your ticket, ask the airline what paperwork you need to present. Usually, they just ask for proof of rabies shots and a certificate of good health.
It's also very easy to buy a ticket for your pets. You can even buy it when you are already checking in (as long as you have the paperwork) so the important thing to do is to book your ticket first.
Please note that medium to large-sized dogs need to be transported in a crate. You need to buy them too and man, they are not cheap! Believe me, I am traveling with 2 big dogs and it's always a pain to fly them.
Border crossing from the US to Mexico is easier. You don't have to pay for a ticket but you just need to complete the paperwork.
Step #9: Learn Spanish!
Wherever you choose to live in Mexico, there will be a big expat community mostly consisting of Canadians and Americans. This makes expats not learn Spanish but believe me, when it comes to living in Mexico, you need to speak Spanish.
I realized that even though Mexico is a North American country, English is still not very widely used here (by locals) and if they can speak English, there's always confusion with the explanation (i.e. bank tellers).
Repair guys, delivery guys, mechanics, and everyone you need to maintain a home in Mexico also don't speak English so imagine how you're going to communicate with them well if you need something done.
My fluency in Spanish is not from Mexico but is from backpacking South America for 3.5 years. Most of my Spanish skills are from traveling. I did not really go to a language school nor hired a teacher.
If you want to hire a teacher, make sure that they are certified so you'll have a prolific lesson plan that will help you in learning Spanish. Mexican Spanish is also different as it is in every Spanish-speaking nation.
I can recommend a great teacher that will help you learn (online) and create a customized lesson plan that will fit your needs! I also have a few courses to offer so just e-mail me.
But please, only contact me if you are really willing to learn Spanish, otherwise, it won't work. Learning a language comes with willingness and if you're not willing to put in an hour a day into learning, you will not be fluent.
Step #8: Put all bills in your name
In Mexico, bills are used in many things like opening a bank account or applying for home wifi. This is what we call the comprobante de domicilio and it is one of the major requirements for anything in Mexico.
It's very easy to transfer the bills in your name but you can only do this if you are renting long-term or buying a home. For short-term renters, you can still use a comprobante de domicilio under your landlord's name. Mexican companies don't usually care.
To change the electricity billing name, you just need to go to the billing office called CFE. Bring your lease copy, passport, and the original bill in your landlord's name. It will take 2 minutes to do this (and maybe 2 hours for falling in line. LOL).
Step #9: Open a bank account in Mexico
It is very easy to open a bank account in Mexico. It will only take 2 hours but you need to know which bank is the best for your banking needs.
I am using BBVA and Banorte because these two are widely used in the areas I lived in. BBVA is also the best bank in Mexico and I love all their services!
When deciding which bank to get an account with, make sure that the bank has many branches and ATM machines in the area you live in.
When I lived in Puerto Vallarta, there are more Banorte branches but when I moved to La Paz Baja California, BBVA is everywhere. In the end, I decided to keep both. It really depends on the area you will live in.
You can only open an account with big banks in Mexico if you have a residency visa. For those who are on a tourist visa, your only bank option is Intercam.
Step #10: Apply for a post-paid sim card
Buying a prepaid sim card is very easy in Mexico. The first thing you need to decide is to select a mobile provider. I've used AT&T in the past but realized how the signal fails in small towns.
Then I moved to a Telcel postpaid. Telcel has the biggest coverage all over the country and you will find many Telcel kiosks wherever you choose to live.
For prepaid sim, I pay $10 USD a month for unlimited calls and social media. I decided to apply for a postpaid sim for $28 USD a month because it does not have limits on data. For my job, this is the plan that makes more sense.
When applying for a postpaid plan, you just need to bring your CFE bill, your passport, and your temporary residency card. Unfortunately, tourists cannot apply for a postpaid plan in Mexico.
You also need to have 3 contacts that use Telcel for reference. Usually, they will ask for the contacts that have sim cards registered in the state you are in.
You can't just give any Mexican number for reference. It will take minutes to activate your plan. It's really easy and Telcel centers don't have long lines.
The Telcel sim also works in the US. With my $28 USD plan, I can even call US numbers for cheap. I still keep my US sim card though but I switched to a USA prepaid sim which I pay $15 USD per month.
Step #11: Buy a car
If you decided to sell your car in the US before moving to Mexico, buying a car in Mexico is a little bit complicated as banks don't offer to fund. And if they do, expect very high-interest rates – it's really insane!
The best way to buy a brand new car is, unfortunately, paying it all in full. This way, you will get the car in your name but this is only applicable for those who have a permanent resident visa. Temporary resident visa holders are not allowed to have the car in their name.
I bought my car at Toyota (brand new) and I had to find someone with a permanent residency visa to put it on their name. My visa is only temporary but I only did this because the person I asked is someone I trust.
Most foreigners here buy second-hand cars and this is the more popular and easier option. The only thing is, I am really not a fan of buying second-hand because the paperwork can be complicated. Stolen cars are also very common here so I didn't want to risk it.
If you want to buy a car in Mexico, I can recommend you to my dealer who will help you with everything including name transfers for second-hand cars. He charges a very small fee and he is my trusted person when it comes to cars!
Step #12: Apply for a Mexican driver's license
Applying for a driver's license in Mexico is easy because you don't even have to do it yourself. The lines at the land transportation offices are really long and not a lot of people speak English so you might need to have a local contact to do this for you.
Believe me, it is not hard because there will always be that person in your area that expats trust when it comes to getting a driver's license – just ask around!
I did mine with my trusted person in Playa del Carmen with a fee and he even got me a permanent driver's license! All I did was send a photo and signature via e-mail and I received my driver's license within 2 days (hassle-free!)
📍 Best places to move to in Mexico
#1: Puerto Vallarta
There are supermarkets everywhere, Uber is cheap, and mind you, we have Costco! Not all Mexican cities have Costco so for Americans and Canadians who live here, this is a plus.
I have a car but you don't really need a car in PV as Ubers work here. There are also lots of expat communities so you can easily make friends here.
I've struggled in blending with locals here as all my friends are white but I also found a community of Mexican girls (from work) that I frequently see while living here.
#2: Sayulita
Sayulita is the safest area I have lived in Mexico. Again, small towns will make you feel safer because of the overfamiliarity. There are lots of outdoor activities – people are always out and about and that's what makes it so fun! I need to warn you that Sayulita is not for everyone. Before moving here, check the lifestyle first and see if it fits you.
#3: Mexico City
Many expats avoid Mexico City because of the air quality and the high altitude but if these two main 'cons' don't really bother you, you will definitely enjoy living in Mexico City as an expat.
Apartments in Mexico City are affordable but since I only want to stay in the Roma and Condesa area, it's always hard to find rent that's less than $650 USD (which is my budget). I always over go this budget in Mexico City!
#4: Merida
Most of my friends who are living in Merida are families with kids. In fact, many people say (even the Internet) that it's the safest place to live in Mexico.
I did feel safe traveling to Merida but I also did not see the difference from other Mexican cities when it comes to safety. Again, how we quantify safety really depends on our living needs.
#5: San Miguel de Allende
San Miguel de Allende is an expat's favorite. This is also one of the whitest cities I've been to in Mexico although you can still immerse yourself with the Mexican culture.
Famously known as SMA, this city has a European feel in it because of the old structures. I also felt very safe walking here even in the wee hours of the morning!
Moving to Mexico guide on Pinterest: save it for later!
Trisha is one of those people who left their comfortable life to travel the world and learn about life. Her style is to stay in one place she likes for 3 months (or more) to know what it feels like to eat, cook, speak, and sleep in another culture that isn't hers. She'd like to believe she's not traditionally traveling but she just chooses to be somewhere else all the time. In no particular order, her favorite cities in the world are Barcelona, Buenos Aires, Hong Kong, Mexico City, and Tel Aviv.