This Lisbon Digital Nomad Guide was written by Marco Santos, a digital nomad from South Africa. Marco visited Lisbon once and decided that he'll stay there long. In this guide, he explains the digital nomad visa in Portugal, cost of living, Internet, and everything about being a digital nomad in Lisbon.
Reader Mail: Trisha, I started following you during your first student years in Italy in 2011. I am so impressed that you are still living a life of travel up until now! I am planning to go to Europe soon if COVID situations ease up. What do you think about Lisbon as a digital nomad base? I saw you spent a lot of time in Portugal so I need some advice! Thanks for all the wonderful digital nomad blogs. They really help a lot!
– Monique Flatt, USA
Hello Monique,
Glad you wrote to me! Portugal is one of the EU countries that eased up with its COVID restrictions. They really want tourists to come! Being from the USA, I'm sure you are already vaccinated so you won't have a problem relocating to Lisbon.
I have not been to Portugal since 2012 so I'm afraid I don't have the most updated information about being a Lisbon digital nomad. However, I called some reinforcements from friends who have a lot of experience and expertise about the topic.
Marco is a digital nomad and runs the blog Travel-Boo. In this post, he will share with you all his experiences about Lisbon. Please don't hesitate to send us a message on Instagram if you have any questions! I'm at @psimonmyway and Marco is at @thetravelboo.
Good luck!
Xx,
Trisha
My partner and I first visited Lisbon on holiday in 2016. Having been born and raised in South Africa for most of my life, I've always wanted to visit Portugal as I also happen to be part Portuguese (my Father was born in Portugal).
It was on this holiday, exploring Lisbon and other parts of Portugal, that we instantly fell in love with this incredible city and knew there and then that we wanted to return and make it our home.
Even though there are so many awesome things to do in Porto in the north, which I also love and adore. We still felt a very strong and special connection to Lisbon and just had to return. Fast forward a year later to 2017 and we finally boarded our flight headed for Lisbon and have not looked back since.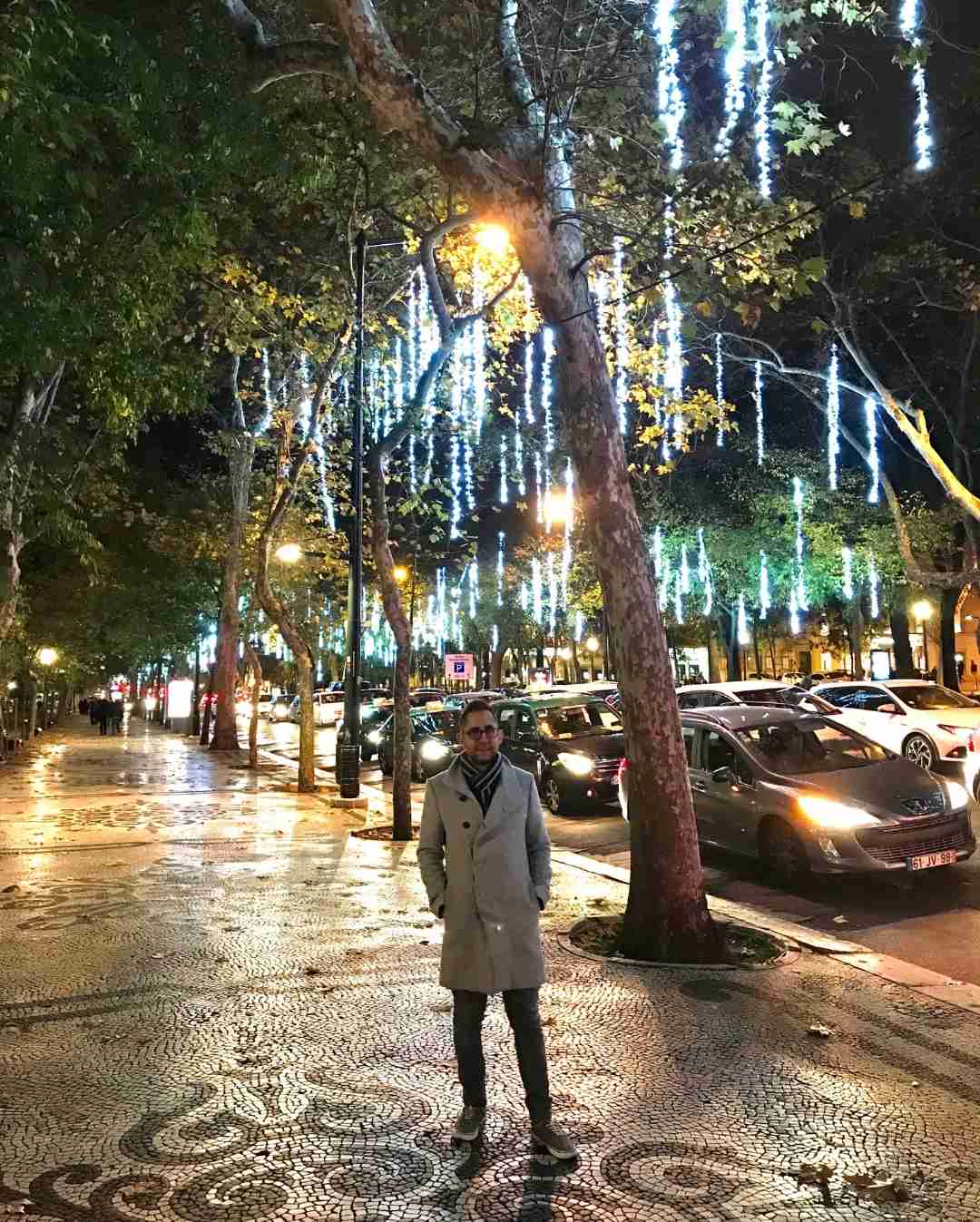 Initially, we weren't too sure how we were going to make it work career-wise. I have always worked in corporate travel whilst my partner runs his own interior design business.
Thankfully though, I was offered a part-time role consulting to the company I had worked for back in South Africa, which allowed us the time to settle and explore this new nomadic life we were embarking on.
Since then, we've loved living in Lisbon. I have established my own online travel business alongside my travel blog which I've been working on in earnest for the past year. Having lived in Lisbon for close to 3 years now, we have enjoyed the privilege of getting to know the city inside and out.
Is Lisbon good for digital nomads?
To entice more digital nomads to come to the country, Portugal has immensely improved their infrastructure by doubling its Internet speed and improving signals in all areas. Lisbon is the most attractive digital nomad destination in Europe because of its affordable prices.
Surely, if you choose Lisbon as your digital nomad base, you'll have a guaranteed good Internet speed, affordable cost of living, and a great community of freelancers and digital nomads.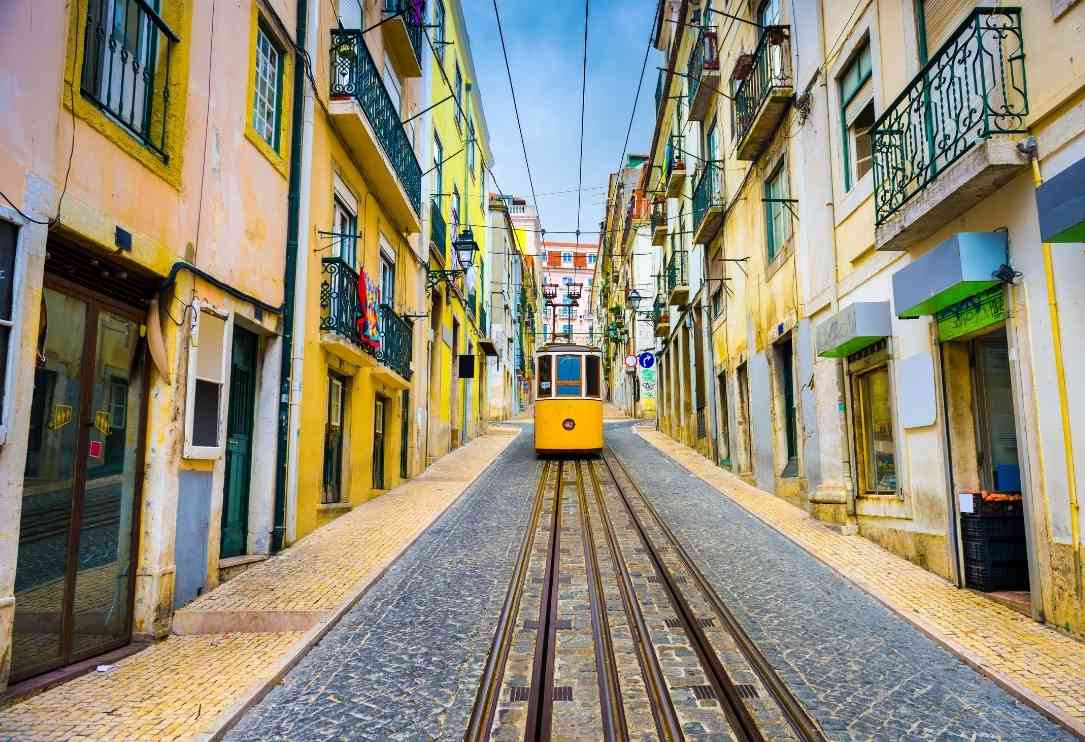 Where should I live in Lisbon as a digital nomad?
Santos is one of the up-and-coming neighborhoods in Lisbon. This neighborhood has greatly improved through the years – more restaurants and bars have started opening up. There are also many cafes where digital nomads can work in.
The streets are beautiful to wander around and if you choose to live in this area, you'll have everything you need around you.
How do I get a digital nomad visa for Portugal?
The digital nomad visa for Portugal is called the D-7 visa, which will be discussed in the latter part of this article. Portugal's D7 visa was launched in 2007 especially for retirees and remote workers. As an EU citizen, you are allowed to live and work in Portugal.
If you are from a non-EU country, the application process is more elaborate but not really hard to achive! As long as you can prove your financial capabilities and that you can support your lifestyle in Portugal, you'll easily get this visa!
Lisbon digital nomad guide: costs, Internet speed, visas, and more!
Lisbon digital nomad: personal experience
From the initial onset, we had decided to travel and explore as much as we could as we really wanted to see more of Portugal and Spain. We decided to book several different Airbnb's in different neighborhoods.
We would live in one area for a couple of weeks before traveling for a set time and then return back to Lisbon to try out another neighborhood.
This gave us the opportunity to get a real feel for different parts of Lisbon so we could decide where to stay in Lisbon full time once we returned from traveling. Doing a road trip in Portugal with Lisbon as your base is very convenient!
The rental market in Lisbon can be tricky. There is a high demand for rental properties, largely due to the influx of nomads and ex-pats who have been flocking to Lisbon over the past couple of years. This means that prices have been pushed up and properties tend to move very fast.
We eventually decided to settle in and around the neighborhood of Arroios. It's not too well-known yet, but we absolutely love the sense of community and its central location that's still a fair way away from the 'touristy' parts of Lisbon.
Another very popular neighborhood amongst many digital nomads in Lisbon is the up-and-coming area of Santos. Lined with trendy bars, boutique stores, and coffee shops, the area has a real charm, somehow maintaining the authentic and quintessential Lisbon look and feel.
Settling into Lisbon as a digital nomad is generally speaking fairly easy to do. You'll find fast, reliable Wi-Fi connections in many of the city's restaurants, bars, and coffee shops. Not to mention the warm and welcoming Portuguese people, most of whom also speak English, meaning the language generally does not pose much of a challenge.
Of course, there are a couple of things to consider. When first moving here you do need to set up a bank account and to do so would require that you apply for a NIF (Tax) number and also have proof of accommodation. But once these are ticked off your to-do list, you should be good to go.
The digital nomad scene in Lisbon
The great news for any aspiring digital nomad wanting to live in Lisbon is that the city has a strong and vibrant nomad community. Not only are there regular (almost weekly) language exchange as well as digital nomad Meetups, but Lisbon has also been the home of the global Websummit conference for the last few years, drawing in nomads and entrepreneurs the world over.
Last year, the digital nomad community also hosted their own nomad festival, the DNX Nomad Festival.
Connecting with other like-minded nomads really is a breeze when first moving to Lisbon. Download the Meetup app or join a couple of the Nomad and Expat Facebook groups as they often post events and parties happening throughout the city.
When it comes to finding a suitable co-working space to base yourself from, Lisbon certainly has no shortage. What I and many of my fellow nomad friends have done is to sign up for the Croissant co-working app.
It's based on paying a set fee that allows you to work for a set number of hours at various different co-working spaces across the city. It's a great way to try out spaces to see which you prefer.
Some of my favorite co-working spaces include Avila Spaces in Saldanha, Selena in Sao Bento, and IDEIAHub close to Marques Pombal. But of course, there are tons more that you can give a try.
Internet speed in Lisbon
As I mentioned earlier, when first arriving in Lisbon you will need to first apply for your NIF tax number. This will allow you to buy a Simcard through one of the operators, such as MEO, Vodafone, or NOS. Most providers offer simple top-up plans that will allow you a set amount of data, calls, and text messages.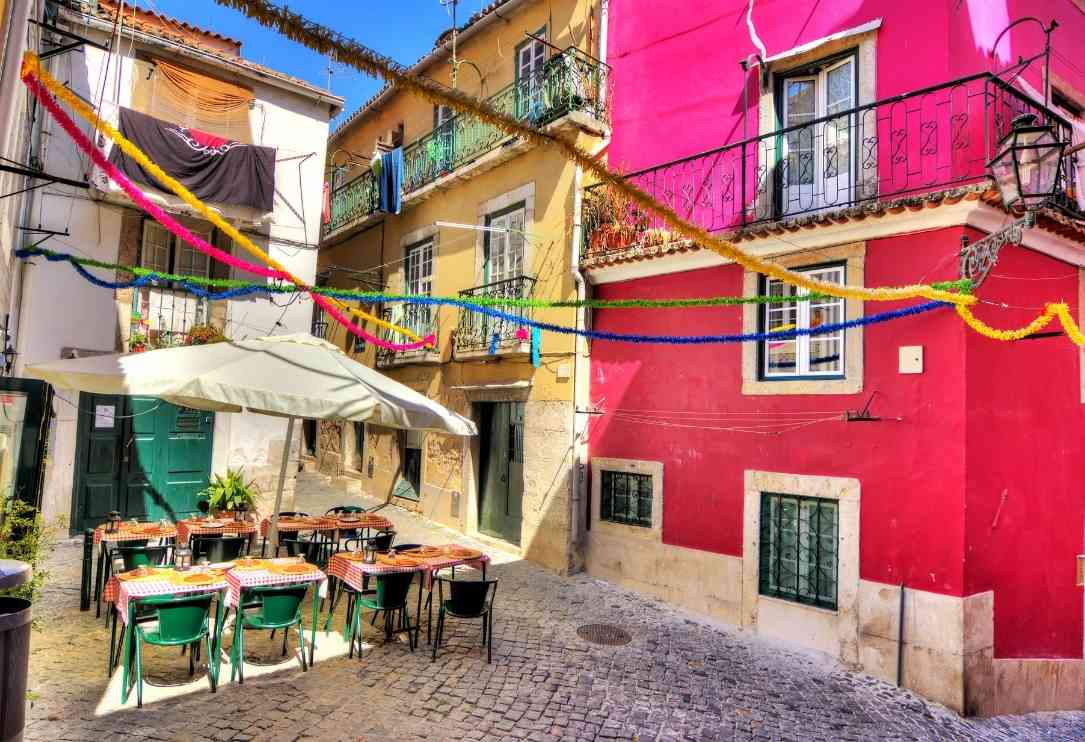 In saying this, I have to point out that Portugal has great Wi-Fi and I've very rarely struggled with the speed. Even most public Wi-Fi services found in coffee shops, restaurants, or co-working spaces are usually fast and sufficient to work off.
If you do decide to travel further afield and explore beyond Lisbon, then at times in the more remote and rural areas you may have some connectivity issues. But in general, the internet quality if Portugal is pretty high and should be the least of your worries when living in Lisbon.

Cost of living in Lisbon
One of Portugal's biggest drawcards over other European countries is its relatively low cost of living. General items such as shopping, dining out, or having a drink with friends are much lower compared to other European countries.
The only exception is housing. As Lisbon has grown in popularity, so have the rental prices increased over the last few years. If you plan to live on your own in a one-bedroom apartment you can expect to pay around €800 – €1000 per month in rent, depending on the location.
If you prefer a flatshare then €400 – €500 per month in the city center is what you'd expect to pay.
On the other hand, transport is pretty inexpensive. A monthly metro card that allows travel on the metros, buses, and trams within Lisbon's central node will currently set you back €30 (known as the Navegante Municipal).
If you do decide to live centrally and feel paying for the monthly travel card isn't worthwhile then you can simply pay as you make use of the metro. This is called 'zapping' whereby you load money onto a reusable travel card and simply pay €1.34 per trip you make.
Eating out is fairly cheap, especially if you know where to go. You can easily dine out for under €15 for the main meal and a drink. In fact, at some kiosks or bars, you can even pay as little as €3 for a glass of wine or a 500ml beer.
Digital nomad visa in Portugal
Depending on where you are from, you may need to obtain a 90-day tourist visa ahead of time. Naturally, if you hail from any EU country you can live and work freely in Portugal whilst most other nationalities will generally require a visa to be obtained upfront.
Interestingly, Portugal offers a unique D7 residence permit, which is what some of my nomad friends have managed to successfully apply for, allowing them to stay on longer in Portugal. This particular visa/permit is based on having a set amount of income that proves that you can live self-sufficiently in Portugal.
In order to apply for this type of permit, you will need to make an appointment with SEF, the entity in Portugal that manages border controls and the issuance of visas and residence permits.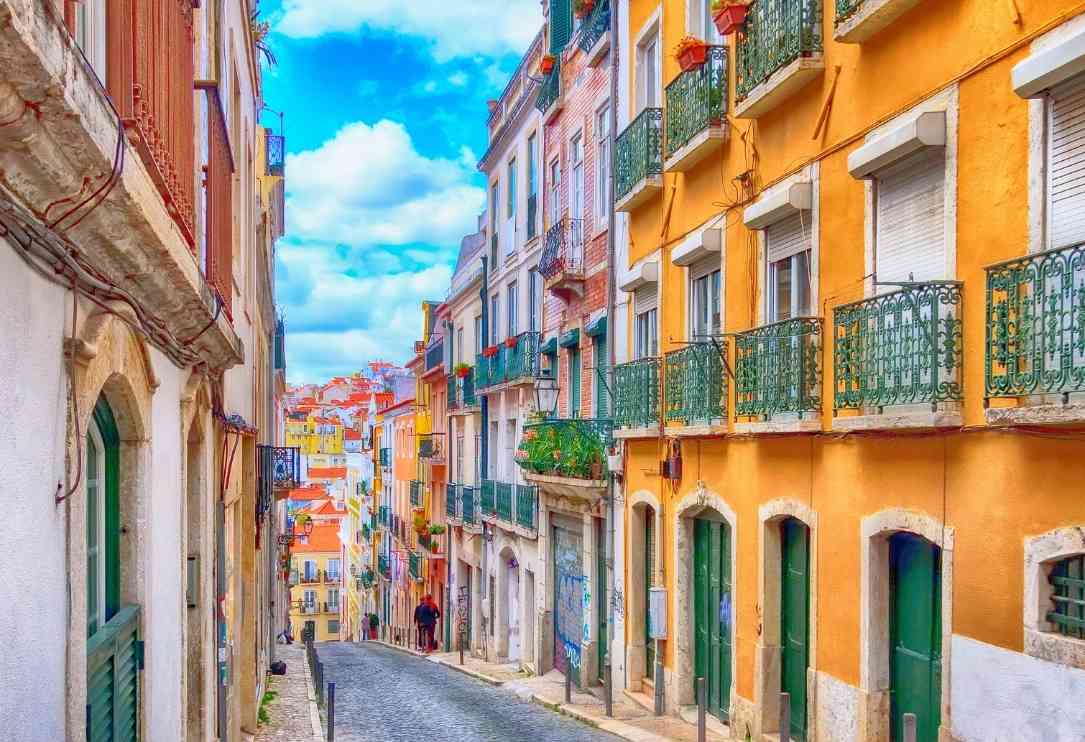 SEF is notorious for running out of appointment slots and you have to ensure you book an appointment the moment you arrive.
Even when booking a slot with SEF immediately upon arrival, the chances are good that your appointment date may well be after your visa expires. If this is the case you don't have to stress, as long as you have a booked appointment and received this confirmation in writing (usually SEF emails a letter of confirmation) then you can continue to legally stay in Portugal, even if your visa has expired.
But do note, this is only as long as you phoned to make the appointment before your visa actually expired.
Always make sure to check on your particular nationality's visa requirements for Portugal ahead of travel to ensure you have the correct documentation to enter Portugal legally.
Lisbon cafes with good wifi
Lisbon has a bustling coffee shop & café scene and these are often frequented by digital nomads. Some of the most popular ones include:
Copenhagen Coffee Lab
This cafe has branches in Lisbon, Hamburg, Ruhr, and Côte d'Azur. The best part about this cafe is they serve breakfast all day! I also loved the sandwiches and salads, plus their freshly squeezed juices! They have 7 branches all over Lisbon and I encourage you to visit all of them for a regular change of working environment.
Hello Kristof
I really love specialty coffee and Hello Kristof is one of the best places in Lisbon to explore and try the finest coffee in the world. There are big tables for those who want to spend the day working here. Their workstation is super nicely designed with paintings, plans, and interesting fixtures. You'll get on the groove when you go to work here for the day!
Fabrica Coffee Roasters
Fabrica has a little bit more social setting than Hello Kristof. But it doesn't mean you can't sit and work here! The space is very modern. Food and drinks are affordable. The staff is also super-friendly they will always suggest what you can order if you're overwhelmed by their menu!
Co-working spaces in Lisbon
Selina
Set in an older, yet trendy part of Lisbon, Selena is a little hidden gem. It's a co-working and living space. The outdoor garden includes a swimming pool and ample space to chill around in.
The co-working space is located just off the outdoor space and includes free Wi-Fi and coffee-making facilities too. For a change of scenery, you can also head up to the lush, green rooftop, for a more relaxed outdoor working experience.
Avila Spaces
I love Avila Spaces, not because it's close to where I live, but rather for the brilliant facilities. This space is both modern and comfortable with fast Wi-Fi, coffee-making facilities, and even a beer keg. They also have a small private booth in case you need to make private calls or meetings.
IDEAIHub
Set on the grounds of the beautiful Sotto Mayor palace, IDEAIHub close to Marques Pombal is one of the largest co-working spaces. It's ultra-modern and offers both rented office space, permanent desks as well as open desk spaces for those visiting for the day only. It has all the facilities you'd come to expect from a good co-working space including conference rooms, a full kitchen with vending machines and reception.
I would encourage any new nomads to Portugal, planning on living in Lisbon, to also consider exploring this beautiful country. Portugal is actually quite a small country but incredibly diverse. You can easily travel from Lisbon to Porto, in the north, in 3 hours by train at fairly inexpensive costs, making for a great weekend away.
Also, don't be shy to rent a car and drive as Portugal has really good motorways making traveling by car a pleasure to do. This will allow you to explore other areas of the country that may not be accessible by train or bus.
☕ Do you like what you're reading? Does it help? I take a lot of time creating valuable and meaningful content. If you like to support my content creation and my blog, consider donating to my coffee fund. Thank you in advance!
Lisbon digital nomad guide on Pinterest: save it for later!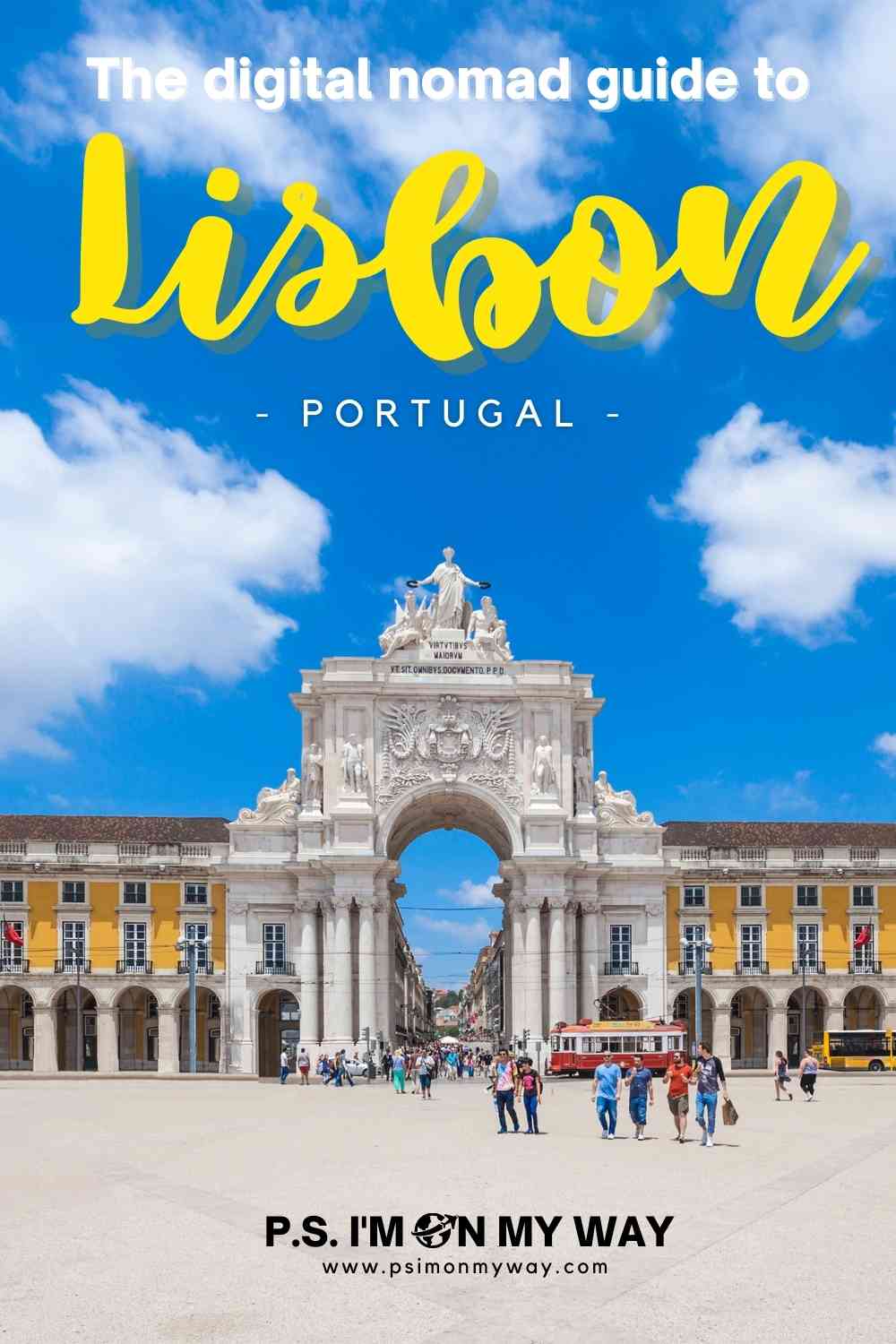 Born and raised in South Africa, Marco Santos from Travel-Boo, together with his partner moved to sunny Lisbon over 2 years ago. With an absolute love for Europe, he is on a mission to rediscover his own Portuguese heritage along the way. Marco has set out to blog and share his passion for traveling through and exploring both Portugal, Spain, and throughout Europe, through his blog Travel-Boo.