I lived in this wonderful city for 1.5 years!!! In this Tel Aviv digital nomad guide, you'll learn everything you need about moving to Tel Aviv, focusing deeply on culture and making genuine connections while working remotely.
I originally came here to just stay for a week. Staying as a Tel Aviv digital nomad was not the plan because this city was expensive. I also did not know anything about working remotely here because that was in 2016, at a time when digital nomad was not a thing.
Well, guess what? I stayed for 1.5 years and got glued to the digital nomad life in Tel Aviv! I learned about the city more and more and now, I come back every year and still call this city my home.
Tel Aviv is one of the world's leading tech hubs. It fosters an innovative environment ideal for digital nomads, with numerous startups, networking opportunities, and tech-related events.
In this Tel Aviv digital nomad guide, I will share with you all my personal experiences and give you an overview on what to expect. If you ever make it here, get in touch and I will introduce you to my friends in Israel!
Change how you travel and see the world by going deep into the culture. Come and travel with me!
ℹ️ Quick info: Tel Aviv Digital Nomad

Let me help you move abroad! I've been giving expert and genuine advice to digital nomads and families for the last 15 years. You choose the destination, and I will answer all your questions! [ Talk to Trisha ]
🙋 Is Tel Aviv good for digital nomads?
Yes, Tel Aviv is an excellent base for digital nomads. Its robust technology sector has earned it the nickname "Silicon Wadi," ensuring a dynamic environment conducive to digital work.
Tel Aviv has high-speed internet and numerous co-working spaces, promoting a seamless remote working experience.
Its warm climate and expansive beaches offer a perfect blend of work and leisure, vibrant nightlife and a globally-renowned culinary scene for socialization opportunities.
Tel Aviv's residents are largely English-speaking, easing communication for those unfamiliar with Hebrew.
Despite a higher cost of living compared to other digital nomad bases, the quality of life and cultural experiences make it a worthwhile consideration.
💃🏽 Living in Tel Aviv as a digital nomad
Israelis are extremely friendly
One of the reasons I chose to live in Tel Aviv is the Israeli people. I feel like I am like them in many ways. They are direct, warm, generally friendly, and open to making new acquaintances.
However, as with any culture, individual experiences can vary. Straightforwardness and directness may not work for you as the culture of our world is uncomfortable with very honest people.
Many Israelis have a straightforward communication style which can sometimes be perceived as brusque, but it's often just a sign of their honesty and frankness.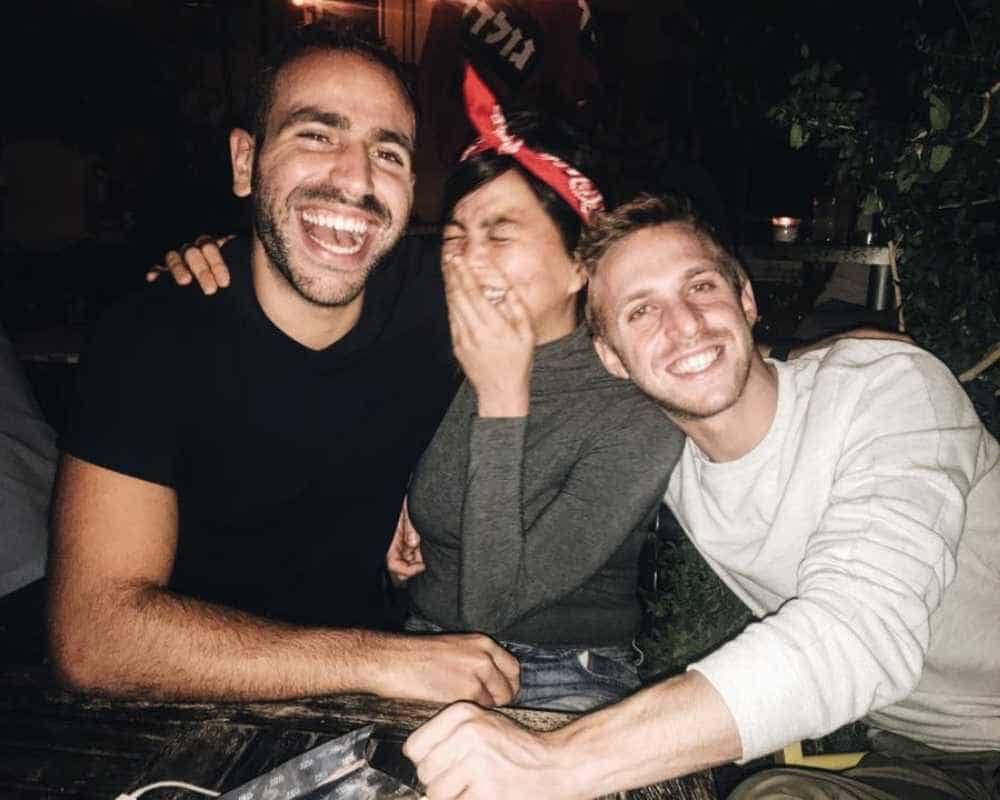 They're known for their 'chutzpah'—a term encapsulating assertiveness and audacity—which can be quite refreshing once you're familiar with it.
This is a plus for me since I am direct and straightforward. Israel is the country where I felt more received and accepted for who I am!
Israelis often show a deep sense of community, willing to help and support each other. Their close-knit family structures and frequent social gatherings showcase their value for relationships and camaraderie.
Sharing meals is an integral part of their culture, which can be a good opportunity to bond.
In Tel Aviv, you'll find that people are generally more liberal and open-minded than in other parts of the country. The city is known for its diversity and inclusivity, hosting various cultures and lifestyles.
We always say that Tel Aviv is a different country because it has a distinct culture compared to Jerusalem and many parts of Israel. Think about European culture when you want to consider being a Tel Aviv digital nomad.
Tel Aviv is a food capital
Food is always top of my priority when choosing a digital nomad base. I always believe that food tell stories and it is always interesting to see how many food cultures we have in this beautiful world!
Tel Aviv is renowned for its dynamic food culture, considered one of the best globally. Its culinary scene blends traditional Middle Eastern flavors and modern fusion cuisine.
The city is famous for its street food stalls. Falafel served in pita bread with various salads and sauces, is a must-try. Shawarma, skewered and grilled meat, is another favorite. Don't miss out on sabich, a sandwich filled with fried eggplant, hard-boiled eggs, salad, and tahini.
💡 Did you know? Tel Aviv is often dubbed the "vegan capital of the world," with a multitude of restaurants serving a variety of plant-based options.
Given its location, seafood and Mediterranean dishes are common. Many meals revolve around fresh vegetables, olive oil, fish, and lean meats.
Israelis love to share meals. It's common to see 'mezze' – an assortment of small dishes like hummus, baba ganoush, and tabbouleh, served at the start of meals.
Tel Aviv is also known for its vibrant café culture. Cafés are a popular spot for social gatherings, casual work, and enjoying a cup of coffee.
Shabbat dinners are mandatory! This is a traditional Friday night dinner marking the start of the Jewish Sabbath. It's a family-centered meal, often extended to friends and guests.
I have been to many shabbat dinners while living in Israel and it's one of the best experiences about being a Tel Aviv digital nomad!
Marketplaces are also a big thing in Tel Aviv (especially with the high costs of supermarkets. Visit places like Carmel Market or 'Shuk HaCarmel', where you can find a variety of fresh produce, local specialties, and street food.
Tel Aviv is a young city
Tel Aviv has a significant population of young people. It's often described as a youthful and vibrant city.
Its population skews towards the younger side, with many people in their 20s and 30s, primarily due to its status as a hub for higher education, startups, and tech companies.
Its nightlife, cultural scene, and beach lifestyle make it attractive to younger individuals.
Great climate overall!
Tel Aviv has a warm Mediterranean climate, with sunny skies prevalent for most of the year. This makes for pleasant working conditions and also allows for outdoor activities and beach trips.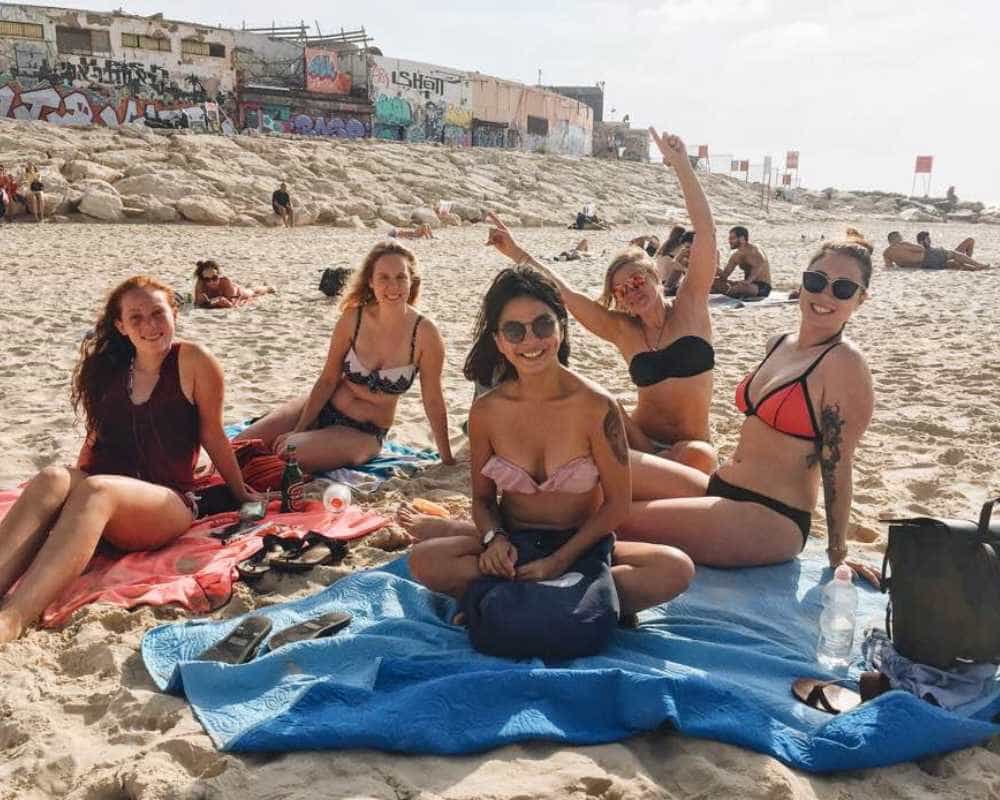 I barely needed winter clothes when I was in Israel, and if it was cold, think about desert cold (dry). If you grew up in the US or Europe, the winter in Israel would not be cold for you!
English is widely spoken in Tel Aviv
Young people speak English well, making it easier for international nomads to communicate and integrate into local life. It's a multicultural city with a vibrant expat community, ensuring you'll feel welcomed and at home.
Remember that Israelis have mandatory military service, after which they travel around the world. I am sure you've seen many Israelis if you have backpacked the world.
Israelis are travelers which makes them very equipped with the English language.
As for me, I learned Hebrew because my ex-boyfriend's mom (and some friends) did not speak English. I love learning languages anyway, and Hebrew is the language I love speaking the most!
🧑🏿‍🤝‍🧑🏻 The digital nomad scene in Tel Aviv
The digital nomad community in Tel Aviv is vibrant and growing. The city's reputation as a tech hub and startup nation attracts many foreign and local digital nomads.
Numerous coworking spaces host events, meetups, and workshops, providing ample networking opportunities and community building.
Israelis are also digital nomad themselves! Many young professionals and entrepreneurs in Israel have adopted the digital nomad lifestyle, taking advantage of the country's robust technological infrastructure and flexibility.
Foreigners are a significant part of the digital nomad scene in Tel Aviv. Since it is an English-speaking city, foreigners who want to be a Tel Aviv digital nomad easily find their way here and make genuine connections with the Israelis.
Below are some of extremely helpful Tel Aviv digital nomad and foreigner groups:
There are also some groups for specific nationalities and heritage:
📶 Tel Aviv Internet speed
As one of the world's leading tech hubs, Tel Aviv has excellent internet infrastructure. The average broadband internet speed in Tel Aviv was among the fastest globally.
Both fixed-line broadband and mobile internet are generally reliable, with 4G widely available and 5G being rolled out.
For digital nomads and remote workers, the numerous coworking spaces in the city provide fast and reliable internet and other necessary amenities.
I never have to worry about Internet speed in Israel. Unlike in many other countries I lived in, I don't have to double check the Internet speed in Tel Aviv before ordering in a cafe or signing up in a coworking space.
I have always been confident that it will work fast, and it always did!
📲 Israel sim card
Israel has several reliable telecommunications providers offering a range of options for SIM cards. The three main providers are:
Partner (formerly Orange): One of Israel's leading providers, Partner offers wide coverage and high-quality service. They have various plans, including unlimited calls and text messages, and several data options.
Pelephone: As one of the oldest providers in the country, Pelephone has an extensive network. They offer flexible plans with good data packages and are known for their reliable service.
Cellcom: Cellcom is the largest provider in Israel, and they have a broad coverage area. They offer a range of prepaid and postpaid plans with generous amounts of data.
A prepaid Israel SIM card with a substantial data package costs around 50-100 shekels ($15-$30 USD) per month.
I lived in Israel and had a post-paid plan, so I may not be 100% accurate with the prices above. Before purchasing your sim card at the airport, better ask questions about the sim card you are buying.
💵 Cost of living in Tel Aviv
Tel Aviv's living cost tends to be higher than many other cities. Please note that these are my personal expenses.
It doesn't necessarily mean that you'll spend the same. It's just for you to know about the Tel Aviv digital nomad costs.
Apartment rental (I am a single woman)
A one-bedroom apartment in the city center could range from about 4,500 to 7,000 shekels ($1,400-$2,200 USD) per month.
In the outskirts, the cost could drop to around 3,500 to 5,000 ILS (1,100-1,600 USD). Please note that I lived in 2 trendy places, which are the areas of Rothschild and Jaffa.
However, rent in Jaffa is always cheaper, so you can start looking there! Florentin is a good and affordable neighborhood to also go to. You can find a studio for as low as $800 USD.
I always wanted to move to the Kerem and Neve Tzedek, but the rent in these areas is just crazy expensive!
Monthly Co-working Space
I only go to a co-working space twice weekly because there are so many after-work events, especially on Thursdays. I also set up a home office and had a wood desk made, so I did not have to pay for a monthly co-working space.
For me, a co-working space is just an excuse to go day drinking and pretend to be working on the laptop. As we are different people, you may need to go to a co-working space to be productive.
The average cost of a hot desk in a coworking space in Tel Aviv ranges between 1,000 to 1,500 shekels ($310-$470 USD) per month.
I don't find these monthly subscriptions expensive. I live in Mexico now, and they have the same prices here (considering Mexico should be a cheaper country than Israel).
Breakfast or working at a cafe
Some days, I wake up and feel like heading out to breakfast or having a breakfast work date with a friend. I almost can't say no to eating out in Tel Aviv because it is healthy and good!
Of course, on some days, the expenses of eating out daily hold me back. The cost for breakfast in a cafe might be around 50 to 70 ILS ($15-$20 USD).
The cafes in Tel Aviv also have great seating and Internet speed. It does feel like you are in a co-working space setting as it is very comfortable.
Nightlife, dinner and drinks
This was the bulk of my expenses in Tel Aviv. I always went out because my Israeli friends would randomly knock on my door and drag me to go out for drinks.
Tel Aviv has a going-out culture, and for a long time, I wondered how can everyone afford this lifestyle in such an expensive city! I learned that Israelis live day-by-day, so they'd rather enjoy now and worry about tomorrow later.
Which also helped me live in the present (with a conscious effort of not draining my bank account).
Tel Aviv has a vibrant nightlife and there is nothing like it! A beer at a bar could cost around 30-40 shekels ($9-$12 USD), while cocktails might range from 50 to 70 shekels ($15-$20 USD).
Dinner at a mid-range restaurant could cost around 150-200 shekels ($45-$60 USD) per person without drinks.
Utilities and bills
For a one-bedroom apartment, basic utilities like electricity, heating, cooling, water, and garbage might range from 400 to 700 shekels ($125-$220 USD) per month.
Internet connection at home typically costs around 100 shekels ($30 USD) per month. You must talk to your landlord if you must pay this separately.
I'm almost 100% sure that if you rent short-term (say 1-3 months), this is included in your rent. But ask!
🏡 How to find apartments in Tel Aviv
Since the cost of living in Tel Aviv is high, the city has a roommate culture. Everyone I know had roommates (or is living with their boyfriend/girlfriend).
Funny, this is actually the city I first learned that moving in together as a couple is not a big question nor a big deal. You have to do it to avoid higher costs while in some nations, moving in together is a really serious thing.
Sublets are also big in Tel Aviv since Israelis are big travelers!!! They would go on trips for as long as 1-3 months so they sublet their room in their apartments.
I encourage you to do a sublet and live with roommates because this is how you will really get to know Tel Aviv in a deeper way.
Beware, it's not that easy though. When joining a house, you have to go through an interview, and some Tel Avivians are really serious about interviewing roommates!
Below are extremely helpful groups where you can find roommates and apartments for rent in Tel Aviv:
Yes, there are a lot of groups for looking for apartments in Tel Aviv but don't focus on one! The market is highly competitive (like in many digital nomad cities) so be patient, browse them all, and keep looking!
🛂 Israel visa for digital nomads
If you have been reading this blog for a while now, you'll know I am not the best person to ask about the Israel digital nomad visa or any visa in particular.
If you are new here, well, my friends, the visa is one of the reasons I left Israel. It was simply a difficult process and has no clear answers for non-Jewish or non-Israelis.
However, if you want general info, what I know for sure is that Israel doesn't have a specific visa designated for digital nomads.
Most foreigners can stay in Israel for up to 90 days on a tourist visa (B/2), but it's important to note that this doesn't legally allow you to work during your stay.
There were discussions about introducing a "startup visa" that would allow entrepreneurs from around the world to live and work in Israel while developing their tech projects, but the details and implementation are still not clear to me.
On my next visit, I will have an interview with a lawyer or the Ministry of Tourism to clarify visa regulations for remote workers and nomads.
I do find it strange that Israel is not a part of the countries with digital nomad visas when they call themselves the tech hub.
☕ Tel Aviv cafes with strong wifi
Dallal Bakery (Neve Tzedek)
Located in the heart of Neve Tzedek, Dallal Bakery is part of the Dallal complex, which includes a restaurant and a brasserie. The bakery's design is an eclectic blend of rustic charm and modern elegance, with an outdoor seating area shaded by trees.
The food served is French-Mediterranean influenced, with excellent pastries, salads, sandwiches, and artisanal bread.
This bakery has good Wi-Fi. They serve excellent pastries, sandwiches, and coffee, with prices ranging from around 30-70 shekels ($9-$20 USD).
Dizengoff Cafe
Dizengoff Cafe has a relaxed atmosphere with a chic design that includes local artwork. They serve a range of dishes from breakfast to dinner, including salads, sandwiches, and baked goods, with a focus on fresh, locally sourced ingredients.
This café offers a laid-back vibe with reliable Wi-Fi. Their menu includes salads, sandwiches, and excellent coffee. Prices are moderate, with meals around 50-70 shekels ($15-$20 USD).
Casbah (Florentin)
Casbah Cafe is a popular spot in the Florentin district of Tel Aviv. This is actually my favorite spot because of the design, vibe, and the food!
Expect to pay between 15-30s shekels ($5-$10 USD) for a coffee or a small snack, and between 40-100 shekels ($12-$30 USD) for a larger meal.
Puaa (Jaffa)
Located in the historic Jaffa district, Puaa is a charmingly eclectic cafe with a vintage, bohemian interior filled with items for sale.
The food is Mediterranean-based, with dishes made from fresh, local ingredients. For meals, prices range from 40-80 shekels ($12-$24 USD).
Cafelix (Gordon)
Known for its specialty coffee, Cafelix on Gordon Street has a relaxed, welcoming design. The menu is focused on light bites and pastries to accompany their wide range of coffees.
This Tel Aviv digital nomad café has good Wi-Fi and a relaxed vibe. They serve light bites with prices typically around 20-50 shekels ($6-$15 USD).
💻 Co-working spaces in Tel Aviv
WeWork (Sarona)
Located in the Sarona area, WeWork is housed in a modern complex offering easy access to shopping, dining, and public transportation. The space has a vibrant atmosphere with modern, comfortable workstations and communal areas.
The community is diverse, with freelancers, startups, and large corporations, offering ample networking opportunities. Pricing varies based on the membership type, with a monthly hot desk starting at around 1,200 shekels ($370 USD).
Mindspace (Rothschild)
Situated in the bustling Rothschild Boulevard, Mindspace offers a chic, inspiring workspace. With a vibrant community of entrepreneurs, freelancers, startups, and corporations, collaboration is encouraged.
The interiors are beautifully designed, with a mix of private offices, dedicated desks, and flexible seating. Prices start around 1,350 shekels ($420 USD) per month for a flexible desk.
Google Campus (Electra Tower)
Located in the Electra Tower in the city center, Google Campus is more than a co-working space. It's an entrepreneurial hub offering a space for developers and startups to learn, connect, and create.
The vibe is innovative and dynamic, mirroring Google's culture. It offers a vibrant community of tech professionals and budding startups, fostering a collaborative and inspiring environment.
Access to the Campus is free, but it requires membership and isn't designed for daily, desk-based work. Instead, it provides an open lounge, event spaces, and a Google Launchpad program for selected startups.
Workshops, mentoring sessions, and networking events are regularly organized, making it a great space for learning and collaboration.
Urban Place
Situated on Shoken Street, Urban Place provides a flexible, modern environment. The community is diverse and dynamic, and the vibe is very communal and friendly.
The pricing for a flexible desk starts at around 1,100 shekels ($340 USD) per month.
⁉️ Tel Aviv travel recommendations
Trisha is one of those people who left their comfortable life to travel the world and learn about life. Her style is to stay in one place she likes for 3 months (or more) to know what it feels like to eat, cook, speak, and sleep in another culture that isn't hers. She'd like to believe she's not traditionally traveling but she just chooses to be somewhere else all the time. In no particular order, her favorite cities in the world are Barcelona, Buenos Aires, Hong Kong, Mexico City, and Tel Aviv.