The Dead Sea, despite its ominous name, is one of the most intriguing natural phenomena on Earth. Here's a complete travel guide to visiting the Dead Sea of Israel.
Located at the lowest point of the globe, more than 430 meters below sea level, it lies between Israel, Jordan, and the West Bank.
Known for its hyper-saline waters, it contains around ten times the salt content of regular seawater, creating an environment where life forms struggle to survive – hence, its "Dead" moniker.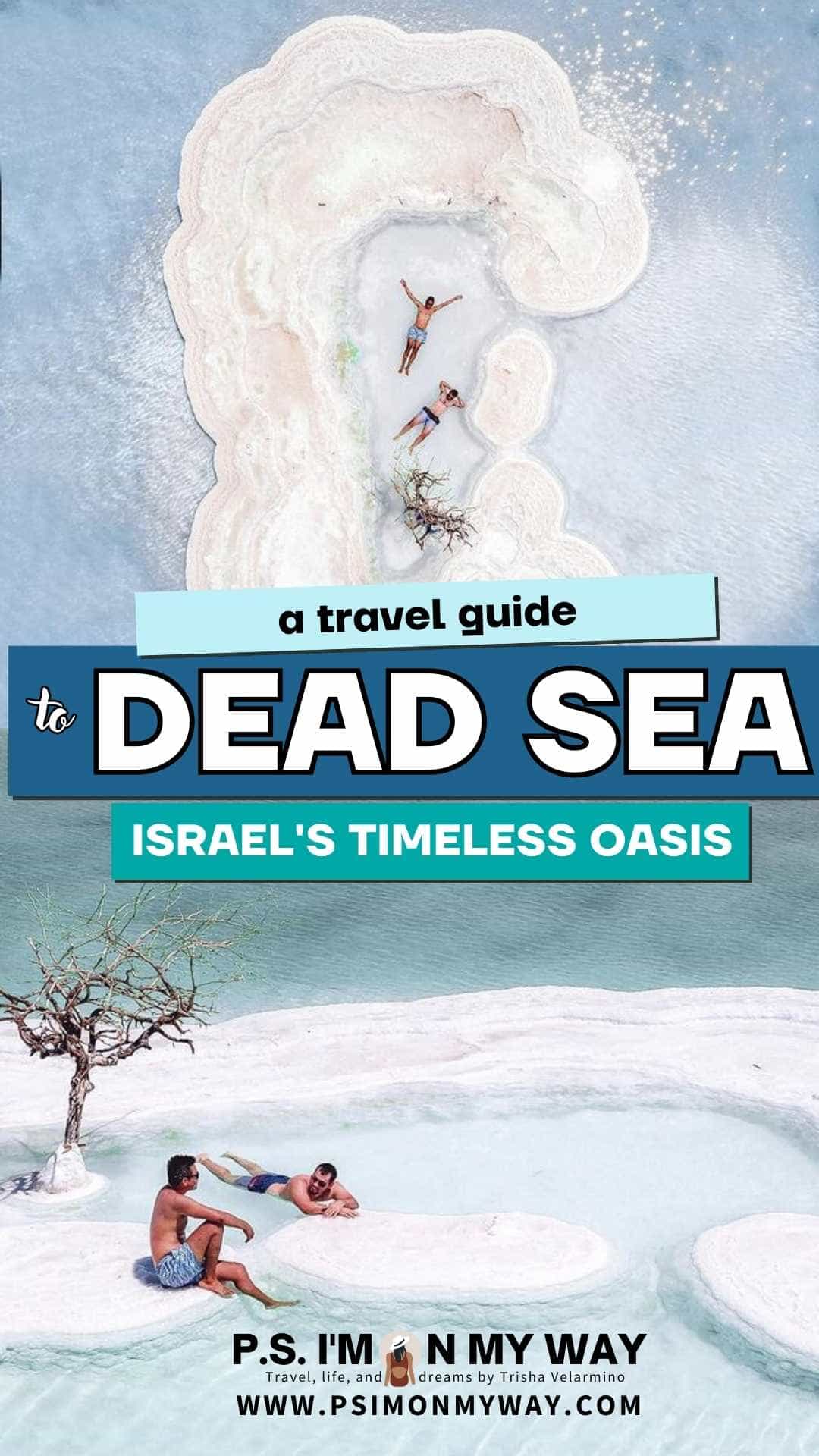 The salinity, however, also gives it a unique feature: it makes swimming feel more like floating, as the high density of the water provides extra buoyancy.
The Dead Sea is also surrounded by a landscape of great historical and spiritual significance, complete with picturesque cliffs, desert, and historical ruins.
Change how you travel and see the world by going deep into the culture. Come and travel with me!
🙋 Why do people go to the Dead Sea?
The Dead Sea attracts tourists annually through its unique natural properties and historical significance.
The unusually saline waters and mineral-rich mud are believed to have therapeutic properties, and many visitors indulge in mud baths and salt scrubs, aiming to alleviate various health issues ranging from skin conditions to rheumatic diseases.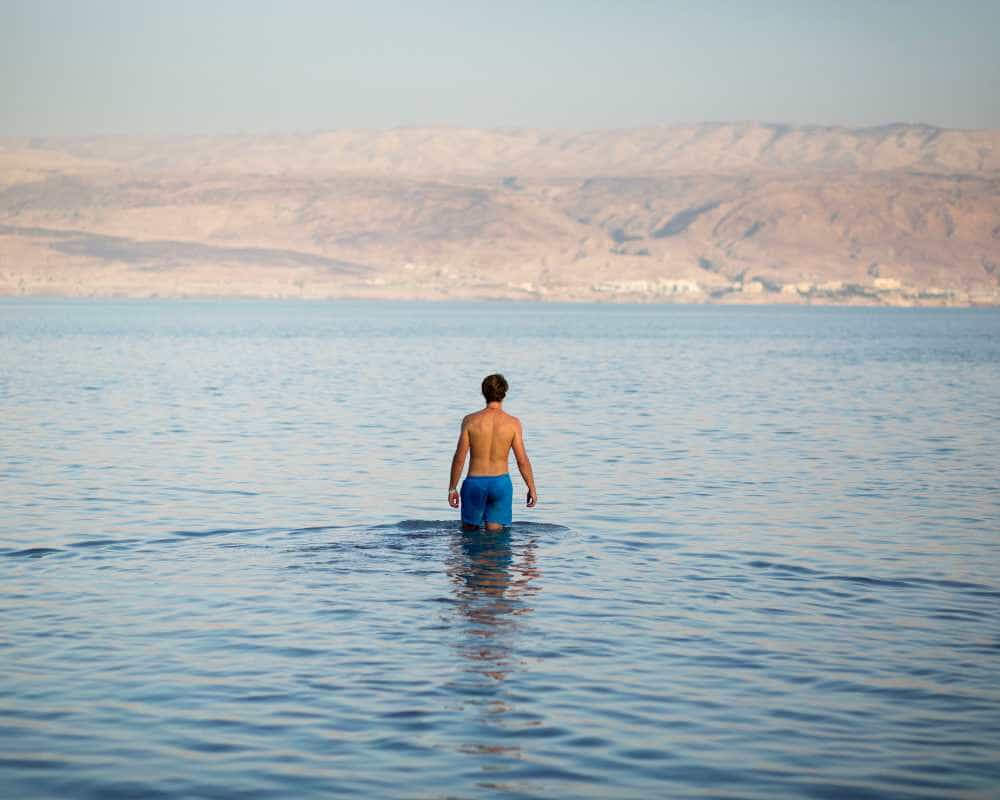 The extraordinary sensation of effortlessly floating on the water provides a unique and relaxing swimming experience.
Apart from its natural allure, the Dead Sea region is steeped in history and religion. Nearby sites such as Masada and Qumran, where the Dead Sea Scrolls were discovered, make the area a rich trove for history and archaeology enthusiasts.
🚫 Is it safe to visit Dead Sea in Israel?
ABSOLUTELY! As someone who lives in Israel, I guarantee you that it is safe to visit the Dead Sea. I always write about safety on this blog (especially for solo travelers), and believe me, you don't have to worry about safety in Israel.
If you are asking about safety of swimming in the Dead Sea, it is also very safe. You must avoid getting the water in your eyes and mouth as it has a high salt content!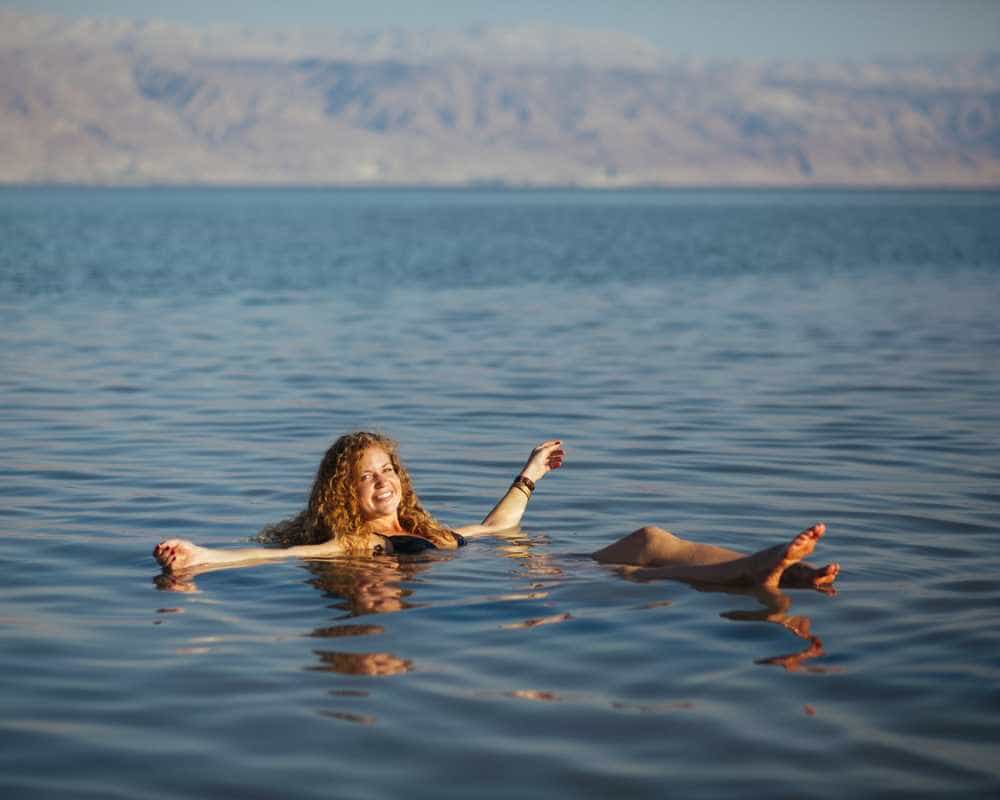 The high salt content can cause discomfort if it comes into contact with your eyes or if you accidentally ingest it.
Another golden safety tip I can give you is do not shave or wax before swimming in the Dead Sea. The salt can cause stinging or burning on freshly shaved or waxed skin.
The same goes if you have open cuts or wounds. The salt can cause pain in broken skin!
Lastly, don't swim face-down. Always float on your back! Trying to swim like in a regular swimming pool can tip you over and get the salty water in your eyes or mouth.
🆚 Is it better to see the Dead Sea from Israel or Jordan?
You can visit the Dead Sea from both sides, but personally, I do not see any difference but the culture. These 2 countries have different cultures so decide depending on your interest.
From the Israeli side, the Dead Sea is a short drive from many significant historical and cultural sites such as Jerusalem, Masada, and Ein Gedi Nature Reserve, making it a convenient addition to a broader exploration of Israel.
Israeli facilities are generally well-developed, with numerous spa hotels and therapeutic centers capitalizing on the Dead Sea's mineral-rich mud and water.
There are also good facilities for day visitors, including beaches, changing facilities, and restaurants.
The Dead Sea experience is similarly relaxing and therapeutic on the Jordanian side. However, the Jordanian side is less developed for tourism than the Israeli side, but that could be a plus if you prefer less crowded and more tranquil environments.
It's also near some of Jordan's top attractions, such as Madaba, known for its Byzantine-era mosaics, and the stunning rock-cut city of Petra.
✅ Bottom line: Choose Israel side if you want better facilities and choose Jordan if you want fewer tourists.
🗺️ Dead Sea Israel Map
Let me help you plan your trip! I've been giving expert and genuine advice to all types of travelers for the last 15 years. You choose the destination and I will answer all your questions! [ Talk to Trisha ]
🚌 How to get to the Dead Sea
Dead Sea from Tel Aviv by bus
From Tel Aviv, the best option is to take the Egged bus line 421 from Tel Aviv's Central Bus Station. The bus service typically operates every hour, from early morning until late evening.
The bus ride takes approximately 2-3 hours, depending on traffic, and will drop you off at the Ein Bokek resort area, a popular access point to the Dead Sea.
Dead Sea from Tel Aviv by car
Alternatively, you can rent a car in Tel Aviv if you prefer to drive. The journey should take 2-2.5 hours, depending on traffic.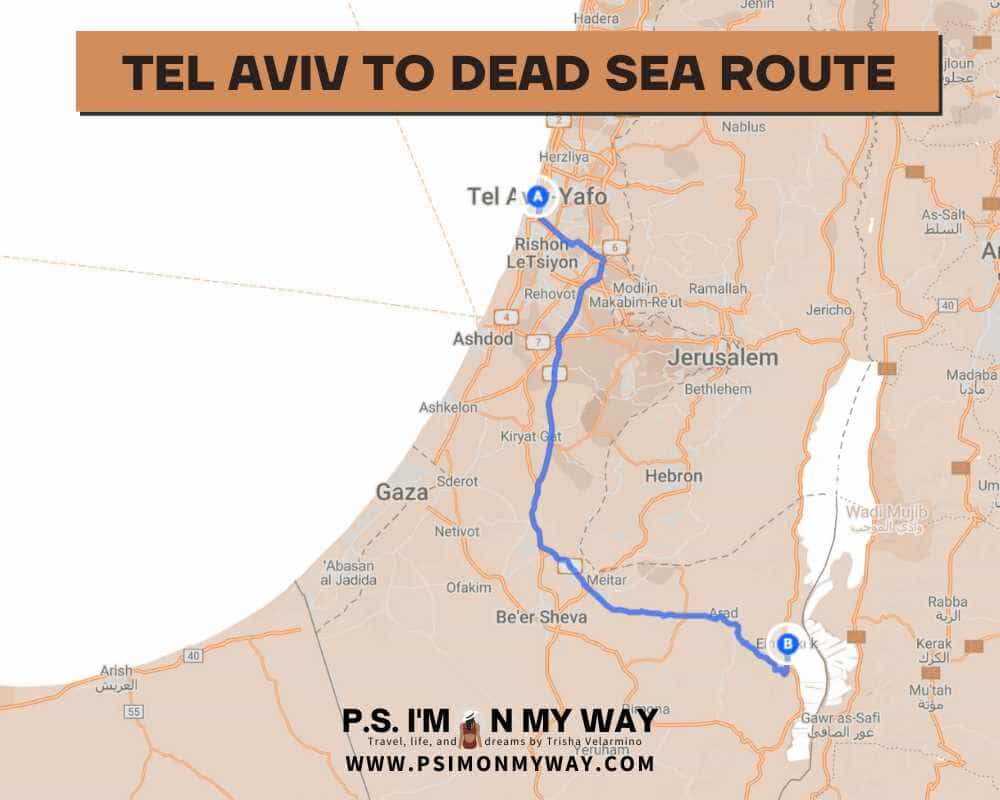 Follow Route 1 out of Tel Aviv, which will take you toward Jerusalem.
Continue on Route 1, bypassing Jerusalem via Route 3 onto Route 31
Follow Route 31 east through the scenic Judean Desert until you reach Route 90
Then head south to the Dead Sea
Dead Sea from Jerusalem by bus
The most common bus route from Jerusalem to the Dead Sea is the Egged bus line 486, which departs from Jerusalem's Central Bus Station.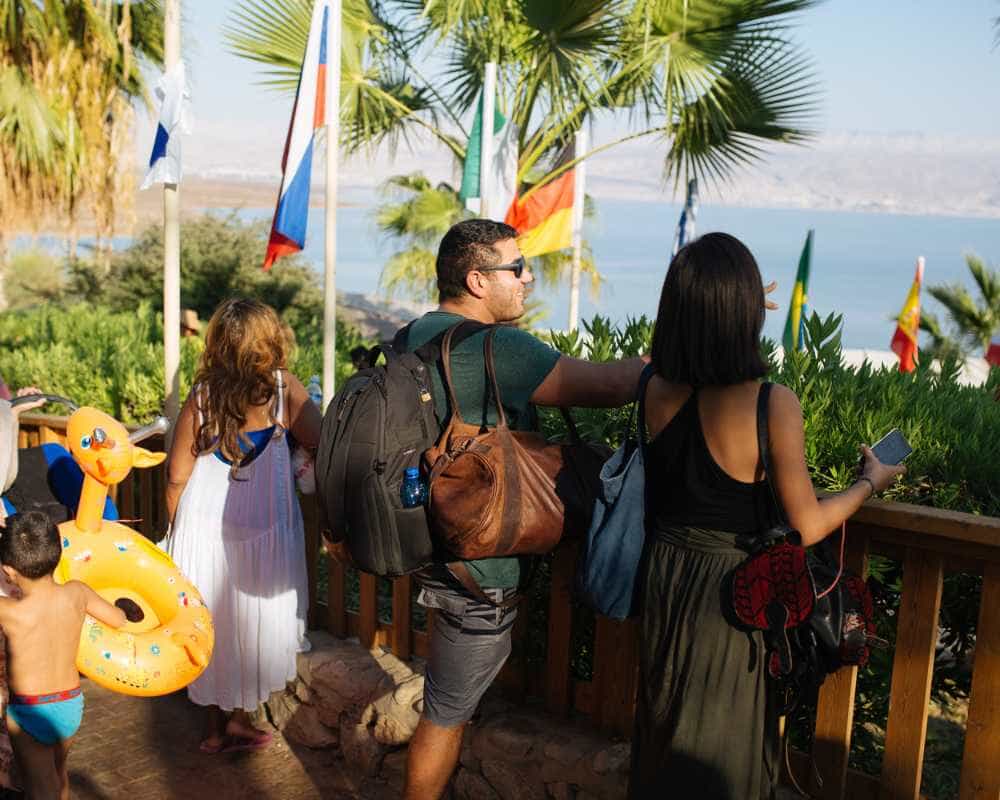 This bus runs several times daily and will take you directly to the Ein Bokek resort area on the Dead Sea. The trip takes about 2 hours, depending on traffic. Tickets can be purchased directly from the driver.
Dead Sea from Jerusalem by car
If you'd like to rent a car and drive, there are multiple car rental agencies in Jerusalem from which you can hire a vehicle. The journey is quite scenic and takes about 1.5 hours.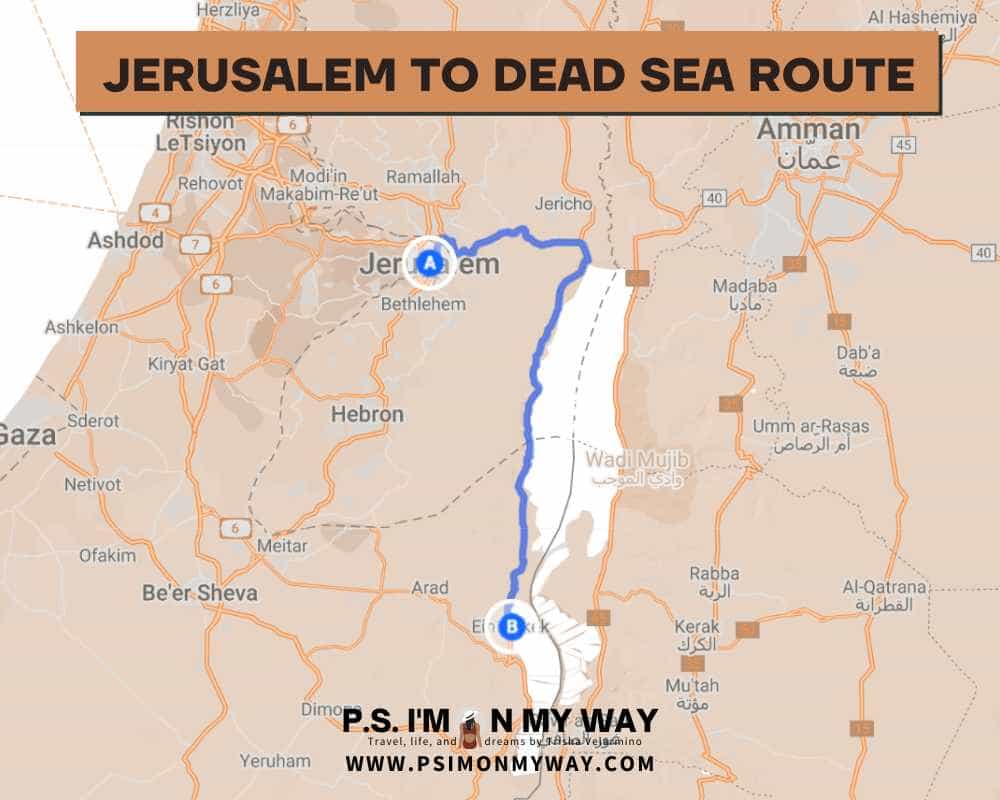 Here are the directions:
Start on Route 1, heading east out of Jerusalem.
Continue on Route 1 until you reach the junction with Route 90.
Turn right onto Route 90, heading south. This route will take you directly to the Dead Sea.
🧭 Dead Sea Israel tours
Masada and the Dead Sea day trip
💲 from $111 USD
🕐 9 hours
Masada and the Dead Sea is a popular tour combo, especially for those who are only looking to see the Dead Sea for a day trip.
This tour includes a cable car ride up to the Masada, but adventurers can also hike up and take the cable car on the way down.
✨ Tip: You can book this tour from Tel Aviv or Jerusalem. The only difference is that the tour coming from Tel Aviv includes the Ein Gedi visit.
Jerusalem, Dead Sea, and Bethlehem from Tel Aviv
💲 from $109 USD
🕐 12 hours
This is a full-day tour involving a visit around The Holy City (all quarters) and Jesus' birthplace in Bethlehem.
The last stop is the Dead Sea, where you will be given time to swim and relax on the sea. This is best for those looking to visit all these 3 essential attractions in Israel for 12 hours.
Jerusalem and the Dead Sea from Tel Aviv
💲 from $133 USD
🕐 10 hours
Visiting Jerusalem and the Dead Sea in a day is a blend of cultural, historical, and natural experiences.
Jerusalem, one of the world's oldest cities, is a spiritual hub for three major religions – Judaism, Christianity, and Islam.
Its ancient walls house sacred sites such as the Western Wall, the Church of the Holy Sepulchre, and the Al-Aqsa Mosque.
A short drive away, the Dead Sea presents a stark contrast with its serene, otherworldly landscapes. Its hyper-saline waters and mineral-rich mud are reputed for their therapeutic properties.
By combining these destinations, you get to explore the cultural complexity of Jerusalem and unwind at the natural spa that is the Dead Sea – a complete, fulfilling experience within a 10-hour journey.
Full-day Dead Sea tour from Tel Aviv
💲 from $93 USD
🕐 10 hours
Now if you only wish to see the Dead Sea and nothing else, this is a more relaxed activity as there will be no other stops. This is ideal for travelers who don't want to have a fully-packed day.
The trip from Tel Aviv to the Dead Sea is about 2.5 hours. Once at the dead Sea, you will at least have 4 hours to relax and explore the sea.
🌳 The tree in the Dead Sea Israel
You probably saw this tree in the Dead Sea on Instagram and many people reading this blog are wondering how to get there.
If you are doing the tours above, they won't necessarily bring you here. They will bring you to the public beach where everyone swims.
But if you stay in the Dead Sea for a night, you will have the time to come here and take pictures.
Drone photos: @chummyboholst
It's not so easy to get here because you have to swim. And as you know, swimming in the Dead Sea is quite agonizing because the salty water will hurt your eyes.
It will take at least 15 minutes to get here by swimming. Getting there is exhausting, so you won't normally find many people taking pictures or hanging out there.
You can start swimming here [open on Google Maps] to get to the tree in the Dead Sea Israel.
🏨 Best hotels on the Dead Sea Israel
Please note that all prices below are for 2 people.
Herbert Samuel Milos Dead Sea
💲 from $191 USD
The Herbert Samuel Milos Dead Sea offers a luxury resort experience with stunning views of the Dead Sea. Each room and suite is meticulously designed for comfort and style.
Many rooms offer private balconies with panoramic views of the sea. The hotel features a state-of-the-art spa offering a variety of treatments and therapies, taking full advantage of the Dead Sea's therapeutic properties.
The hotel has a private beach, an outdoor pool, and gourmet dining options.
Isrotel Nuevo Dead Sea Hotel
💲 from $222 USD
Isrotel Nuevo Dead Sea Hotel offers a blend of comfort and modernity. It provides an inviting atmosphere with its newly designed rooms and suites with all the modern amenities.
Many rooms feature magnificent views of the sea, allowing guests to take in the scenery from the comfort of their rooms.
The hotel features a private beach, a spa offering a variety of treatments, and a pool with a sun terrace.
Vert Dead Sea Hotel
💲 from $219 USD
Vert Dead Sea Hotel is a budget-friendly choice that doesn't compromise on essential comforts. The hotel features spacious, clean rooms with options for both families and solo travelers.
Though simpler than luxury resorts, each room offers essential amenities for a comfortable stay. The hotel has an outdoor pool and easy access to the Dead Sea, allowing guests to experience the sea's therapeutic benefits.
The on-site restaurant offers a range of dishes that cater to different tastes.
💡 Fun facts about Dead Sea Israel
The Dead Sea is a natural spa
The Dead Sea has been a center for health and beauty since antiquity. The Egyptian queen Cleopatra was reportedly fond of its therapeutic mud and water.
The mud, rich in minerals, is believed to have skincare benefits, and people often slather themselves with it for a natural spa experience.
Even the air has a higher concentration of oxygen and is full of bromine, which has a relaxing effect, making a visit to the Dead Sea a holistic wellness experience.
Dead Sea has a unique salt composition
The Dead Sea isn't just salty; it's a repository of unique minerals. With a salinity level of approximately 34%, it's nearly ten times saltier than typical seawater.
But it's the mineral composition that sets it apart. Unlike other bodies of salt water, the Dead Sea's salts are comprised mainly of magnesium, potassium, and calcium chlorides rather than sodium chloride (common table salt).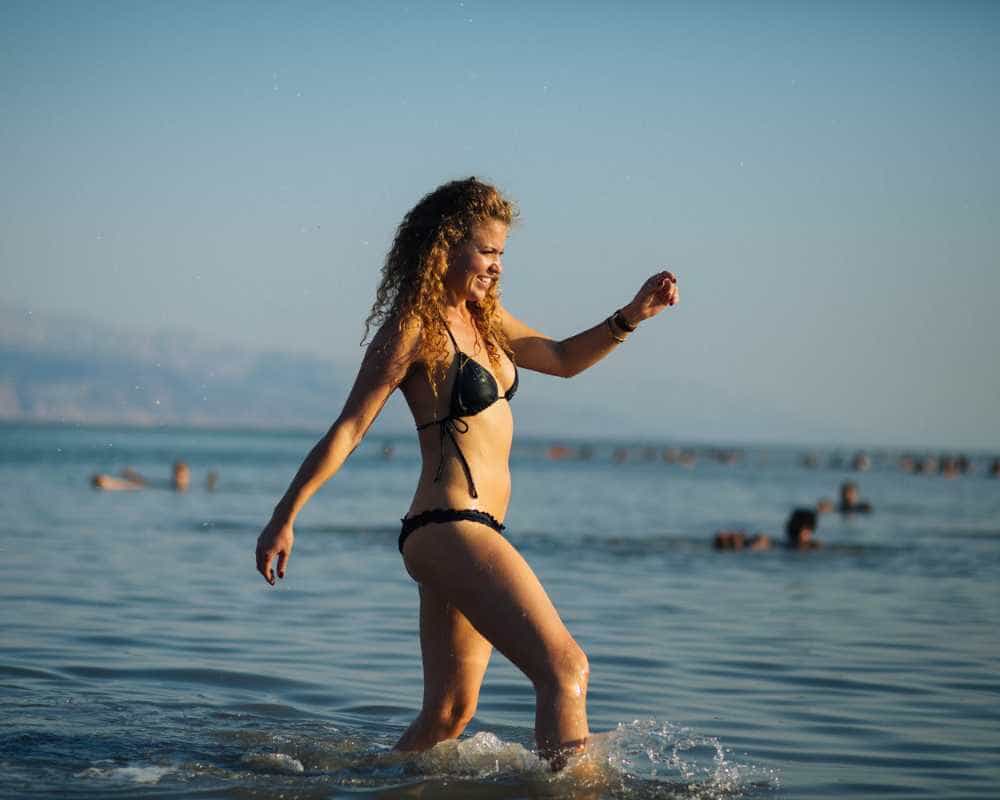 These minerals have been studied for their therapeutic properties and are believed to benefit skin health, relieve muscle aches, and reduce inflammation.
They also contribute to the notorious buoyancy of the water, creating the surreal experience of effortlessly floating on the surface.
Historical and biblical significance
The Dead Sea's significance transcends its geographical and natural allure. It holds a revered place in various religious texts, including the Bible, where it's mentioned in connection with events and figures such as King David, who sought refuge in its vicinity, and the prophets Ezekiel and Zechariah.
The region surrounding the Sea has been inhabited for thousands of years, with evidence of industry, warfare, and religious practices.
Home to the Dead Sea scrolls
The Qumran Caves, on the northern edge of the Dead Sea, were the discovery site of the famous Dead Sea Scrolls in the 1940s and '50s.
These ancient manuscripts, thought to have been written by a Jewish sect known as the Essenes, include parts of the Hebrew Bible and other Jewish texts and documents, providing invaluable insight into the history and culture of Judaism during the Second Temple period.
The Dead Sea is dying
Ironically, the 'Dead' Sea is itself dying. It's shrinking at an alarming rate – about a meter per year.
This is due to the diversion of water from the Jordan River (its main source) and the evaporation caused by mineral extraction industries.
As a consequence, dangerous sinkholes are appearing in the area. Conservation efforts are underway to save this unique natural wonder, including plans to channel water from the Red Sea.
⁉️ FAQ: Dead Sea Israel
Trisha is one of those people who left their comfortable life to travel the world and learn about life. Her style is to stay in one place she likes for 3 months (or more) to know what it feels like to eat, cook, speak, and sleep in another culture that isn't hers. She'd like to believe she's not traditionally traveling but she just chooses to be somewhere else all the time. In no particular order, her favorite cities in the world are Barcelona, Buenos Aires, Hong Kong, Mexico City, and Tel Aviv.