What I love the most about this small town is the strong sense of being part of the community. I lived in Sayulita for two years and in this list, you will find the best things to do in Sayulita that support the local community.
📬 Reader Mail: Hi Trisha! Great blog you got here! I am going to Sayulita in a month and I was wondering if you have a list of things to do in Sayulita?

I am going alone and I am afraid that it won't be easy to make friends in Sayulita. As I read your stories, I become more confident in traveling to Sayulita by myself. You make it sound so doable so thank you!

I am planning my trip right now as I don't have lots of vacation days. I saw that you are living in Sayulita and I'd love to get some local tips! Thanks in advance!

– Martha Embree, USA
A trip to Sayulita is always a good idea! It is one of the safest, most fun, and young solo travel destinations in Mexico. I actually just want to do a 2-week vacation here and yet I ended up living here for 2 years!
Many destinations are not solo traveler-friendly (i.e. you have to book tours with a minimum of 2 pax) but there are so many things to do in Sayulita on your own. Some of them, you don't even have to pay for!
🎉 🥳 Bonus: Use the code PSIMONMYWAY10 upon checkout for a 10% discount on all the local things to do in Sayulita!
🤔 Is Sayulita worth visiting?
ABSOLUTELY! I've been living in Mexico for the last three years and I have a bias in Sayulita. It's really incomparable compared to other places to visit in Mexico!
Originally, I only came here to visit for 2 weeks, and yet I ended up staying for 2 years plus rescuing two dogs. It's been a crazy ride and I really loved my time here!
There are many things to do in Sayulita compared to other small towns I've been to. Sayulita is rich with outdoor activities and this town never sleeps – there's always something happening 24/7!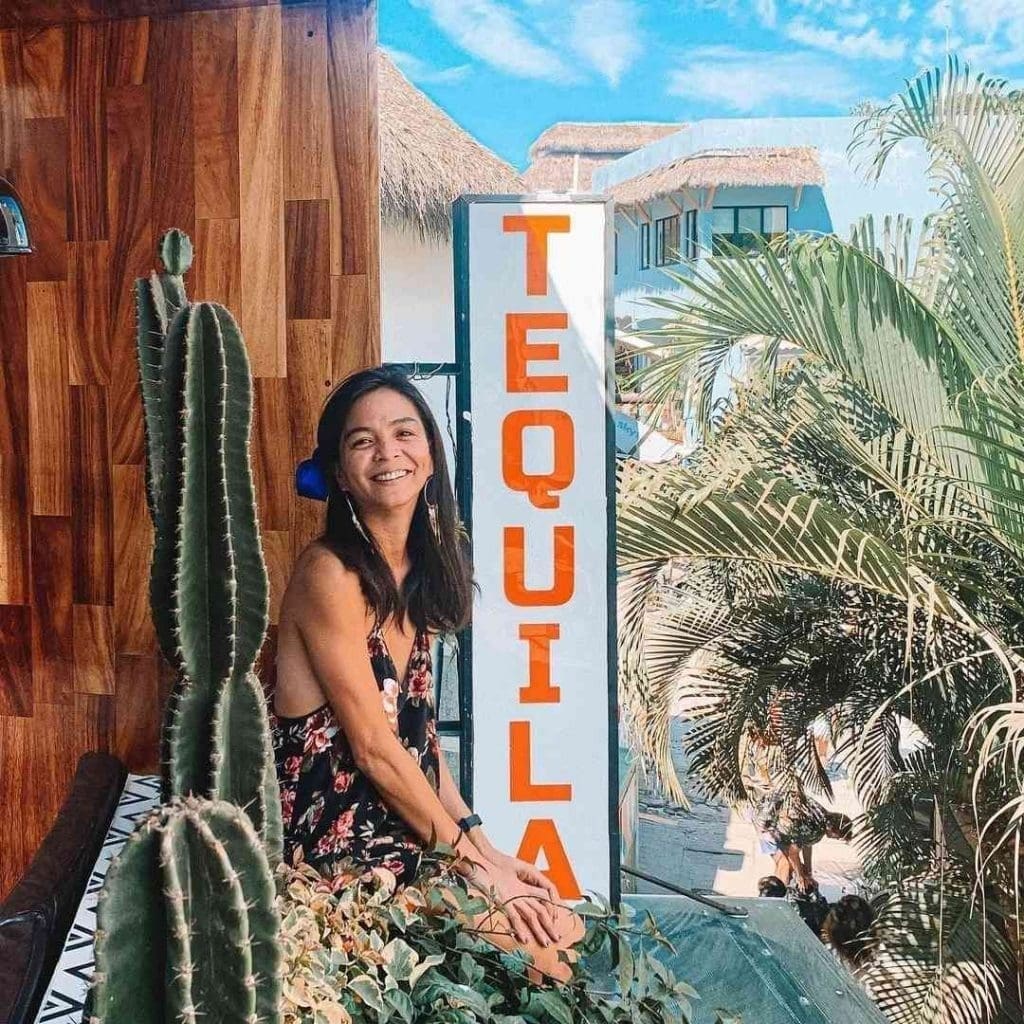 🏄‍♀️ What is there to do in Sayulita for a week?
Look, Sayulita has 5 beaches accessible by foot. And mind you, all of these beaches are super pretty! You don't even need a car to get to them! Together with these beach visits, you will also get to experience a short hike in the canopy jungle.
There are also many water activities like surfing, sailing, paddleboarding, snorkeling, fishing, etc. There are over 40 things to do in Sayulita in this list so if you are only visiting for a week, I doubt that you can do these all!
⛔ Is Sayulita safe?
Super safe. Sayulita is actually the safest place I've lived in in Mexico. The community is super small everyone knows everyone, which, in my personal opinion guarantees safety.
As usual, while traveling to Mexico, don't buy drugs because it's the only way that you can ensure your safety in Sayulita. You can enjoy this town without drugs anyway, I promise!
🏆 Unique things to do in Sayulita Mexico
#1: Go to a Batalla show (a must!)
Batalla is a super cool group of percussionists that plays around the area every weekend. It's a super big band of expats, locals, and community members that brings joy and colors to town whenever they perform.
A Batalla show is a must. They usually play in different places around town like the beach, the plaza, and more often in San Pancho where most of the group members are from.
#2: Breakfast in a local's home
💲 from US$25
During the pandemic, many businesses in Sayulita lost their jobs which pushed them to re-invent the food scene in Sayulita. Sayulita has big eating-out culture and when all the restaurants closed, many people longed for those days when they can sit in a restaurant and enjoy a meal.
My friend Macarena, who is a chef from Argentina is one of those people who opened her home to tourists by providing private breakfast.
This experience is not only about food but Macarena also shares some insider tips about the beauty of living in Sayulita.
You will get a full-service breakfast at a local's home – it's the best way to get to know the Sayulita lifestyle.
You can also gain friends along the way with this experience! Best of all, if you want to practice your Spanish, this is one of the best activities!
#3: Get a private massage at your Airbnb
💲 from US$70
I should tell you this now but massages are expensive in Sayulita. They're all at $600 MXN (US$30) per hour but they are all pretty good.
Beach massages might be uncomfortable for some but massage parlors in Sayulita have set up their tents by the beach – I can assure you it's comfortable and relaxing.
My friend Nahomy is a local that I am supporting. This blog also supports her massage schooling in Bucerias so it would really help us if you book with her!
#4: Celebrate day of the dead in Sayulita!
Dia de muertos or Day of the Dead is probably our most favorite time of the year! It happens from October 29 – November 2: it really is a week-long celebration!
While our day of the dead celebrations is relatively smaller than that of Oaxaca state, it is also filled with colors, music, and people with make-up.
There will be a band playing until 6:00 in the morning in the plaza, mariachi bands in the cemetery, processions, parties, and more! Sayulita is a good place to get to know the day othe dead cultures of Mexico.
#5: Experience the bloom of primavera trees every April
If you come here in April, you're in luck! You will get to see how the primavera trees bloom that making the town go yellow! Primavera is a large rainforest canopy tree most common in South America.
As Sayulita is located in the rainforests of Nayarit, we have a lot of these trees and they really are very beautiful in April.
We feel that it is important to tell you that this only lasts for a month (like Japan's cherry blossoms season) so if you don't come in April, you won't be able to see them.
#6: Pottery lessons in Bucerias
💲 from US$140
Bucerias is a 40-minute drive from Sayulita. To better understand where it is, you'll pass by it on your way to Sayulita from Puerto Vallarta Airport.
This town is more popular to Canadians and I actually thought I wouldn't find local things to do here but last year, I discovered this local community where they bring tourists to pottery lessons, lunch at a local's home, and Oaxacan textile making!
If you want to get out of Sayulita for a day, this is a highly recommended things to do in Sayulita. This activity requires at least 5 people in order to be booked.
#7: Private tequila tasting at your Airbnb
💲 from US$80
With the close proximity to the land of Tequila (literally called Tequila in the state of Jalisco), we get the best tequilas in Sayulita and there are only a few good tastings in town.
These local guys (David) will go to your accommodation in Sayulita to set-up the a tasting menu. You can choose tequila or mezcal but I highly recommend the tequila tasting – do the mezcal in Oaxaca!
#8: Cooking classes with a chef
💲 from US$80
When I moved to Sayulita, I fell into a lap of a local (and well-known) family of fishermen in Sayulita. They have taken me as their own and they are my emergency contact as a foreigner living in Mexico!
This family holds cooking lessons for foreigners. They will go to your house and teach you how to correctly make a guacamole and how to cook Mexican dishes.
Daniel, the head chef, lived in the United States so his English is super perfect and you will get really clear instructions from him.
#9: Aztec ceremony with temazcal
The Aztec Experience is a pre-Hispanic ceremony for the connection and healing of emotions, body, mind, and spirit.
This is highly recommended to those who are interested in learning about Aztec history in Mexico. Most of the clients who book this tour are in the wellness industry.
Temazcal is a sweat lodge that is common in Mexico. You will see many temazcal ceremony tours in the country but not all these are authentic and are headed by a shaman.
This Sayulita temazcal and aztec ceremony experience needs at least a mininum of 10 people to be booked and a 2-week notice. The shaman comes from Teotihuacan so we need a few days to prepare!
🚸 Things to do in Sayulita with kids
#10: Go to Sayuparke
Traveling with kids? Our community in Sayulita recently built Sayuparke, a place where children can play, gather, do art workshops, and many more! It was built as a park for skaters (kids can skate in the cobblestones in Sayulita).
They made fun boxes so the local children can skate. The children living in Sayulita are a mix of Mexicans, Americans, and Canadians so if your kids want to mingle and meet friends, bring them here!
#11: Volunteer at Sayulita Animals
📍 Calle Manuel M. Plascencia 3
Sayulita is a truly pet-friendly town. If you've been here, you will see how dogs wander around freely and 100% of them have owners!
Sayulita Animals, the organization that's been taking care of spay and neuter in Sayulita has saved hundreds of animals (not limited to dogs and cats) free of charge!
I would like to encourage you to visit them and if you have some extra bucks, donate to Sayulita Animals to lighten their load on expenses. The work that they do is truly important not just for Sayulita but for the whole of Riviera Nayarit.
You can also volunteer here on Wednesdays but I am not sure if they are accepting foreign volunteers right now. Just swing by, look for Sara, and ask! She's very accommodating.
#12: Participate in a turtle release
Sayulita is a community that is greatly involved in saving Planet Earth – literally! The sea turtle release is part of those efforts. There are many sea turtle release and protection programs in the whole of Riviera Nayarit but Sayulita is one we can consider the most active.
We also have the night's watch in Sayulita where locals volunteer to protect the baby sea turtles from poachers. This is a great activity, especially for families visiting the town.
#13: Volunteer at La Casa Clu in San Ignacio
Jessica is from Mexico City. When she moved to Sayulita, she saw that there were no organizations in town that focus on early childhood development.
As a psychology graduate, Jessica started La Casa Clu, a recreation and learning center for children. Their technique is positive reinforcement and emotional support.
Jessica is assisted and helped by a group of psychologists, teachers, artists, and even athletes who are locals in Sayulita. Consider visiting and donating to La Casa Clu today!
They are also accepting volunteers so if you are planning to stay longer in Sayulita, you can live here while working with the kids!
#14: Get to know the Sayulita bird sanctuary
Through the efforts of Tracie Willis, a Sayulita ex-pat who has been very active in environmental issues in Sayulita, or town has a certified bird sanctuary located in her home!
Tracie and her team save endangered animals as it is very common to have caged birds in Mexico. They go house to house to educate the people that it is illegal (and actually a law) to have a caged bird even in your private homes.
Unfortunately, that is not being strictly enforced in the country but the Sayulita community has been trying their best to rescue all the caged birds in the Riviera Nayarit area.
To schedule a visit, get in touch with Tracie Willis: +52 322 120 6996
#15: Horse riding in the jungle beaches
💲 from US$83
Horse riding is one of the biggest activities in Sayulita as it is appropriate for family (and group) travelers. Horse riding tours will take you to the jungle, to the beach, or even around town.
Horses are a big part of the Mexican tradition so expect to see lots of them around town! Among ex-pats who live here, many are also taking horse riding lessons in Nuevo Vallarta and some of them are even horse riding professionals!
#16: Participate in clean-up drives
Every weekend, the community of Sayulita gathers and does clean-up drives in the whole town. Like I said, we are a very close-knit community so if one calls for Sayulita activities like this, everyone will come!
Ser Su Voz is the lead organization organizing these clean-up drives. We do it all over town, in the river, and even on the beach. This is a great activity for families traveling with kids.
If you are moving to Sayulita soon, this is the best way to get to know the community as you will gain many friends and contacts here. To check volunteering opportunities, you can contact Vida Farias at +52 312 114 9483.
#17: Sayulita ATV for kids
The Sayulita ATV tour takes place on a ranch about 10 minutes away from the center. You don't need to have ATV driving experience as the guides will train you 30 minutes before the actual tour.
There are single and double ATVs available. Children below 15 years old are recommended to ride with a professional guide or an experienced driver.
#18: Canopy and zipline adventure
The Sayulita Canopy tour is available at 9AM, 12PM, and 3PM and lasts for 2 hours. The driver will pick you up at your accommodation in Sayulita and will drive you to the nearby ranch (about 10 minutes car ride).
Wander in the jungles, and gallop through 13 treetops with heights up to 125 meters above sea level. All ages are accepted in this activity unless you have a medical condition.
🏖️ Things to do in Sayulita for beach lovers
#19: Take surfing lessons
💲 from US$75
Surfing is one of the best things to do in Sayulita. In fact, some people come to town only for surfing! When I came here in May, it was the best time to learn as the waves are really low and are perfect for beginners. Most of my friends who tried it the first time we're able to ride right away.
These waves are really friendly! There are many surf schools in Sayulita but they are pretty expensive. It can cost up to US$35 per hour.
In my case, I took surf lessons with a young Mexican guy who works at the beach. He's not a teacher but he is very good at it so I casually asked him if he can teach me some longboard techniques.
Just for fun, he agreed without even asking me for a fee! Of course, I still paid him at a minimum amount but if you don't want to pay for expensive surf lessons in Sayulita and still want to learn with a teacher, make friends with the locals at the beach.
#20: Watch the sunset at Carricitos Beach
Carricitos is my favorite beach in Sayulita and I come here every day with my dog, Lola. It's quite a hike to get there – if you are walking from the center of Sayulita town, it can take you 20-30 minutes depending on your speed.
The walk is a canopy forest where you can see hundreds of fireflies during its season (August-September).
Swimming in Carricitos is possible but waves can get really aggressive, most days, out of nowhere. This beach is not necessarily for good swimmers.
There are days when the tide is low and everyone can enjoy a dip. However, be mindful of certain conditions. I had a bad experience here when one person I know almost drowned but don't let this discourage you.
Sitting by the beach and bringing beers is your thing if you don't want to swim.
#21: Trek to Mal Paso beach
It's peaceful and beautiful – you'll definitely enjoy it especially during the bioluminescence season! If you plan to do this (for real), make sure you bring food because there's literally nothing there – no tent rentals, no porters, no food stalls – just nature and the sea that you can enjoy by yourself.
There have been a few reports of theft on the trail but nothing really heavy. Just make sure that you don't go there very late or if you want to spend the night there, bring some locals or be with a group of friends.
Mal Paso is also a famous camping spot so when you make friends in Sayulita, you can invite them here. I am sure you are going to sound super local to your fellow solo travelers when you suggest this activity.
#22: Spend an afternoon at Los Muertos Beach
Next to the Sayulita main beach, Los Muertos Beach is a favorite. People always come here to spend a whole afternoon drinking micheladas and lounging by the beach.
Sayulita is a very family-friendly town so you will see a lot of kids on this beach, especially at the weekend. There are food and drinks vendors here so don't worry about getting hungry.
At the beginning of the pandemic, a hotel wanted to privatize this beach. The community of Sayulita rallied for 2 weeks for this project to shut down and luckily, we still have Muertos to enjoy today!
If you want to know more about what happened to this case, you can watch this video. It's in Spanish but English subtitles are available.
💃🏽 Local tip: Before going to Los Muertos Beach, swing by Mini Super Camacho – the cheapest store for national beers!
#23: Sunset and beers at Camaron
Camaron is located at the Sayulita main beach where everyone goes for sunset. Order a beer (around US$1.50) and enjoy their beach bar setting while watching the sunset.
#24: Go to La Lancha Beach
📍 La Lancha Beach, Punta de Mita
La Lancha is about 20 minutes away from Sayulita (by car) and is a surfing spot. When the surf beaches of Sayulita are full, this is where everyone go.
The surfing here is a little more advanced than Sayulita main beach so if you are a pro, this can be your spot. Non-surfers can also enjoy this beach. Lay your beach towel, bring beers, food, and enjoy a good sunset.
The good thing about going to La Lancha on your own is that it's super easy to hitchhike! All the cars going to Puerto Vallarta from Sayulita pass this way since the main highway (300) is always busy!
Hitchhiking in Riviera Nayarit is super safe so you don't have to worry about it. I've done it myself and I feel comfortable here.
#25: Jungle trek to Patzcuarito Beach
Playa Patzcuarito is not very popular with tourists as there's literally nothing there but a spectacular sunset. I always go here during the full moon as I can always enjoy the beach by myself (and my dogs).
Like Los Muertos and La Lancha, you can come to spend the whole afternoon here and watch the sunset. Make sure to bring beers and snacks!
#26: Spend the whole day at Sayulita's main beach
The Sayulita main beach is the busiest beach in town. Here, you will find food vendors, bars, restaurants, and everything you need to have a relaxing vacation by the beach. The main beach is a long stretch so there's definitely room for everyone.
You can easily spend a whole day here playing frisbee, drinking with friends, watching the sunset, reading, running your dogs, etc. Sayulita main beach depicts our true lifestyle. You will learn a lot about local life here!
#27: Go paddleboarding
Sayulita is big with water sports and paddleboarding is one of them. There are many surf shops and schools at the main beach where you can rent your paddleboard, however, we can recommend the locals that we trust who can take you on a SUP trip!
Some of us at Sayulita Insider are not surfers but we do enjoy paddleboarding as a form of exercise. Don't worry, Sayulita waves are not that high!
🍻 Things to do in Sayulita for party goers
#28: Try craft beers in Yambak
📍 Calle Marlin 29
💲 craft beers from US$3.50
I am not a beer fan but Yambak is brewing their own beer so when I am not sipping wine at home, I am drowning myself with IPA beers at Yambak!
There are many beers to choose from and every quarter, they never fail to reinvent their menu. Just last month, they launched a double IPA and gave it for free to everyone for one hour!
Aside from being the best beer brewery in town, Yambak is also famous for its live music. They bring DJs from all over Mexico every weekend – it's definitely a party place!
The best thing I love about Yambak is you can come here any time – whether you're in the mood for day drinking or partying at night, this is the place. You can't miss it – it's next to the plaza and is always full of people!
As a solo traveler, you will very much enjoy the nightlife in Sayulita and will make so many friends be it locals or fellow solo travelers.
#29: Bar Don Pato nightly themed parties
📍 Calle Marlín 12
💲 national beers from US$0.50
I remember being at Don Pato every day during my first month in Sayulita. This is where everyone ends up at night because something is happening nightly! If you are out of options and looking for something to do after midnight, Don Pato is your place!
Mondays (Salsa night)
Tuesdays (Open mic night)
Wednesdays and Fridays (Rock night)
Thursdays (Funk night)
Saturdays (cumbia)
Sundays (reggae)
My very good friend David is a bartender at Pato's. If you're coming alone, sit at the bar and look for him. He will definitely give you a good time!
You can't miss David because he has a big personality. He also has a tequila tasting independent business which I will share with you later in this post.
#30: Try over 50 mezcal types in Cava
📍Ave Revolution 54A
💲 mezcal cocktails from $5 USD
A small mezcaleria in Sayulita, Cava has over 50+ types of Mezcal to choose from, hailing from different parts of Mexico like Puebla and Oaxaca.
My personal favorite here is the Marta e Ines, a mezcal based drink made by Miguel, the best bartender in town who also happens to be a friend.
The watermelon mezcal (Watermelon Mezcalita) is interesting, too. Cava is kind of a pre-game chill night kind of place so make sure to come before they close at 12:00 midnight.
Attention solo travelers: this is also my Tinder dating spot in Sayulita if you ever need a safe and private place for your potential matches. If things go south, Miguel can save you! 😉
👍🏽 Mandatory things to do in Sayulita
#31: Rent a golf cart and go around town
Golf carts are a thing in Sayulita and are probably the main mode of transport. There is no public transport here (aside from taxi) so most people walk from point A to B.
However, if you only have a few days in town, rent a golf cart for a day and get to know the town! Please note that these golf carts can't travel outside Sayulita (i.e. La Lancha or Punta de Mita).
It is solely for going around town and short-distance drives. There are many golf cart rental companies in Sayulita and I don't want to recommend anything yet as I have not found "the best."
But I'll let you know what's the best gold cart rental place in Sayulita soon! I just need to investigate more.
#32: Take yoga classes
Sayulita is a yoga paradise. Many yoga practitioners come here not just because it's a great place to teach yoga but it's also a big industry here!
We have many yoga teachers from all parts of the globe who fell in love with Sayulita and decided to stay here.
While most teachers are foreigners, there are also lots of Latinos who do their yoga classes in Spanish. This is another way to practice your Spanish while you are in Mexico.
The words used in yoga are very simple and I always tell my American friends to take their lessons in Spanish! A good teacher I can recommend is my friend Melissa Webb. You can send her a WhatsApp message at +52 322 172 5180.
You'd want to be friends with Melissa because she is Mexican (married to a Canadian) and is very knowledgeable about town! She's a good ally. 🙂
#33: Take a picture at the famous slap street
Right next to the plaza is the famous selfie street which is on top of the list of the best things to do in Sayulita. People who visit town always take a picture here as it is iconic to Sayulita (and all the pueblos magicos of Mexico).
Don't miss the spot as the photos always look so good here! This is right in front of Barracuda Restaurant and is perpendicular to the plaza so it won't be hard to find!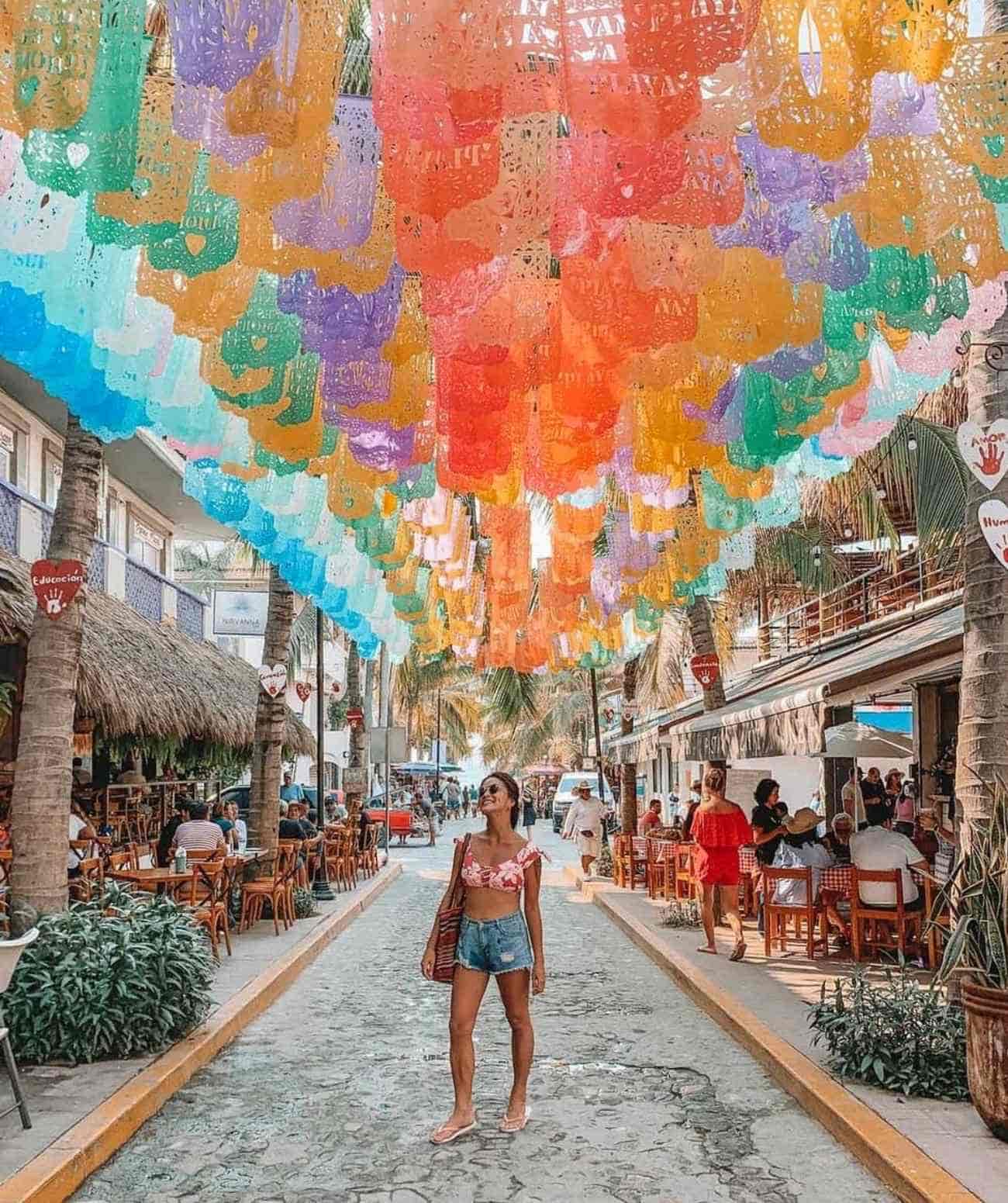 #34: Tacos, tacos, tacos
Finally, some meat tacos in these things to do in Sayulita list! Personally, I think taco stands in Mexico is a default. They don't need to be in listicles like this because they are everywhere!
In Sayulita, there are over 6 popular taco joints and they are all the best. In fact, I am living next to two of those 6 taco joints – it's literally right next to my house!
Taco prices in Sayulita are a bit more expensive than in major cities like Guadalajara and Mexico City so don't be surprised – they're worth it!
#35: Explore Sayulita's street food scene
Street food is not for everyone we have a lot of this in Sayulita! We actually know most of them as we recently opened a TV series called Sayulita Street Food Icons.
Most of these are family-run and we felt very privileged that they wanted to share their stories with us.
Believe it or not, some beach towns in Mexico do not have street food as much as Sayulita does. Our street food is not limited to tacos so try them all and support local!
⛰️ Adventurous things to do in Sayulita
#36: Day trip to Islas Marietas
💲 from $140 USD
Islas Marietas is not exactly in Sayulita but there are a lot of tour companies that offer day trips to the famous Mexican islands. Tours normally cost US$100 but I did this tour myself.
I went hitchhiking to Punta Mita from Sayulita which I found very easy because a lot of cars always travel this route. From there, I was able to get a tour for US$25 but this doesn't include entering the secret beach.
In 2004, the Marietas Islands were designated as a world heritage site. My former landlord is a fisherman and I help him promote tours to the Islas Marietas.
If you want to support a local tour, get in touch with me and I will connect you to him! He's really amazing and speaks good English. I am totally vouching for his Marietas tours!
#37: Go diving
Sayulita is definitely a great place for diving. There are many dive shops here that can also do PADI certifications, surf trips, snorkeling tours, and whale watching.
The dive spots are not within the town but in the neighboring town, Punta de Mita, which is also home to the Marietas Islands. You can contact the guys at Oceano Surf Sayulita. They are young, cool, and they will take care of you!
#38: Hike Monkey Mountain
💲 from $90 USD
Monkey Mountain is probably the best long hike in Sayulita. Lots of tourists don't go there yet (mostly locals) but this is something you shouldn't miss during your Sayulita vacation!
The best part of this is the end of the hike where you'll see a view of all the small towns in the area: Sayulita, San Pancho, and Punta de Mita.
You'll get a bird's eye view of the Bay of Banderas as well. The tour duration is 5-6 hours.
💨 Day trips from Sayulita
#39: San Pancho
Just a 10-minute drive from Sayulita, San Pancho is another small town that has a more mature vibe than Sayulita. Basically, it's a quieter Sayulita with expat over 40.
Most travelers prefer to stay here because it's quieter than Sayulita but it's also not very hard to do a day trip to San Pancho. Hang out at the beach, watch surfers, do a walking tour in town, and eat at beachfront restaurants!
#40: Punta Mita
Punta Mita is a 20-minute drive from Sayulita and is a resort city. However, the resorts in Punta Mita don't really offer day passes. You will have to stay there to access the resorts (including golf courses).
Still, you can visit Punta Mita for a day and check out the local side of Mita. There will be beachfront restaurants, local surfing classes, and a friend of mine who lives there can also take you for a walking tour of Mita!
#41: Los Ayala and Rincon de Guayabitos
Los Ayala and Rincon de Guayabitos are small fishing towns in Nayarit. It's about a 20-minute drive (towards Mazatlan). This is a best day trip from Sayulita option if you want a more local life and see less foreigners.
Hike, go see whales during the season, and trail through the beautiful rock formations in this area. This is a unique day trip and I always recommend it to the readers of this blog!
#42: Lo de Marcos
A quieter town further north, Lo de Marcos is now the new real estate hotspot in Nayarit (as all properties in Sayulita and San Pancho are already sold!)
Buying a property or not, this is a great day trip from Sayulita as it is very local and you will find few foreigners there. There are very little things to do but exploring it half a day is worth it, especially if you are looking for a great place to live in Mexico.
#43: Puerto Vallarta
Puerto Vallarta is where you will land when you go to Sayulita. The international airport is here so you can either explore this before heading to Sayulita.
Puerto Vallarta is big and has so many things to do. Most people actually stay here and make Sayulita as their day trip. FYI, Puerto Vallarta is way cheaper than Sayulita or San Pancho.
If you are only doing a day trip to Puerto Vallarta, focus on the area of the Malecon. It will be more than enough for you to get to know the layout of Puerto Vallarta.
🌿 Sayulita sustainability and ethics
At P.S. I'm On My Way, we make sure to support local, especially when it comes to Sayulita. I lived here for a long time and have learned that even though this is a close-knit community, people come and go which means new tour companies can pop out of nowhere.
I cannot vouch for all the tour operators you will find online but I'd be happy to tell you what I know in private. Feel free to contact me on Instagram or via the contact page of my blog.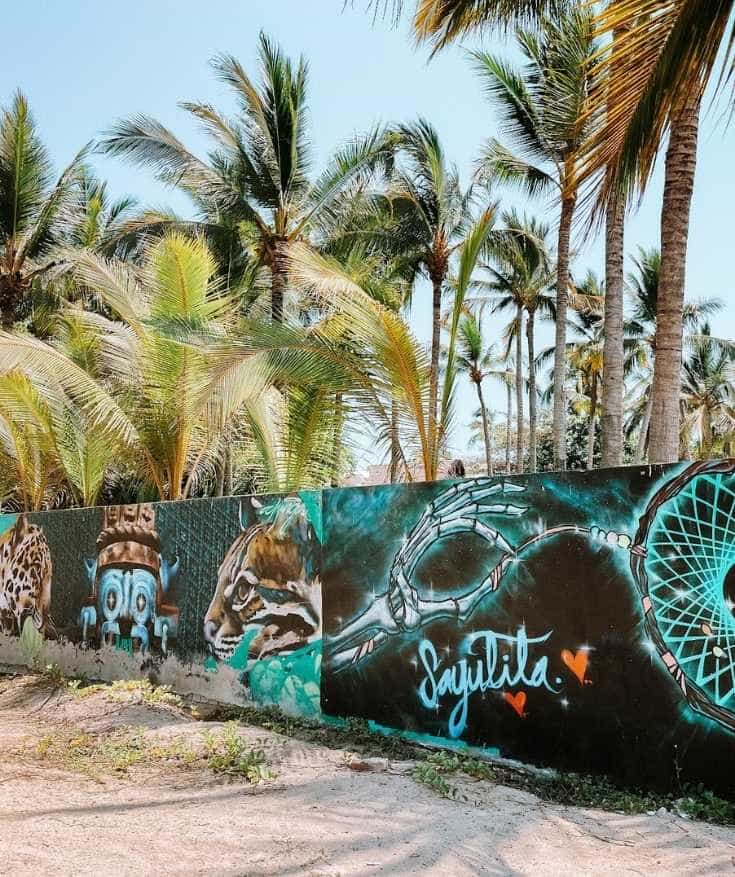 💳 Book activities and things to do in Sayulita
Early last year, I created my Mexico dedicated blog where I go around the country and look for unique and local things to do in Sayulita.
This project has taken me to different host families and local communities. My goal was to promote tours that are not in the guide books!
If you want to support our local community in Sayulita, please consider booking our local tours. You will find many interesting things to do and you will certainly meet people!
✈️ Ready for your trip to Sayulita? This blog thrives on reader questions so feel free to leave a comment below if you need help in finding more fun things to do in Sayulita!
🇲🇽 Sayulita Travel Planning
🚑 Do I need insurance to travel to Sayulita Mexico?
Yes, you do! This is the number one requirement when traveling to Mexico. I use SafetyWing and I only pay $40 USD per month for my digital nomad travel insurance!
✈️ Where can I find cheap flights to Sayulita?
You can find cheap flights to Sayulita Mexico by using WayAway. This is my current flight search favorite and I have proven that flights on this website are way cheaper!
🛏️ Where can I find cheap hotels in Sayulita?
Budget travelers, use Hostelworld when looking for accommodations in Japan. A bed in a hostel dorm starts at $25 USD per night. Booking.com is best for boutique hotels while you will find many luxury hotels on Expedia.
🚕 How do I get to Sayulita from Puerto Vallarta Airport?
You can book with a local driver here for as low as $69 USD! Use my code PSIMONMYWAY10 to get a 10% discount upon checkout.
Trisha is one of those people who left their comfortable life to travel the world and learn about life. Her style is to stay in one place she likes for 3 months (or more) to know what it feels like to eat, cook, speak, and sleep in another culture that isn't hers. She'd like to believe she's not traditionally traveling but she just chooses to be somewhere else all the time. In no particular order, her favorite cities in the world are Barcelona, Buenos Aires, Hong Kong, Mexico City, and Tel Aviv.