If you're searching for a Jerusalem itinerary that is more than the religious sites and the whole Holy Land bonanza, then this is for you!
Reader Mail: Trisha, thanks for all the information you put out there about Israel. I have been following you since you moved to Tel Aviv in 2017 and I love all your content! It seems like Israel is a great place for young people like me.
I am planning to visit Jerusalem but I don't want to be heavy on the holy land sites. Are there other cool things to do in Jerusalem? What's in your Jerusalem itinerary and what have you visited?
I appreciate all the help. I hope to meet you someday!
– Rebecca Morton, USA
Dear Rebecca,
Thank you so much! I really appreciate all the support! You are right – Israel is a great destination for young people. I don't think this information is really out there but I do know that a lot of people (like you) are enticed to visit!
I went back and forth to Jerusalem while living in Tel Aviv because it's super near and I have so many friends in Jeruz! I know a lot of people who are looking for other things to do in Jerusalem apart from the religious sites so I'll share that with you in this Jerusalem itinerary hoping you'd love them!
Good luck and enjoy Israel!
Xx,
Trisha
As someone who lived in Tel Aviv, I have been always biased but when I first visited Jerusalem, I never imagined I will have a different opinion.
Growing up in a Catholic country, Jerusalem has always been perceived as a mecca in our bible study classes. In the Philippines, we have religious subjects that you have to take until you finish University.
Every school curriculum in my country has a religious subject. This did not make me a devout Christian but if I am being honest, coming to Jerusalem will give you 'that Catholic feel.'
Everything looked so familiar yet strange. The feeling was so strong I thought Jesus was literally around.
However, it gave me learning that Jerusalem is more than just a religious site but an infusion of different cuisines, rich cultures, and radical beliefs.
Here's my Jerusalem itinerary and I hope you'll enjoy it as much as I did. Mind you, this itinerary is not just about religion but everything in Jerusalem!
How many days do you need in Jerusalem?
Some people spend one day in Jerusalem but 3 days is good. Remember this Jerusalem itinerary does not just give you information about the Holy Land but other things to do apart from the pilgrimage.
I lived in Israel so I spent more than 3 days in Jerusalem but those who are doing 10 days to 2-week travel within Israel will not have all the time in the world to stay in Jerusalem.
If you have more time, ideally, 5-7 days will be more than enough to see this fascinating city.
What is the best month to visit Jerusalem?
October and November are the best months to visit Jerusalem but I also had a chance to visit between April and May. The weather was super great!
It can get really hot in Israel so plan your visit carefully!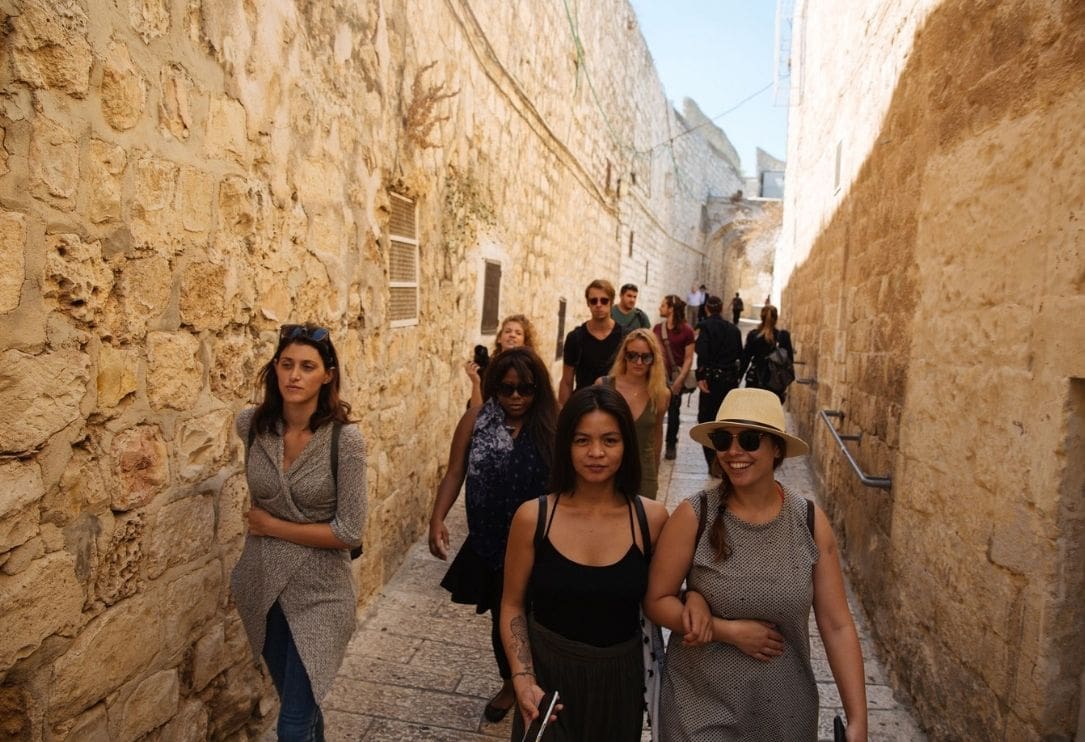 What to expect when visiting Jerusalem
Jerusalem is deeply practicing 'Shabbat,' the Jewish day of rest. It starts at sundown on Friday and ends at sundown on Saturday evening when the new week begins.
You won't find any restaurants or establishments open in Jerusalem so better plan that ahead! Make sure to go to groceries before sundown on Friday and cook your food in your hostel.
If you're traveling on a Friday to Jerusalem, remember that public transport will be unavailable, too.
Jerusalem dress code: what to wear
When packing, remember that Jerusalem is a religious site so make sure you have scarves to cover your shoulders and long pants/skirts to cover your knee. Men must also wear pants and shirts with sleeves.
How to get to Jerusalem
How to get to Jerusalem from Tel Aviv
Buses to Jerusalem depart frequently at Tel Aviv Central Station. If you are departing from this station, the bus number is 405. Fare is around 20 NIS ($6 USD approx).
If you don't want to go to the station, another bus departs from Tel Aviv's Arlozoroff Bus Terminal which is closer to the city center. The bus number to Jerusalem is 480 and costs pretty much the same as above.
There is no need to pre-book your bus tickets to Jerusalem. Just go to the station and you will always have a seat!
Please take note that buses to Jerusalem do not depart from Tel Aviv during Shabbat (sundown of Friday to sundown of Saturday) so plan your trip accordingly!
In my experience, it was easy to find buses going to Jerusalem all over Israel. If you're not coming from Tel Aviv, you can easily go to any bus station in whichever city you are in and take a bus to Jerusalem!
Trains are also very common from Tel Aviv to Jerusalem but I prefer the bus as it seems faster. Plus, the view is amazing!
Where to stay in Jerusalem
My friends work in hostel bars in Jerusalem so most of my accommodations are hostels. A bed in a dorm in a hostel in Jerusalem will cost $25 USD (approx) per night.
Jerusalem itinerary: what to see and do for 3 days
Jerusalem Itinerary Day 1
If you're coming from Tel Aviv, note that you don't need to be in Jerusalem the night before your trip. Jerusalem is only 45 mins-1 hour from Tel Aviv so you can even leave the same day.
This way, you save on accommodations in Jerusalem.
Old City Tour: 2 hours
In this tour, you will get to know the fusion of three different religions in one area. You can definitely do it yourself but if you want a tour guide in Jerusalem to explain the bits and pieces of the old city, you can easily find that at the Jaffa Gate, where your journey will start.
In this tour, you will get to know the fusion of three different religions in one area. You can definitely do it yourself but if you want a tour guide in Jerusalem to explain the bits and pieces of the old city, you can easily find that at the Jaffa Gate, where your journey will start.
Jews: King David's Tomb and the Wailing (Western) Wall
King David's Tomb is a site considered by some to be the burial place of David, the King of Israel while the Wailing Wall is the holiest place where Jews are permitted to pray, though the holiest site in the Jewish faith lies behind it.
Muslims: Dome of rock and the Al Aqsa Mosque
Dome of Rock is considered the site where the Prophet Mohammed ascended to heaven while the gorgeous Al Aqsa Mosque which is built on top of Temple Mount is the third holiest site in Islam.
Christians: the Via Dolorosa, the room of the last supper, and the Church of the Holy Sepulchre
Via Dolorosa is the street in the old city of Jerusalem where Jesus walked on the way to his crucifixion. If you go back to your biblical lessons in grade school (if you have it), you will experience walking the stations of the cross.
Devout Christians even carry a cross to experience the 'path' Jesus took.
Lunch at Lina Restaurant
💲 | 42 Al Khanka St. Christian Quarter | +972 262 77230
I didn't understand why they ate so much bread in Israel but my discovery of hummus lead me to a new level of gastronomic learning – hummus.
See more reviews of Lina Restaurant on TripAdvisor
Lina Restaurant is one of my first legitimate taste of hummus in Israel and boy, this is really something else! I finished a whole plate to myself!
Lina Restaurant is really a small place so you will need to fall in line but be patient because it's worth the wait!
Visit Katamonim and Beit Safafa neighborhoods
These neighborhoods represent extreme social, cultural, and economic gaps in Israel. For years, Katamonim has been one of the strongest symbols of racial discrimination in Israel. Beit Safafa is another interesting neighborhood in Jerusalem where you can see the effects of the Arab-Israeli conflict in the past.
Omar Yosef / Flickr
At present, the residents are trying to be part of Westernized civilization while maintaining their traditional heritage.
Bakehila, a non-government organization that impacts the lives of thousands of Israeli and Arab children and youth conducts this kind of tour.
Take a brisk walking tour through the storied streets of Jerusalem, and help marginalized citizens achieve social equality.
You will also get to experience the full extent of the cultural medley in Jerusalem with a taste of Ethiopian cuisine.
Finally, observe the immense struggles faced by the residents of both Katamonim and Beit Safafa, and support their well-being just by listening to their untold stories.
Important: When participating in tours like this, always remember that everyone you meet within Israel will have a political opinion about the divide in Jerusalem.
I ask you to please NOT take their opinions as your own and spread the word to your friends outside of Israel. Listen carefully to the tour guide but don't take the "side" you think is "right."
It won't help in achieving peace in Israel and in the Middle East.
Strolling, dinner, and nightlife at the Machne Yehuda Market
Jerusalem's Machne Yehuda Market is home to many Middle Eastern shops and sellers. This is where I was able to experience the real Middle Eastern fusion as it's packed with Moroccan delicacies, Jordanian pastries, and more!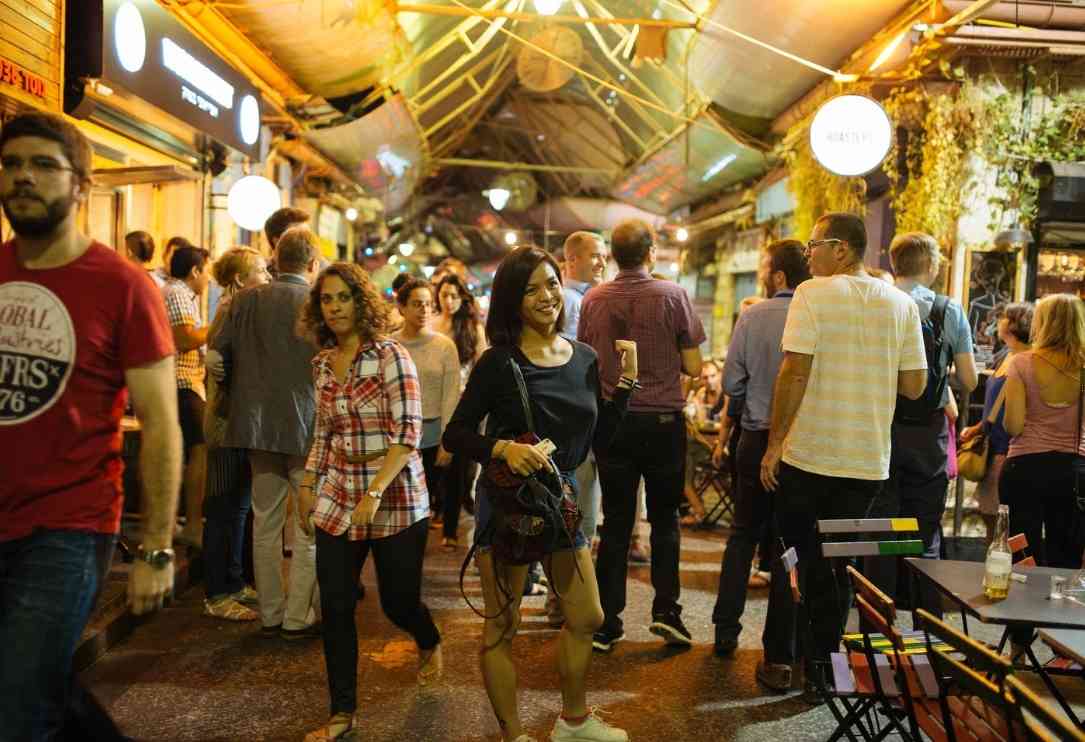 This is not only a place to shop but there are also bars and restaurants inside the market! Take a shopping stroll during the afternoon and have dinner wherever you please. Drinks will come after!
Eat here: Crave (American)
💲💲 | Ha-Shikma St 1 | +972 262 72830
A kosher street food joint, Crave Gourmet serves street food that will feel new to the palette. Sliders and Reubens, Mexican flavors, and some Korean twists make the diversity of the menu.
Prices start at 48 NIS ($12.85 USD) approx.
Eat here: Ishtabach (Kurdish)
💲 | Beit Ya'akov St 1 | +972 262 32997
Have you ever tried Kurdish delight? Experience shamburak, a baked meat and potato pastry with small dishes like tahini, pickled carrots, and olives on the side!
Prices start at 40 NIS ($10 USD approx).
Drink here: Hatch
💲 | HaEgoz St 28 | +972 265 63691
If you're up for an early-drinking session, Hatch serves handcrafted sausages and beers that I'm sure you've never tried before! This is the best restaurant I've tried in Machne Yehuda and is really perfect for day drinking!
Beer prices start at 30 NIS ($ 8 USD approx).
Drink here: Beer Bazaar Jerusalem
💲💲 | Etz Hayyim St | +972 262 72830
Located in one of the entrances of the market, Beer Bazaar Jerusalem is a good place to start your bar hopping. There are over 100 types of Israeli craft beers in this pub so make sure to try at least 10%!
Prices start at 28 NIS ($7.50 USD approx).
Jerusalem Itinerary Day 2
You've had a full day 1 Jerusalem itinerary so let's take it easy on day 2, shall we?
Visit the Jerusalem Bird Observatory
I was pretty surprised when I first discovered that Jerusalem has a bird observatory. This is not one of the common places to visit in Israel (or in Jerusalem alone!) so make sure to come here and bring a different story about Jerusalem to your peers!
This is a 15-min walk from the central bus station in Jerusalem. Bus #9 comes close to the observatory. The observatory is open from Sunday – Thursday from 9:00 am to 3:00 pm.
Here, you will get to visit a bird observatory to protect wildlife in Jerusalem and increase education about city wildlife.
You will also see unique species of birds that migrate between Europe and Africa each year. Get to watch how birds are ringed for identification!
Lunch at Adom Restaurant
💲💲 | David Remez St 4 | +97 226 246242
I went to Adom Restaurant for dinner but I also have visited it during the day. Located at the Finegold courtyard, this restaurant has a wide variety of food and wine – from Israeli's finest sabich to bouillabaisse, the selection is good for a fancy dinner in Jerusalem!
It may sound fancy but Adom is not that expensive. For starters and salads cost 52 NIS ($13 USD approx) at a minimum while mains are from 67 NIS ($18 USD approx).
Please note that due to high demand, you might need to pre-book a table to have a meal here.
Play with gazelles at Gazelle Valley
Another uncommon thing to do in Jerusalem, the Gazelle Valley is another place where you can experience a mini-wildlife and the outdoors.
This sanctuary has fought to preserve and support the teeming wildlife in Gazelle Valley by raising awareness of this urban-wildlife ecosystem and maintaining natural resources.
If you book this tour, part of its revenue will be used to develop and maintain the ecosystem in the valley and raising awareness about the importance of Urban Wildlife.
Discover the oasis of wildlife preservation in the urban center of Jerusalem and support efforts to sustain Gazelle Valley. Also learn how gazelles, hedgehogs, owls, and other animals can thrive in an urban environment.
Leave your mark on Gazelle Valley and plant a tree on the preservation.
Sunset drinks and dinner at Rooftop Mamilla
Mamilla, a luxury hotel in Jerusalem has this rooftop bar and restaurant where you can see a good view of Jerusalem's old city.
With a large and varied menu for both lunch and dinner, the Rooftop features fresh natural ingredients infused in simple cooking; from grilled meat and fish dishes, fresh salads and pasta, to a selection of mouth-watering desserts.
Mamilla Rooftop is open from Sunday-Thursday, 6:00 pm to 11:00 pm 18:00 – 23:00 with special hours on Shabbat (Friday and Saturday).
Jerusalem Itinerary Day 3
Take Krav Maga lessons
Krav Maga is a military self-defense and fighting system developed for the Israel Defense Forces (IDF) and Israeli security forces.
Remember that Israel has mandatory military service for all its citizens and Krav Maga is one of the coolest things they learn during training.
This tour is by appointment only so hours can be flexible. Part of the tour revenue will go to the programs that the org offers, giving every woman and girl the right to gain tools to defend her body, spirit, and personal safety, regardless of religious beliefs, ethnicity, or social standing.
Take a Krav Maga class while promoting violence prevention in Jerusalem. You will also learn traditional Israeli combat training with a local expert.
Get to meet local Jerusalem community members and gain insight into daily life in the city!
Breakfast/brunch at Kadosh Café
A cafe dating back to 1967, Kadosh is one of the oldest and most trusted breakfast places in Jerusalem. Take a bite of the 'bready' life of the Israelis plus some European and Mediterranean dishes.
Prices start at 30 NIS ($8 USD approx).Kadosh is open from Sun-Thurs 7:00 am – 12:00 nn and on Fridays, 7:00 am – 1:00 pm.
What's next after Jerusalem?
Tel Aviv
People will normally just spend a day in Jerusalem for the Holy Land tours as it is notoriously known for it but if you want to explore Jerusalem on a different level, feel free to follow my itinerary and discover that this city is not only about the religious sites.
After Jerusalem, most visitors opt to go back to Tel Aviv for a livelier city setting or discover the outskirts of Israel which are accessible from Jerusalem.
Masada, Ein Gedi, and Dead Sea
This tour can be done in a day but I am not sure if you can do this on your own. A tour agency in Jerusalem arranged this for me. It normally departs from Jerusalem at 7:00 am and comes back at 5:00 pm.
The West Bank
For a West Bank visit, you will be able to see the ancient city of Jericho, the modern Arab city of Ramallah and even Bethlehem, where Jesus was born
Egypt or Jordan
After Jerusalem, most people move on to their trips by visiting Jordan or Egypt. These countries are only 5-6 hours away from Jerusalem and border crossing is really easy!
Jerusalem itinerary on Pinterest: save it for later!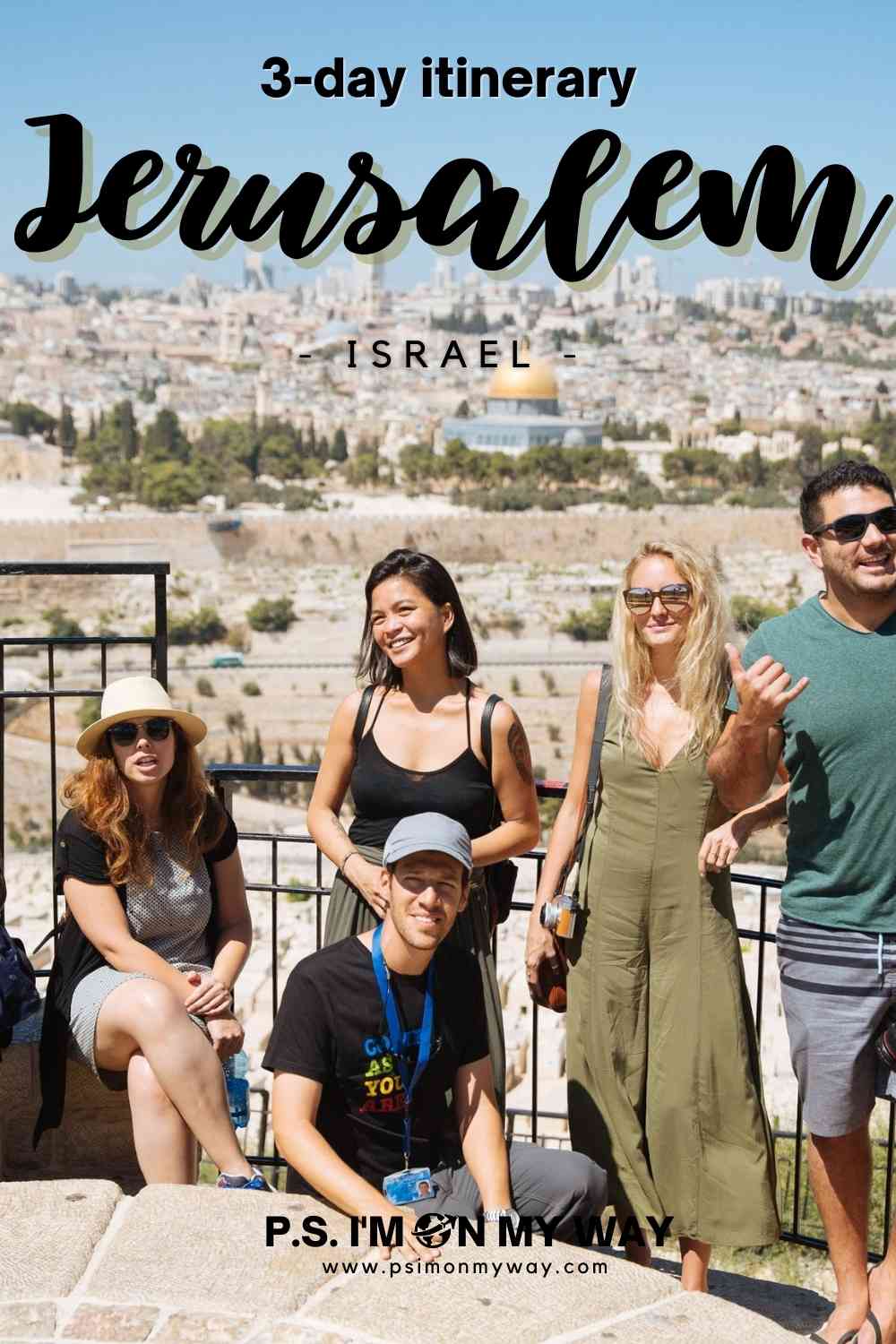 Trisha is one of those people who left their comfortable life to travel the world and learn about life. Her style is to stay in one place she likes for 3 months (or more) to know what it feels like to eat, cook, speak, and sleep in another culture that isn't hers. She'd like to believe she's not traditionally traveling but she just chooses to be somewhere else all the time. In no particular order, her favorite cities in the world are Barcelona, Buenos Aires, Hong Kong, Mexico City, and Tel Aviv.