This Israel travel budget is from when I lived in Israel for 1.5 years. I started there as a tourist so I want to share with you what I spent as a tourist in Israel! Then you can visit my living abroad content later…
Reader Mail: Hey there Trish! A friend passed your blog to me when I asked her about Israel. Thank you for the information! I really like your content.
I know that you live in Tel Aviv and I want to ask for an ideal Israel travel budget for a week? I heard it's more expensive than in Berlin. Is it true? Thank you for all the help! Keep up the good work!
-Andreas Becke, Germany
Thanks for reaching out, Andreas!
Yes, Israel is an expensive country and I very much agree that Berlin is cheaper but very similar in terms of lifestyle. I don't live in Israel anymore but I am still familiar with the prices.
In this Israel travel budget report, I will walk you through what I spent in Israel – food, transportation, accommodations, shopping, tours, etc.
Below you will find the "content" list – just click on them to jump to the content you are looking for. I hope you enjoy Morocco. It's one of my favorite countries and I always loved going back!
Xx,
Trisha
Is Israel expensive to visit?
Having lived in Israel for a year, I find Israel a really expensive country. For example, Gouda cheese costs $5 USD per kg in the Netherlands while in Israel, it costs $17 USD.
The currency in Israel is called the New Israeli shekel (NIS). $1 USD = 3.62 NIS. With this price, you will be able to buy a dozen of eggs (large), 1 liter of whole fat milk, 1 kg of tomatoes, and 1 kg of potatoes.
View this post on Instagram

It is very important to know what you can buy for a dollar in Israel so you can compare it to your home country. This way, you have a better idea of how much should your Israel travel budget be.
How do I budget for Israel?
Even though Israel is an expensive country, there are many things to see and do in Israel for free. For example, you can visit all the shuks (markets) in Israel for free.
Every city in Israel has this and it's the best place to get to know the culture of the Israelis when it comes to food and everyday life.
You can also get on Couchsurfing to get free accommodations. The Israelis are well-traveled people so they know what it's like to travel on a budget.
They are also very accommodating so I am sure that if you send a Couch request, you will get a hundred responses! I live in Tel Aviv so if you are coming here, you are very much welcome in my home.
What is the cheapest time to go to Israel?
Like many other countries, the high season in Israel is from November to January. The weather is really great and it's a destination for many Americans and Europeans escaping the harsh winters of their country.
March is Passover so many Israelis go out of the country for this. In my experience, a lot of my Israeli friends avoid these celebrations with their families – it's just so long!
You may also like: Golan Heights dining experience with Puzzle Israel
View this post on Instagram
During Passover, flights to Israel are lower since the locals are out of the country. This is the best time for you to explore the Jewish culture and get to know how Passover is celebrated in Israel!
How much does it cost to go to the Holy Land in Israel?
Holy Land tours are pretty expensive since a lot of tour companies in the USA are capitalizing on this. The Holy Land is the best-selling Israel tour – many pilgrims and devotees go to Israel just for this!
If you sign up for a tour, expect to pay $300 – $500 USD per day (all-inclusive) but I can definitely hook you up with my local tour operators for cheap!
Israel travel budget guide: accommodations, activities, and everything you need to know
Accommodation costs in Israel
Accommodations in Israel are not that cheap. In Tel Aviv, you can get a decent dorm in a hostel from $15 – $25 USD. Mid-range hotels start from $80 USD for 2 pax.
If you want luxury accommodation, it's around $150 – $650 USD for 2 pax is reasonable. Most of them are all-inclusive anyway.
Below are my favorite budget hotels in Israel with corresponding estimated prices:
💲 Dorms from $25 USD; private rooms from $64 USD
I will never forget this hostel because this is the first hostel in Tel Aviv that I stayed in. I did not have prior knowledge about the Florentin neighborhood of Israel – I swear I booked this without knowing the area as many Tel Aviv first-time visitors will do.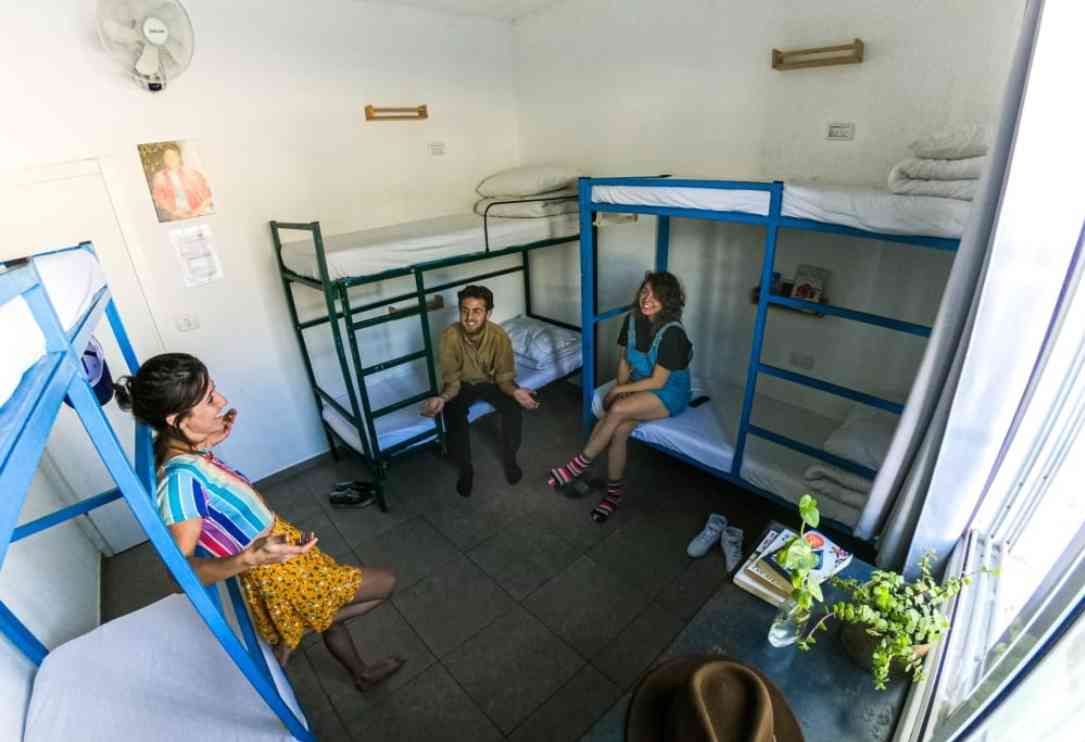 But when I stayed here, I realized that Florentin is one of the most sought-after areas in Tel Aviv! This quirky neighborhood has nice cafes, restaurants, and bars. You don't even have to go to the Tel Aviv City center!
👉🏽 Check prices and availability at Florentin Hostel
Abraham Hostel (Jerusalem, Tel Aviv, and Eilat)
💲 Dorms from $25 USD; private rooms from $80 USD
Abraham Hostels is a popular hostel chain that has 3 branches in Israel. I already worked with them and stayed with them often as a travel blogger and I guarantee you that this is a great budget hostel for solo travelers.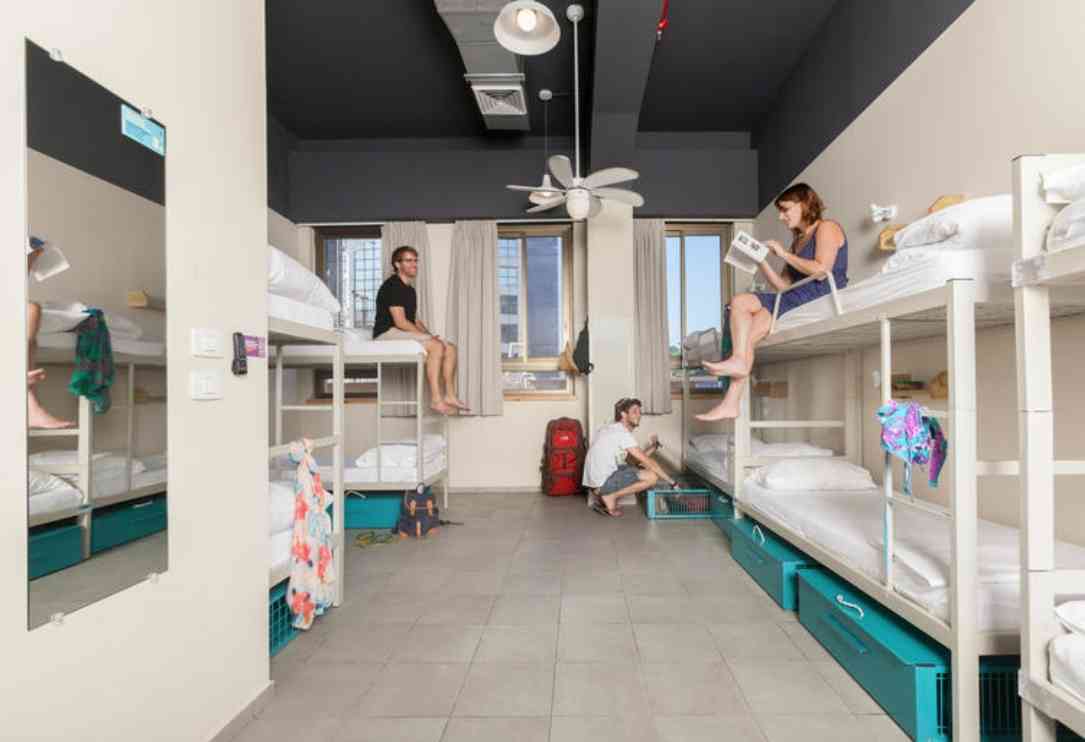 I met so many people here and staying at Abraham has always been a great experience for me! Even my mom stayed here when she visited me in Israel!
👉🏽 Check prices and availability at Abraham Hostel: Tel Aviv | Jerusalem | Eilat
You can choose to stay in hotels in Israel but they are pretty expensive. All of them are very professional and high-maintained anyway. I was never in an accommodation in Israel that is sketchy and dirty so rest assured that whatever you book, it will be a great stay!
When booking accommodations in Israel, I use Expedia, Hostelworld, Agoda, and Booking.com. These three always have great promo prices and I always find great deals when using these hotel booking platforms.
On another note… living in Israel as an expat: apartment expenses
I lived in Tel Aviv for a whole year and have moved to three different apartments. Same as everywhere in the world, housing costs in Tel Aviv depend on the area.
Mind you, they are pretty small yet very expensive! I was able to find a huge apartment with 2-bedrooms in Jaffa (south of Tel Aviv) for cheap but this is not the city center. Cheap finds like this are very rare in Tel Aviv.
Monthly rent for 85 m2 furnished accommodation in a business district starts at $2,272 USD. In lesser touristic areas, you can get an apartment of the same size for $1,790 USD.
A month of utilities including heating, electricity, gas, etc costs $200 USD for 2 people. Furnished studio apartments (around 45 m2) in a non-touristic area starts at $1,575 USD.
My old studio apartment which is in a good area but was less than 100 sqm costs $800 USD. Apartment sharing is very common in Tel Aviv.
You can get a house and share it with 2 other people, depending on how many rooms an apartment has.
Food costs in Israel
Although the history of where Israeli food came from is a very long argument, most of what they have are from their Arab neighbors which they re-invented the Israeli way.
Israeli food is known to be one of the best in the Middle East so even if they are expensive, make sure to try as much food as you can!
A basic lunchtime menu in the business district starts at $16 USD. Combo meals in fast-food restaurants like McDonald's start at $14 USD.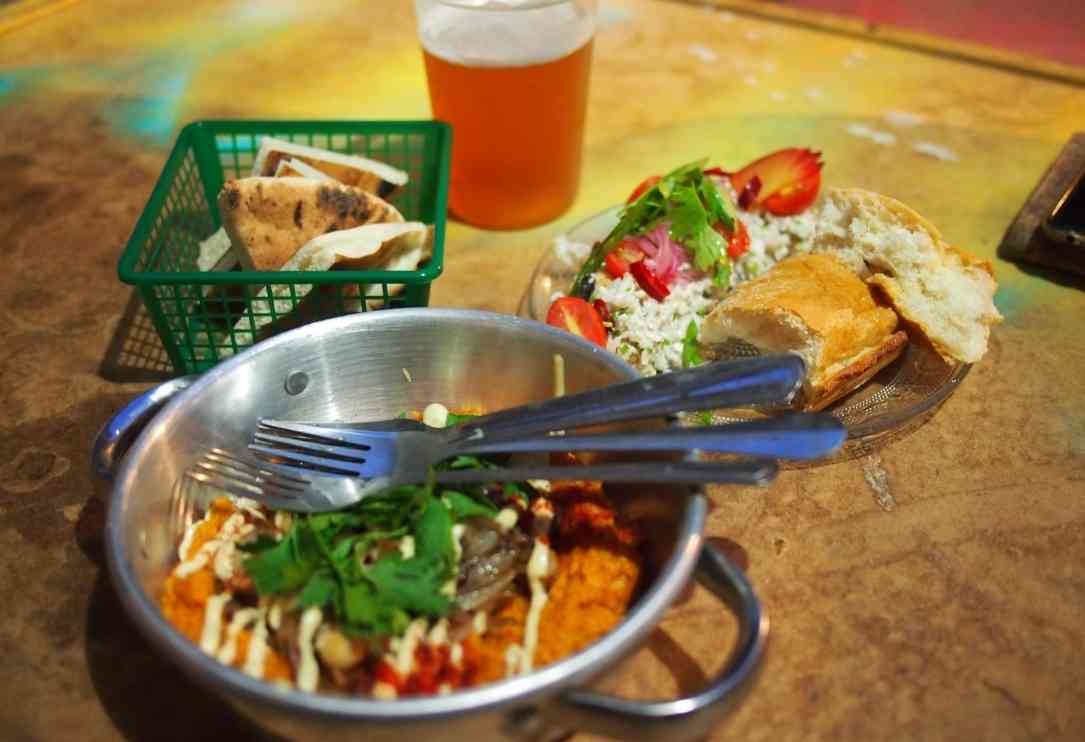 Not only that Israel is home to amazing food but it is also proud of its Israeli wines. If you buy a bottle of wine in a supermarket, a bottle of good red wine starts at $14 USD.
Mid-range restaurant dining starts at $80 USD for 2 pax. This may include appetizers, main course, wine, and dessert. For beer drinkers, you can get a bottle of beer in a downtown pub for $8 USD.
If you buy it in the supermarket, it costs $3 USD. Coffee drinkers can enjoy a cappuccino in a cool cafe for $4 USD.
Transportation costs in Israel
Israel is a small country so getting from point A to point B is not difficult. You can always go to another city by bus – they're comfortable and cheap.
If you want a faster journey, take the inter-city trains. Please take note that transportation services do not operate every Shabbat – from Friday sundown to Saturday sundown.
Below are estimated rates for intercity bus travel in Israel:
Tel Aviv to Jerusalem: $9 USD (less than 1h ride)
Tel Aviv to Haifa: $12 USD (1h 12m ride)
Tel Aviv to Golan Heights: $25 USD (4h ride)
Tel Aviv to Eilat: $39 USD (4h 30m ride)
Israel has inter-city trains that can take you all the way to Haifa. Prices are quite similar to the bus tariffs. A liter of gasoline in Tel Aviv costs $1.80 USD.
If you plan to take a taxi as your mode of transport, the basic tariff for every 8 km is $18 USD. A monthly ticket for public transport costs $61 USD.
Israel travel budget summary
In summary, below is a table of my estimated daily expenses in Israel. Please note that I sometimes changed my type of travel: budget, mid-range, and luxury. I also rented an apartment which is not included in the costs below. Note that this is an estimate and that the numbers are based on my travels in Israel.
| | Accommodation | Food | Transportation | Total |
| --- | --- | --- | --- | --- |
| Backpacker/budget | $15 USD | $40 USD | $20 USD | $75 USD |
| Mid-range | $90 USD | $100 USD | $80 USD | $270 USD |
| Luxury | $390 USD | $180 USD | $150 USD | $720 USD |
Given the facts and the numbers, it's totally up to you how much your daily Israel travel budget will be.
Trisha is one of those people who left their comfortable life to travel the world and learn about life. Her style is to stay in one place she likes for 3 months (or more) to know what it feels like to eat, cook, speak, and sleep in another culture that isn't hers. She'd like to believe she's not traditionally traveling but she just chooses to be somewhere else all the time. In no particular order, her favorite cities in the world are Barcelona, Buenos Aires, Hong Kong, Mexico City, and Tel Aviv.