So you want to be a Dalat digital nomad? This guide was written by Thirumal Motati, a writer and digital nomad from India. He's been using Dalat as his base when he's in Vietnam and in this article, he will share all his insider tips about this city!
Reader Mail: Trish, hello! Long time ago, I followed all your backpacking adventures in Southeast Asia. I aspired to be like you and I am so ready to do it this year! I know I need to leave the US so I can save money. I am still paying my student loans but I am sure I can do it while living in Asia. Can I ask you about Vietnam? I am looking at Dalat. Originally, I want to go to Chiang Mai, Thailand but I feel like it's too crowded and too many foreigners. What do you think? Thank you for always helping!
-Jack Heffron, USA
Hello Jack,
Thank you for following! I love Vietnam and I actually stayed with a host family there while being a digital nomad. Vietnam is actually a great place to travel in your 20s' so I say go for it!!! Unfortunately, I never made it to Dalat but I called a friend who can help you out!
Thirumal is a Dalat digital nomad and frequents Vietnam as his base. He has insider tips about living in Dalat as a digital nomad, wifi cafes, coworking spaces, and everything you need to know! If you have any questions that weren't answered in this post, feel free to reach out via Instagram!
Good luck and may the force be with you!
Xx,
Trisha
As a digital nomad, I don't have a fixed home. But there are places in the world that feel like home for me. I often go back to these places. Dalat is one such place. Dalat is my home away from home.
I have been coming to Dalat since 2017. I spend 3 to 6 months in Dalat on each visit. Living in Dalat has always been an amazing experience for me.
I'm originally from India. I have also lived a few years in the US. I have been a digital nomad for over four years now. My girlfriend is from the Philippines who joined on my digital nomad journey last year. I run a visa blog for travelers. I write extensively on travel visas.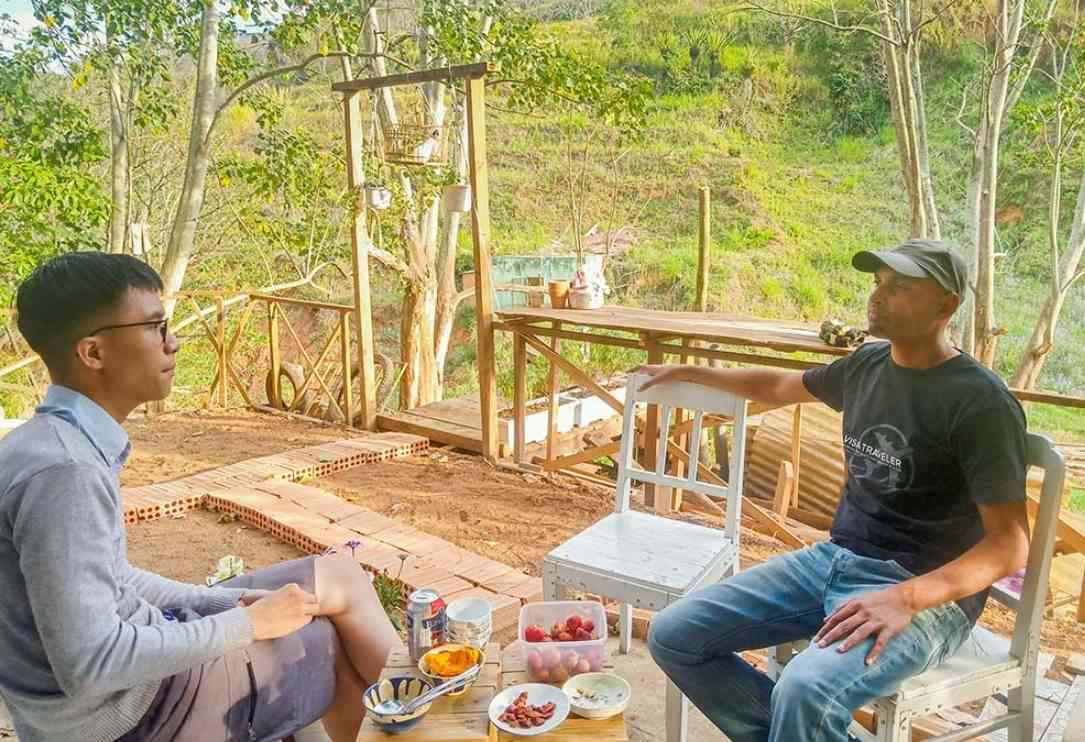 I hold an Indian passport which is one of the weakest. Being a digital nomad on an Indian passport is not easy. I need visas for pretty much every country in the world. I have to apply for visas weeks and months in advance.
I started my blog to inspire others to travel despite their weak passports. My blog has helped many secure their visas and fulfill their travel dreams. My readers drew inspiration from my blog and attempted some remarkable travel adventures. Bicycling North and South America on an Indian passport and traveling eleven countries in three months are some of them.
Dalat digital nomad guide: costs, Internet connection, and more!
Personal experience as a Dalat digital nomad
On my first trip to Vietnam, I traveled through many cities. When I arrived in Dalat, I instantly fell in love with the city.
Dalat is located in the highlands, surrounded by pine forests, mountains, and waterfalls. Beautiful flowers bloom all over the city. Fresh fruits and vegetables are abundant in the markets. Lakes, valleys, and hiking trails are all within a short motorbike drive.
French-style buildings, mural-filled alleys, and relaxing coffee shops. Dalat is the perfect package of everything I love. I knew right then I had to come back to Dalat. And I have been coming back to Dalat ever since.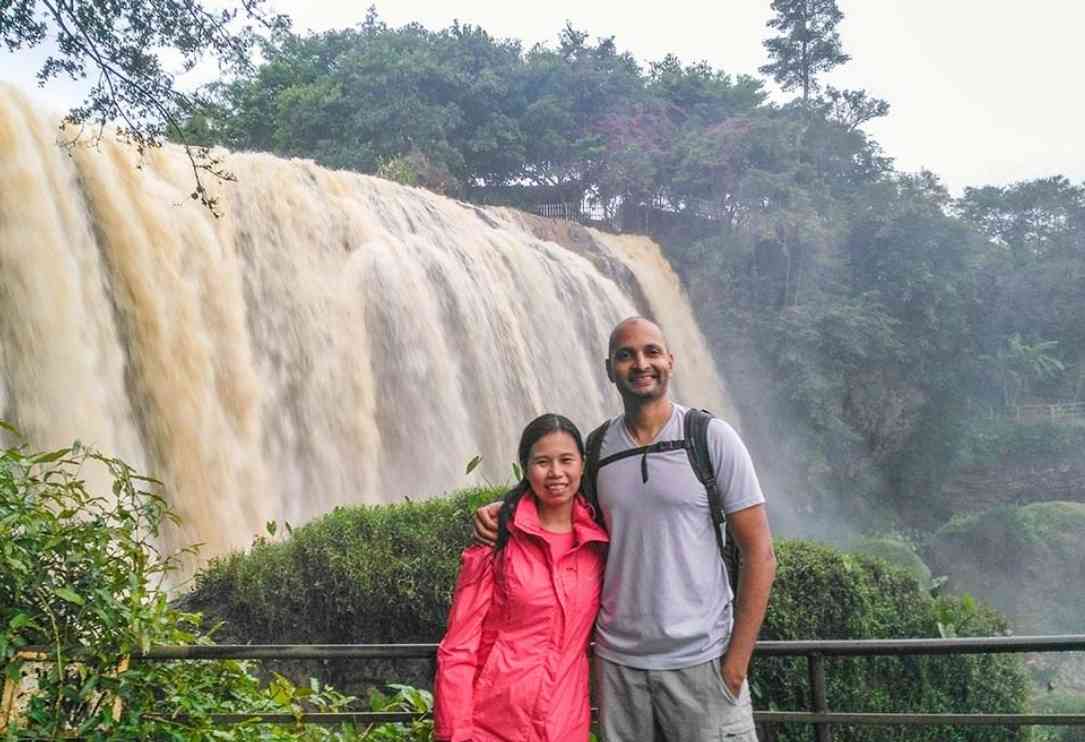 Dalat is also trendy, modern and boasts facilities on par with western standards. Rental apartments are equipped with high-speed internet connections. Hotels, hostels, and Airbnbs offer free WiFi.
Cafes have plugs, fast WiFi, and young English-speaking staff. There is a good selection of coffee shops and restaurants serving international cuisine.
Dalat's new and first co-working space is also part of a popular cafe that serves great food and drinks. The co-working space offers shared working space and fast WiFi.

The digital nomad scene in Dalat
Dalat doesn't have a big digital nomad scene like Chiang Mai or Bali. It's not a popular destination for digital nomads seeking warm weather.
That being said, Dalat has everything a digital nomad needs. Affordable living, fast internet, plenty of cafes, a co-working space, decent expat community, and welcoming locals.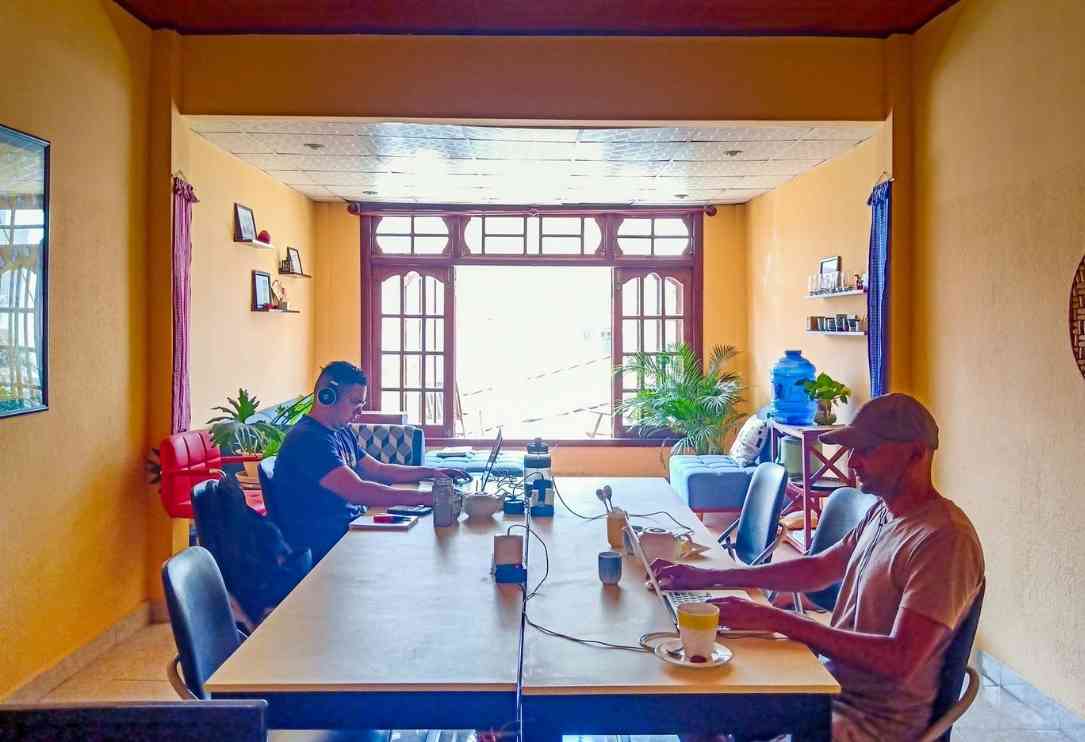 Expats and digital nomads living in Dalat or planning to move here can connect with other expats or digital nomads through local Facebook groups. There are 4 Facebook groups that most of us in Dalat use on a daily basis.
Internet speed in Dalat
The internet is quite fast in Vietnam and Dalat is no exception. The average WiFi speeds in Dalat are about 30 Mbps. You don't really need a SIM card while living in Dalat. WiFi is available pretty much everywhere.
If you go hiking in the woods and need to call for help, you would obviously need to have a SIM card. When you are out and would need to book a Grab car or use Google translate, you may need a SIM card. You can purchase SIM cards at any FPT cellphone store, electronic store or BigC shopping mall.
Viettel, Vinaphone, and MobiFone have very good coverage in Dalat. The data speeds on these 3 networks are about 20-30 Mbps on average. While living in Dalat, I have used all 3 providers. My recommendation is Vinaphone. It's cheaper and easy to purchase inside the BigC shopping mall.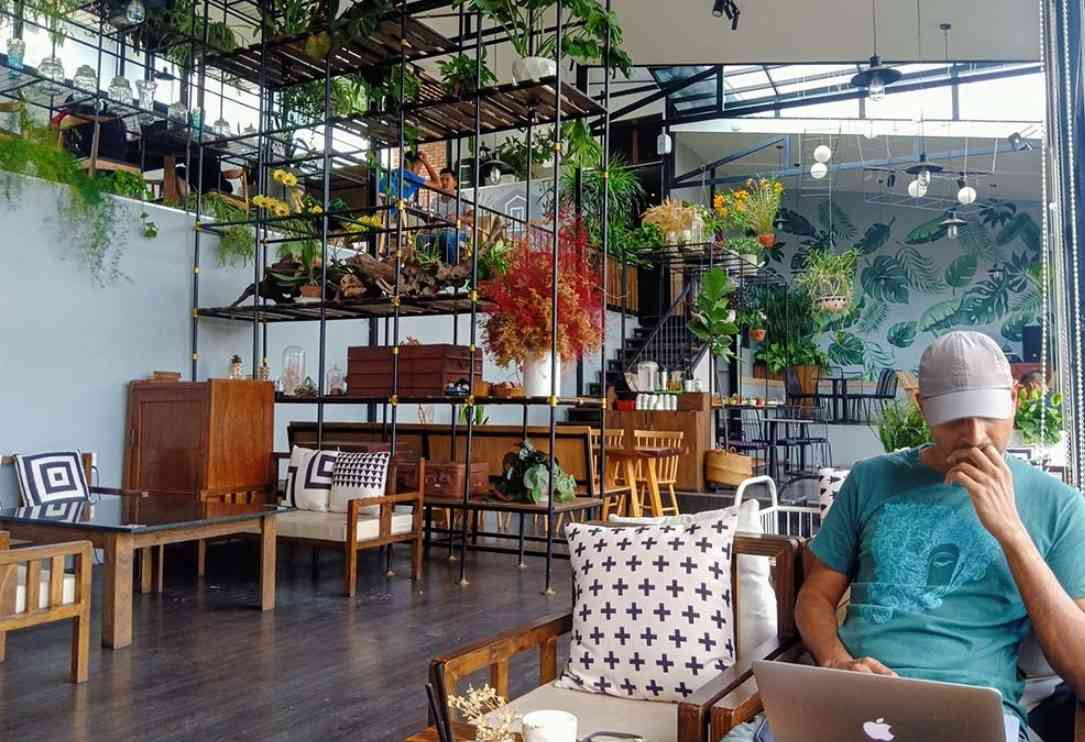 A Vinaphone SIM card is 120,000 VND (around $5 USD) at the Vinaphone kiosk in BigC shopping mall. The SIM card includes 5GB of data valid for 30 days. Additional 5GB of data package valid for 30 days is 50,000 VND (around $2 USD)
A Viettel or MobiFone SIM card at any FPT cellphone store is about 100,000 VND (around $4 USD). SIM card doesn't include a data package. A 5GB data package valid for 30 days is about 50,000 VND (around $2 USD).
WiFi is available pretty much everywhere in the city. Homes are equipped with high-speed WiFi routers. Cafes, restaurants, and co-working spaces offer free WiFI. Access to fast WiFi in Dalat is not an issue at all. So, a SIM card is not really necessary. You will only need a SIM card if you need internet on the go.
Cost of living in Dalat, Vietnam
Living in Dalat perfectly fits my budget. Accommodation is inexpensive. Food and drink prices are reasonable. Grab rides are cheap.
We rent a studio apartment. We buy vegetables and fruits in the local market. We buy groceries at the supermarket. We cook at home but also eat out often. We work from cafes and co-working spaces. We manage all of this within $500 USD per month per person budget.
We do not have a motorbike since we love to walk mostly. If you prefer to drive, motorbikes can be rented monthly or purchased. You can easily purchase a used motorbike for $250 USD or less.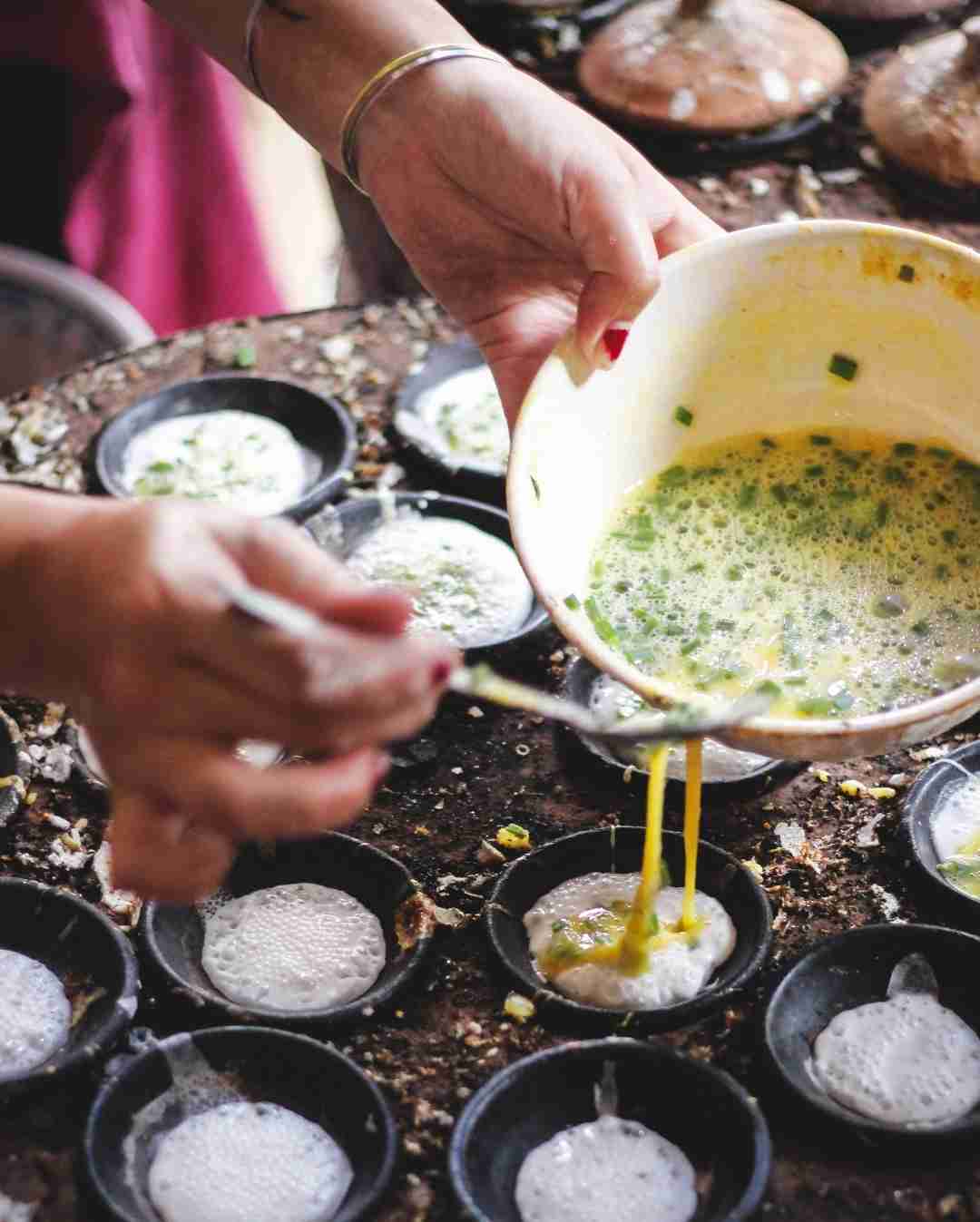 Expats and digital nomads living in Dalat usually rent apartments or villas on a monthly or yearly basis. Locals advertise their apartments available for rent on the expat Facebook groups. I have always found apartments in Dalat this way.
Expats or digital nomads arriving in Dalat can also post their requirements for apartments on Facebook groups. Locals usually respond to these posts with details.
I have mostly stayed in rental apartments in Dalat. I start with a few nights in an Airbnb and negotiate a monthly price with the host. I also check with my previous hosts for the availability or just ask around on the Facebook groups.
I have also stayed in a hostel for about a month. Most hostels offer dorm beds and private rooms at monthly rates.
Vietnam digital nomad visa
Vietnam has a liberal visa policy offering eVisa and Visa on Arrival to most nationalities. It's quite easy to obtain a 3-month Vietnam visa on arrival at the airport. These 3-month visas are perfect for digital nomads. When the visa runs out, you can do a visa run for a fresh 3-month visa again.
E-visas are valid for 30 days, single-entry only. Whereas Visa on Arrival is valid from 1 month to 3 months, single or multiple-entry. Visa on Arrival requires an approval letter from an authorized visa agent in Vietnam, which must be arranged a few days prior to arrival in Vietnam.
Dalat cafes with strong wifi
These are my recommended cafes in Dalat. These cafes offer great food, drinks, and fast WiFi. I often go to these cafes to work. Some of these cafes also offer a 10% discount to their frequent customers.
Anna's Coffee House
Decorated with fresh flowers, plants, and books, Anna's coffee house is a favorite among expats. The owner of the cafe, Anna is super nice and she makes some really good Mexican food in town. I often go here to work, eat or catch up with my expat friends.
I also go to this cafe to buy imported food items that I can't find elsewhere. WiFi is quite strong with an average speed of 35 Mbps. Plugs are available at most of the tables. Plug extensions are also available if you need to connect many devices.
The environment at the cafe is quiet and chill. I usually get a lot of work done here. You can get food and drinks for about 150,000 VND.
One More Cafe
Another favorite cafe among expats. Not only for the food and the cute dog but also for the co-working space. Lorelle, the owner offers weekend specials such as Greek, Mediterranian, etc. These specials are quite popular among expats. WiFi is strong in the cafe and also in the co-working space.
WiFi speed is about 25 Mbps. Plugs are available at all tables. The environment is quiet and mellow. You can get food and drinks for about 150,000 VND here.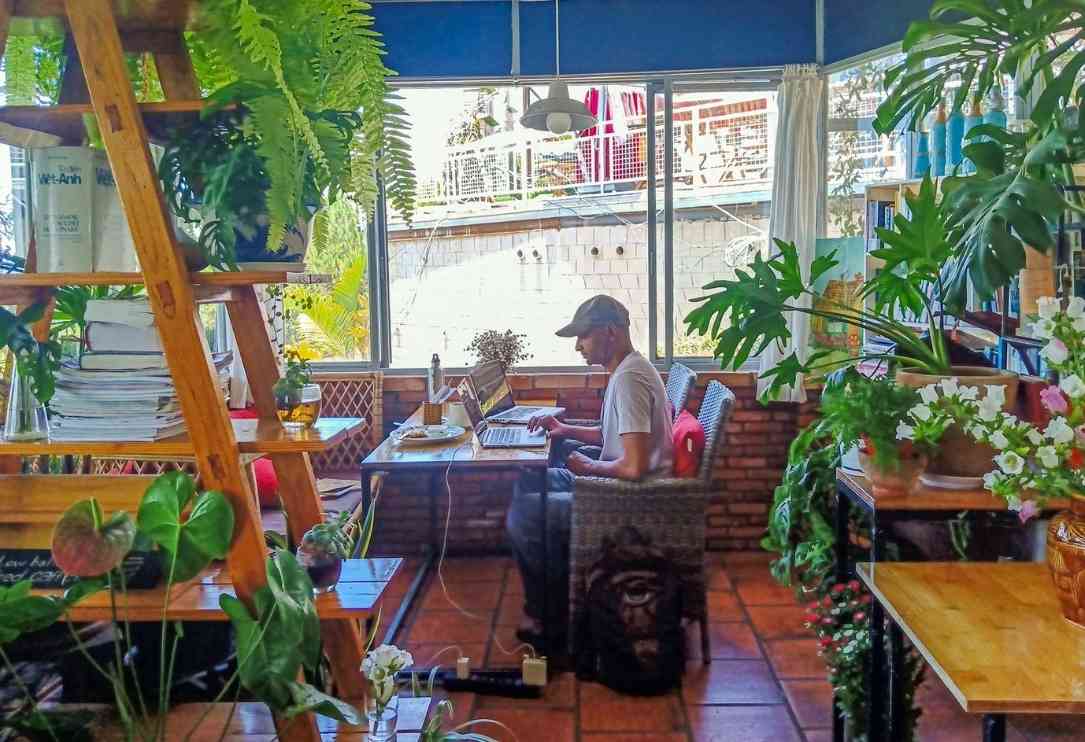 An Cafe
A beautiful cafe in the downtown area. It has multiple rooms with both inside and outside seating. While living in Dalat, I have been so frequent to this cafe, they started offering me a 10% discount on my bill. Actually, quite a few coffee shops in Dalat do this.
They offer a 10% discount to their frequent customers. WiFi speed at An Cafe is about 25 Mbps. Plugs are available at all tables. It can get noisy on the weekends as this cafe is very popular among tourists. You can get food and drinks for about 100,000 VND.
Windmills Coffee
This cafe has multiple branches in Dalat. My favorite one is on Thang Hai street. I have been a frequent customer of this cafe as well and they offer me a 10% discount here too. WiFi speed is about 30 Mbps. There are plugs at every table.
There are two large tables which are fantastic for working long hours. Windmills don't serve food. Drinks range from 30,000-70,000 VND. (Links: TripAdvisor | Google Maps)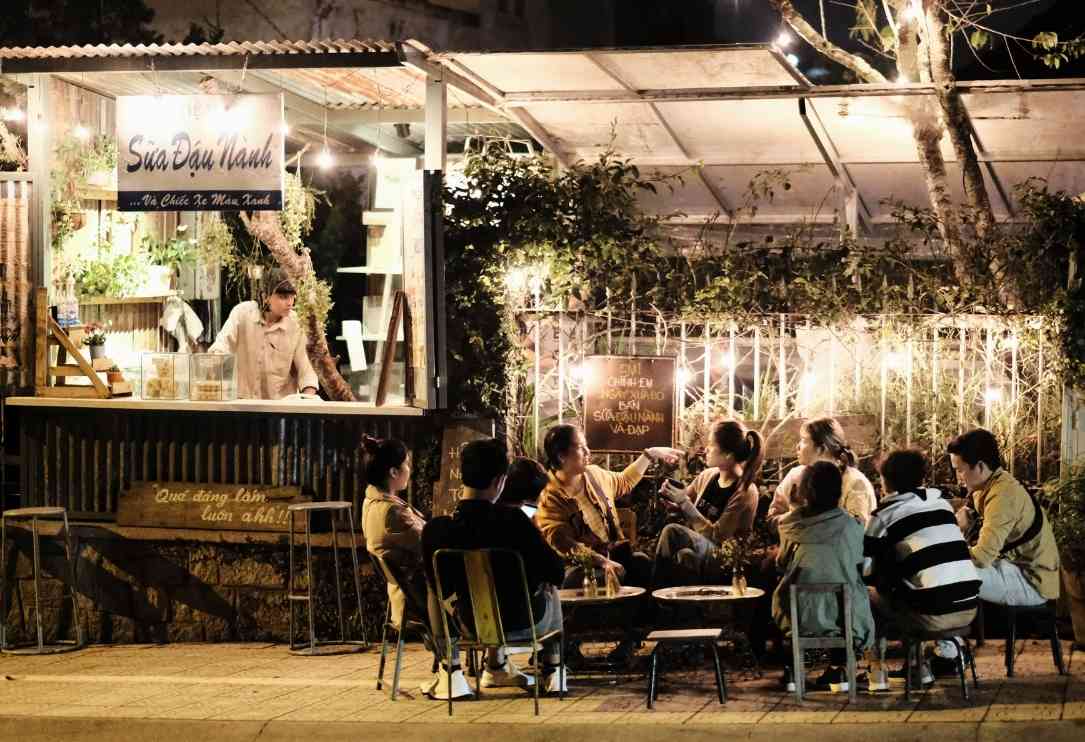 Nha Long Coffee
This is a new cafe in town. It's a huge space. Beautifully decorated with light bulbs, colorful plants, and flowers. There is both inside and outside seating. WiFi is quite fast with a 40 Mbps average speed. They have very limited food, available mostly in the morning. But they have a good selection of drinks. Drinks range from 30,000-50,000 VND.
Coworking spaces in Dalat
One More Cafe co-working space
This is the only co-working space in Dalat. It's located above One More Cafe. The co-working space is free to use but have to purchase food or drinks at the cafe. The facility provides a shared working space with open desks, sofas, free water, and green tea. Printing and conference rooms are also available for an extra charge. WiFi is strong with 30 Mbps average speed. I love this co-working space as it is part of One More Cafe. That means I can work here and also eat delicious food.
A couple of things that might be useful to expats or digital nomads planning to move to Dalat.
No-fee ATM: Currently, TP Bank is the only no-fee ATM in Dalat. Each withdrawal has a max limit of 5,000,000 VND.
Imported food items: Anna's Coffee House, Dreams Mart, and Dalat Fine Food sell imported food items.
☕ Do you like what you're reading? Does it help? I take a lot of time creating valuable and meaningful content. If you like to support my content creation and my blog, consider donating to my coffee fund. Thank you in advance!
Dalat digital nomad on Pinterest: save it for later!
Trisha is one of those people who left their comfortable life to travel the world and learn about life. Her style is to stay in one place she likes for 3 months (or more) to know what it feels like to eat, cook, speak, and sleep in another culture that isn't hers. She'd like to believe she's not traditionally traveling but she just chooses to be somewhere else all the time. In no particular order, her favorite cities in the world are Barcelona, Buenos Aires, Hong Kong, Mexico City, and Tel Aviv.