This article, best Asian cities for digital nomads was recommended by 18 different nomads who have been working remotely for the last 5 years. Let's see their suggestions!
Reader Mail: Dear Trisha, I have been following you since your South America days. I love all your honest content! I have been living vicariously through you but now I feel it's time to make my own journey but I want to start small which is in my home in Asia. What are the best Asian cities for digital nomads? In your experience, what is the best? Where should I start? I have a lot of questions so thank you for answering. I hope you answer! Thank you in advance!
If there's one continent that is being flocked by digital nomads from all over the world, it's Asia. The cost of living is cheap, people are extremely welcoming and of course, the food is great! In my opinion, Asia is the best pick if you are a first-time digital nomad venturer. It will be easier for you to adjust and it can open new opportunities – everyone is here!
Travel blogging as a full-time job requires the constant moving around and the endless search for a steady Internet connection that will sustain our work on the road.
In this post, travel bloggers have suggested the best Asian cities for digital nomads but don't be confused with the numbers.
Best Asian cities for digital nomads: about the list
I've traveled all over Asia and I am quite knowledgeable about which Asian cities are best for digital nomads. However, in this post, I've got a little help from my travel blogger friends who are also experts in being digital nomads.
All of them have lived in Asia extensively so it's great to have different opinions from others.
I am sure you'll love their blogs but if you have any questions about starting your life as a digital nomad in Asia, these are the right people to contact!
Here are the best Asian cities for digital nomads according to professional travel bloggers!
☕ Support this blog's honest and transparent journalism. Help us add value to our content! Keep P.S. I'm On My Way content free for all by donating to our coffee fund.
18 best Asian cities for digital nomads
#1: Chiang Mai, Thailand
by Nathan Aguilera, Foodie Flashpacker
Chiang Mai, Thailand is a famous hub for digital nomads for good reason. A low cost of living, high quality of life, and super-fast internet at some of the best prices anywhere in the world make it many people's go-to choice for starting out as a digital nomad.
It is one of the best places to work remotely because there are also tons of coworking spaces or cafes to work from, weekly nomad meetups and someone is always organizing some type of day trip or weekend event. It makes for great networking.
Also, as a foodie- Thailand has some of the best food in the world at incredible prices. You can have a delicious meal for less than $1 USD or treat yourself to a designer brunch for about $6.
For anyone interested in an amazing city with a great support network at incredibly affordable prices Chiang Mai should be at the top of your list!
#2: Bangkok, Thailand
by Claudia Tavani, My Adventures Across the World
I didn't spend too long in Bangkok, but I found it to be a great place to hang out. There are a lot of things to do in Bangkok, and it may well be one of the best cities in Asia to live as a digital nomad.
Internet is easily available in a lot of places, and it works better than in most places in Asia. The cost of living is incredibly cheap – rent for under $300 per month for a really good place; food for more than reasonable prices.
Transportation works well, with a state-of-the-art metro system and lots of tuk tuk and taxis (and uber as well).
There are plenty of gyms to work out (and lots of condo buildings have their own pool and gym anyway) and there are lots of good co-working places. And if one is really stuck for inspiration and needs a break, the cat cafés around town always help relax.
#3: Ho Chi Minh City, Vietnam
by Hanna Sobczuk, Hanna Travels
When I arrived in Saigon or Ho Chi Minh City (HCMC) the first time, I've heard a lot of opinions from backpackers that there's nothing interesting here. How good I didn't listen to them! It turned out that HCMC is a perfect place for digital nomads.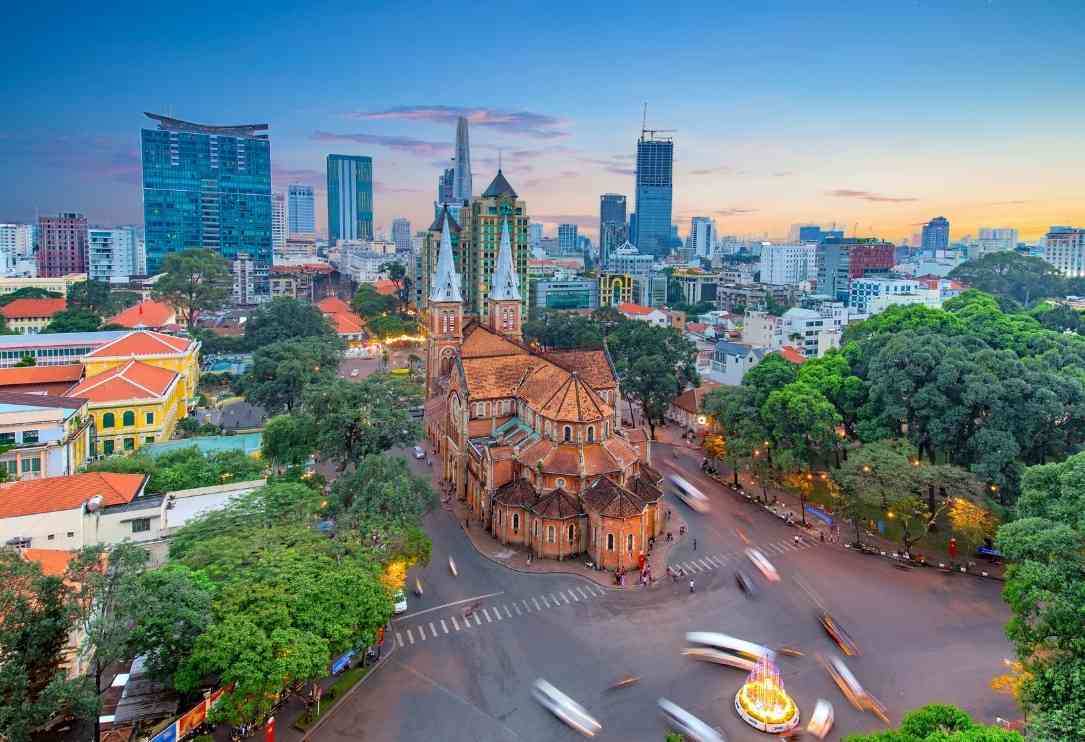 The city has a great coffee culture (hello, we're in Vietnam!) and one can find here plenty of interesting coffee shops, restaurants, and places to go out. Wi-Fi is stable and quite fast. And it's really cheap to live here, which is most important for all digital nomads.
However, there are some challenges, too. First of all, the language is very difficult and not many people speak English but society really wants to improve. (That's why you can easily find a job as an English teacher and earn some extra money!) Another challenge is driving a scooter in the city. Saigon's traffic is a hustle and bustle but driving your own bike gives you freedom!
#4: Jeju Island, South Korea
by Kisty Mea, Let's Go Wander
Jeju Island is a volcanic island located 130 km off the coast of the Korean Peninsula. The island is dubbed as the 'Hawaii of Asia 'for its volcanic formation and lava tubes.
Jeju Island is a terrific place for digital nomads mainly for three things: Superb internet speed (I once downloaded a bunch of series for less than 10 minutes!), beautiful views (three are UNESCO Heritage Sites, and a field of canola flowers!), and strong coffee culture.
Not to mention, Korean beauty skincare is cheap and there are a lot of places to eat kimchi and other delicacies. Although English is not a common language in Jeju City, the capital of this province, a lot of restaurants offer English menus and the people are very accommodating.
#5: Phuket, Thailand
by Sarah-Jane Edwards, Not Another Travel Blog
It took a bit of searching for us to find the perfect place to base ourselves in Thailand but when we finally decided on Phuket it turned out to be a great decision.
Rent is super cheap and we were able to get a modern, well-equipped one-bedroom apartment for just $350 USD including fast wifi and all bills.
The wifi was a particular bonus, boasting speeds of over 10MB, which made it easy for me (as a writer) and my partner (a web developer) to stay productive. The cheap cost of living in Phuket also stretches to transportation, food, and entertainment.
Costs aside, we loved that Phuket had plenty to do. Unlike Chiang Mai, our second choice, it has beautiful beaches to explore. Most have plenty of cafes and bars as well so if you want to work in a more scenic location it's easy to do so.
There are also a couple of good-sized towns if you're looking to meet people and work in a more social environment. Phuket Town, in particular, is full of gorgeous architecture with old streets lined with colorful houses, many of which have been transformed into digital nomad-friendly restaurants and cafes.
#6: Daegu, South Korea
by Lindsay Mickles, The Never Ending Wanderlust
Daegu is a fantastic choice for digital nomads. I lived there for 2.5 years and highly recommend it. The internet is fast, the cost of living is cheap, and the city has plenty of options to keep you entertained.
Daegu has a local airport, access to high-speed and local trains, and the inter-city bus system is fantastic. Within the city, there are 2 subway lines, a monorail line, and a very thorough bus network.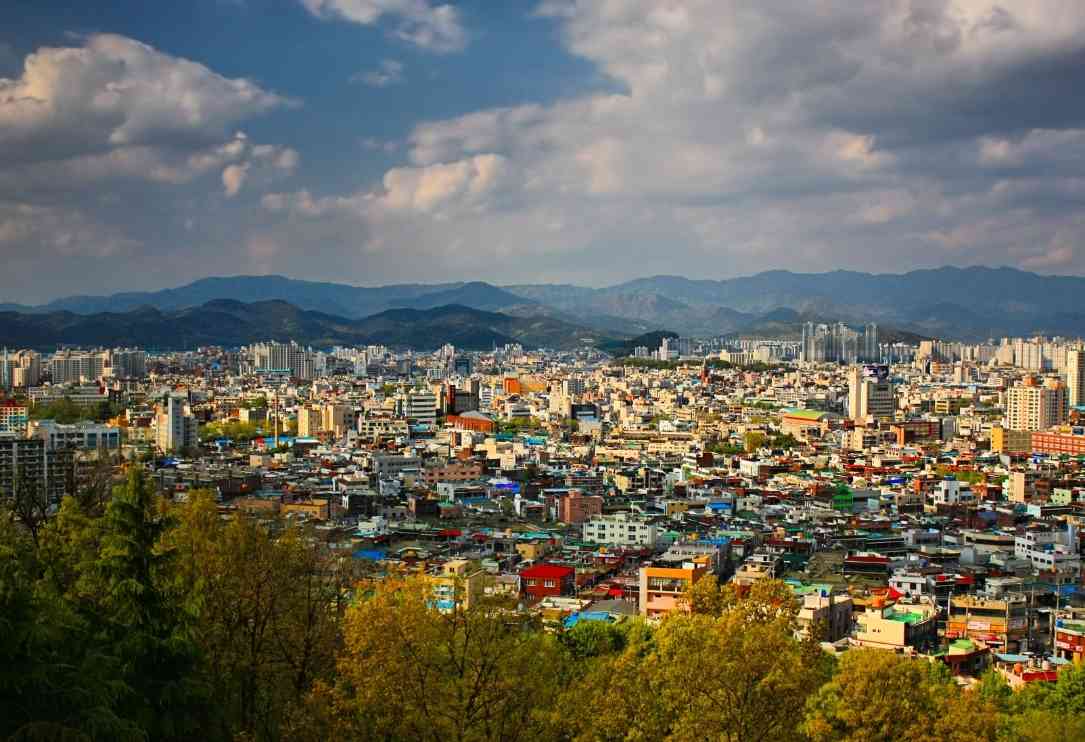 One of the things I like best about Daegu is that the city does its very best to share its culture with visitors and expats alike. I was fortunate enough to take part in several Korean cooking and traditional art classes at the local YMCA.
The only negatives are that it is the hottest city in the country (a bit brutal in summer) and some of the elderly population aren't too excited to have foreigners in their city.
Other than those small things, Daegu is a great choice and a wonderful home base to explore the country and neighboring cities!
#7: Kuala Lumpur, Malaysia
by Dave Jones, Jones Around the World
When it comes to digital nomad hotspots, there are tons of good options to be found around South-East Asia. When I based myself in Kuala Lumpur on/off for about a year, and it slowly became one of my favorite cities in Asia!
The food is absolutely amazing, the rent was extremely cheap (even for a luxury condo rental), and you can find just about anything else you're looking for. That's why it's one of the best countries for expats to work in!
There is a large ex-pat community, surprisingly great nightlife, and excellent travel options from KLIA Airport. Traveling Malaysia is one of my best memories while in South-East Asia, and I'm definitely planning on moving back to Kuala Lumpur again sometime in the future.
#8: Canggu, Bali, Indonesia
by Barbara Riedel, Barbalicious
I spent one month in the beautiful and vibrant Balinese surfer town of Canggu this year. It's one of Asia's hotspots for digital nomads.
It's a perfect place to begin as either a nomad or anyone searching for a strong community, great places to work, such as co-working spaces and cafés, and the possibility to live with like-minded people or online entrepreneurs in a coliving space or villa.
Wi-Fi was mostly strong and great for work. But in the worst case, I could use my hotspot: In a country where you pay 10 USD for a sim card with 35 GB – you don't need to worry about that! But my favorites were being able to go to the beach whenever I want and the sunsets! That's what's giving me the perfect work-life balance.
#9: Shanghai, China
Alexandrea Here, They Get Around
Shanghai is a great place to live as a digital nomad – there's a thriving ex-pat scene, tons of western food choices, and impressive nightlife.
Shanghai is a massive city and you'll find heaps of other ex-pats here who are either working as teachers or are digital nomads. Internet connections are pretty good and there are heaps of co-working spaces such as Naked Hub, Link Place, and Regus Jinmao (all open 24 hours).
Unfortunately, costs are much more expensive than living in one of the smaller, neighboring cities. However, with the price tag, you do get to live with a lot of western comforts that you will struggle to find (with as much choice) elsewhere in China. There are also a ton of day trips from Shanghai that you can take when you need a break, such as the nearby water towns or scenic cities such as Hangzhou.
#10: Singapore
Callan Wienburg, Singapore N Beyond
While there's a lot do to in Singapore, especially for foodies, digital nomads may find it a bit stressful. It is expensive, the wifi is limited and you may get looks of disapproval when spending over 2 hours in a café.
It's surprising that some coffee shops in this amazing first-world connected city still lack internet.
That being said, there are some great little hotspots that have both free (and fairly fast) wifi and power sockets like Kith, the Daily Coffee, and Working Title.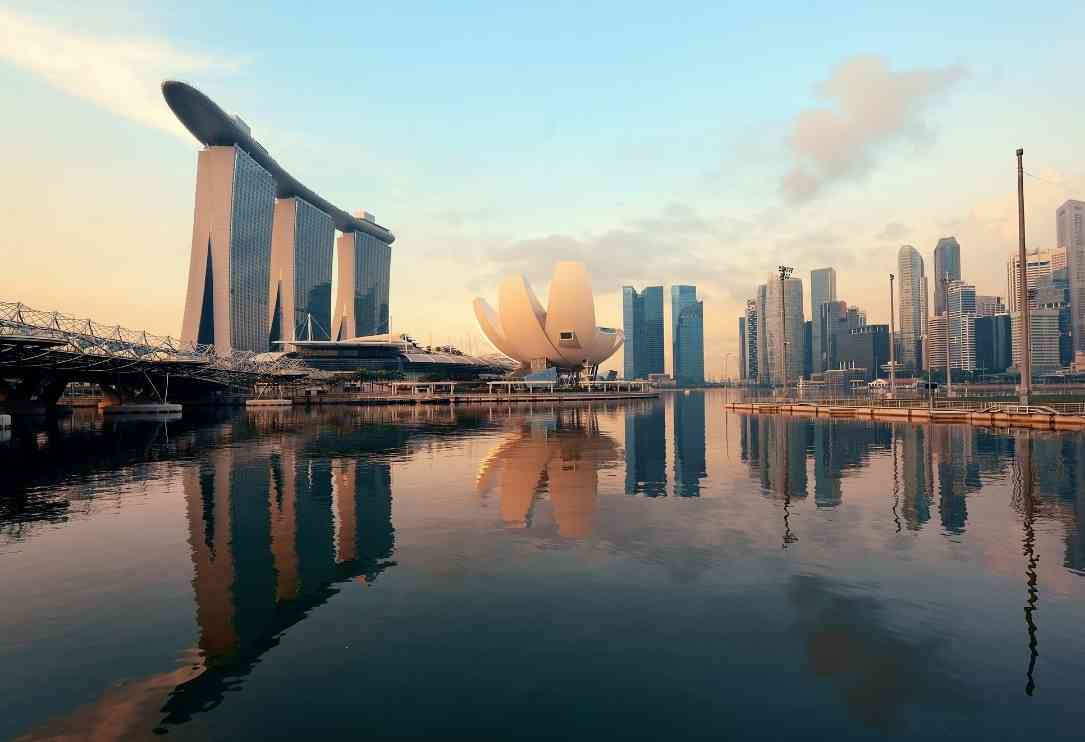 My favorite digital nomad spot is the Book Café near Robertson Quay as they cater to our kind of lifestyle. There have various power sockets, both inside and outside, the ambiance is great, wifi fast and the staff is super accommodating.
There are also numerous workspaces, but again, they are quite pricey, such as S$250 for five days. Yet, if you do some free activities, travel on super-efficient and convenient public transportation, and eat Hawker Centre food (around S$3-6 per meal) you'll have an awesome time.
#11: Manila, Philippines
by Vanessa Gordon, East End Taste Magazine
The bustling capital city of Manila, Philippines is one of the friendliest metropolitan destinations and one of the least expensive to live in.
The average cost of living is fairly low, or around $1,200 a month for a nomad, or as little as $500/month depending upon your day-to-day lifestyle.
Airbnb's are a great option in Manila, with prices averaging $25/night for an entire condominium in the city of Manila, or nearby Quezon City.
One of the most ideal places to live is near Greenbelt Mall in Metro Manila. Greenbelt is a great shopping mall and destination for meeting new friends and dating.
WiFi is very easy to come by in Manila. The city offers the fastest internet connection in the Philippines, with open network spots in places such as malls, cafes, coffee shops, restaurants, schools, hotels, and much more.
However, it is recommended to purchase a Smart SIM card at one of the SM Malls. Some cafes, such as Starbucks in malls across Manila, only offer timed or very limited WiFi or browsing time.
The best WiFi in Manila is found in Makati City. Makati is the financial hub of Manila. The weather is beautiful and warm year-round and you will find your Filipino neighbors and co-workers are some of the most hospitable individuals.
If you are concerned about a potential language barrier, English is spoken everywhere as the Philippines are culturally very westernized.
Remember, the United States colonized the Philippines for almost fifty years in the early half of the twentieth century. While living in Manila, take advantage of the cheap flights in and out of the city to visit other cities in the Philippines and across Asia.
#12: Seoul, South Korea
by Barbara Wagner, Jet-Settera
Seoul is the perfect place for digital nomads because it is modern and fast Internet is accessible everywhere. Incheon Airport of Seoul has one of the best wifi out of all the airports I have visited lately.
On the streets of Seoul, a good wi-fi connection is also accessible. The Internet pretty fast. (99 MBPS).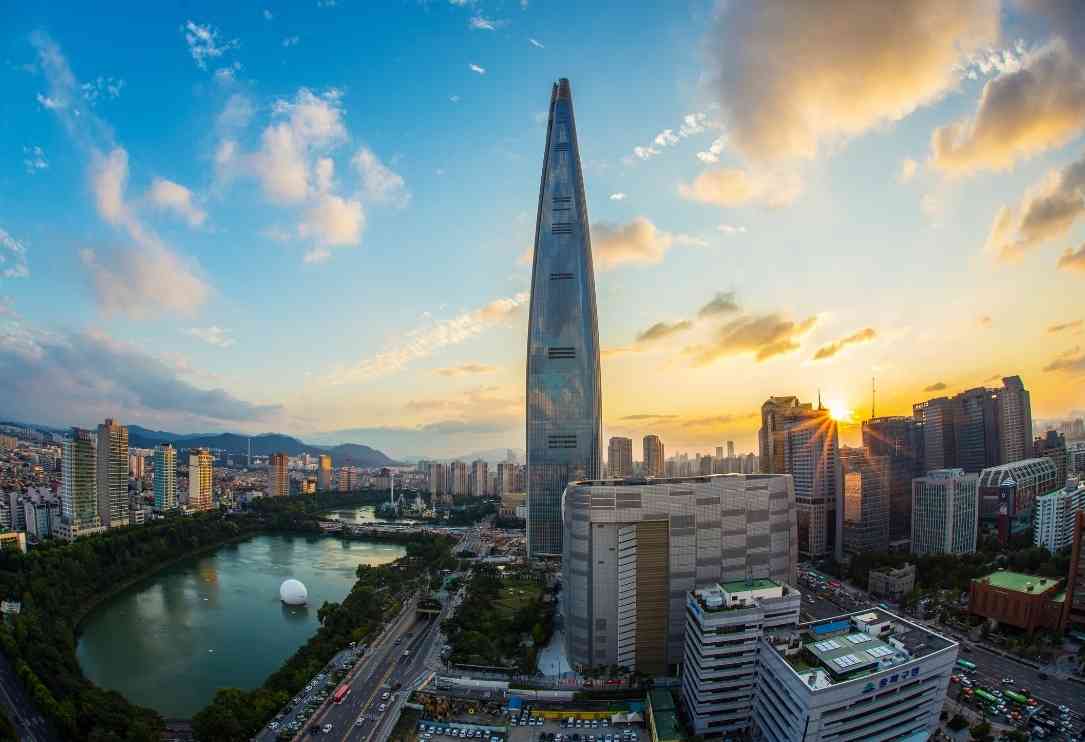 Monthly living expenses are around $1600. A great thing about Seoul is that it is one of the best places to live in Asia for expats because it's perfectly safe, people speak English.
Locals are friendly and welcoming and public transportation is great! There are plenty of good cafes to get work done.
There are plenty of co-working spaces, such as the Hive Arena Coworking Space and the Imagebakery Coworking space. Cafes like Tom N Tom Coffee, Paul Bassett in GangNam or Bread & Co are great places to work.
You can also find themed cafes such as Hello Kitty Cafe or Cat Cafe as well as Lego Cafe.
#13: Phnom Penh, Cambodia
by Stefan and Sebastien, Nomadic Boys
During our travels in Asia, we always sought out a home "base" somewhere. This was usually Bangkok, but we found Phnom Penh to be a better alternative.
It's even more affordable than Bangkok with an excellent internet connection and for us, a really cool gay scene.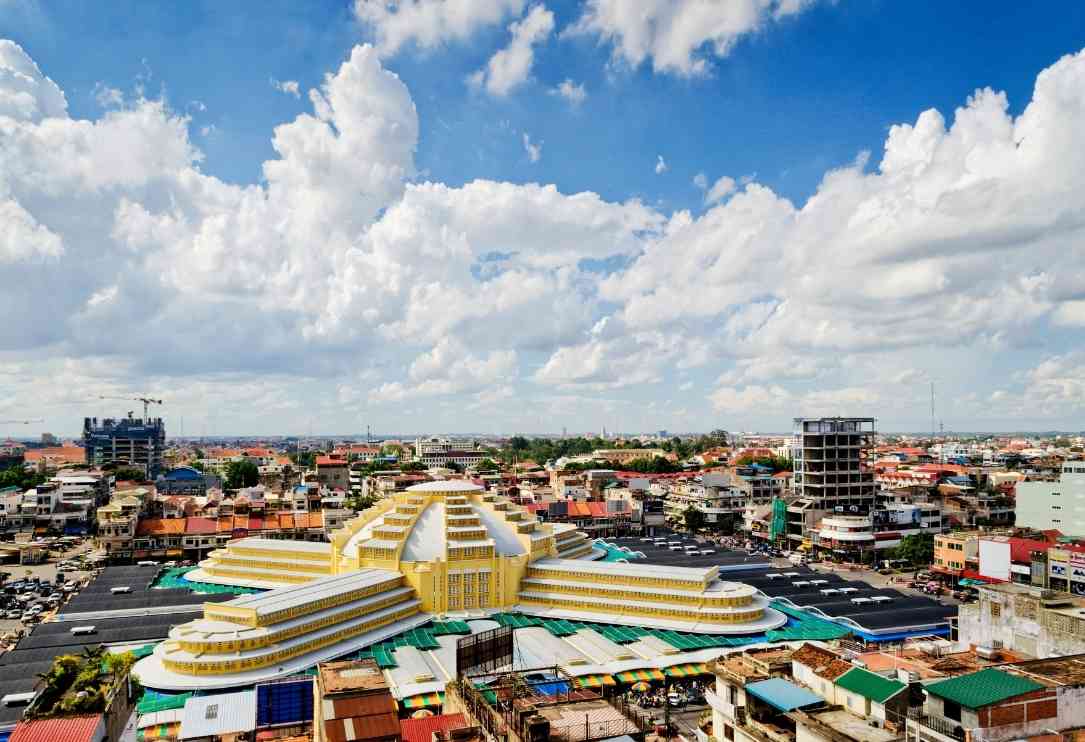 We didn't find a co-working space in Phnom Penh because we usually find an apartment on Airbnb, which is our home/work base.
The most important factor, however, we always look for is internet speed and we always ensure this high before booking a place to stay so our tip is to contact the owner beforehand and ask them to confirm how many megabytes per second.
The cost of living in Phnom Penh is extremely affordable and you can easily get it by spending $20-30 per person per day.
#14: Kaohsiung, Taiwan
by Lotte Eschbach, Phenomenal Globe
Chances are you have never heard of Kaohsiung. I for sure had not before I traveled to Taiwan. But I soon discovered Kaohsiung is pretty awesome!
Kaohsiung is located in the Southwest of Taiwan and is the second-largest city on the island. Almost 3 million people live in Kaohsiung and its port is the largest harbor in Taiwan.
Why Kaohsiung makes an excellent base for digital nomads? Multiple reasons!
The city also has an international airport (and cheap flights!) making it very easy to take a trip to other countries in the region. There are a big train and bus station in Kaohsiung, enabling you to explore other areas of Taiwan during short (weekend) trips.
Getting around in the city itself is also very easy and cheap, you can either take the MRT or hop on a C-bike (Kaohsiungs public bicycle system).
Food is cheap and delicious, you can find traditional Taiwanese cuisine, Chinese food, Japanese dishes, Vietnamese restaurants, and even Canadian sandwiches.
Accommodation is also not expensive, you can rent a room via Airbnb for only €250 a month!
Internet in Kaohsiung (or Taiwan in general) is the fastest I've ever seen. I bought a 30-day tourist SIM card (1000NT) which gave me unlimited 4G internet for the entire month.
I used this SIM to create a personal hotspot and connected up to 5 devices simultaneously, without any problems!
Besides all these benefits there are also plenty of things to see and do in Kaohsiung, you can read more in this Kaohsiung itinerary.
#15: Ubud, Bali, Indonesia
Gianni Bianchini, Nomad Is Beautiful
Ubud might be well-known as a detox & yoga paradise, but everyone who wishes to spend quality time in a digital nomad community in a beautiful environment and get fantastic food should draw his attention to this cozy village in Bali.
Here you can easily rent a spacious double bedroom with a private bathroom for $300 USD with Wi-Fi. If you wish for a private two bedrooms house with a pool, triple the price.
Regarding the internet, you'll be on the safe side if you work in cafes or co-working spaces like HUBUD – a fantastic place for creativity. A day pass costs $20, a monthly pass with unlimited hours is $275.
Moreover, there are oodles of organic vegetarian restaurants in Ubud where you can work with your laptop. Meals are for very reasonable prices here: lunch in a local warung for 3$, or $10 for a fabulous Italian pizza.
#16: Gwangju, South Korea
by Chris Walker-Bush, Aussie on the Road
Gwangju in South Korea's Jeollanamdo province probably doesn't leap out at you as a go-to digital nomad destination. It doesn't have the cosmopolitan status of Seoul or Busan, and the entire province tends to be looked down upon by Koreans as a bit of a rural backwater.
My two and a half years living and working in Gwangju painted an entirely different picture. The fast internet, inclusive ex-pat scene, and Gwangju's status as a transportation hub within South Korea made it a perfect base from which to work and explore.
By far the biggest selling point of Gwangju is its status as one of Korea's most connected cities. The high-speed KTX train might be the most glamorous way of getting about, but it's Gwangju's massive bus terminal (once the largest in the world) that makes it a perfect base.
You can get anywhere from Gwangju in just a few hours and for $10 – $30 US. Here are some of the coolest things to do in Gwangju if you want to check it out!
#17: Cebu, Philippines
by Angeline Ibarra, Go Around Philippines
The Philippines certainly has many islands for any digital nomad to choose for a base. For someone who has been traveling as a remote worker for a few years, Cebu has ticked most of what I have been looking for in a place to be based. Cebu is an island with the second biggest city in the country.
It has an international airport, big shopping malls, different kinds of restaurants and bars, and affordable apartments in the city or near the beach like Moalboal or Bantayan Island. Internet connection is stable in Cebu City as you can choose either a fiber cable or DSL connection from three different providers.
There are also free GoWifi hotspots in business areas around the city. The cost of living is somewhat more flexible with a range from $600 per month. Condos or apartments are available from $300 per month or less if you want to save.
It is also cheaper to have a great nightlife in Cebu as alcoholic drinks are more affordable. Filipinos love to have fun, so you'll find karaoke bars and restaurants with live music playing around the city too. There are many things to do in Cebu too!
On weekends, it is relatively easy to take a bus to amazing waterfalls, hop to nearby islands like Bohol or Bantayan, and even just go to the beach.
#18: Hangzhou, China
by Helen Anglin, Bristolian Backpacker
Hangzhou isn't a hot spot for digital nomads due to the Great Firewall of China. However, once you get past the Great Firewall of China (buy a good VPN, I recommend Express), being a digital nomad in Hangzhou is excellent. Internet speed can vary but in our flat it was excellent.
The cost of living is low, especially if you stick to a Chinese diet, though there are a few good (and pricier) spots for Western food too. There is a plethora of Starbucks which is great for working, but my favorite work spot is Tous Les Jours, a "French" café (which is actually part of a South Korean chain) serving some great sweet treats and providing good wifi.
If you're traveling to Hangzhou, there are lots to see and do there. Be sure to learn some Mandarin as English isn't spoken as widely here as in Shanghai or Beijing.
Trisha is one of those people who left their comfortable life to travel the world and learn about life. Her style is to stay in one place she likes for 3 months (or more) to know what it feels like to eat, cook, speak, and sleep in another culture that isn't hers. She'd like to believe she's not traditionally traveling but she just chooses to be somewhere else all the time. In no particular order, her favorite cities in the world are Barcelona, Buenos Aires, Hong Kong, Mexico City, and Tel Aviv.