Is solo female travel in Taiwan safe? ABSOLUTELY! I always visit Taiwan as it's one of my favorite countries in the world. This is my experience of hitchhiking around the country for two weeks!
📬 Reader Mail: Hi Trisha! I love all your Taiwan posts! Thank you so much for all the tips. I am going to travel solo as a female to Taiwan soon. I've seen all your tips and Taipei and I want to add more places to my itinerary.
Can you give me some tips on how to get around Taiwan? I saw on Instagram that you hitchhiked the country which I am also considering doing. I am bringing my bicycle from Australia so I am also looking for great biking trips in Taiwan.
Thanks again for all your tips and I hope to bump into you in Taiwan!
-Sam Dalgarno, Australia
Hello Sam!
Thanks for reading the blog! Taiwan is in my top 5 places to visit in Asia and I come here a lot! You won't regret adding it to your Asia itinerary!
What I love about traveling around Taiwan is that it's a small country and it's super safe. I did a hitchhiking trip from Dulan, a beach town in south of Taiwan all the way to Taipei.
Everyone was accommodating and it was so easy for me to hitch a ride! In this Taiwan travel guide, I will share with you everything I know about this country. You can also join my trips to Taiwan in the future! Good luck and I hope you make it to Taiwan!
Xx,
Trisha
👉🏽 After reading this post, go to my Taiwan travel guide for more info 🇹🇼
🇹🇼 Why I traveled to Taiwan alone
My mother used to work in Taiwan when I was young but I have never been to this country. After traveling South America solo extensively, I decided to do my Taiwan solo travel.
I also have a Taiwanese friend who told me about Taiwanese food, which was the big draw for me apart from the solo travel experience.
Taiwanese food is unique and believe me, there is nothing in the world like it. If you are a solo traveler who's into food, you will definitely love Taiwan as you will encounter dishes you have never heard of before.
Apart from that, many solo travelers told me that hitchhiking in Taiwan is safe and that Taiwan is just a friendly and safe country in general. As it is my goal to travel to a certain country first before saying it is unsafe, I had to do Taiwan solo travel.
You might also like:
✈️ Planning your Taiwan solo travel
Best time to visit Taiwan
The best time to visit Taiwan is from September to November when temperatures have a combination of dry and cool weather.
October to April is another great season because the heat is not aggressive although you may experience occasional rainfall. This is also a high season with big events such as the Lunar New Year – a must-see if you like to travel for unique festivals!
Getting to Taiwan
Travel to Taiwan from USA
The best airport to land when traveling to Taiwan from the USA is Taipei International Airport (TPE). Taipei is a good starting point for your travels around Taiwan – you will find your trip to Taiwan easier to navigate when you start here.
Below are some of the major airports in the US that have direct flights to Taipei:
Houston: via Eva Air (15h 25m)
Los Angeles, CA: via China Airlines (14h)
New York, NY: via China Airlines (15h 45m)
San Francisco, CA: via United Airlines (13h 10m)
Seattle, WA: via Eva Air (13h)
For those who are flying from Europe, London, Paris, and Milan have direct flights via China Airlines. The flight duration is 13h.
Getting around Taiwan
By train
There are many train lines all over the country and this is the best mode of transportation to see Taiwan. It's fast, comfortable, and very affordable. The different passenger trains in Taiwan are the intercity (Taipei), Fuxing, Juguang, and Ziqiang.
I never had to book my train tickets online since you can always buy the tickets when you are already at the station. Just make sure you know the timetable of the route you are taking to get to the station on time.
There is a multi-pass train ticket that you can purchase. They are called the EasyCard and the iPass, which you can also purchase at all train stations. You can include all the places you will visit in Taiwan in this multi-pass. Then you won't have to worry about booking train tickets online.
By bus
Taiwan has also an efficient bus system. At soon as you land Taipei, there will be inter-city busses lined up outside that covers all locations in Taipei. The major bus companies in Taiwan are Ubus, Kuo-Kang Motor Transport, Ho-Hsin Bus, Solar Bus, and Aloha Bus.
Busses are way cheaper than flying or taking the train. You can also see the best scenery of Taipei on a bus and you also don't have to pay for your suitcase. Busses in Taiwan are comfortable so just sleep throughout the ride and you will get to your destination safely.
By flight
Flying within Taiwan is expensive and I wouldn't regard it faster than taking the train or the bus. There is so much you need to do when flying (i.e. getting there 2 hours before the flight, checking in, security checkpoint, etc) so I feel like this is not the most convenient mode of transport for me when traveling within Taiwan.
Domestic flights actually cost like an international flight to Thailand, the Philippines, Singapore, and other neighboring countries.
Driving around Taiwan
Taiwan is a small and organized country so as a foreigner, I never had difficulties in driving. I mostly rented motorbikes which is deemed more unsafe than driving a car but Taiwan has motorbike lanes everywhere that drivers always respect. I was never scared of driving in Taiwan!
You can easily rent a car at Taipei Airport upon arrival. Rental car rates start at US$40 per day. Of course, the size of a rental car depends on your group size but as a solo traveler, I always opt for the Sedan since it is the cheapest. I don't need a lot of space anyway.
Basic Taiwanese phrases
During my first solo travel female to Taiwan, I've made many Taiwanese friends so I didn't really need to speak. They all did the talking for me! But the second time, I made sure I had the chance to speak, and here are some of the words that you can use:
Hello: ni hao
Yes: shi
No: bu shi
Thank you: xie xie
Thank you very much: fei chang gan xie / hen gan xie
Welcome: bu yung shie
Please: ching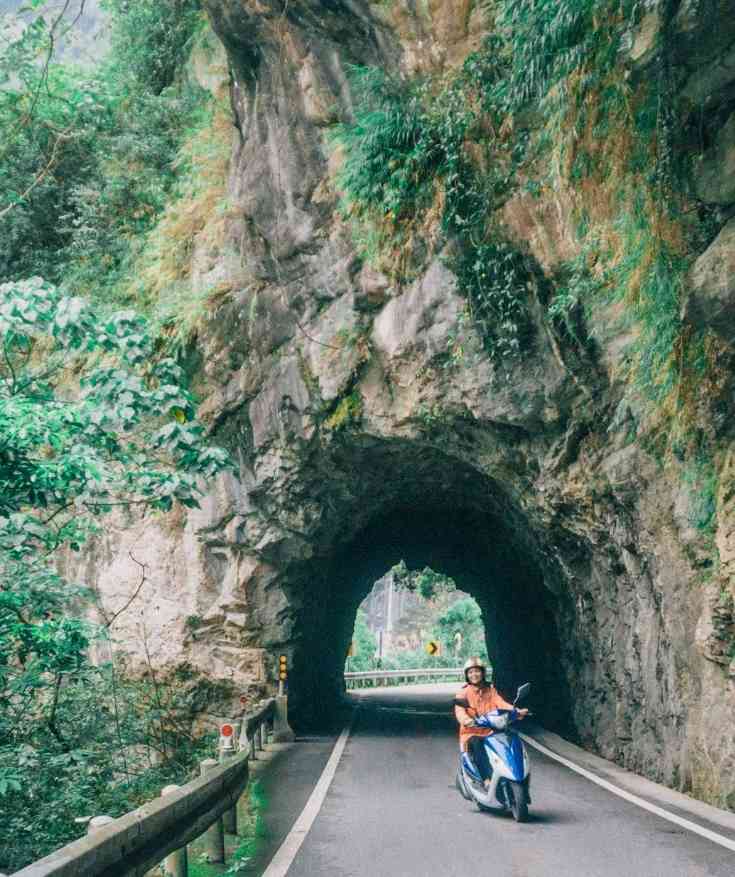 💰 Taiwan solo travel costs and budget
Solo travel is always expensive, isn't it? Yet, here we are continuing our solo travel! Taiwan is not an expensive country. You can eat in Taiwan for as low as US$5 if you're up for street food.
For accommodations, I always make sure to stay in a hostel because I just love the vibe. I have been staying in hostels for as long as I remember.
Hostels in Taiwan start at US$25 and they are clean and comfortable considering you don't have to pay hundreds of dollars for your solo trip to Taiwan.
I assure you that hostels are the best accommodations for solo travelers as you will have more opportunities to meet other solo travelers like you. Some hostels in Taiwan have private rooms, too.
If you are not the type to stay in shared accommodation, there are many hotels in Taiwan (with breakfast) that starts at US$45 per night.
Well, then, if you are a luxury solo traveler, there are many resorts in Taiwan and in Taipei, I recommend you to check out the Beitou in Taipei where you can stay in luxury resorts starting at US$200 per night.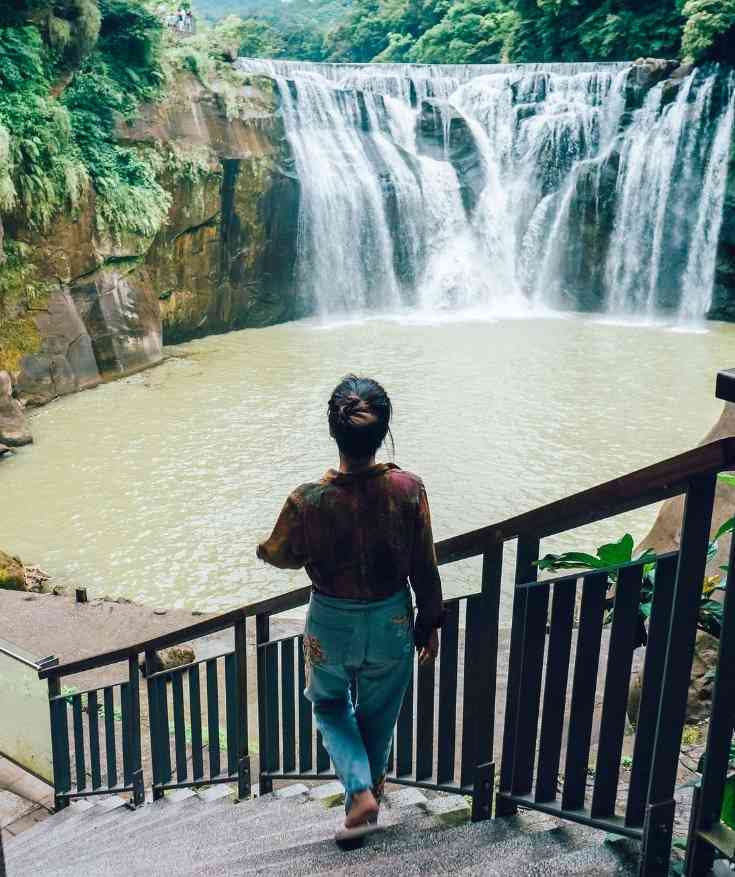 💃🏽 Taiwan solo travel safety tips
Do not travel to Taiwan without travel insurance
As a solo traveler, make sure to not go anywhere (not just in Taiwan) without being covered by a lucrative insurance plan. Since I am traveling for an indefinite time, I use SafetyWing for digital nomads and I only pay US$40 per month for travel insurance.
Women in Taiwan: what's the status?
Did you know Taiwan has a woman President? This does not make solo female travel in Taiwan safe but Taiwan's first woman leader makes a difference in the country.
For years, Taiwanese women, like many conservative Asian cultures, have struggled about gender equality. In Taiwan, some women still live in the traditional patriarchal views and social structure within Taiwanese society.
For many years, married women's rights were severely restricted, mainly being subordinates to men. However, through the ever-changing family code of Taiwan, women are slowly getting their seats at the table.
Gradually, Taiwanese women have gained a right to education, marriage, work, and political expression. Today, women in Taiwan are a lot more modern and are conscious of their rights.
If you are a solo female traveling around Taiwan, people won't see you any different. At present, there are no gender prejudices in Taiwan.
No one would ask you why you are traveling alone and/or not married. They are very open to the idea that women can travel freely as men do.
How safe is solo female travel in Taiwan?
Apart from this trip, I have visited Taiwan by myself in the past. This underrated Asian country has been my favorite for 2018.
I went back three times within one year! Other than the language barrier, it was not hard to talk to locals. They were always willing to help.
Taiwan's safety record is very impressive. Drug problems are at 23.49%. Property crimes such as vandalism and theft are at 19.55%.
Violent crimes such as assault and armed robbery are at 12.08%. Corruption and bribery 39.32%. All these problems are rated very low.
In fact, Taiwan's capital city, Taipei is ranked 66th out of 113 the safest cities in the world. With this, we can all definitely conclude that solo female travel in Taiwan is very safe.
✈️ Ready for your trip to Taiwan? This blog thrives on reader questions so feel free to ask questions about Taiwan solo travel by using the comment box below. You can also sign up for 1-on-1 coaching with me if you need more help!
Trisha is one of those people who left their comfortable life to travel the world and learn about life. Her style is to stay in one place she likes for 3 months (or more) to know what it feels like to eat, cook, speak, and sleep in another culture that isn't hers. She'd like to believe she's not traditionally traveling but she just chooses to be somewhere else all the time. In no particular order, her favorite cities in the world are Barcelona, Buenos Aires, Hong Kong, Mexico City, and Tel Aviv.