Cartagena Colombia hostels are pretty decent even if you find them really cheap. However, what are the best ones? Where will you meet more people? What are the hostels to avoid?
Reader Mail: Hi Trisha! Thank you for all your valuable content. I am going to Cartagena Colombia soon and this is my first backpacking trip in my life! I am a very shy person so I don't really know how to survive this. I am just 23 years old and I am seeking your advice! Should I stay in hostels? Is Cartagena safe for first-time travelers like me? What are the best hostels in Cartagena? Thank you so much. Looking forward to your advice!
– Vicki Wilson, USA
Hey Vicki,
Thank you for reaching out! Believe it or not, I exclusively stayed in hostels for years when I was your age. I saved over $4,000 USD on accommodations in one year because of this!
Hey, look, hostels are the best way to meet people so I encourage you not to be scared even if it's your first time traveling. I know this is so easy to say but when you are already there, you will understand what I am talking about.
If you have any questions that weren't answered in this post, please feel free to send me a message on Instagram or contact me via e-mail. Good luck, Vicki! I am rooting for you!
Xx,
Trisha
What to expect from hostels in Cartagena Colombia
Cartagena is often visited by young people so expect an extreme party scene. I visited Cartagena four times already (different years) and I keep coming back not because of the parties but because I cultivate long-term friendships here when I volunteered in Colombia.
Ideally, I recommend staying in hostels in Cartagena Colombia if you are traveling alone. This way, you will meet people who are also traveling alone. Hostels are always the best place for traveling solo in Cartagena. When I first arrived in Cartagena, I volunteered right away so I did not have the experience to be a guest. But in my second, third, and fourth visits, even if I am not a broke backpacker anymore, I still stay in hostels – I never really outgrew it!
Well, you might wonder why I am recommending staying in a hostel during a pandemic – if you are a budget backpacker or a digital nomad traveling for long periods of time, this will save you money. Additionally, hostels in Colombia don't really fill all the dorms at 100% capacity. I think they're on a 50% capacity rule at the moment. If you want to make sure, call or e-mail the hostel you are interested in before booking. They always answer promptly!
Another thing you need to know is that Cartagena is a notorious party city – don't expect the hostels to comply with the quiet hours. All hostels in Cartagena have "quiet hours" but they are really not being followed diligently. 90% of them have bars, too. So don't expect a good night's sleep as the party can go on and on and on. However, at this time of COVID-19, most of them are required to follow quiet hours but there are still underground parties happening within hostel grounds (the quiet version).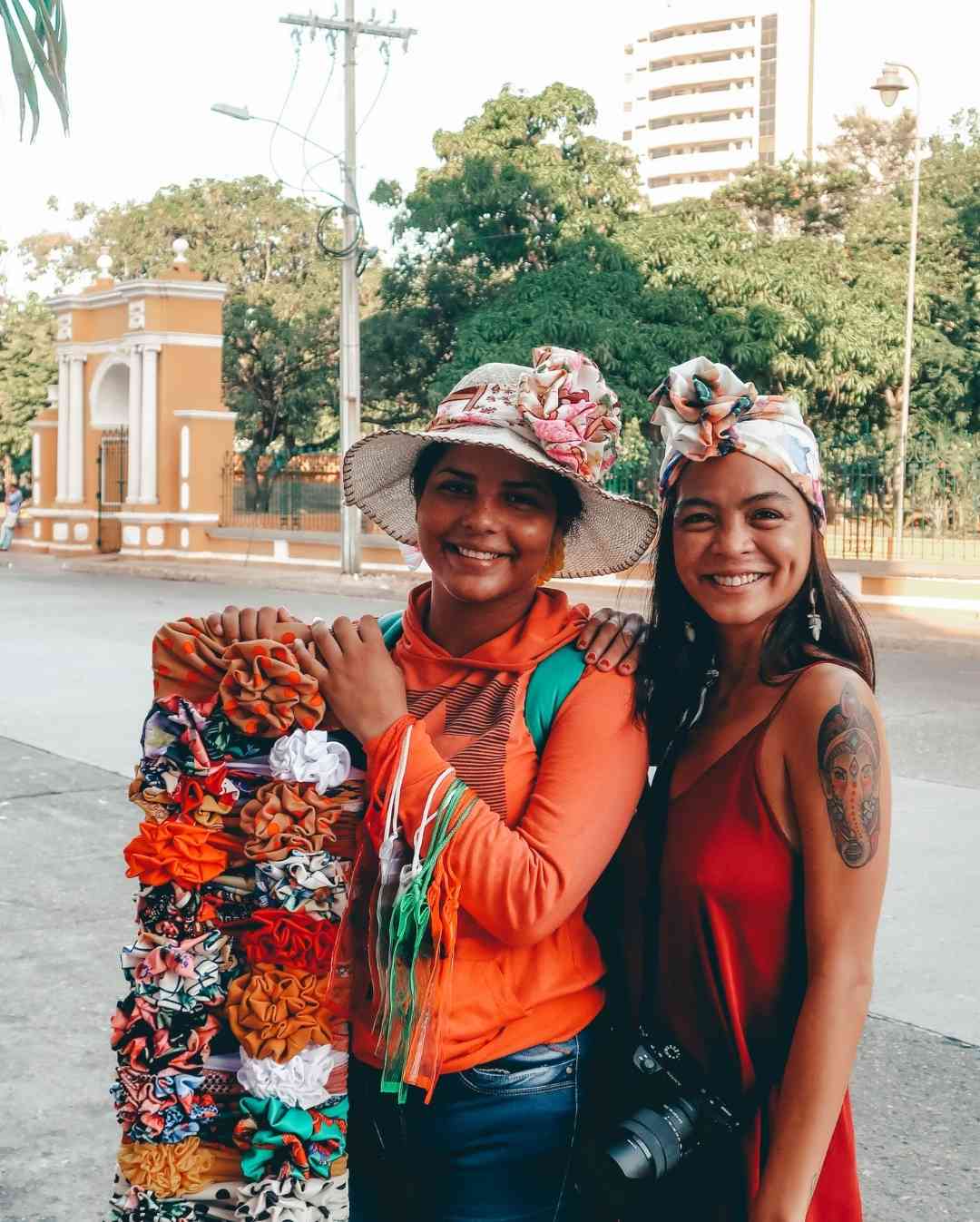 Cartagena Colombia hostels range from $7 USD – $25 USD, depending on the number of beds in a dorm. The fewer beds, the more expensive. If your hostel budget is more than $20 USD, then I suggest getting a private room instead of a shared dorm. The last time I traveled to Cartagena, I was with a friend so we opted to share a private room. That's also a better option if you are not keen on sharing and are very anal about COVID.
Booking your Cartagena Colombia hostels
I usually travel for long periods of time so ideally, I'd book one hostel for the rest of my stay. However, since I come to Cartagena often, I wanted to try their different hostels. I feel like they are all unique and beautiful in their own ways! I also found out that all hostels in Cartagena have different vibes. Some are quiet, some are crazy, some have insane backpackers who will wake you up in the middle of the night, while others have the digital nomad vibe. A hostel's activity depends on its guests and you'll never really know that until you try.
I always use Hostelworld in booking hostels from anywhere in the world because it's pretty straightforward. It's easy to use and you don't have to pay upfront. You only have to pay a reservation fee online and pay the rest of the stay when you arrive. I feel like this is the better option especially if you are traveling long-term since you will have the freedom to adjust your booking when you are already in the place. You're not committed 100%. Believe me, it happens to me all the time!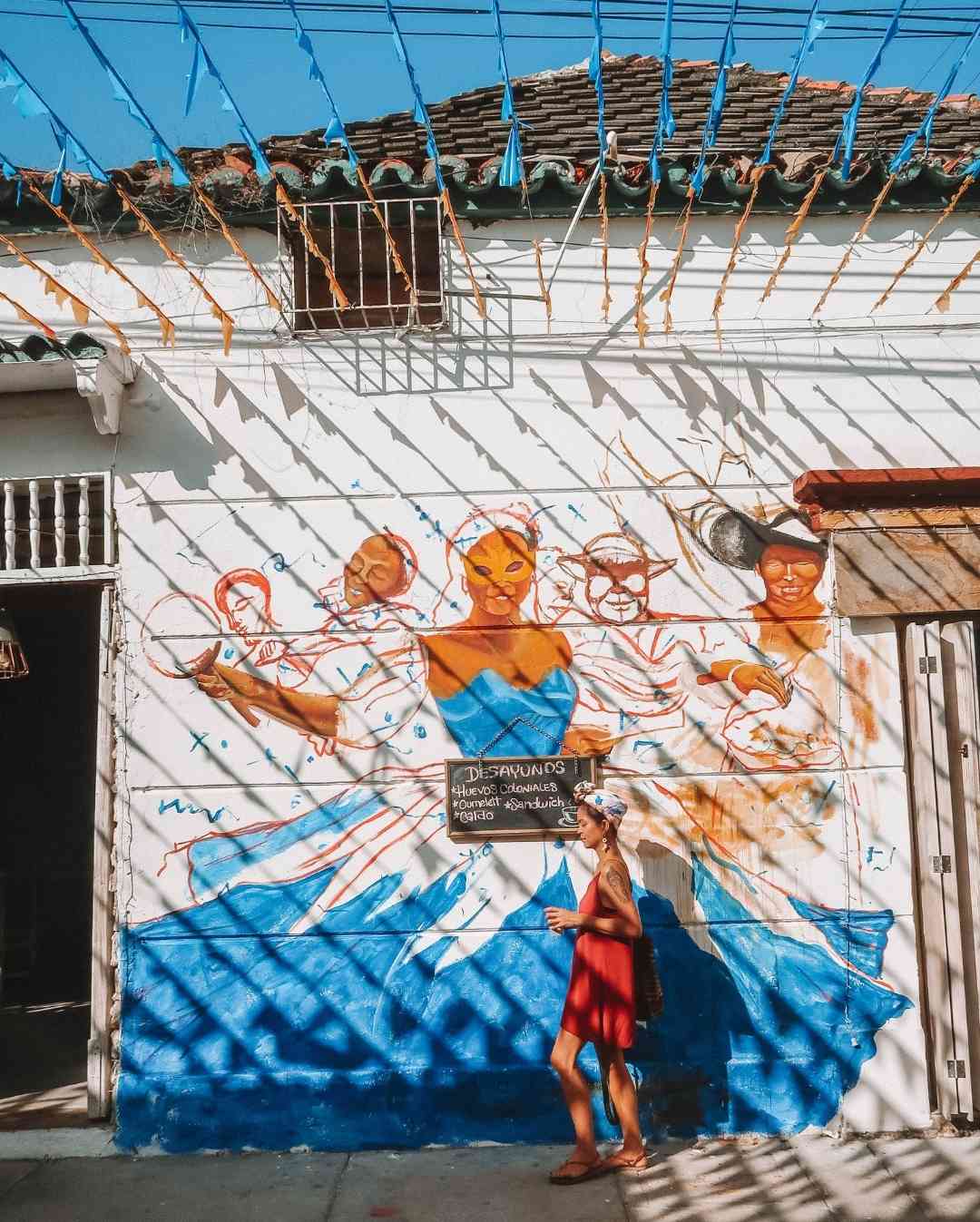 Booking.com is also a great option since there's no credit card required to get a guaranteed booking. I use this a lot when asked for proof of accommodations at immigration as they also don't charge cancellation fees.
Other things I trust and use are Expedia and Agoda, both recommended for those who have fixed dates. These two websites also have a lot of offers (for example: book 2 nights and get 1 night free). You just need to check their deals pages on every city page.

The best Cartagena Colombia hostels: my top 5
In this Cartagena Colombia hostels guide, I will only recommend the places I have experience in. I will also give you options to compare prices on different platforms so you can choose what fits your budget. I also considered the following parameters in my recommendations:
✅ Walking distance to the city center (1km, 10-15 minutes walk)
✅ Good for solo travelers and backpackers
✅ From $7 – $15 USD nightly budget. You might feel that this is a low price and looks sketchy but I assure you these are really good and legit hostels!
✅ Decent space and follows COVID cleaning protocols
#1: Santuario Hostel Cartagena
Literally my favorite hostel in Cartagena! I love the design and how quiet it gets during the day. I have stayed here long-term as a digital nomad and worked peacefully. I would also like to clarify the $12 USD price in the heading – this is an 18-bed mixed dorm (yes, 18 people sharing) but due to COVID, they won't fill out that 18 people capacity. This is the best option if you are traveling with friends since it's more comfortable to be in a dorm with people you know.
The price range for different dorm rooms below:
Standard 18 Bed Mixed Dorm Ensuite: from $13.25
Standard 16 Bed Mixed Dorm Ensuite: from $12.25
Standard 4 Bed Mixed Dorm Ensuite: from $60 USD
Rates above include breakfast so scratch that from your Cartagena travel budget. Each bed is equipped with reading light – it's like a capsule hostel so your privacy is guaranteed even in the biggest dorm. There's also a restaurant/bar, AC, and laundry services. I also like their 24-hour reception and security. I felt very safe staying in this hostel as a solo traveler.
👉🏽 Check prices: HOSTELWORLD | EXPEDIA | BOOKING.COM | AGODA
#2: Casa Movida Hostel – from $14 USD per night
I first got attracted to Casa Movida because of its beautiful interior – retro-style, full of colors, and overall, just very well thought of. When I first found this online, I thought it's actually going to be very expensive but I only paid $14 USD per night for a really nice dorm!
Like Santuario, this is also like a capsule hostel that has 18-bed dorms. Price range below:
Deluxe 18 Bed Mixed Dorm Ensuite: from $14.82 USD
Deluxe 12 Bed Mixed Dorm Ensuite: from $17.29 USD
Deluxe 6 Bed Mixed Dorm Ensuite: from $19.76 USD
4-bed family room Ensuites: from $98 USD
Casa Movida Hostel has a swimming pool, bar/restaurants, etc. When I stayed here, I actually didn't go out at all. I felt that everything I need is already here! Digital nomads, the wifi here is pretty fast, too. Breakfast is also included in your stay and oh, the lockers are pretty huge!
👉🏽 CHECK PRICES ON: HOSTELWORLD | EXPEDIA | BOOKING.COM | AGODA
#3: Casa del Pozo Boutique Hostel – from $9 USD
I know $9 USD per night sounds very sketchy but I am vouching for the cleanliness and legitimacy of Casa del Pozo. Well designed like the rest on this list and has a restaurant/bar. Their breakfast is simple but really tasty! They also have a Netflix room and a pool.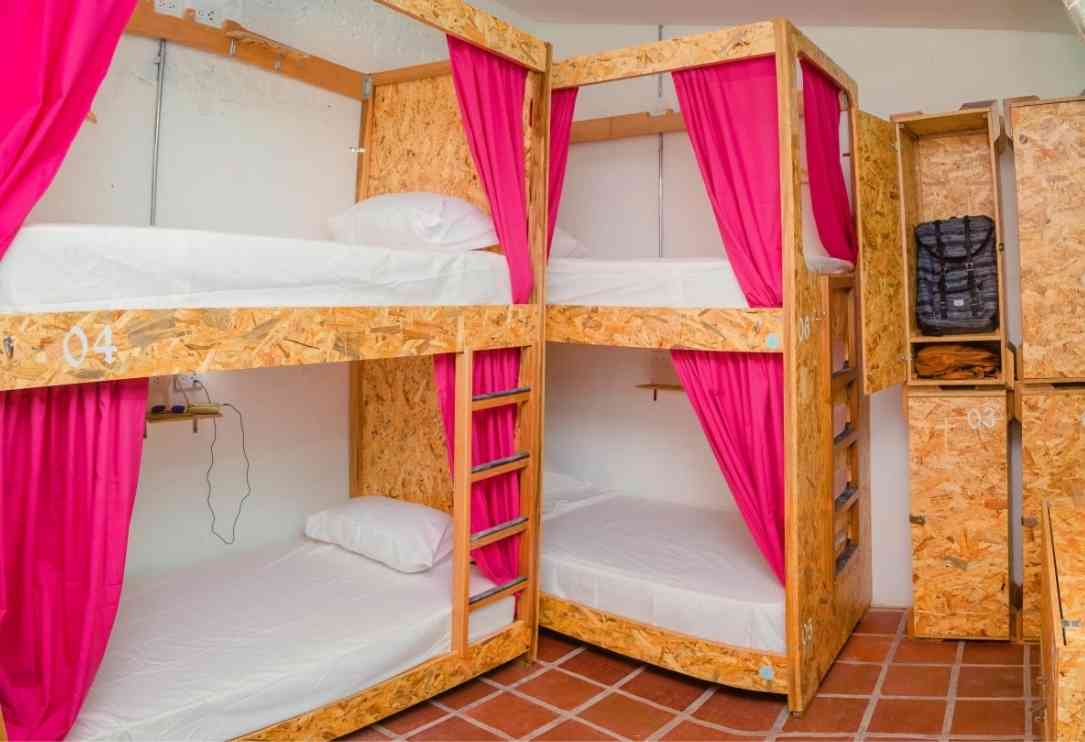 Their family room is the cheapest I found online and I once shared this with a friend. At $40 USD per night, you'll get private accommodations with a bathroom, HD TV, and a comfy double bed. If you wish to stay in dorms, this is the best value for backpackers. I think this is the best option for long-term stays in Cartagena!
👉🏽 CHECK PRICES ON: HOSTELWORLD | EXPEDIA | BOOKING.COM | AGODA
#4: Viajero Cartagena Hostel – from $8 USD per night
This is the first hostel I stayed in in Cartagena. I first encountered this hostel during my first trip to Colombia back in 2013. Since then, I kept coming back! When I visited in 2019, I was actually surprised they were still operating so I popped by to say hi to the wonderful staff and owners. I really love the vibe of this hostel! If you are looking for a more Latin backpacking experience, the guests of this hostel are mostly Spanish-speaking. This is a good place to practice your Spanish!
Right now, the 4-bed dorm rooms are on a super sale at $8 USD per night! If you don't want to share with a lot of people, this is really the best value. I also recommend this hostel for your long stay. Please note that this hostel is super basic (I mean, look at the price) so don't expect fancy amenities. Overall, this hostel is fun and really has a good value!
👉🏽 Check prices on: HOSTELWORLD | EXPEDIA | BOOKING.COM | AGODA
#5: Casa del Puerto Hostel – from $10 USD
Really fun hostel and amazing staff! The owners are young so they maintain the young and fun atmosphere – you won't feel alone in this hostel! I was going on an early tour to Playa Blanca one day and they made breakfast for me to bring to the tour – they're really really nice people! Just don't expect the "quiet hours" since there isn't really one. If you are looking for quiet, don't stay here. If you want fun and lots of socializing, then stay here!
👉🏽 Check prices on: HOSTELWORLD | EXPEDIA | BOOKING.COM | AGODA

Cartagena Hostels Frequently Asked Questions (FAQs)
If you've never been to Cartagena, I am sure you have a lot of questions about booking your hostel and places to stay. Below are the frequently asked questions I receive from readers of this blog.
I would like to stay in a hostel to meet people but I don't like to stay in dorm beds. Are there any chances that I will get to socialize even if I am in a private room?
I actually thought this wasn't possible before but I stayed in lots of private rooms in hostels and still had the same experience! I understand that during COVID time, you'd feel safer if you are in a private accommodation so don't worry about socialization! Please note that not all hostels in Cartagena have private rooms. Refer to the list below for my recommendations:
Media Luna Hostel: from $54 USD per night (2 pax)
The Clock Hostel and Suites: from $45 USD per night (2 pax). This is also the biggest hostel I've been to. They have a dorm room for 40 people but they're all capsule rooms. I love this hostel and I didn't feel like it was too crowded when I stayed here. Check out the pics!
Bike Dive Hostel: from $31 USD per night (2 pax). This is also less than 1km from the city center.
How gay-friendly is Colombia? Are there LGBTQ hostels?
Cartagena is generally accepting of LGBTQ travelers so don't worry about your safety! I recommend Makako Hostel LGBTQ hostel. I never stayed here but I once met them in a bar. They always go out together!
Do all hostels in Cartagena offer free breakfast?
Not all but about 95%. It really depends on the price of the bed. Please note that the breakfast is super basic (i.e. bread, jam, butter, coffee). Don't expect a continental or American breakfast with bacon and eggs. Though you can always pay for it as an extra. All hostels have their own restaurants so they can easily make something for you!
Which hostels are highly rated but are less than 1km from the center?
My top 5 list above is about a 10-15 mins walk to the center but there's a lot that's literally in the center of Cartagena! I find San Jacinto Hostel the closest, about 0.5 km. It's a new hostel and though I never stayed here, I met some people that did.
Do all hostels in Cartagena have lockers? How do you protect your valuables, especially computers, cameras, etc?
Yes, most of the hostels have lockers but I bring my own lock. I also have digital nomad insurance for my gadgets in case someone tries to steal my stuff when staying in hostels.
Cartagena Colombia hostels on Pinterest: save it for later!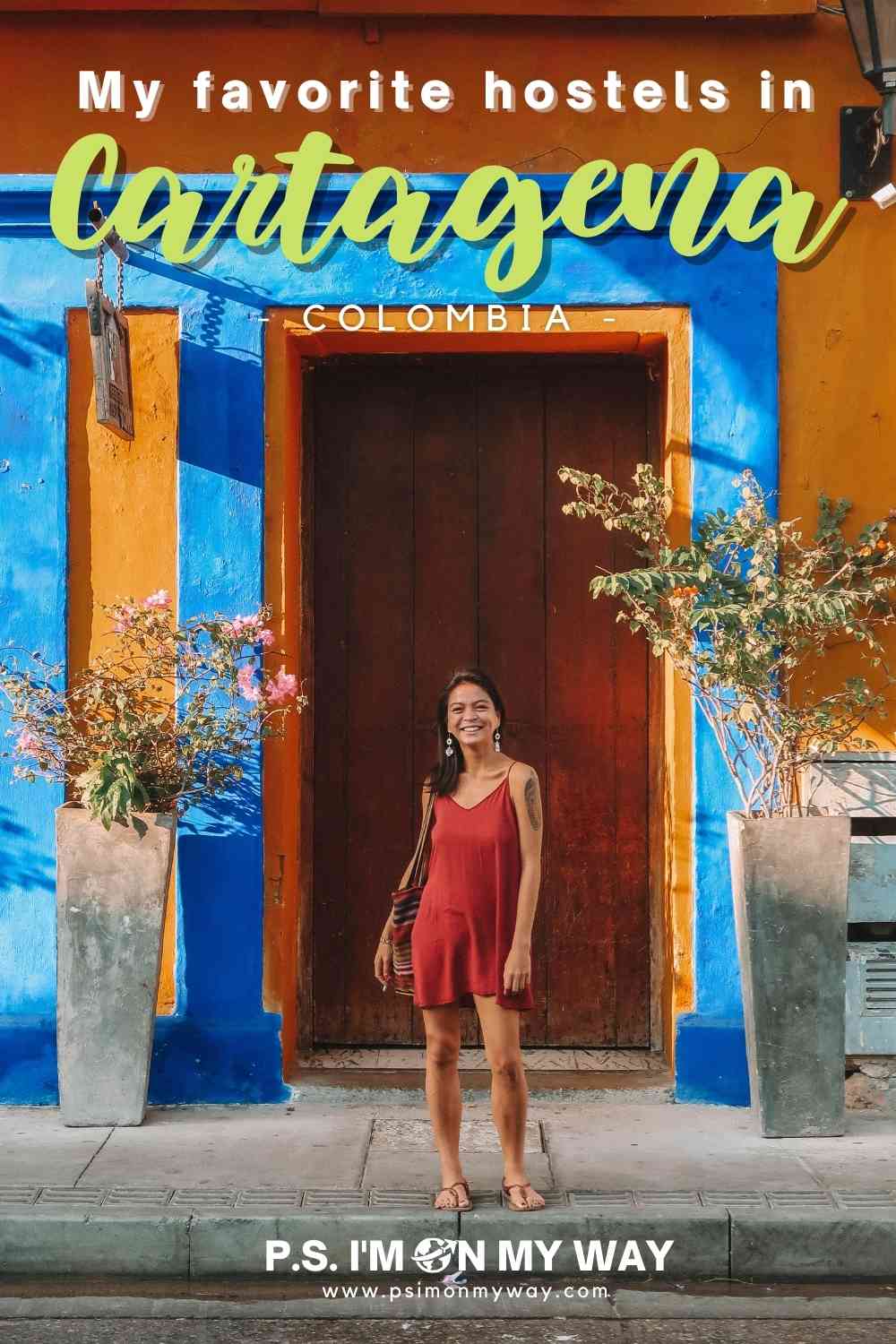 ☕ Do you like what you're reading? Does it help? I take a lot of time creating valuable and meaningful content. If you like to support my content creation and my blog, consider donating to my coffee fund. Thank you in advance!
Trisha is one of those people who left their comfortable life to travel the world and learn about life. Her style is to stay in one place she likes for 3 months (or more) to know what it feels like to eat, cook, speak, and sleep in another culture that isn't hers. She'd like to believe she's not traditionally traveling but she just chooses to be somewhere else all the time. In no particular order, her favorite cities in the world are Barcelona, Buenos Aires, Hong Kong, Mexico City, and Tel Aviv.