This Athens digital nomad guide was written by Melissa Douglas, a British travel blogger who has been living in Greece for the last 7 years. In this guide, Melissa will tell you everything about living in Athens as a digital nomad!
📬 Reader Mail: Hi Trish, thanks for all your digital nomad advice. It's really great to read detailed information as I am transitioning to be a digital nomad this year.
I am particularly looking at being an Athens digital nomad. Do you have any information about it? I would love to move to Europe depending on how this pandemic will turn out.
Unfortunately, the United Kingdom does not have the work permits to Greece anymore but I hope you can guide me on how to figure this out! Thank you for all your hard work and I hope to hear from you!
-Georgia Jennings, UK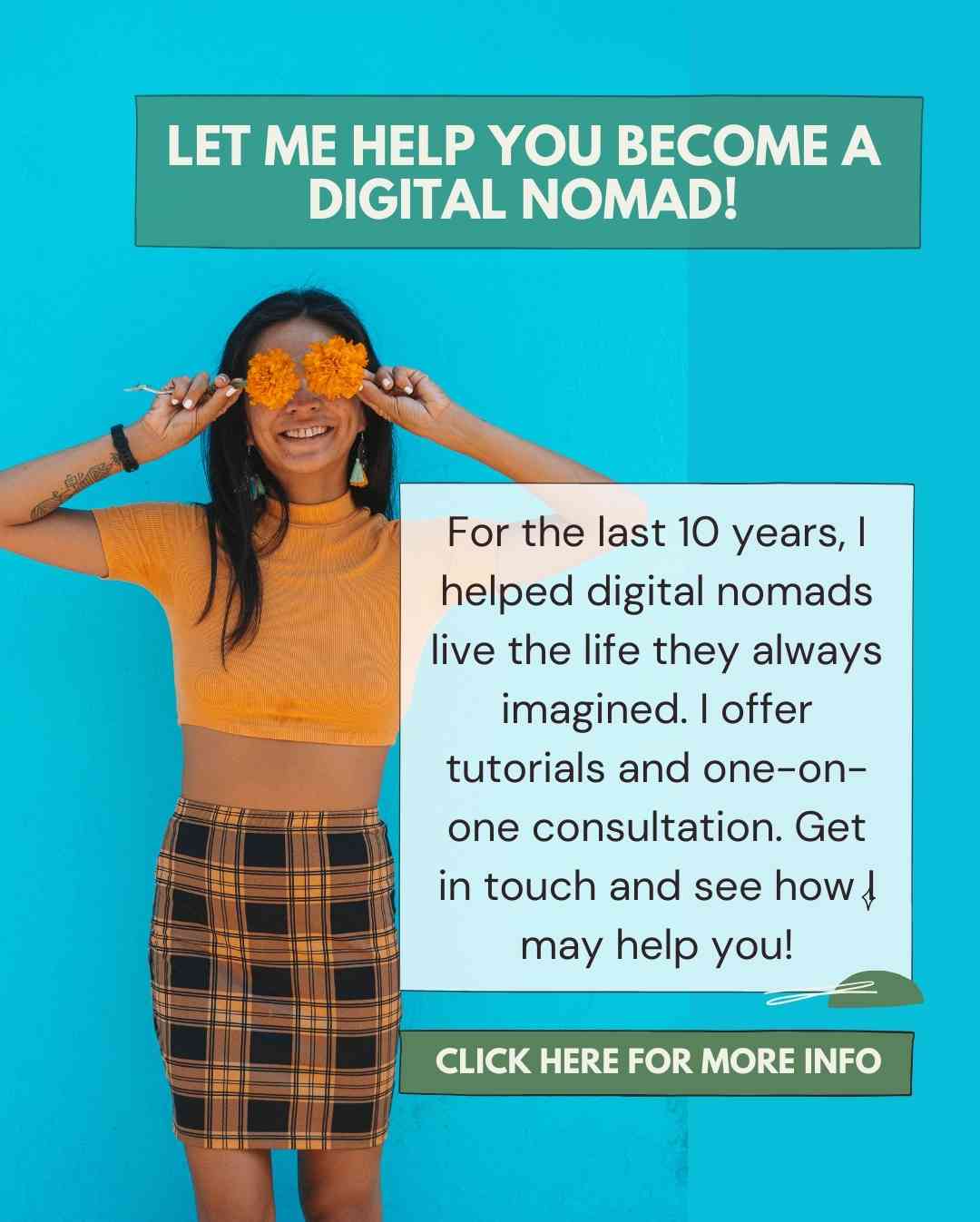 Hi Georgia,
Thank you so much for reaching out! I love Greece and it's definitely a great place for digital nomads! As always, my goal in this blog is to give authentic and honest information so I have invited a British travel blogger to share her experiences about being an Athens digital nomad.
I am sure you will relate more to her experiences since you have the same nationality. She also runs a blog about Greece so she's the right person to get in touch with!
Read on this Athens digital nomad guide and if you have any questions, feel free to leave a comment below or get in touch with me or Melissa. Good luck! Now I give the floor to Melissa!
Xx,
Trisha
The Greek capital of Athens is home to a fast-emerging digital nomad scene. It is not really a city that most people immediately think of when realizing their dreams of remote working.
Athens is decidedly grittier, more chaotic, and less aesthetic than other European cities. But Athens has a personality like nowhere else.
I'm a professional Travel Blogger that has been based in Athens, Greece since 2017. At that time, I visited with the intention to stay for only a few months and then move on elsewhere.
Four years later, the city has me under its grasp and I spend most of my time working remotely from Athens.
Professionally, I run the travel blog High Heels and Backpack. With 200,000 monthly readers, it has quickly grown into a go-to resource for people planning their trips to Greece.
Most of my income is passive – I sell advertising space on my site and work with various travel and rental companies as an affiliate partner. However, I also do some freelance writing work for a number of online and print travel publications.
Is Athens a good digital nomad base in Greece?
YES! Apart from it being one of the most visited cities in Greece, Athens is great for digital nomads because of its Internet speed. There are many nice neighborhoods where you can get cheap accommodations.
Athens is rich in culture and history. I love living in a city where there are ancient ruins and many spectacular museums. The history of Athens dates thousands of years.
The Parthenon temple is one of the most-visited tourist spots in the world as well as the Theatre of Dionysus. There are so many things to do in Athens and I recommend it as a nomad base for at least one month.
Is Athens expensive for digital nomads?
A local can live in Athens for about $850 USD per month but digital nomad expenses can go up to $1,500 USD per month. Personally, I think that's quite affordable considering many other digital nomad cities in Greece are super expensive.
If you're good at making friends and are very social, you can definitely get a 1-BR apartment for $350 USD. Airbnb is super expensive here and I don't recommend it. Sometimes it goes up to $2,000 USD per month it's insane!
☕ Support this blog's honest and transparent journalism. Help us add value to our content! Keep P.S. I'm On My Way content free for all by donating to our coffee fund.
Athens digital nomad guide: everything you need to know about living in Greece
Personal experience as a digital nomad in Athens
The Digital Nomad scene has come a long way in Greece since I first arrived four years ago. When I first arrived in early 2017, there were very few people doing the same thing.
Arriving at an Athenian coffee shop by yourself would mean being met with frowns and questions about why you were having coffee alone.
There were not really any coworking spaces or events to cater to Digital Nomads and most of the people that you would meet were tourists.
This made it tricky to establish a friendship based at first as if you attended meetup events, most people were only sticking around for a couple of days. The city has done a complete 180 since then.
There are plenty of Facebook groups, Meetup events, and coworking spaces in the city now. You only have to so much as post a comment in an Athens expat Facebook group to say that you're going to work in a certain cafe with your laptop and you'll be sure to receive a ton of responses and with them, new friends!
The digital nomad scene in Athens
Today, Athens is becoming a very popular city for digital nomads. The low cost of living in Athens, proximity to beautiful islands, and convenient location of Athens within Europe make the city a great place to work remotely from.
If you haven't already, consider joining the Meetup and Couchsurfing platforms. You can check them periodically to see what events are taking place in and around Athens.
One particular group to keep in mind is the aptly named Digital Nomads Athens. Here, you will find a lot of helpful information from digital nomads in Athens.
A wonderful local lady called Eva organizes the events and there is usually a fun, welcoming crowd in attendance. This consists of both Greek locals and international nomads.
Even on occasions where something isn't going ahead, you can post in the groups and ask for tips and advice or organize to meet some of the members to work together or have coffee.
Get a digital nomad insurance that covers COVID for only $40 USD per month
Eva also has a Whatsapp group for ease of communicating among members. You can find the link to join it via the Facebook and Meetup groups.
Separately, there are numerous Facebook groups dedicated to people living in Athens and Greece, generally. You will find that most foreign people living in the country are indeed remote workers, as it's very difficult to find a job with a local company unless you speak fluent Greek.
This is a good way to meet friends if you're new in town. Notable Facebook groups that you should join are detailed below.
It is also worth mentioning that Internations is another platform where you can find events for digital nomads in Athens. However, a paid membership is required to access most of the site functions and events.
Most events here tend to attract an older crowd. So, depending on your interests and age group, it may or may not be the best choice for you.
Regardless, you can get a free trial for the platform so it may be worth taking a look and then seeing if it's a service you want to continue using.
Internet speed in Athens
Internet speed in Athens is generally pretty good. Wind and OTE are the main providers that people have in the home. They offer high-speed and fiber connections.
Even if you are working from coffee shops or cafes, you will generally find that the connection is fast enough that you can work online uploading photo and video content, editing websites and documents on Google docs and hosting Zoom/Skype calls.
Greece generally has very good wifi. This comes as a surprise to some, but things have improved a lot over the last few years.
The only exception to this is perhaps on small, remote islands. Sometimes little islands have issues with their electricity in general. So, if there is a storm or some heavy rain, it isn't uncommon for the wifi to be slow, or for all of the power on the island to go off for a few hours.
Athens cost of living
A few years ago, a study found that the cost of living in Athens was approximately 30% lower than that in other major European cities.
That gap has closed somewhat in recent years – owing in part to the gentrification of some Athenian neighborhoods caused by an influx of foreign residents, along with the Airbnb boom.
Regardless, Athens remains an affordable place to live. You can easily live here for less than €1000 a month if you are smart about finding accommodation and you adhere to a budget when you arrive.
Generally, you can find a studio apartment in Athens for between €250 and €350 a month. A larger, one-bedroom apartment should set you back no more than between €450 and €700 depending on the location.
Spitogatos and xe.gr are the main websites to use for finding apartments in Greece. However, since most of the accommodation listed here requires a minimum 6-month lease, that may be more than you are hoping to sign up for as a digital nomad.
Airbnb and Facebook groups are good places to look for shorter-term leases. Rentals on the former are often, unfortunately, very overpriced.
If you post in one of the aforementioned Greek facebook groups to say that you are seeking short to medium-term accommodation, you will be sure to receive a lot of responses.
It's a sad reality that sometimes locals try to charge foreigners and tourists far more than the going rate for an apartment because they assume that you will not know how much things cost in Greece.
Protect your online business. Never go online without VPN
Always ask a Greek friend for their opinion on pricing before you commit to anything. If you are new in Athens and you don't have any contacts, you can also ask for some input from locals and long-term expats in the various Athens Facebook groups.
Groceries and toiletries in Greece are a little pricey. This is because a lot of things are imported.
Consider shopping at "laiki agora" (local farmer's markets) for fresh fruit and veggies. Virtually every Athenian district has one that occurs on specific days of the week.
Entertainment costs in Greece are pretty good. You can have dinner at a local taverna for between €6-10. If you head out for drinks, a beer will cost you no more than €2.
Greece digital nomad visa
It is easy to move to Greece if you are an EU citizen. Even if not, it is not impossible.
Third-country nationals (Americans, British citizens, Australians, Canadians, and others) can enter Greece for up to 90 days in a 180 day period on a Schengen visa.
If you are a third-country national and you want to spend longer in Greece, you can apply for a financially independent person's visa.
You are eligible for a FIP visa if you can demonstrate that you are earning more than €2000 a month and you have a source of income outside of Greece.
You will need to apply for a type D entry visa from your home country and this route is best navigated with a Greek Lawyer.
If you have an EU passport and you want to move to Greece, things are relatively easier. You simply need to register yourself at a local police station within 3 months of arrival.
There are some supporting documents that you need. However, this process is very easy and you do not need the assistance of a Lawyer.
Athens cafes with wifi
Coffee culture is huge in Greece. If there were to be a national sport of Greece, drinking coffee would be it!
There are coffee shops on every corner here and fortunately, they generally have good wifi and don't mind if you sit there with your laptop for a couple of hours. A few notable spots to consider are detailed below.
The Underdog
📍 Iraklidon 8, Athina 118 51
📞 +30 21 3036 5393
The Underdog Coffee Shop in Thissio (Iraklidon 8) is a centrally located spot that has developed something of a cult following in recent years.
This specialty coffee spot roasts its own coffee beans and has won several national awards for the quality of its brew.
Many of the owners and baristas that work here have won international barista tournaments. So, you know you're in good hands when you stop for coffee here.
The Underdog is housed inside a converted warehouse. The contemporary space has retained many characteristics of the original building – think industrial lighting displays, floor-to-ceiling windows, and exposed brick walls.
Kinono
📍 Falirou 48, Athina 117 42
📞 +30 21 1408 6826
Kinono is a chic, modern coffee shop in the quirky Koukaki district of Athens. This neighborhood is one of the artsiest in the city and sits beneath the shadow of the Acropolis.
Owner Olga Maneta has made everything in the coffee shop herself – from the chairs and tables to the wooden fixtures of the bars.
There is a lot of outdoor and indoor seating here and it is not uncommon to see other remote workers in Kinono tapping away on their laptops.
The wifi is good, the coffee is better. Kinono also serves an excellent breakfast, brunch and lunch menu which is perfect for if you get hungry while you are working.
Eggs benedict, eggs florentine, soft fluffy pancakes, and other international favourites can be found on the menu.
Monsieur Cannibale
📍 Pl. Profitou Ilia 2, Athina 116 35
📞 +30 21 0752 6130
Monsieur Cannibale is an eccentric Athenian coffee shop that sits in Athens' Pagrati neighborhood, just behind the Panathenaic Stadium.
It is a little out of the center, but worth mentioning as artsy Pagrati is quickly becoming a preferred district among digital nomads.
Monsieur Cannibale serves food and drinks all day. By day, it operates as a coffee shop and brasserie. By night, its a cocktail bar.
Vintage furnishings adorn the small space, paired with obscure paintings and tapestries reminiscent of a circus. This little spot is a popular rendezvous point among Athenians.
However even if you can't get a seat inside, the outdoor space is perfect for people watching and admiring the scenes of everyday life in Athens.
Little Tree Books and Coffee
📍 Kavalloti 2, Athina 117 42
📞 +30 21 0924 3762
Little Tree Books and Coffee (Kavalloti 2) is a popular digital nomad haunt, with various entrepreneur and writer meetups taking place here regularly. This Koukaki venue is a combined bookstore and coffee shop.
It exudes cozy, homely vibes a la Central Perk of Friends. Sink down into one of the cafe's oversized armchairs with your laptop, a hearty slab of cake, and a Greek iced Freddo cappuccino coffee.
If the indoor seating is taken, you can sit beneath one of the cabanas outside in the leafy adjacent plaza.
Rizzari 22
📍 Rizari 22, Athina 116 35
📞 +30 21 3009 0926
Rizzari 22 is a chic coffee shop and restaurant that sits just across from Evangelismos metro station. Everything about this place exudes elegance and sophistication – from the setting to the well-heeled crowd it attracts.
The space is modern, spacious, and airy. The attentive waiter's don suits and the bar area are reminiscent of something that you would see in 1920s France.
Here, old-fashioned French music plays out over the speakers. Occasionally, it's the soft, soothing jazz rhythms of Miles Davies or Thelonious Monk.
You are served with a complimentary bottle of iced cold water and light nibbles and biscuits with your drinks order. Rizzari also has an excellent selection of sandwiches, light bites, and dinner options if you begin to get hungry.
Athens coworking spaces
The Digital Nomad scene in Athens is relatively new. So, a number of coworking spaces have only just started to open up in recent years. A handful of the best is detailed below for your consideration.
Stone Soup
📍 Char. Trikoupi 18, Athina 106 79
📞 +30 21 0338 8566
Stone Soup (Char. Trikoupi 18) was one of the establishments at the forefront of the Athens coworking scene. Their offices are located in Omonia Square and are spread across several floors of a local office building.
Some of those working here are running long-standing local businesses. Others are Digital Nomads that are just spending a few days, weeks, or months in the Greek capital.
Stone Soup also regularly hosts events for freelancers and remote workers in Athens. So, if you're looking for a coworking space but you're not sure if you want to commit, or whether a specific space is right for you, you can head to one of the events and see what other freelancers think first.
The Cube
📍 Aiolou 73, Athina 105 51
📞 +30 21 0331 4704
The Cube Athens is one of the best coworking spots in the city. It can be found at 73 Aiolou Str – a short walk from the districts of Plaka, Syntagma, and Thissio, respectively.
The premises are spread over nine floors in a recently-renovated city center building. You will often find entrepreneurial talks, presentations, and informative events are regularly hosted here.
For instance, the Cube often hosts inspiring people from around the world who come here to tell an audience how they were able to obtain success in their field and how others can follow suit.
Some of these presentations are free to attend, others require a small fee. Regardless, the Cube is more than "just another" office space.
Stavros Niarchos Cultural Center
📍 Leof. Andrea Siggrou 364, Kallithea 176 74
📞 +30 21 6809 1000
The Stavros Niarchos Cultural Center was named after one of Greece's most respected entrepreneurs: Billionaire shipping tycoon Stavros Niarchos (1909-1996). It can be found just out of the city center in Kallithea (Leof. Andrea Siggrou 364).
This is not a coworking space per se. However, it is one of the most popular spots in the city for Digital Nomads to go and work. The cultural center is a modern contemporary building that was designed by Italian Architect Renzo Piano.
On the lower level, you will find a workspace that is completely free to use and consists of rows of desks and various computers that you can rent for the day.
You have to come by early in the morning (ideally before 9 am) if you want to get a seat as they are quickly taken. But this is a great place to work and meet other like-minded individuals.
Athens digital nomad on Pinterest: save it for your move to Greece!
Melissa Douglas is a British Travel Blogger that has been based in Greece since 2017. She runs the Greece-focused travel blog High Heels and Backpack along with several smaller, niche travel sites. Her written work has been published in various travel publications including Forbes Travel Guide, The Times of Israel, and Matador Network.